November 25th, 2016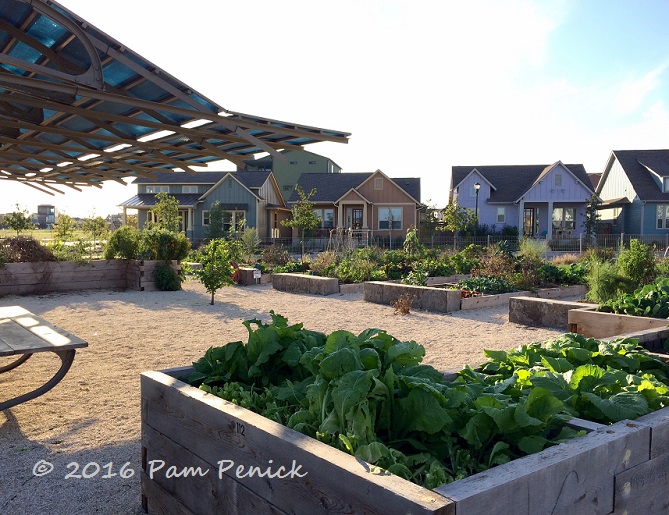 We spent Thanksgiving in the mixed-use, urban-infill, sustainably-designed Mueller neighborhood in east Austin, where my in-laws hosted us in their lovely new home. As always when we visit, I'm impressed by the park spaces and community amenities available to Mueller residents, and I fantasize about moving into one of the charming, cheerfully painted homes. I'd have to drastically downsize my garden, however, as the lots are tiny.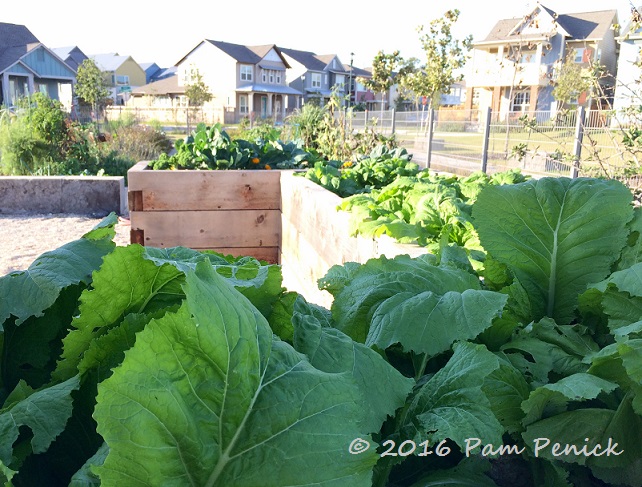 For many people (and I can imagine being one of them in the not-too-distant future), plentiful parks and green spaces compensate for a small home lot, with less to personally maintain. At Mueller, one of these is a new community garden with 132 plots that give residents a place to grow food organically in a shared space.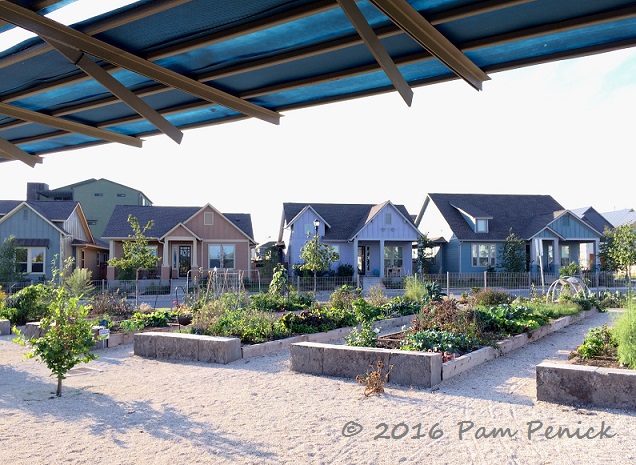 The community garden is located in newly opened John Gaines Park, our family's post-feast-stroll destination. I stopped to take a few pictures while the kids headed for the playground.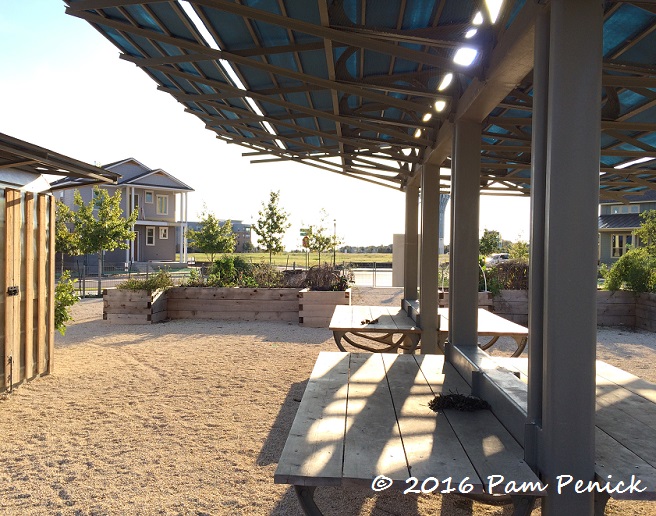 Shaded work tables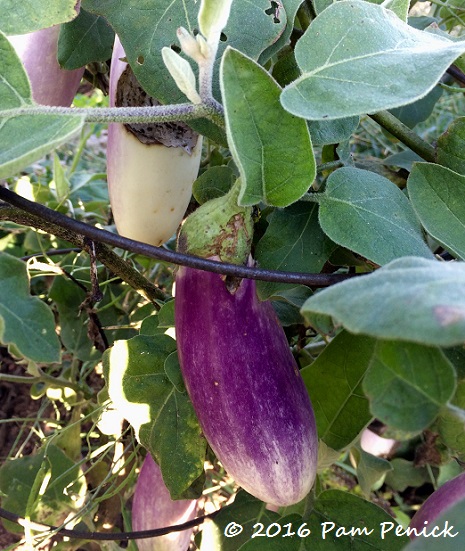 Eggplant — someone's planning to make ratatouille, maybe?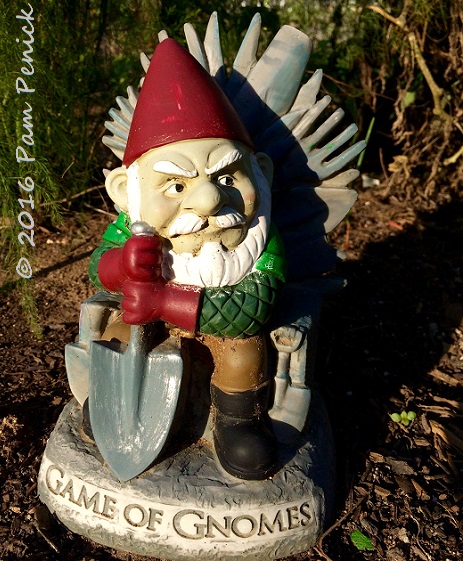 Punny garden decor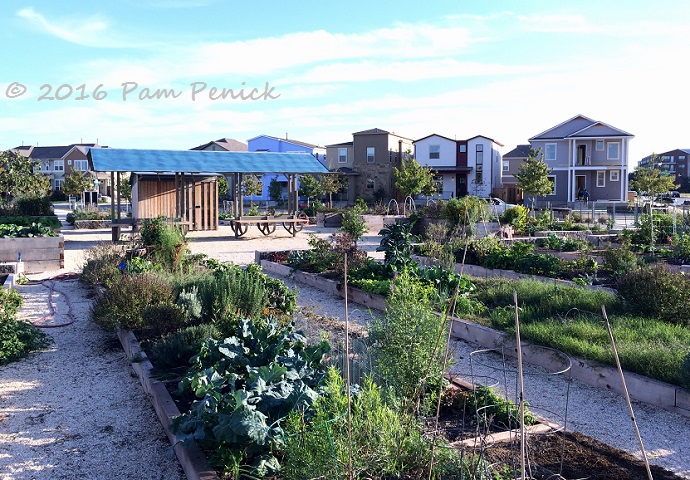 Most of the plots look well tended.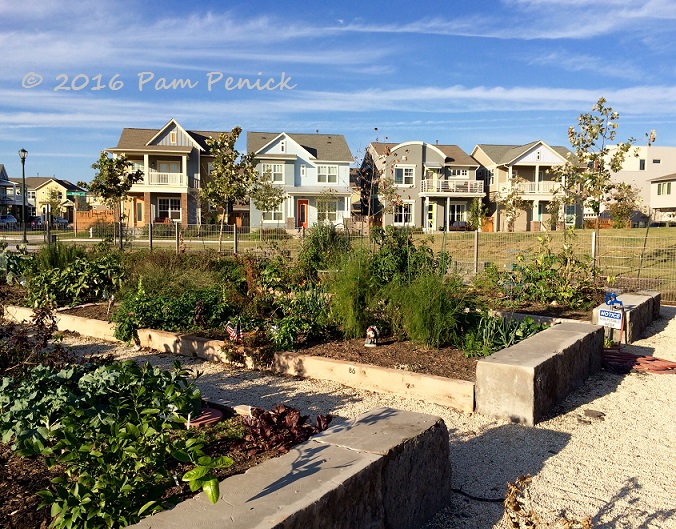 More charming houses in the distance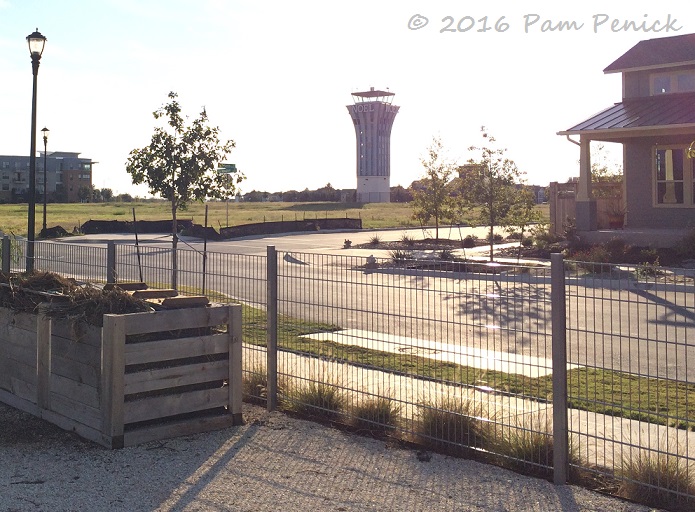 Across a field, the old Mueller Airport control tower still stands, decorated for the season with a lighted Noel. I love that they saved the 60s-era tower when the airport was torn down and redeveloped. (Mueller Airport, Austin's old in-town airport, was shuttered in 1999, replaced by our current airport, Austin Bergstrom, on the southeast side of town). I've heard that eventually a mixed-use condo-retail development will be built around it.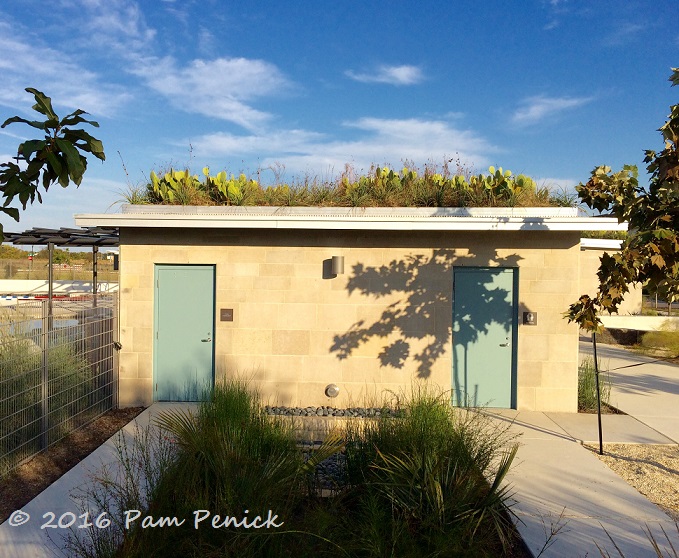 John Gaines Park contains not just the community garden but also a playground and public pool, where I spotted this clean-lined restroom with a green roof of very dry-loving plants and a runoff-cleansing bioswale garden at ground level with water-loving plants like horsetail reed and dwarf palmetto.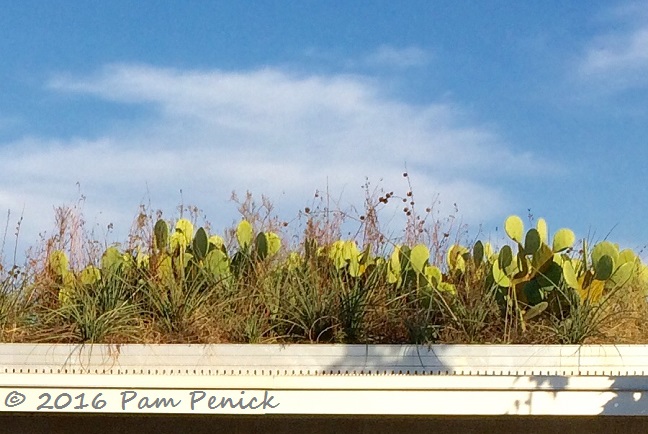 Prickly pear and red yucca on the green roof look great against a bright blue sky. According to an article in Wildflower magazine, the 1200-square-foot roof is irrigated only with harvested rainwater.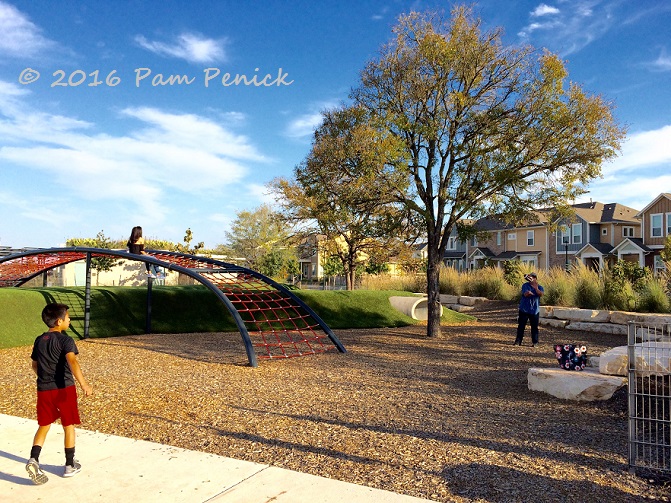 The play spaces at the park include a large lawn (where we played football and frisbee), swings, an arched climbing structure with bark-cushioned fall zone, and — something I've never before seen at a park — steep berms carpeted in artificial turf, with concrete culverts running through them, making fun hiding and crawl spaces for small children.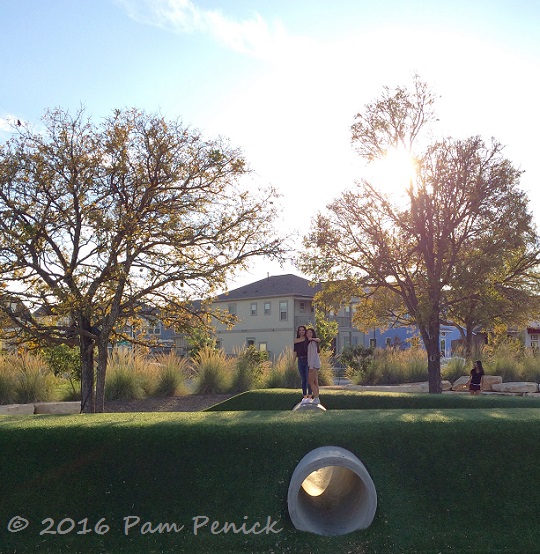 The berms were a hit with kids and adults, who lounged on them, climbed on them, and ran up them with their dogs. Natural-grass berms would never stand up to that sort of use in our hot, semi-dry climate, of course, so artificial turf seems like a smart choice for this application. It will be interesting to see how well it holds up over time.
I welcome your comments; please scroll to the end of this post to leave one. If you're reading this in a subscription email, click here to visit Digging and find the comment box at the end of each post.
_______________________
Digging Deeper: News and Upcoming Events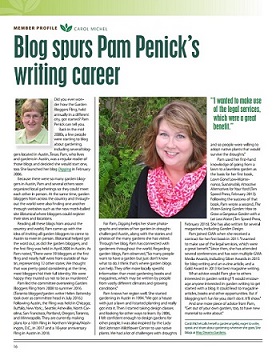 Want to know how I got started as a garden writer? Read page 16 of On the QT, the newsletter for GWA: The Association for Garden Communicators. I'm honored to be featured in an article by Carol Michel of May Dreams Gardens!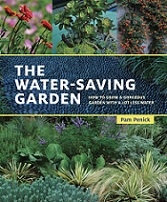 Do you review? Have you read my new book, The Water-Saving Garden? If you found it helpful or inspirational, please consider leaving a review — even just a sentence or two — on Amazon, Goodreads, or other sites. Online reviews are crucial in getting a book noticed. I really appreciate your help!
What's hot in garden design — or about to be? I interviewed designers and retailers across the U.S. to find out! Natural dye gardens, hyperlocalism, dwarf shrubs, haute houseplants, sustainability tech, color blocking, and more — check out my 2017 Trends article for Garden Design and see if anything surprises you.
All material © 2006-2016 by Pam Penick for Digging. Unauthorized reproduction prohibited.