November 27th, 2017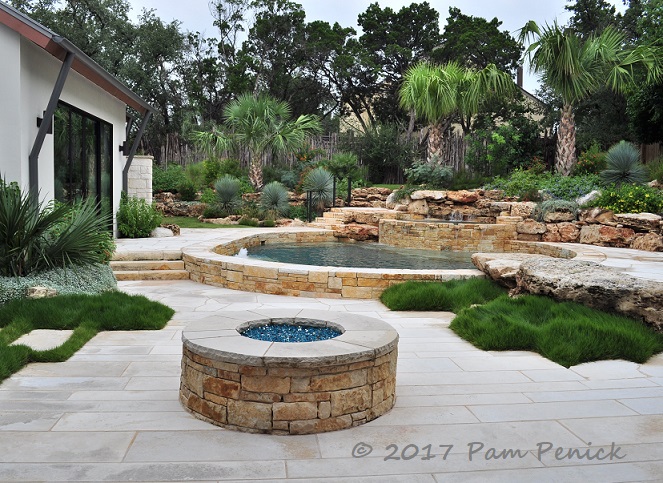 A month ago I visited a Rollingwood garden designed by landscape architect Curt Arnette of Sitio Design. It's owned by the architect of the contemporary Hill Country-style home, Duke Garwood, whom I also had the pleasure of meeting.
Let's start in back, where a limestone patio bordered with shaggy zoysia turf flows out to a resort-worthy swimming pool. A palm- and Yucca rostrata-studded garden steps up around the pool and creates an enticing view from inside.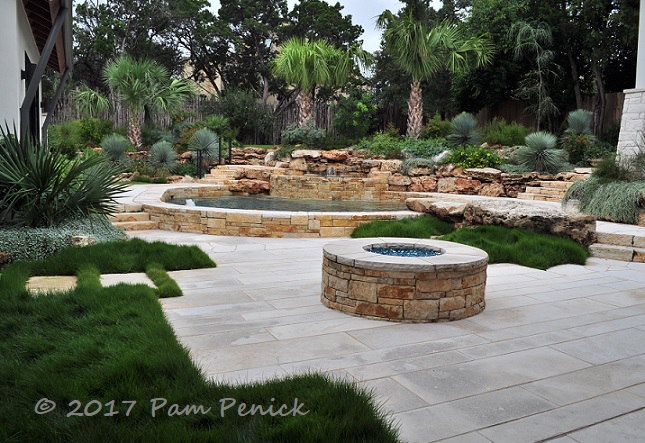 In the foreground, a circular stone fire pit filled with fire-safe blue glass stands ready to warm chilly evenings. I love the meadowy (unmown), 'Emerald' zoysia grass edging the patio.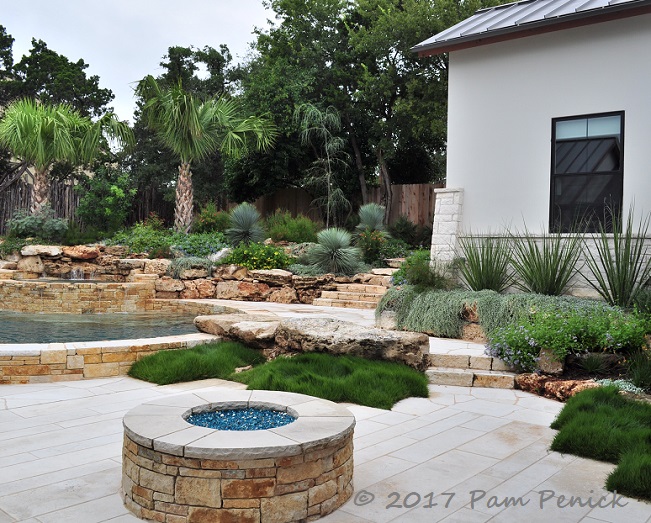 Fan-like giant hesperaloe grows along the foundation, underplanted with cascading silver ponyfoot.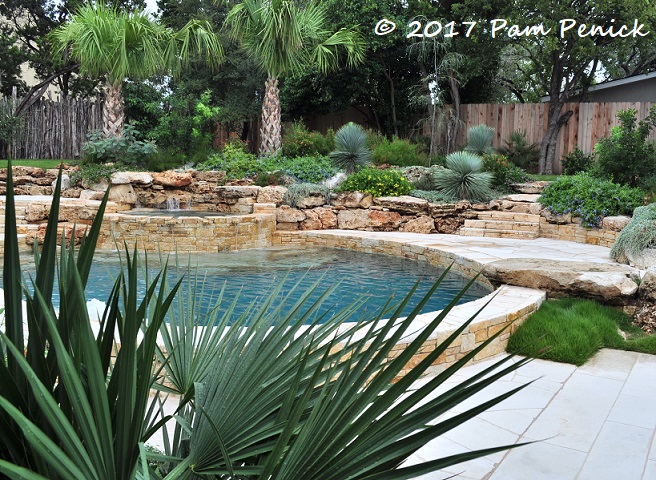 The pool's edge is beautifully constructed of cut limestone, while limestone boulders hold the slope behind the pool and form the naturalistic waterfall, as well as a diving rock at right.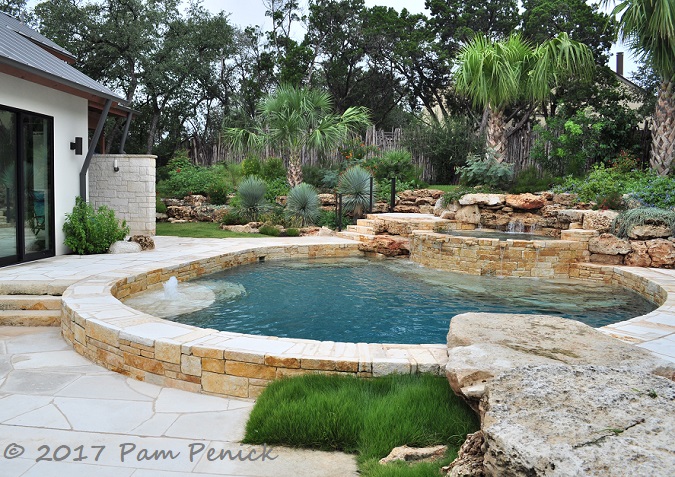 Gorgeous stonework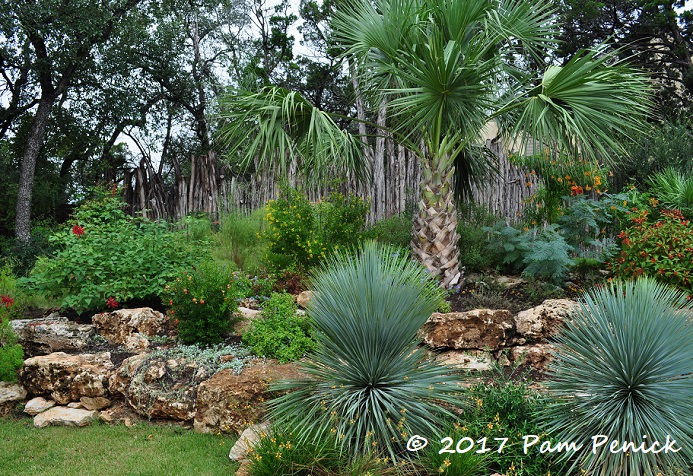 Beyond the pool, massive boulders terrace the slope and create planting beds for palms, yuccas, firebush, golden thryallis, and coral bean, which combine to create a tropicalesque look.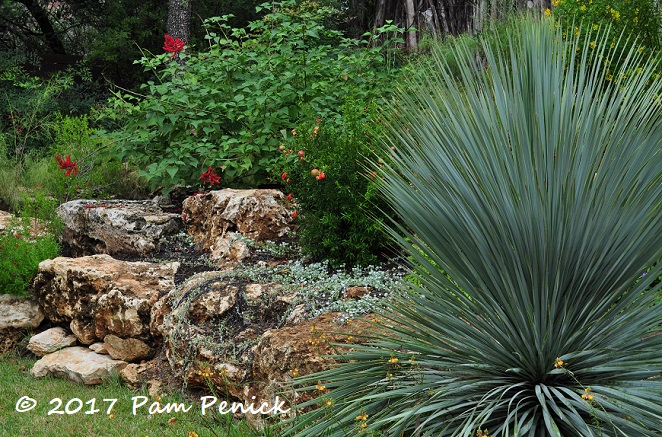 Yucca rostrata in the foreground, with pomegranate and coral bean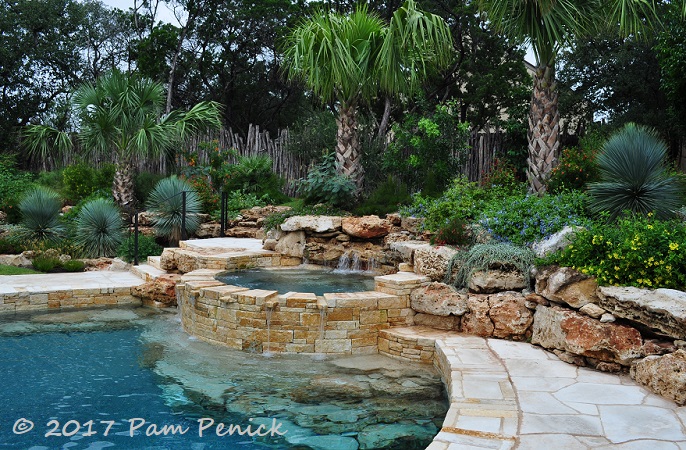 Natural stone supports the curved and notched waterfall wall, and extends underwater like limestone at natural springs all around Austin.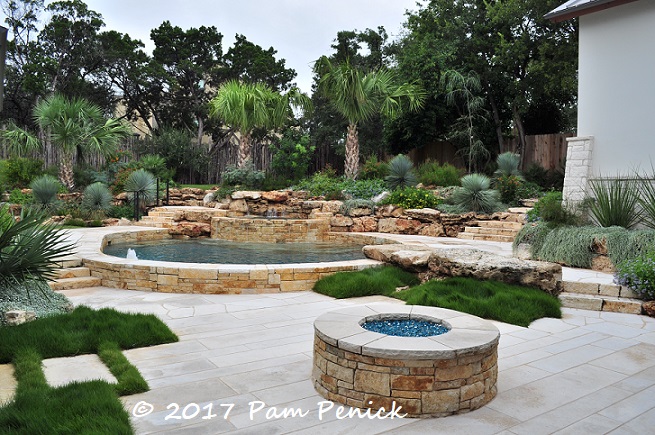 One last wide shot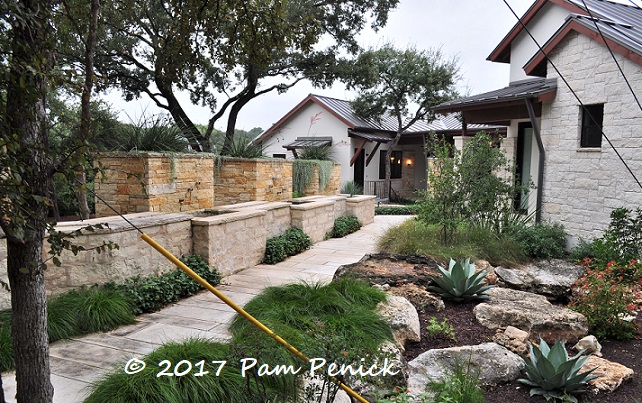 Now let's tour the front garden. Water figures prominently here too, leading visitors along the front walk via a rill that traverses a series of limestone walls. To the right of the limestone walk, whale's tongue agaves and tufts of Berkeley sedge fill in gaps among flat-topped boulders.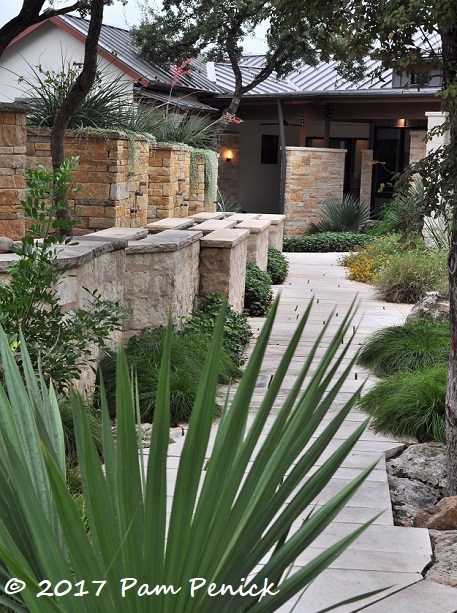 The walls also create a safety rail of sorts, blocking a steep drop-off behind them, and the tops function as planters.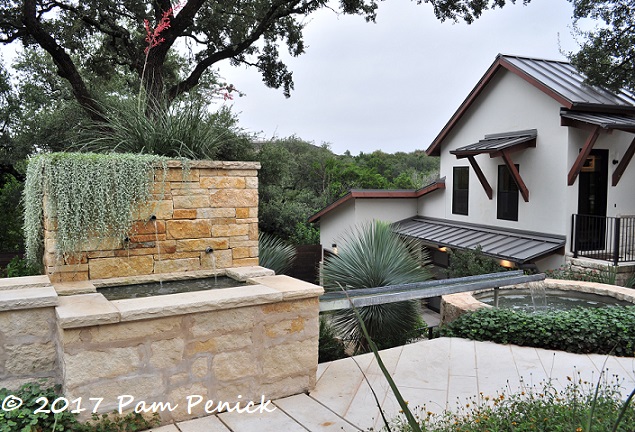 Red yucca and silver ponyfoot thrive up top.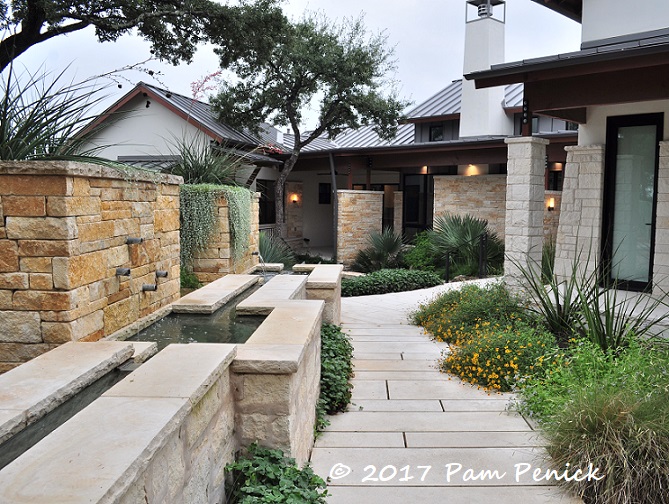 Pipes jut from the golden limestone upper walls and spill water into the pale limestone troughs below. The water flows along the rill…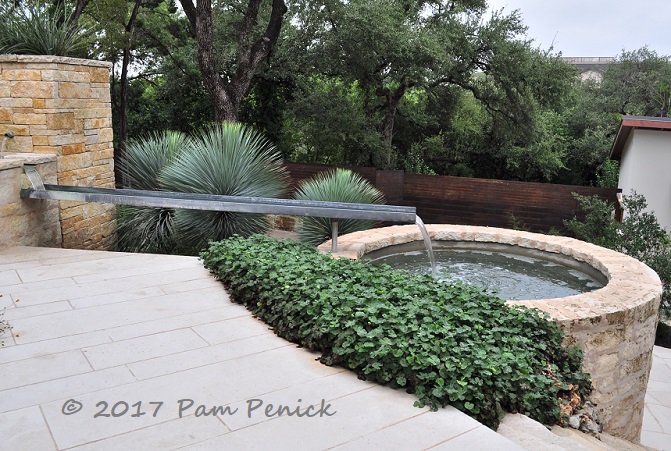 …and into a galvanized-steel sluice, which pours into a cylindrical pond that evokes an old stone cistern. Bristly heads of Yucca rostrata peek up from the slope behind the rill and pond.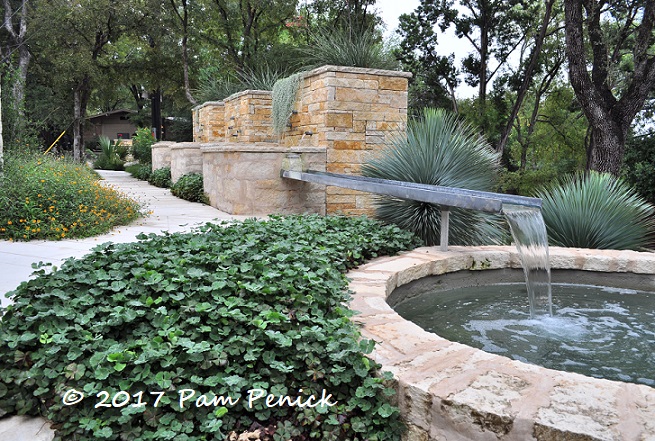 I believe that's bigfoot water clover (Marsilea macropoda) encircling one side of the pond.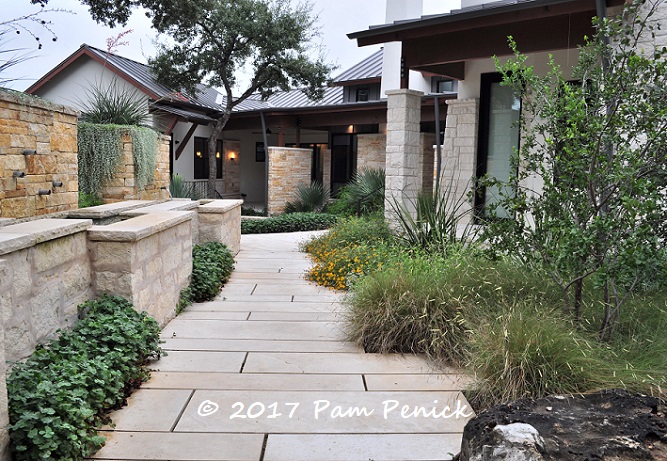 Along the front walk, 'Blonde Ambition' blue grama grass…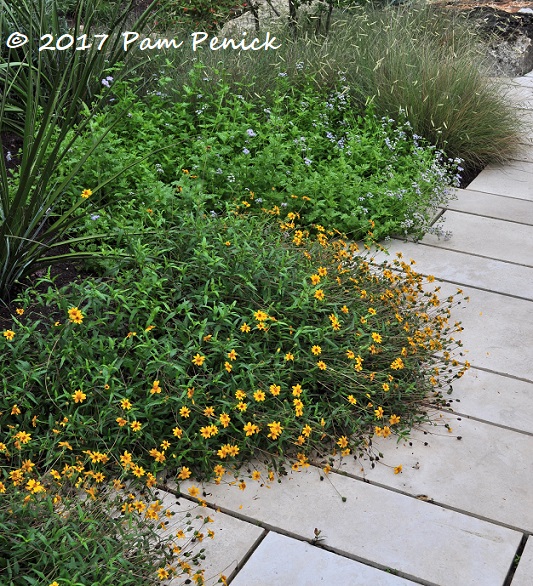 …and orange narrowleaf zinnia thrive in hot, sunny conditions.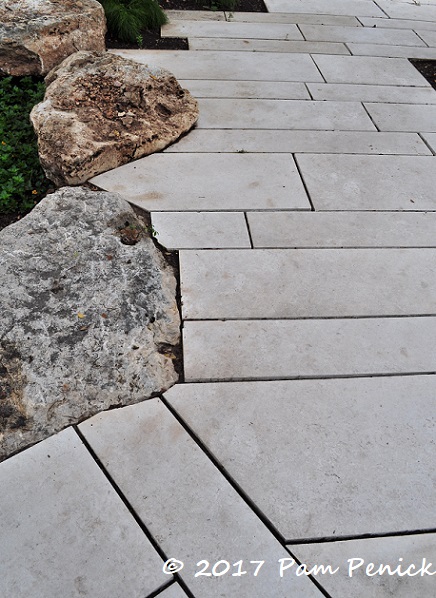 The cut-limestone paving of the front walk is fitted around natural boulders.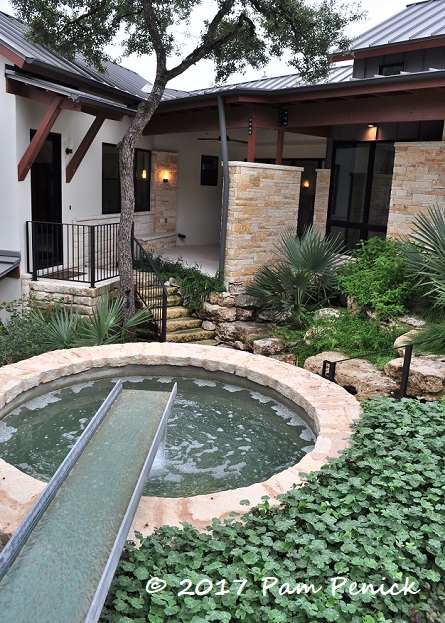 Just past the circular pool, a stair leads down to a landing, and from there down to the garage. Another stair off that landing leads up to Duke's home office (at left).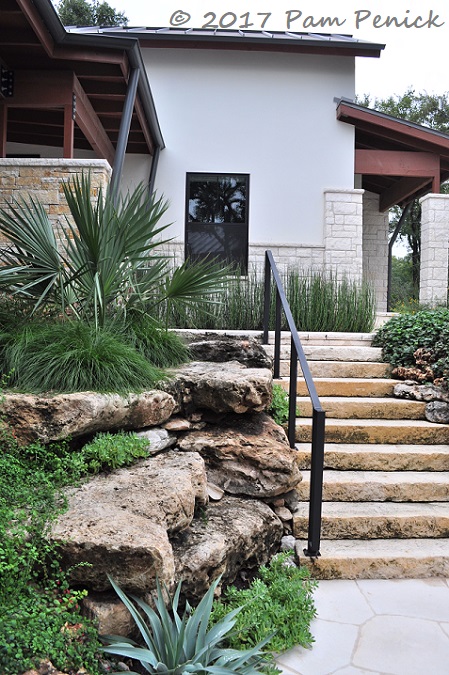 The limestone stair with natural boulders holding a planting bed of palmetto and Berkeley sedge. Contained by the paving (and maybe a sunken barrier too?), horsetail reed grows vertically against the house at the top of the steps.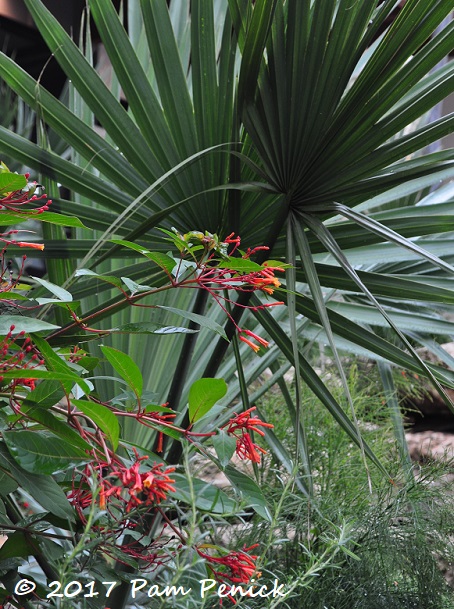 Texas palmetto and firebush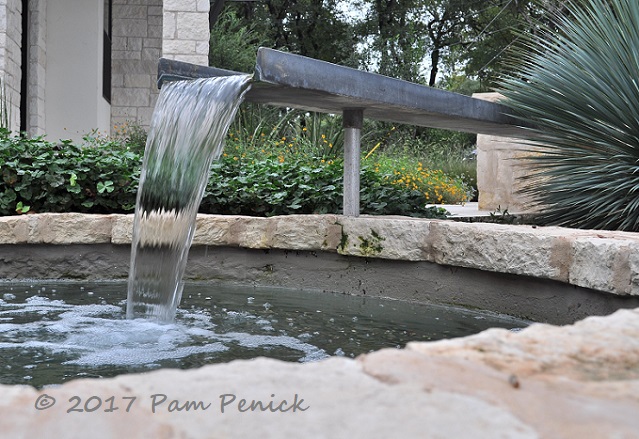 Steel sluice fountain, as seen from the steps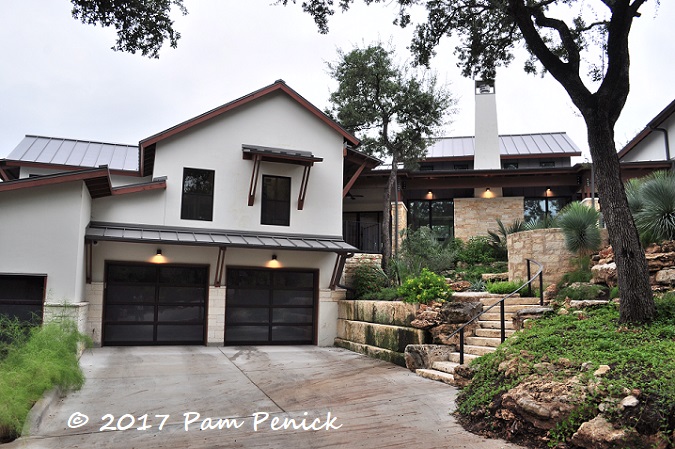 The garage and driveway sit at the bottom of the slope, with a row of bamboo muhly at left. To orient yourself, the limestone wall-fountain runs along the front walk behind the yuccas at top-right.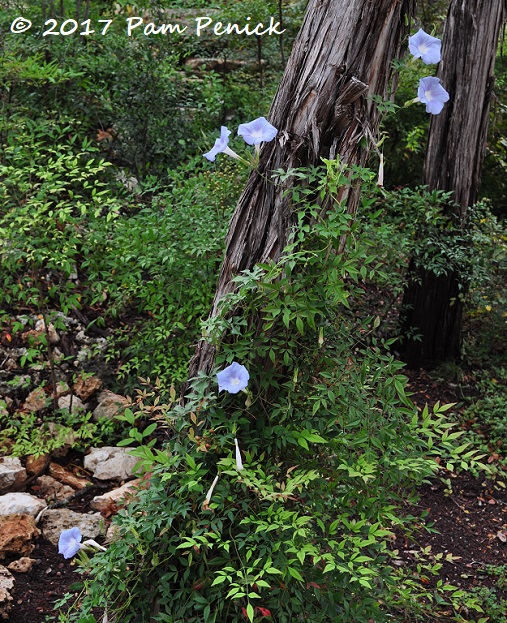 It's woodsy and more natural looking here. Morning glory twines charmingly up a native juniper. Nandina grows below. (Although beautiful and tough, nandina is an invasive plant in our greenbelts and toxic to birds, and so it's one of the few plants I recommend eradicating.)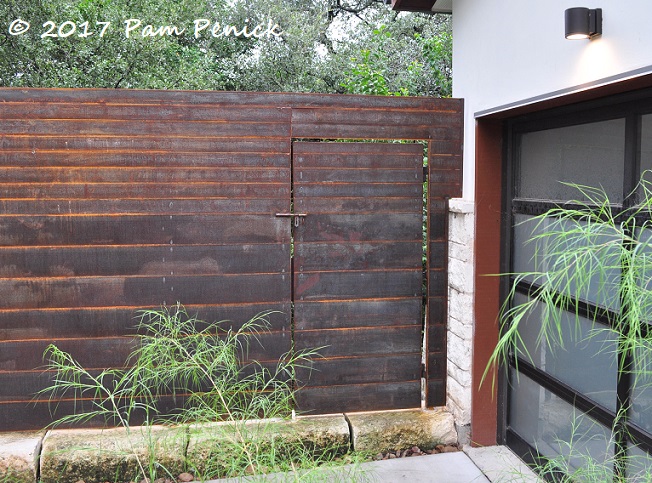 I believe Curt told me that Duke designed this cool contemporary steel fence and gate. That'll never rot!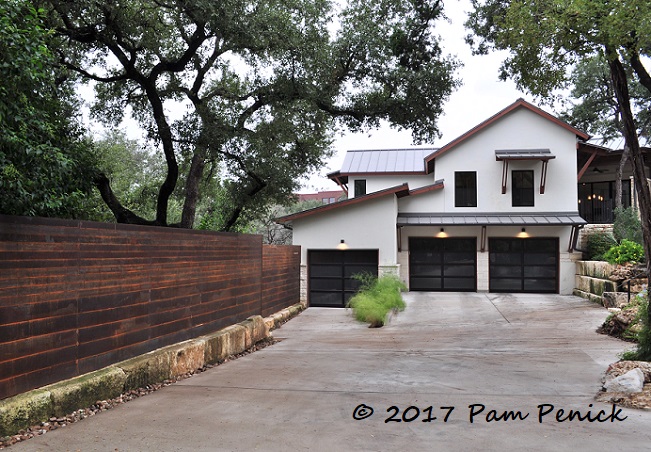 It's always a pleasure to see a beautiful house and garden so well integrated. My thanks to Duke for giving me a tour of his home too!
I welcome your comments; please scroll to the end of this post to leave one. If you're reading this in a subscription email, click here to visit Digging and find the comment box at the end of each post.
_______________________
Digging Deeper: News and Upcoming Events
Calling all garden bloggers! You're invited to register for the annual Garden Bloggers Fling tour and meetup, which will be held in Austin next May 3-6, 2018! Click this link for information about registering, and you can see our itinerary here. Space is limited, so don't delay. The 2018 Fling will be the event's 10th anniversary, which started in Austin in 2008.
Join the mailing list for Garden Spark Talks! Inspired by the idea of house concerts, I'm hosting a series of garden talks by inspiring designers and authors out of my home. Talks are limited-attendance events and generally sell out within just a few days, so join the Garden Spark email list for early notifications. Simply click this link and ask to be added.
All material © 2006-2017 by Pam Penick for Digging. Unauthorized reproduction prohibited.
posted in
Agaves
,
Design
,
Fences
,
Firepits
,
Fountains
,
Garden tours 2017
,
Gates
,
Grasses
,
Groundcovers
,
Hillside
,
Lawns
,
Native plants
,
Palms/Cycads
,
Paths
,
Patios & decks
,
Ponds
,
Rills
,
Rock
,
Shrubs
,
Swimming pools
,
Texas natives
,
Trees
,
Vines
,
Walls
,
Water features
,
Yuccas