August 11th, 2016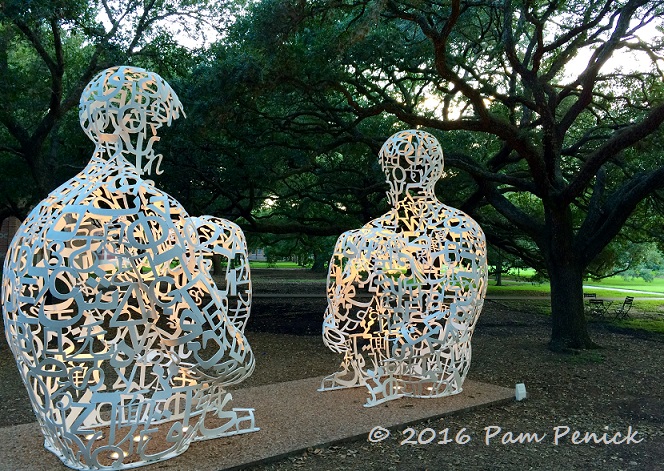 Houston doesn't always get a lot of love, especially from Austinites who invoke it as a negative example of soulless sprawl and traffic. True, Houston is a sprawling major city with congested highways (although I swear Austin may be its equal in traffic jams). But in-town you'll find vibrant neighborhoods of historic and modern homes, terrific restaurants, international diversity, one of the best universities in the country, and world-class art museums. I may be biased, having spent my college years there and having a sister who lives there, but I embrace the tongue-in-cheek slogan that's popped up in the Bayou City in recent years: "It's OK to love Houston."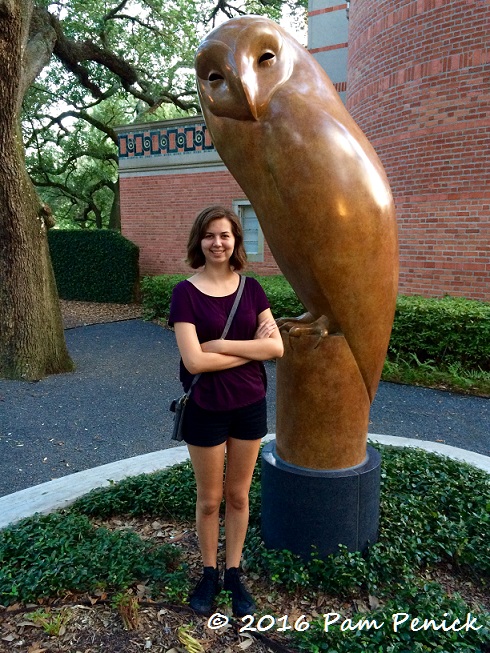 Monumental Barn Owl by Geoffrey Dashwood
My daughter, a friend of hers, and I recently visited Houston and spent a fun-filled Saturday seeing public art at the Cullen Sculpture Garden, the Museum of Fine Arts, and the live oak-shaded Rice University campus. Since my sister and I attended Rice in the 1980s, the campus has added a number of modern sculptures and other works of art…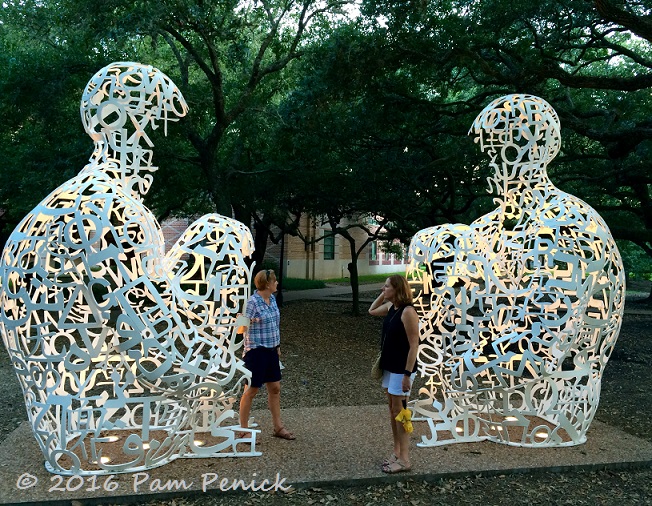 …like this one by Barcelona artist Jaume Plensa, titled Mirror.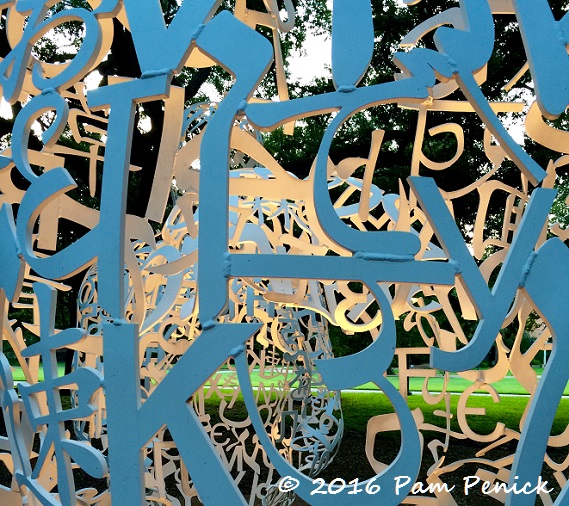 "The figures are modeled in letters from eight alphabets – Arabic, Chinese, Greek, Hindi, Hebrew, Japanese, Latin and Russian," the Rice website explains. "The artist considers this dialogue and interaction as central to learning, and more importantly to understanding, between people and cultures."
Last year, my sister and sister-in-law showed us another example of Plensa's work along Buffalo Bayou. I enjoyed seeing more of his work on campus.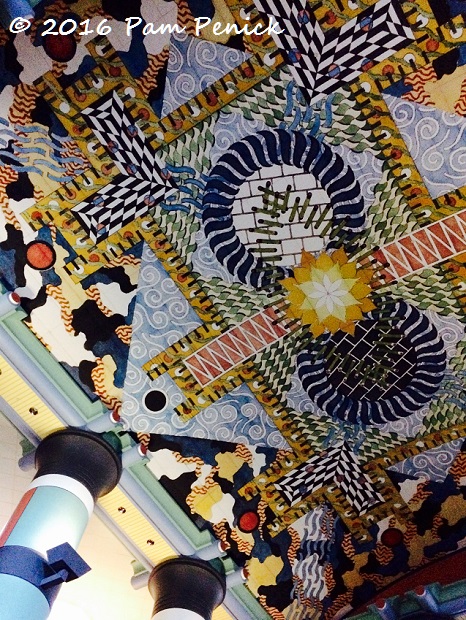 The Rice campus itself, founded in 1912, is filled with beautiful examples of neo-Byzantine architecture. A more recently constructed building, Duncan Hall, which houses the Computational Engineering department, is always worth a look during a tour of Rice because of its kaleidoscopic painted ceiling.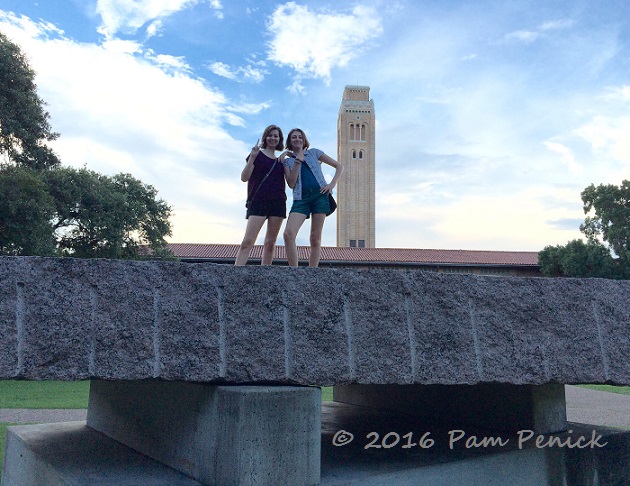 The iconic 45°, 90°, 180° sculptures — the girls are standing on 180°, with the Campanile (bell tower) looming behind them — were installed the year before I entered Rice (i.e., quite a few years ago). Three pink granite monoliths in the Engineering Quad represent 45-, 90-, and 180-degree angles. 180° was a popular spot to hang out, sneak a beer, make out, and be photographed when I was a student, and there's no reason to think anything's changed. (The other two slabs, at slanted and vertical angles, are harder to climb.)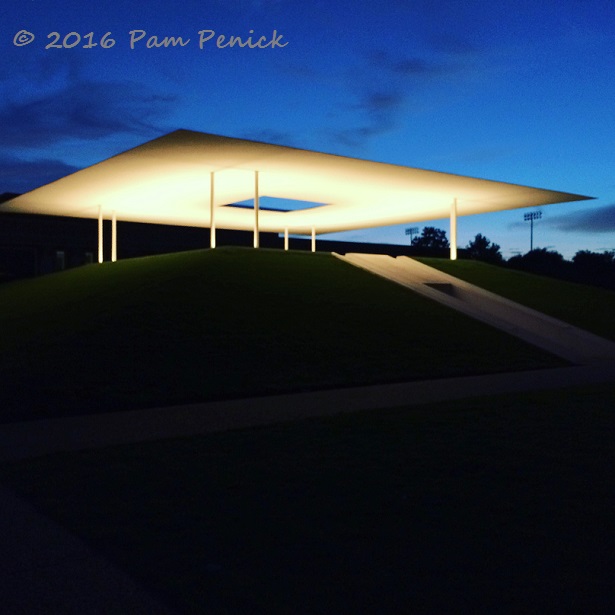 Another distinctive horizontal structure on campus is the luminous Twilight Epiphany, a Skyspace by James Turrell. I wrote about this Skyspace last fall, so click for full details and morning-light photos. This time, we were keen to experience the twilight show, which is more popular, so we made reservations.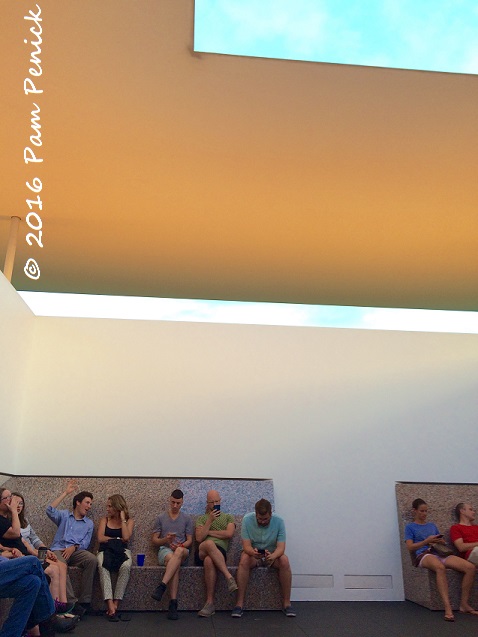 Taking photographs during the light show is prohibited (although I don't see why, so long as you don't use a flash), but here are a couple I took while we were waiting for it to start. The white-walled space and benches are inside the grassy pyramid seen in the previous photo. There's also a row of benches on a second level just under the floating roof.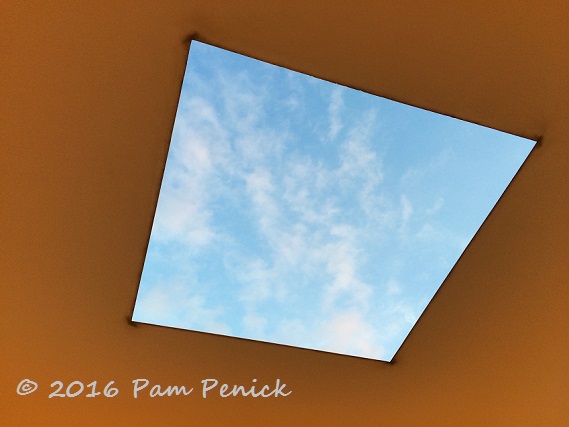 The white roof with a central square cutout is washed with a slow-changing sequence of colored light, which changes your perception of the sky as the sun sets or rises. It's a meditative experience to sit there for 40 minutes, gazing upward as the sky seems to pulse with energy. It can be a bit dizzying and make you feel like a tiny creature inside an Easter sugar egg — or at least that's how it seems to me.
Austinites, there's a Skyspace right here on the UT campus too, and although it's smaller and less dramatic than the one on the Rice campus, it's definitely worth a visit.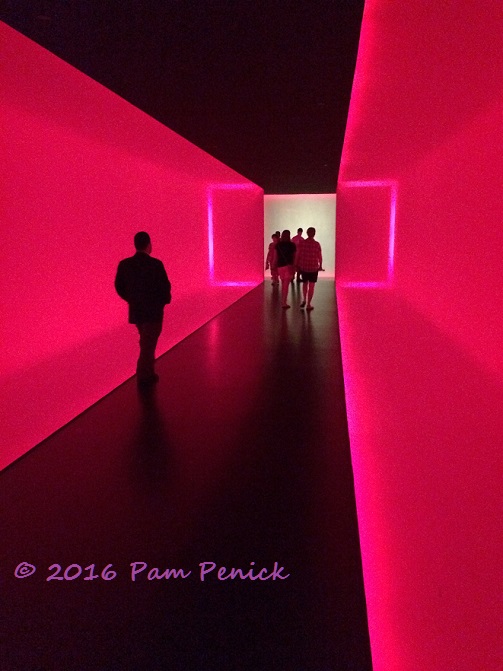 Another transcendent Turrell work can be experienced at the Museum of Fine Arts, a tunnel passage called The Light Inside. As with Twilight Epiphany, you don't merely view the work. You step inside it. The art is light somehow made physical.
As you enter the tunnel, the vanishing-point black flooring is echoed by a black ceiling, with fog-like color suffusing the space on each side. Are there walls? You can't really tell as you're walking through. Space just seems to drop off along the edge of the black walkway, melting into a void of rich color. It's mildly disorienting, as if you might accidentally fall off the edge into space. The color changes every 15 minutes or so, an attendant told me. I wish we'd stayed longer to experience each color. Next time!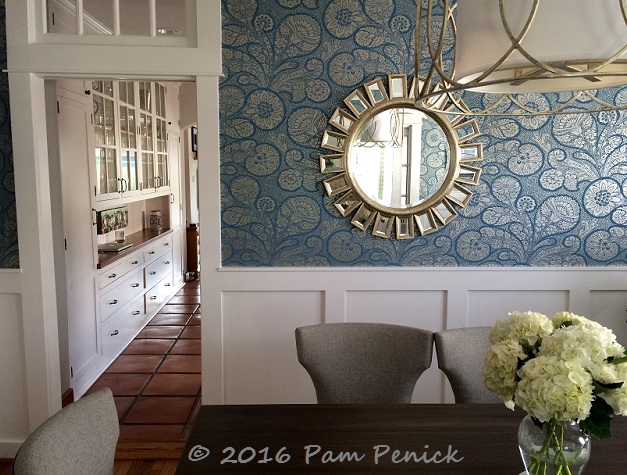 I can't end my recap of Houston art without showing off the artful beauty that my sister and sister-in-law have brought into their own home via new wallpaper and wainscoting. This is their dining room paper — gorgeous!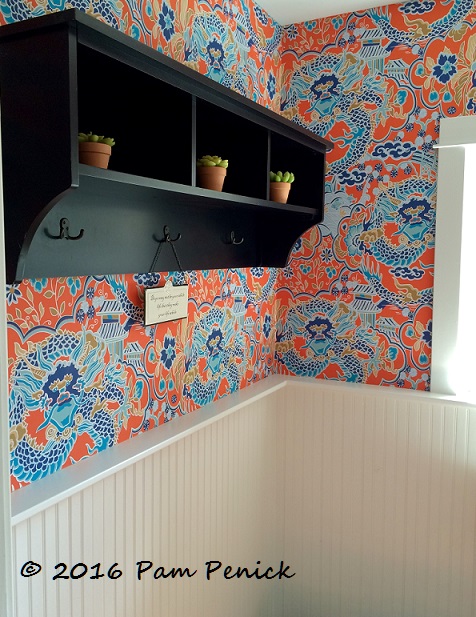 And here's their mudroom, with a colorful Chinese dragon motif. And to think I used to disdain all wallpaper (after removing layers of dated paper in numerous houses over the years). Now I love it, and the bolder the better.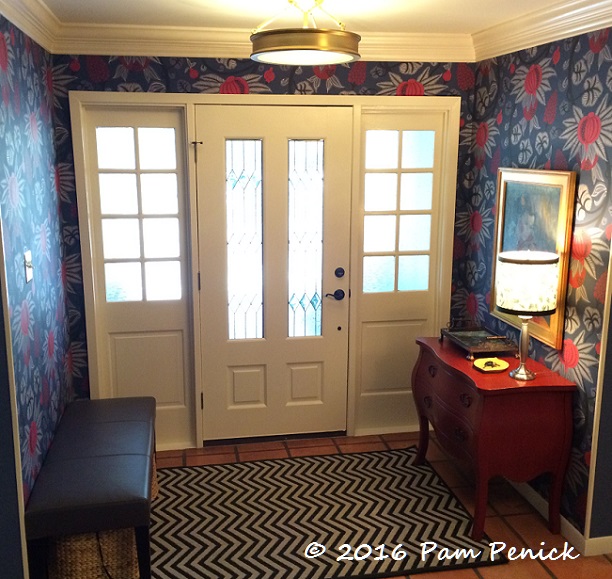 As you can see from my own foyer!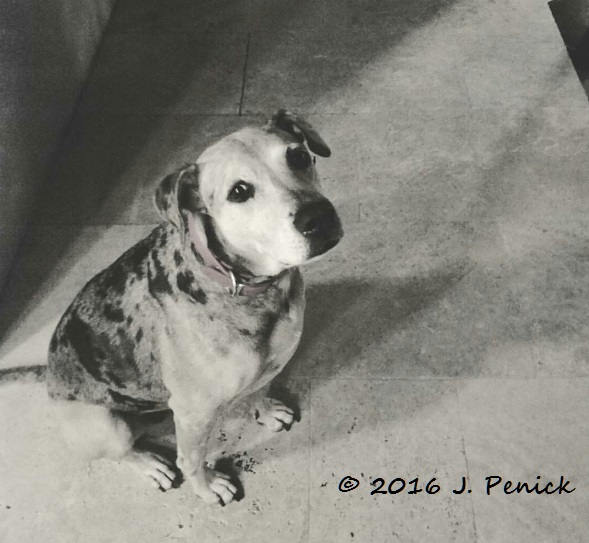 Their dogs are pretty adorable too. Here's Layla, in a portrait taken by my daughter.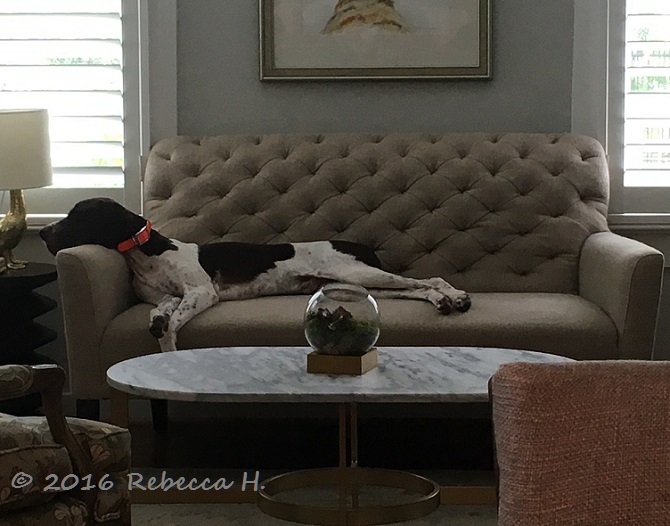 And here's Sammy, stretched out like Cleopatra on the living room sofa. Thanks, Rebecca, for sharing your photo, and thanks, Sis and SIL, for a wonderful Houston visit!
I welcome your comments; please scroll to the end of this post to leave one. If you're reading this in a subscription email, click here to visit Digging and find the comment box at the end of each post.
_______________________
Digging Deeper: News and Upcoming Events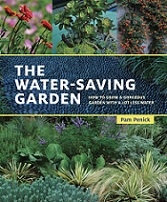 Do you review? Have you read my new book, The Water-Saving Garden? If you found it helpful or inspirational, please consider leaving a review — even just a sentence or two — on Amazon, Goodreads, or other sites. Online reviews are crucial in getting a book noticed. I really appreciate your help!
All material © 2006-2016 by Pam Penick for Digging. Unauthorized reproduction prohibited.