February 14th, 2018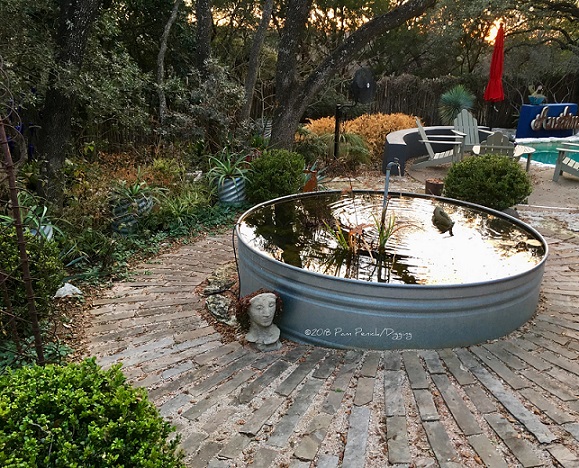 Thank heavens for evergreens, grasses, yuccas, and structural features like stock-tank ponds, big containers, and low walls. After this withering, frostbitten winter, my garden would otherwise be flattened. Of course I've been moaning and groaning about the damage anyway. (Isn't that what we gardeners do?) But taking stock a few days ago, I realized there's still plenty to enjoy in my winter garden. Case in point: the stock-tank pond, seen here reflecting a mango-colored sunset sky. Let me also give a shout-out to 'Winter Gem' boxwood balls and winter-tough squid agaves (Agave bracteosa) in raise-em-up-so-you-can-see-em containers.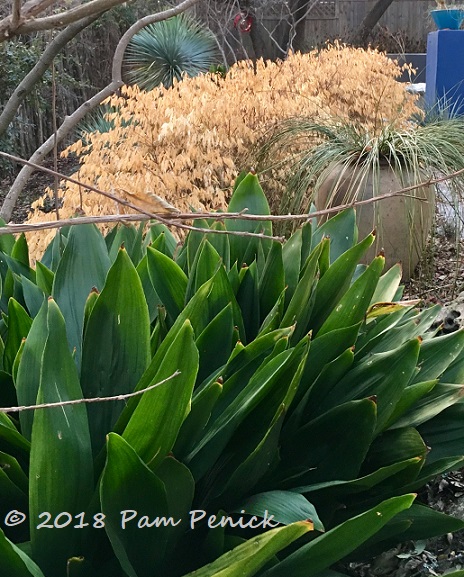 Cast-iron plant is a dependable (if ubiquitous) evergreen for Austin too. I may not notice those upright, broad green leaves the rest of the year, but I'm sure glad to have them in the winter. Similarly, Texas nolina (Nolina texana), which grows low to the ground, becomes a winter focal point when elevated in a pot, especially framed by the winter-tan foliage of a dwarf Barbados cherry hedge (Malpighia glabra 'Nana'). In the background, winter-hardy Yucca rostrata stands tall like a blue Koosh ball atop a trunk.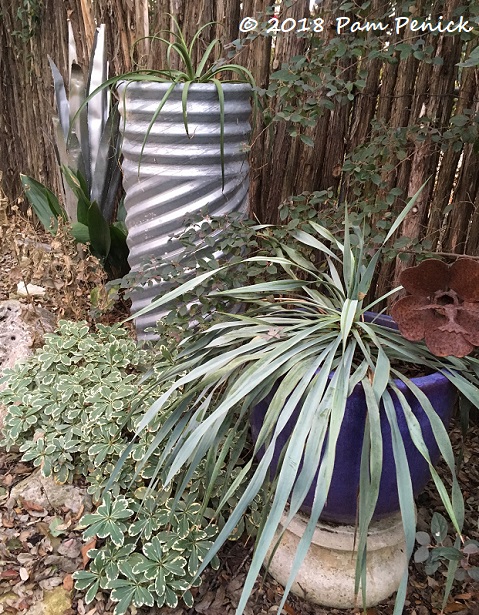 More yucca goodness here, with a twisted-leaf paleleaf yucca (Yucca pallida) elevated for attention in a purple pot atop a concrete plinth. A squid agave in a culvert-pipe planter stair-steps a little higher. Filling in around them are evergreen shade lovers 'Cream de Mint' pittosporum and Chinese fringeflower.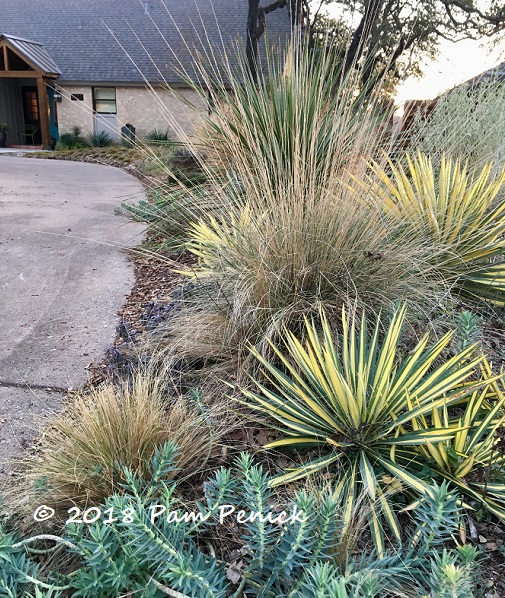 In a sunny bed along the driveway, 'Color Guard' yuccas take center stage with bright yellow and green stripes. Evergreen gopher plant (Euphorbia rigida) is beginning to bloom in the foreground, while last season's inflorescences still dazzle on the pine muhly (Muhlenbergia dubia). I'll cut the pine muhly back soon, but for now, everything that remains evergreen or stands tall through winter is treasured.
This is my February post for Foliage Follow-Up. Fellow bloggers, what leafy loveliness is happening in your garden this month? Please join me in giving foliage its due on the day after Bloom Day. Leave a link to your post in a comment below. I'd appreciate it if you'll also link to my post in your own — sharing link love! I look forward to seeing your foliage faves.
I welcome your comments; please scroll to the end of this post to leave one. If you're reading this in a subscription email, click here to visit Digging and find the comment box at the end of each post.
_______________________
Digging Deeper: News and Upcoming Events
Calling all garden bloggers! You're invited to register for the annual Garden Bloggers Fling tour and meetup, which will be held in Austin this May 3rd-6th! Click this link for information about registering, and you can see our itinerary here. Space is limited, so don't delay. The 2018 Fling will be the event's 10th anniversary, which started in Austin in 2008.
Join the mailing list for Garden Spark Talks! Inspired by the idea of house concerts, I'm hosting a series of garden talks by inspiring designers and authors out of my home. Talks are limited-attendance events and generally sell out within just a few days, so join the Garden Spark email list for early notifications. Simply click this link and ask to be added.
All material © 2006-2018 by Pam Penick for Digging. Unauthorized reproduction prohibited.