November 28th, 2017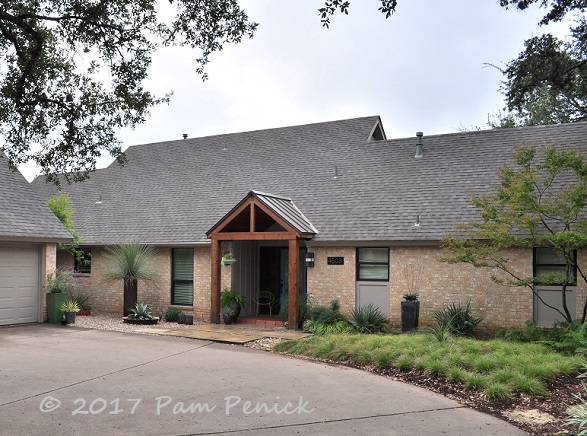 Exciting developments around here. For one, we had our old, hail-beaten roof replaced, and not only does the new roof completely freshen up our home, but the workers took great care not to damage the garden in the process. If you're in the Austin area and need a new roof, I highly recommend Straight Solutions.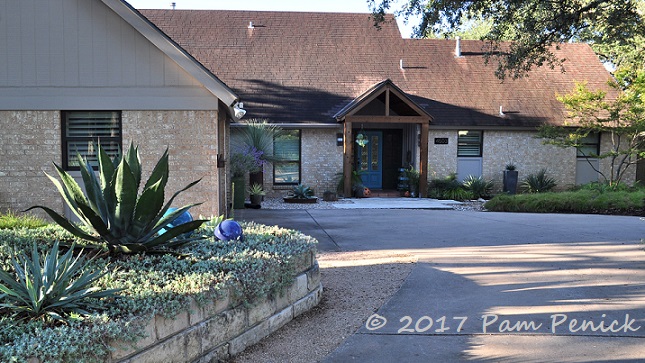 For a comparison, here's our old, sad roof, with a poor patch job around the porch gable that we added. And now back up — ahh. If anyone's wondering, we went with composite shingles for cost reasons, and the color is Tamko's Weathered Wood.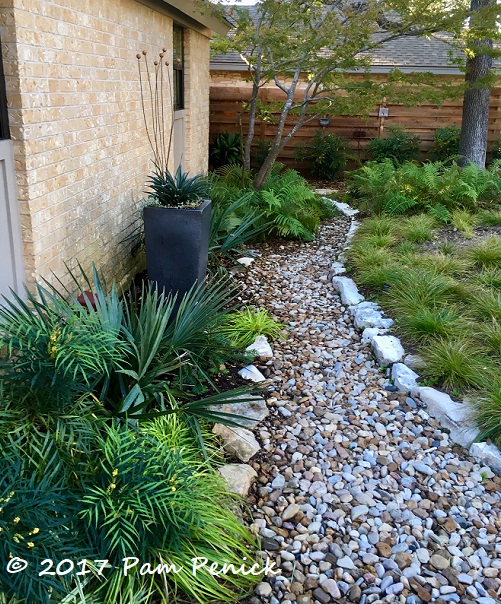 Below the steep roof, plants are looking good — zero damage from the re-roofing. I sure would like to see some rain in that dry creek though. We've had a rainless autumn.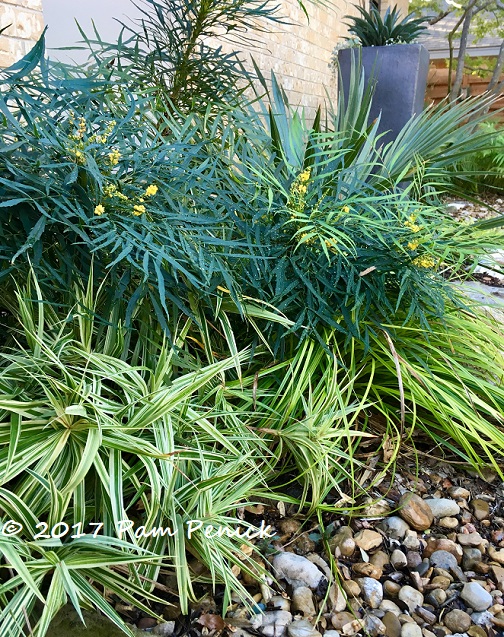 One of my favorite shade combos along the dry creek: 'Sparkler' sedge, 'Soft Caress' mahonia, and 'Everillo' sedge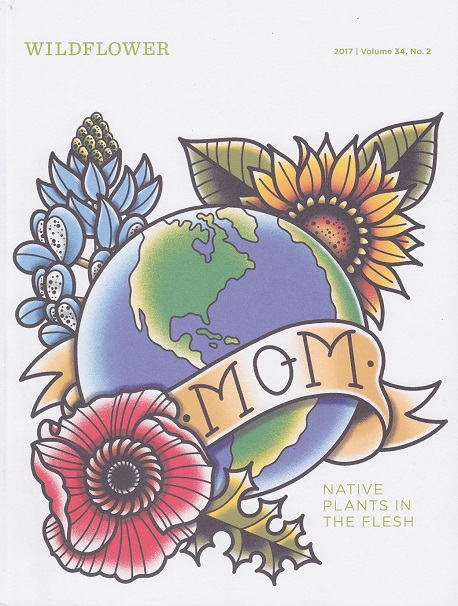 In other news, I have an article in the latest issue of Wildflower, the biannual magazine of the Lady Bird Johnson Wildflower Center.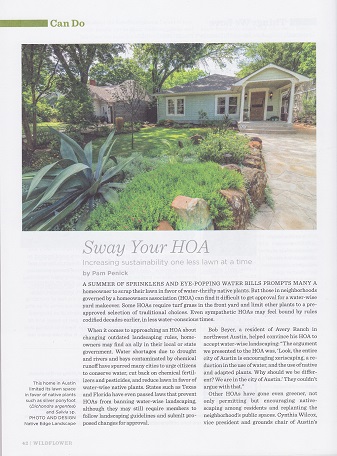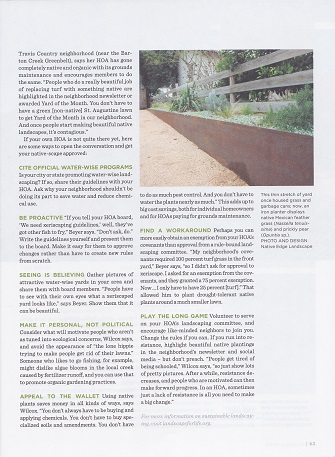 It's called "Sway Your HOA," and it's about how to persuade your old-school HOA to permit sustainable landscaping practices like reducing lawn and planting native plants. If you subscribe — and you should (you get the magazine by becoming a member of the Wildflower Center) — look for it on page 42.
I welcome your comments; please scroll to the end of this post to leave one. If you're reading this in a subscription email, click here to visit Digging and find the comment box at the end of each post.
_______________________
Digging Deeper: News and Upcoming Events
Calling all garden bloggers! You're invited to register for the annual Garden Bloggers Fling tour and meetup, which will be held in Austin next May 3-6, 2018! Click this link for information about registering, and you can see our itinerary here. Space is limited, so don't delay. The 2018 Fling will be the event's 10th anniversary, which started in Austin in 2008.
Join the mailing list for Garden Spark Talks! Inspired by the idea of house concerts, I'm hosting a series of garden talks by inspiring designers and authors out of my home. Talks are limited-attendance events and generally sell out within just a few days, so join the Garden Spark email list for early notifications. Simply click this link and ask to be added.
All material © 2006-2017 by Pam Penick for Digging. Unauthorized reproduction prohibited.
posted in
2nd garden--2017
,
Containers
,
Dry Streams
,
Fences
,
Garden art
,
Grasses
,
Lawn Gone!
,
Magazines
,
Rock
,
Shrubs
,
Succulents
,
Sustainable Gardening
,
Trees