December 7th, 2016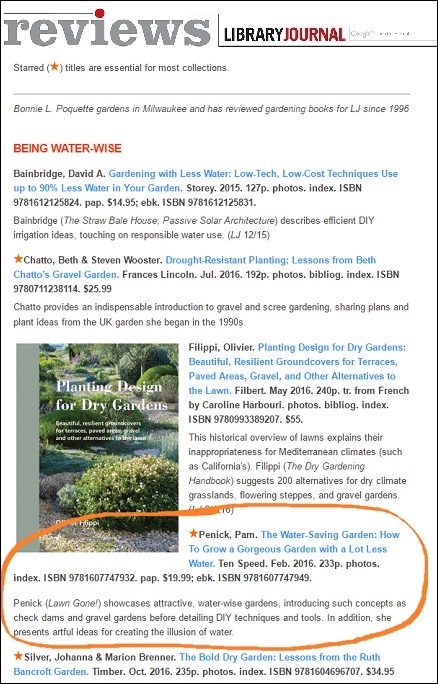 Yay, my new book has gotten a couple of great reviews just in time for holiday shopping season — and library-stocking season, apparently. Library Journal has named The Water-Saving Garden as "essential" for libraries building their collection of books about current gardening trends. Being water-wise in the garden? I'm right on trend!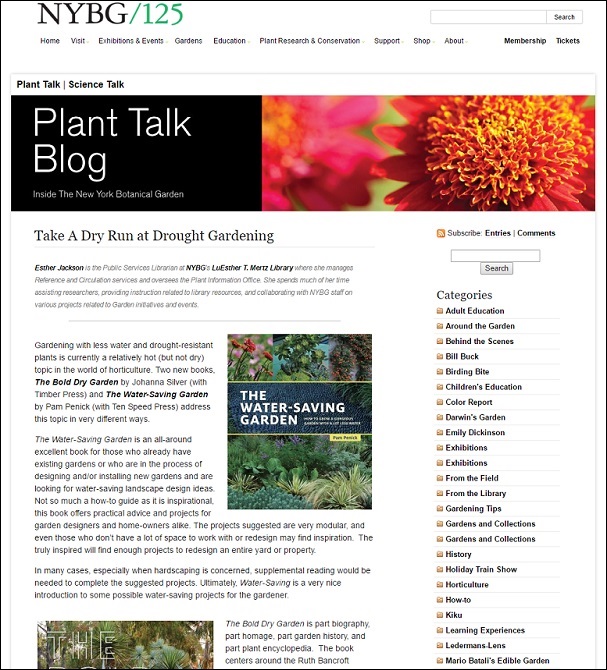 New York Botanical Garden's Plant Talk Blog also recommends The Water-Saving Garden! NYBG librarian Esther Jackson writes, "The Water-Saving Garden is an all-around excellent book for those who already have existing gardens or who are in the process of designing and/or installing new gardens and are looking for water-saving landscape design ideas. Not so much a how-to guide as it is inspirational, this book offers practical advice and projects for garden designers and home-owners alike. The projects suggested are very modular, and even those who don't have a lot of space to work with or redesign may find inspiration. The truly inspired will find enough projects to redesign an entire yard or property."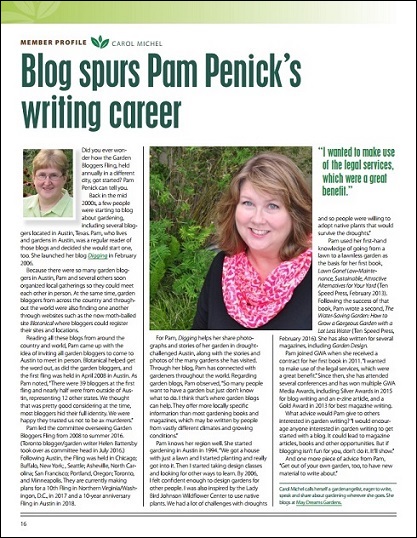 On a more personal level, I was recently interviewed by popular blogger and garden writer Carol Michel of May Dreams Gardens for a profile in GWA's newsletter On the QT (Oct/Nov 2016). Carol wanted to know how I got started as a garden writer, so if you're curious about that, click here and read page 16.
I welcome your comments; please scroll to the end of this post to leave one. If you're reading this in a subscription email, click here to visit Digging and find the comment box at the end of each post.
_______________________
Digging Deeper: News and Upcoming Events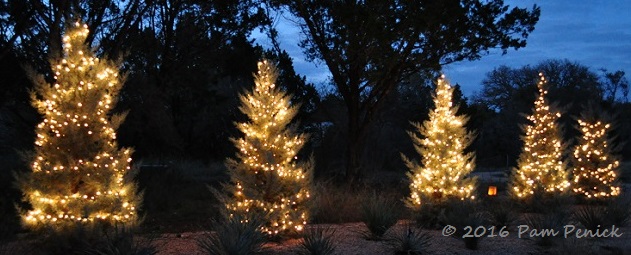 Need a holiday gift for the gardener, new homeowner, or environmentalist on your list?
Please consider giving one (or both!) of my books. They're packed with plenty of how-to info for newbies as well as lots of inspirational photos and design ideas for more experienced gardeners! Order today from Amazon (Water-Saving Garden / Lawn Gone!) or other online booksellers (Water-Saving Garden / Lawn Gone!), or find them anywhere books are sold.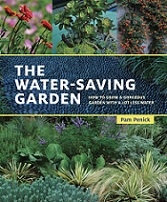 "In an era of drought and unpredictable weather patterns, The Water-Saving Garden could not come at a better time. With striking photographs and a designer's eye, Penick shows us just how gorgeous a water-wise garden can be. This is the must-have garden book of the year!"
— Amy Stewart, author of The Drunken Botanist and Wicked Plants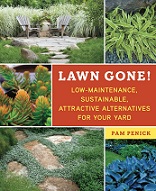 "This thoughtful, inviting, and thoroughly useful book should be required for every new homeowner at closing. It has the power to transform residential landscapes from coast to coast and change the world we all share."
— Lauren Springer Ogden, author of The Undaunted Garden and coauthor of Waterwise Plants for Sustainable Gardens
All material © 2006-2016 by Pam Penick for Digging. Unauthorized reproduction prohibited.