April 20th, 2016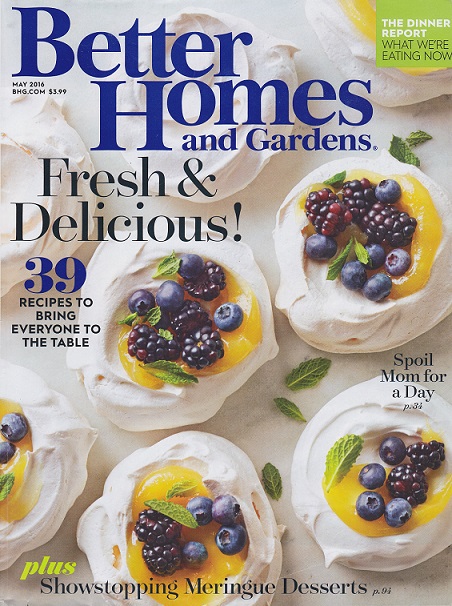 Last night I was sprawled on the couch reading the new issue of Better Homes and Gardens (May 2016). Halfway through the magazine, I turned the page and saw the cover of my new book, The Water-Saving Garden, pictured along with four other gardening titles.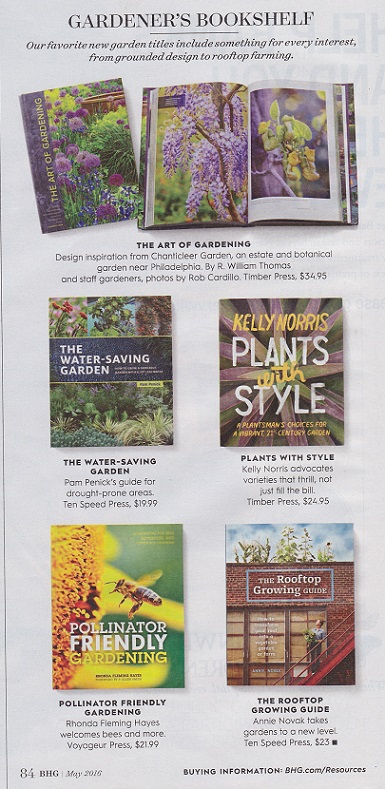 "Our favorite new garden titles," it reads. What an honor! Thank you, BHG, for recommending my book to your readers!
By the way, I second BHG's recommendation of Bill Thomas's book, The Art of Gardening, whose design-focused look at the garden Chanticleer, with gorgeous photos by Rob Cardillo, is absolutely wonderful. The other titles look intriguing too. I notice another Ten Speed Press book (my publisher) made BHG's list, Annie Novak's The Rooftop Growing Guide.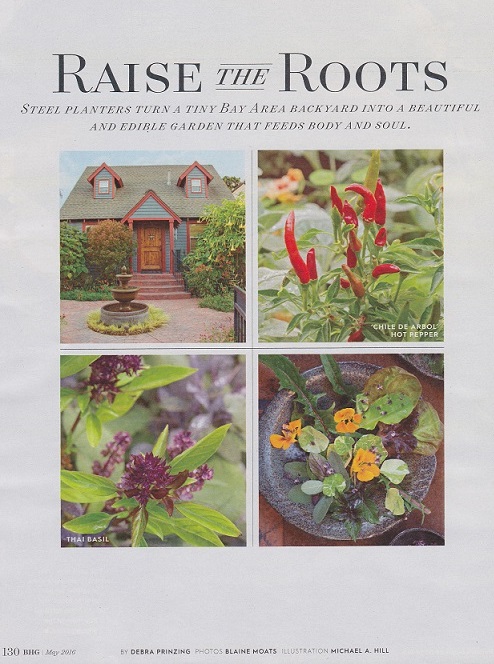 By the way, if you don't already subscribe to Better Homes and Gardens, you might consider doing so for their recent renewed focus on gardening content under the leadership of new editor-in-chief Stephen Orr, himself a garden writer and former gardening editorial director for Martha Stewart Living. This issue has a wonderful article, "Raise the Roots" by Debra Prinzing, about the design of an edible garden using Corten steel rings.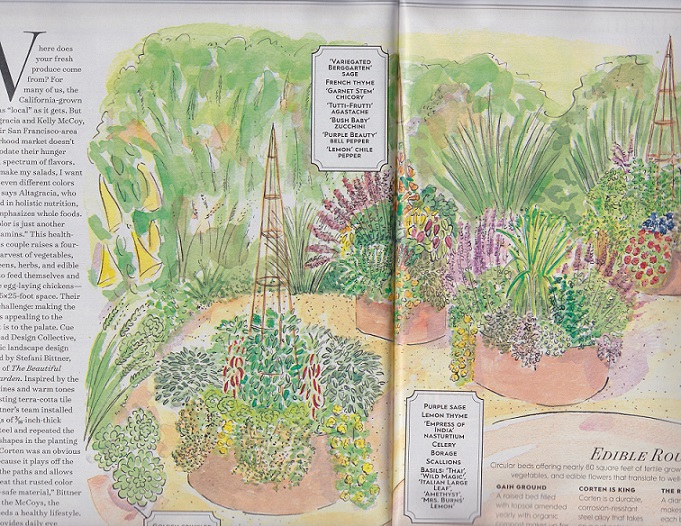 Oh yeah, baby! Regular readers know I'm strictly an ornamental gal, but this article tempted even vegetable-shunning me to think about where I might find room for a contemporary-styled veggie patch like this one. Coincidentally, the beautiful design is by fellow Ten Speed Press author Stefani Bittner, who co-authored The Beautiful Edible Garden: Design A Stylish Outdoor Space Using Vegetables, Fruits, and Herbs.
There's lots of good garden reading for you! I'm thrilled to be included in BHG's list. So, what garden books are you reading right now? Do share if you've found something really good!
I welcome your comments. If you're reading this in an email, click here to visit Digging and find the comment link at the end of each post.
_______________________
Digging Deeper: News and Upcoming Events
I'll be speaking on April 30, noon-12:30 pm, in Cedar Park, Texas, at Hill Country Water Gardens & Nursery's Lily Blossom Festival. My free talk is called "How to Garden Water-Wise, Not Water-Wasteful." An old proverb reminds us that The frog does not drink up the pond in which he lives. Don't be a water-guzzling frog! I'll be sharing my tips for making a garden that is water-wise, not water-wasteful. Stick around after my talk for a book signing, with autographed copies of Lawn Gone! and The Water-Saving Garden available for purchase.
Come see me at Festival of Flowers in San Antonio, May 28, time TBA. Learn more about water-saving gardening during my talk at San Antonio's 19th annual Festival of Flowers. Get a signed copy of my book after the talk. Tickets to the all-day festival, which includes a plant sale and exchange, speakers, and a flower show, are available at the door: $6 adults; children under 10 free. Free parking.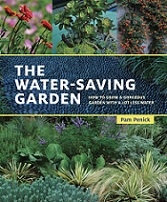 Do you review? Have you read my new book, The Water-Saving Garden? If you found it helpful or inspirational, please consider leaving a review — even just a sentence or two — on Amazon, Goodreads, or other sites. Online reviews are crucial in getting a book noticed. I really appreciate your help!
I'm on Instagram as pamdigging. See you there!
All material © 2006-2016 by Pam Penick for Digging. Unauthorized reproduction prohibited.