November 21st, 2013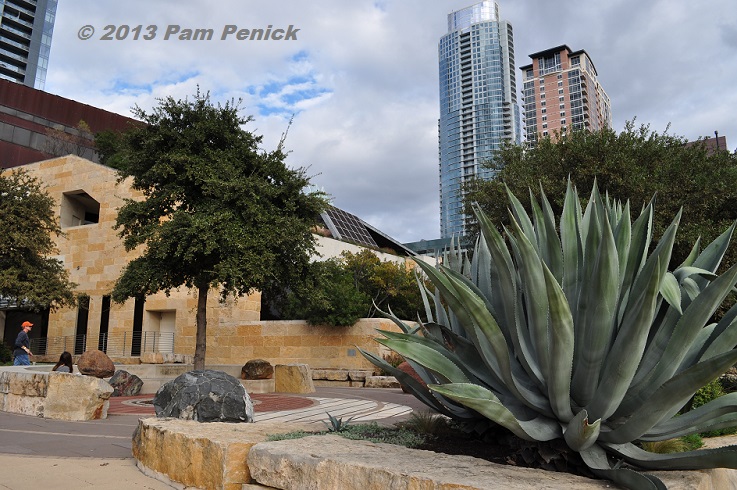 Overlooking Lady Bird Lake and backing up to the tall codominiums of downtown, Austin City Hall delights me every time I drive by. With an angular, contemporary exterior clad in copper and limestone and a front facade that steps down toward the lake, the building has a warmth and openness and a playful vibe that's so in tune with Austin's style.
The landscaping too is appealing and very "Austin." No boring lawn, no traditional shrubbery here. Instead, a bounty of native evergreens, perennials, grasses, and trees fills raised beds, rooftop gardens, and pocket gardens situated around the building.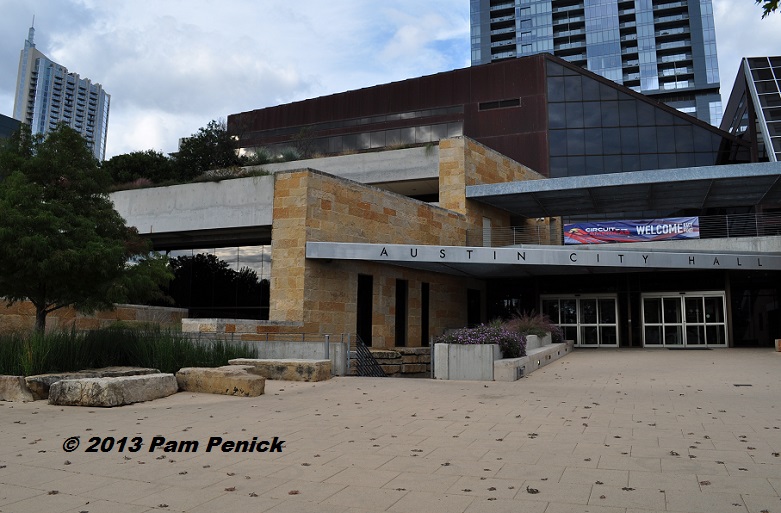 A limestone plaza in front of the building provides a gathering space and sense of openness in lieu of lawn.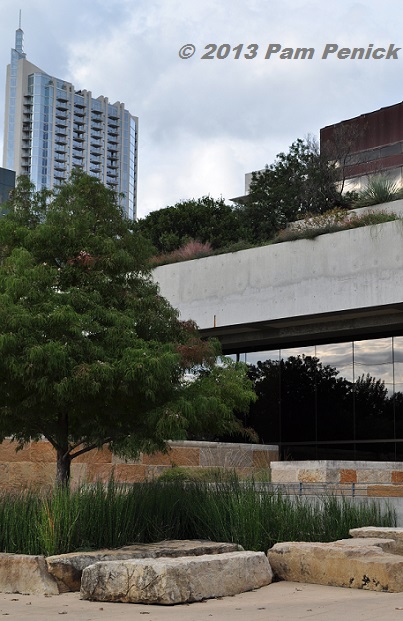 A roof garden adds greenery at the upper windows. At plaza-level, bald cypress and horsetail planted along a boulder-lined rill and pool evoke a Hill Country stream.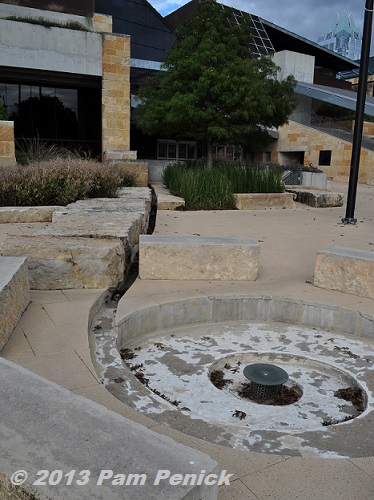 Sadly, the water feature is dry and dead, having been turned off for the last several years due to mandatory water-use restrictions. I feel the current ban on most outdoor water features in Austin is wrong, depriving our city of a source of beauty that's particularly essential in a hot climate. I fully support water conservation efforts, but you can't convince me that turning off all the fountains in town does much to save our lake water. I could go on, but I'll save that rant for another post.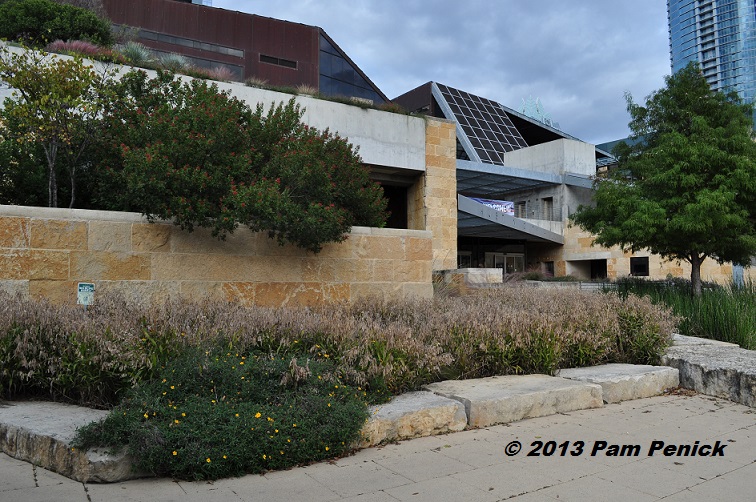 A huge swath of inland sea oats adorns this raised bed.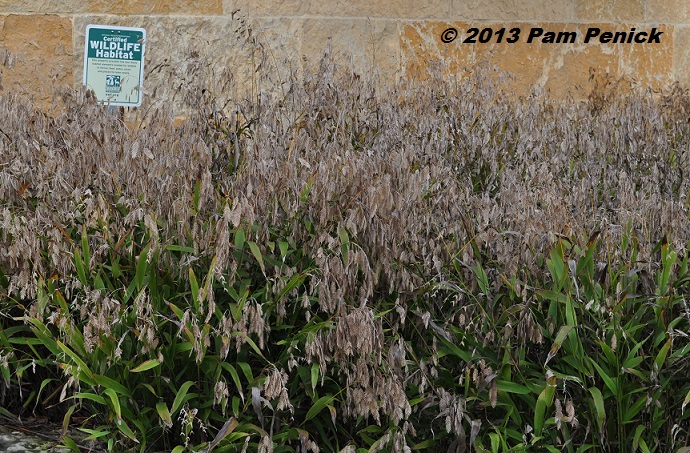 How many other cities care to make their City Hall landscapes as a Certified Wildlife Habitat? (Many, I hope!)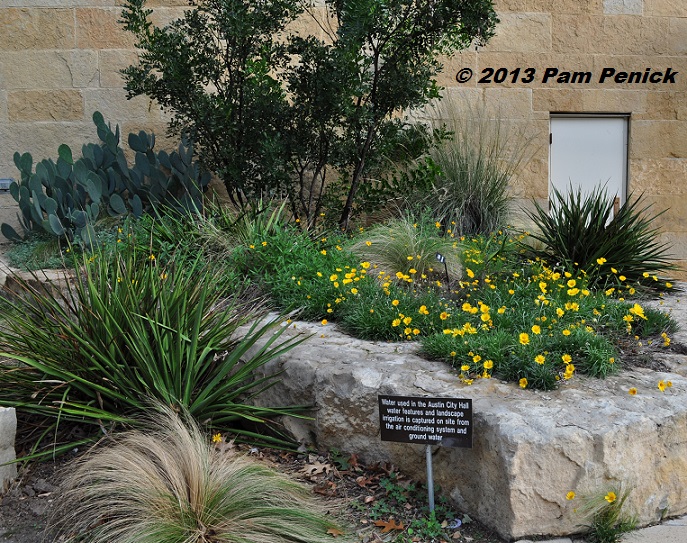 A pocket garden on the west side of the building contains a sun- and heat-loving mix of Texas mountain laurel, four-nerve daisy, prickly pear, yucca, and Mexican feathergrass.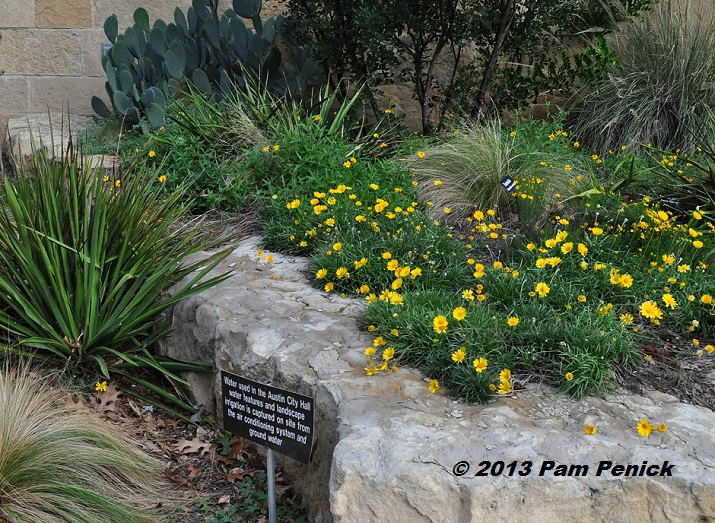 The sign explains that water used in irrigation and the (dead) water feature is recycled from the air conditioning system.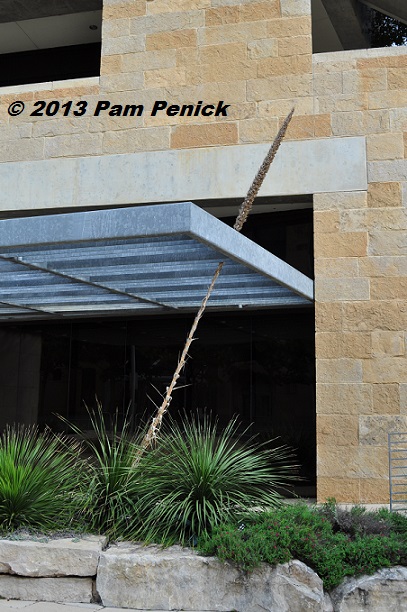 A bloom spike from a Texas sotol pierced the shade arbor above and now leans like a tiki umbrella pole.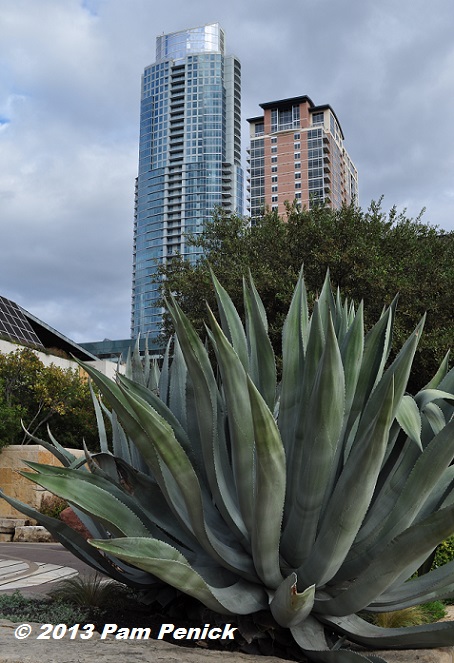 These agaves are massive — about 7 feet tall.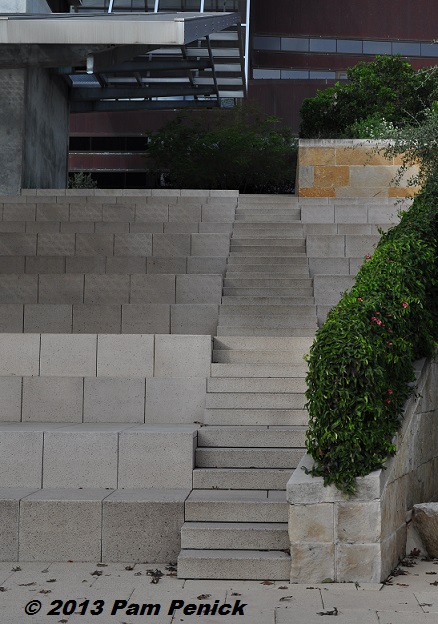 A tiered seating area to the right of the entrance is often the site of live musical performances. I cropped out a homeless person sleeping on the steps — sadly, a common sight in Austin. That's 'Tangerine Beauty' crossvine growing atop the wall.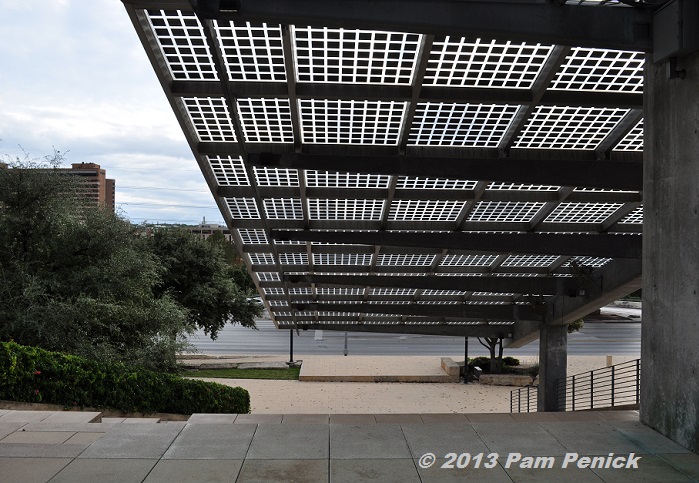 The view from the top of the step seating. Shade structures like this are essential in our hot, sunny climate.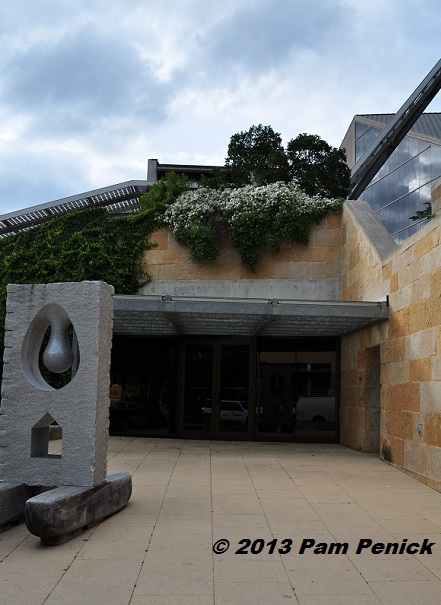 White mistflower spills over the edge of another rooftop garden.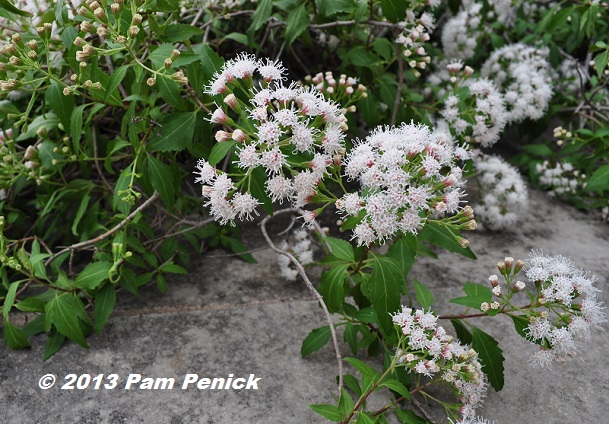 A closer view — I wish I could share the spicy fragrance with you.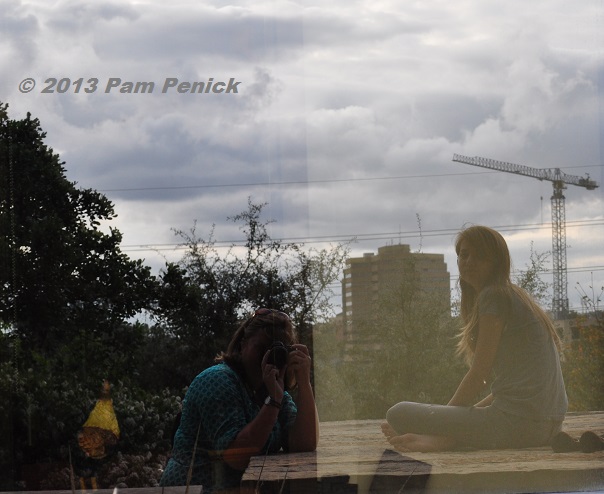 On the upper terrace, my daughter and I posed for a reflected self-portrait. There's the state bird of Texas in the background — a crane. (Sorry, I couldn't resist that old joke.)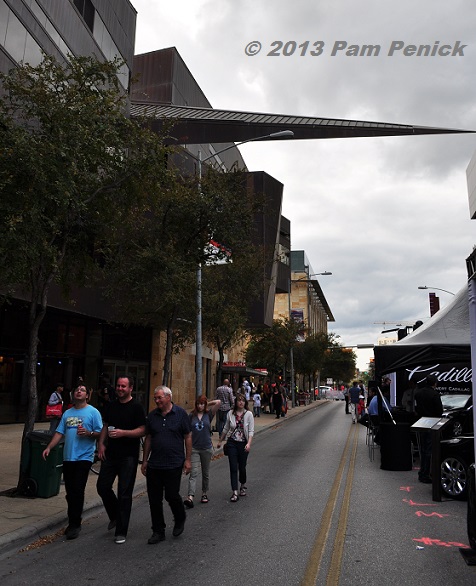 Cantilevered over 2nd Street on the back side of City Hall, "the stinger," also called the armadillo tail, points north. Strolling beneath it on this weekend were visitors to Austin Fan Fest, part of the Formula One U.S. Grand Prix event.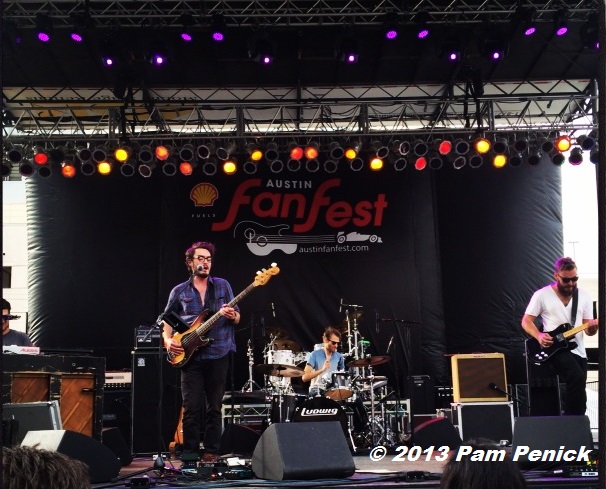 We attended Fan Fest to hear a band my husband is into, Civil Twilight, which was playing a free live show just a block away. I'm not into F1 racing, but any excuse for live music in downtown Austin, right?
All material © 2006-2013 by Pam Penick for Digging. Unauthorized reproduction prohibited.