January 8th, 2016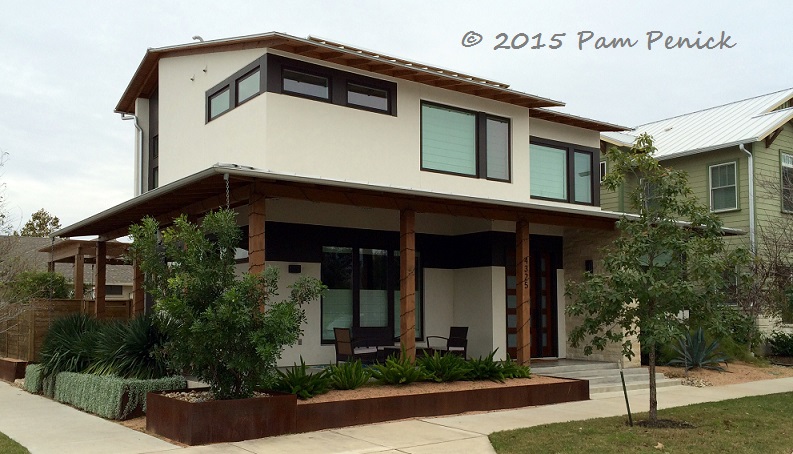 On New Year's Day, we took a stroll through Mueller neighborhood, a New Urban community in east-central Austin. Built on the site of the old airport, where acres of runways and parking lots once sprawled, attractive homes and row houses in a mix of different styles (no cookie-cutter uniformity here) occupy tiny lots on walkable, tree-lined streets. The Lilliputian yards are offset by generous communal green spaces like the Southwest Greenway, and may be seen by many busy residents, like my in-laws, who've just moved in, as an asset.
A small garden must make the most of each square inch, and I was pleased to see that residents aren't shying away from planting up the front yard. Many have embraced water-saving xeriscapes with a mix of native and adapted plants. Here are a few of my favorites, starting with this corner-lot contemporary. Wonderful steel planter boxes wrap around the L-shaped front porch. Nicely constructed at different heights, with a gap on the left to allow porch access, the boxes elevate plants to porch level and provide a sense of enclosure.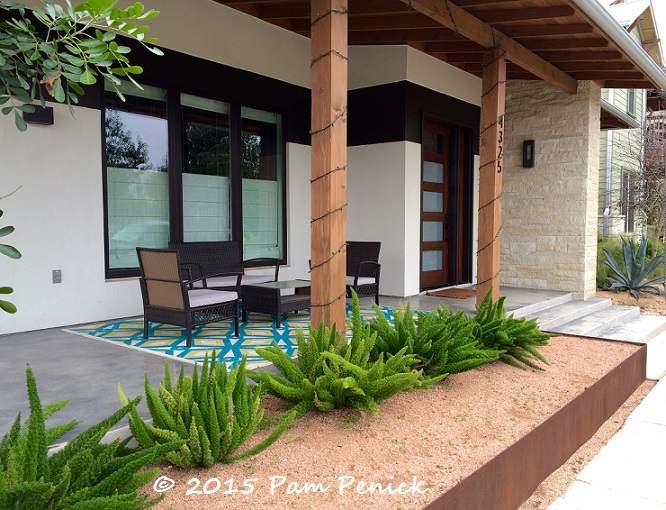 I love these foxtail ferns (Asparagus meyeri) but feel like something is missing along the front edge of the box. Or maybe they plant annual wildflowers there in warmer seasons?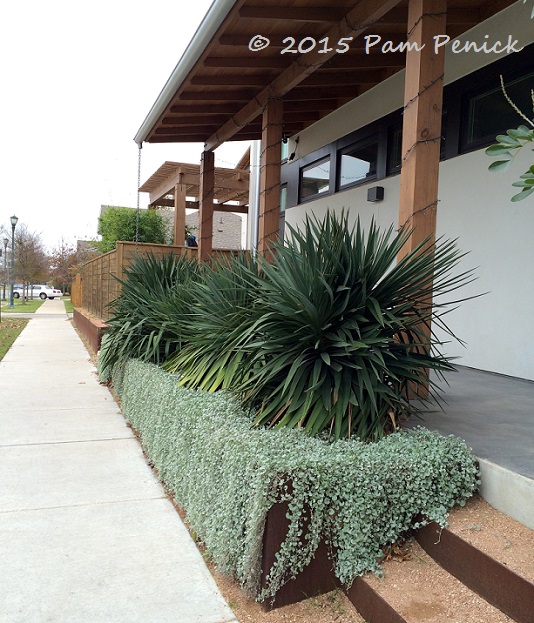 On this side, silver ponyfoot (Dichondra argentea) carpets the DG in shimmering foliage and cascades over the steel edge. It's kept neatly trimmed at ground level. A hedge of softleaf yucca (Y. recurvifolia) has architectural presence.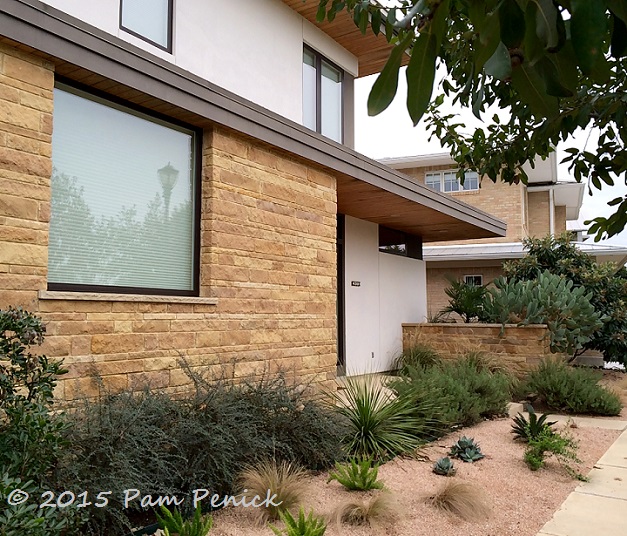 Another contemporary home has a traditional-style foundation planting, but it's composed of tough, drought-tolerant plants like grayleaf cotoneaster (Cotoneaster glaucophyllus), sotol (Dasylirion texanum), and rosemary. At the far end, near the door…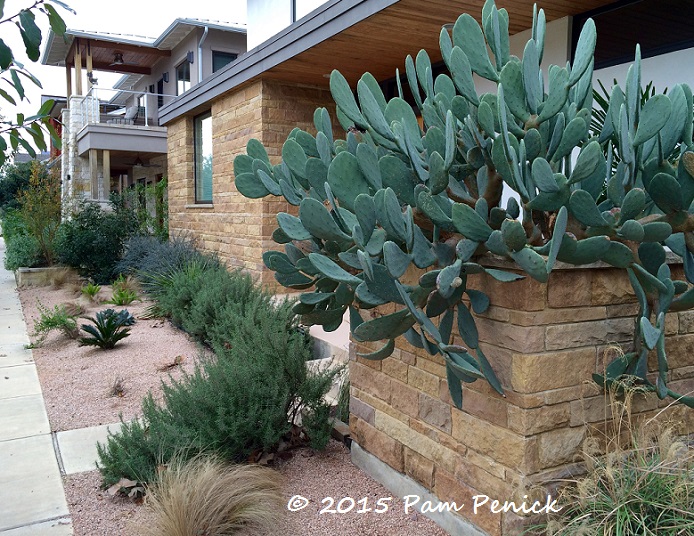 …hulks a many-armed spineless prickly pear in a stone planter — beautiful!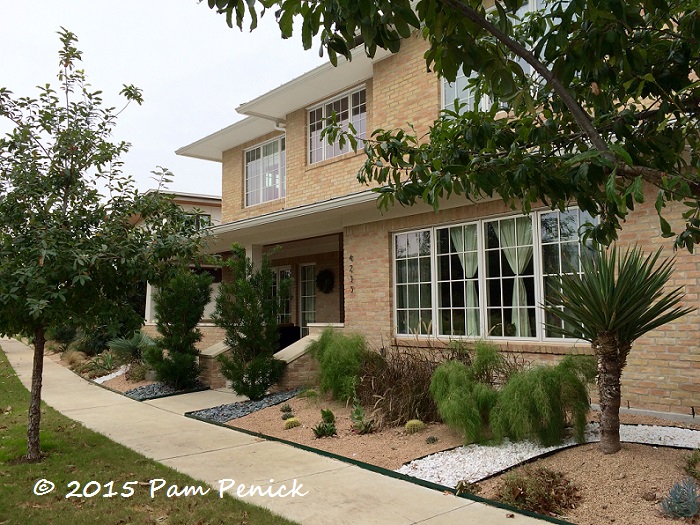 I found this brick house very handsome. Its landscaping has some nice plants, although I think the line of bamboo muhly (Muhlenbergia dumosa) along the foundation would be stronger without the insertion of the purple pennisetum, and the yews by the steps overpower the entry. I love that trunking yucca on the right, though.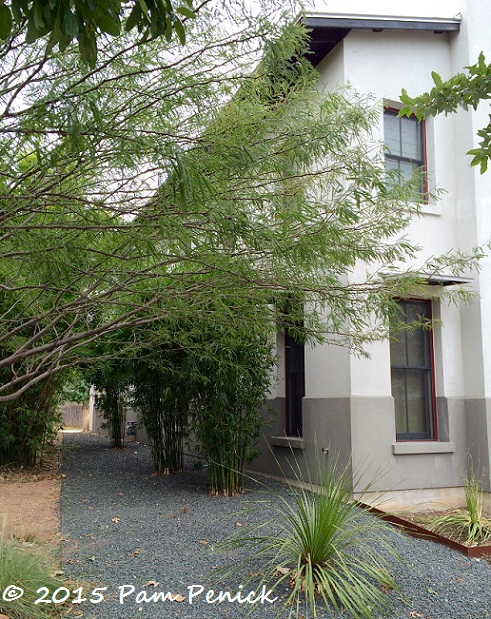 Nearby, a minimalist side yard comes into view, with a row of clumping bamboo and a Texas sotol in dark-gray gravel. Very tidy.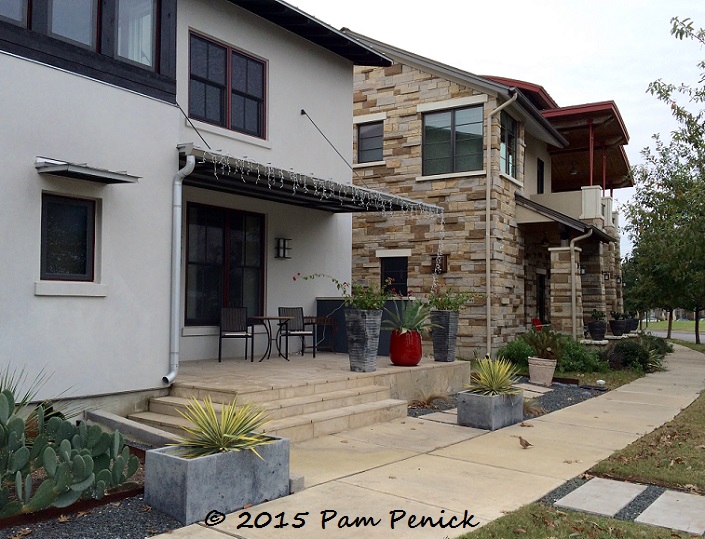 In front, symmetrical 'Color Guard' yuccas in trough-style containers add a burst of yellow to the minimalist green and gray garden.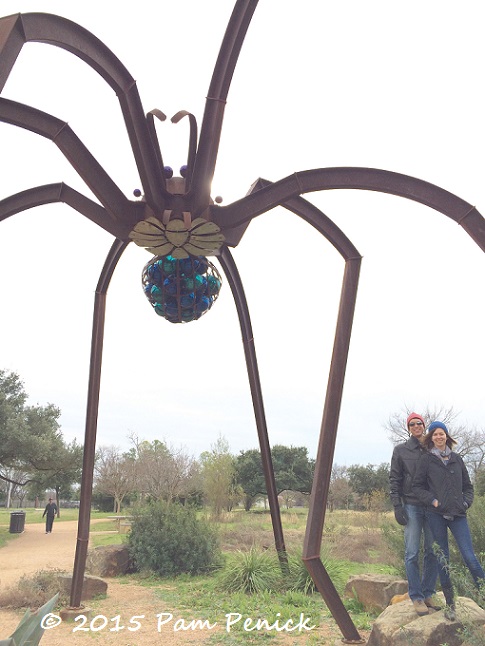 Before we left, we checked out the big spider sculpture at the Southwest Greenway. What do you think: creepy or fun? I say fun, but thank goodness they're small in real life.
I really enjoyed seeing what people are doing with their front yards at Mueller, and I look forward to a return visit in the growing season. Does anyone have a particular street to recommend for its gardens?
All material © 2006-2016 by Pam Penick for Digging. Unauthorized reproduction prohibited.