September 9th, 2017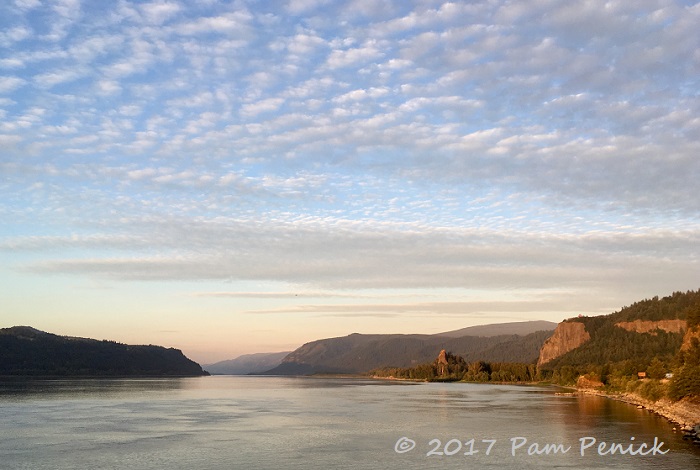 I debated about writing this post right now. During our August road trip from San Francisco to Portland, we made a day trip along the majestically scenic Columbia River Gorge, the "playground of Oregonians" that's currently on fire. As the Eagle Creek fire has raged for a week along the waterfall-festooned gorge, threatening historic structures and torching 33,000 acres, even raining ash on the city of Portland, I've been saddened to think that the natural beauty we marveled over just a month ago may be blighted for years to come.
And yet wildfire is a natural occurrence (even though this fire was human-caused), and perhaps the fecundity of northwestern Oregon will soon hide the burn scars. People's homes, of course, are a different story, and every loss there must be difficult to bear. As a tribute to the region, I decided to go ahead and post about our recent day spent exploring the wonders of the Columbia River Gorge.
Waterfalls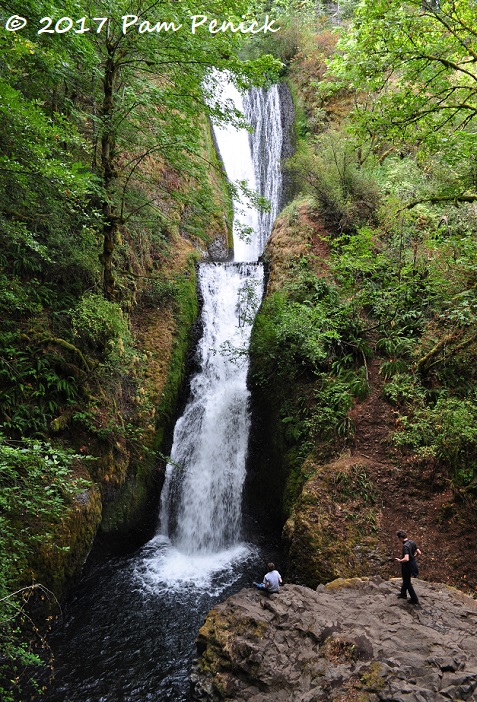 Streaming from high cliffs along the Oregon side of the Columbia River, more than 90 waterfalls make this a spectacularly scenic area. A number of big ones can be easily viewed from pullouts along the Historic Columbia River Highway Scenic Byway, and trails take you to others, like Bridal Veil Falls, pictured here.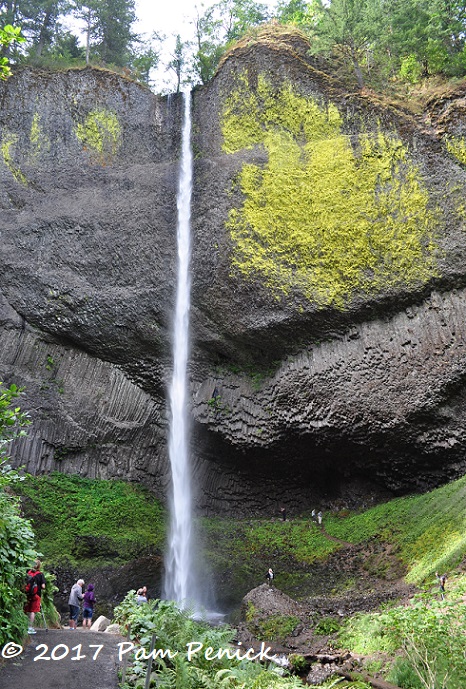 Latourell Falls, spilling straight down from a cleft in a lichen-covered basalt cliff face, is especially beautiful.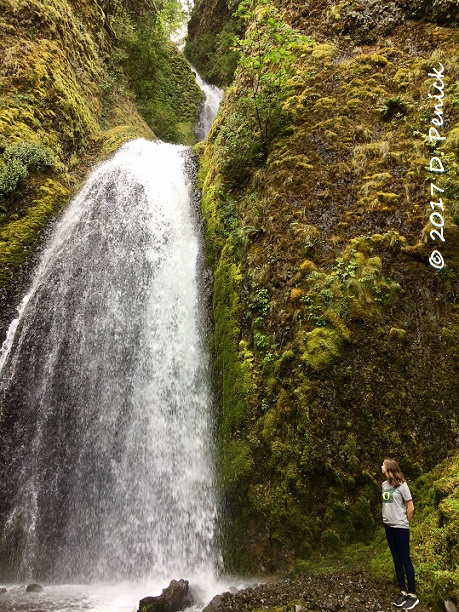 Wahkeena Falls sluices down a curving drop and then fans out into a wide sheet along the trail…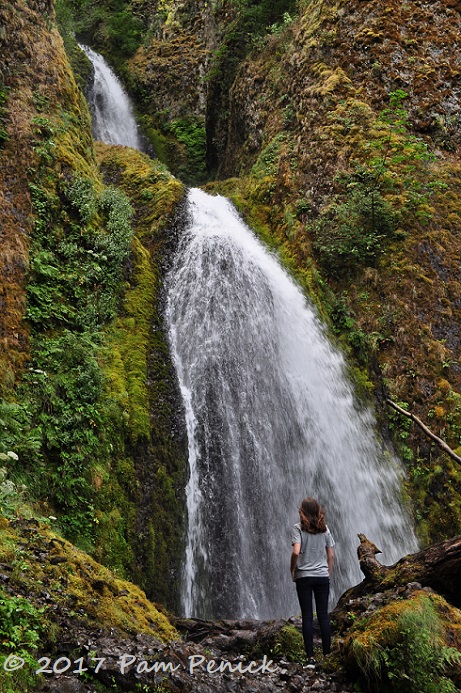 …creating a chilly breeze for those who get close.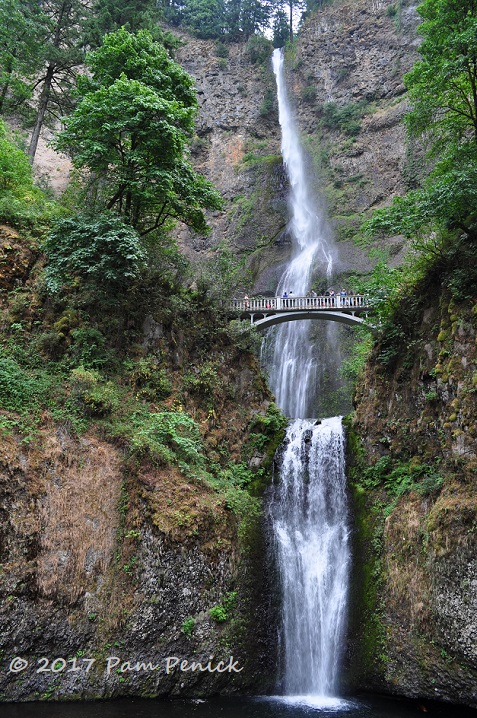 The most famous of the waterfalls is Multnomah Falls, a 620-foot cascade with a picturesque footbridge between the two drops.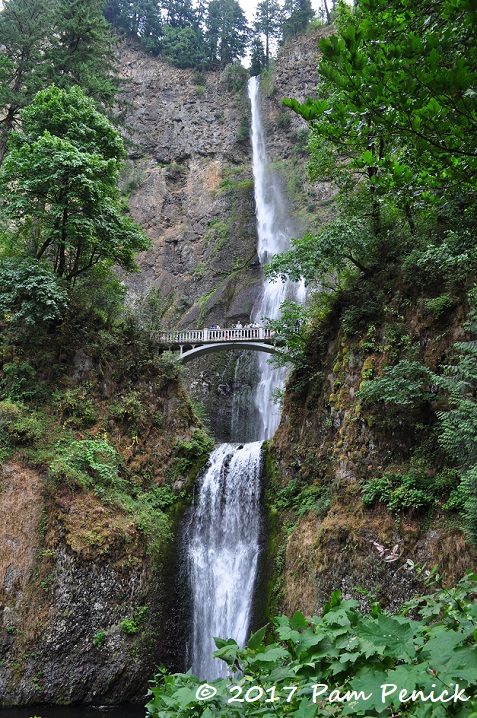 We climbed the trail to the bridge and admired the view along with throngs of selfie-taking tourists.
Hood River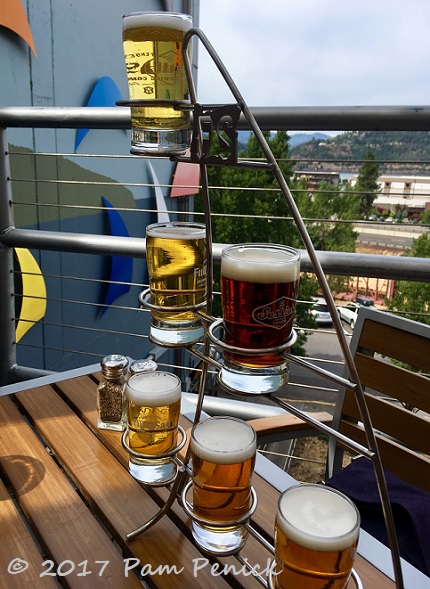 All that waterfall viewing made us hungry, so when we reached Hood River we headed straight to Full Sail Brew Pub for burgers and a tasting flight of their beers (delivered on a sail-shaped stand, no less) on the deck overlooking the colorful sails of kite and wind surfers on the river.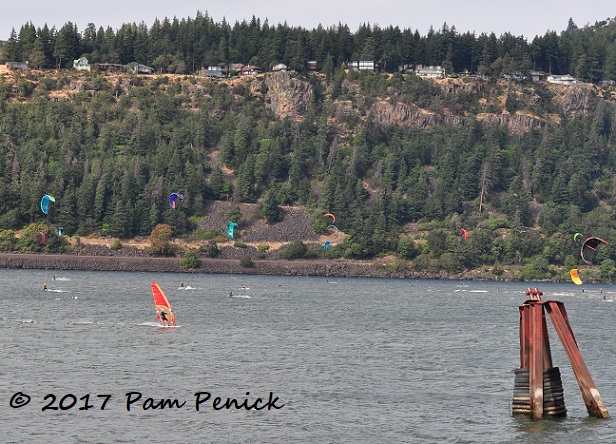 Afterward, we walked along the river to see the kite surfers and wind surfers doing their thing.
Fruit Loop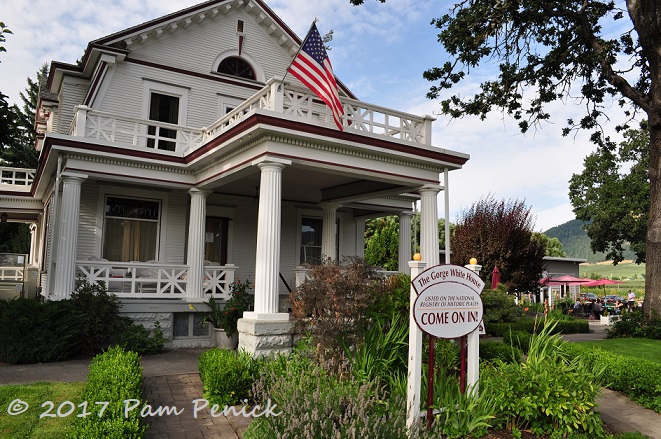 Next we headed south along the Fruit Loop, a 35-mile loop in the scenic Hood River Valley, where dozens of orchards and flower farms offer their wares at roadside farm stands. We stopped at the picturesque Gorge White House for cherries, drinks, and a stroll through their you-pick flower field.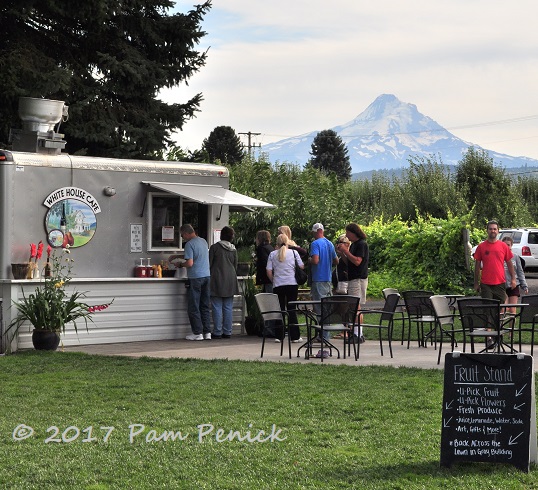 Snow-capped Mt. Hood floats in the distance — rather otherworldly to this Southerner. I could hardly tear my eyes away from the mountain…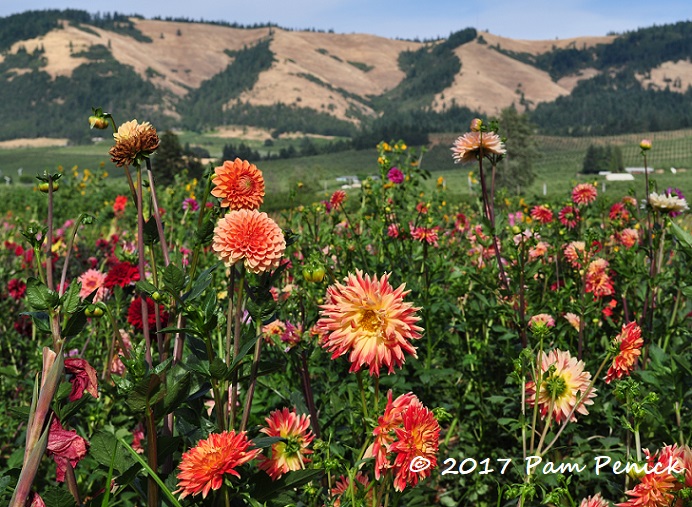 …until I spotted the flower field.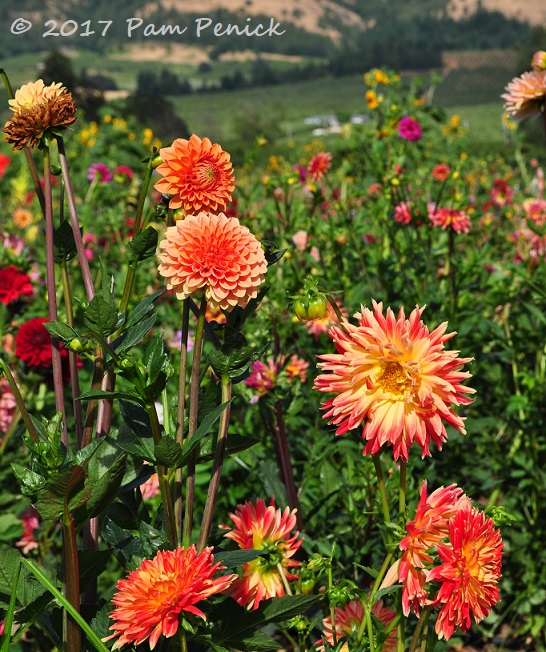 Dahlias in summer glory glowed in the late afternoon light.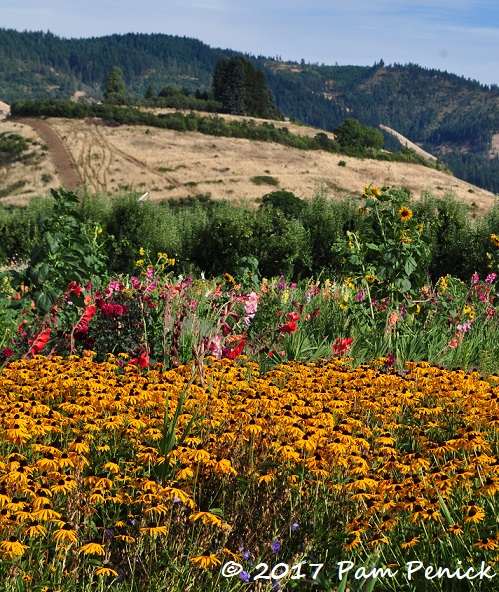 Black-eyed Susans too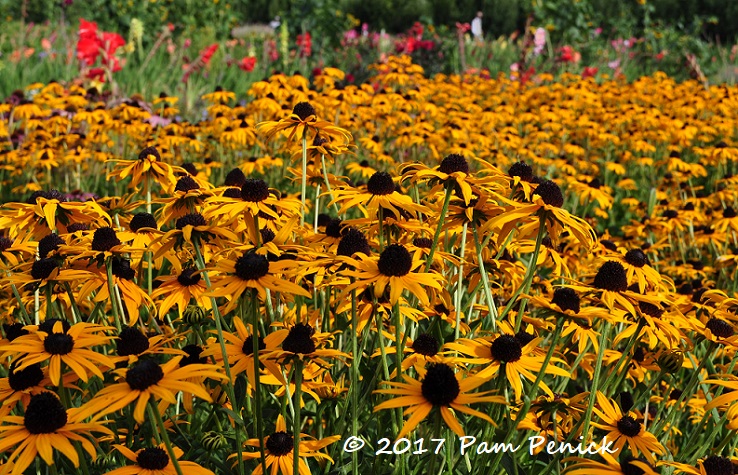 Mesmerizing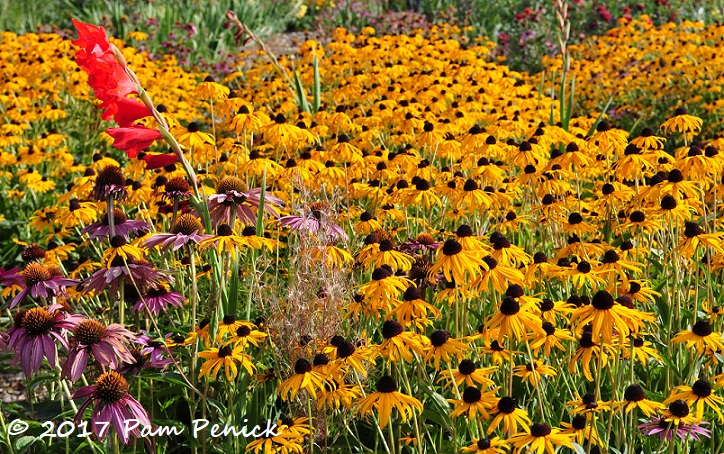 Ahh, look at them!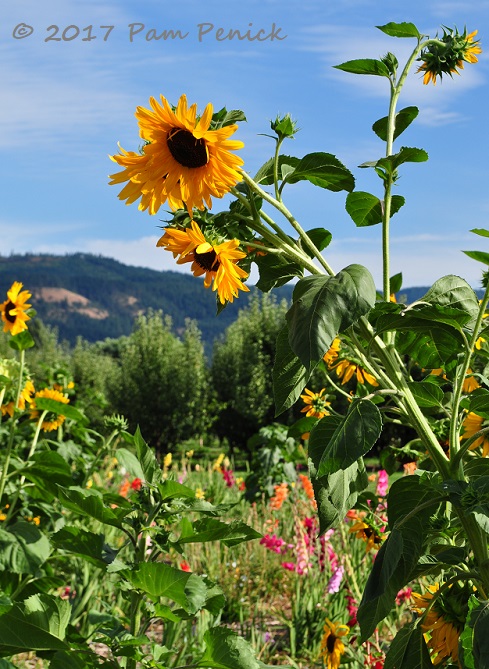 Tall sunflowers blazed against blue skies.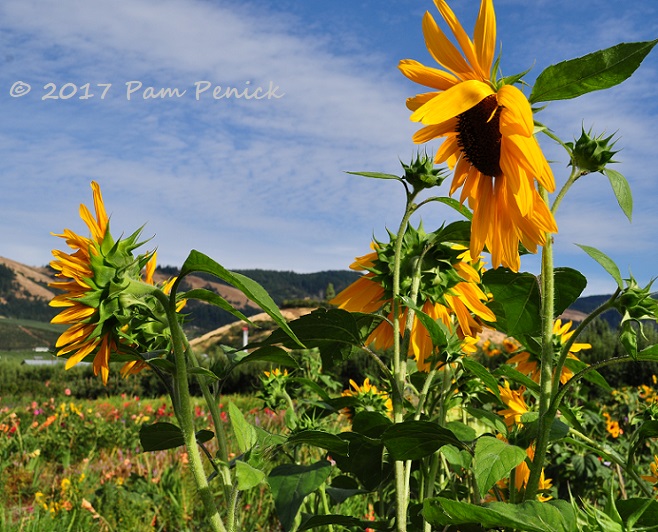 I admired their friendly faces.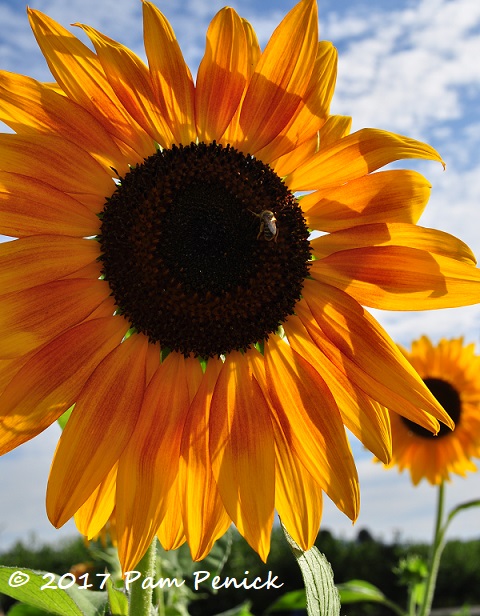 And so did the bees.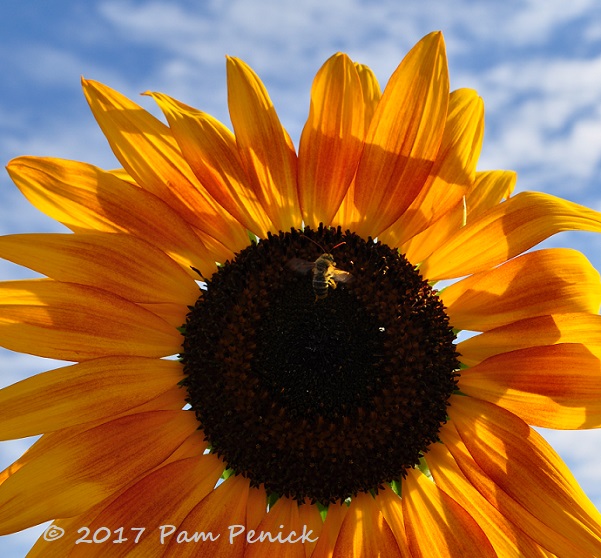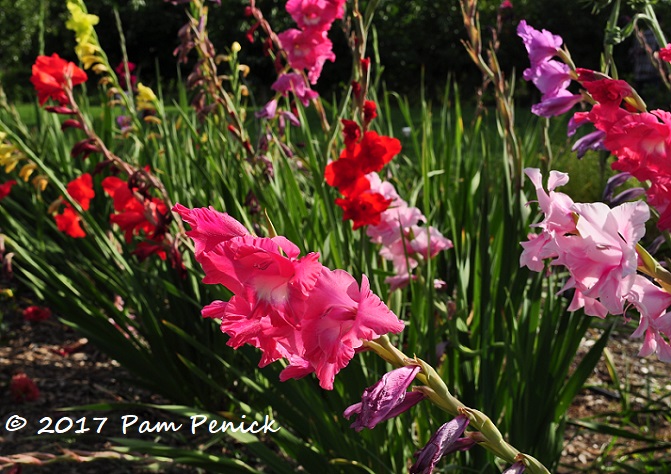 Gladiolus flying colorful pennants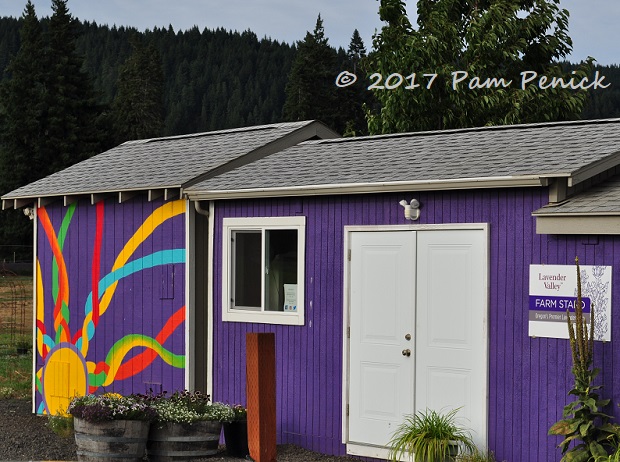 By the time we left, all the farm stands were closing for the day, but we stopped at Lavender Valley Farm anyway because of an amazing view…

…Mt. Hood rising over roadside meadow grass and Queen Anne's lace.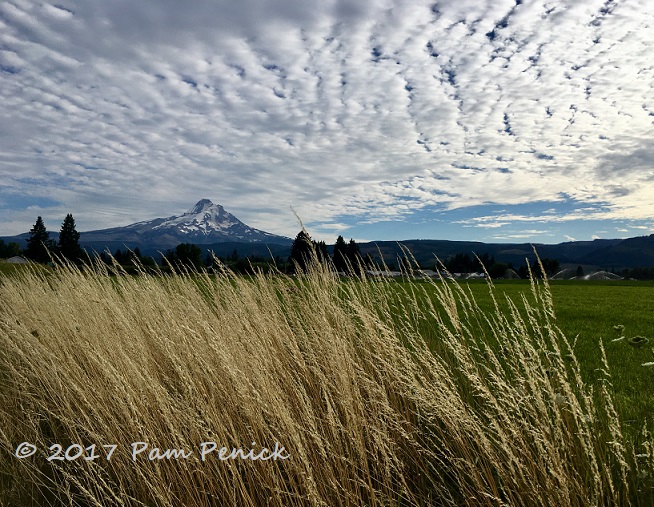 That sky!
Columbia River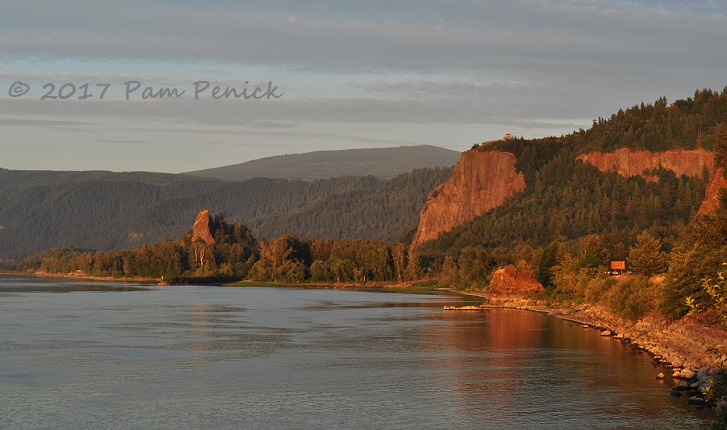 As we drove back along the Columbia River toward Portland, the sun was gilding the river and cliff faces. At a pullout, we stopped to admire the view and get a few golden-hour shots. That's Vista House, an observatory atop a sheer promontory, where we'd stopped for a bird's-eye view earlier that day.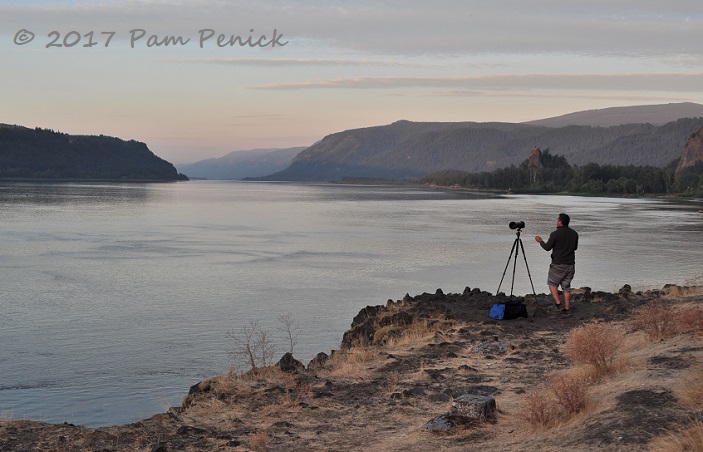 What a majestic view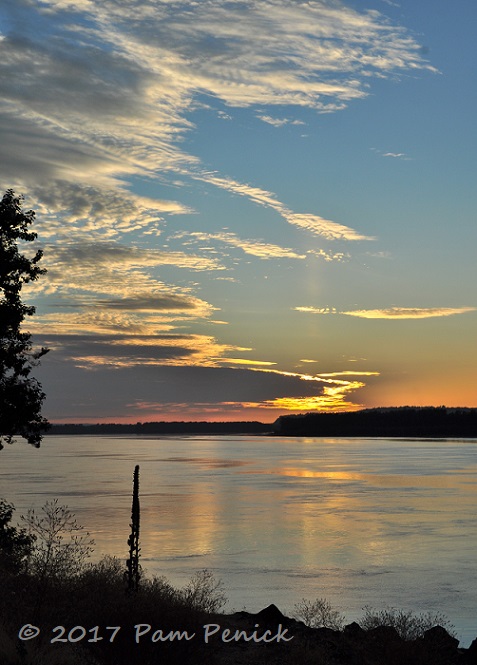 I'm grateful to have experienced the beauty of this place for a second time. Click here to read about an earlier visit I made in 2014, with lavender fields in bloom below Mt. Hood and Mt. Adams.
Up next: Danger! My return visit to the Danger Garden of Loree Bohl. For a look back at the Eugene, Oregon, garden of Rebecca Sams and Buell Steelman, click here.
I welcome your comments; please scroll to the end of this post to leave one. If you're reading this in a subscription email, click here to visit Digging and find the comment box at the end of each post.
_______________________
Digging Deeper: News and Upcoming Events
Get ready for fall garden tours in Texas! The Garden Conservancy is sponsoring Open Days tours in Fort Worth on Oct. 8th, San Antonio on Oct. 14th, and Austin on Nov. 4th.
Get on the mailing list for Garden Spark Talks. Inspired by the idea of house concerts, I'm hosting a series of garden talks by talented designers and authors out of my home. Talks are limited-attendance events and generally sell out within just a few days, so join the Garden Spark email list for early notifications. Simply click this link and ask to be added.
All material © 2006-2017 by Pam Penick for Digging. Unauthorized reproduction prohibited.