March 2nd, 2015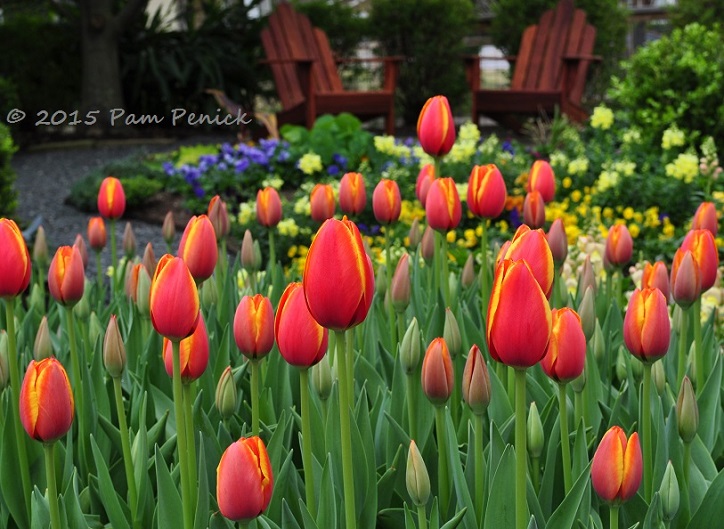 Last year I featured this Houston Heights garden in a Drive-By Gardens post. But last Saturday, while in Houston to visit family, I had the pleasure of meeting the owner, David Morello, who kindly gave me a full tour.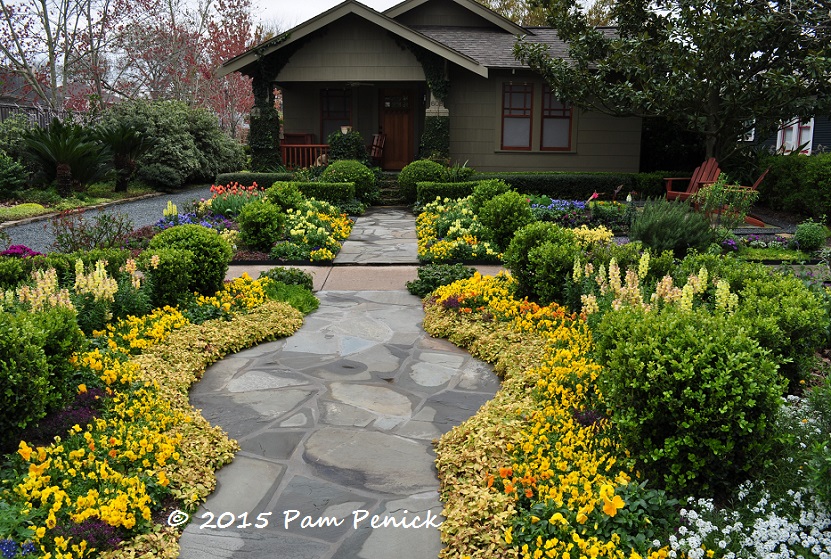 David owns the design and build company David Morello Garden Enterprises, and he's an avid gardener who makes time for his own glorious garden as well. In the sunny front yard of his khaki bungalow, he's created an elegantly structured space with clipped boxwood and geometric lines, colored in with a riotous but disciplined color scheme of flowering annuals. Every spring he experiments with new colors. This year he's playing with yellow and gold.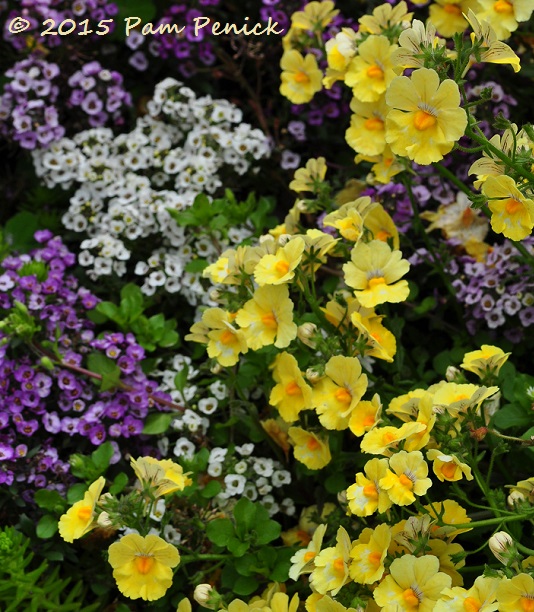 Pops of purple and white give depth to the yellows.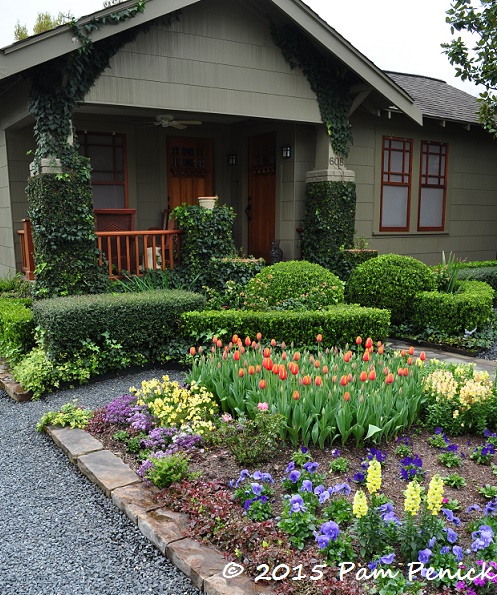 Near the porch, a stand of 'World's Favorite' tulips — orange-red edged in yellow (see top photo) — brightens the entry. The front garden will be at peak spring bloom in about three weeks, David said. The earliest Texas bluebonnets were starting to flower along the street, probably thanks to the reflected heat.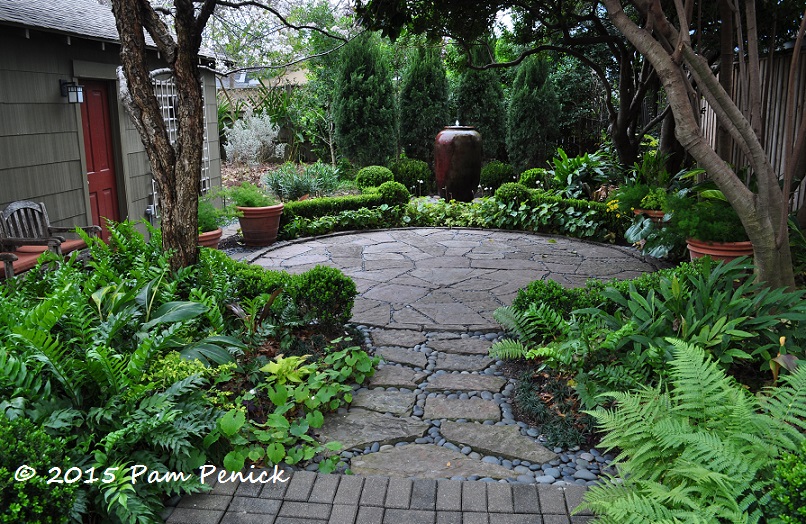 In back, the garden tells a different story. Gone are the colorful annuals. Instead a serene, ferny bower encloses a circular flagstone patio. A low boxwood parterre outlines the perimeter, and a hedge of evergreen Spartan juniper (Juniperus chinensis 'Spartan') makes a pleasing backdrop to a tall, rusty-red pot fountain. The color of the pot picks up the coppery-orange of the garage door, seat cushions, and even the terracotta pots.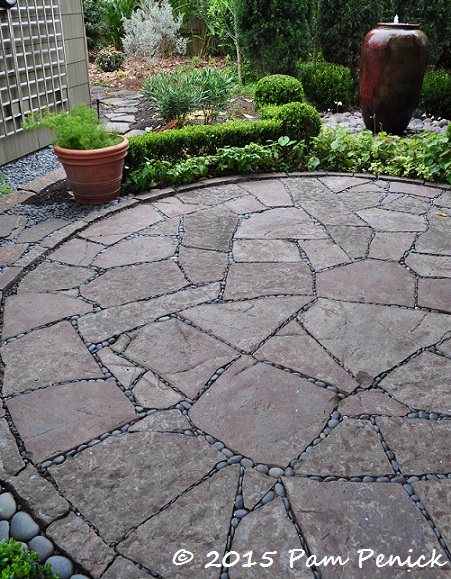 The small patio is a work of art, with meticulously pieced flagstone "mortared" with Mexican beach pebbles.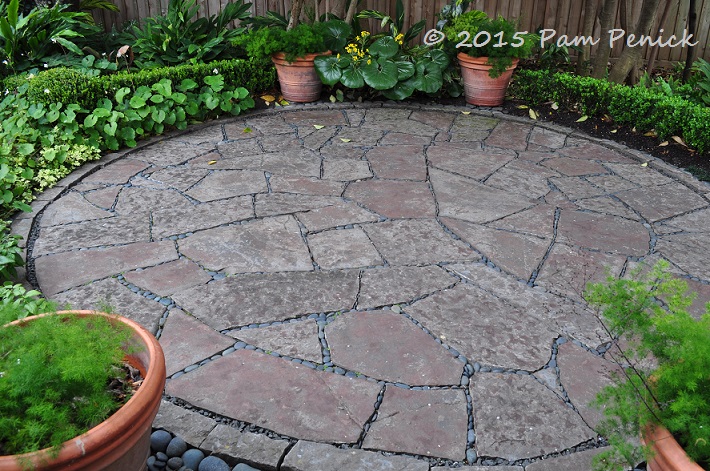 Another view, from the garage door, which is accessed via a gray gravel path running alongside the garage. Looking directly across the patio, a pop of yellow catches your eye.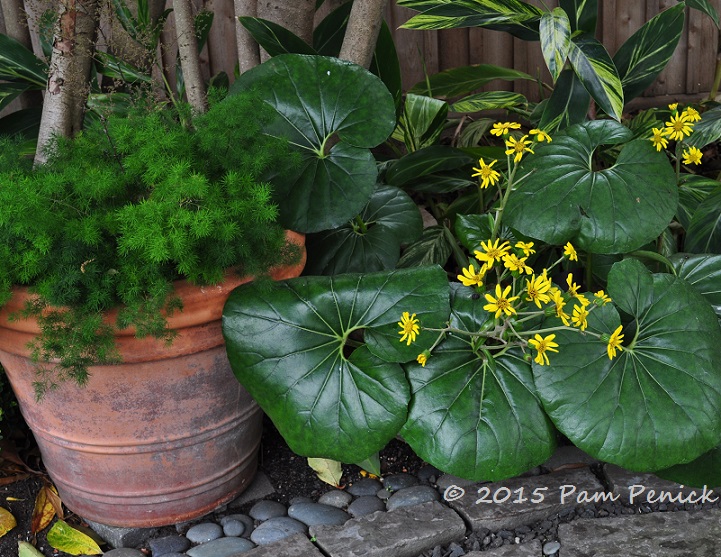 It's leopard plant (Farfugium japonicum, formerly Ligularia) in bloom, with variegated shell ginger (Alpinia zerumbet) behind. Asparagus fern (Asparagus densiflorus 'Sprengeri') adds cloud-like softness in the pots.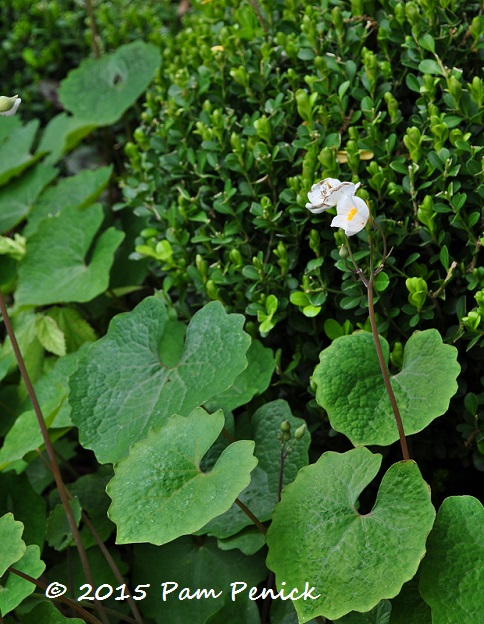 i was charmed by this scalloped-leaf rambler with dainty, white flowers atop tall stems — a white spiderwort, David told me — which he allows to spread at will along the boxwood parterre.

The view back toward the house. David said that Houston has not experienced a freeze this winter, so there's been no die-back, although it's been unseasonably cool.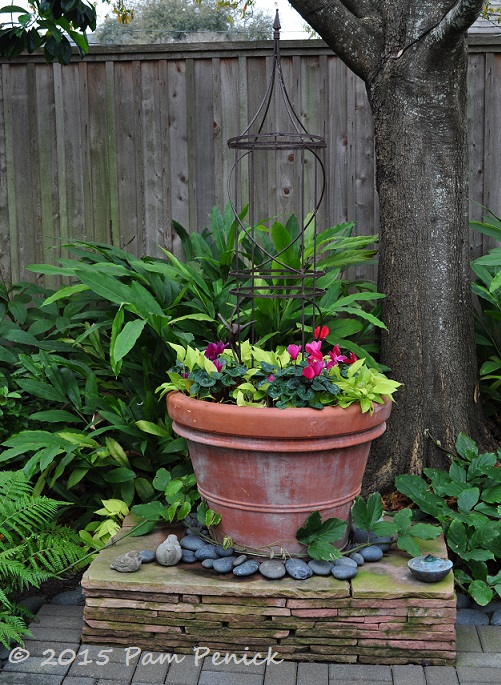 This focal-point pot set on a plinth of stacked ledgestone grabs your eye as you enter the back garden from the driveway. Pink cyclamen mingles with a chartreuse-leaved plant (I didn't get the ID) under a graceful tuteur that adds height. A bracelet of gray river rock rings the base of the pot, and vining plants are encouraged to twine an embrace as well. Unfussy, expertly crafted details like these give David's garden a timeless appeal.
My thanks to David for sharing his lovely garden with me! If you'd like to see more, check out my pictures of his front garden from last spring.
Stay tuned for a visit to the plant-packed nursery and garden-art fantasia of Joshua's Native Plants & Garden Antiques.
__________________
Vote early and often! I'd love to have your vote in the Better Homes and Gardens 2015 Blogger Awards. Skip through to the Gardening category, select Digging, and then skip to the last page for your vote to be counted. You can vote as much as you like. Thanks for your support!

All material © 2006-2015 by Pam Penick for Digging. Unauthorized reproduction prohibited.
posted in
Annuals
,
Color
,
Containers
,
Design
,
Flowers
,
Fountains
,
Garden tours 2015
,
Lawn Gone!
,
Paths
,
Patios & decks
,
Rock
,
Seating
,
Shrubs
,
Spring color
,
Travel
,
Water features