June 26th, 2015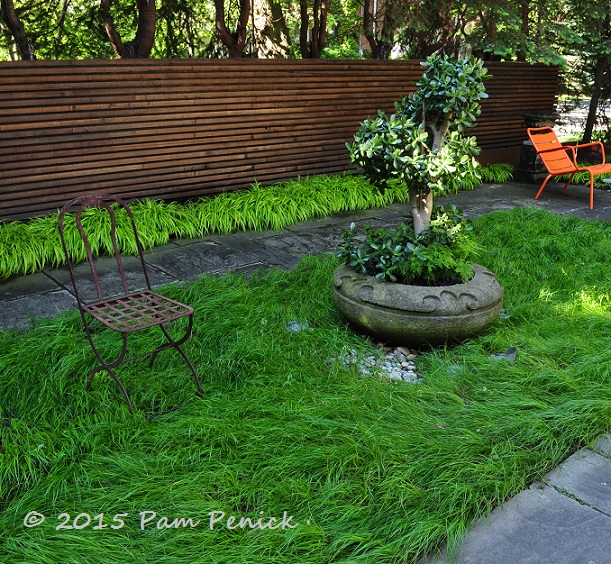 One of my favorite gardens on the recent Toronto Garden Bloggers Fling was a contemporary garden of massed grasses and alliums in the upscale Forest Hill neighborhood. Nearly all of the gardening space is located in front of the house (the back and side gardens are very narrow). The inner garden, pictured here, is separated from the street with layers of screening, including a steel-rod fence, a naturalistically planted outer garden, and this horizontal board fence.
Pennsylvania sedge (Carex pensylvanica), outlined by a stone path, makes an emerald throw rug in the enclosed courtyard. In the center, a clipped, potted shrub adds height, and a solitary metal chair creates asymmetry and perhaps a little tension. Does someone sit there, or is it just for decoration?

The spherical heads of purple and white alliums, popping up from a grassy border, seem to dance along the path. They provided the only floral color that I recall. The rest of the garden was shades of green.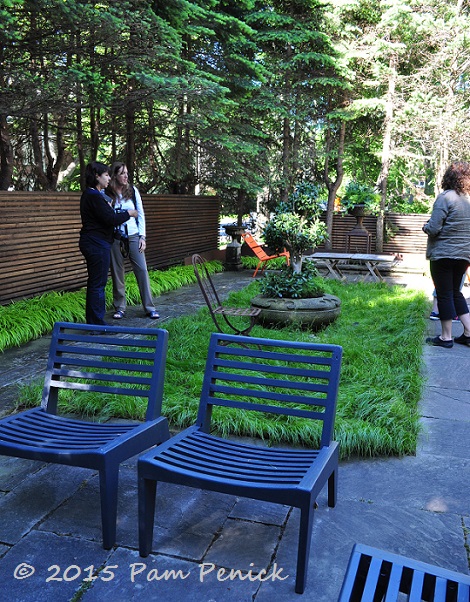 Bright sunlight contrasting with deep shade made photography difficult, but here's a long shot that gives a slightly bigger sense of the garden. In the foreground is a patio with space for multiple chairs. On the far side of the sedge lawnette are two modern orange chairs facing each other, backed by a small, rectangular pond.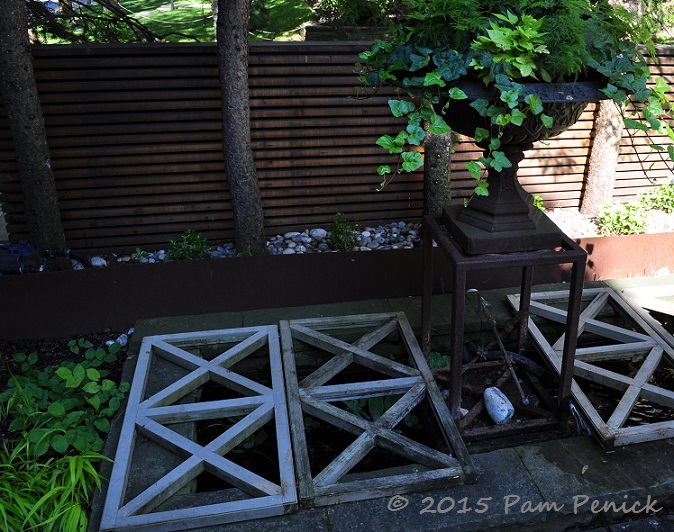 Chippendale-style wooden screens lay across the pond, presumably to keep out raccoons — or errant bloggers?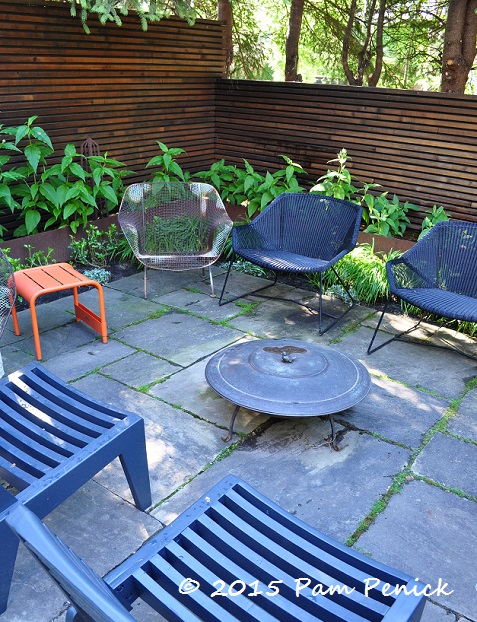 At the other end, a shady patio with a fire pit offers space to sit and take in the serenity of the space.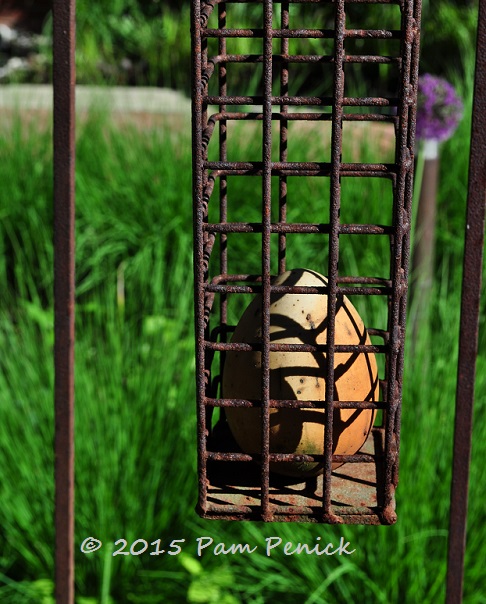 A few intriguing sculptures, including this hanging metal basket with an egg — don't put all your eggs in one basket! — attract the eye throughout the garden.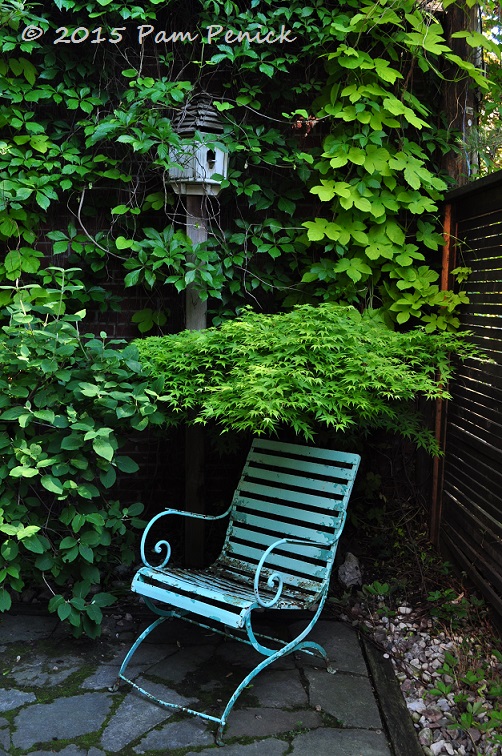 A narrow side path leads to this pretty vignette: a robin's-egg blue chair, Japanese maple, birdhouse, and climbing vines. Turning left…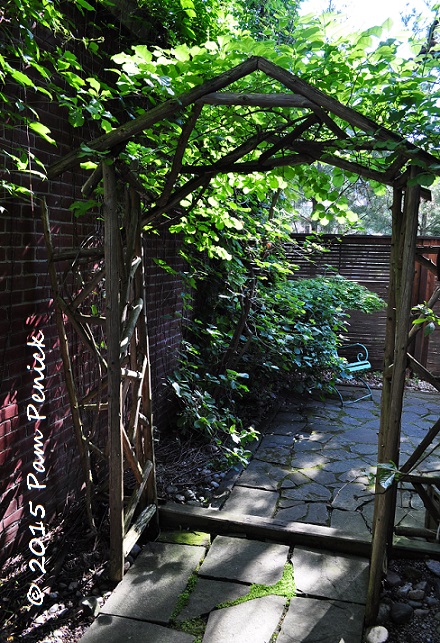 …you pass through a rustic arbor behind the house…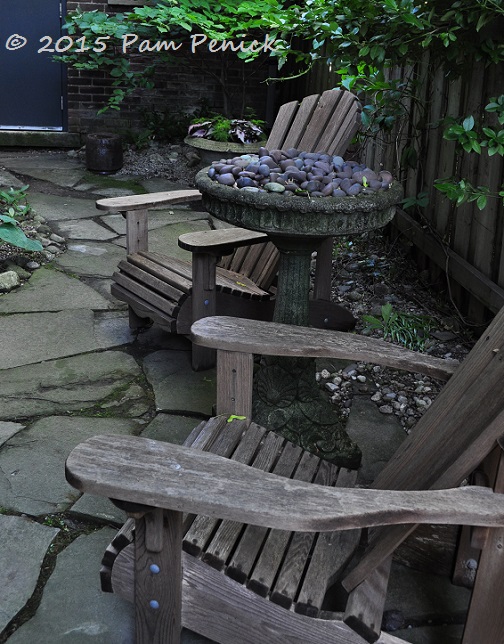 …and find an intimate patio for two. A birdbath is filled with river rock instead of water — and the stones look somewhat like eggs, wouldn't you say? I sense a bird theme.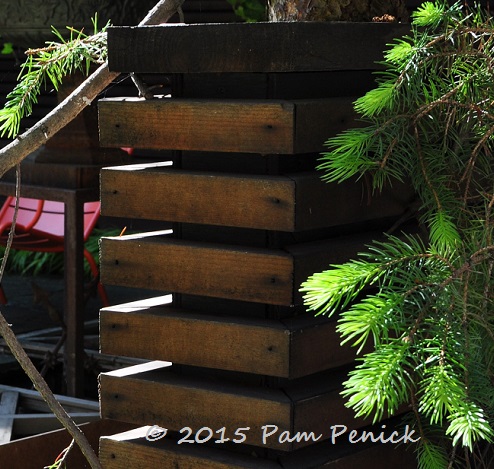 I wish more of my photos had turned out because there were more details to show you. But here's a close-up of the screening fence. A black-painted core (I'm not sure what it's made of) is overlaid with 2×2 slats spaced about an inch apart, creating an illusion of depth.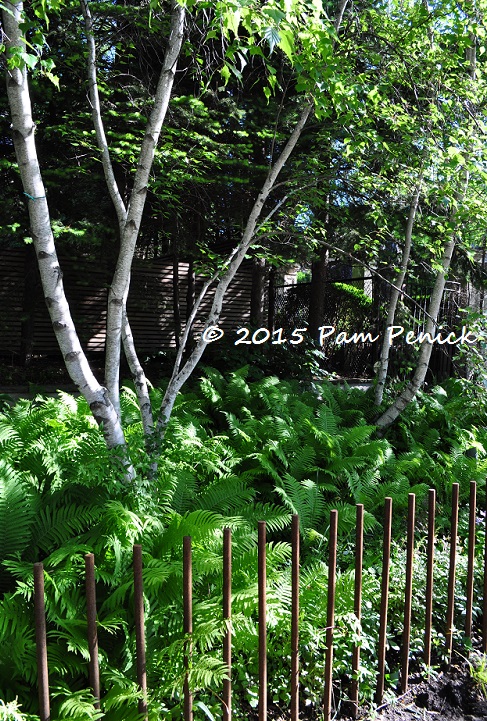 And here's the view along the street. Short metal rods, regularly spaced but unattached to each other, make a striking low fence to keep out dogs or pedestrians. A simple massed planting of ferns and birch trees fills a sloping bed between the street and interior fence.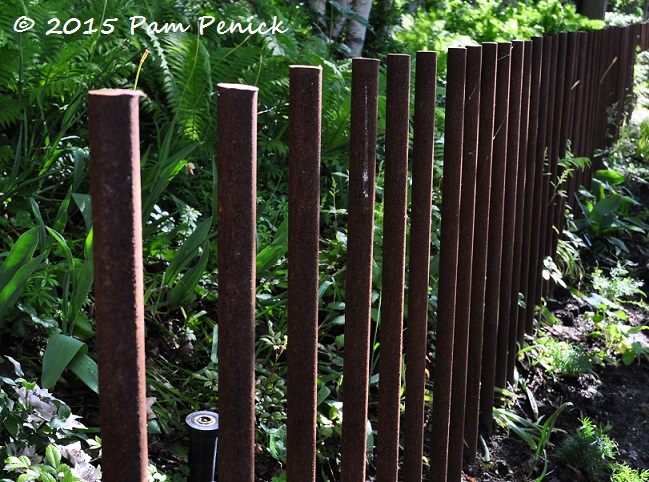 A close-up
This is a disciplined garden, with masses of just a few species to create a restful mood. The fences, made of simple materials used in unique ways, add to the beauty of the garden.
Coming up next: Designer Marion Jarvie's vividly hued collector's garden. For a look back at a beautiful Algonquin Island foliage garden, click here.
All material © 2006-2015 by Pam Penick for Digging. Unauthorized reproduction prohibited.
posted in
Bulbs/Rhizomes
,
Containers
,
Design
,
Fences
,
Firepits
,
Fling Toronto
,
Garden art
,
Garden tours 2015
,
Grasses
,
Groundcovers
,
Lawn Gone!
,
Paths
,
Patios & decks
,
Ponds
,
Rock
,
Sculpture
,
Seating
,
Travel
,
Trees
,
Water features