November 4th, 2014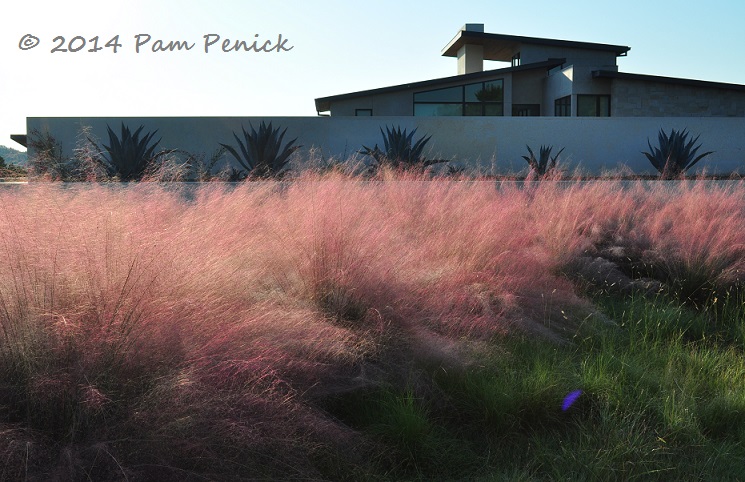 A week ago I enjoyed the opportunity to photograph another of landscape architect Curt Arnette's gardens. Frothy, rose-colored clouds of Gulf muhly, tawny spikes of Lindheimer muhly, and a chartreuse Habiturf lawn wrap the large front garden in a cozy quilt of softness that counterbalances the flat planes and sharp angles of this contemporary Southwest Austin home.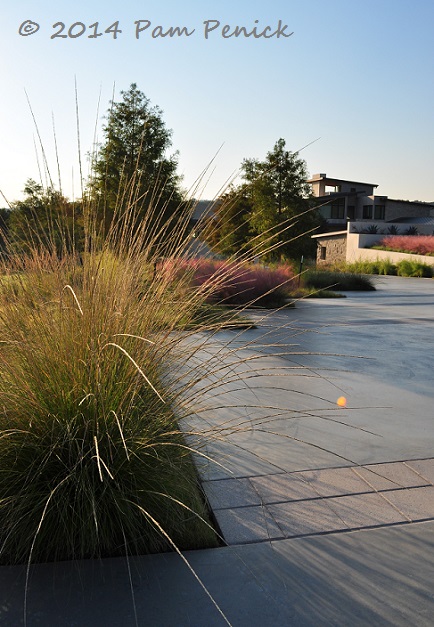 Even at curbside, you know this garden is going to be big on ornamental grasses. No stiffly pruned topiary shrubs here, and definitely no overused, faux-Tuscan spires of Italian cypress.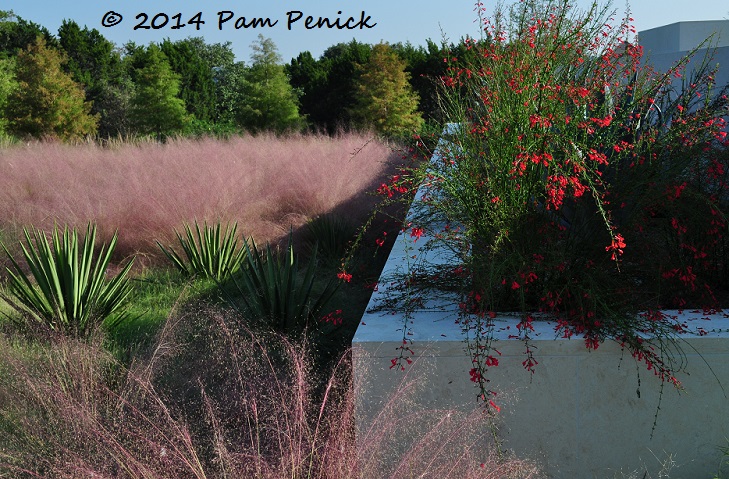 Instead, native grasses grouped in contemporary blocks of color and texture keep the garden organized, even as it blends into the surrounding landscape.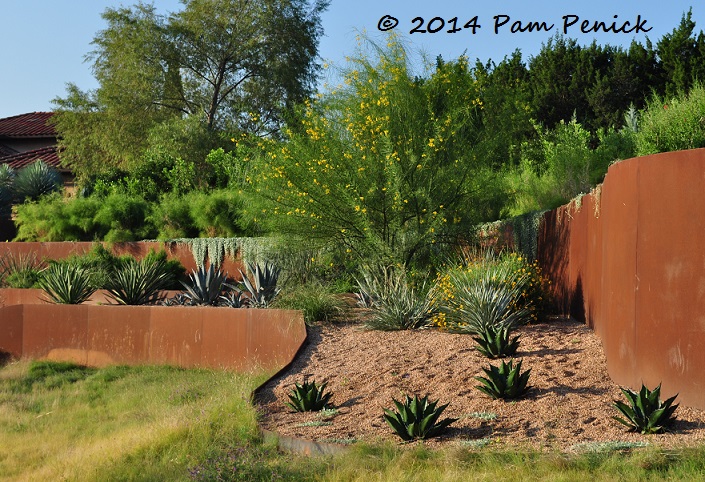 But the big surprise in the front garden is a tiered arrangement of rusty steel walls that comes into view as you enter the driveway. Inspired by the adventurous homeowner, who had admired a similarly terraced garden on her world travels, Curt's design replaced an existing stone retaining wall with slim panels of steel that trace the contours of the sloping lot.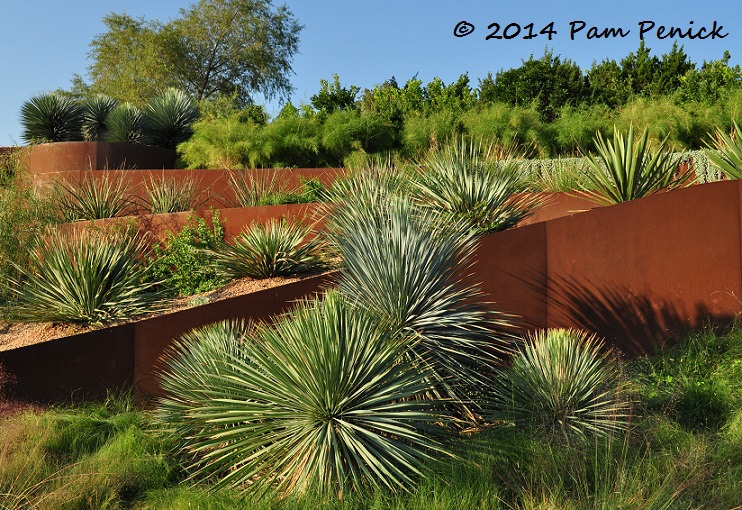 Native and adapted dryland plants fill the terraces and broad ramps that provide gardening access.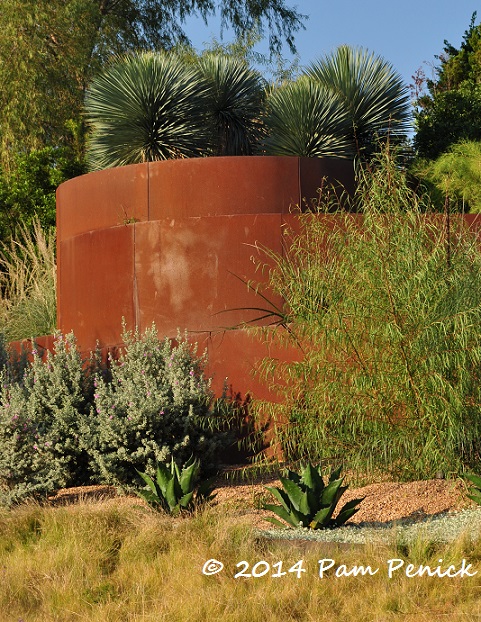 At one end, bristling heads of Yucca rostrata shimmer atop a wedding-cake tier of steel curves.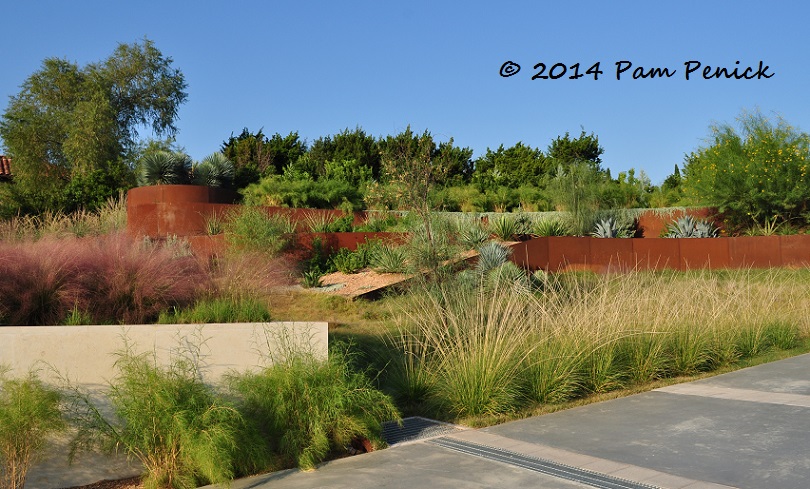 From the house, it's a dramatic amphitheater filled with an audience of native and adopted Texans.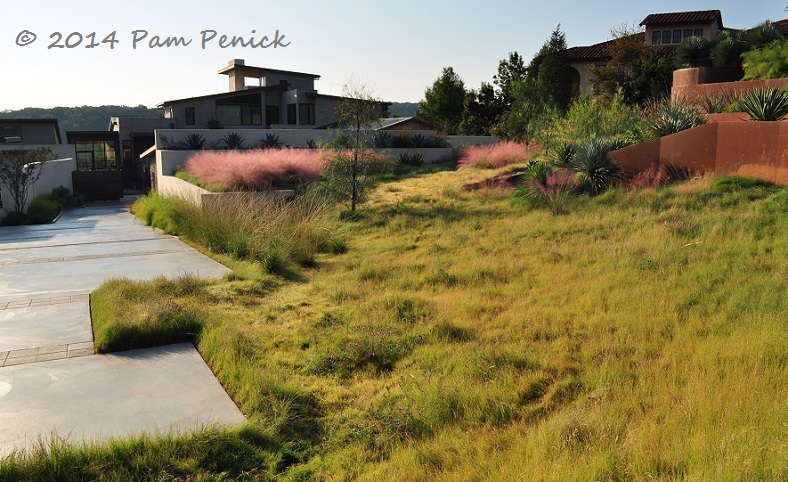 The Habiturf lawn, which carpets the slope from the steel walls down to the driveway, is the first residential use I've seen in person. I like its tufted, shaggy texture. An ecological lawn developed by the Lady Bird Johnson Wildflower Center, Habiturf is a low-mow, low-water alternative for the U.S. Southwest and Southern Plains.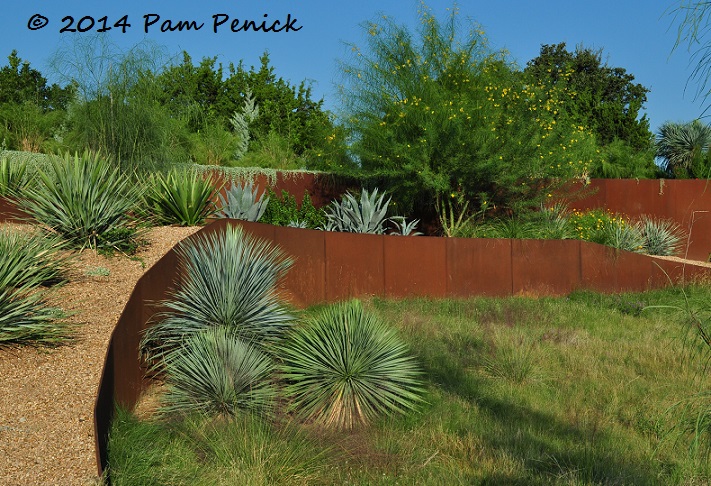 The Habiturf lawn is allowed to spread naturalistically under and around yuccas, ornamental grasses, and other plants rather than being kept separate, which must make mowing a challenge. But then again, Habiturf rarely needs mowing. Curt told me that native wildflowers are seeded in the lawn for a meadowy spring display.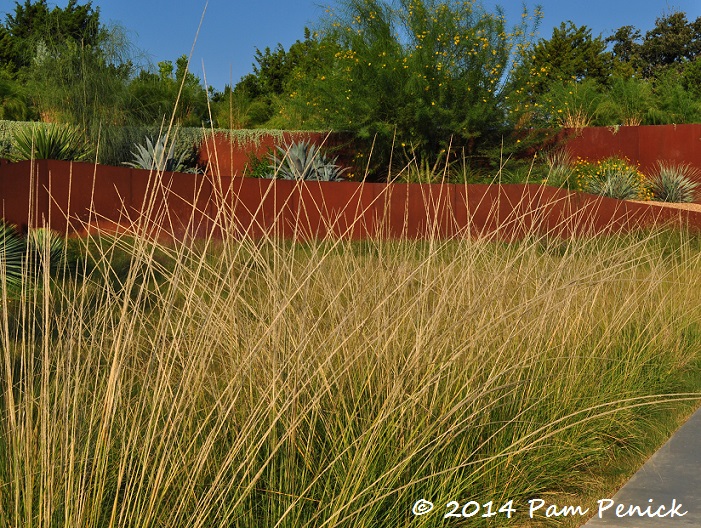 A line of native Lindheimer muhly grasses edges the driveway and glows against the red steel.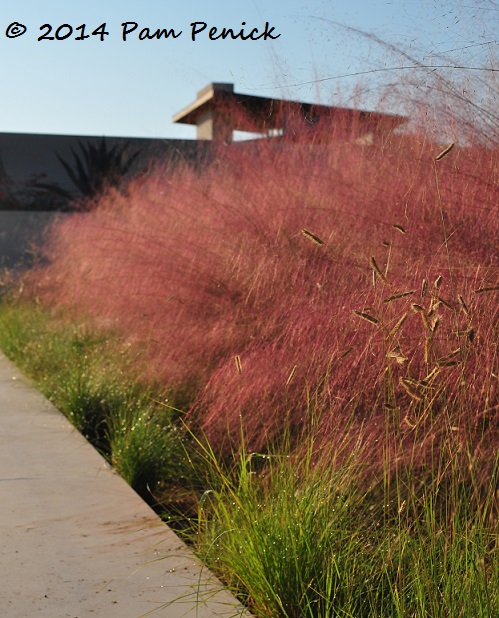 Gulf muhly and blue grama grasses catch the light atop a retaining wall next to the house.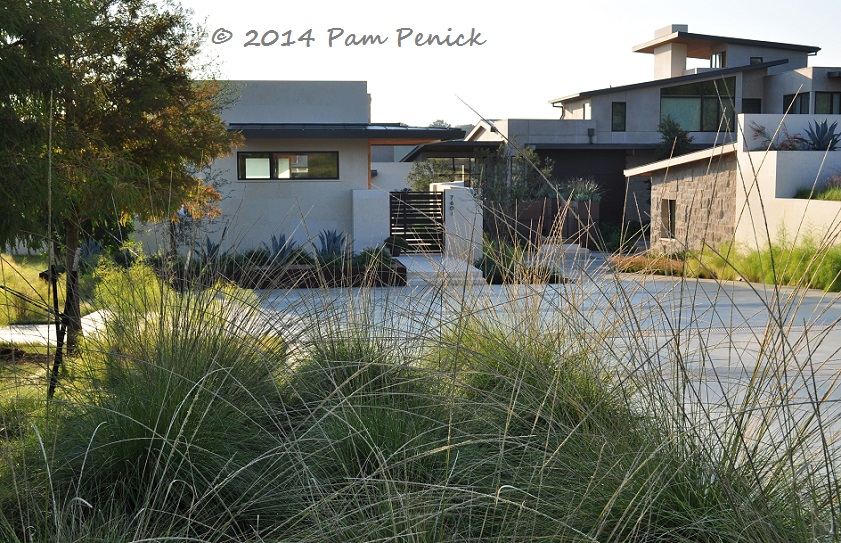 Every view of the front of the house is softened by grasses, including this scrim of Lindheimer muhly.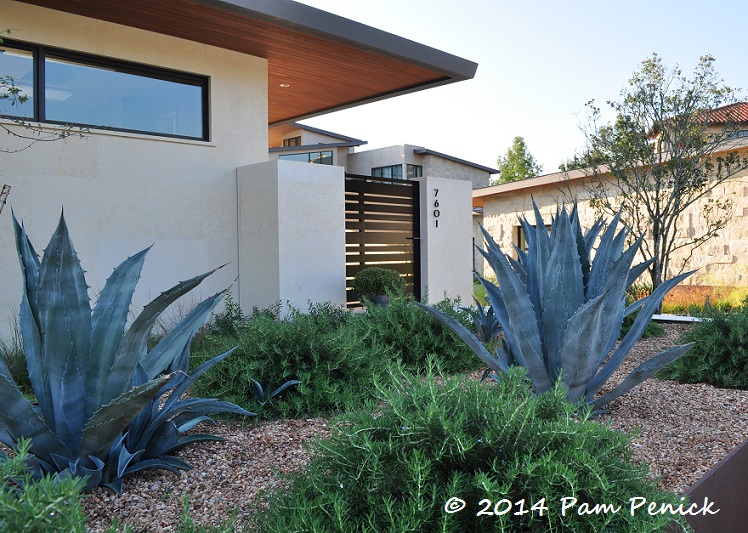 At the front gate, a raised bed of agave and prostrate rosemary greets you. I didn't enter here, however…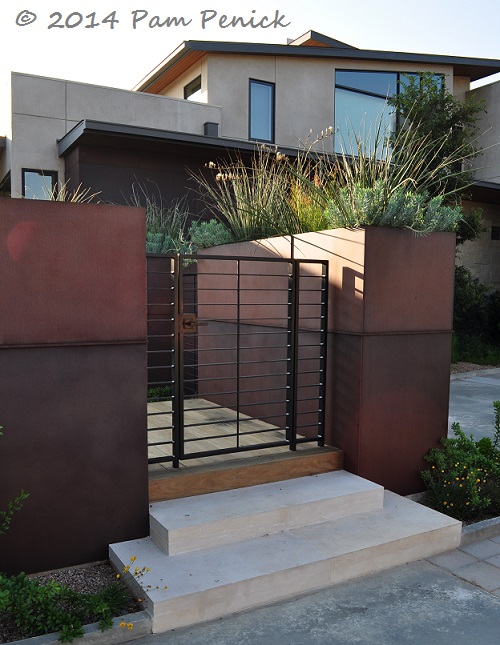 …but walked down the driveway to another gate set between head-high steel planter boxes.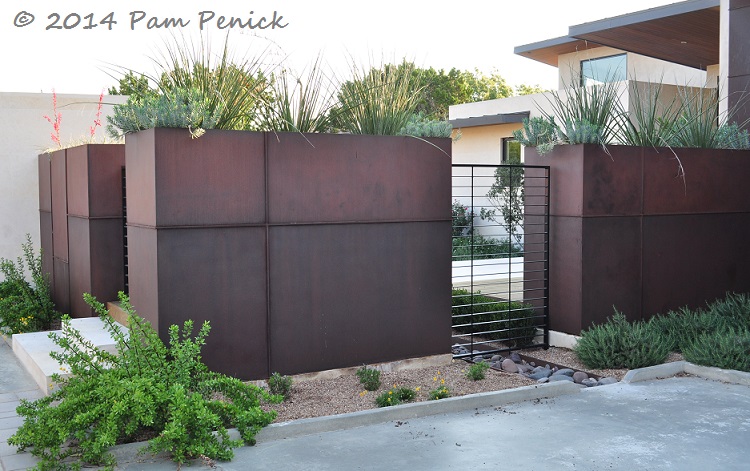 These are filled with gopher plant, red yucca, and other highly drought-tolerant plants. The blocky walls create privacy for the courtyard garden within.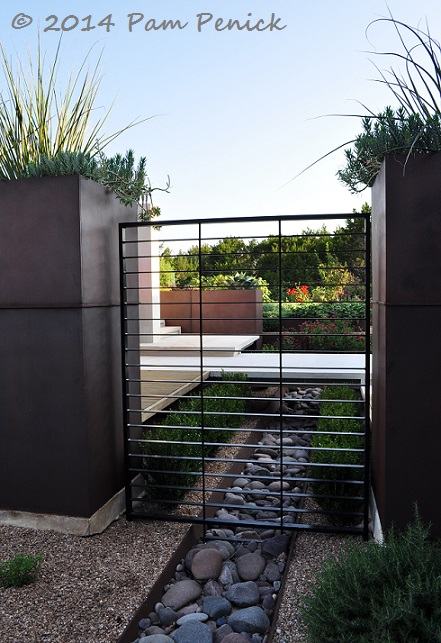 Fencing panels between the boxes admit light and frame views.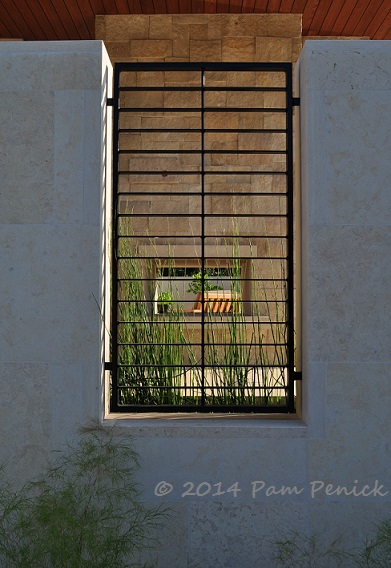 Another fence panel, this one in a stone wall along the driveway, offers a view of a see-through outdoor fireplace.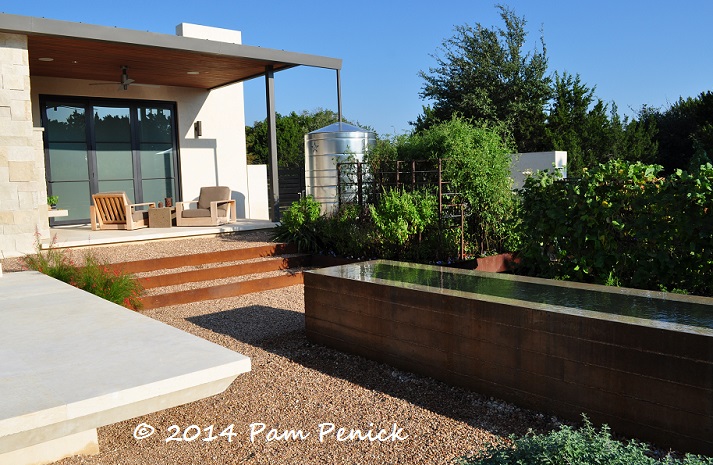 Entering the courtyard garden, you see a guest house or studio overlooking a board-formed concrete trough.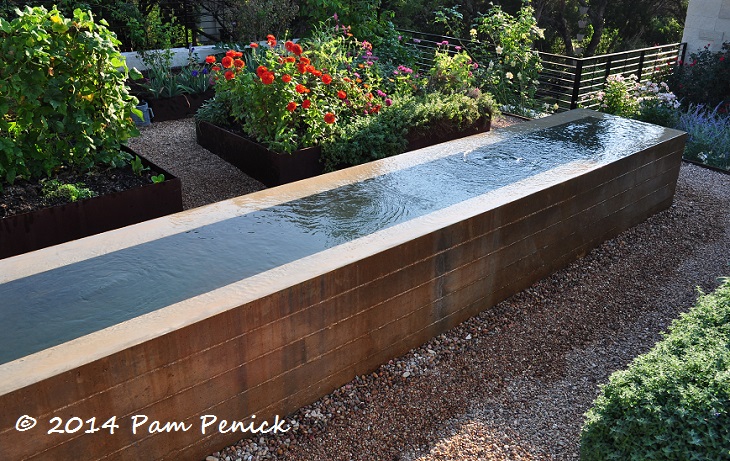 This rectangular, negative-edge pool is the focal point of a raised-bed vegetable and cutting garden.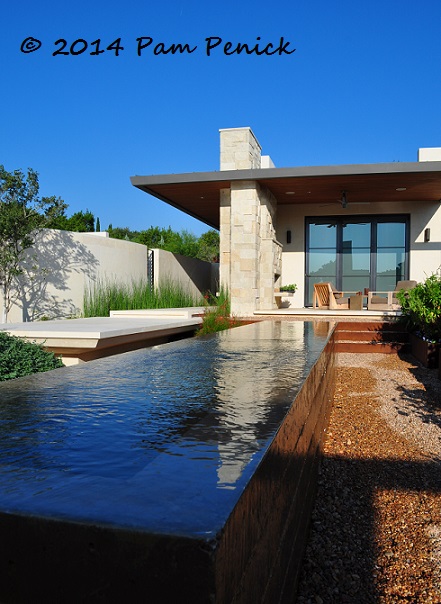 It's a spectacular water feature that reminds me of a similar one in Christine Ten Eyck's courtyard garden (click and scroll for pics).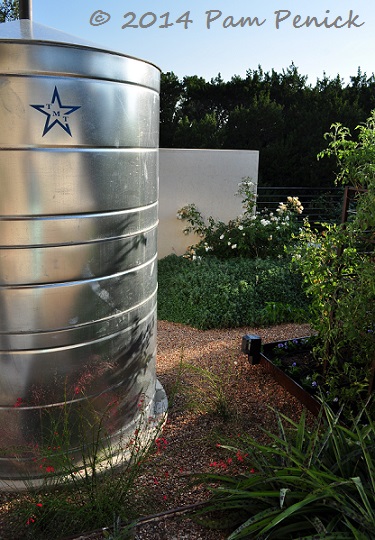 At the corner of the guest house/studio, rainwater is collected and stored in a silo-like cistern, which must be handy for watering the raised beds.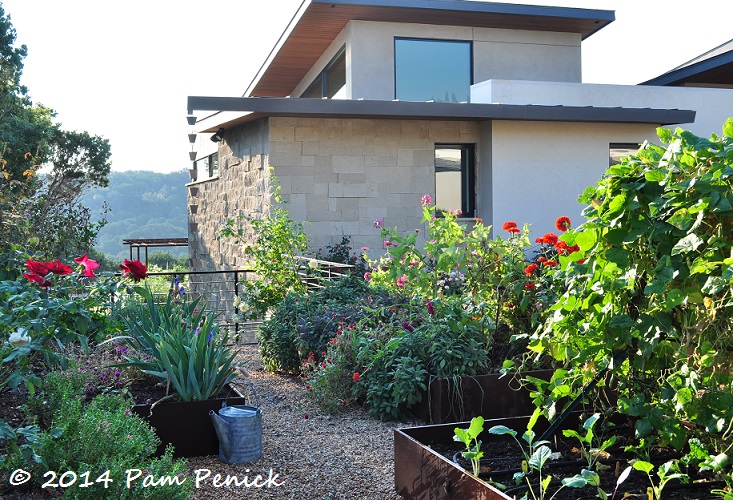 Roses, iris, and zinnias give this space a cheery, casual vibe, but it steers clear of cottage style with an open layout and the precise lines of the steel-edged beds.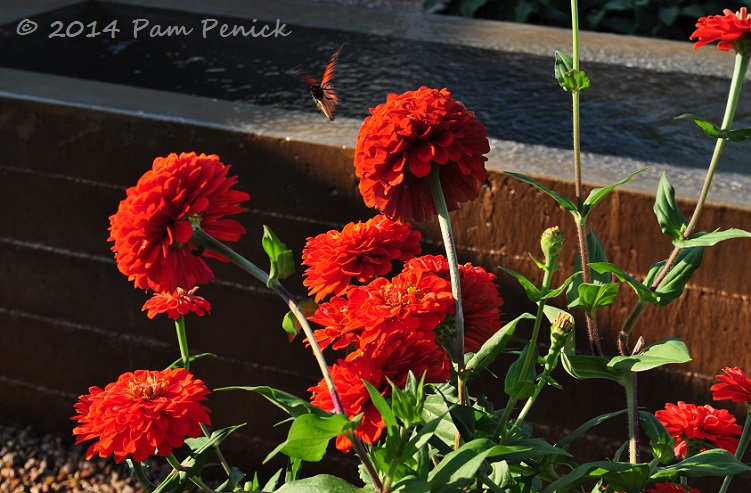 Monarchs were nectaring on zinnias this morning, making a temporary, red-orange color echo.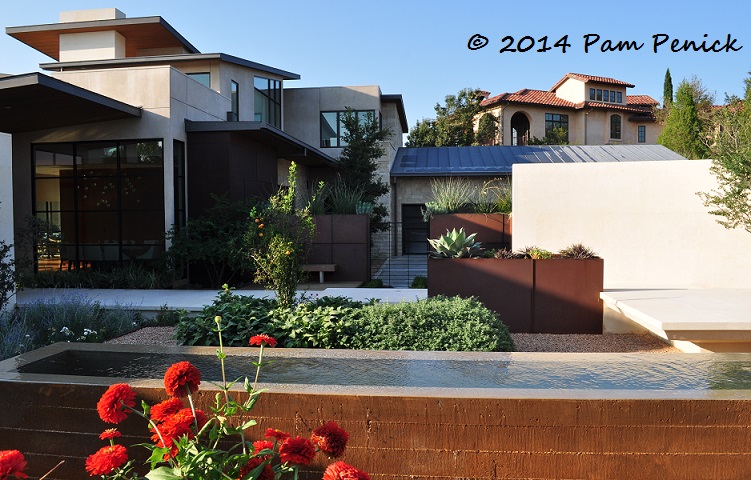 A wider courtyard view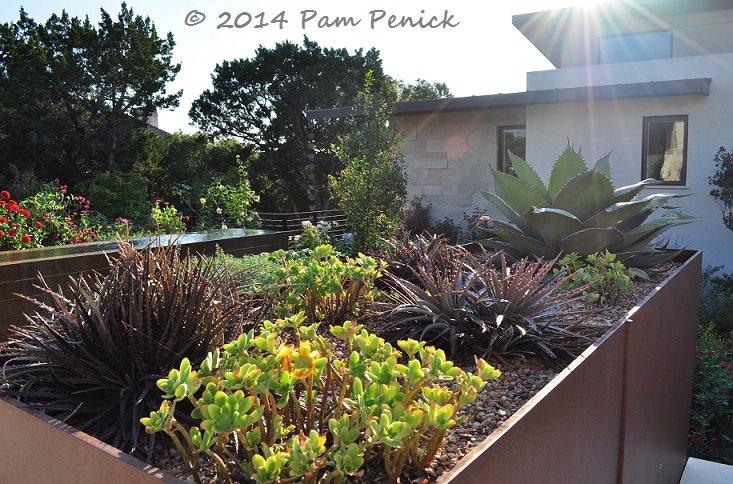 It's not all edibles and cutting flowers in the courtyard. This planter contains succulents and spiny dyckias.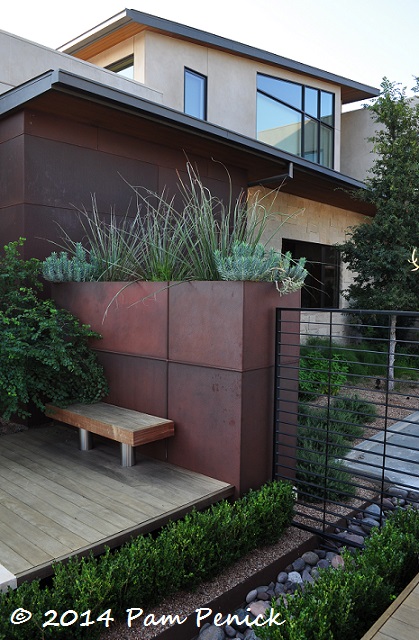 An inside view of one of the steel planter walls that enclose this garden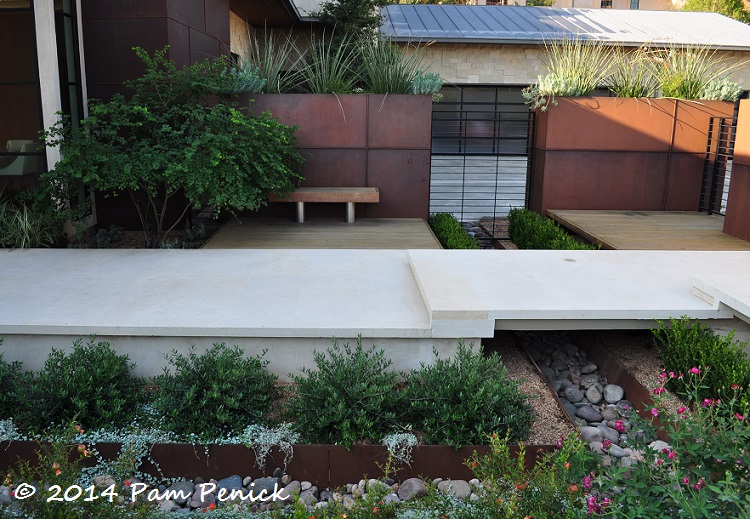 There are a lot of elevation changes here, bridged by a white, stone path that appears to float over wooden decking and an L-shaped dry stream that cuts through the courtyard.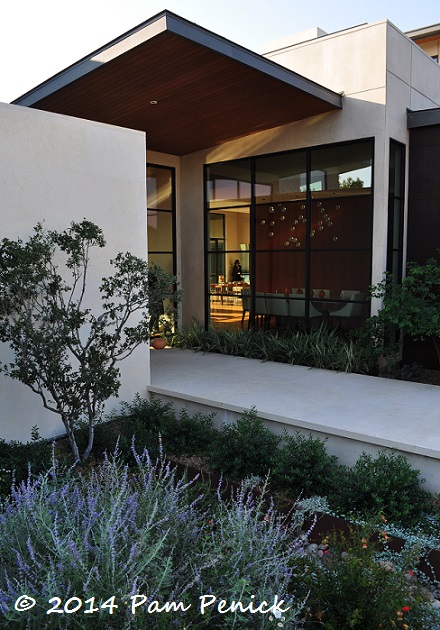 The path leads like a conveyor belt to the sheltered front door. Large windows admit views of the garden to those inside.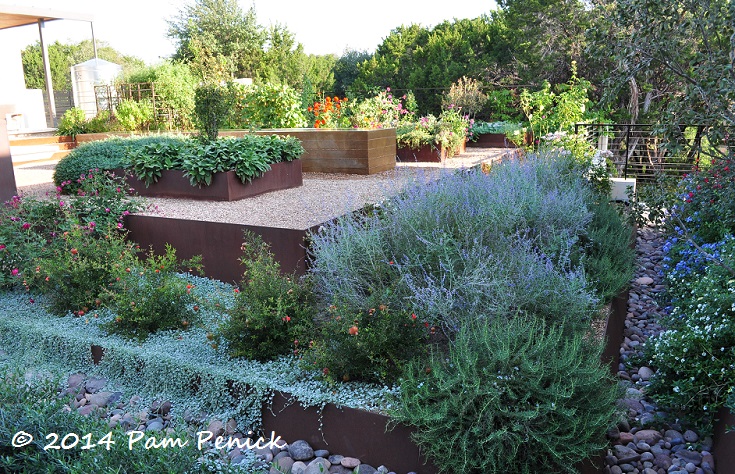 Looking back from the entry, you enjoy this view of the courtyard garden, which, like the garden out front, is terraced with steel retaining walls. Frothy blue Russian sage fills one terrace; dwarf pomegranates underplanted with silver ponyfoot fill another.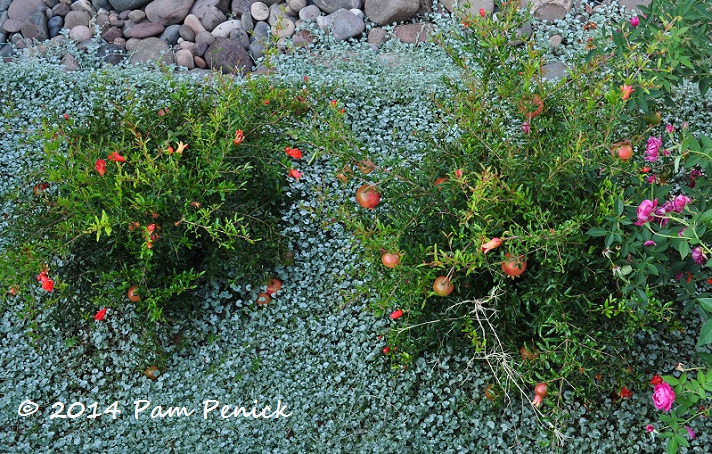 I'm not sure how you'd reach the pomegranates to harvest the fruit, but they make for a pretty view from above, especially against the icy-blue ponyfoot groundcover.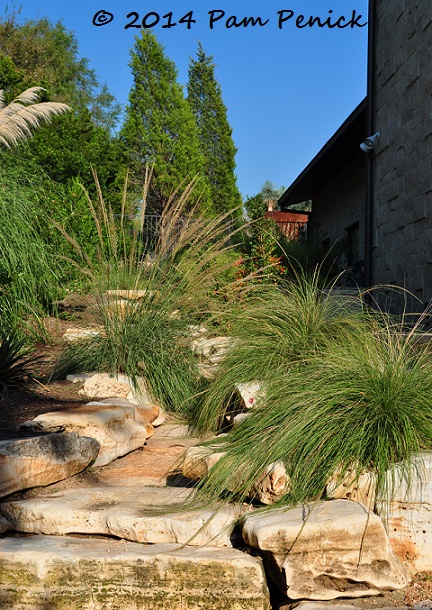 Along one side of the house, where runoff from the neighbor's uphill lot once eroded the slope and threatened the foundation of the house, a naturalistic terraced dry stream safely moves water downhill and serves as a rugged path when the weather is dry.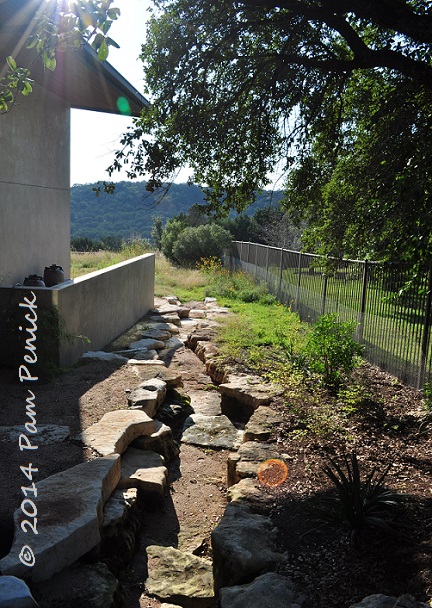 The water flows out to a grassy meadow behind the house. You can see a hint of their nice view of the hills.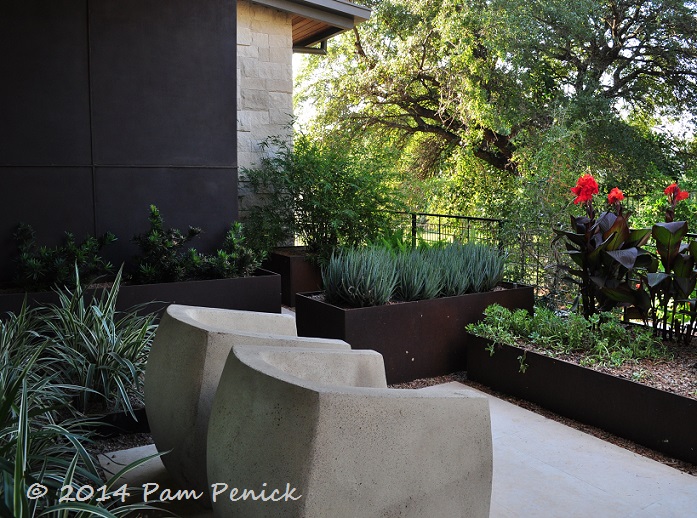 Midway along the narrow side yard, a garden porch offers pretty views from inside and a quiet place to sit. As in the courtyard, steel planters display color-blocks of plants, including variegated flax lily, 'Blue Elf' aloe, and canna.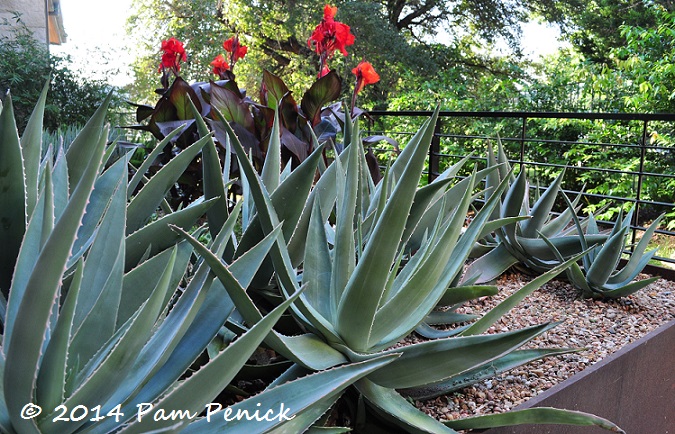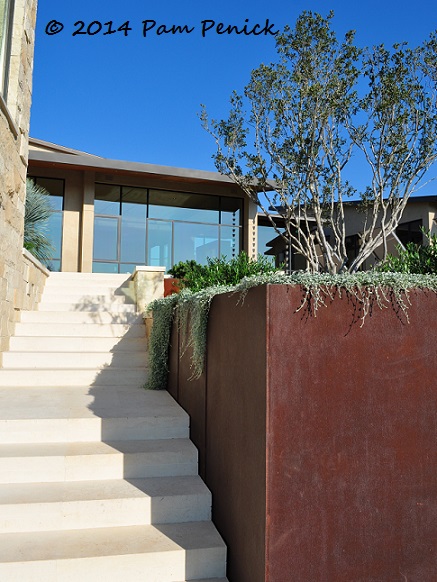 Heading around back of the house, you climb back up from a meadowy lawn. Rusty steel retaining walls again set the tone and contrast with the creamy whites of the house and paths.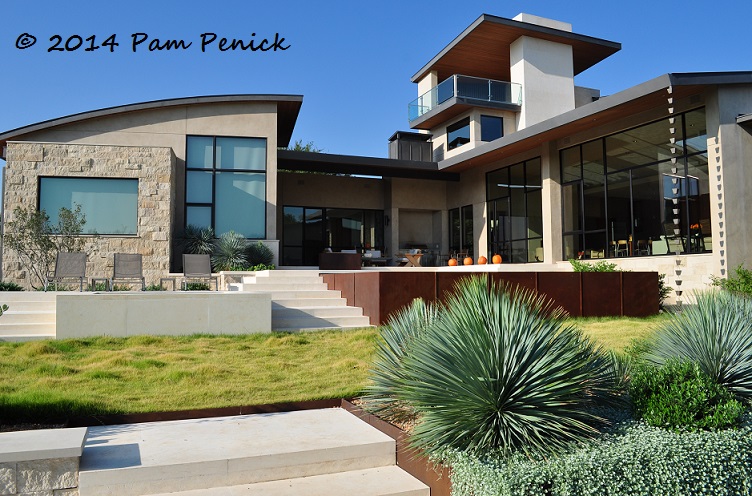 Here's a wide view of the sunny rear terrace. The lawn here is drought-tolerant zoysia, which has been allowed to grow long.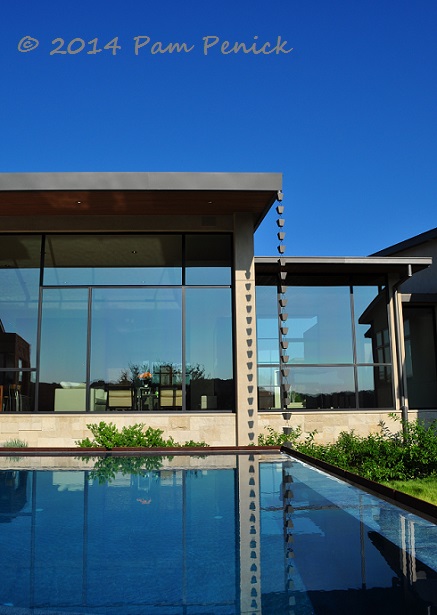 At the edge of the terrace a steel-edged swimming pool reflects the sky, and a rain chain hanging from the eave adds a vertical punctuation mark. Walls of windows must make the garden and pool seem part of the interior.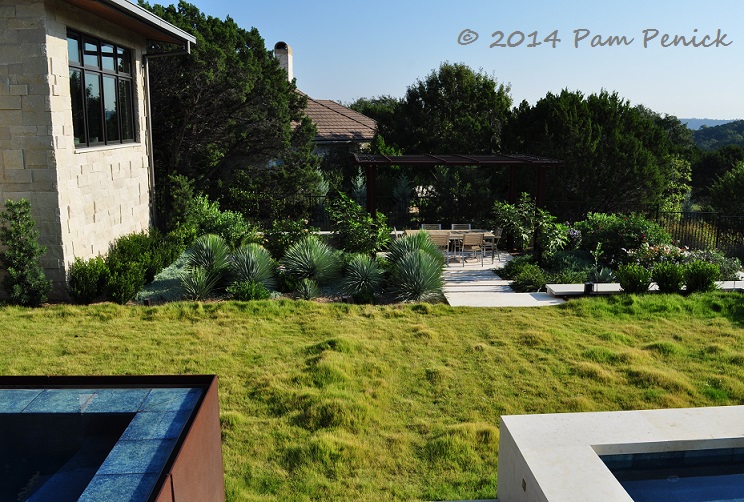 The terrace offers views of a pergola-shaded dining area and surrounding garden that Curt designed.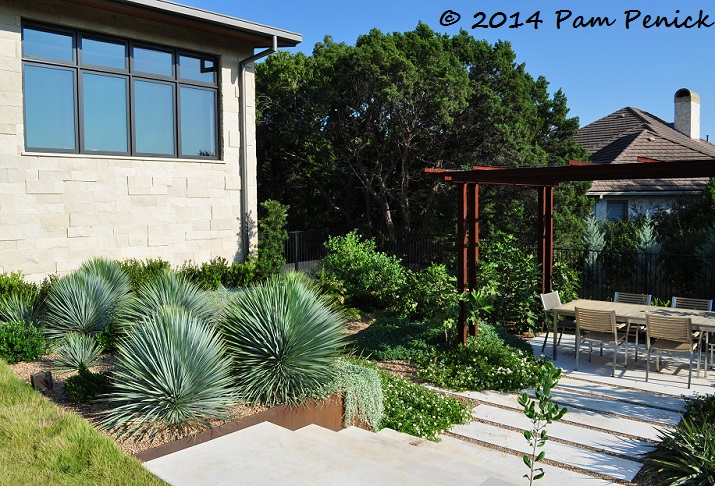 Koosh-ball Yucca rostratas cluster near the entrance to the space, and creamy flowering lantana attracts butterflies.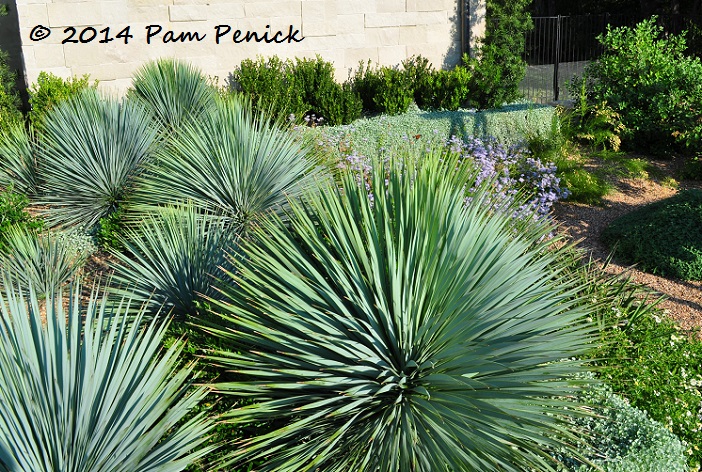 As does blue mistflower, seen in the background.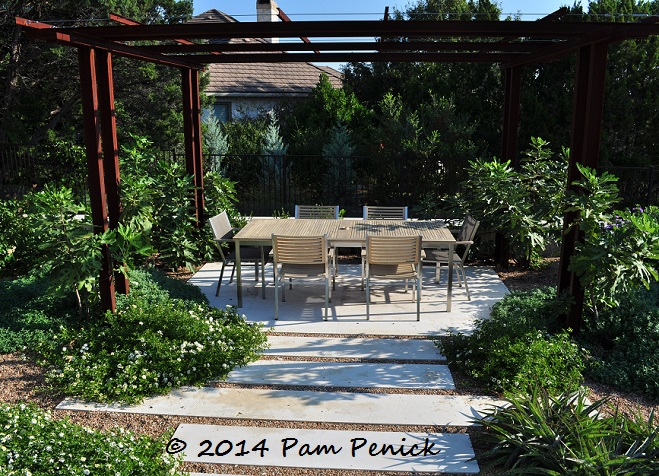 The homeowner is training figs up the steel posts of the pergola to recreate a garden arbor she admired on her travels. It'll be a leafy bower hung with figs in a few years.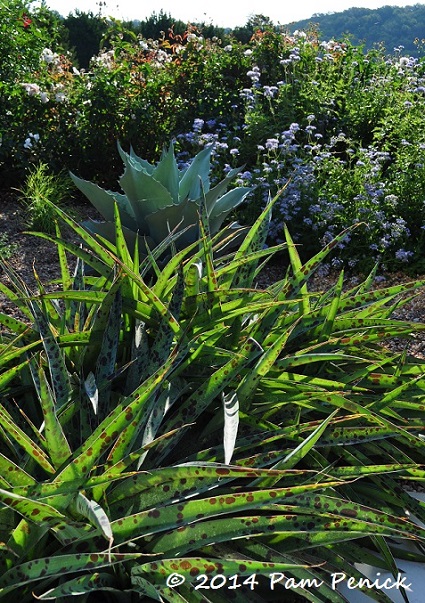 Spotted manfreda and a blue-green 'Whale's Tongue' agave add evergreen color and structure amid billowing white roses and blue mistflower.

Back up on the terrace, here's a parting view of the framing hills, rounded yucca heads, meadow-lawn, and sky-reflecting pool.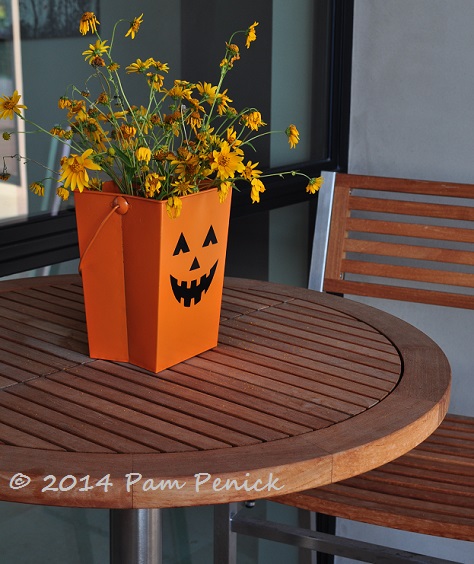 My thanks to the homeowner for allowing me to share her lovely garden here, and to Curt for introducing me to another of his plant-centric garden designs. I hope you enjoyed the tour!
All material © 2006-2014 by Pam Penick for Digging. Unauthorized reproduction prohibited.
posted in
Agaves
,
Aloes
,
Annuals
,
Arbors
,
Bouquets
,
Butterflies/Moths
,
Containers
,
Decor
,
Design
,
Dry Streams
,
Edibles
,
Fences
,
Fountains
,
Garden tours 2014
,
Gates
,
Grasses
,
Groundcovers
,
Lawn Gone!
,
Lawns
,
Paths
,
Patios & decks
,
Ponds
,
Porch
,
Rock
,
Seating
,
Succulents
,
Swimming pools
,
Texas natives
,
Trees
,
Walls
,
Water conservation
,
Water features
,
Wildflowers
,
Xeric plants
,
Yuccas