September 25th, 2016

I like to show in-process pictures — not that garden making is ever about finishing a space — so here's an update on a little-talked-about part of my garden: the front side-garden path, which leads from the circular driveway (out of view, upper right) to the gated side yard/utility area (behind us), where we store our trash bins, gardening supplies, and other not-so-pretty items.

Here's an unimproved view of this space from a few years ago, looking from our front walk over toward the neighbor's house. The neighbor (a lovely person, by the way, and we all have these things, so no judgment) stored trash bins and tree trimmings alongside the house, out of view of her front door but highly visible from ours. The A/C unit stared us in the face too. Soon after we moved in, I had our wooden privacy fence extended toward the front of our house to create a storage space for our trash bins, but we still lacked a path for pulling the bins out to the driveway.
The thing about this area, pedestrian though it may be, is that our family uses and sees it daily, either when taking out the trash or simply walking to the front door. It's also a space clearly visible to visitors as they walk to the front door. We needed screening and access, pronto.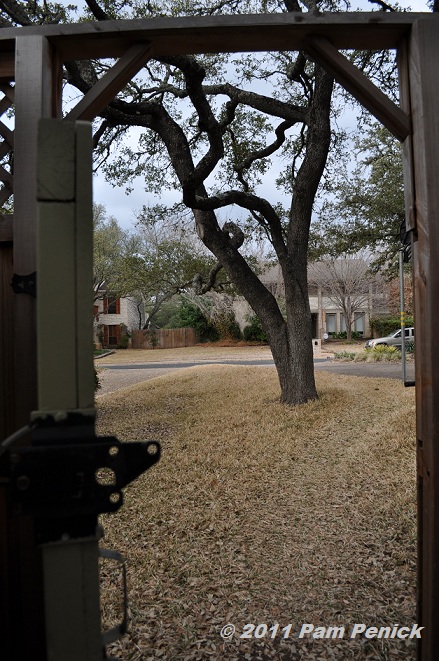 Also, considering how often we went in and out of the side-yard gate, I wanted a nicer view looking toward the street, not just a dull expanse of lawn punctuated by live oaks.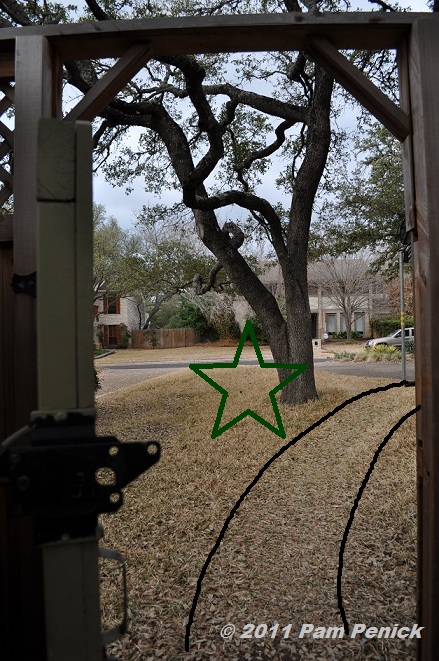 A curving path and a focal point to stop the eye from running straight to the cars parked along the street — that's what we needed. That plus screening along the lot line.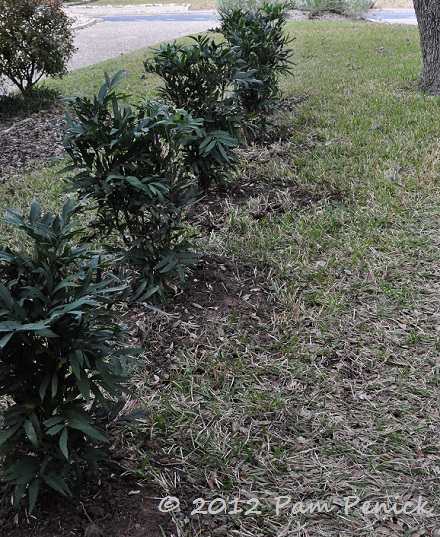 For screening, a fence would have been the ideal solution (something like what I eventually had built along our other side yard), but I lacked the funds, plus I wasn't sure how a short section of freestanding fence would look. So I opted for an affordable and DIY-able solution: a hedge.
Evergreen, deer resistant, shade tolerant, and low growing (it tops out at about 4 feet tall and 3 feet wide), Chinese mahonia (Mahonia fortunei) fit the bill, so I planted a row of six shrubs 18 inches inside the property line. The downside, of course, is that a hedge is not an instant solution, and Chinese mahonia is slow growing. So I watered them, twiddled my thumbs, and waited.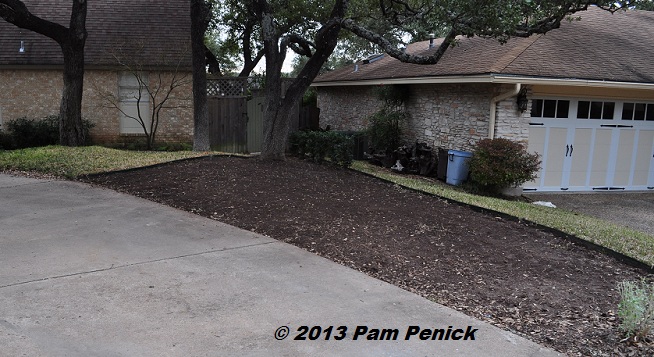 But I couldn't stand all that turf, plus I wanted to distract from the view of cars in the driveway next door. So a year later I ripped out most of the grass in the side yard, leaving only a small swath in front of the house, which I liked for negative space and also to avoid battling oak sprouts — i.e., suckering growth from live oaks that's easier to mow down than clip out of a garden bed. (Some live oaks sucker more than others, and no, there's nothing you can do to make it stop. Sorry. Never use herbicide, as they're connected to the mother tree. Just clip them, mow them, or use a weed-eater on them.)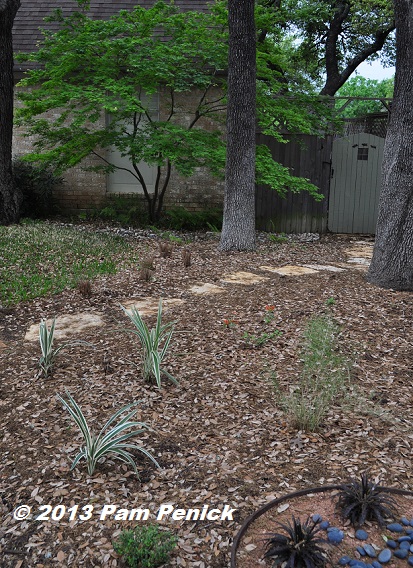 I added a curving flagstone path between the trees (with flagstones installed flush with the soil), which we use to pull our trash bins in and out. Spaced-out flagstones are less destructive to tree roots than a paved path would have been. Comparing this picture (newly planted) and the one above, you can see I also tweaked the line of the remaining tiny lawn, curving it in toward the Japanese maple. That gives the lawn a pleasing semicircular shape, and the expanded garden bed/path area looks more natural too.
Things were looking better. While the neighbor's storage area wasn't hidden, the growing garden was creating a green distraction, as well as a sense of enclosure for our own space.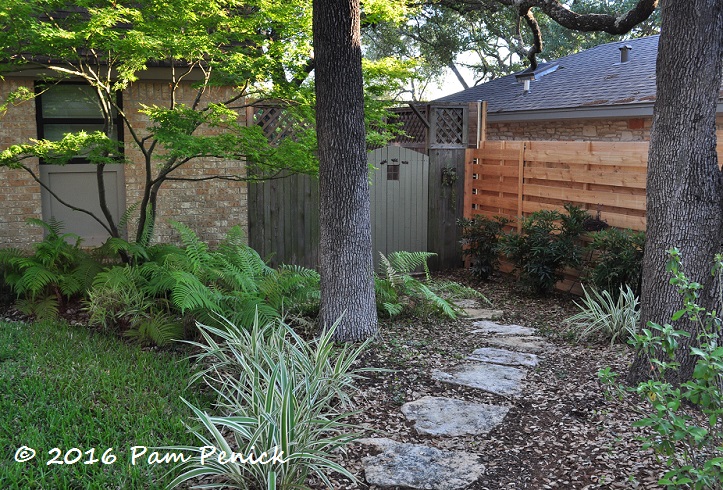 A few years later, the house next door changed hands, and the new owners extended their privacy fence toward the front of their house, which sits closer to the street than ours does. The result? A wonderful new fence (and free!) for my own garden, which hides their utility area from view and creates a backdrop for the Chinese mahonia.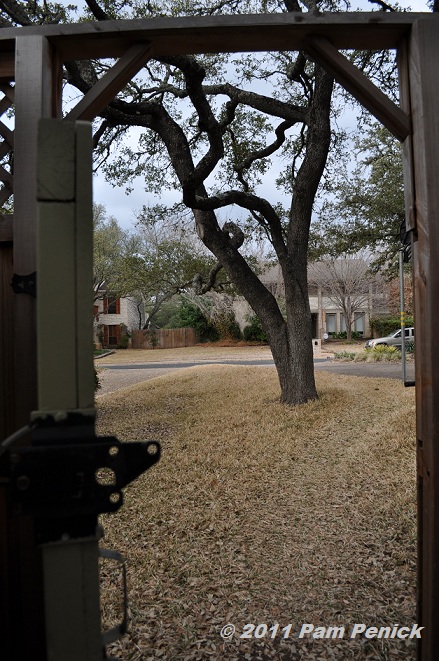 OK, one more look at the "before."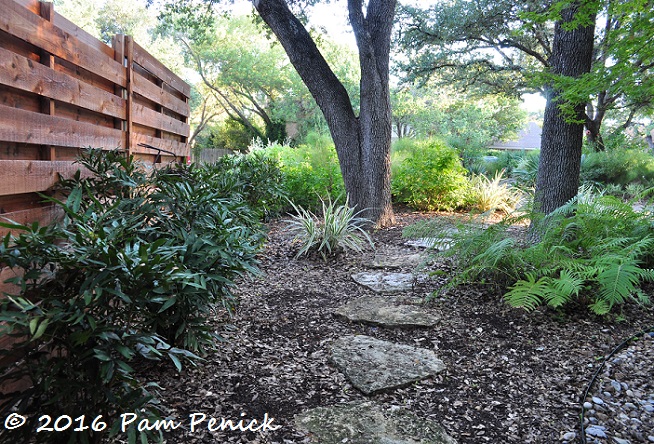 And now, "after" — or, more accurately, "in process." No more street view. No more trash-bin view. A path for access. And lots of shade-loving, deer-resistant plants, planted in masses for continuity, that green up the side yard: Chinese mahonia, variegated flax lily (Dianella tasmanica 'Variegata'), native river fern (Thelypteris kunthii), and shrubby Mexican honeysuckle (Justicia spicigera).

Side view "before"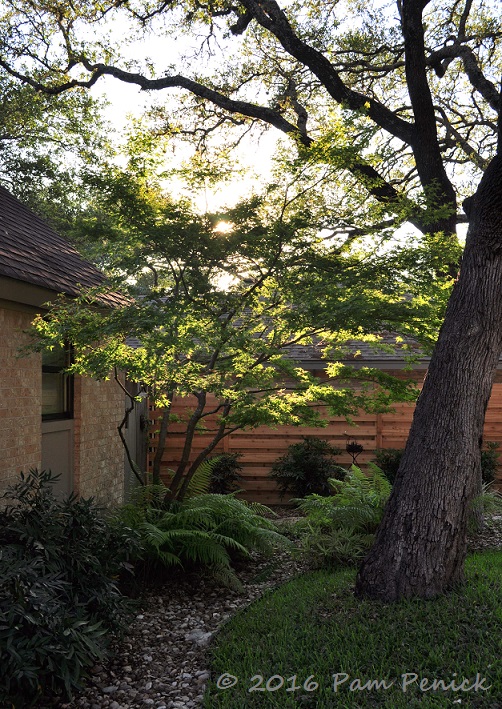 And "after"
Next month, we'll have been in this house for 8 years. (Here's my very first post about it.) I've been working on the front side garden for all that time. Hey, Rome wasn't built in a day.
I welcome your comments; please scroll to the end of this post to leave one. If you're reading this in a subscription email, click here to visit Digging and find the comment box at the end of each post.
_______________________
Digging Deeper: News and Upcoming Events
Austinites and native-plant shoppers, I'll be at the member's day Fall Plant Sale at the Lady Bird Johnson Wildflower Center on October 14, and I hope to see you there! I'll be signing books between 1 and 3 pm in the Wild Ideas gift shop. If you're not a member, of course you can still come on out and see the gardens and stop in at Wild Ideas. Hope to see you there!
South Texans, come see me at the 2nd annual Planta Nativa festival in McAllen, Texas, on Saturday, October 22. I'll be delivering the keynote talk, "Local Heroes: Designing with Native Plants for Water-Saving Gardens," that evening. Tickets are on sale at Quinta Mazatlan. I hope to see you there!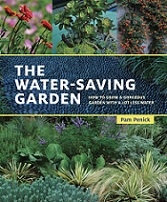 Do you review? Have you read my new book, The Water-Saving Garden? If you found it helpful or inspirational, please consider leaving a review — even just a sentence or two — on Amazon, Goodreads, or other sites. Online reviews are crucial in getting a book noticed. I really appreciate your help!
All material © 2006-2016 by Pam Penick for Digging. Unauthorized reproduction prohibited.