May 15th, 2007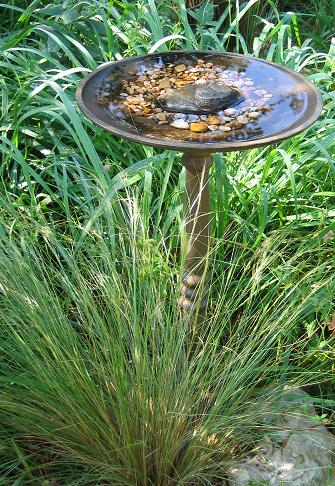 The second stop on our tour included two gardens on a cul-de-sac in the hills of northwest Austin, one belonging to Cathy Nordstrom, owner of San Souci Gardens, the second belonging to her client and next-door neighbor. We visited the designer's garden first.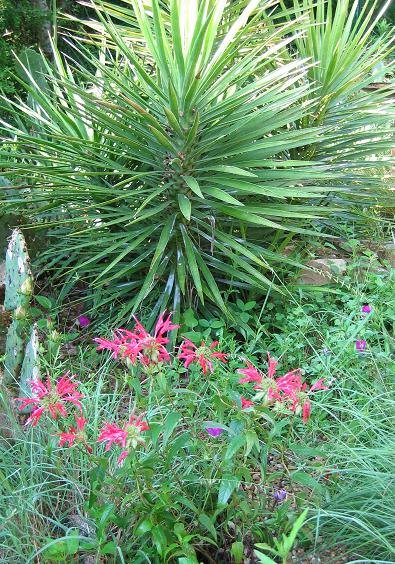 Native bee balm and winecups soften a stand of tall yucca.
Cathy's small, L-shaped garden is a native-plant jewel box. A narrow side yard in front, packed with a thick scrim of shrubs and perennials, leads to the front entry and around the house to the back garden. Absolutely packed with plants, the scene offered much to look at, but my main impressions were of native wildflowers mixed with yuccas . . .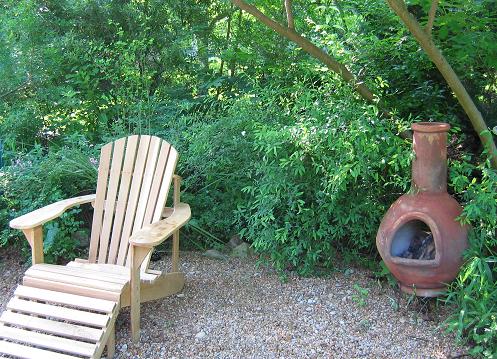 . . . small sitting areas tucked into shady alcoves . . .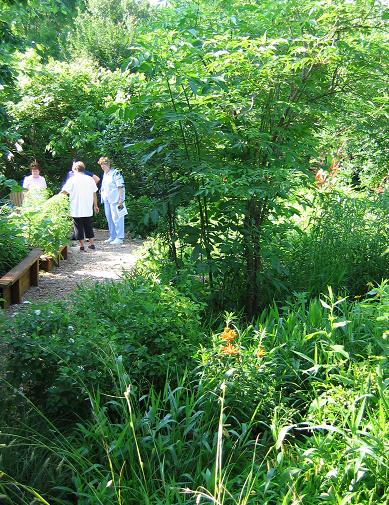 . . . and a lush, green screen of shrubs (no fence) around the perimeter of the compact space.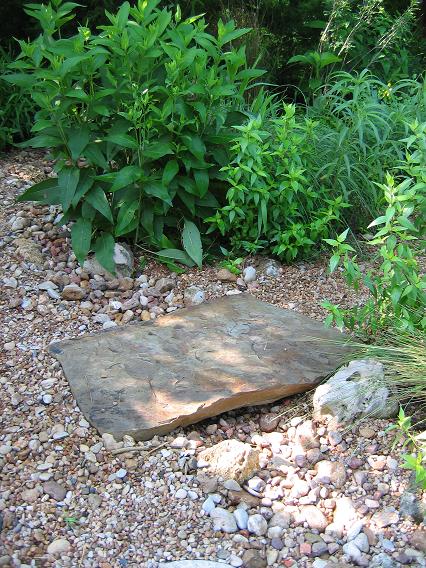 Gravel hardscaping tied it all together, from a crushed gravel path to gravel mulch to a gravel-and-river-rock dry streambed along the rear of the garden.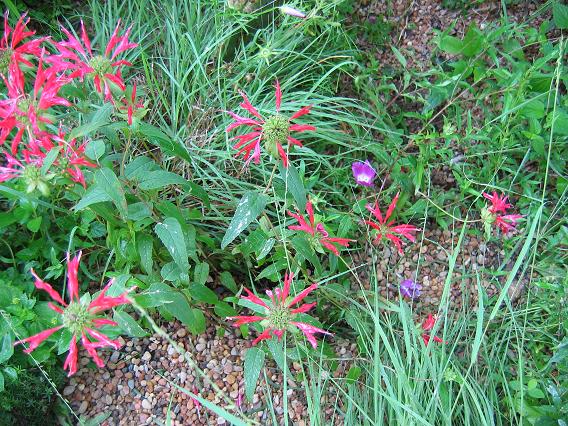 Wildflowers stole the show in the sunny section. Pictured here are Pringle's bee balm (Monarda pringeliei ) and winecup (Callirhoe involucrata ), along with a native sedge.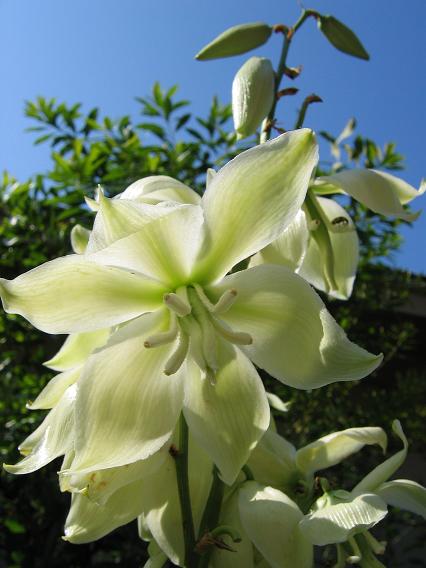 Yucca flower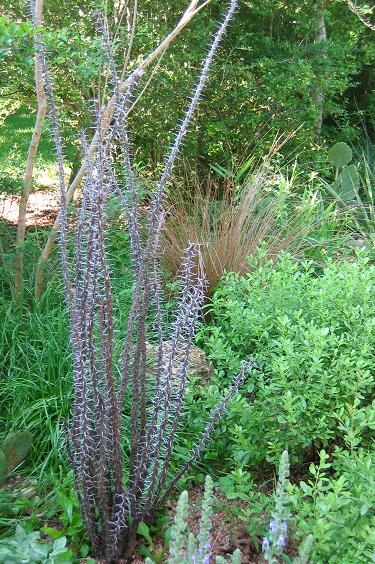 This sculptural desert plant caught my eye right away as I entered the garden, though I wasn't sure if it was alive or dead. Having traveled through Arizona, I should have recognized it as ocotillo, but I had to ask Cathy for the name before I remembered where I'd seen it before. I was struck by its sculptural quality and thought it worthy of garden space even if it had croaked due to adventurous placement, far from its natural range.
Curious to know more, I emailed Cathy about the ocotillo and got the story on it.
I bought it last fall (quite expensive) and planted it with good drainage, as advised. I keep checking on it to see if it's alive, and it is! Consensus comments from tour visitors is that it is waiting for the right conditions, much as it does at Big Bend. Usually the "condition" it's waiting for is rain, so I'm worried that maybe it's just not going to do well [as we've had a good deal of rain this spring]. Soon I will take it up and replant in a mound to give it even more drainage. Some people commented to me that they heard visitors wonder "why she would have a dead plant" in such an important place in the garden!!!! Indeed! I agree that it has a sculptural quality even when it's doing well, but now it almost looks as if it is wrought iron! Taking this story a little further, my more "pure" native landscaping friends chided me for having an Ocotillo at all! True enough . . .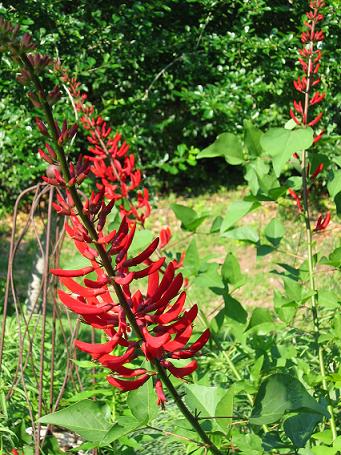 Another attention-grabber, these red flowers from a coralbean (Erythrina herbacea ) soared to eye level in the rear of the garden. Like the ocotillo, this legume is an exotic from several states away (in this case, the deep Southeast), but it apparently grows well in partial shade here in Austin, though it freezes to the ground in winter.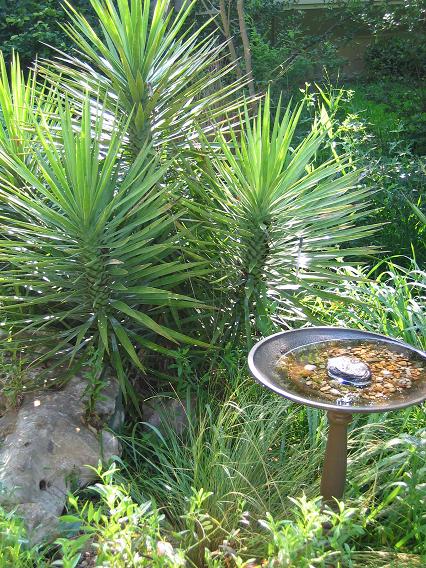 Another textural composition: spiny, bold-leaved yuccas; soft, wavy grasses; and reflective, glassy water.
Leaving Cathy's garden, we strolled next door for a quick look at her neighbor's garden, which Cathy also designed. It was similarly lushly planted with a token bit of grass in the front and none in the back. The homeowner was on hand and graciously answered visitors' questions on her shady back deck.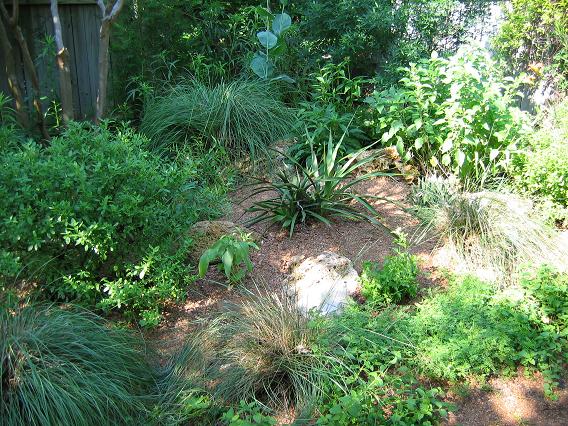 Screening shrubs lined the fence, and Hill Country plants played king-of-the-hill on a gravelly berm in the back garden. I'm sure this naturalistic garden attracts a great number of birds and butterflies looking for safety, shade, and native fruits, seeds, and nectar.
Tune in tomorrow for a tour of the Corum Cove garden.