May 16th, 2007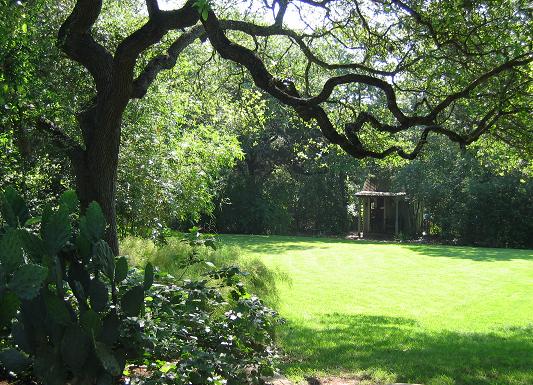 A twisted live oak frames a sweeping lawn of 'Palisades' zoysia and a potting shed in this estate-sized garden.
Our next stop on the garden tour led us to a luxurious home in a West Austin neighborhood. Surrounded by the open, palatial St. Augustine lawns of the neighbors, this homeowner had relegated the lawn to a supporting role, created a shade garden under the canopy of oaks surrounding the house, and carved out a sunny vegetable and fruit-tree garden from the cedar brake out back.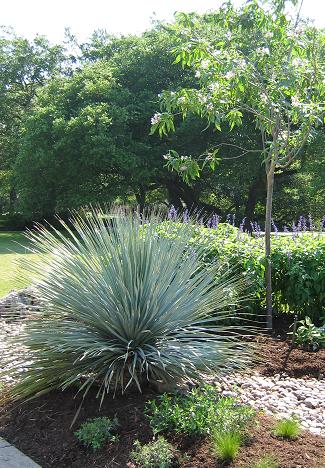 The tidy, xeric garden at the street is attractive, although it doesn't convey the magnitude of the landscape that awaited us in the back yard.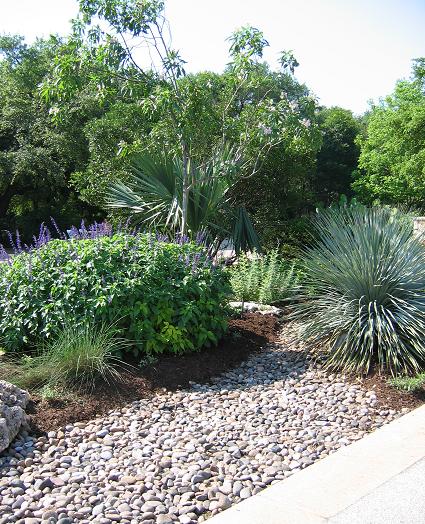 Another look. For hot, sunny problem areas, this is a lovely, low-maintenance solution. A dry creek of river rock flows through islands of drought-tolerant plants like sotol, Mexican feathergrass, 'Indigo Spires' salvia, and muhly grass. I believe the flowering tree is a chitalpa (a cross between a catalpa and a desert willow), but I'm not sure. Did anyone else get a good look?
I temporarily forgot I had a camera as I entered the back yard, partly because I was watching my step as I negotiated a rough, limestone path surrounding the pool; partly because I was then awed by the naturalistic swimming pool, which was inspired, according to the tour brochure, by spring-fed swimming hole Jacob's Well in nearby Wimberley, Texas; and partly because I ran into gardener Jenny Stocker and then Curt Arnette, an old friend, former neighbor, and the talented landscape architect who designed the pool. What with all the talking, admiring, and boring my mom to bits by yapping too long instead of looking at gardens, I plain forgot to take any photos of the pool. Darn it, because I'd really like to show it to you. The best I can do is point you to Curt's website, which has a few photos of the pool and the patio garden surrounding it, which he also designed. (When you go to his site, click on "projects," then "private," and then "07" to see the pool.)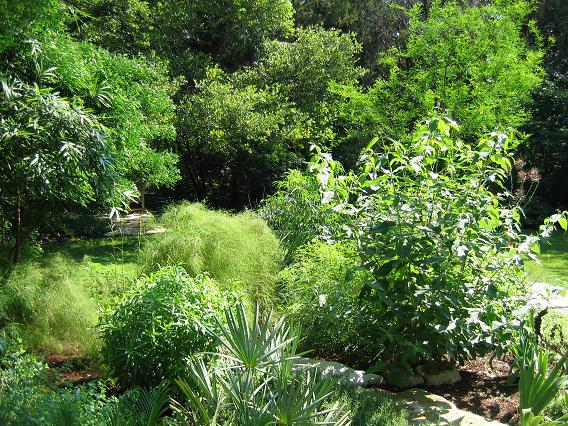 Somehow resisting the urge to dip our toes into the pool on this hot day, Mom and I meandered around the rest of the very large garden. Naturalistically planted with a mix of natives and hardy tropicals, the garden was a gorgeous tapestry of green and bronze foliage, feathery grasses, tall clumps of bamboo, native dwarf palmettos, and scattered flowering perennials.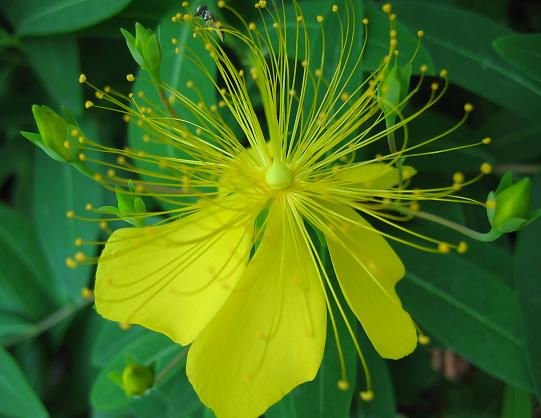 St. John's wort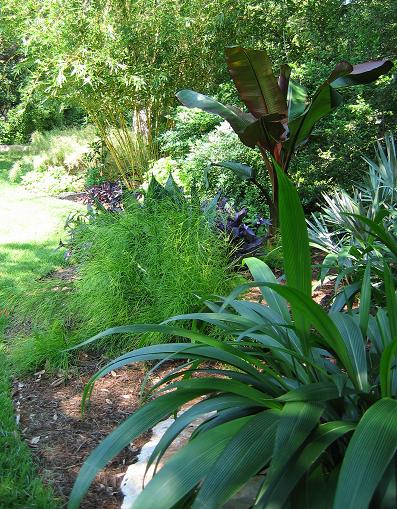 Sun and shade, green and bronze, native and tropical combine beautifully.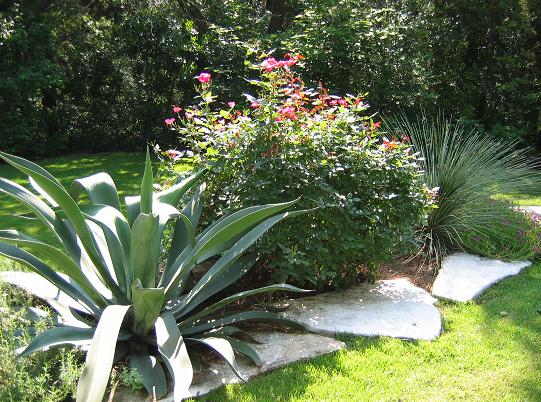 A large agave, shrub rose, and sotol share space on an island bed.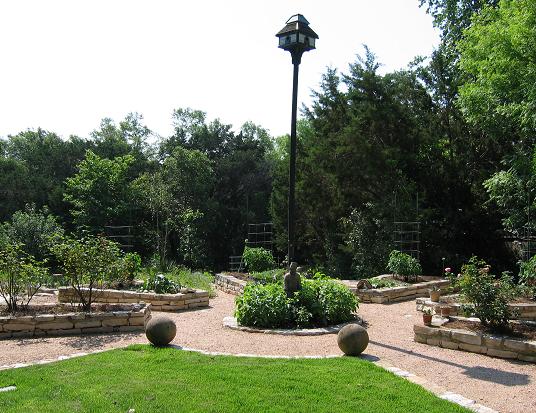 We followed a wide, lawn path that curved around the planting beds and led us past a children's play area and a charming potting shed, and delivered us to the sunny vegetable-and-rose garden pictured above. This area looked newly planted and freshly carved out of the cedar woods behind the house. Tomatoes and roses shared pride of place in the raised beds.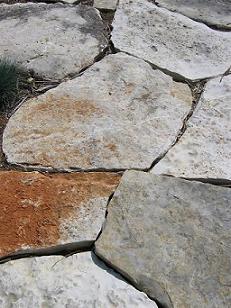 A lovely pieced-limestone path, tightly fitted but unmortared, led away from this formal garden, down a slope, and into a sunny, cedar-mulch path—created, no doubt, from trees shredded on site.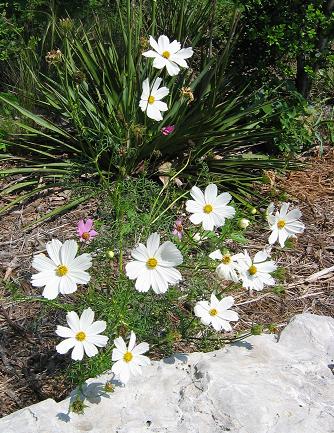 Along the path, white cosmos billowed in front of what looks like our native twist-leaf yucca.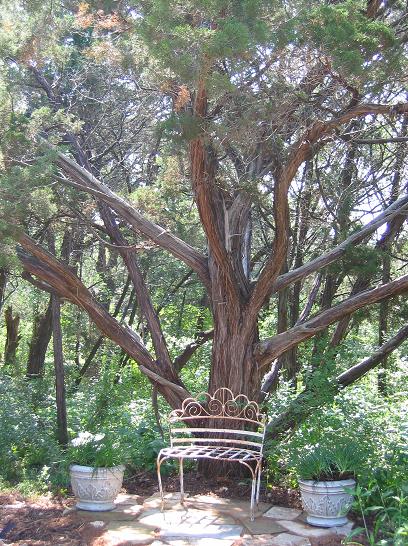 At the rear of the property, nature took over, though a dainty, scrolled bench held its ground under a shaggy, sheltering juniper. Following the path back uphill toward the main garden, we passed an enormous fig and several other fruit trees.
The food plants, the reduction of lawn, the beautiful native gardens in shade and sun, and even the potting shed all indicate that this is a gardener's garden. Oh, to be a gardener with that kind of a budget. But I'm grateful that he or she was willing to share it with the rest of us.
Tune in tomorrow for a tour of the Skyline Drive garden.