October 12th, 2016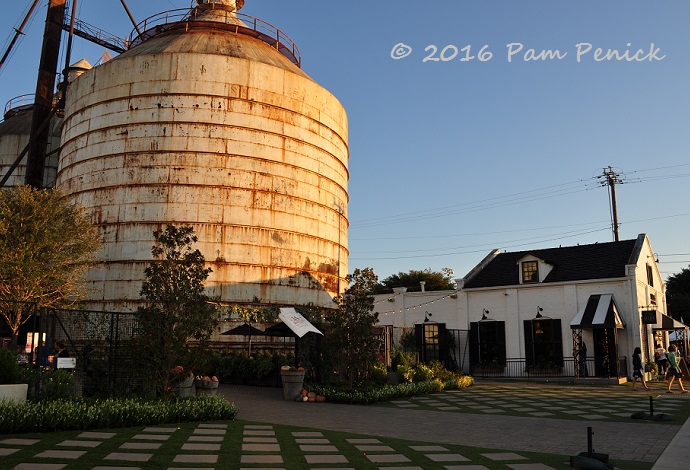 Uninitiated into the world of Chip and Joanna Gaines and their HGTV show Fixer Upper because we don't have cable TV, I'd nevertheless picked up an inkling of their popularity from fellow bloggers and multiple magazine features. So when we were in Waco last Saturday for one of the kids' sporting events, I had to see what all the fuss was about.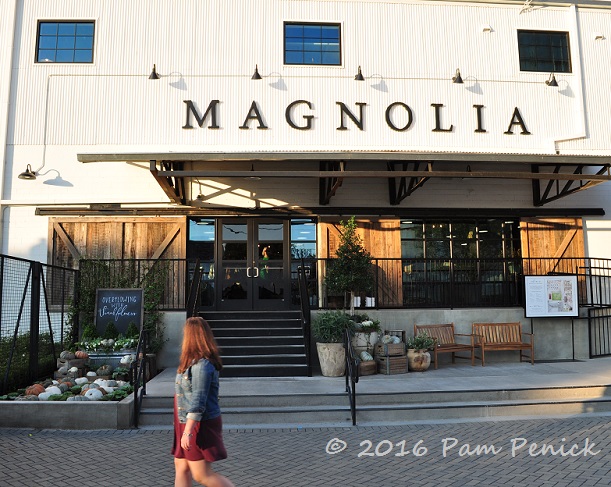 Once known mainly as the hometown of Dr. Pepper, Baylor University, and the David Koresh doomsday cult, Waco, a mid-size city halfway between Austin and Dallas, is being reinvented thanks to the Gaineses. A year ago, riding a wave of popularity from their TV show, they bought an abandoned cottonseed mill and two silos in downtown Waco and remade them into a tourist destination and fan-girl (and -boy) nirvana.
Their Magnolia Market at the Silos home-decor store and event space now attracts 35,000 visitors each week. Thirty-five thousand! They come to shop, eat at the on-site bakery, wander through a picturesque small garden, play games on a big faux lawn, swing on swings, eat at food trucks, and take selfies in front of the landmark silos.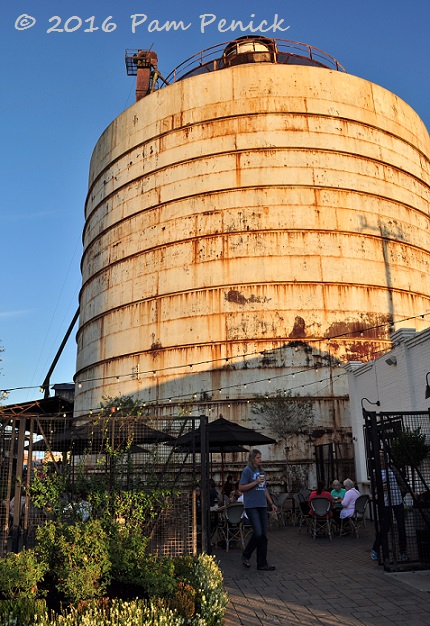 Last Saturday was Silobration, a multi-day festival marking the one-year anniversary of Magnolia Market's opening. Having read about long lines to get into the store on an ordinary weekend, we arrived 45 minutes before opening and found a line already out the door for the bakery, which opens earlier.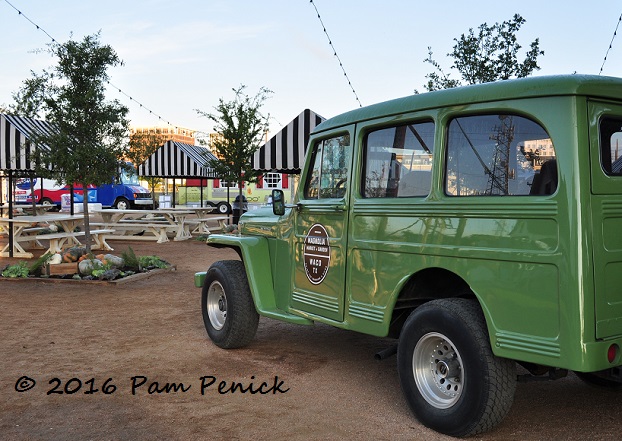 Instead of waiting for bacon-and-cheddar biscuits, we explored the perfectly manicured grounds, which feature a basil-green 1953 Willys Jeep, picnic tables with stylish black-and-white awnings, string lights, and newly planted trees surrounded by colorful pumpkins and squash.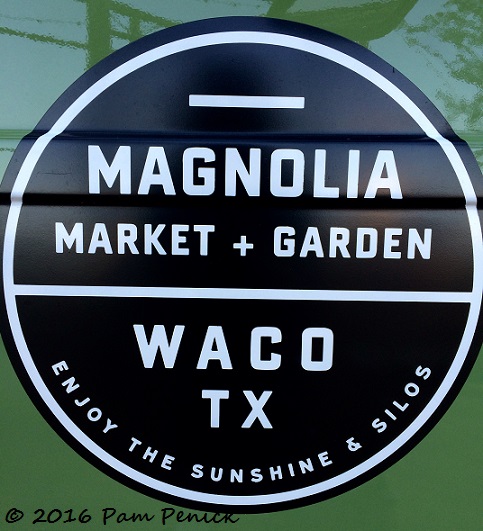 Enjoy the sunshine & silos. Well, we sure did.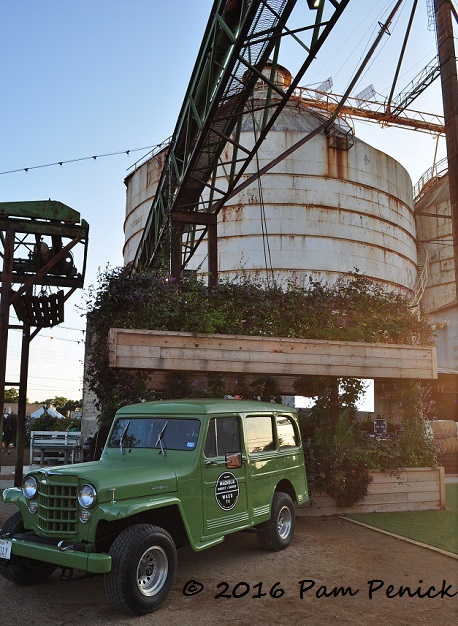 In transforming the silos and mill, the Gaineses wisely left intact the industrial structure and turned it into supports for flower boxes, lighting…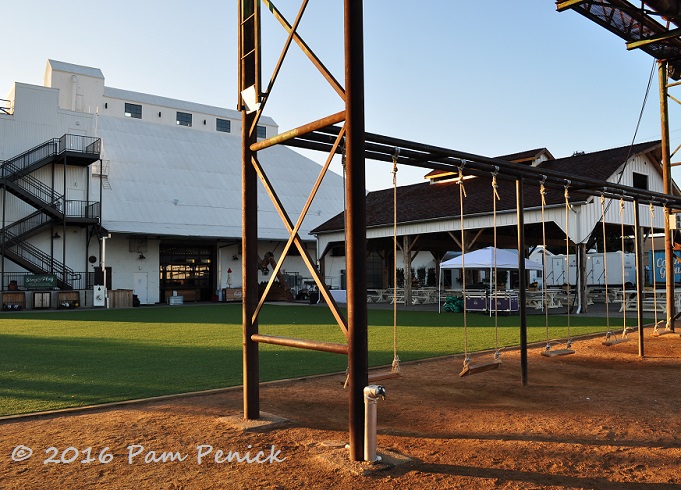 …and swings! The artificial lawn was soon buzzing with young children and parents kicking balls, playing cornhole, and lounging on cushy poofs set out by the staff after opening. A stage just out of view on the left overlooks the lawn, and a band tuned up for the early crowd.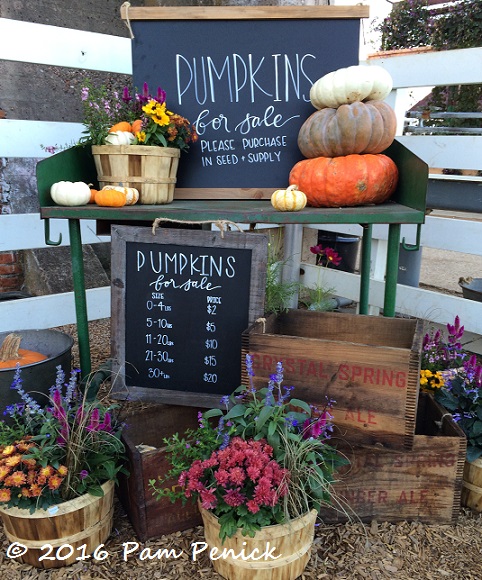 Behind the silos, at the entrance to a cottage garden, this pretty display advertised pumpkins for sale.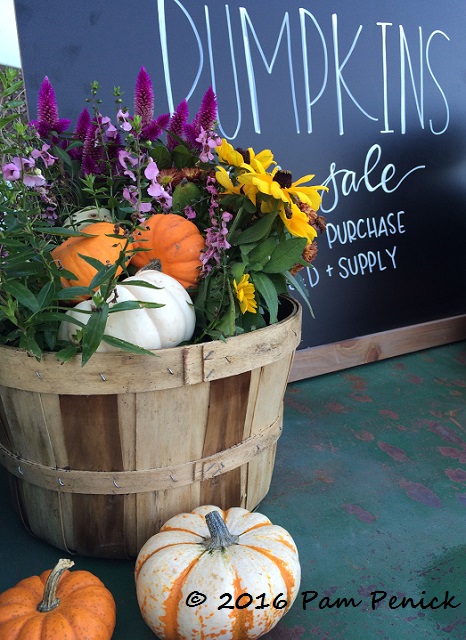 Charming flower-and-pumpkin arrangements in bushel baskets provided festive color.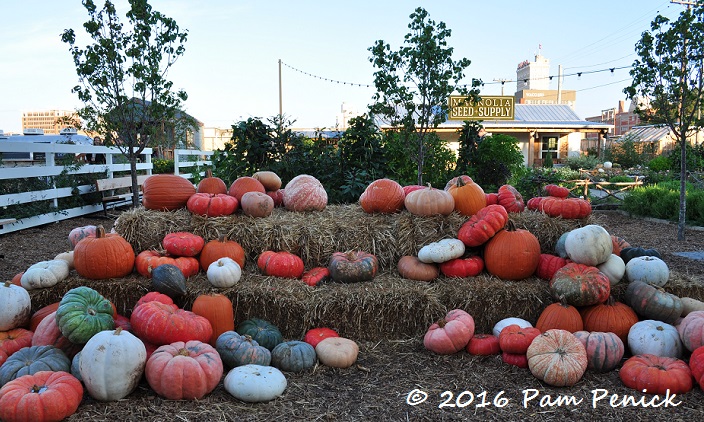 Stacked on hay bales, the pumpkin patch would soon be teeming with parents snapping kids-and-pumpkins pictures.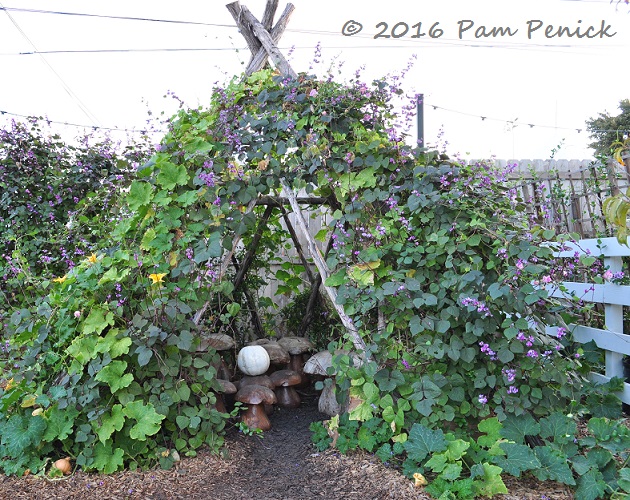 Nearby, a cedar tepee cloaked with squash vine and hyacinth bean vine made a kid-friendly hideout…

…with toadstool stools inside.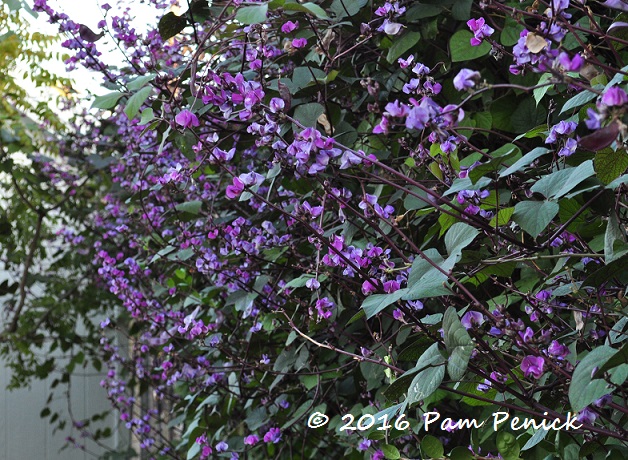 Hyacinth bean vine was in full flower along the fence as well.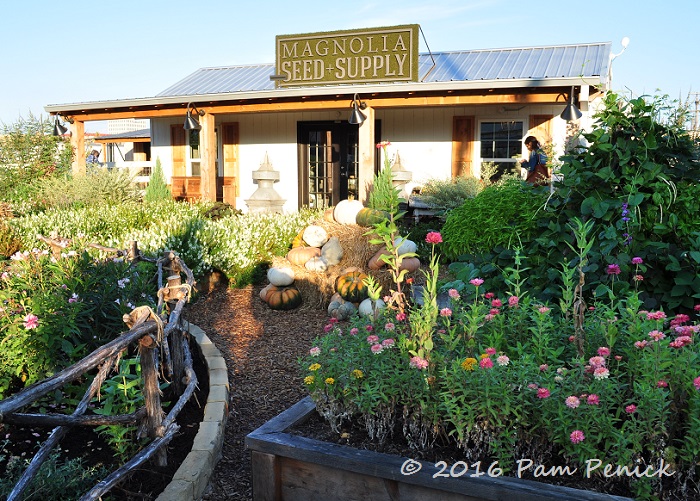 Magnolia Seed & Supply offers terracotta and tin flowerpots, seed packets, vases, and other garden decor in a picturesque Texas farmhouse-style building. However, it was jammed door-to-register with people that morning, so I took only a quick peek before beating a retreat back into the garden.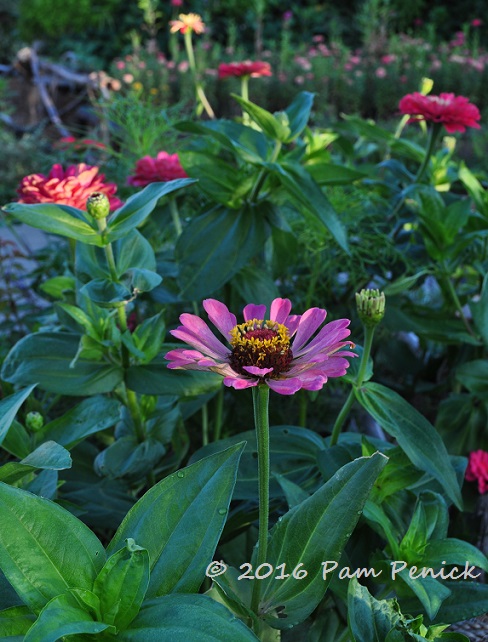 Cheery pink zinnias, the essence of cottage charm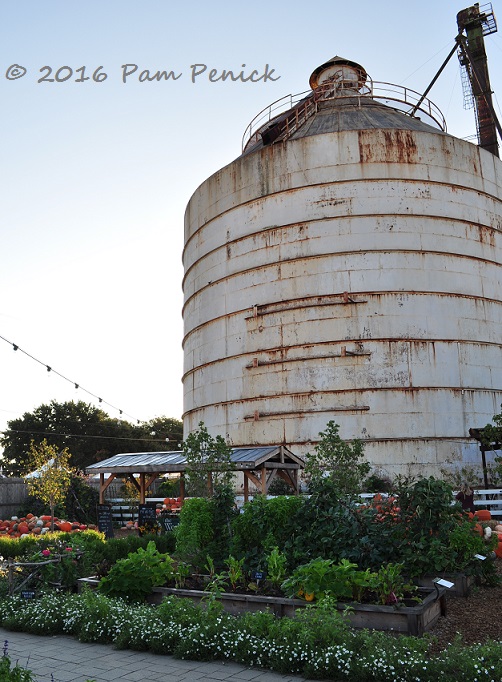 One last look at the garden, with a silo looming behind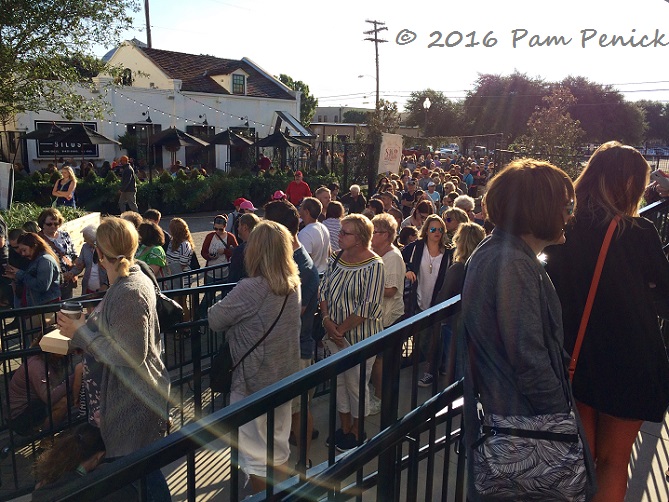 By 8:30 am, a line was forming at the door to Magnolia Market, and we joined the throngs lining up along the entry ramp. A festive mood prevailed, with many women taking selfies with the silos in the background. I talked with a woman who was visiting from California with her sister from Austin. I later read that not only do people travel to Waco expressly to visit Magnolia Market, but quite a few are moving to Waco to live the idyllic, friendly, small-town lifestyle portrayed on the show.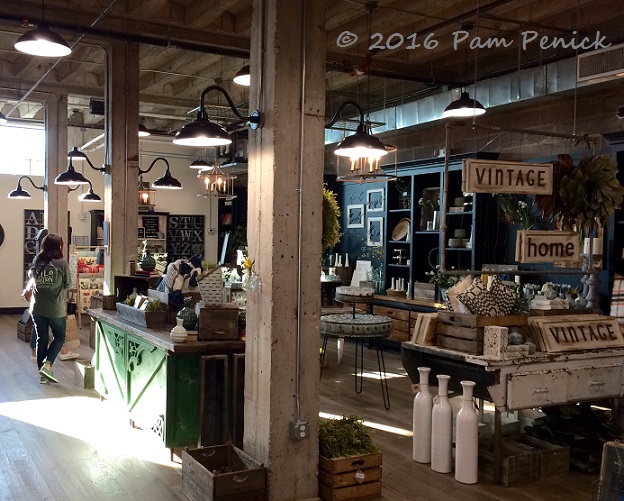 At 9 am the doors opened, and the crowd streamed inside. Racks of souvenir T-shirts — DemoDay, Shiplap, Magnolia, they read — were soon mobbed by fans riffling for their size. Cut branches of fluffy cotton were also quickly snapped up.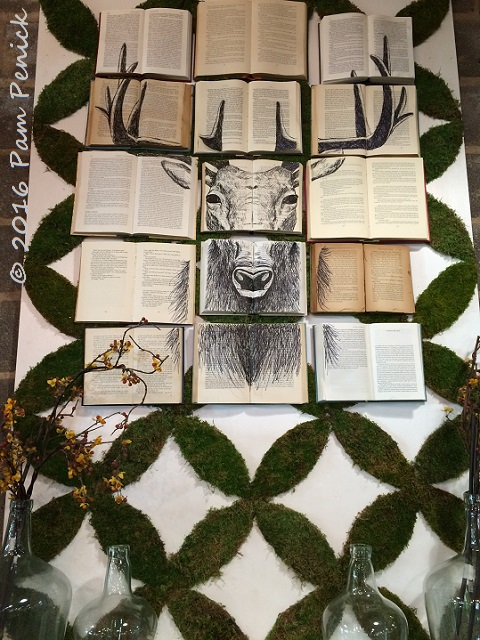 Decorative displays, like this stag illustration on open books, with a graphic mossy backdrop, reminded me somewhat of Anthropologie's eye-catching, nature-themed window displays.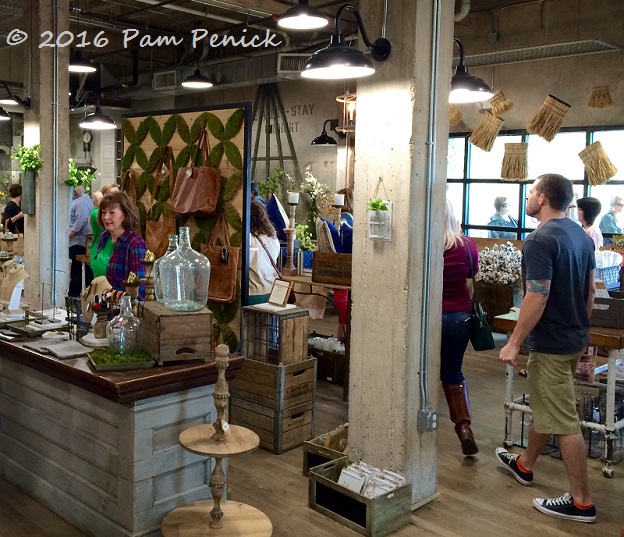 The store is nicely merchandised, which disguises the fact that many of the goods, even antique-looking architectural relics, seem to be mass-produced Made in China items. But uniqueness is not really the point, I soon realized. The Gaineses' show promotes a modern-farmhouse aesthetic that re-imagines "country" with a clean, bold look, and people are clearly in love with it. The shop gives fans an opportunity to bring a little of Joanna's trademark style back to their own homes. It's a brilliant marketing move.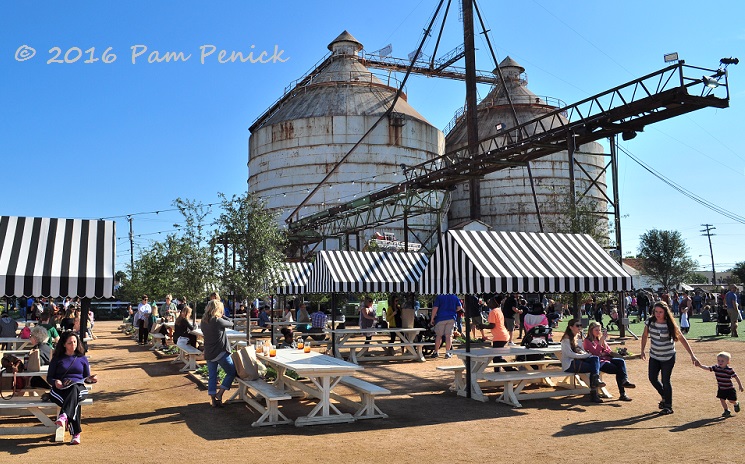 But the market as a whole is more than that. It's a gift to Wacoans, a source of civic pride, and a tourist draw that lifts the city as a whole. It's also a pretty fun place to hang out on a beautiful October morning, even if you don't buy anything except a couple of Sic 'Em on a Chicken biscuit sandwiches from Milo Biscuit Company's food truck, which were delicious, by the way.
I welcome your comments; please scroll to the end of this post to leave one. If you're reading this in a subscription email, click here to visit Digging and find the comment box at the end of each post.
_______________________
Digging Deeper: News and Upcoming Events
Austinites and native-plant shoppers, I'll be at the member's day Fall Plant Sale at the Lady Bird Johnson Wildflower Center on Friday, October 14. I'll be signing books from 1 to 3 pm in the Wild Ideas gift shop. Even if you're not a member, of course you can still come on out and see the gardens and stop in at Wild Ideas. I hope to see you there!

South Texans, come see me at the 2nd annual Planta Nativa festival in McAllen, Texas, on Saturday, October 22. I'll be delivering the keynote talk, "Local Heroes: Designing with Native Plants for Water-Saving Gardens," that evening. Tickets are on sale at Quinta Mazatlan. I hope to see you there!
I'll be speaking at the Antique Rose Emporium Fall Festival 2016 in Brenham, Texas, on Saturday, November 5th, 1:30-2:30 pm. Come on out to the Antique Rose Emporium's beautiful gardens for a day of speakers and fun! My talk, with plenty of eye-candy photos, is called "Hold the Hose! How to Design a Water-Saving Garden that Wows." Meet me afterward at the book-signing table!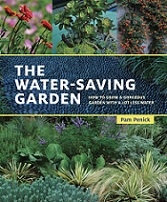 Do you review? Have you read my new book, The Water-Saving Garden? If you found it helpful or inspirational, please consider leaving a review — even just a sentence or two — on Amazon, Goodreads, or other sites. Online reviews are crucial in getting a book noticed. I really appreciate your help!
All material © 2006-2016 by Pam Penick for Digging. Unauthorized reproduction prohibited.
posted in
Annuals
,
Children's gardens
,
Containers
,
Decor
,
Deer
,
Fall color
,
Festivals
,
Flowers
,
Lighting
,
Markets
,
Nurseries & Shops
,
Play spaces
,
Seating
,
Signs
,
Travel
,
Trellis
,
Vines