July 11th, 2013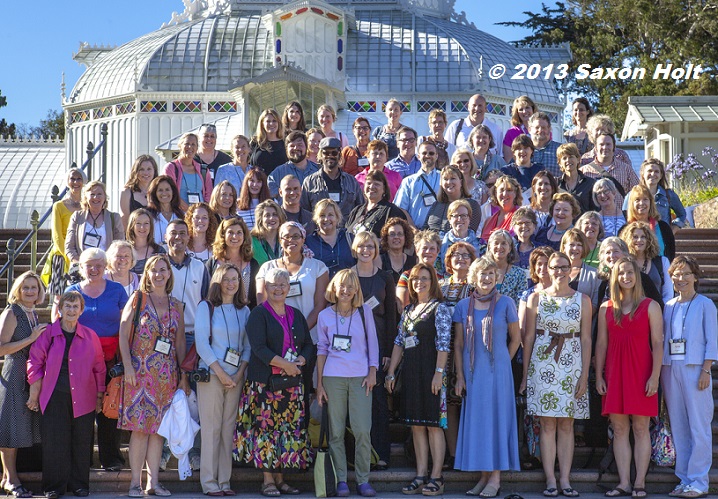 Did you miss me? I'm back from nearly two weeks of fun Flinging with garden bloggers and sightseeing with my family in beautiful San Francisco, California. Since 2008, the Garden Bloggers Fling has been an annual tradition for me, a can't-miss meet-up of garden bloggers from across the U.S., Canada, and England.
This year's Fling was hosted in San Francisco by bloggers Kelly Kilpatrick of Floradora, Andrea Fox of Grow Where You're Planted, Charlotte (Daffodil Planter) Germane of Dirt du Jour, Claire Splan of An Alameda Garden, and Maggie Leighly. These hard-working women put together an incredible, 3-day lineup of garden tours across the city, plus a fabulous opening-night group dinner at the Conservatory of Flowers.
Pictured at top is our official group photo from that evening, taken by famed garden photographer Saxon Holt of PhotoBotanic.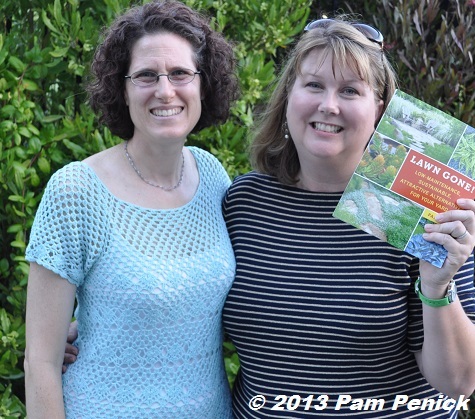 I'm proud to give my publisher, Berkeley-based Ten Speed Press, a shout-out as one of the Fling's generous sponsors this year. I knew that Ten Speed would be donating a copy of my book, Lawn Gone!, to each of the 70+ attendees — one of the many swag-bag items we all received — but what I didn't know was that my editor, the incomparable Lisa Regul, would be attending the group dinner. What a fantastic surprise!
For nearly three years I've spoken regularly with Lisa on the phone, but we'd never met, and I didn't even know what she looked like. She'd seen my author photo, however, and in any event I was wearing my name tag, so she walked up and said, "Pam?" I recognized that voice immediately and gave her a big hug. Lisa worked with me from idea to proposal to editing to publication. I owe so much of the success of Lawn Gone! to her expertise and guidance.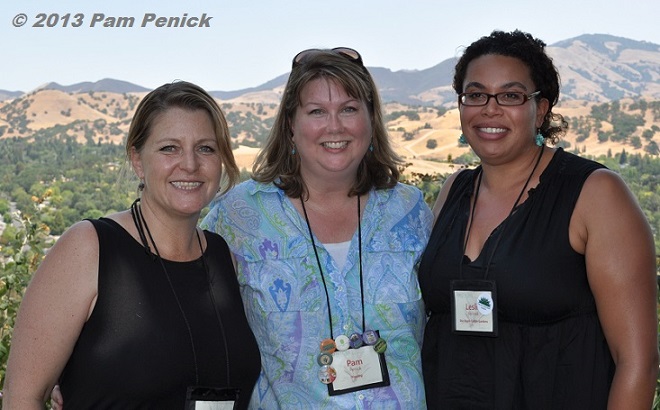 Another fun moment was meeting fellow Ten Speed garden authors Stefani Bittner and Leslie Bennett, who published The Beautiful Edible Garden this spring. Ten Speed, as you may know, publishes all sorts of books, not just garden/nature titles. Seeing other new authors from publishing houses that specialize in gardening titles bonding over their shared experiences, I'd felt a bit wistful for that kind of camaraderie. So when I met Leslie and Stefani and realized our Ten Speed connection, I felt as if I'd met two long-lost sisters.
This was their first Fling, and they both are delightful company. Everyone at the Fling got a copy of their book too. It's beautiful, and I can't wait to read it. We posed for the photo above in one of the tour gardens.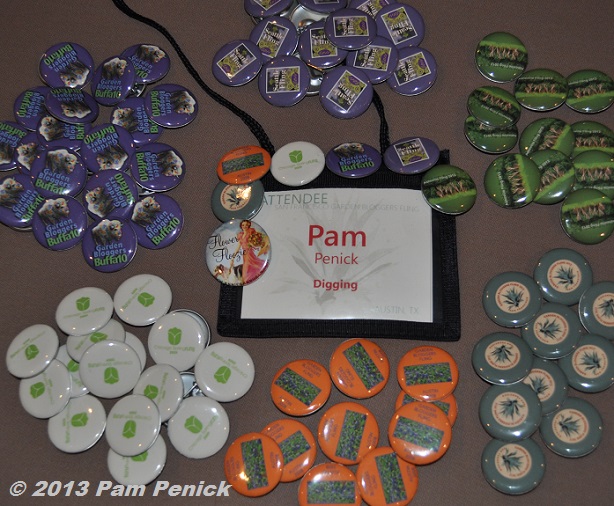 One more fun new item from this year's Fling was the introduction of souvenir buttons. Each Fling, from Austin all the way to San Francisco, is represented, and future hosts will add to the collection. Only a few of us at the San Francisco Fling had buttons from every past Fling. But whether one button or six, they made great additions to our name badges and often provided a conversational opening with someone new.
(By the way, if you've attended a previous Fling but weren't in San Francisco and you'd like to receive your button(s), pop on over to my "how to get your button" post on the Garden Bloggers Fling blog.)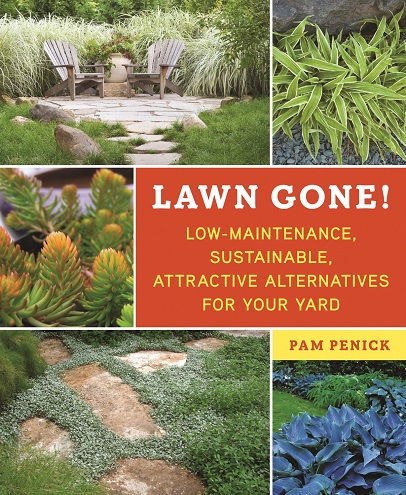 And now for the Lawn Gone! giveaway
I'm sharing some Fling swag by giving away a signed copy of Lawn Gone! to one lucky reader who was not at this year's Fling. Anyone may enter by leaving a comment on this post (one comment per person, please). Due to shipping costs, the giveaway is only open to residents of the continental U.S. The deadline for entering is next Wednesday, July 17th, at 11:59 p.m. central time. I'll announce the winner on July 18th. Update: And the winner is…
While we're waiting to see who wins, I'll start posting about the garden tours from the Fling. I can't wait to share them with you!
All material © 2006-2013 by Pam Penick for Digging. Unauthorized reproduction prohibited.