February 9th, 2015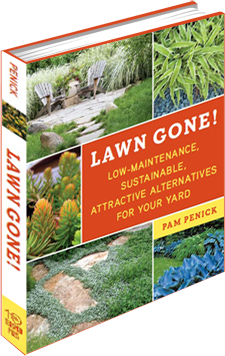 To make a party of my new book announcement — The Water-Saving Garden: How to Grow a Gorgeous Garden with a Lot Less Water (coming spring 2016; follow on FB) — I've been running a giveaway of three copies of my book Lawn Gone! Low-Maintenance, Sustainable, Attractive Alternatives for Your Yard.
Out of 110 entries, I've just drawn the three winners, selected by a random number generator:
#73 – Cityslipper
#56 – Candice
#55 – Brenda Kula
Congratulations, y'all! I'll email you today to get your addresses. To everyone who commented, thank you for sharing your favorite water-saving tips! It's heartening to see that so many people in all kinds of climates are conscious of their water use and interested in conserving.
All material © 2006-2015 by Pam Penick for Digging. Unauthorized reproduction prohibited.