July 10th, 2017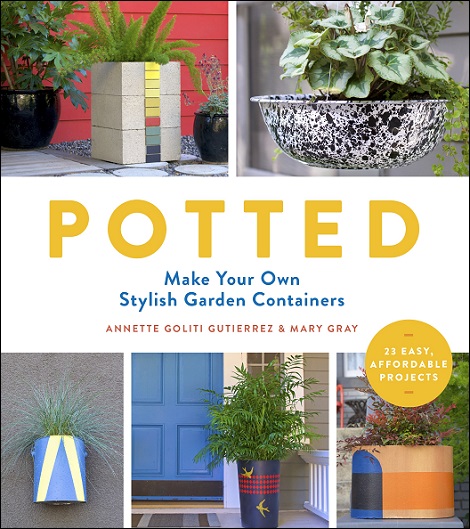 I'm crazy for Los Angeles garden shop Potted and its colorful, modern accessories for patio and porch living and gardening. I've made two pilgrimages to the store (here and here) when passing through L.A., and I've ordered from and received gifts from their online store (yes, you can shop from home in your jammies!).
Over the years of crushing on their shop, I've enjoyed getting to know the two inventive women who own and operate Potted, Annette Gutierrez and Mary Gray. These dynamos of creative energy are continually coming up with their own designs for planters, tiled tables, and garden decor that they produce and sell as Potted Exclusives, among which their Circle Pot may be best known.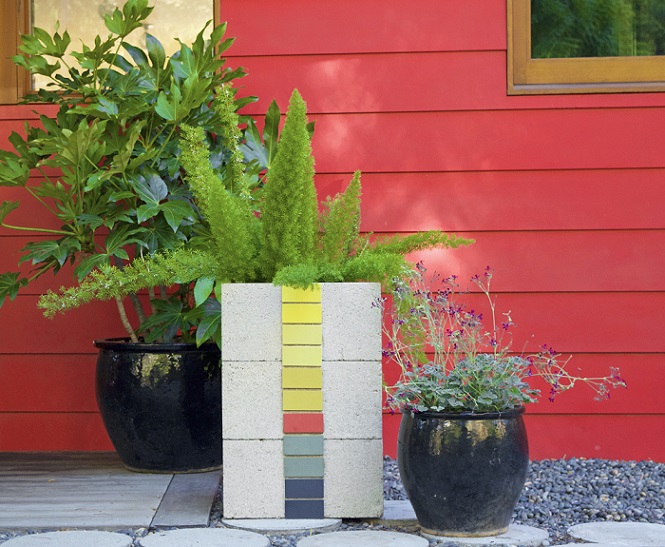 And now they've put their creativity on paper by publishing a Potted-loving DIYer's dream book: Potted: Make Your Own Stylish Garden Containers. In this colorful and well-illustrated paperback, Annette and Mary share 23 original, DIY-able planters that they dreamed up and show how to create them from readily available materials like concrete cinderblock, PVC pipe, plastic trash cans, attic gable vents, paint cans, and spray paint.
Take this stacked cinderblock planter with a colorful stripe of glued-on tile, for example. They suggest using leftover tiles from a kitchen or bath remodel or sample tiles purchased from a tile store. With step-by-step instructions and photos to illustrate each step, they make construction look totally do-able and fun.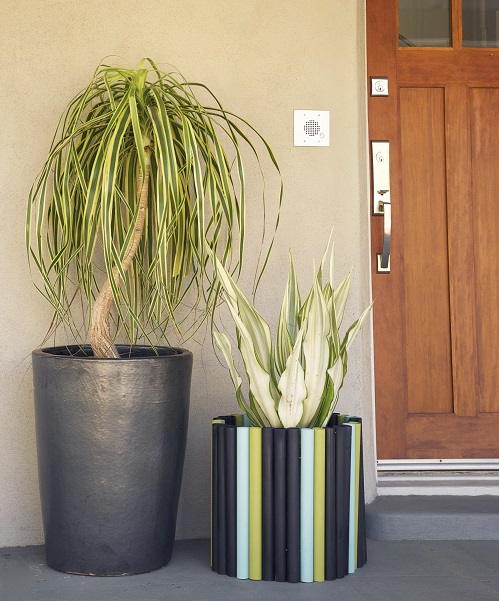 Here's another of my favorite projects: a spray-painted PVC-pipe "bracelet" to dress up a plain nursery pot. As the authors point out, small PVC pipes are inexpensive and easily cut, painted, strung together with wire, and wrapped around an existing pot. The beauty is that you can customize the colors to harmonize with your porch decor or house colors. This is a fun idea for inside or outside.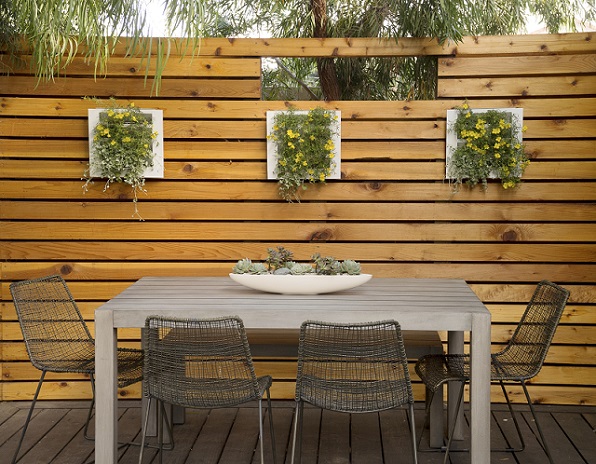 I also love the cleverness of this idea: spray-painted metal gable vents from a building-supply store turned into wall planters with the aid of DIY plastic backing to protect the wall and hold soil. The authors used cheap plastic placemats for the backing material. Imagine how cool this would look planted with succulents.
The 23 planter ideas shown in the book are organized by basic material: concrete, plastics, metals, terra-cotta, and organic materials like fabric, rope, and decoupage. You can follow the instructions to duplicate their examples, or, as the authors point out, you can mix-and-match ideas from the various projects to create your own totally unique planters. The book is sure to give you some fun ideas for dressing up your patio, porch, or living room, and it'll show you how to look more creatively at everyday items that can be turned into something only you have thought of.
GIVEAWAY
And now for your chance to win the book! Annette and Mary are offering one lucky reader a free copy of Potted: Make Your Own Stylish Garden Containers, and to be entered in the giveaway all you need do is leave a comment right here on this blog post. The winner will be drawn randomly at 11 pm CDT on Friday, July 14th, and announced here on Saturday.
Thanks for reading and commenting, and good luck!
Update 7/15/17: Congratulations to #13 Jenny Young, who is the winner of Potted! Thank you to everyone who entered. This giveaway is now closed.
Photographs by Potted with Sydney Michael and Amanda Brooks.
Disclosure: Timber Press sent me a copy of Potted for review. I reviewed it at my own discretion and without any compensation. This post, as with everything at Digging, is my own personal opinion.
I welcome your comments; please scroll to the end of this post to leave one. If you're reading this in a subscription email, click here to visit Digging and find the comment box at the end of each post.
_______________________
Digging Deeper: News and Upcoming Events
Get on the mailing list for Garden Spark Talks. Inspired by the idea of house concerts, I'm hosting a series of garden talks by talented designers and authors out of my home. Talks are limited-attendance events and generally sell out within just a few days, so join the Garden Spark email list for early notifications. Simply click this link and ask to be added.
All material © 2006-2017 by Pam Penick for Digging. Unauthorized reproduction prohibited.