September 27th, 2017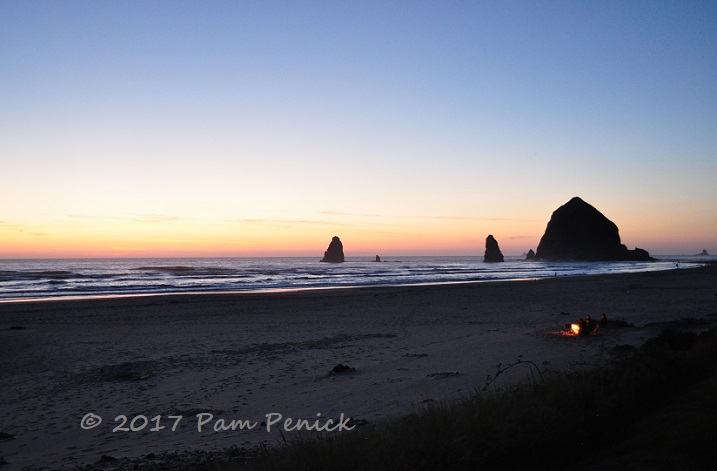 I'm not a beach person. I don't enjoy lying in the sun, sweating on the sand, nor do I like to swim in the ocean. You don't do any of that at Cannon Beach, in Oregon, which is one of the reasons I enjoy it so much. Instead you sit around campfires dug into the sand high on the beach, wearing sweaters and scarves against the chill, and watch the sky fade from blue to gold as the sun goes down over the Pacific. (Or you watch the fog roll in — that's lovely too.)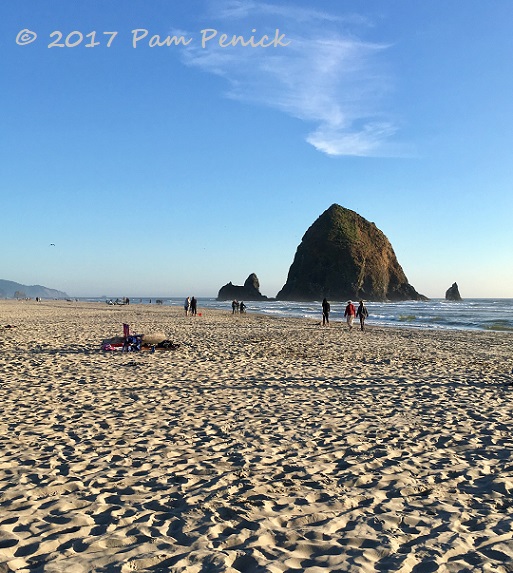 Cannon Beach is an hour and a half northwest of Portland, a charming seaside town of gray-shingled cottages and a friendly collection of shops and restaurants. Its wide, sandy beach overlooks the famous Haystack and Needles — basalt sea stacks — marooned in the surf, eroded long ago from the mainland.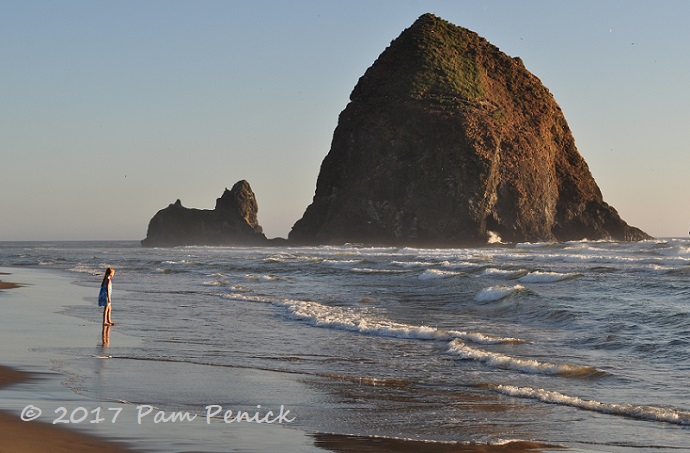 There's a natural majesty here, and a sense of wonder.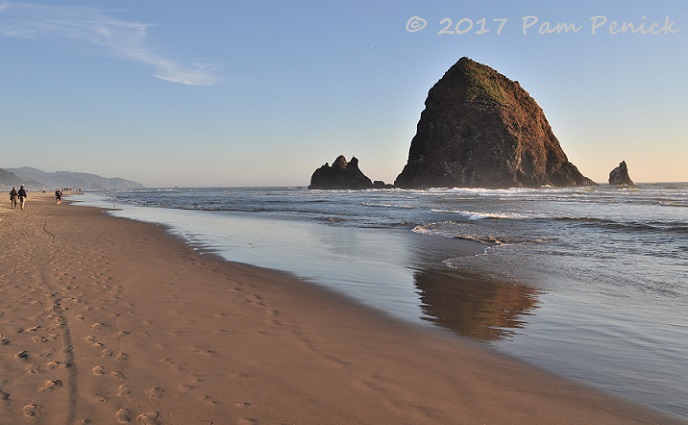 At low tide you can walk out to the monolith and see tide pools, but we've only ever seen it surrounded by the crashing, icy surf of the Pacific Ocean.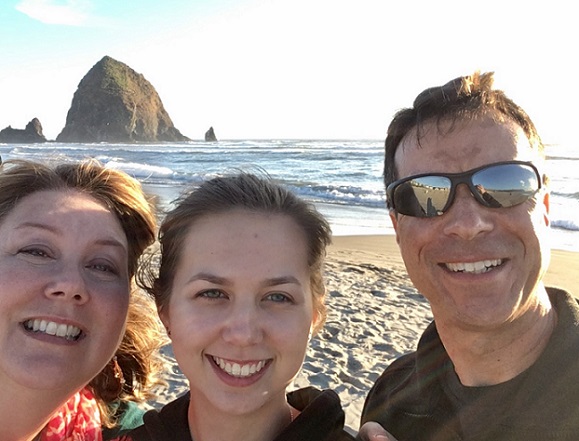 We visited late one mid-August afternoon, stopping for dinner in town before taking a sunset stroll along the beach. I expected fog, but the day was clear and fine.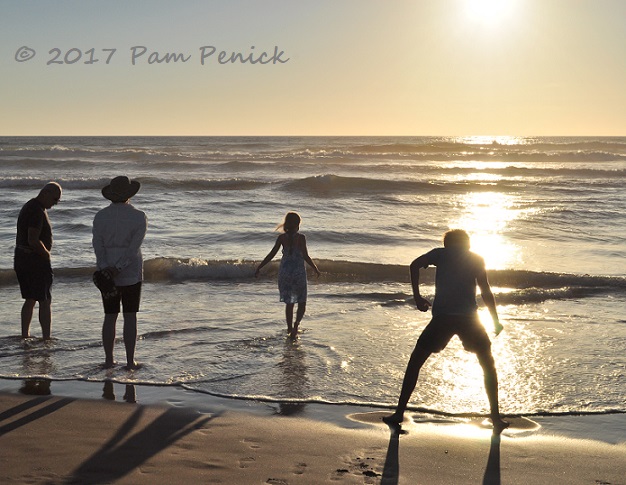 As the sun dipped lower, other families stood facing west, watching a golden path appear atop the waves. (These kids remind me of my own two, only a few short years ago.)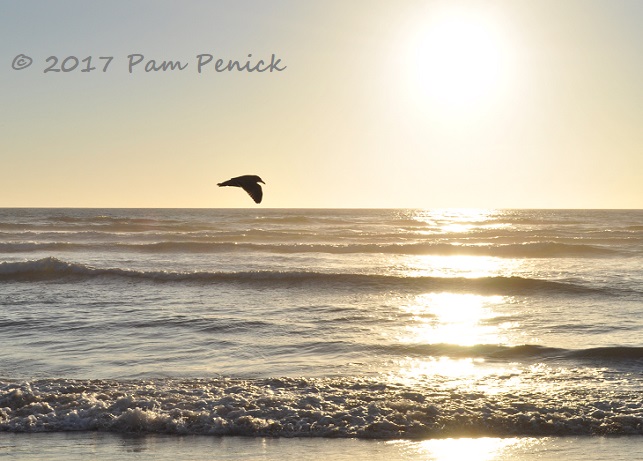 Bird in flight along the shore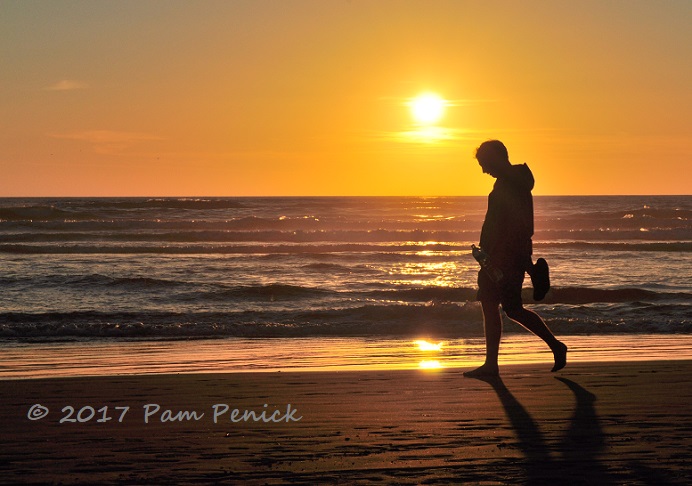 As we sat in beach chairs with our toes dug into the sand, the sun dropped lower…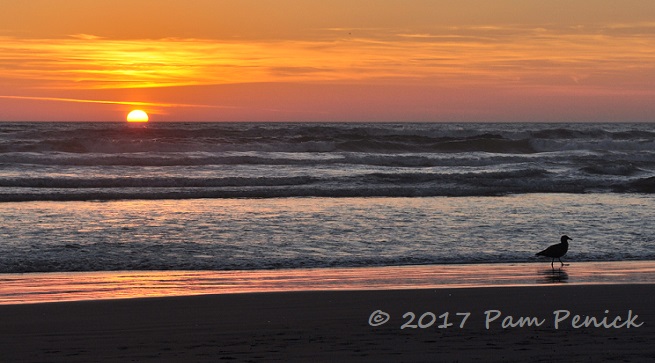 …and lower…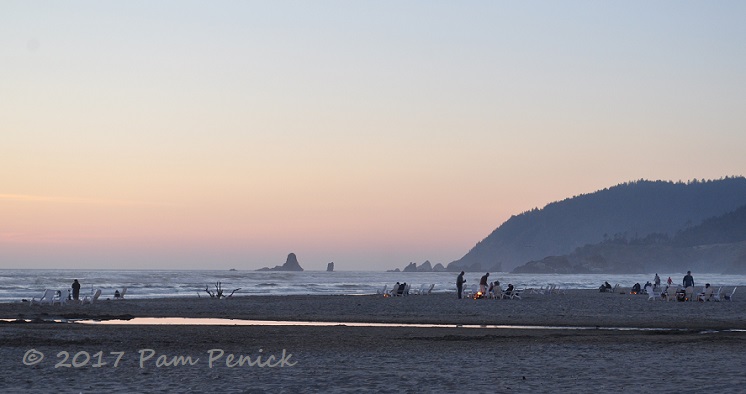 …and finally sank below the horizon, turning the evening sky rose, blue, and pale yellow. Campfires sprang to flickering life up and down the beach.

What an entrancing twilight view. This is the beach life I love.
I hope you've enjoyed my garden and nature posts from our road trip up the northern coast of California, over to Crater Lake, and up to Portland. For a look back at my visit to the luminous Portland Japanese Garden, click here. You'll find links to my earlier posts at the end of each article in this series.
I welcome your comments; please scroll to the end of this post to leave one. If you're reading this in a subscription email, click here to visit Digging and find the comment box at the end of each post.
_______________________
Digging Deeper: News and Upcoming Events
Get ready for fall garden tours in Texas! The Garden Conservancy is sponsoring Open Days tours in Fort Worth on Oct. 8th, San Antonio on Oct. 14th, and Austin on Nov. 4th.
Get on the mailing list for Garden Spark Talks. Inspired by the idea of house concerts, I'm hosting a series of garden talks by talented designers and authors out of my home. Talks are limited-attendance events and generally sell out within just a few days, so join the Garden Spark email list for early notifications. Simply click this link and ask to be added.
All material © 2006-2017 by Pam Penick for Digging. Unauthorized reproduction prohibited.