September 4th, 2011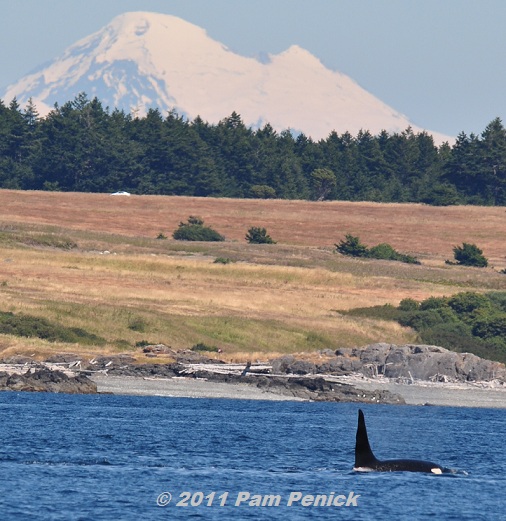 After the magical orca-watching experience from shore on San Juan Island, we doubted we could top it, even though we'd already reserved a whale-watching expedition in Vancouver, British Columbia, the final stop on our Pacific Northwest vacation last month. And we were right. It was more incredible to see orcas from shore and hear them blowing as they surfaced than from a noisy boat.
But look at the picture above and tell me you wouldn't have wanted to see more too, any way you could.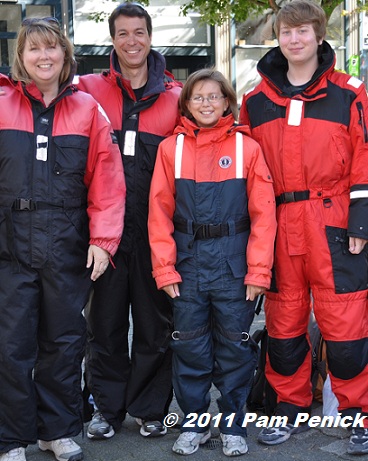 And just look at what it took. Yes, that is me and my family all togged out in anti-exposure suits, required wear for the speed-boat whale-chasing we'd signed on for. I'd been following our tour company, Wild Whales Vancouver, on Facebook for months, and I knew that our trip could be as short as three hours, if whales were cruising near Vancouver, or as long as seven hours if the whales were hunting down in the San Juan Islands. Guess what? They were in the San Juans on the day of our tour, and we were informed that it would be a long day on the water to go find them. Ever game for adventure, we wiggled into our puffy anti-exposure suits, marched through Granville Island market, all bundled up and feeling extremely silly on a beautiful, warm morning, and boarded our 23-person speedboat.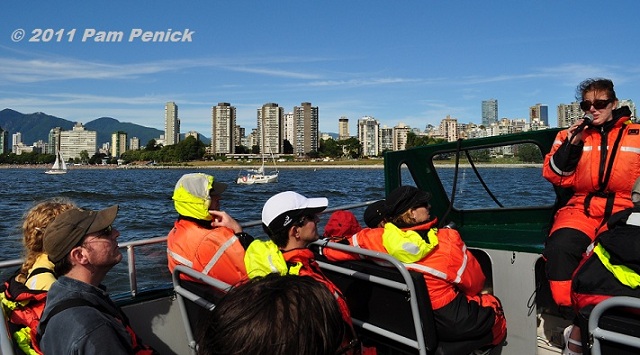 Our guide sat at the bow, using a microphone to tell us about the wildlife we might see. Vancouver's beautiful skyline spread out in the distance as we moved away from shore. Soon the captain revved the jet engine, and we were off across the Strait of Georgia, pounding over whitecaps whipped up by a stiff breeze, with icy sea water gushing in over the bow with each spine-jarring bump. We immediately understood the reason for the anti-exposure suits and struggled to zip them up tight under our chins and cinch our hoods around our faces. I clenched a plastic trash bag around my camera and gasped and laughed as each chilly spray hit me in the face.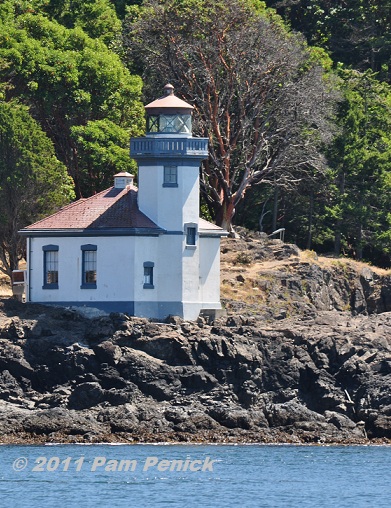 Three hours later we slowed as we reached the San Juan Islands, Washington, and we recognized Lime Kiln Lighthouse. Only the day before we'd been on San Juan Island, and here we were again, following the same orcas we'd seen there from shore.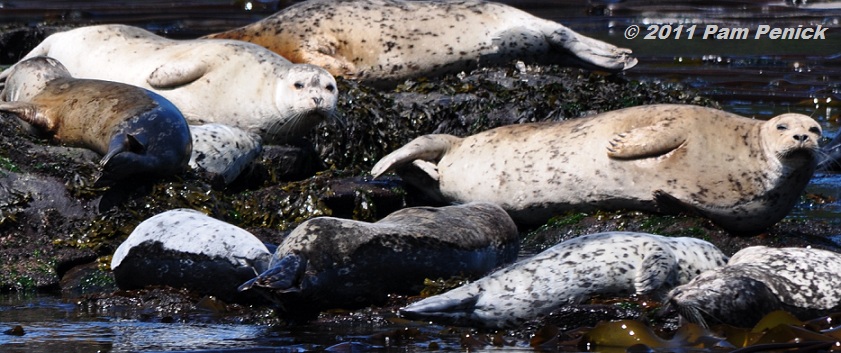 The first creatures we saw were harbor seals, aka rock sausages.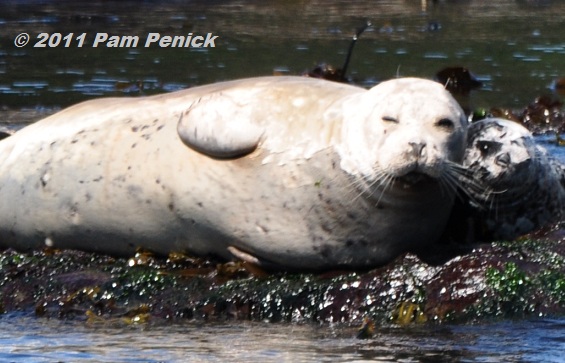 Moms and pups basked on a small, rocky island surrounded by kelp.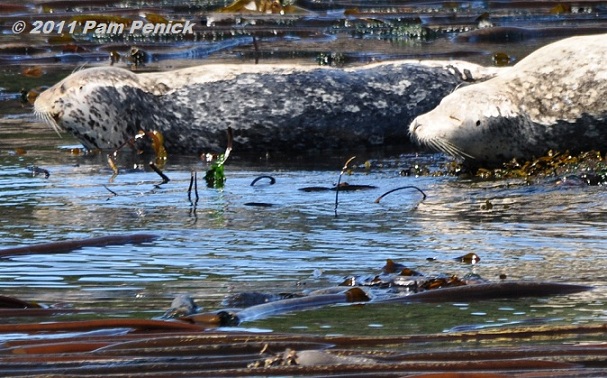 The three pods of resident orcas in this area don't eat seal, only fish, but for the migrating pods known as transient orcas, seal is a delicacy.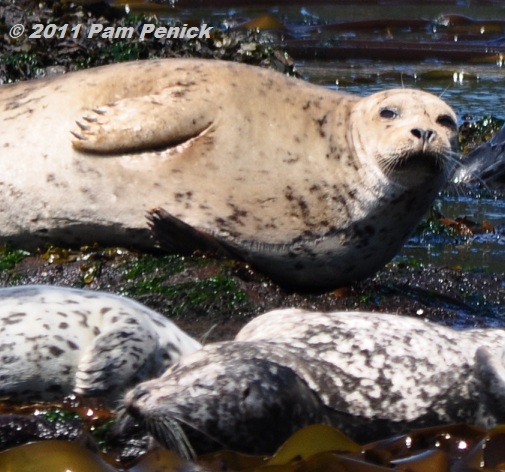 They didn't seem too concerned.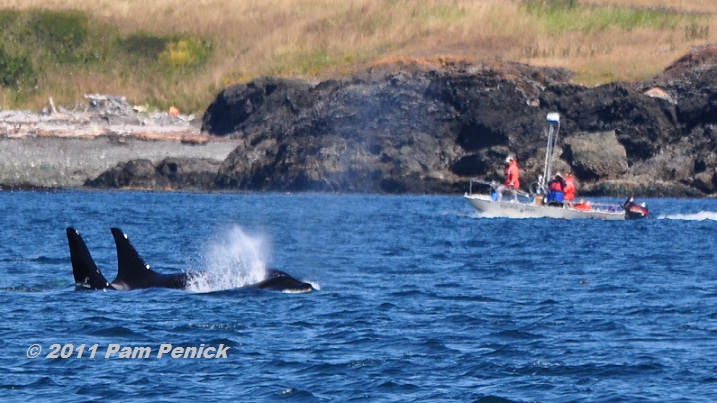 A few minutes later, we found a pod of resident orcas.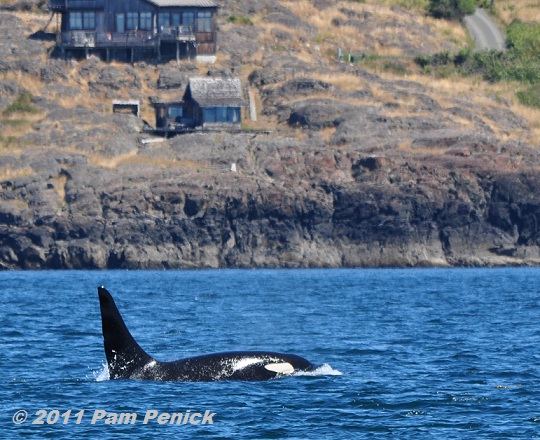 It was thrilling to see orcas again, even though the boat noise kept it from being as intimate an experience as we'd had on shore. Our captain kept a respectful distance. Whale-watching regulations require that boats stay at least 100 yards from orcas, and on the ocean side of them since they like to herd fish toward shore in order to catch them. Boats are also not allowed to follow them for longer than one hour in order to reduce stress on the animals.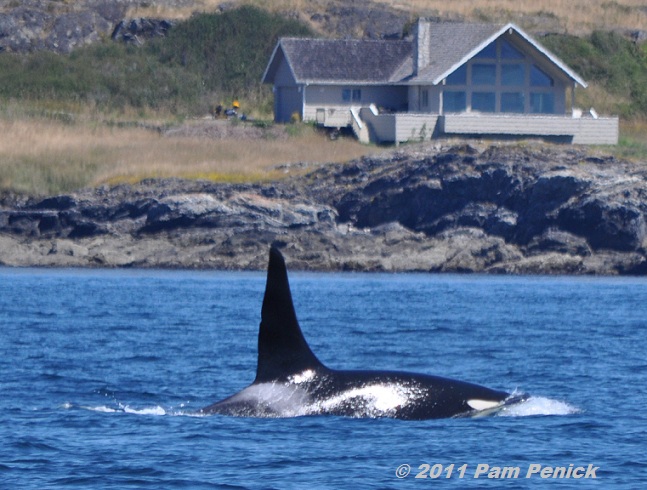 We did get some marvelous views of the killer whales as they cruised south along San Juan Island. Just imagine if you lived in this house, watching whales go by as you sip your morning coffee on the deck.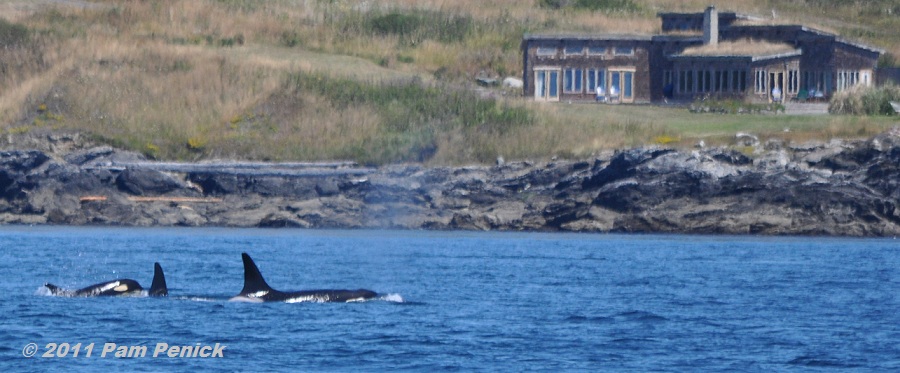 There's a baby on the left, staying close to two females (I believe). And is that a green roof on that house on the bluff?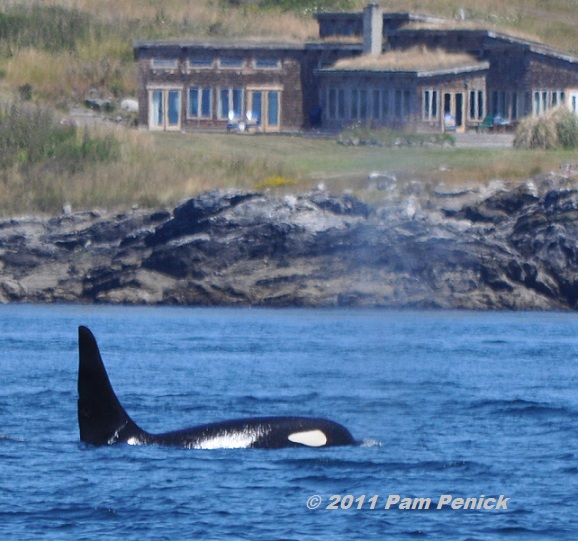 A closer look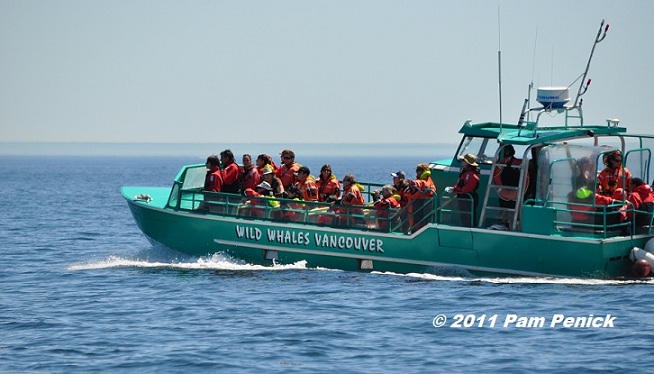 At this point a phalanx of whale-watching boats were trailing the whales, including another Wild Whales Vancouver jet boat. See everyone in their orange anti-exposure suits? We knew they'd just endured a 3-hour race here too.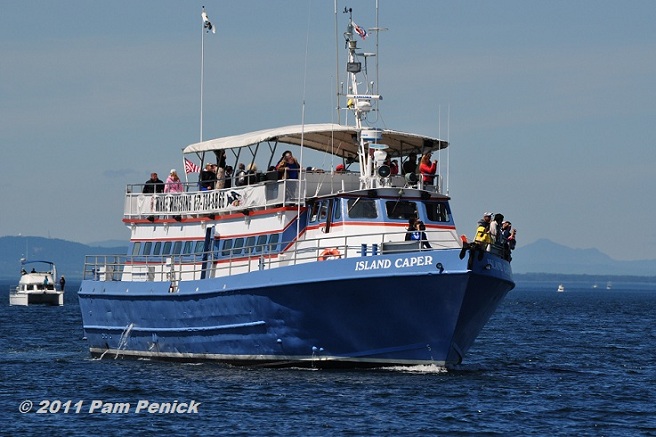 Other whale watchers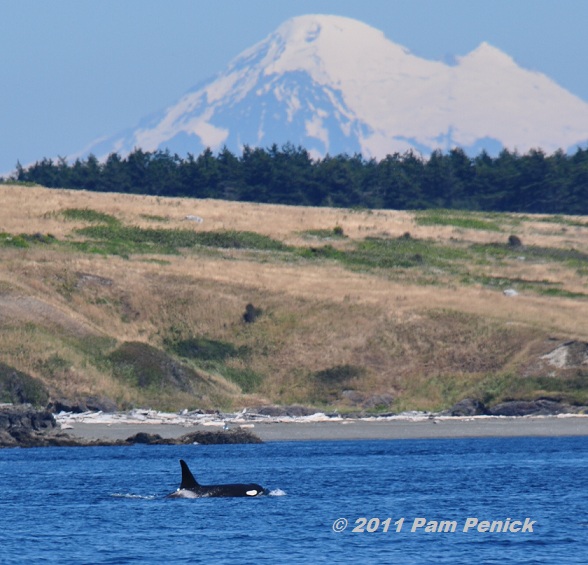 As the whales continued south, we followed. When Mt. Baker appeared over the island, with orcas in the foreground, I saw the mother of all photo opportunities. It was a breathtaking vista.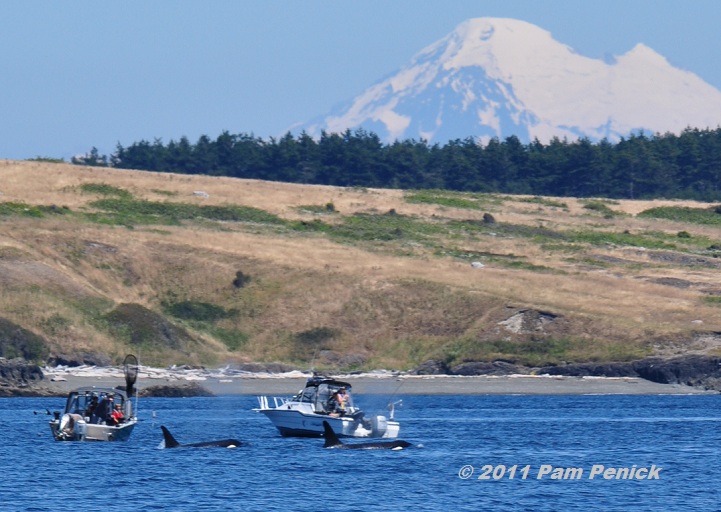 These lucky boaters ended up surrounded by orcas. When that happens, regulations call for turning off the engine and staying put. What a close view they got.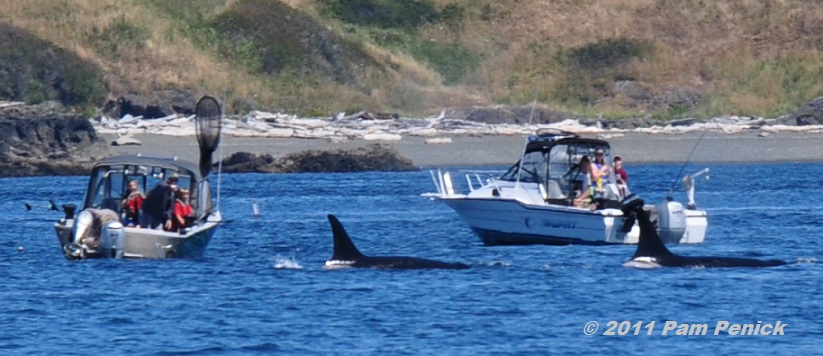 Those are some big dorsal fins.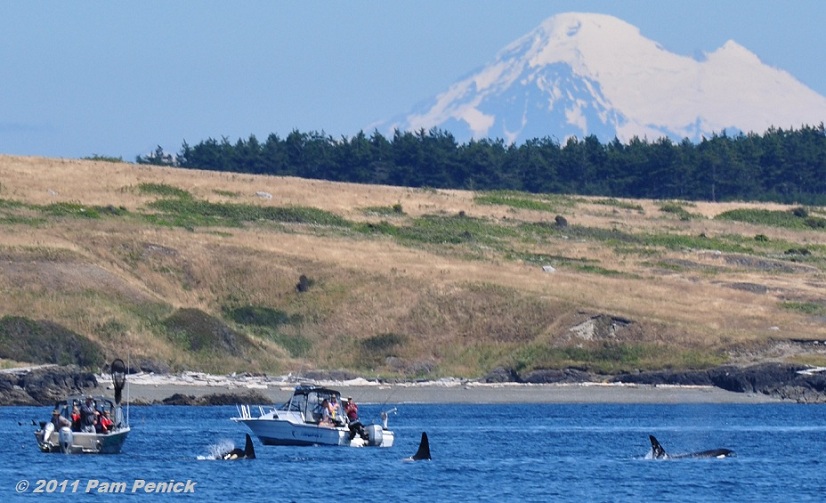 A wider view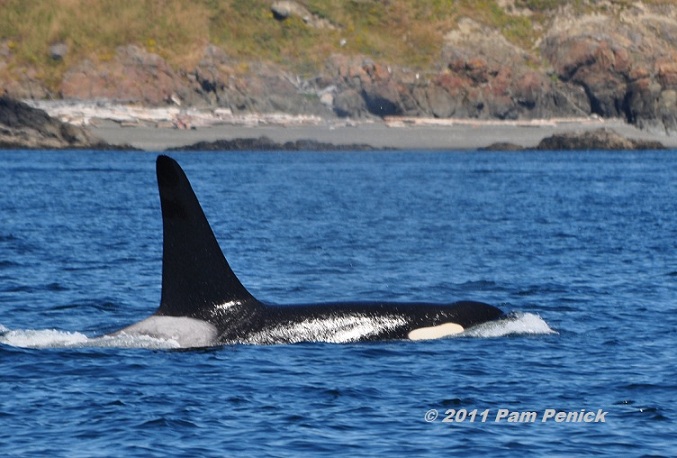 This male surfaced near our boat, eliciting oohs and wows from everyone.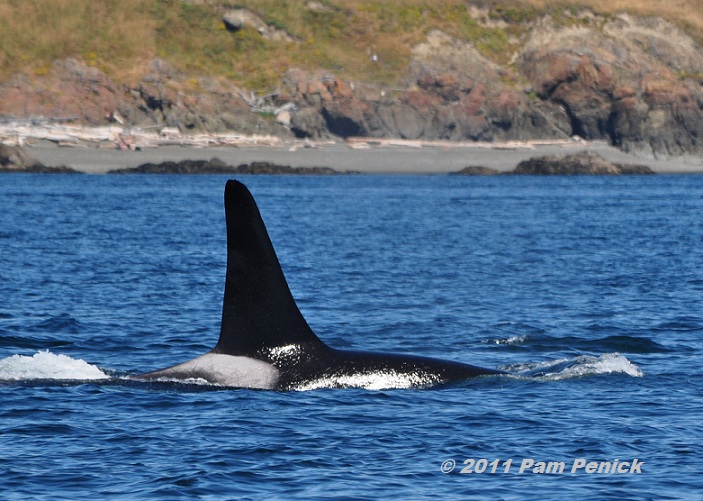 Going…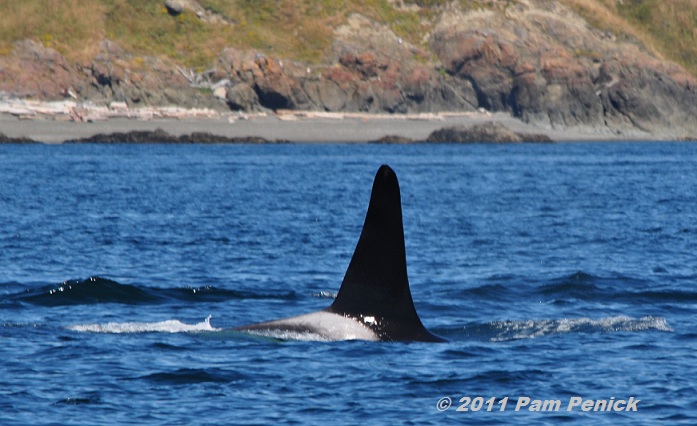 …going…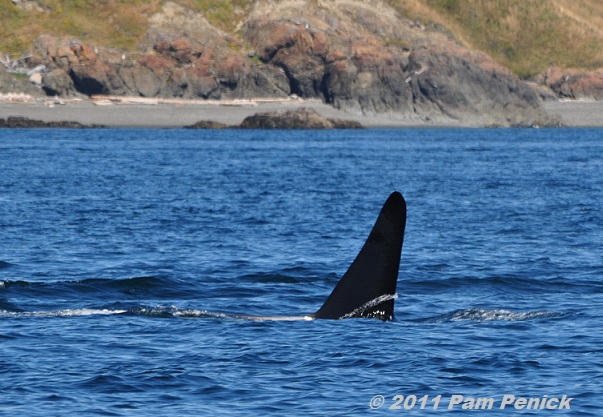 …gone!


Seven hours after starting out, we cruised back into Vancouver, a city sandwiched between snow-capped mountains and the ocean. So much beautiful scenery to see here!
Up next: I have just one more vacation post, about Vancouver's Capilano Suspension Bridge, and then I'll be back to writing about my own Austin garden and three cool, new planters I've made. For a look back at our visit to San Juan Island, click here.
All material © 2006-2011 by Pam Penick for Digging. Unauthorized reproduction prohibited.