November 17th, 2016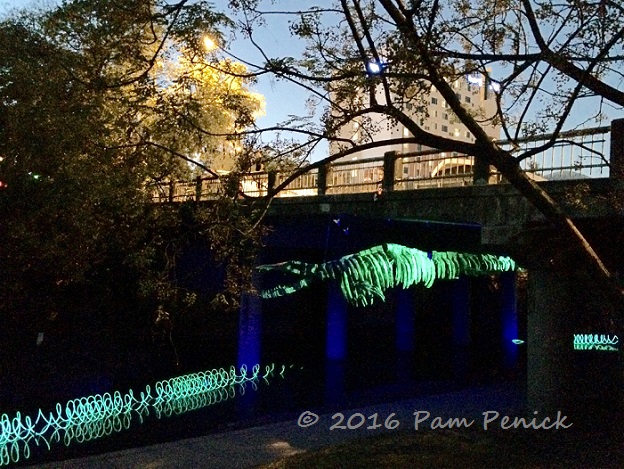 Five temporary, light-based art installations come to glowing life each evening through Saturday in downtown Austin along Waller Creek between 5th and 8th Streets. It's called, simply, Creek Show, with a carnival-esque monster-fish logo (it's alive!) that I still don't get, but it's fun, it's free, and it's all part of the effort to revitalize long-neglected Waller Creek through the Waller Creek Conservancy.
This glowing green extinct sea lizard "swims" under the 8th Street bridge. Here's more info about it: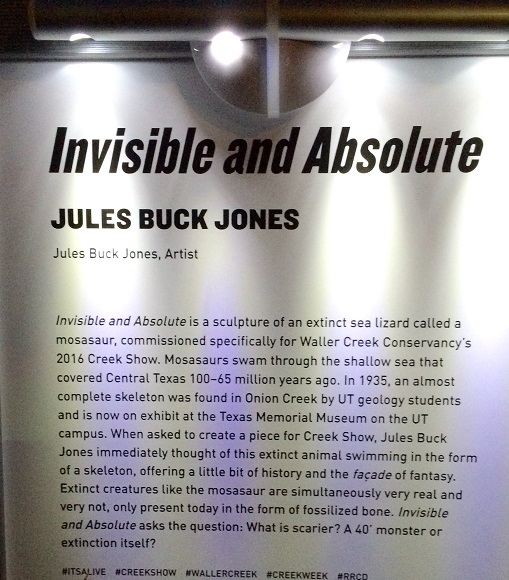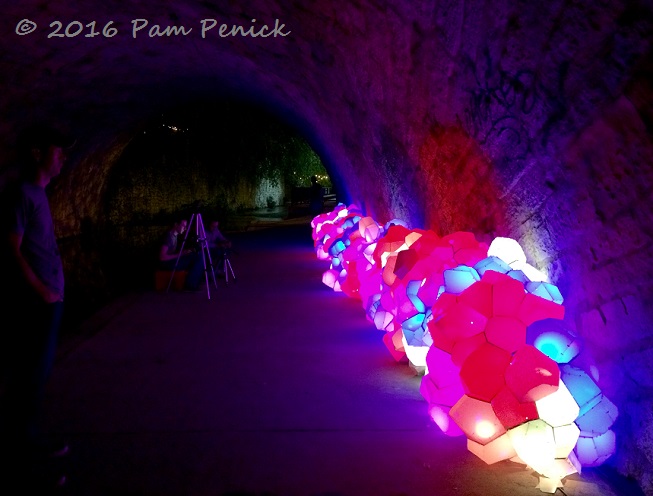 This part of Waller Creek is currently little more than a concrete-edged drainage channel that often floods. Playing on the watershed theme, this colorful installation represents rainclouds ready to drop a gullywasher into the creek.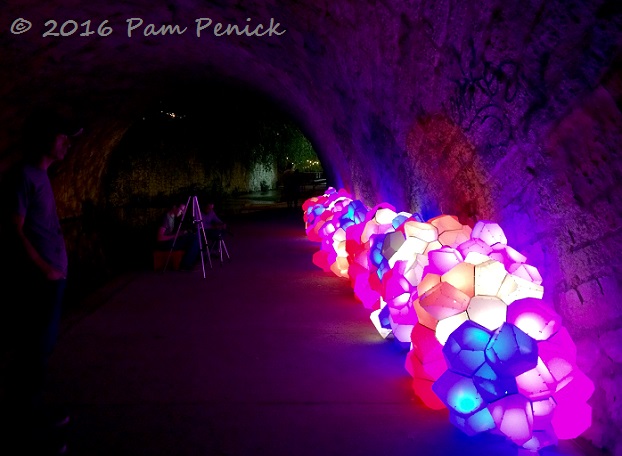 The colors change as you stand there looking at it, washing the tunnel wall with light and reflecting in the creek.
Here's the description: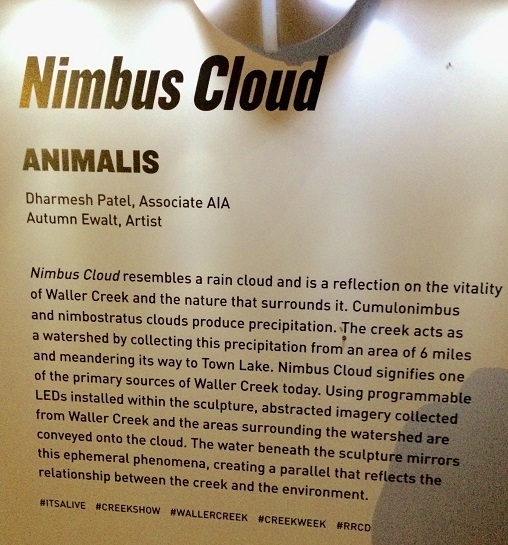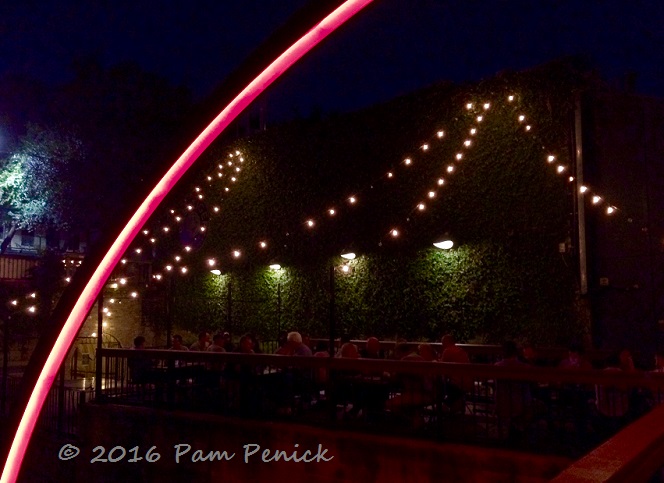 Walking north to south along the creek we came to the last installation at Easy Tiger Beer Garden, which was packed with mellow patrons at picnic tables along the creek. A rainbow of red light arced up from the creek below…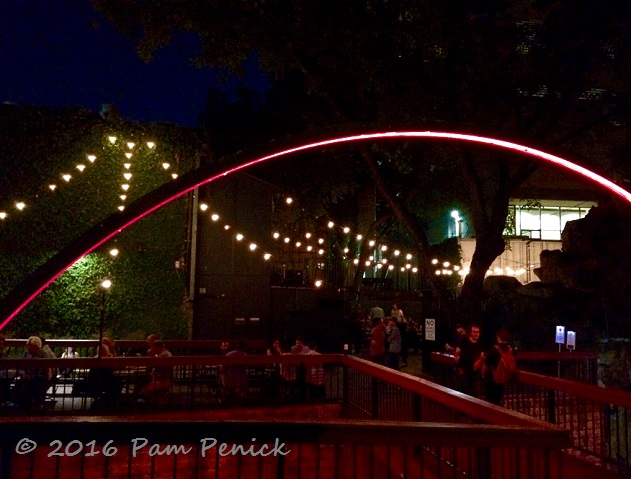 …over a pedestrian bridge and back down into the creek.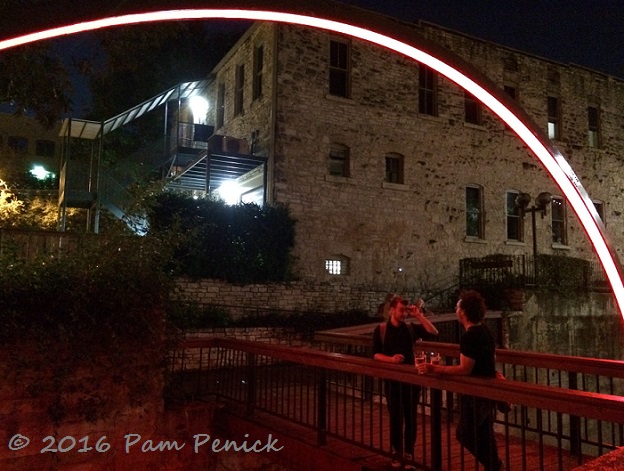 This should be a permanent addition, I think.
Here's the description: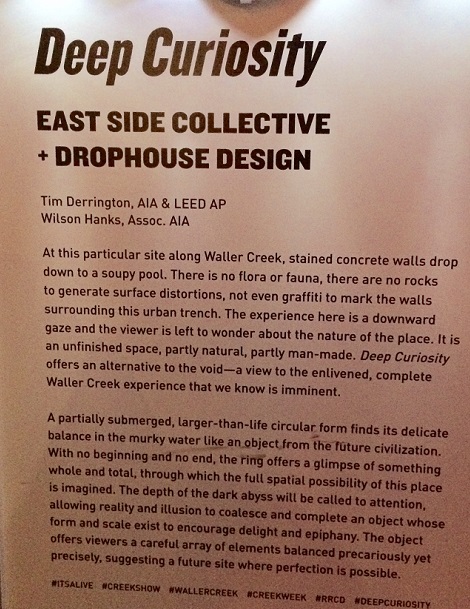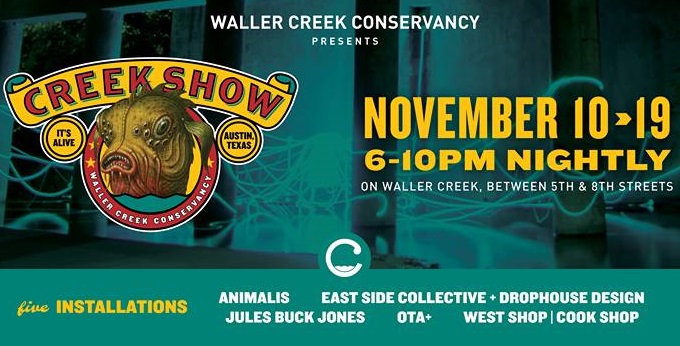 Waller Creek has been the subject of grand redevelopment visions over the years, like creating Austin's own San Antonio River Walk. But I think the current vision, which seems to have momentum under the leadership of Peter Mullan of the High Line in NYC, will be a better fit for Austin: part of a chain of parks along Waller Creek, with an emphasis on nature and park-like access.
So go on out and visit Creek Show, Austin, and show your support for Waller Creek's redevelopment. It's sure to be a treasured new park in downtown Austin.
I welcome your comments; please scroll to the end of this post to leave one. If you're reading this in a subscription email, click here to visit Digging and find the comment box at the end of each post.
_______________________
Digging Deeper: News and Upcoming Events
What's hot in garden design — or about to be? I interviewed designers and retailers across the U.S. to find out! Natural dye gardens, hyperlocalism, dwarf shrubs, haute houseplants, sustainability tech, color blocking, and more — check out my 2017 Trends article for Garden Design and see if anything surprises you.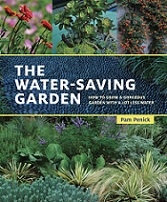 Do you review? Have you read my new book, The Water-Saving Garden? If you found it helpful or inspirational, please consider leaving a review — even just a sentence or two — on Amazon, Goodreads, or other sites. Online reviews are crucial in getting a book noticed. I really appreciate your help!
All material © 2006-2016 by Pam Penick for Digging. Unauthorized reproduction prohibited.