September 10th, 2016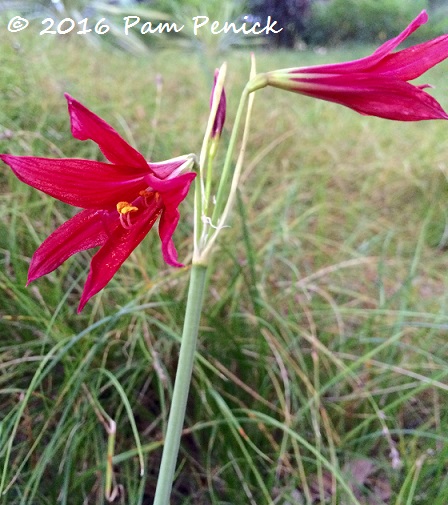 The majority, I think, are waiting for that first fall rain. But two oxblood lilies (Rhodophiala bifida) are trumpeting red in my garden, including this stray in the sedge lawn out front. I transplanted the bulbs from the front to the back last year, after the deer impressed upon me how much they enjoyed them.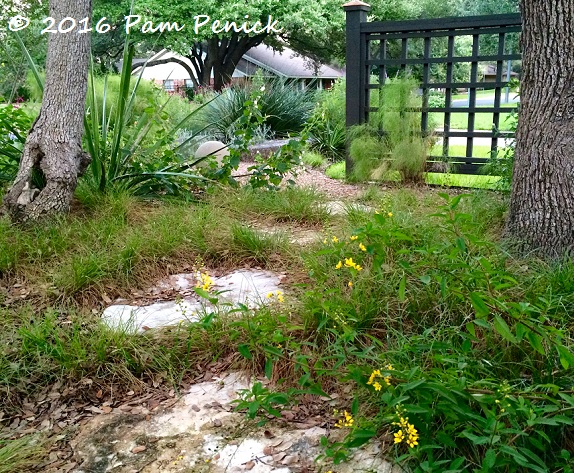 What else is going on in the garden? Panning right, flagstones lead through the Berkeley sedge (Carex divulsa) to the decomposed-granite path along the side-yard fence. Golden thryallis (Galphimia gracilis) sprawls in the foreground; giant hesperaloe (still recovering from last winter's deer antlering) and white Turk's cap sprawl in the background. Looking past the fence, my neighbor's streetside garden blends with my own.
Several of our live oaks have cavities in their trunks, which my arborist says not to worry about, although I do worry about mosquitoes breeding in them when it rains (sprinkle organic Mosquito Bits every other week to prevent this). If you look carefully at the one on the left…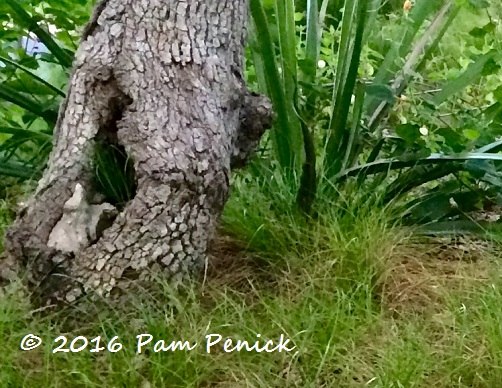 …you'll see a sedge has seeded itself in the hollow! I'm happy to leave it and hope it'll suck up any water that ends up there after a rain. The white rock in the hollow is a chunk of concrete, poured there by a previous owner worried about the cavity. My arborist kicked most of it out and said it's not necessary for the health of the tree. In fact, it's detrimental. Here's more info from the University of Florida hort website.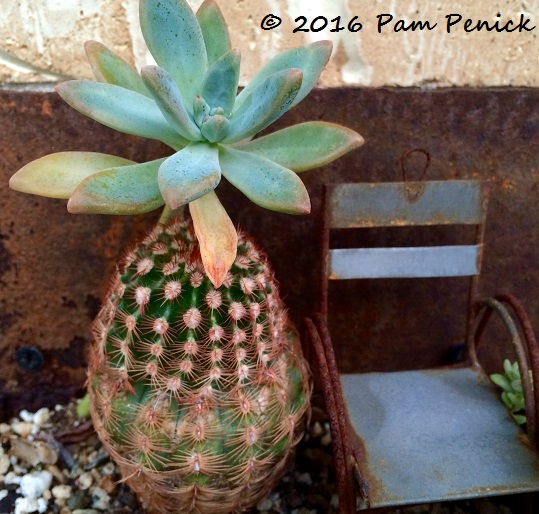 Moving on, here's a close-up of lace cactus (Echinocereus pectinatus var. coahuila) and ghost plant (Graptopetalum paraguayense) — looking like a crown on the cactus! — in a wall planter on the garage.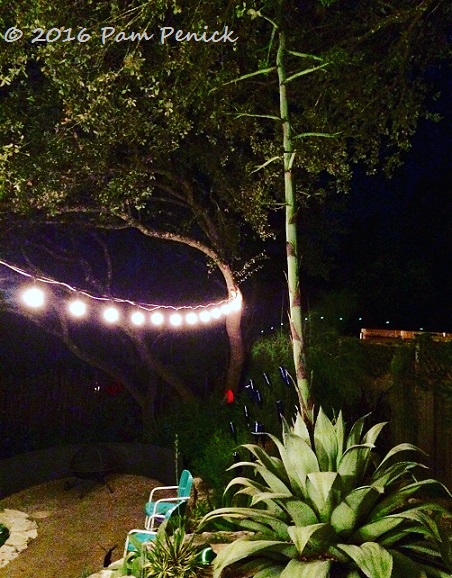 And one last view of Moby, my beloved whale's tongue agave (A. ovatifolia), which bloomed this spring and has hung on for months, continuing to look good. But he's finally yellowing on the other side, and that towering bloom stalk is leaning, plus I need to get his replacement planted before cooler, wetter weather sets in. So he's coming out on Monday.
I welcome your comments; please scroll to the end of this post to leave one. If you're reading this in a subscription email, click here to visit Digging and find the comment box at the end of each post.
_______________________
Digging Deeper: News and Upcoming Events
South Texans, come see me at the 2nd annual Planta Nativa festival in McAllen, Texas, on Saturday, October 22. I'll be delivering the keynote talk, "Local Heroes: Designing with Native Plants for Water-Saving Gardens," that evening. Tickets go on sale soon at Quinta Mazatlan. I hope to see you there!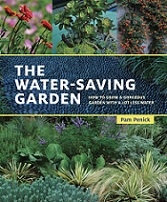 Do you review? Have you read my new book, The Water-Saving Garden? If you found it helpful or inspirational, please consider leaving a review — even just a sentence or two — on Amazon, Goodreads, or other sites. Online reviews are crucial in getting a book noticed. I really appreciate your help!
All material © 2006-2016 by Pam Penick for Digging. Unauthorized reproduction prohibited.
posted in
2nd garden--2016
,
Agaves
,
Bulbs/Rhizomes
,
Cactus
,
Containers
,
Fences
,
Grasses
,
Groundcovers
,
Lighting
,
Paths
,
Pests
,
Succulents
,
Trees