August 24th, 2016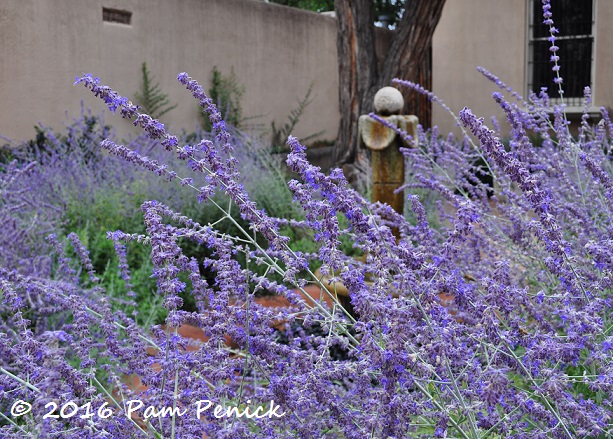 Our western road trip earlier this month took us through Santa Fe, New Mexico, one of the oldest cities in the U.S. and the oldest capital city in the country (dating to 1607). The compact historic district is a walkable several blocks of terracotta-colored adobe and adobe-style buildings, beautiful old churches, art galleries, restaurants, and tiny gardens half-hidden behind walls, like this frothy courtyard of Russian sage I spotted outside a realtor's office.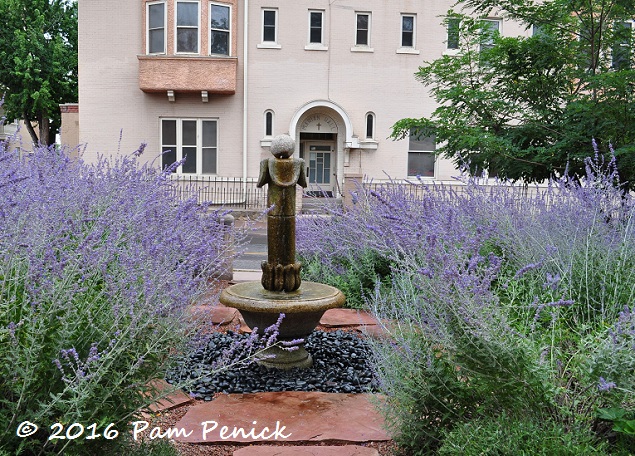 Simply lovely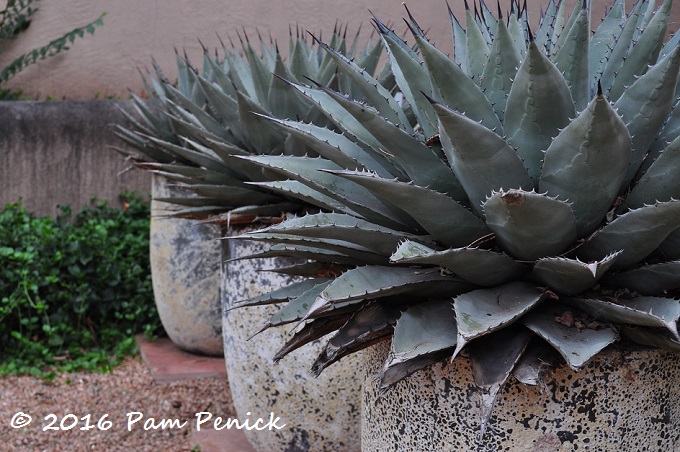 A trio of agaves in speckled white pots stood in place of a foundation hedge.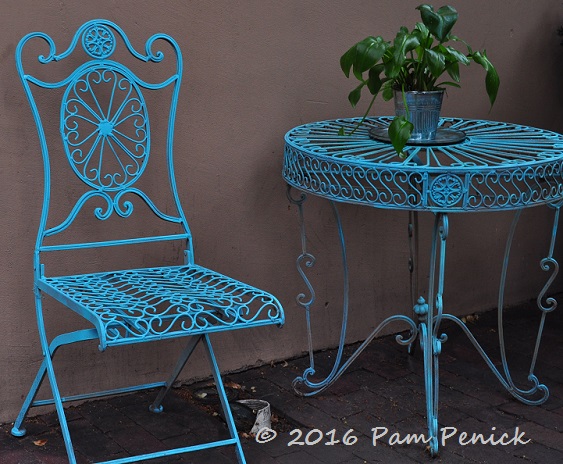 I got up early to explore one morning, when only the early walkers and runners were about.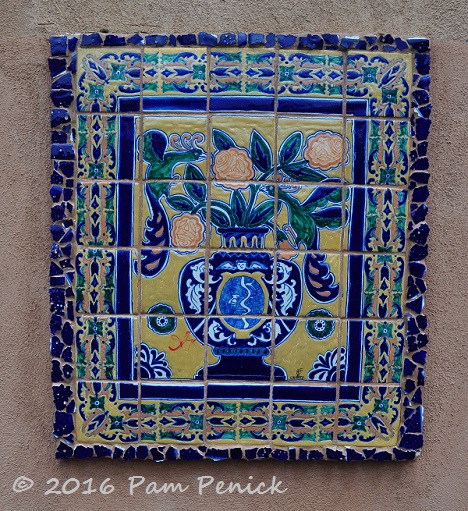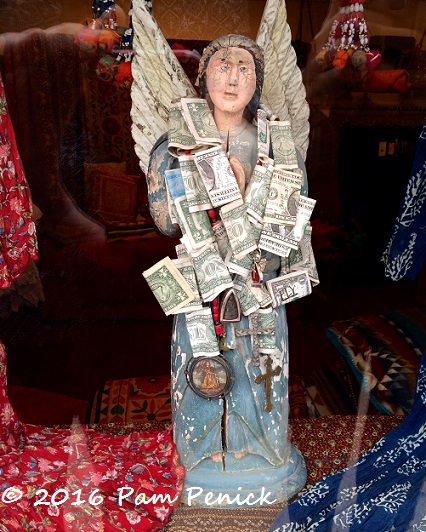 After the shops opened, we strolled around town and window-shopped. A carved angel cloaked with real dollar bills caught my eye in one window. What does it mean?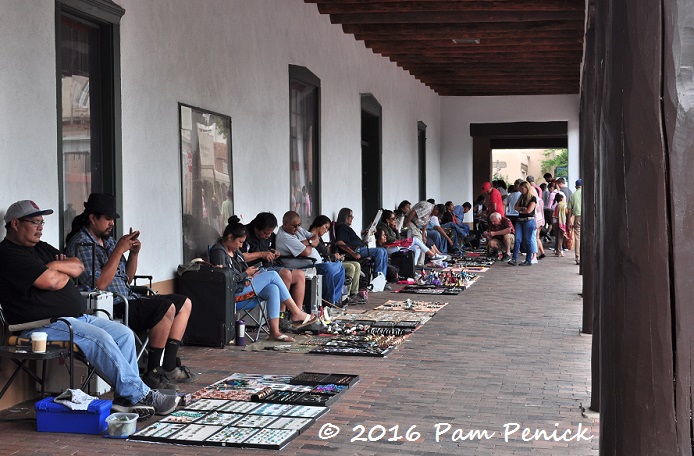 My daughter and I did some actual shopping under the arcade of the Palace of the Governors, where Native American jewelry makers display necklaces, earrings, bracelets, and rings. I bought a pair of inlay earrings, and my daughter chose a turquoise necklace.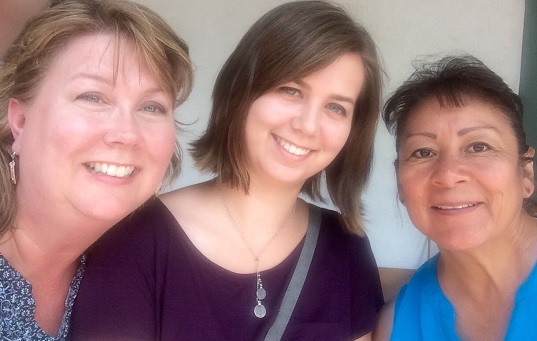 Here's Doris from Kewa Pueblo, who made the jewelry we bought.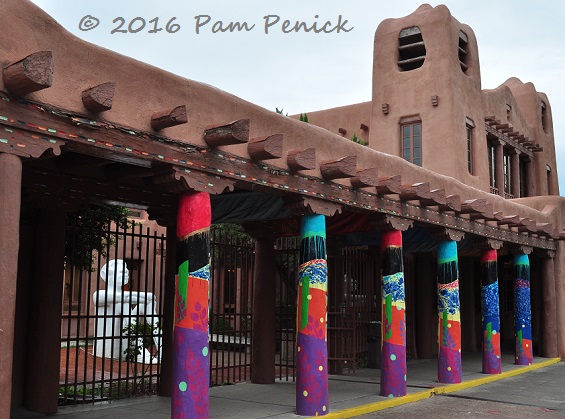 Around the block is the colorful Museum of Contemporary Native Arts.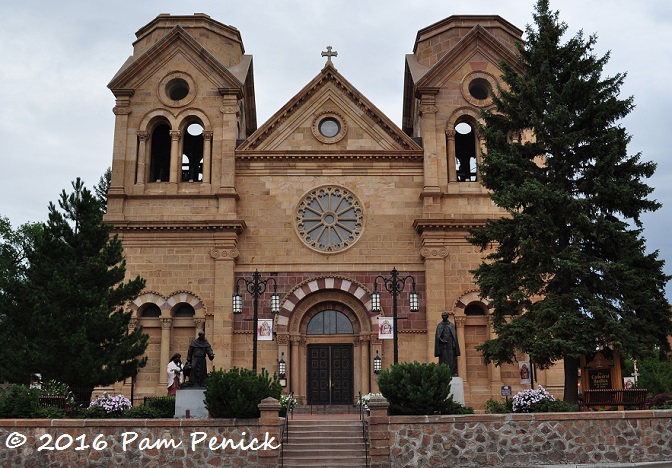 Across the street stands the rose-windowed Cathedral Basilica of St. Francis of Assisi, its Romanesque architecture contrasting with the adobe buildings around it.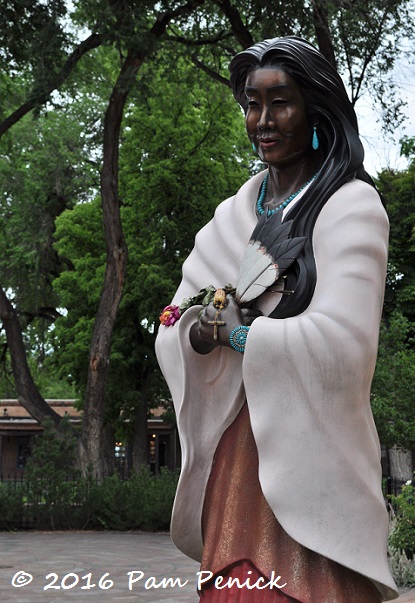 On the church plaza, a bronze Kateri Tekakwitha, "a Catholic American Indian who became known as the Lily of the Mohawks," sculpted by Estella Loretto, clasps faded offerings of corn and roses.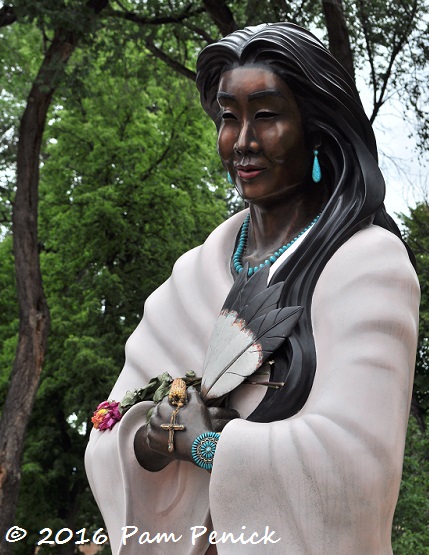 A closer look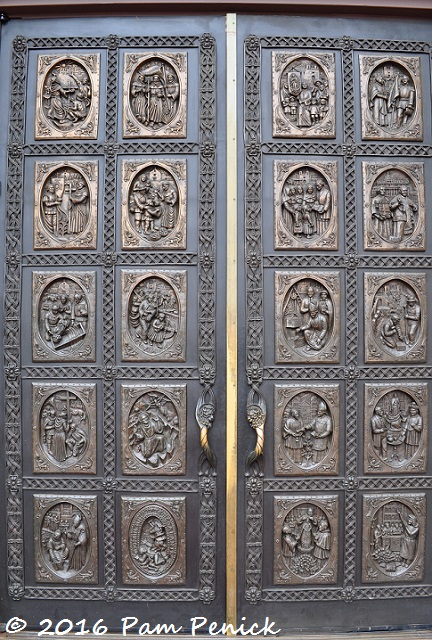 Tall bronze doors depict scenes from the church's long history.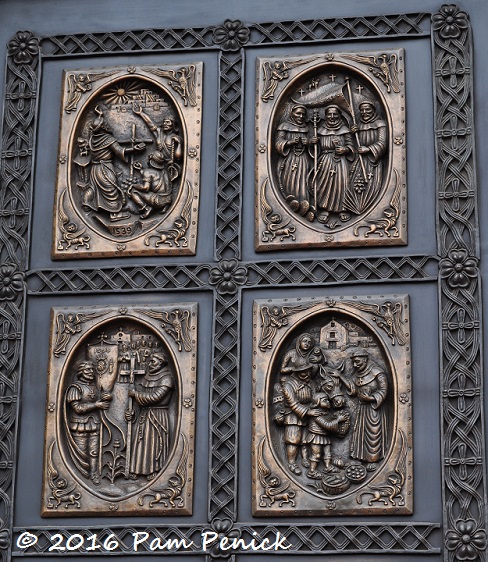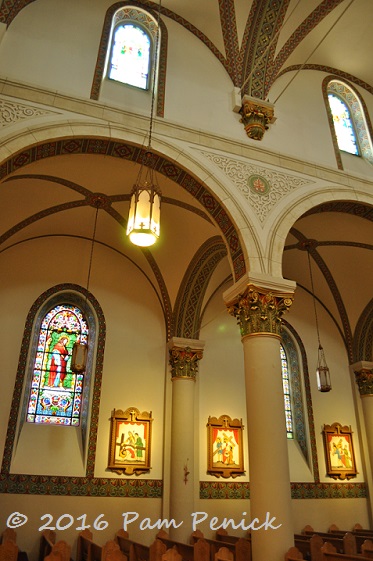 Inside, arches and glowing light and stained glass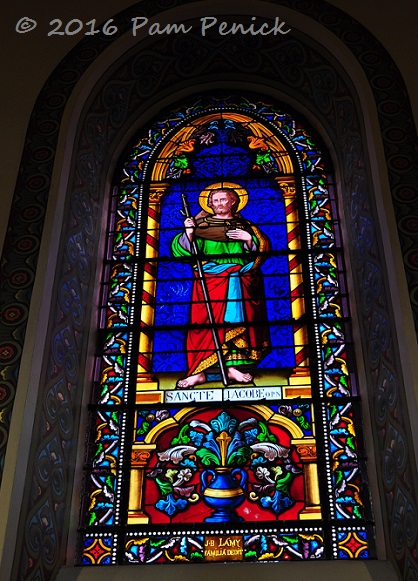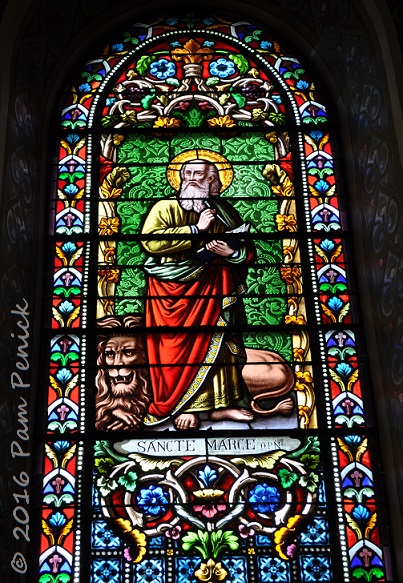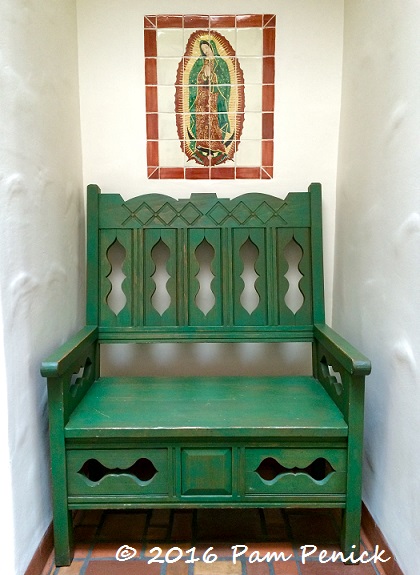 Next we explored the grande-dame La Fonda hotel. Every detail, down to a green-painted bench and Our Lady of Guadalupe mosaic in a hall niche, is lovely.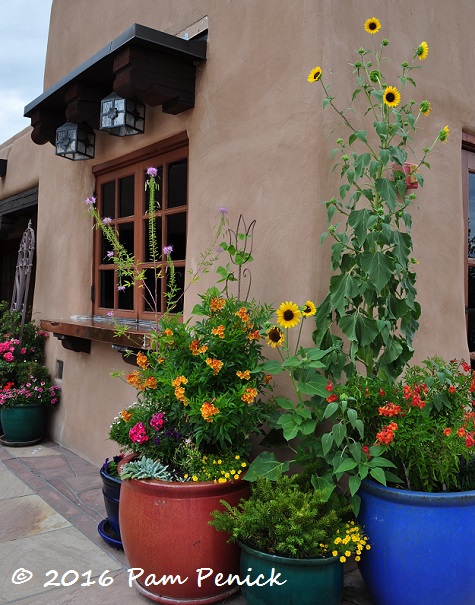 We'd spotted this from the street below: a rooftop patio garden, with long-necked sunflowers standing tall against stuccoed walls.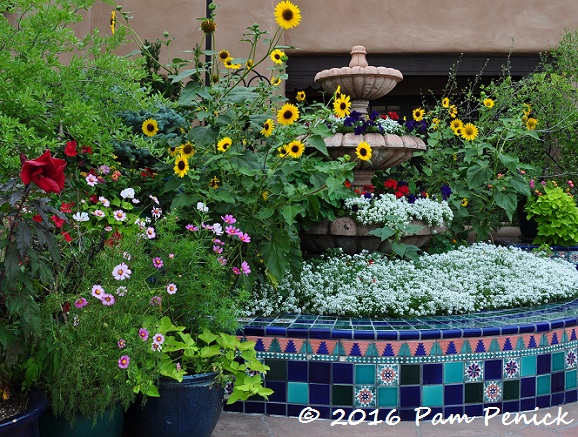 A tiered fountain in one corner has been converted into a flower planter.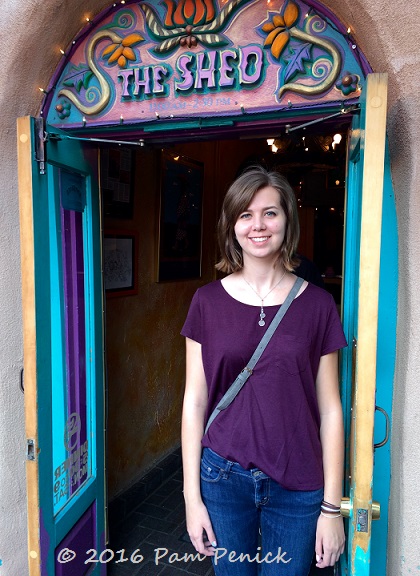 After an enchilada lunch outdoors on the colorful patio of The Shed…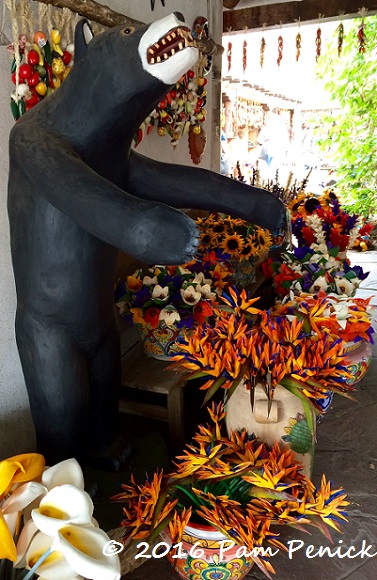 …we passed a bear holding his arms out for a hug, surrounded by a riot of wood-shaving flowers.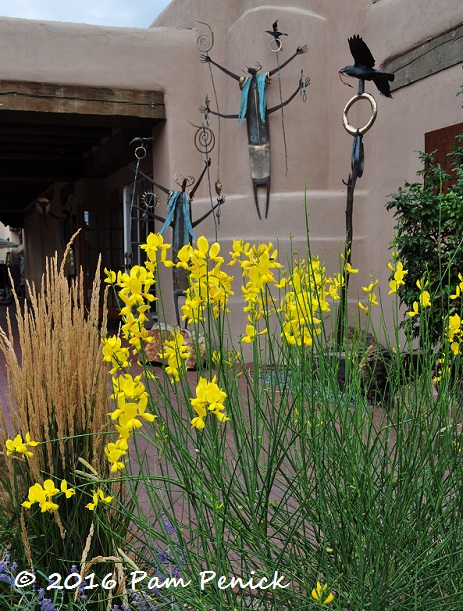 A pretty street garden outside Worrell Gallery stopped me in my tracks when I caught the sweet scent of these blazing yellow flowers.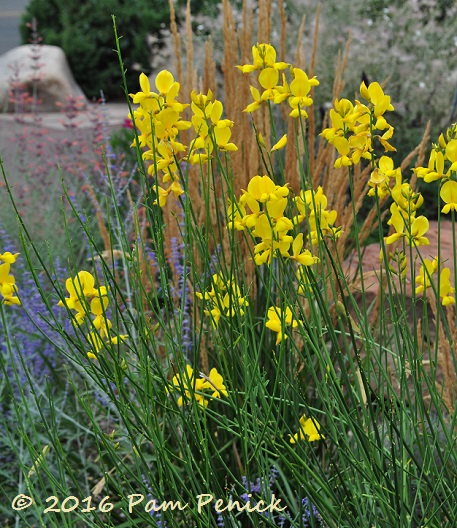 I darted inside to ask the salesperson what they were, and she knew! But then I forgot. Anyone know the ID? Update: It's Scotch broom (Cytisus scoparius), which is unfortunately invasive in parts of the U.S. Thanks for the ID, Allison and Barbara.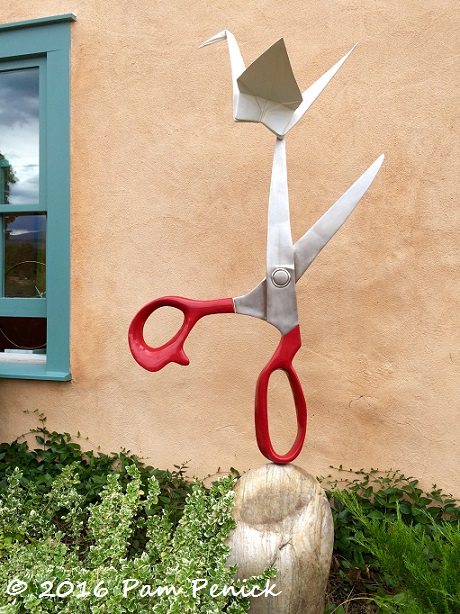 In the afternoon, my daughter and I explored dozens of art galleries on Canyon Road, and I discovered a new favorite artist: New Mexico sculptor (and one-time Austinite) Kevin Box, who makes stunning origami creations out of bronze and stainless steel. This one is a visual pun of the game rock-paper-scissors.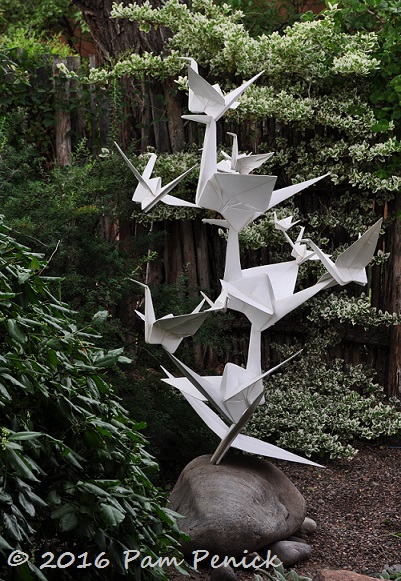 We admired several of his works, including these origami cranes, at Selby Fleetwood Gallery, where a shady garden out back made a perfect display space.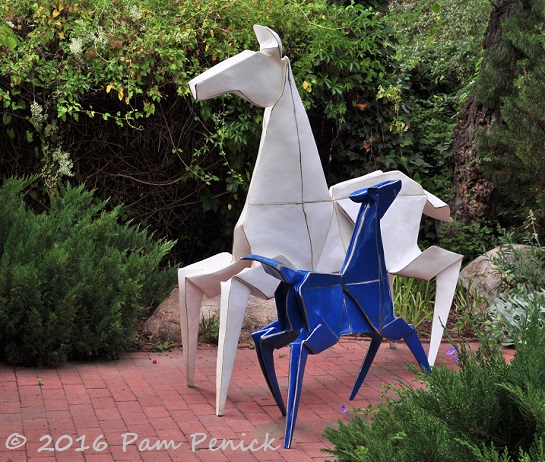 Kevin's origami horses — marvelous!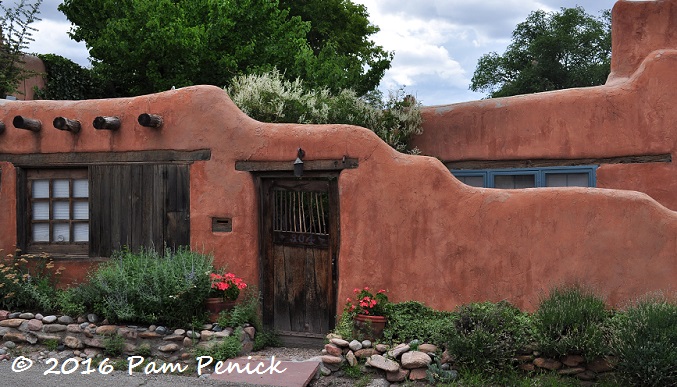 When we were too tired to walk anymore, my husband picked us up, and we drove around the neighborhoods, admiring the organically shaped adobe or stucco walls that shelter many homes, like this one just off Canyon Road. That peek-a-boo stick screen in the door offers a glimpse of…what? A garden courtyard?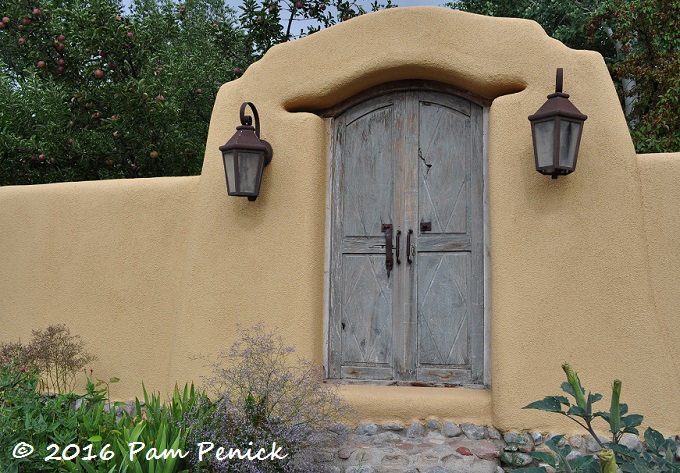 I kept saying, Stop!, and my obliging husband would pull over so I could snap a photo.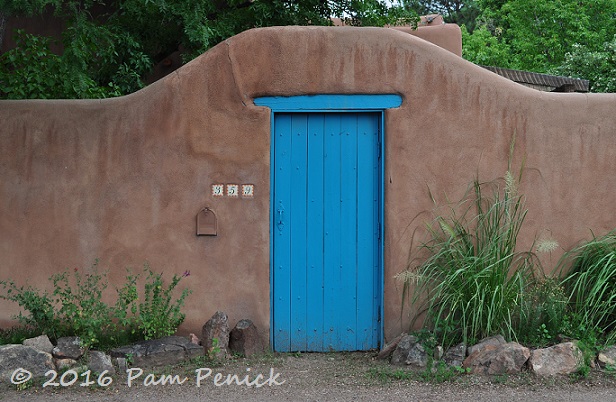 This one, my favorite, is classic Santa Fe with that rosy-tan stucco wall and turquoise door.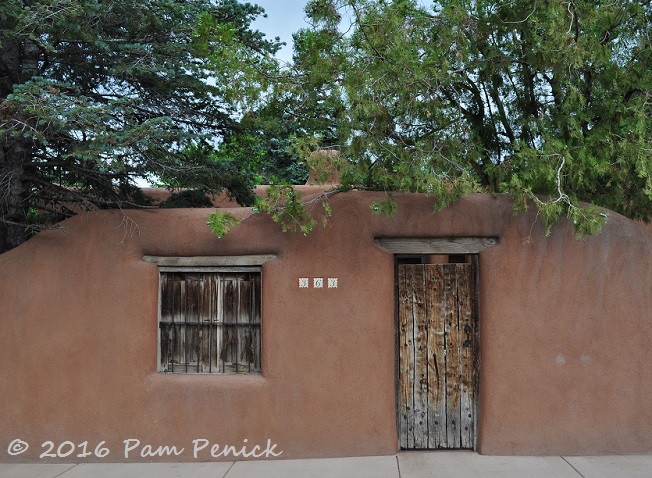 An extra window is nice too.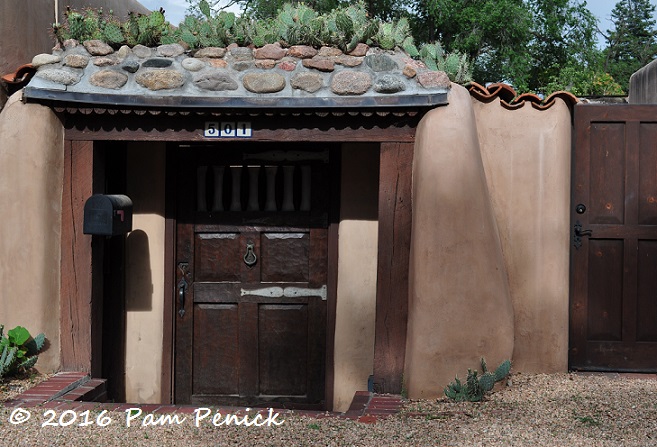 This one has a fortress-like doorway roofed with small boulders and spiny prickly pear!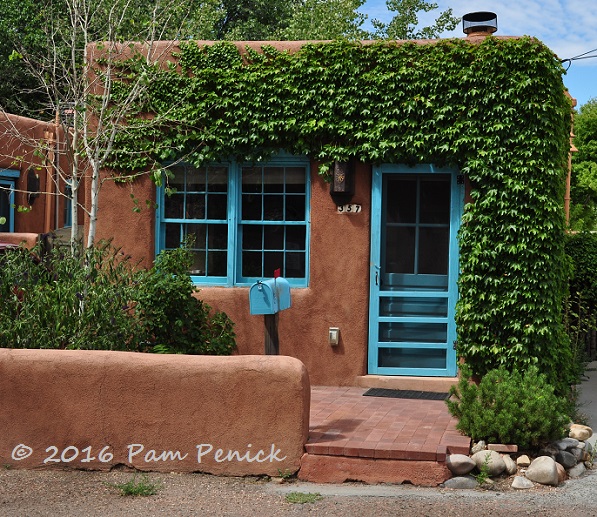 I love this tiny house, with its turquoise door, warm stucco walls, and cloak of what looks like Virginia creeper.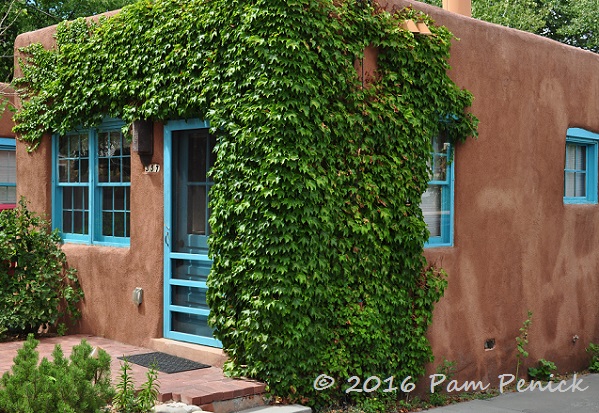 It must be electric when it turns red in the fall.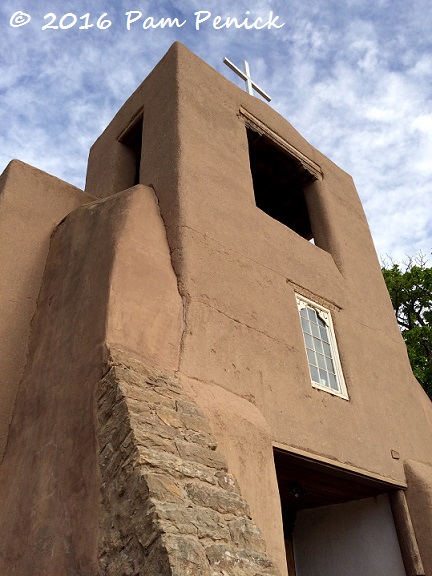 After the grandeur of the St. Francis Cathedral earlier in the day, we stopped that evening by humble San Miguel Chapel. Said to be the oldest church in America, the adobe-walled mission was built in the early 1600s. Unfortunately we didn't get to see the interior, as it had closed for the day.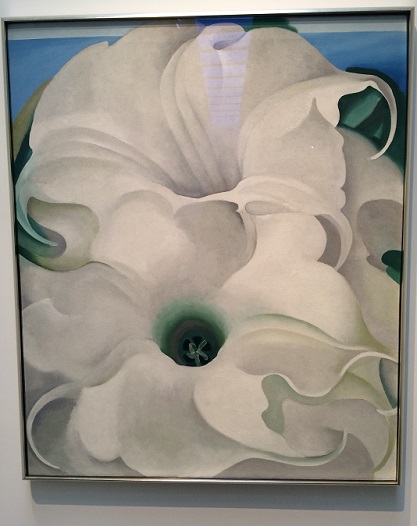 A visit to Santa Fe wouldn't be complete without a stroll through the Georgia O'Keeffe Museum, which includes 140 of her oil paintings and hundreds of watercolors and drawings. Standing before her monumental flowers, like Bella Donna (aka datura), a nature lover can't help feeling moved.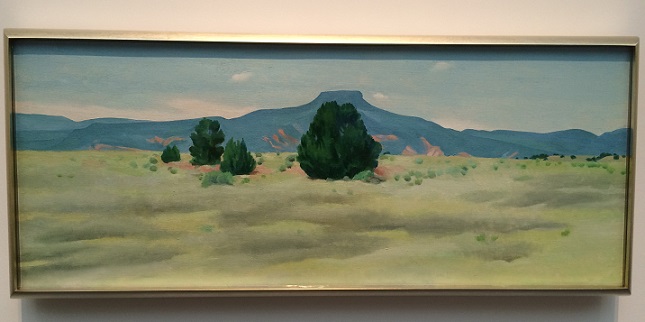 Ghost Ranch Landscape, a scene we'd go looking for the next day.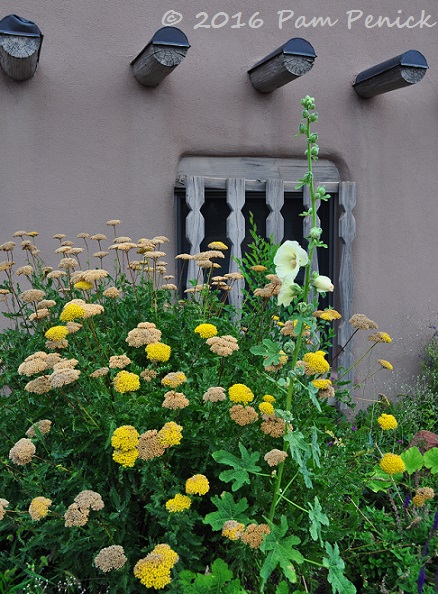 Although our Santa Fe visit was brief, it was filled with beautiful moments.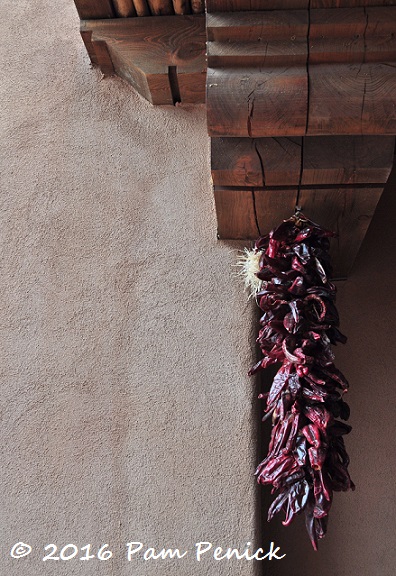 Chile ristra
I'll carry it around in my head and my heart, as I do every visit, for a long time to come.
For a look back at my visit to Santa Fe Botanical Garden, click here. Up next: looking for Georgia O'Keefe at Abiquiu and Ghost Ranch.
I welcome your comments; please scroll to the end of this post to leave one. If you're reading this in a subscription email, click here to visit Digging and find the comment box at the end of each post.
_______________________
Digging Deeper: News and Upcoming Events
South Texans, come see me at the 2nd annual Planta Nativa festival in McAllen, Texas, on Saturday, October 22. I'll be delivering the keynote talk, "Local Heroes: Designing with Native Plants for Water-Saving Gardens," that evening. Tickets go on sale soon at Quinta Mazatlan. I hope to see you there!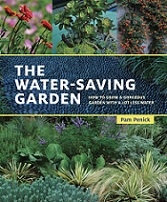 Do you review? Have you read my new book, The Water-Saving Garden? If you found it helpful or inspirational, please consider leaving a review — even just a sentence or two — on Amazon, Goodreads, or other sites. Online reviews are crucial in getting a book noticed. I really appreciate your help!
All material © 2006-2016 by Pam Penick for Digging. Unauthorized reproduction prohibited.
posted in
Agaves
,
Annuals
,
Birds
,
Cactus
,
Containers
,
Doors
,
Edibles
,
Flowers
,
Fountains
,
Garden art
,
Gates
,
Patios & decks
,
Public art
,
Sculpture
,
Seating
,
Travel
,
Vines
,
Walls
,
Windows