October 28th, 2014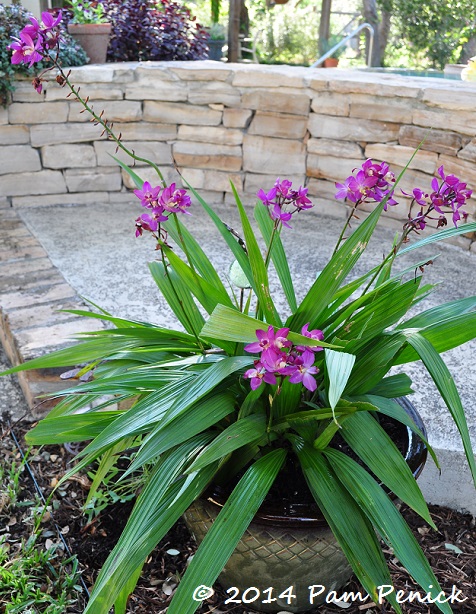 Last year Shirley of Rock-Oak-Deer blogged about the garden of her neighbor Melody. I had met Melody at talks I gave in San Antonio and Brenham, so I read about her garden with particular interest. And I was thrilled when Shirley and Melody arranged for me and a small group of friends to make a fall visit.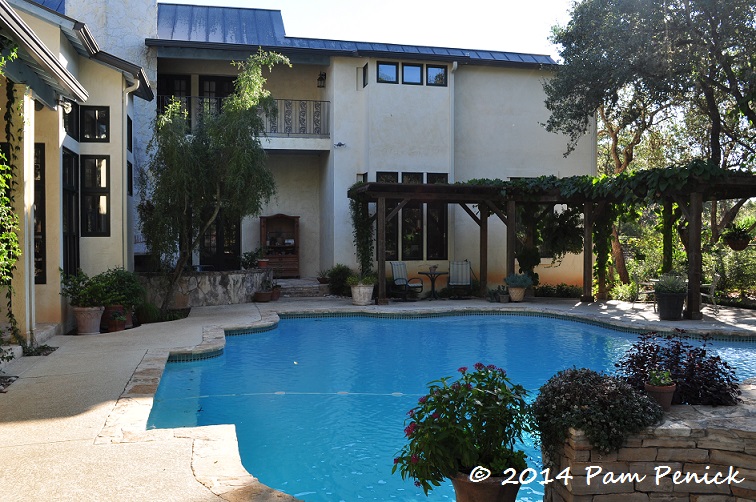 Melody and a welcome party consisting of her adult daughter and several friends greeted us as we drove up to her north San Antonio home. Ushering us inside she treated us to a spread of tasty muffins, ginger cookies, and fruit-flavored vinegars you mix with water. Happily munching we enjoyed a window-wall view of her beautiful swimming pool and garden.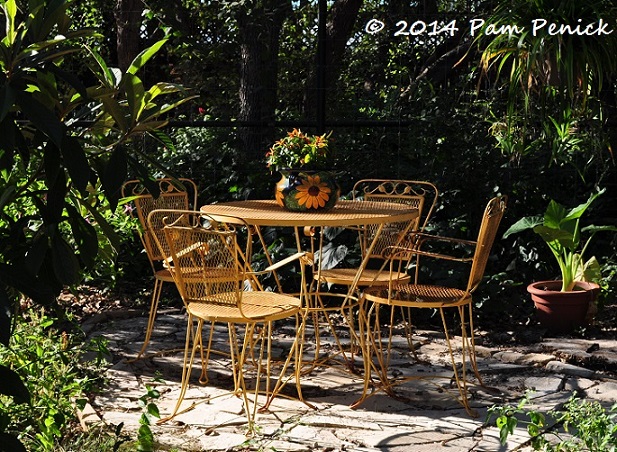 Melody then gave us a tour of her garden, which was like an introduction to her friends and family who'd passed along many of her plants over the years. Isn't that one of the joys of gardening, how plants given to us by friends have a special place in our hearts?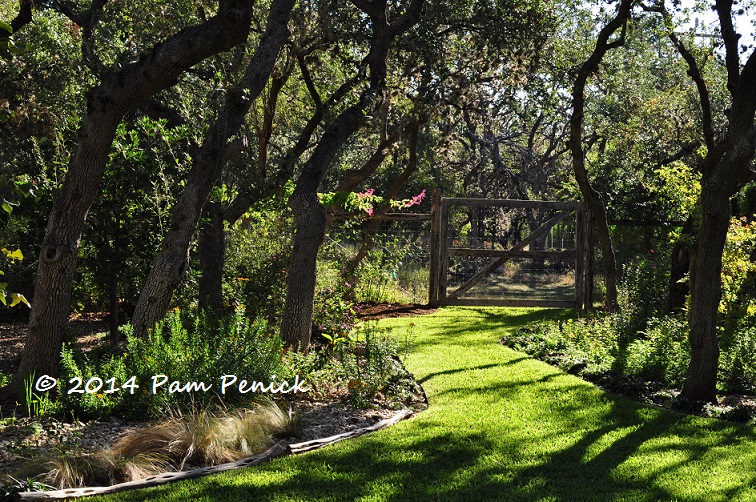 Planted under live oaks, with patches of sunlight that support a number of roses and flowering perennials, Melody's garden feels much more rural than it really is. It's actually in a suburban neighborhood, but her large lot and surrounding belts of trees, and even a barn that used to house her daughter's horse, create a country-garden vibe.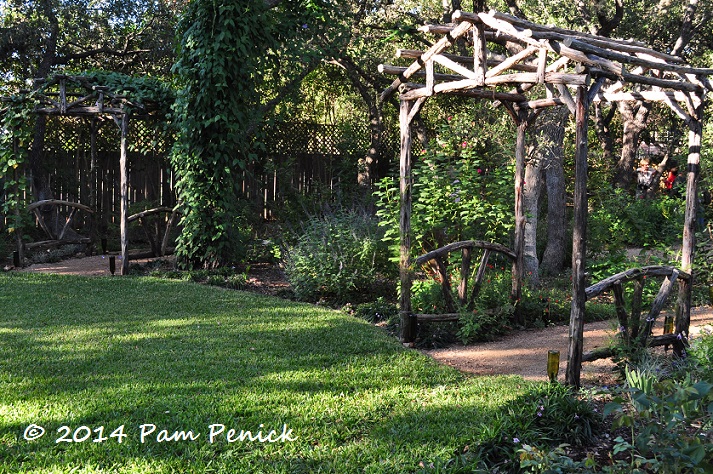 A pair of rustic cedar arbors reinforces the illusion. Melody told us that she modeled the design on cedar arbors at the San Antonio location of Antique Rose Emporium, now closed. They reminded me of how much I miss that nursery and its gorgeous display gardens.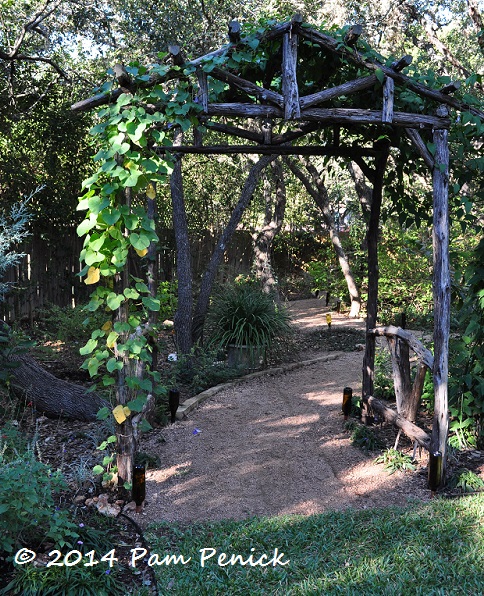 Decomposed-granite paths lead under the arbors into a large shade garden. Blue sky vine (Thunbergia grandiflora) climbs one of the arbors.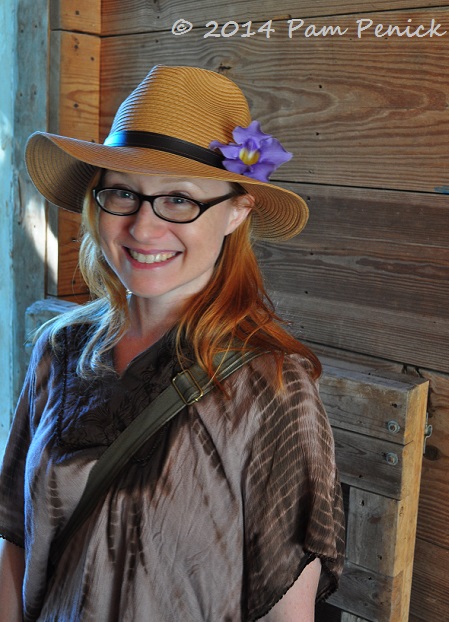 Lori of The Gardener of Good and Evil, my fellow roadtripper, adorned her hat with one of the blossoms.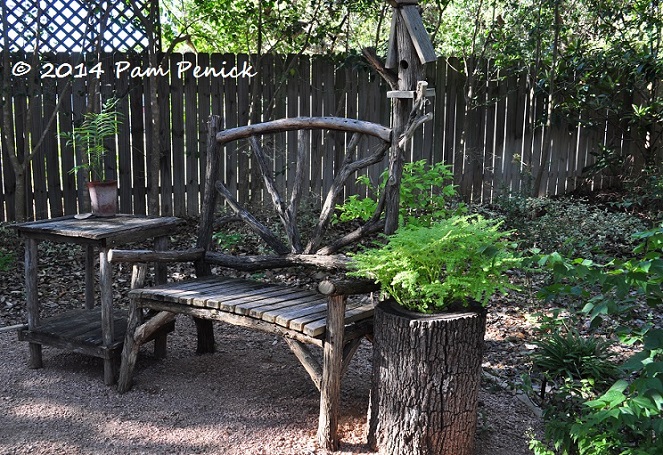 A woodsy cedar bench and table in the shade garden is a perfect match for the cedar arbors. But what really caught my eye was a log planter.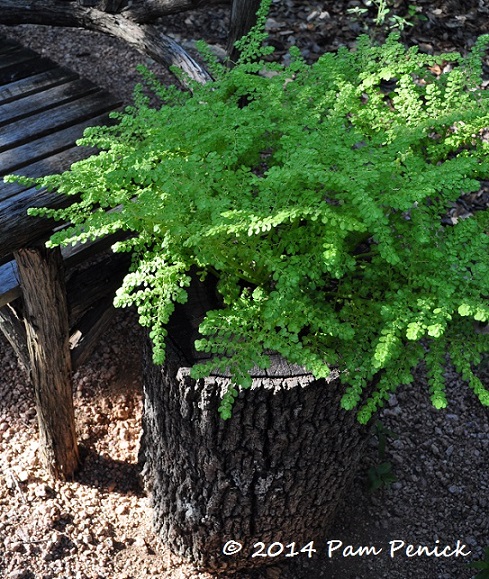 Melody was growing a delicate fern in a hollow space in the log — so cool! She told me the name of the fern — not one I was familiar with — and then I promptly forgot. Update: It's artillery fern (Pilea microphylla), a tropical, fern-like plant. Thanks for the ID, Ragna.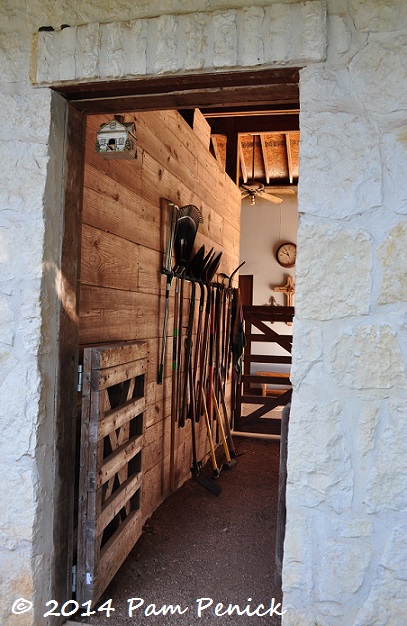 A lovely limestone barn now functions as a neat-as-a-pin, glowing toolshed.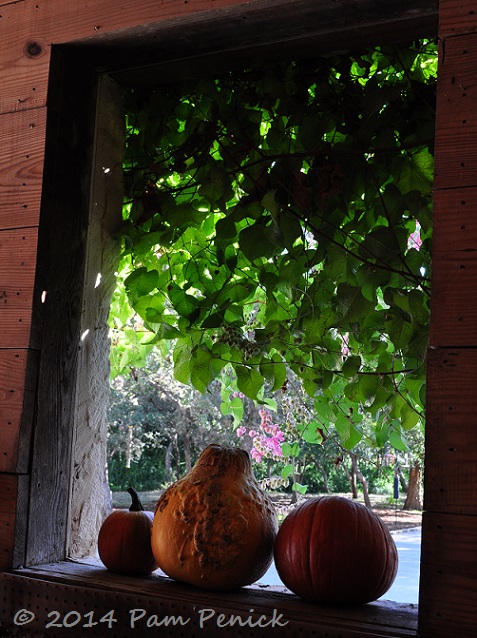 Pumpkins on the wood-framed windowsill, overhung with vines — just another part of the romance of Melody's vine-draped garden.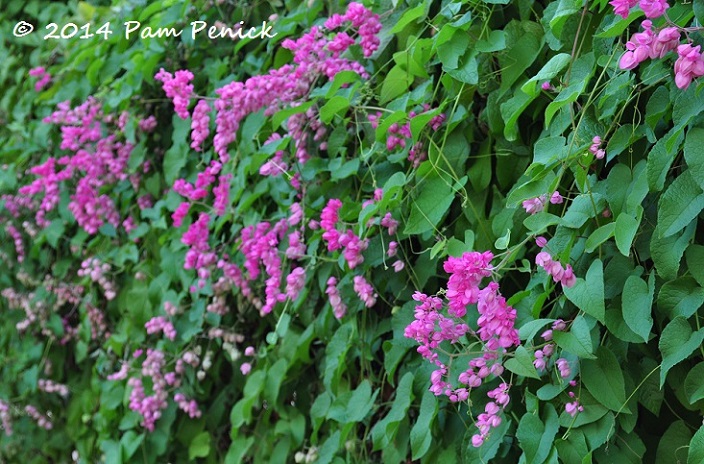 Speaking of vines, an entire fence was abloom with the beautiful pink flowers of coral vine, also known as queen's wreath (Antigonon leptopus).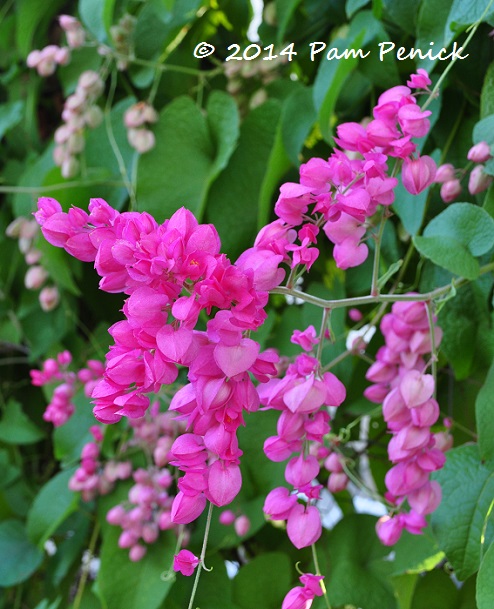 This Mexican native blooms in the fall with spring-like color before going dormant for winter.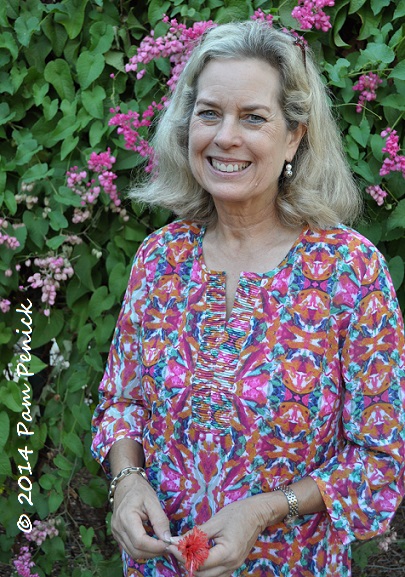 It was the perfect backdrop for our hostess and queen of the garden. Thank you, Melody, for sharing your lovely garden with us! For more and better pictures of Melody's garden, see Shirley's two posts about it: a 2013 visit and a 2014 visit.
I hope you've enjoyed my San Antonio garden visits. For a look back at my tour of Heather's xeric-style garden, click here. And for Shirley's deer-resistant gravel garden, click here.
All material © 2006-2014 by Pam Penick for Digging. Unauthorized reproduction prohibited.
posted in
Annuals
,
Arbors
,
Containers
,
Decor
,
Garden tours 2014
,
Gates
,
Lawns
,
Paths
,
Patios & decks
,
Seating
,
Sheds
,
Swimming pools
,
Travel
,
Trees
,
Trellis
,
Vines
,
Walls
,
Windows