November 14th, 2015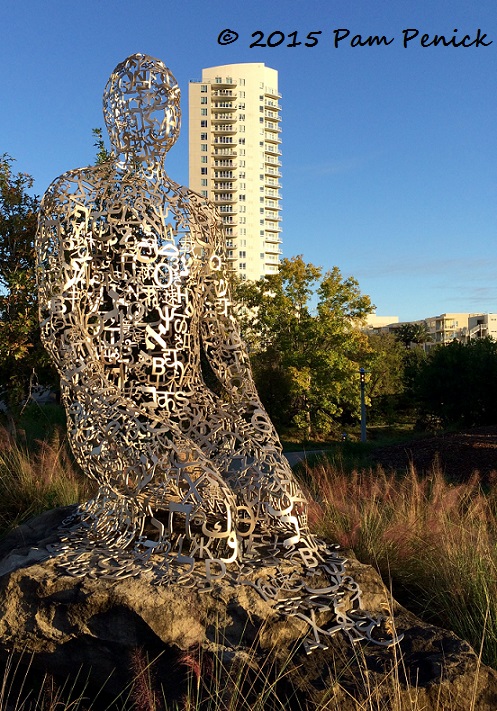 When she runs along Houston's newly scenic Allen Parkway, my sister passes a septet of sculptures that she loves. They're peaceful, she explained, as she asked if I'd photograph them for her during my visit last weekend. Early last Saturday, we headed over to Buffalo Bayou Park, at the intersection of Allen Parkway and Montrose Boulevard, to view Tolerance, seven kneeling aluminum figures by Barcelona artist Jaume Plensa.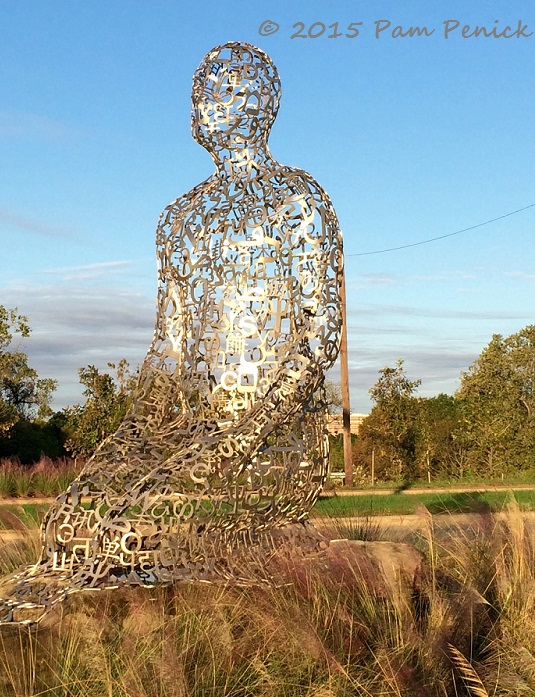 Each 10-foot-tall figure is made up of random assemblages of alphabets from languages spoken around the world, including Korean, Greek, Hindi, and English. While I'm not keen on the work's didactic title, as the morning light shone through the lace-like bodies and glinted off the silver metal, I appreciated their appeal. In a way, it's about making light and the sky a part of the art itself, like James Turrell's Skyspace, which we'd visited earlier that morning.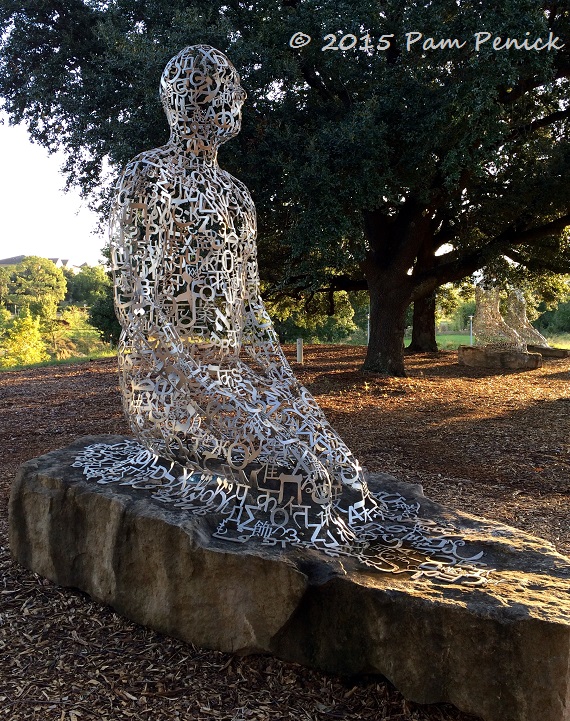 The seven figures represent the seven continents and, according to the City of Houston website, reflect "the artist's belief that, whatever culture we live in and whichever language we think in, our lives are similar." It's a hopeful message for our time, especially in light of yesterday's devastating massacre in Paris.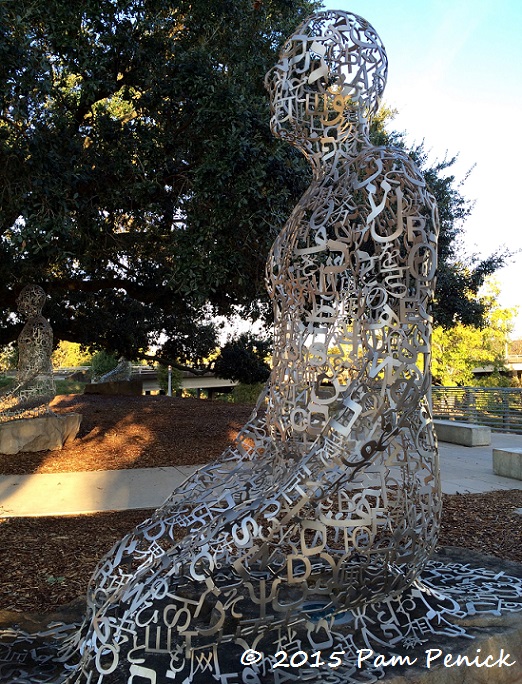 I'd like to go back and see them at night, when they're lit from within.
I'd also like to see the Plensa sculptures on the Rice University campus, titled Mirror. I was on campus the day before, and the gleaming sculptures caught my eye — they're new since my days at Rice — but I didn't have a chance to view them up close. So it was a fun surprise when my sister showed me this work, and I immediately recognized it as the work of the same artist.
Speaking of art at Rice, I also caught a glimpse of painted-book sculptures by Mike Stilkey in Fondren Library. I recently encountered a fabulous Stilkey piece at the home of Joy and Roland Feuer in Los Angeles. Clearly I need a return trip to Houston and to Rice for a day of art appreciation!
All material © 2006-2015 by Pam Penick for Digging. Unauthorized reproduction prohibited.