December 8th, 2017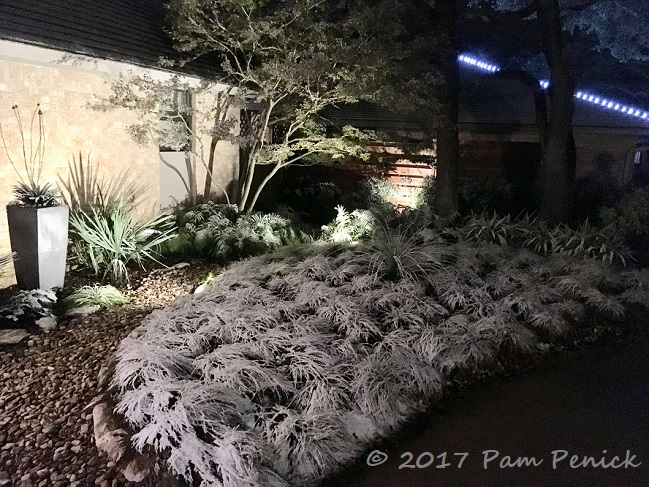 The flakes started hitting my windshield at 2:30 pm over in central-east Austin. By the time I got home I thought it was all over, but the heavy, gray sky and cold temps convinced me to start pulling pots of tender succulents up against the sheltering walls of the house, and I tossed sheets over them for good measure.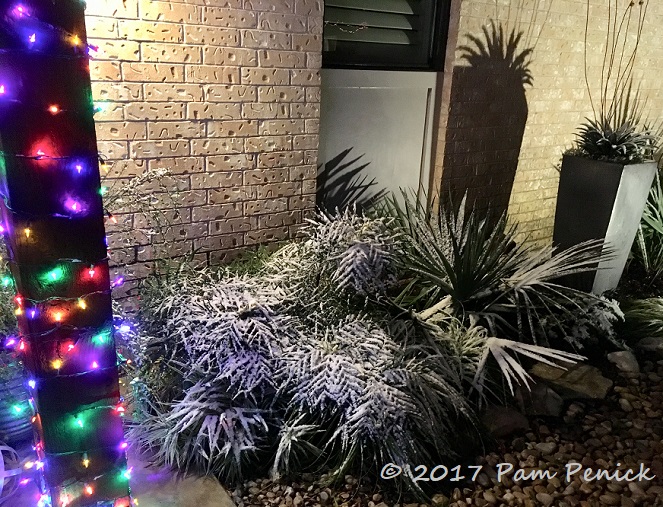 And then fat flakes started falling like something out of a Christmas movie. Hey, this is Austin — it hardly ever snows here, and we had reason to lose our minds.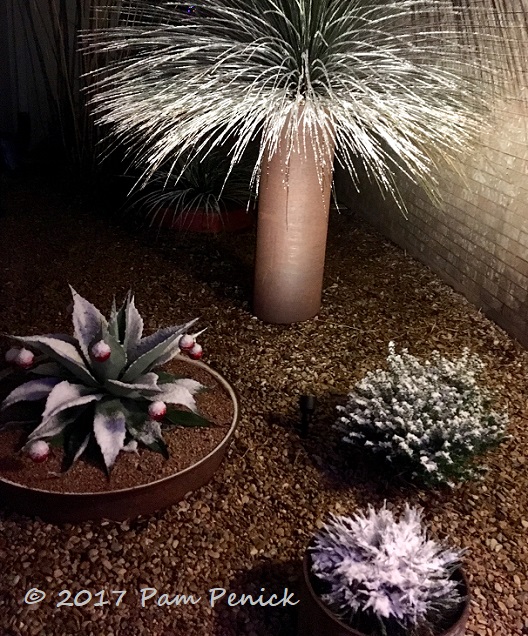 Snow!!! By dusk it had begun to accumulate — at least on the plants, if not on heat-holding stone and concrete.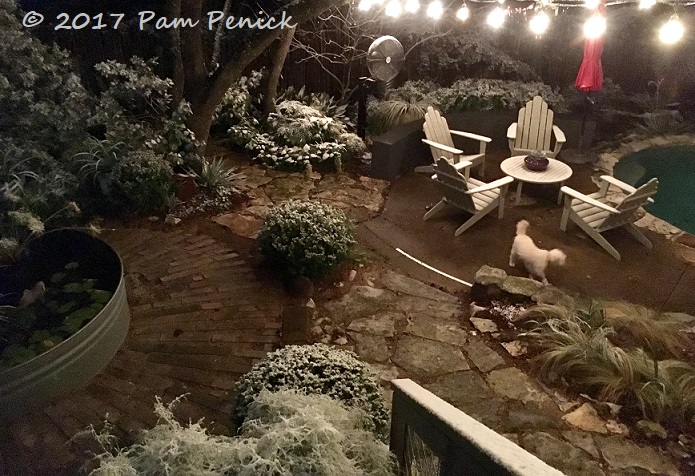 We threw a few snowballs scraped off the deck rail, tasted a few snowflakes (they were ripe), and watched the dog frolic in the strange cold stuff.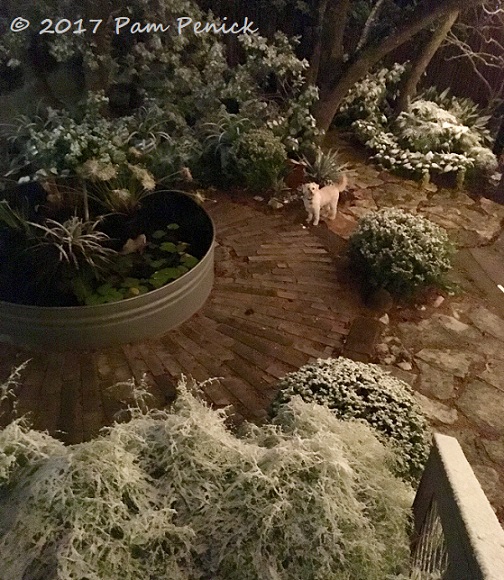 He's a cold-weather lover, like his mama.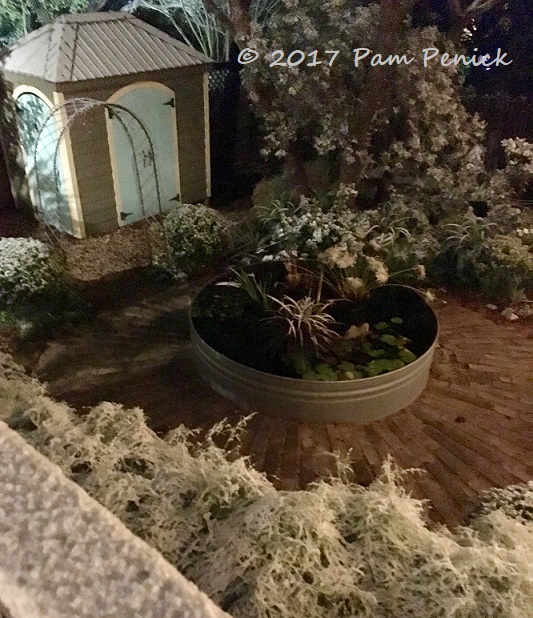 I can't remember it ever snowing here this early in the season. When snow or ice storms happen — only about every 5 to 7 years — it's usually in January or February. Our last real snow was in February 2011.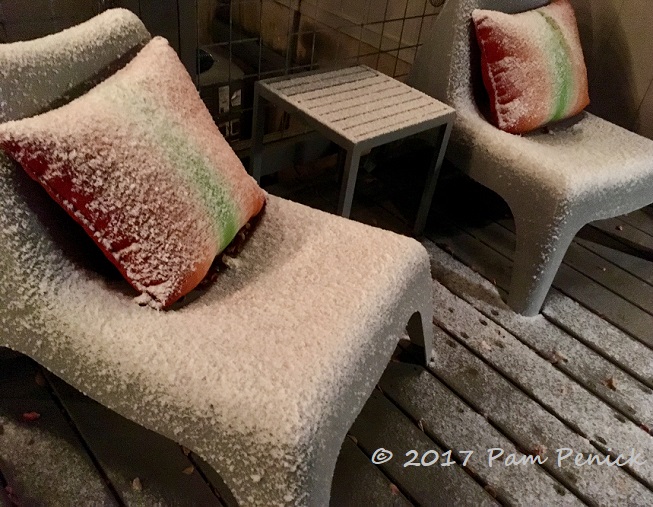 I measured a half inch of snow at my house. My friends on the south side of town got even more. Even family and friends in Houston — Houston! — joyfully posted pics of snowy yards on Facebook.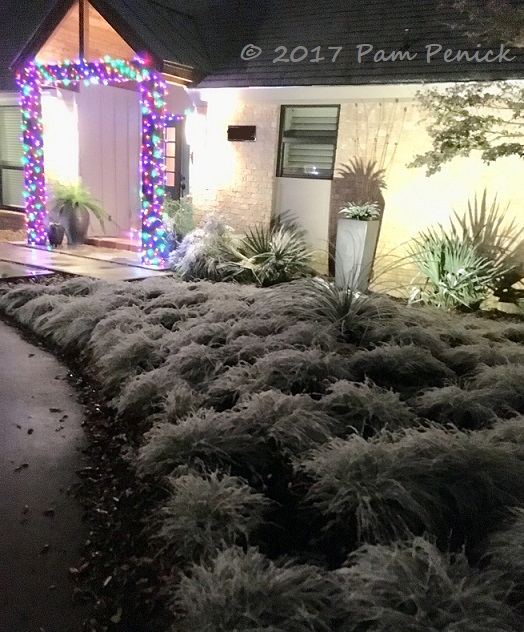 Of course school was cancelled today. Don't laugh (too hard) at us — we don't know how to drive in this stuff, and we don't have road de-icing equipment down here. Just let us enjoy a miraculous almost-white Christmas.
I welcome your comments; please scroll to the end of this post to leave one. If you're reading this in a subscription email, click here to visit Digging and find the comment box at the end of each post.
_______________________
Digging Deeper: News and Upcoming Events
Calling all garden bloggers! You're invited to register for the annual Garden Bloggers Fling tour and meetup, which will be held in Austin next May 3-6, 2018! Click this link for information about registering, and you can see our itinerary here. Space is limited, so don't delay. The 2018 Fling will be the event's 10th anniversary, which started in Austin in 2008.
Join the mailing list for Garden Spark Talks! Inspired by the idea of house concerts, I'm hosting a series of garden talks by inspiring designers and authors out of my home. Talks are limited-attendance events and generally sell out within just a few days, so join the Garden Spark email list for early notifications. Simply click this link and ask to be added.
All material © 2006-2017 by Pam Penick for Digging. Unauthorized reproduction prohibited.
posted in
2nd garden--2017
,
Containers
,
Dogs
,
Grasses
,
Groundcovers
,
Lighting
,
Palms/Cycads
,
Patios & decks
,
Ponds
,
Porch
,
Seating
,
Shrubs
,
Water features
,
Weather