October 4th, 2015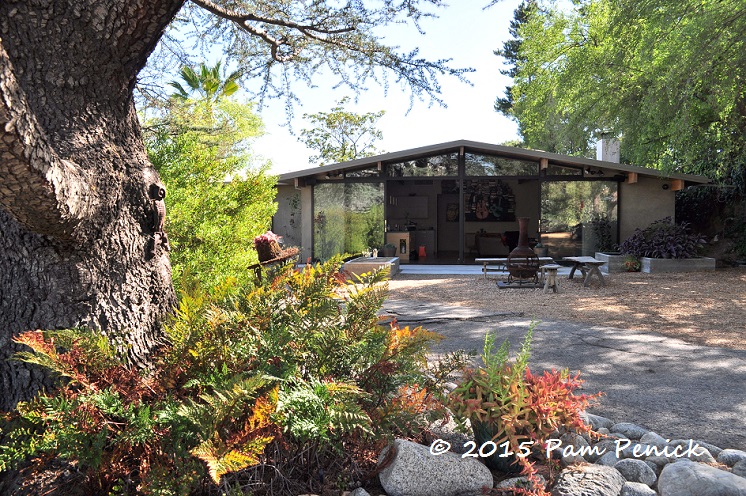 While in Los Angeles recently for Garden Writers Association, I spent a day off-conference touring private gardens that Annette Gutierrez of Potted arranged for a small group of us. One of these was the garden of Joy and Roland Feuer, a welcoming and artistic couple who constructed their magical garden themselves by terracing a steep, eroded hillside and turning it into a series of livable garden rooms. Their A-frame ranch sits on a mesa-like hilltop amid a rugged landscape of ridges and canyons, anchored by a massive fir planted by the original owners, a long-ago Christmas tree that lives on.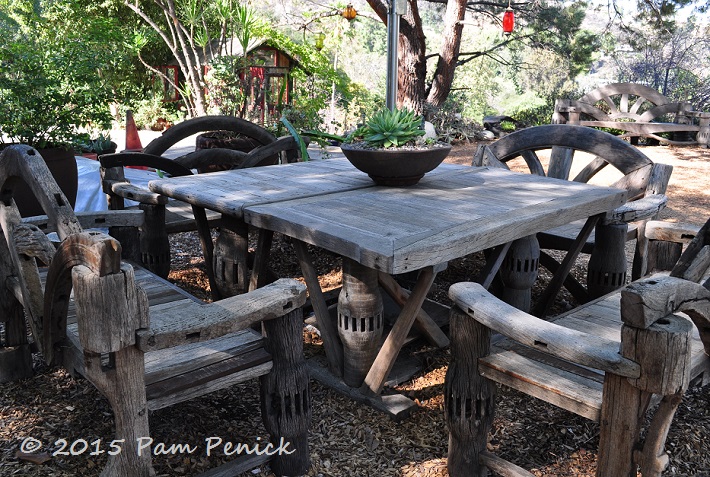 Joy and Roland wisely didn't over-fuss the level terrace area surrounding their home. Keeping it simple, in sync with their home, whose front wall of glass doors opens up to the outdoors, they spread wood mulch for a cushioning, water-absorbing floor and furnished it with overscaled wooden tables and benches.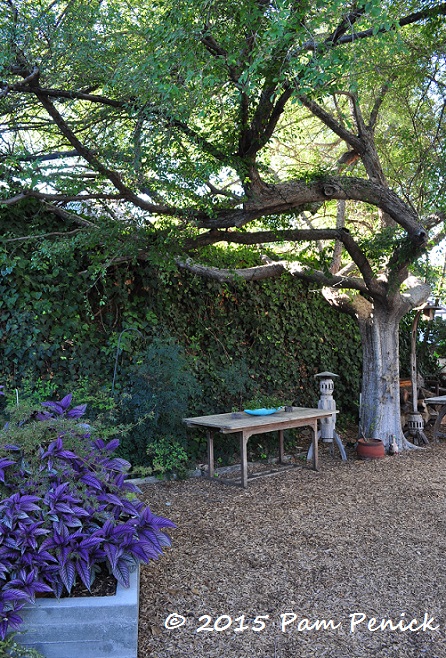 An ivy-covered wall runs along one side of the terrace, providing shelter and privacy. The space is casually welcoming, and Joy and Roland set out platters of fruit, crackers, and cheese for us, along with bottles of wine — welcome refreshment on an unusually hot September afternoon.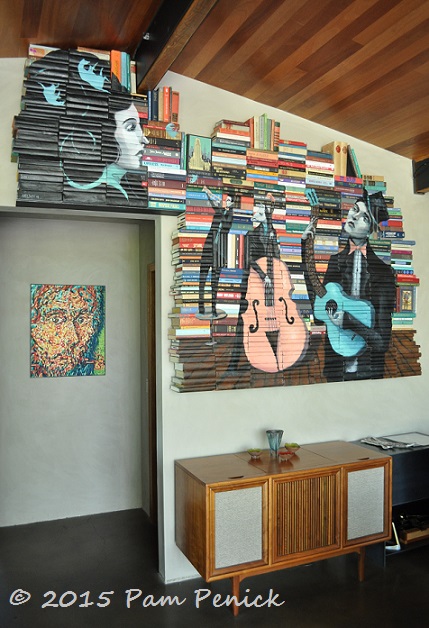 Joy is the founder of ART from the Ashes and is an artist herself. Art fills her home, like this striking, painted-book sculpture by Mike Stilkey in the living room.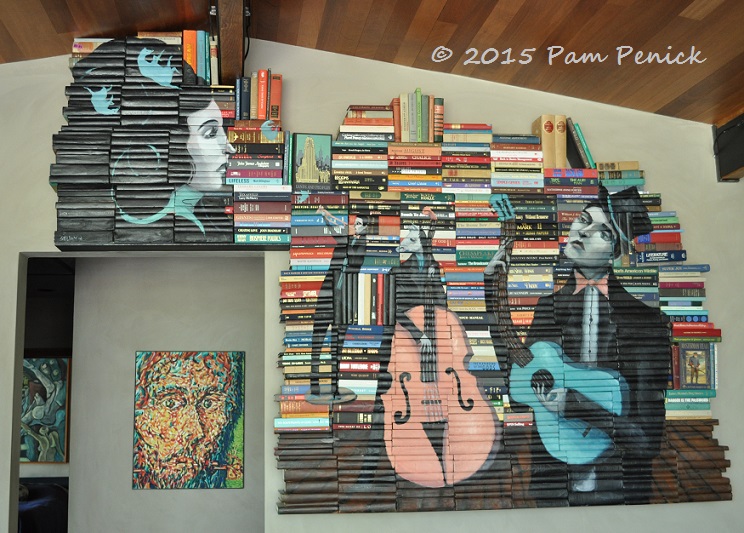 Wowed by this piece, I asked Joy if I could share it with you, and she readily agreed. Mike customized it for their home, running it over the doorway and under a ceiling beam. A surrealist trio plays for a woman in whose head seem to float cave-art horses. How unique — I love it!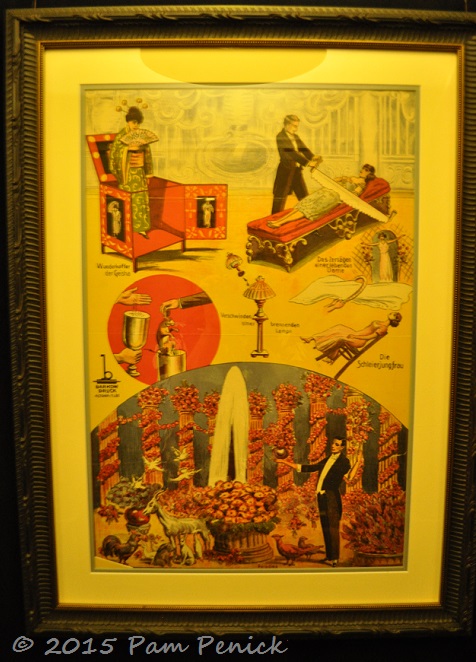 Some of the couple's art has a carnivalesque theme, like this print in their wine cellar.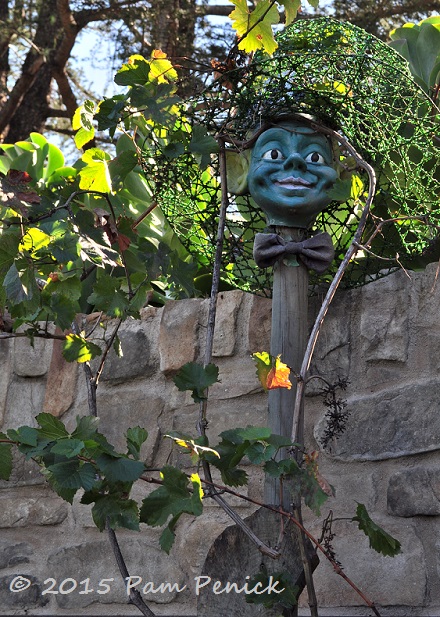 A playful sense of magic and mystery pervades much of their garden, which I ascribe to Roland's influence. Roland, you see, builds amusement park rides. When I asked him what that meant — does he make roller coasters? — he explained that his company, R&S Production Services Inc, creates the whole ride experience, from the mechanical to the surrounding sets to the shows that take place. Cool, right? How did he get into such a career, I asked? "I grew up at Disney," he replied. His father worked there, and so Roland spent much of his childhood at the "most magical place on earth."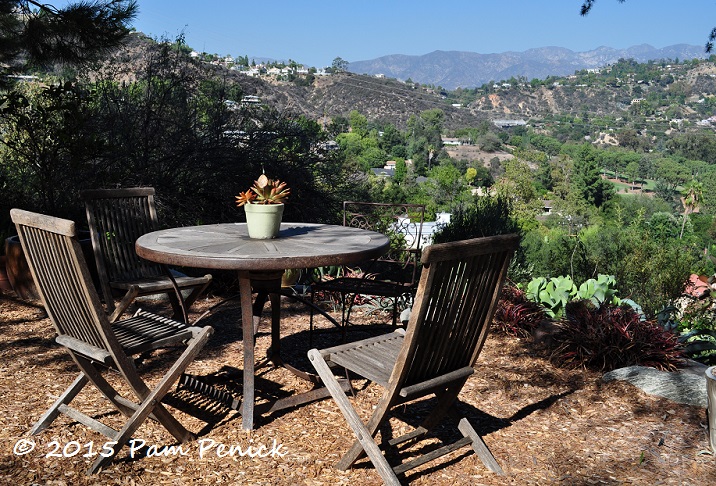 Roland and Joy's garden felt like the most magical place on earth on the afternoon we visited. Views are savored from numerous seating areas tucked into the hillside garden.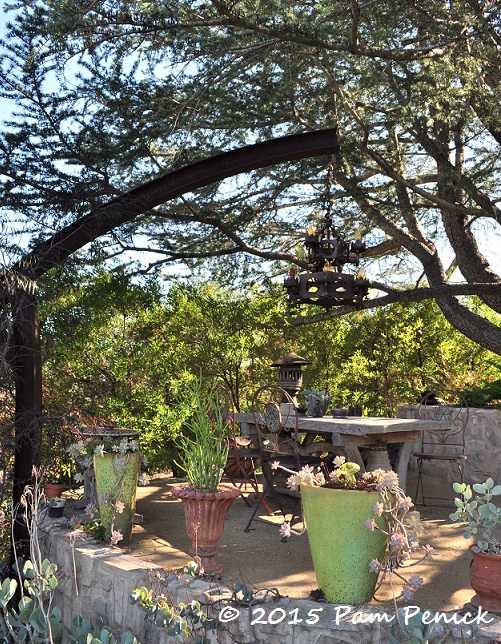 The garden appears to get a lot of use after dark, judging from the number of lanterns and chandeliers along paths and hanging over tables. This one is suspended from an arching steel arm.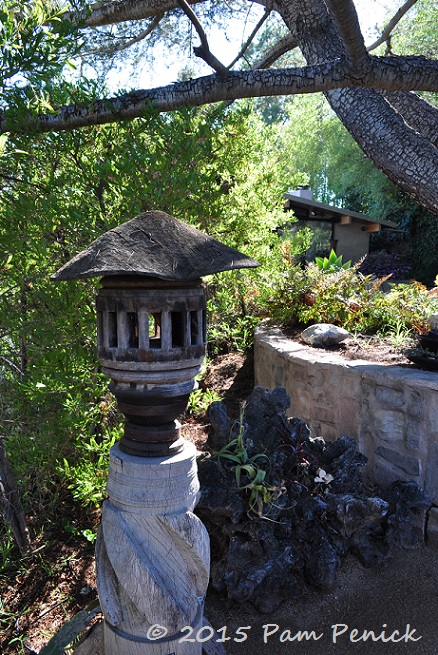 This Asian-style wooden lantern lights the path near the house.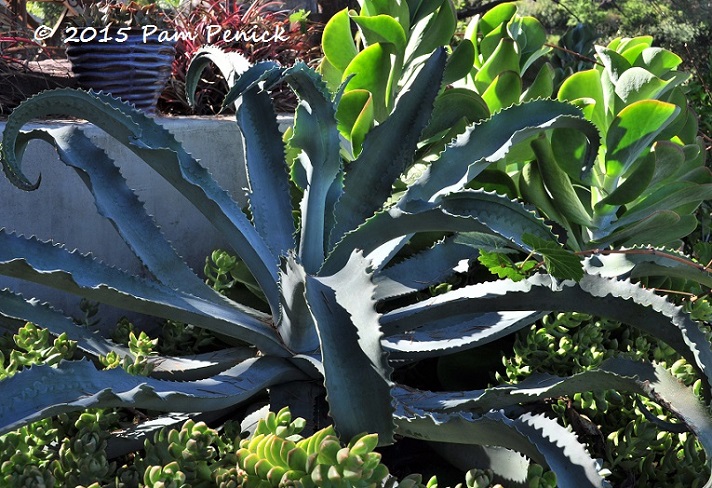 The path drops beyond the house down a steep hillside, past terraces filled with drought-tolerant plants, like this Agave gypsophila…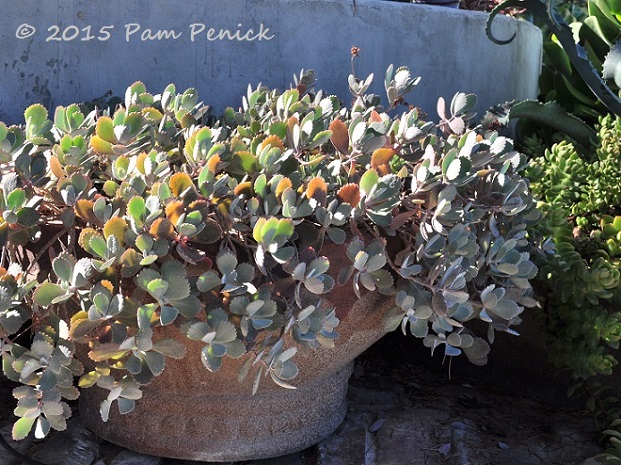 …and this pretty potted succulent.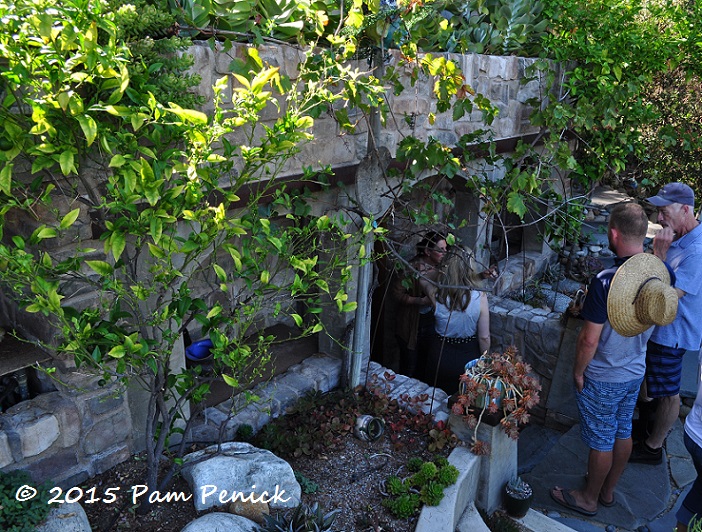 Roland and Joy did all the terracing themselves, and I think they said they built this wine cellar themselves too. It sits under one of the higher terraces, tucked into the hillside. I was unprepared for the elegance within.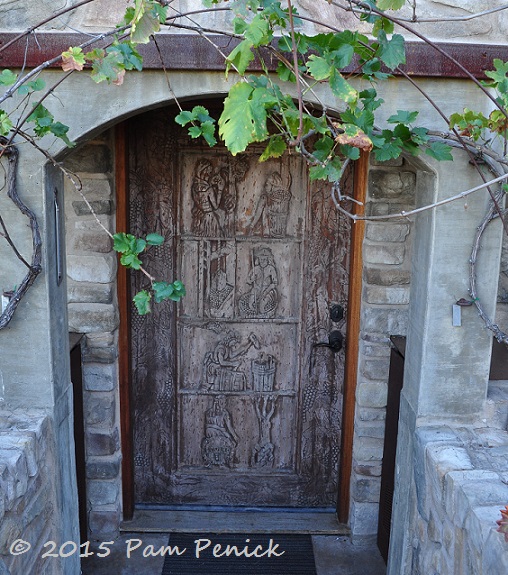 A carved wooden door — distressed to look old, Roland told me — sits within an arched recess.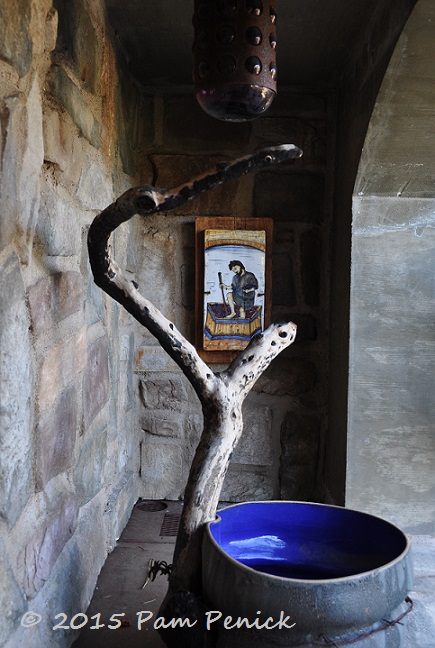 To the right of the door, a niche holds a few meaningful objects.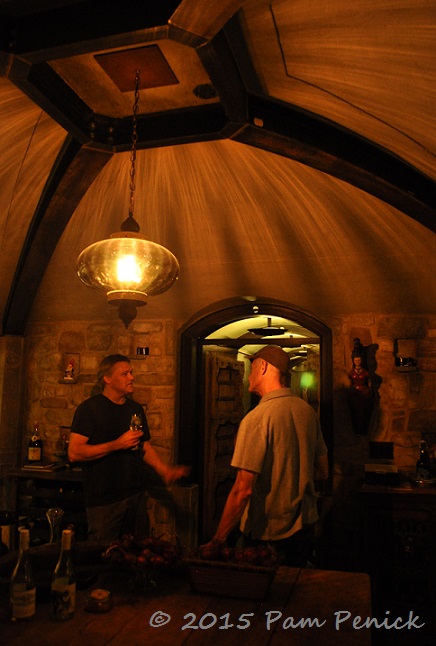 And then you open the door and see this: a smooth, domed ceiling bathed in the light of a glass lantern, which hangs over a rustic wooden table with seats for sitting and tasting wine. Roland told us that two air conditioners keep the cellar chilled to the right temperature for wine storage. I'm sure being underground helps too.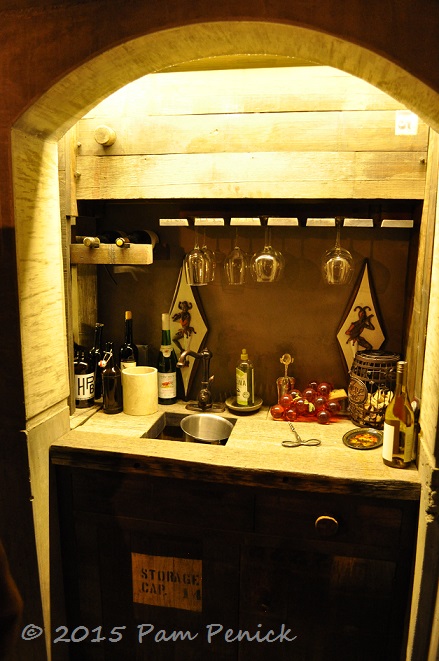 The bar sink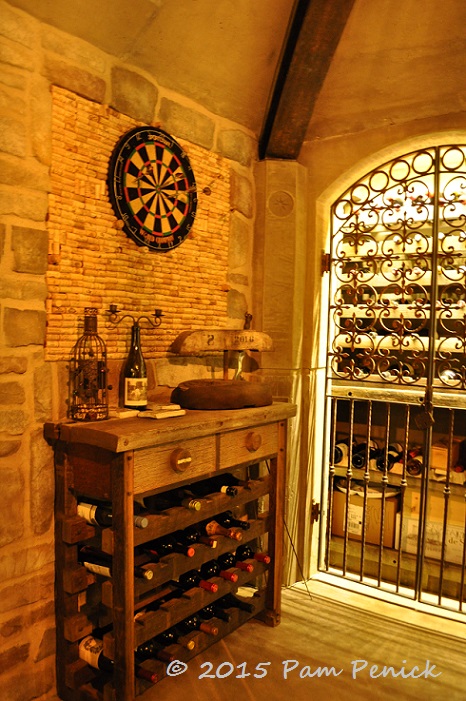 And a dartboard for fun. Notice the wine-cork surround.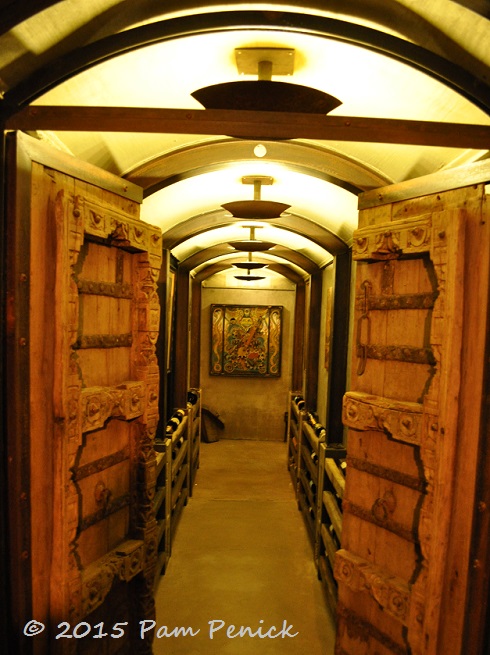 Opposite the entrance, old wooden doors from Mexico open to reveal a hallway, beautifully lit and lined with racks of wine.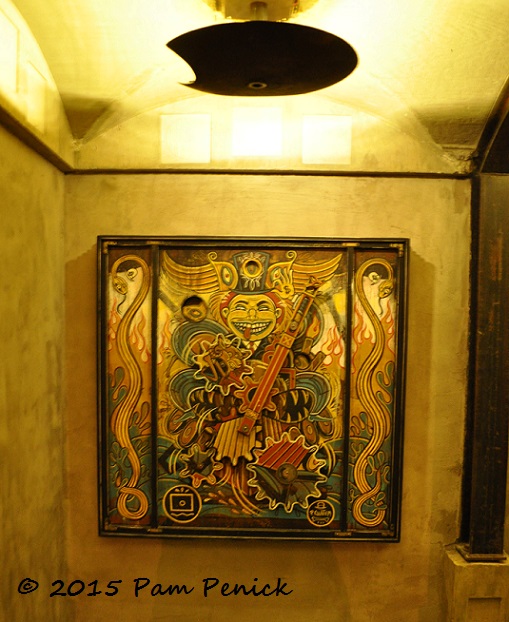 At the end of the hall hangs more carnival-theme art.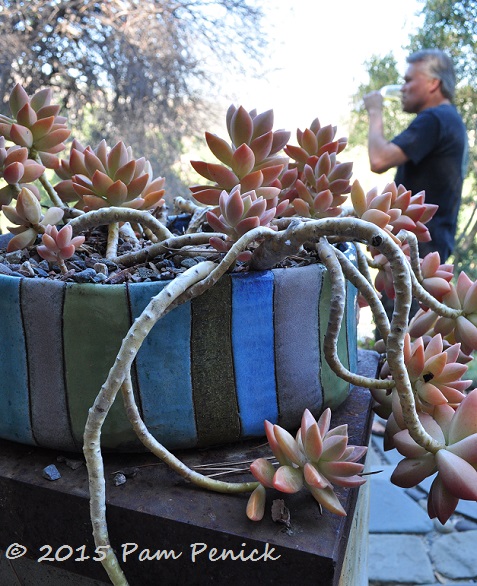 Back outside, I stopped to admire an Esther pot. That's Roland sipping from his glass of wine in the background.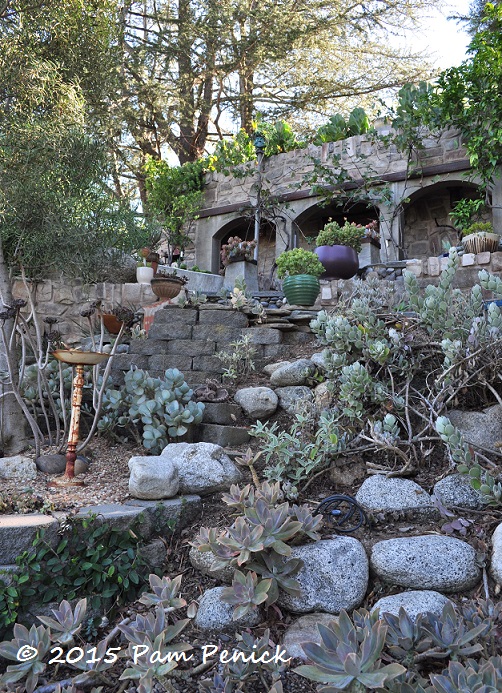 Below the wine cellar, the terraced garden continues down the hill, with succulents favored for good looks, drought tolerance, and low maintenance.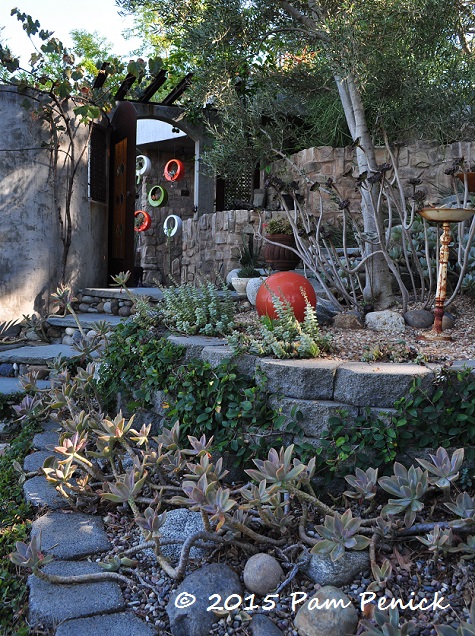 To the left, an arched doorway beckons. And are those Circle Pots from Potted?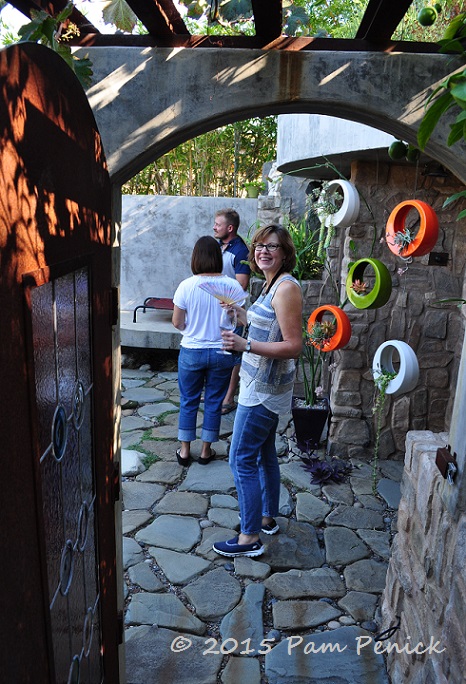 Why, yes, they are! And there's designer Susan Morrison (and my first mentor as an author) as well.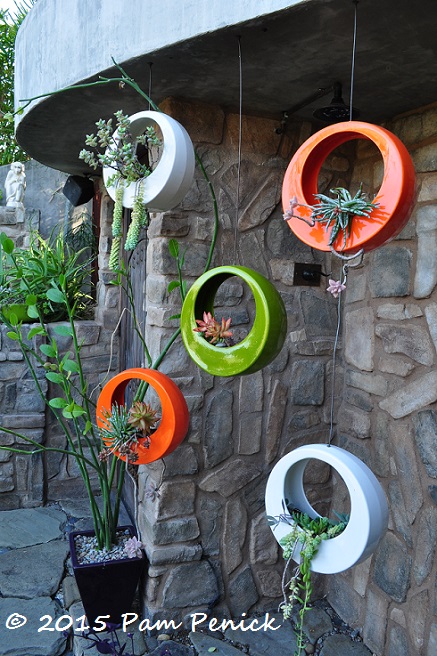 I really love the inventive way Joy and Roland have hung their Circle Pots, with connecting wires keeping them in a grid formation. The colorful circles echo…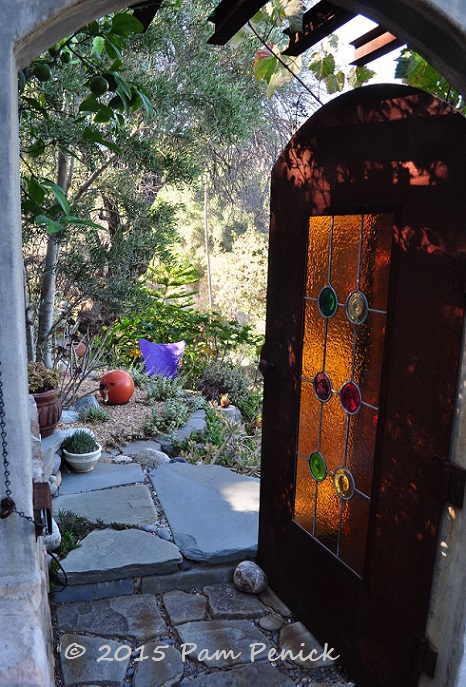 …the colored glass circles on the steel-and-glass door.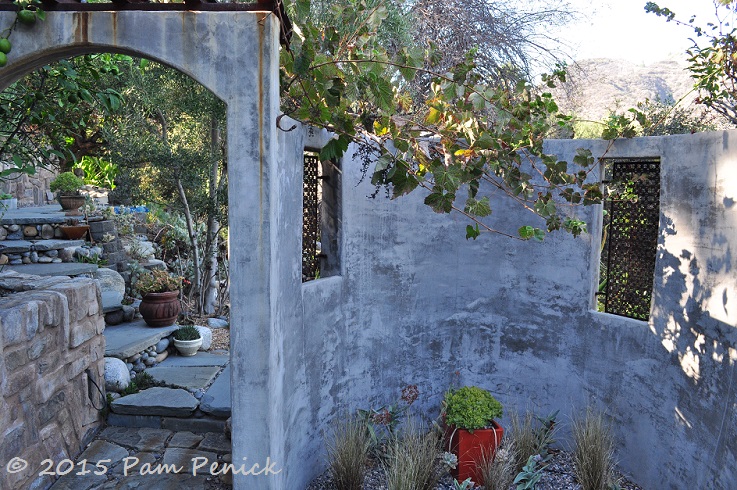 A stucco wall with filigree iron windows…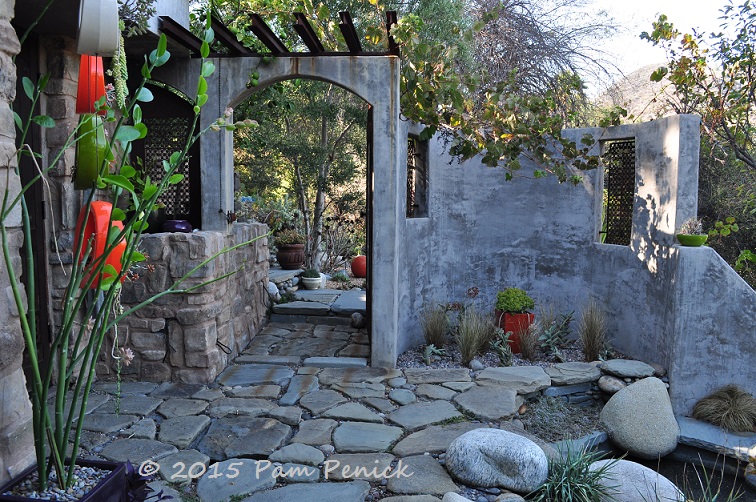 …curves around a hot tub constructed to look like a natural pool, complete with pillowy boulders.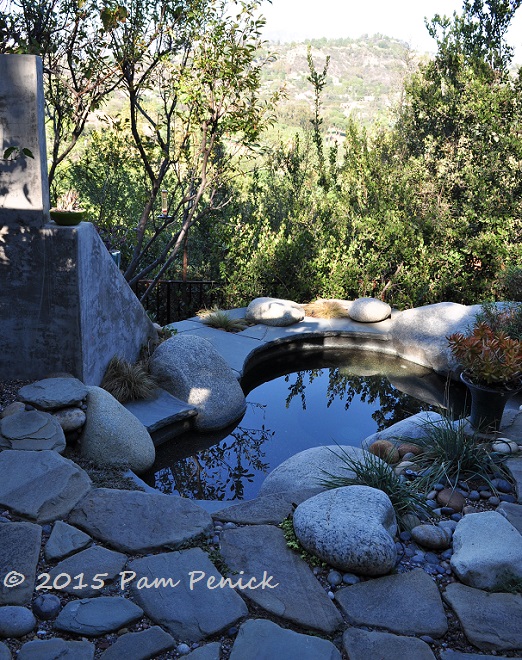 A hot tub with a view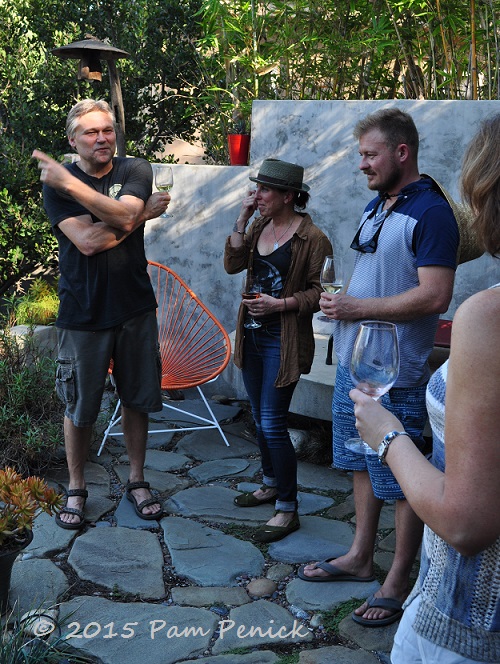 Here are Roland and Joy, the architects of this wonderful garden, along with designer Dustin Gimbel, whose garden we visited earlier in the day.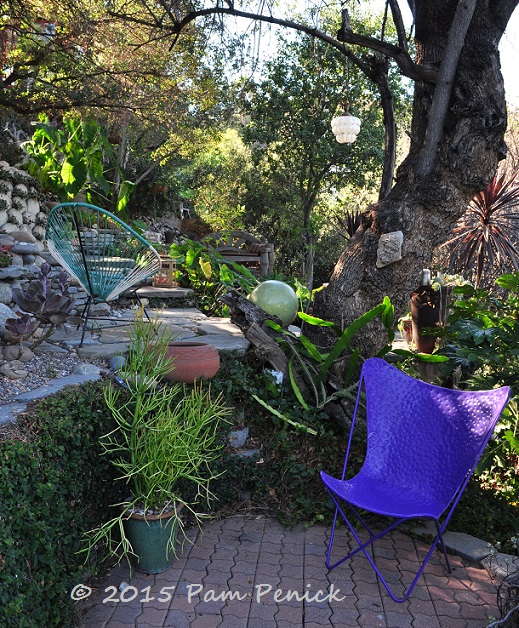 Continuing down the hillside, more terraced patios amid the trees…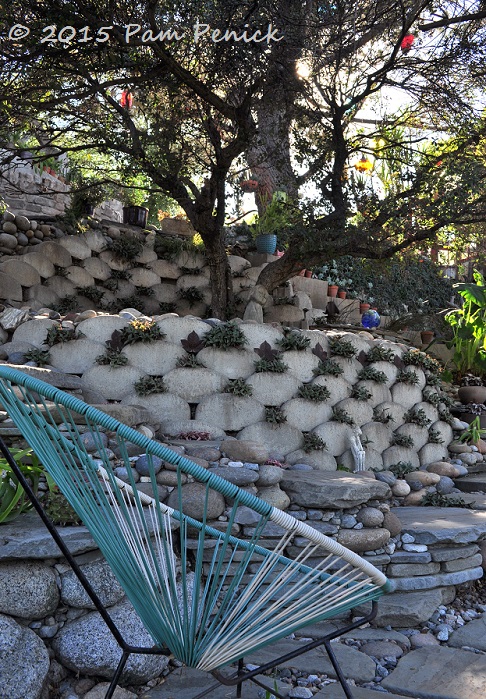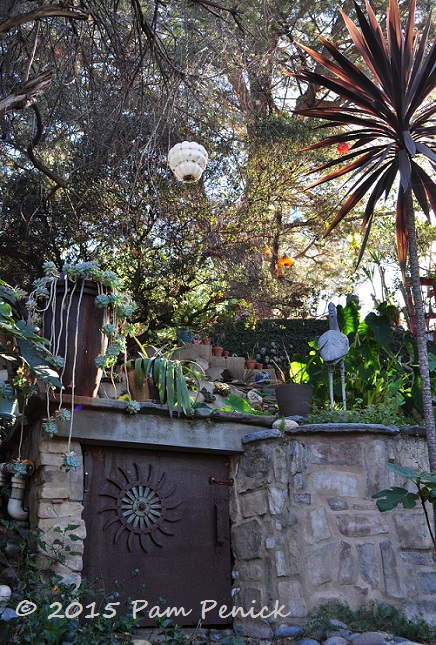 …and looking up, more hanging lanterns…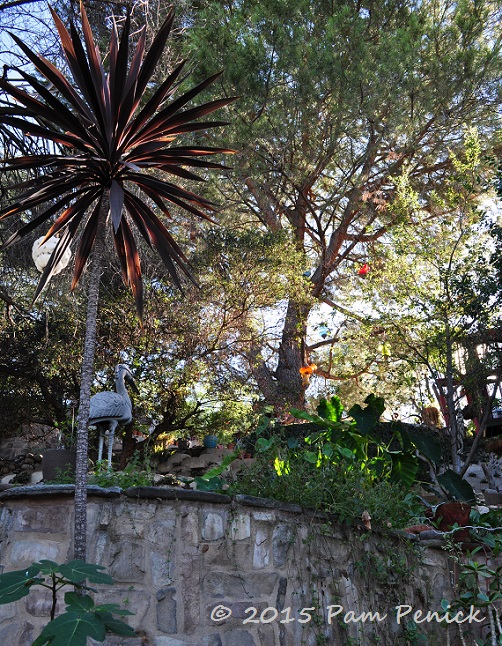 …which glowed with jewel-like color in the afternoon light.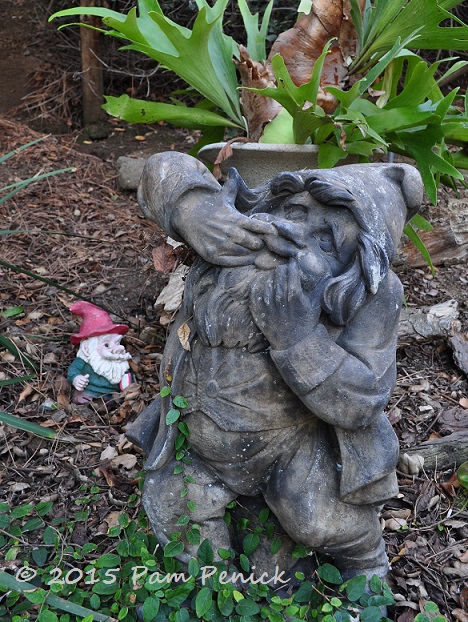 In the lowest part of the garden, mischievous creatures…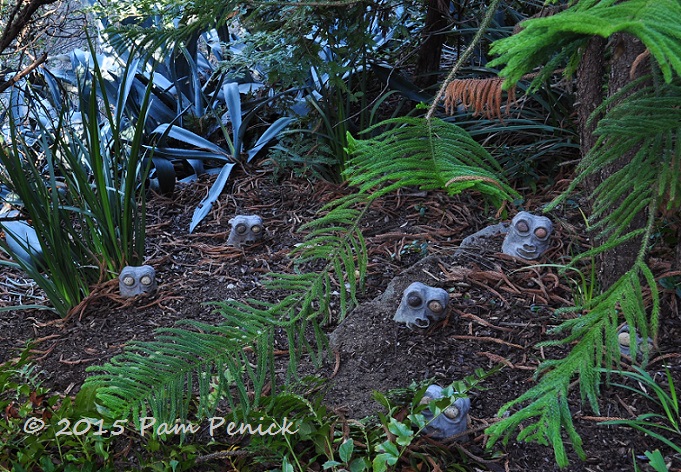 …and spooky inhabitants appear.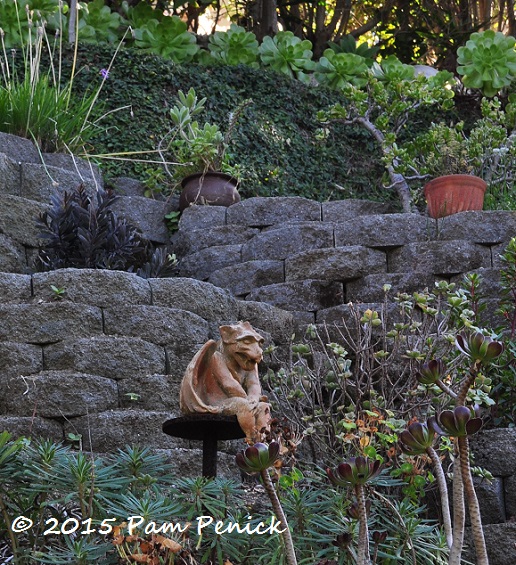 Gargoyles overlook the lower garden…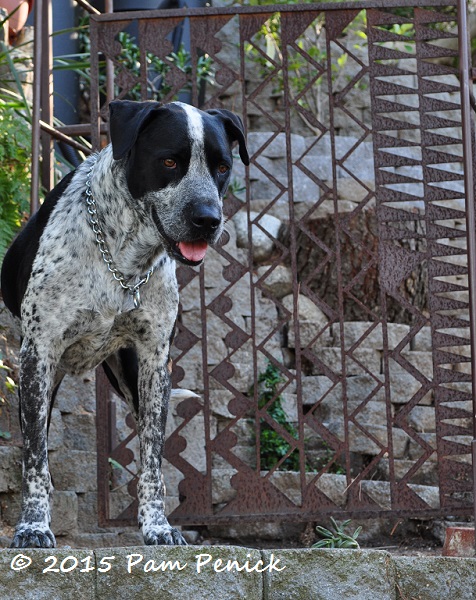 …and so does Domino, Joy and Roland's adorable dog.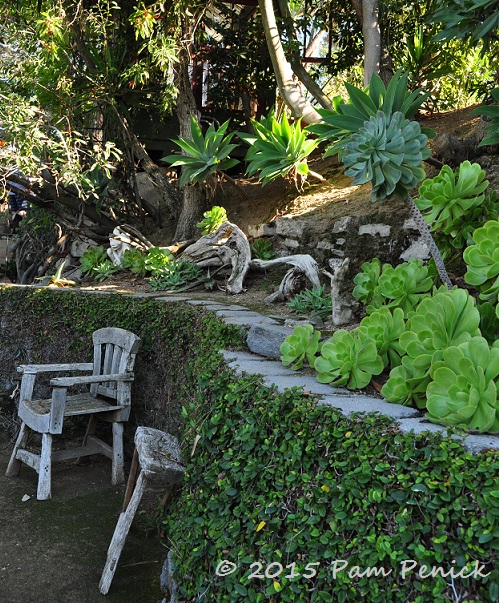 Heading back up the other side of the garden, I admired this green-clad terrace.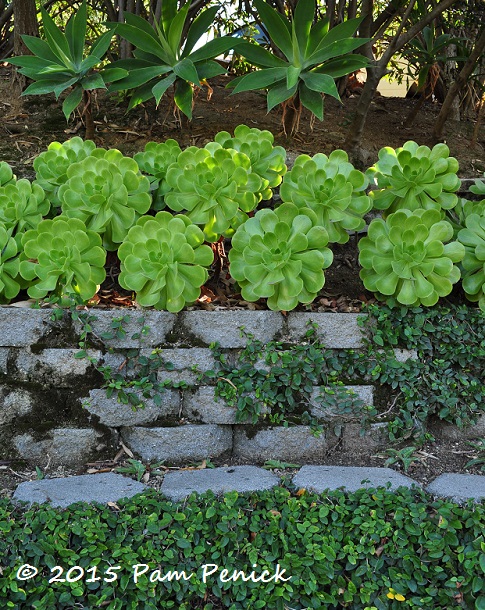 Fig ivy covers the retaining wall, and lime-green, flower-like aeoniums lean over the top. Above, Agave attenuata adds its starry form.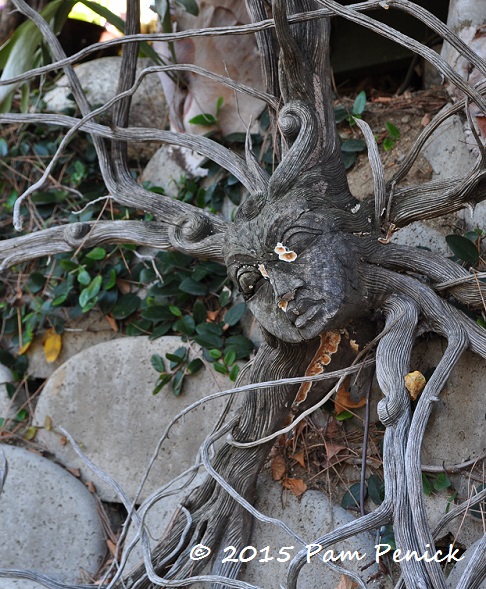 A garden spirit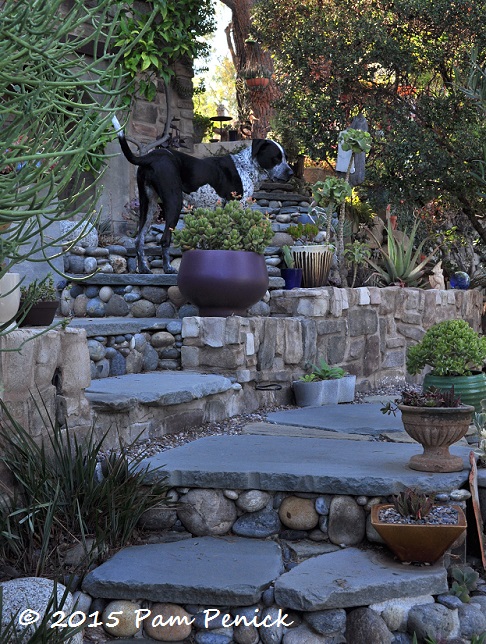 Almost back up to the top, with Domino leading the way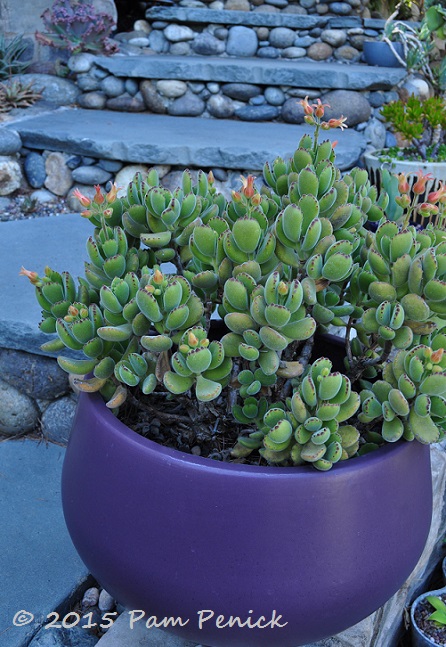 A pretty pot, and nice stonework too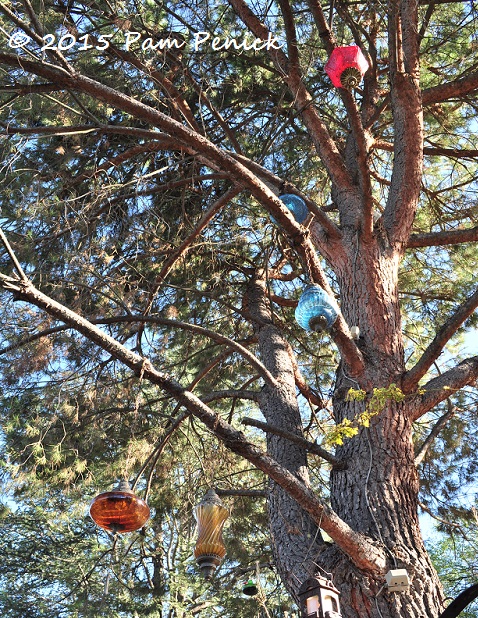 These colored glass lanterns, suffused with afternoon light, need no electricity to illuminate the garden.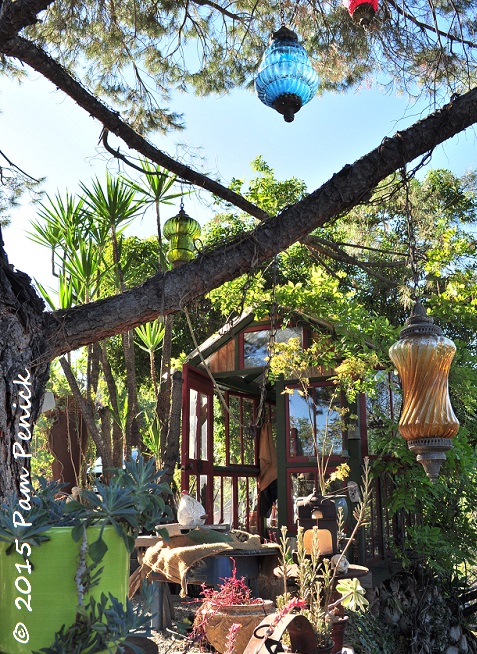 At the top, a small greenhouse is tucked under the lantern tree.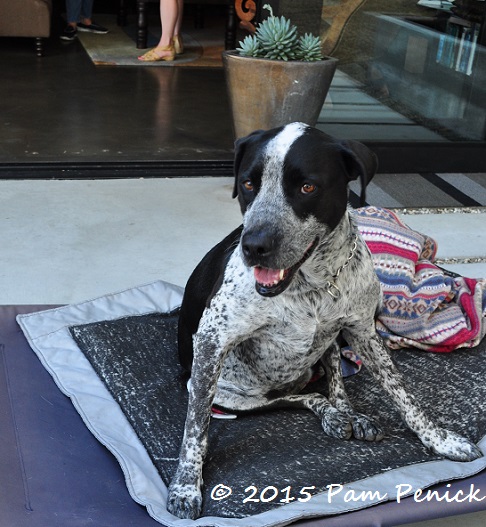 Back at the house, Domino gets comfy on her blanket.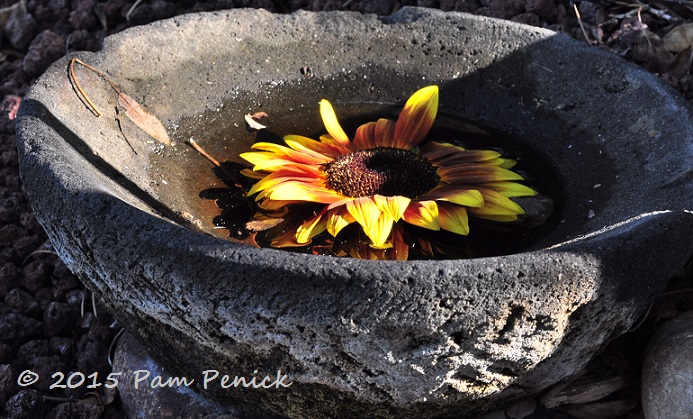 My thanks to Joy and Roland for their hospitality and for sharing their delightful garden. What a marvelous place they've created in one of the most challenging sites I've seen. Hillside gardeners, here's your inspiration!
Up next: The Folly Bowl, the personal garden of Susanna Dadd and James Griffith, which contains a back-yard amphitheater where public concerts are held. For a look back at Dustin Gimbel's creative Long Beach garden, click here.
All material © 2006-2015 by Pam Penick for Digging. Unauthorized reproduction prohibited.
posted in
Agaves
,
Arbors
,
Books
,
Containers
,
Decor
,
Dogs
,
Doors
,
Garden art
,
Garden structures
,
Garden tours 2015
,
Gates
,
Groundcovers
,
Hillside
,
Lawn Gone!
,
Lighting
,
Paths
,
Patios & decks
,
Ponds
,
Rock
,
Sculpture
,
Seating
,
Sheds
,
Succulents
,
Swimming pools
,
Travel
,
Trees
,
Views
,
Vines
,
Walls
,
Water features
,
Windows
,
Xeric plants