June 3rd, 2015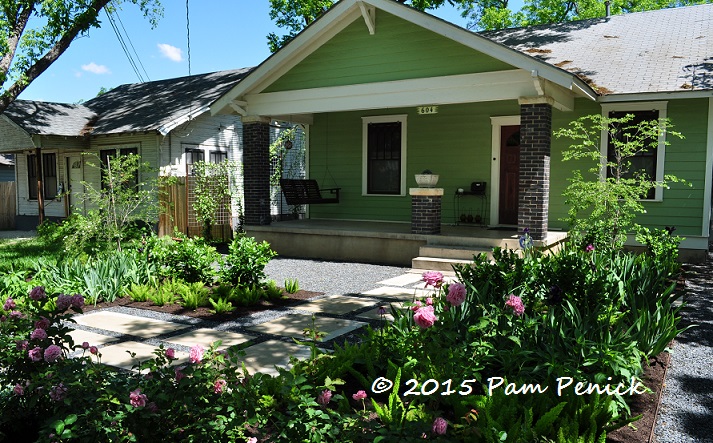 I've been lucky to visit a number of new-to-me gardens this spring, and I have one more to show you: Jennifer Lingvai's contemporary, designed-for-entertaining garden in Austin's Hyde Park neighborhood. The talented B. Jane of B. Jane Gardens designed and installed it for Jennifer, who requested a low-maintenance, mostly green garden with plenty of room to entertain friends and family.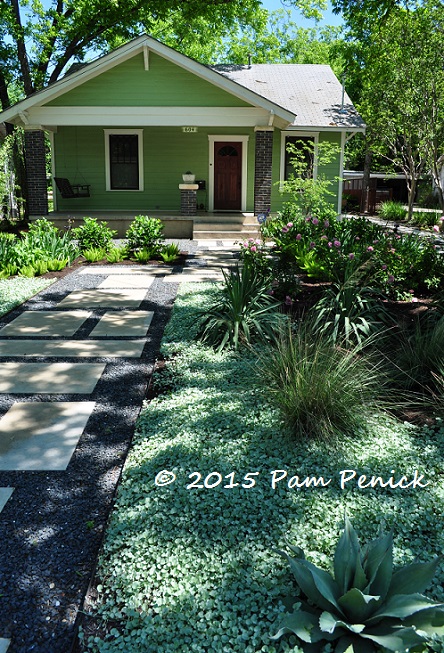 In front, a mosaic-style paver path set in Texas black gravel leads to the front porch through a no-lawn garden of low-water plants.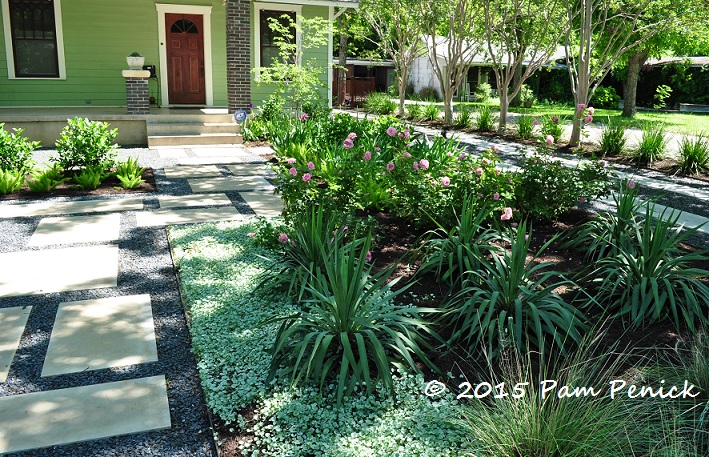 Block-style planting gives the garden a contemporary look.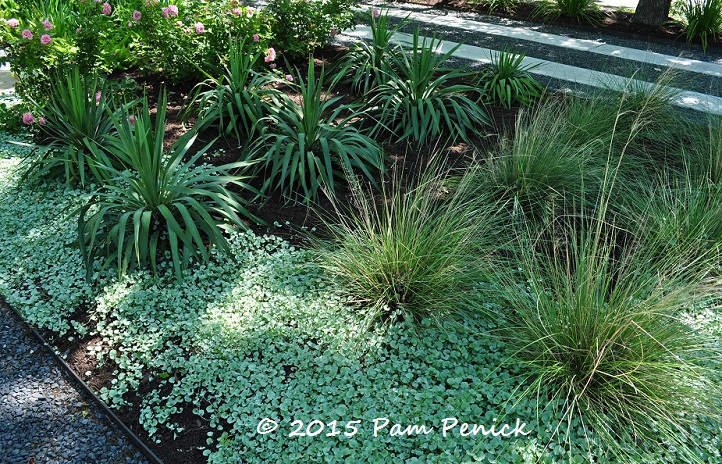 Gulf muhly (Muhlenbergia capillaris), softleaf yucca (Y. recurvifolia), and 'Belinda's Dream' roses are each planted in two evenly spaced rows and underplanted with spreading silver ponyfoot (Dichondra argentea). A Hollywood driveway (visible at right), consisting of two concrete strips set in gravel, is a green solution that reduces impervious cover and helps the property absorb rainwater.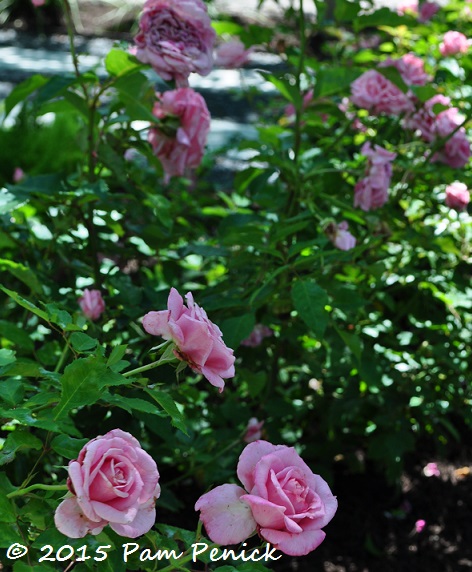 'Belinda's Dream' roses look fussy but are tough and easy-care.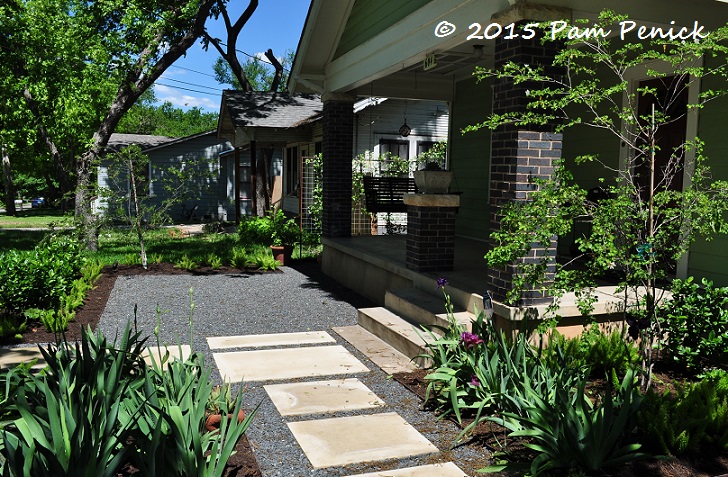 An apron of gravel doubles the perceived size of the front porch and creates openness at the entry. No claustrophobia-inducing, overgrown shrubs here. An airy Anacacho orchid tree (Bauhinia lunarioides) adds height to a bed of irises at right.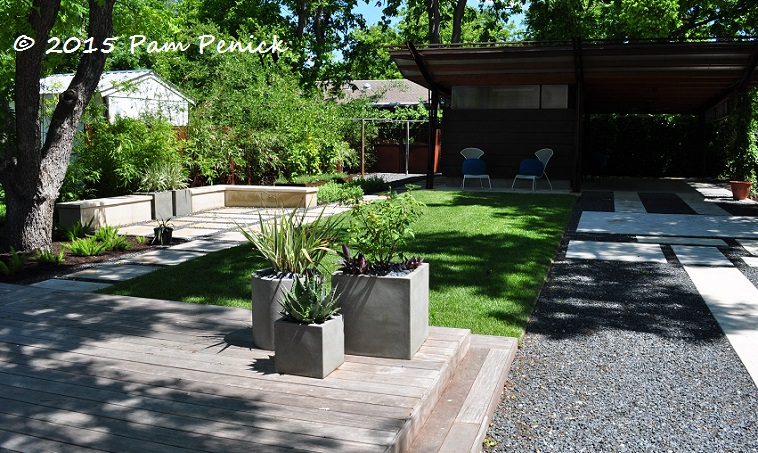 As you enter the back yard via the driveway, you see a beautifully designed contemporary carport that draws your eye across a neat, rectangular lawn to the back of the garden. Additional concrete strips appear in the gravel driveway here, creating a sort of patio that aligns with a small patio with built-in seating directly across the lawn. Immediately to your left is a low, open deck — a holding space, Jennifer told me, for a future house expansion.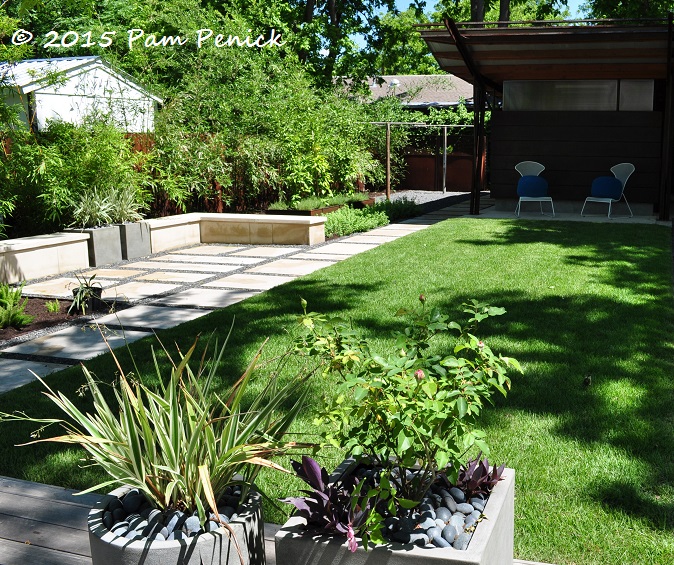 A closer look at the built-in seating area reveals two L-shaped seat walls with two blocky planters in the middle. A grid of concrete pavers floors the space and melds with a paver path that runs along the lawn between the deck and the carport.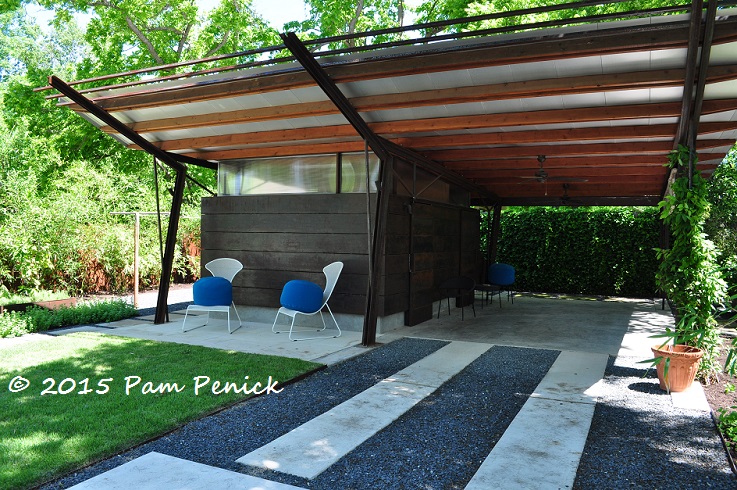 The strikingly modern carport, which was designed by architect Eva Schone, doubles as a covered party space that protects guests from sun or rain. Misters built into the exposed rafters emit a light, cooling spray in summer, and a fan keeps the air moving. The enclosed section, which is clad in horizontal steel planks, with a ribbon of semi-translucent glass or plastic running along the top, contains a bathroom and storage.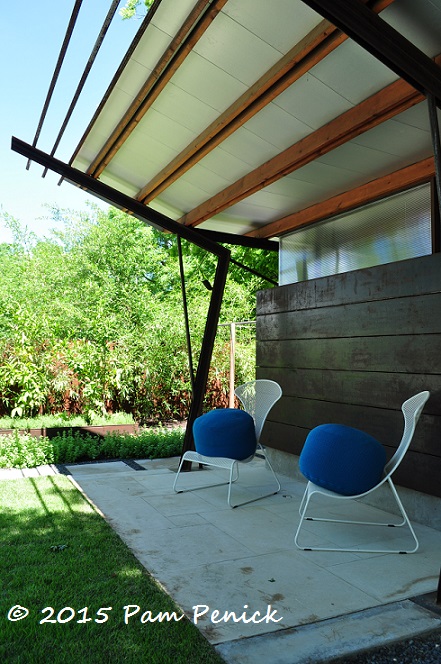 An upward-swooping roof protects front-porch seating. The blue poufs were being kept dry on the chairs during my late-April visit but would normally function as ottomans or extra seating.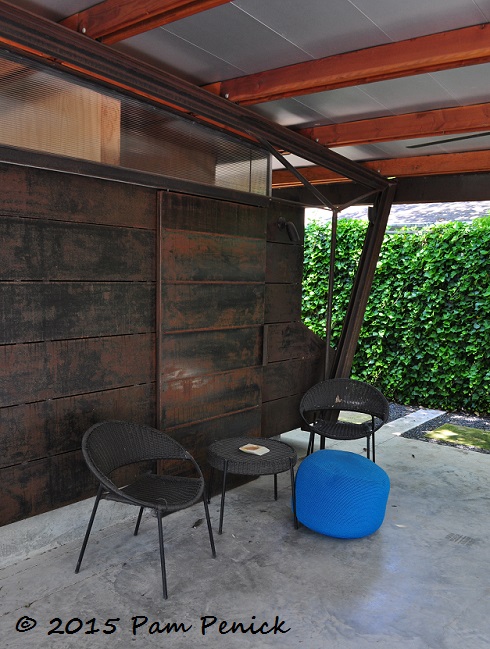 I love the plank-like steel siding.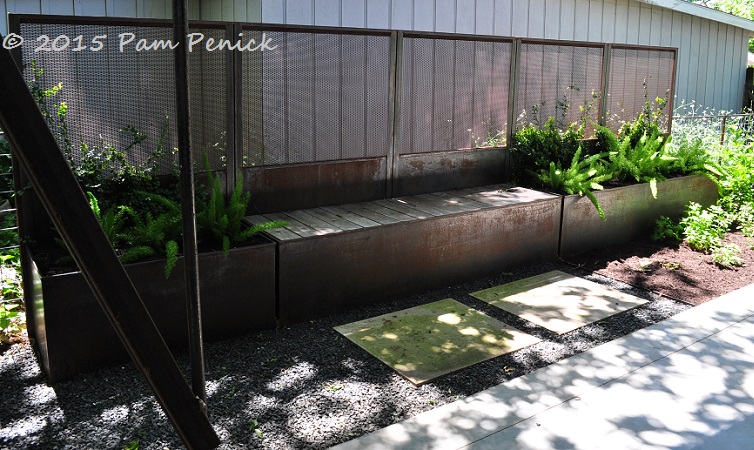 Along the carport, a metal-mesh screen with built-in planters and a bench (extra seating) offers a sense of enclosure and also distracts the eye from the neighbor's garage.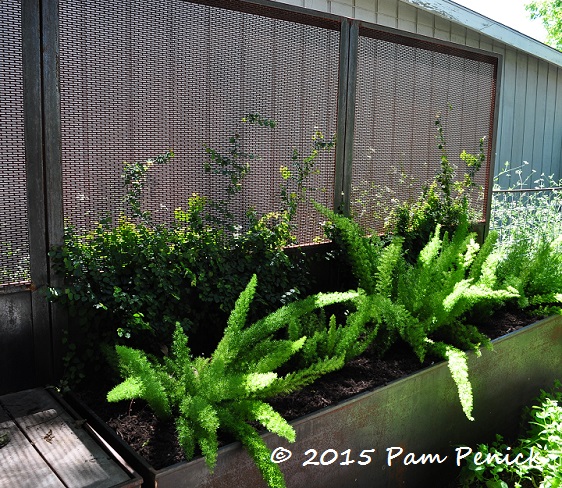 Fig ivy (Ficus pumila) climbs the metal screen and will soon create the effect of a green wall. Foxtail fern (Asparagus meyeri) adds soft texture below.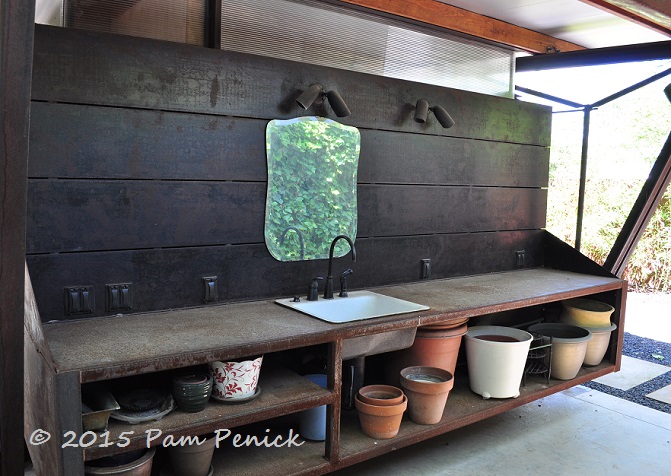 At back of the carport, a generously proportioned potting bench with a built-in sink is a delightful surprise. It doubles, Jennifer told me, as a catering station during parties.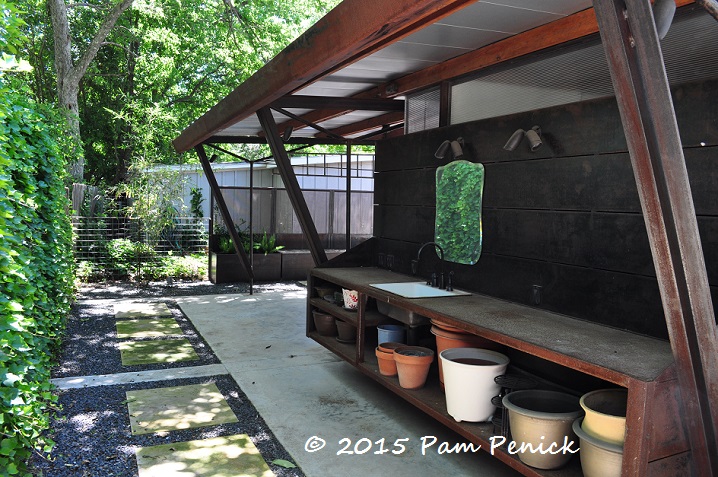 Ivy on the back fence creates a wall of greenery.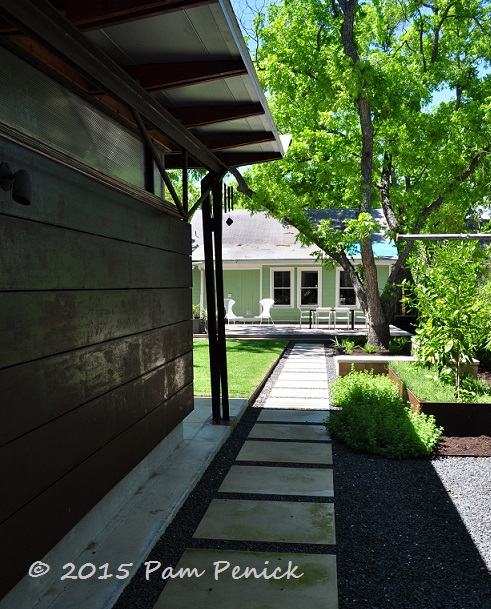 As you come around the other side of the carport, a paver path leads you toward the deck. At right, an old clothesline was preserved for outdoor drying, with gravel neatly paving the space. Just beyond, steel planter boxes contain citrus trees.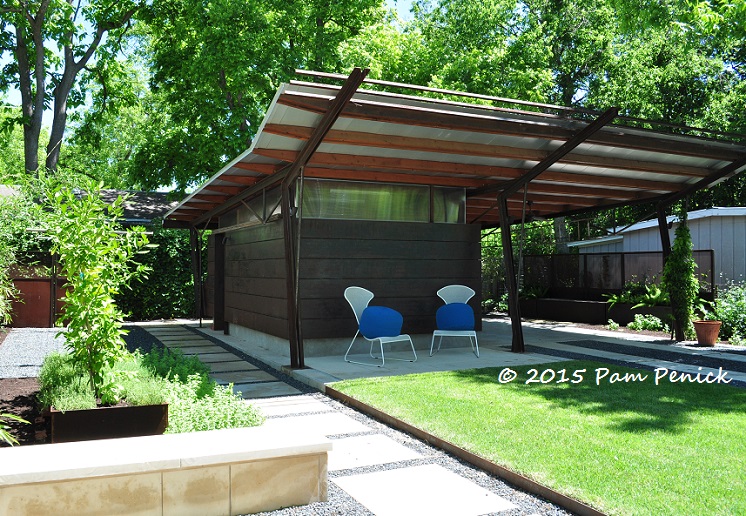 This summer (the garden was installed last fall) Jennifer plans to hang a screen on the front wall of the carport and host outdoor-movie nights for her friends. The lawn offers space to spread out a blanket and settle in with a bowl of popcorn.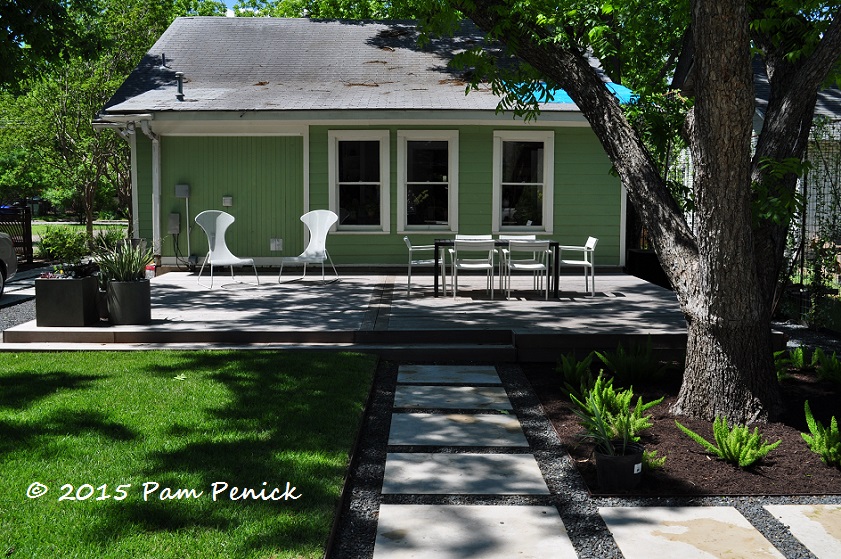 The deck provides space for additional seating and dining, at least until Jennifer decides to bump out an extension on the house. Currently the garden is accessed via a back door along the driveway side of the house, but no doubt Jennifer plans to add direct access when she remodels.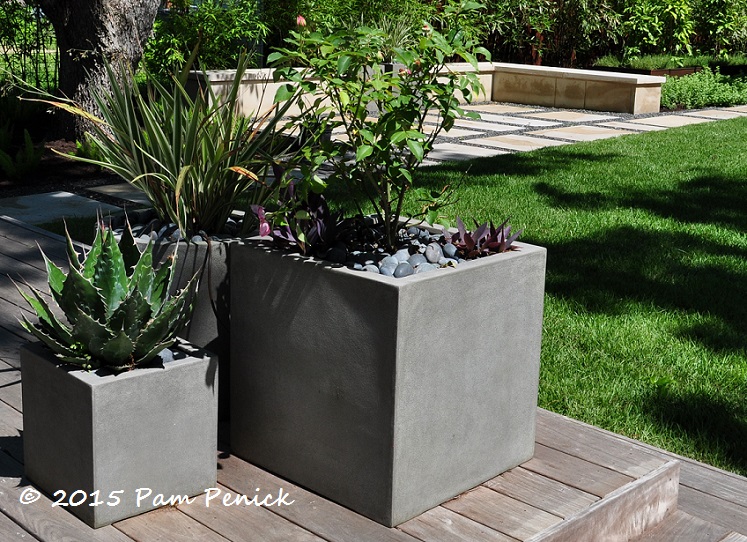 Contemporary planters on the deck hold an agave, variegated flax lily (Dianella tasmanica 'Variegata'), and a rose.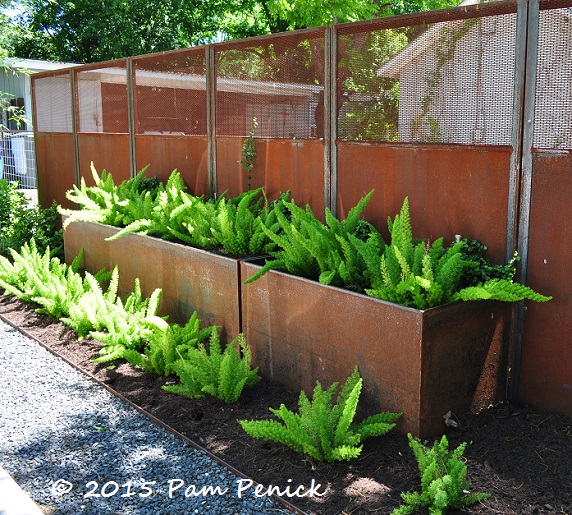 Additional metal-mesh screening and built-in steel planters give privacy to the deck seating. Easy-care, low-water foxtail fern is massed for effect.
There are so many great ideas here. My thanks to Jennifer for allowing me to share her lovely and highly functional garden with you, and to B. Jane for the introduction!
All material © 2006-2015 by Pam Penick for Digging. Unauthorized reproduction prohibited.
posted in
Containers
,
Fences
,
Garden structures
,
Garden tours 2015
,
Grasses
,
Groundcovers
,
Lawn Gone!
,
Lawns
,
Paths
,
Patios & decks
,
Porch
,
Roses
,
Seating
,
Trellis
,
Yuccas