August 17th, 2014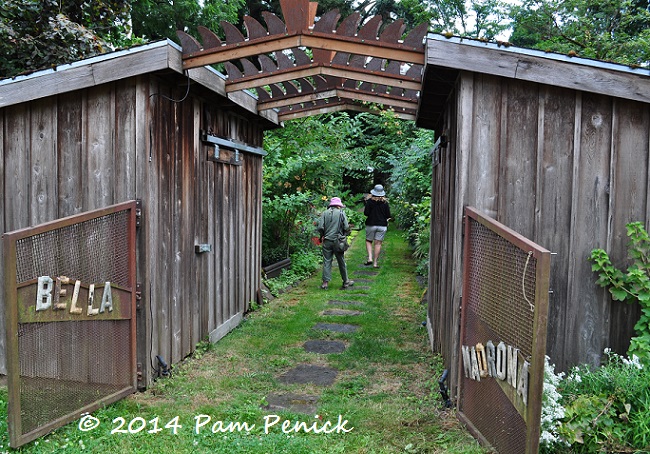 For our final tour on the Garden Bloggers Fling in Portland last month, our bus stopped on a rural highway and deposited us in a field with a few pieces of rusty farming equipment strewn about. Not sure what to expect, I walked through open gates adorned with the garden's name, Bella Madrona. Suddenly a pulsing beat and falsetto vocals filled the air. The disco anthem "Stayin' Alive" was playing throughout the garden via hidden speakers. This was going to be a party!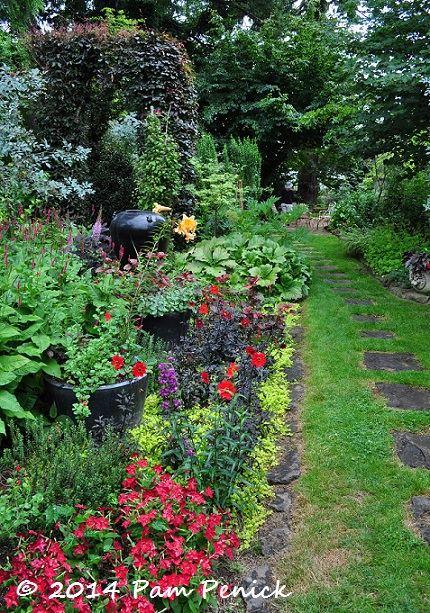 A dramatic red and black garden greeted us as we entered.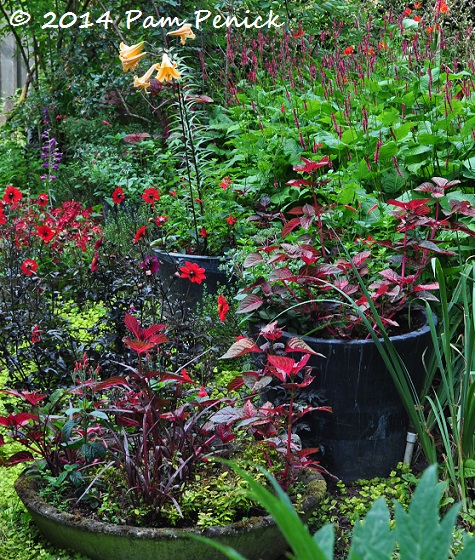 Va-va-voom reds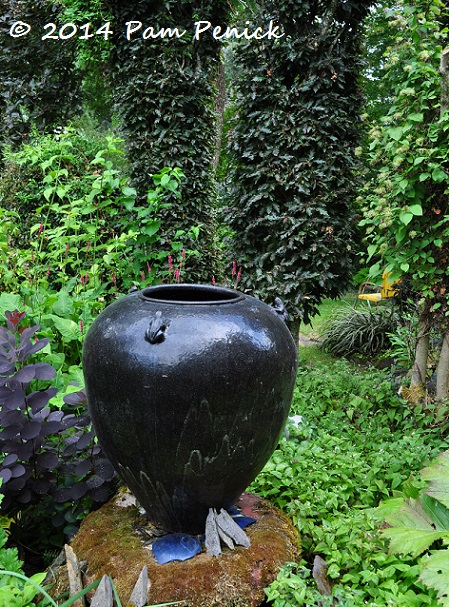 Beech hedges, like arched Gothic columns, framed the space, creating doorways and windows, while this black pot sat like a cauldron atop a mossy pedestal.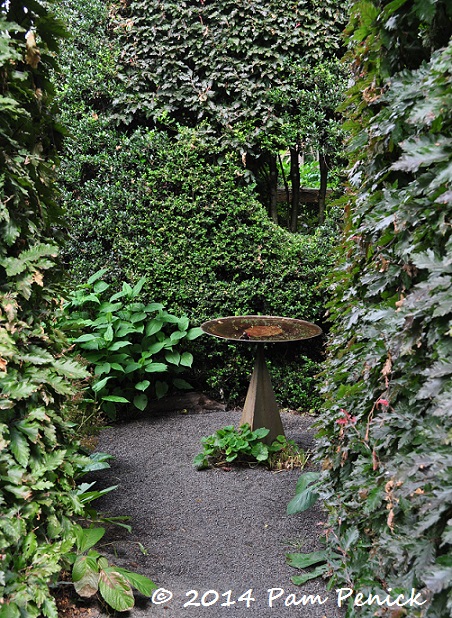 A mysterious and romantic mood was set.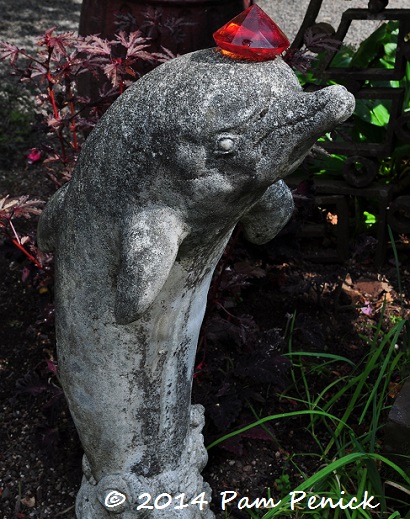 A concrete dolphin sporting a red crystal on its head? Why not?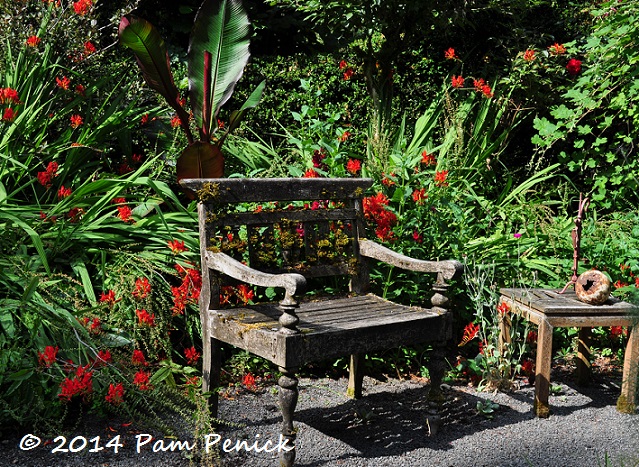 Crocosmia and red-tinged banana leaves, along with mossy chairs, make for a lost-in-the-jungle vibe.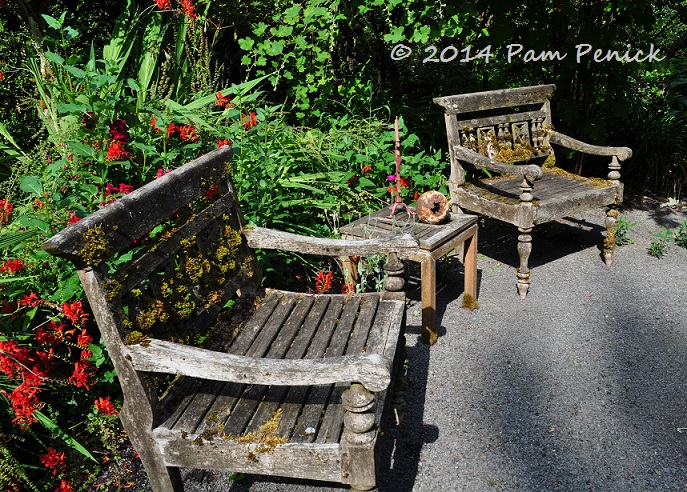 Intimate seating areas like this appear throughout the 5-acre garden, amid slightly overgrown, romantically tangled gardens.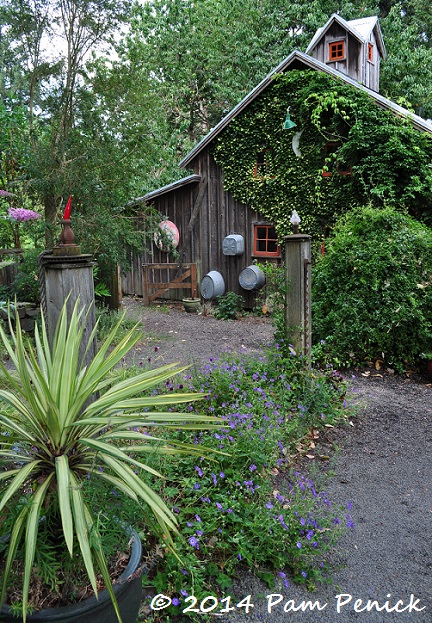 Paths branch off in different directions, curving around hedges and shrubs so that you can't tell what's ahead. Randomly selecting the left-branching path, I came across a barn-like, ivy-cloaked guest house. Old wash buckets decorate the side.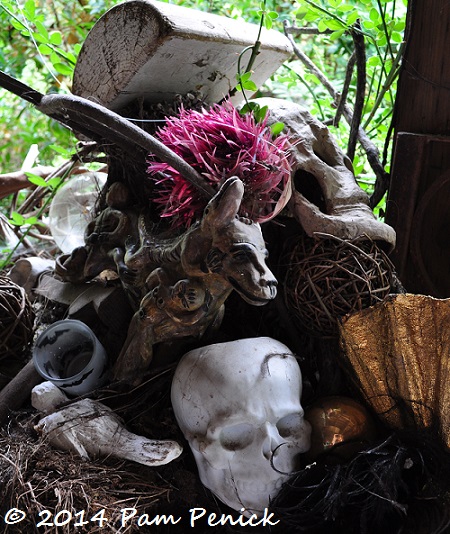 On the porch, all manner of cast-off items are turned into strange and spooky still lifes.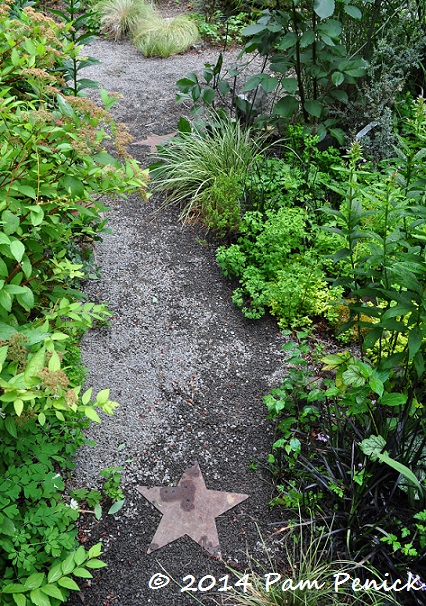 Following the path onward, I paused to admire these stars set in the gravel. As soon as I got home I dug some old metal stars out of my garage and set them in one of my paths.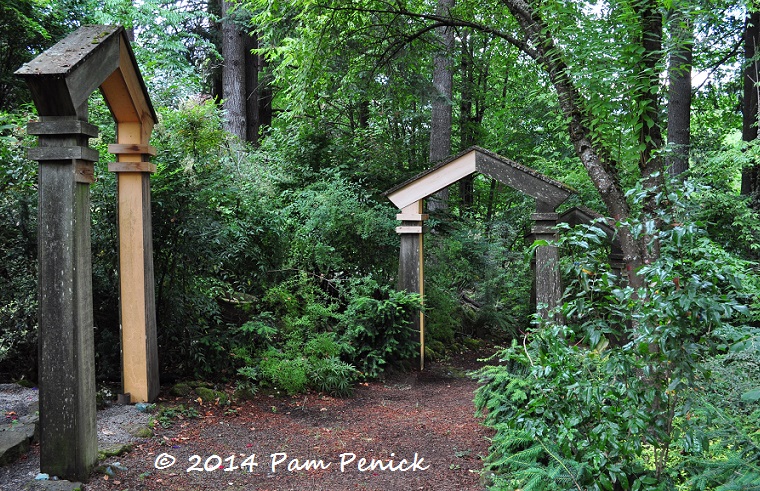 At the base of some steps, a series of monumental, angular arbors appeared, beckoning one downhill and into the woods.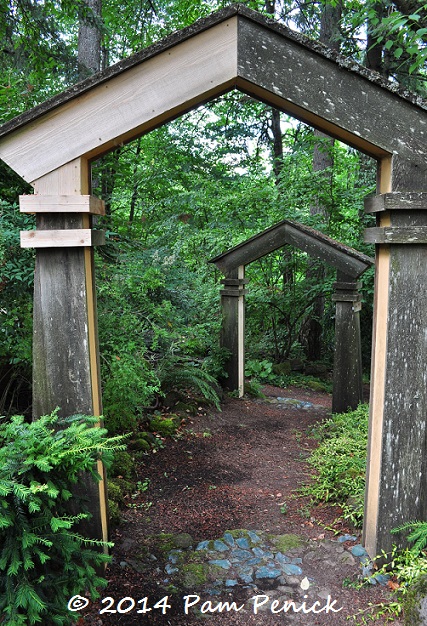 I did not heed their call, tempted as I was by another path leading elsewhere, and I never made it back to this area in my 2-hour wanderings. How I wish I had! It led to an eerie gnome garden and high-flying swing that others have blogged about.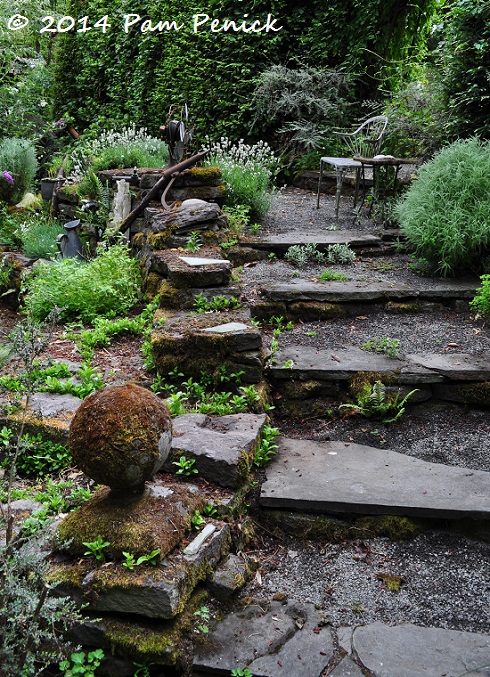 Instead, I walked this way, drawn by a small seating area atop a curved double stair backed by a doorway hedge.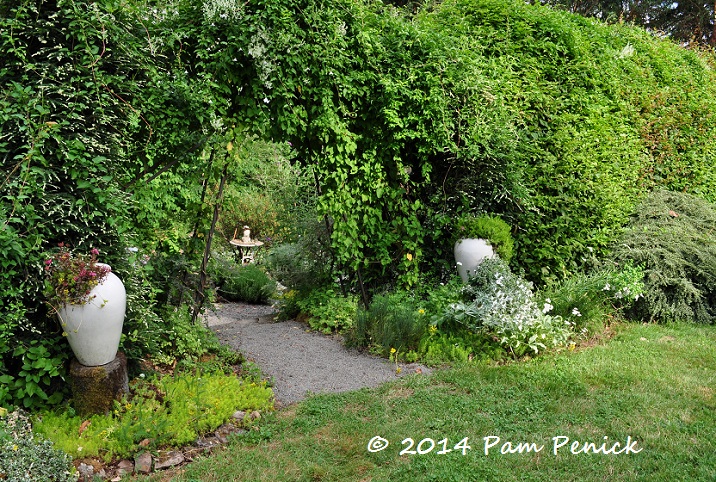 Looking through from the other side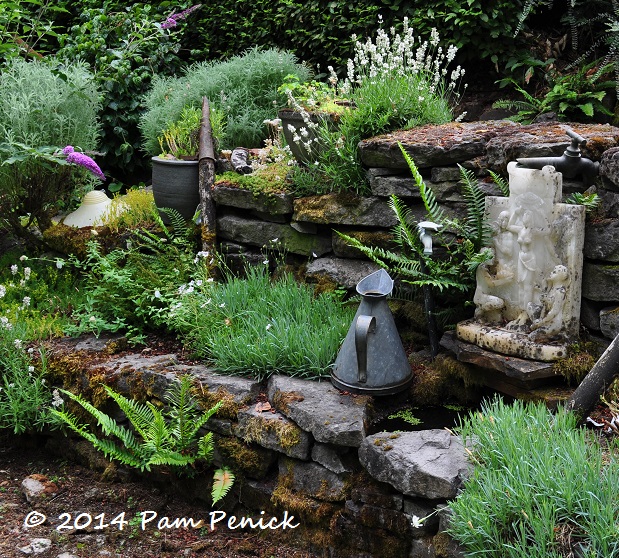 The terracing contained a dripping fountain of metal pipes jutting out of the rocks, which fed a small pool.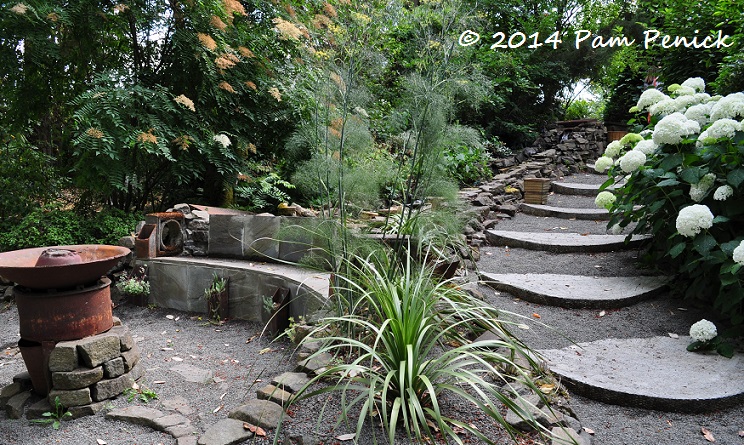 Just beyond that, a larger gathering space appeared, as well as "waterfall" steps leading up past billowing white hydrangeas. You can't really see it in this photo, but a terraced stream runs downhill alongside the path. Heading upward and around the bend…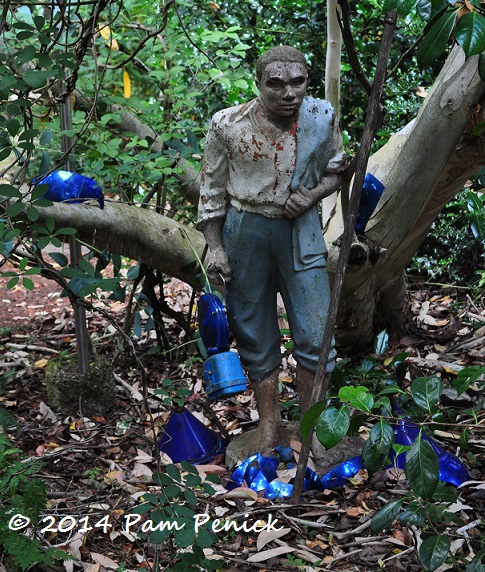 …my heart gave a start as I peeked beneath low-hanging branches to see what a glimmer of blue might be. I find this vignette creepily fascinating. It's like the garden is populated with otherworldly characters that come to life after dark.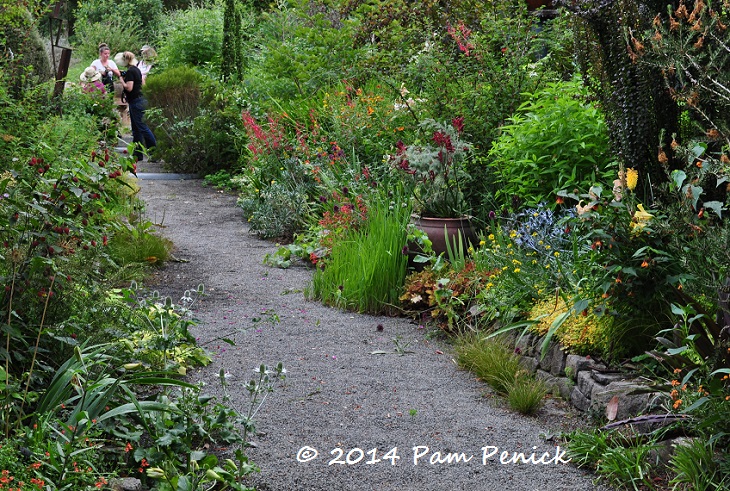 But although the sun was low in the sky, it was still light, and Aretha Franklin was belting out "R-E-S-P-E-C-T" over the speakers. I couldn't be too spooked. Soon I came upon a tousled, English-style border, and all eeriness disappeared.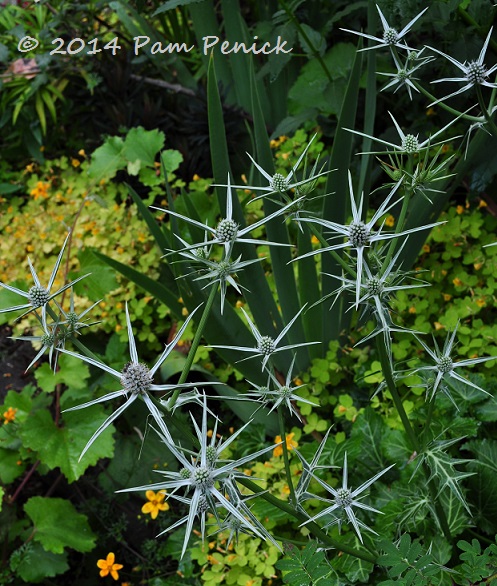 Spiky eryngium — love!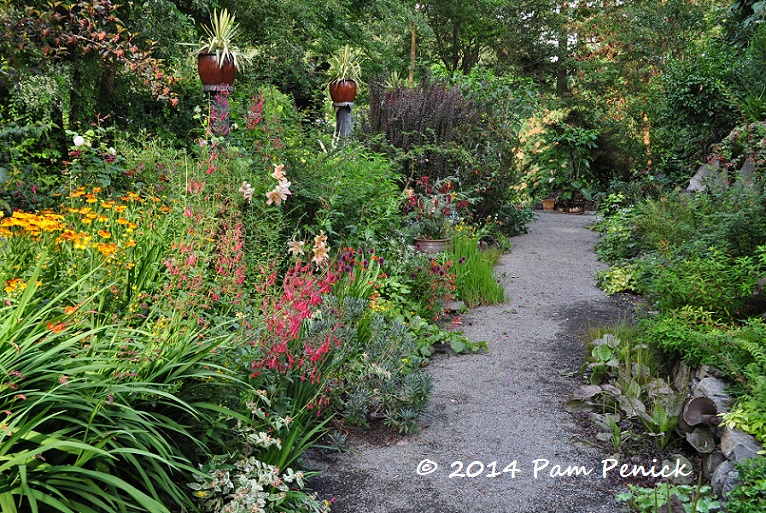 Tall pedestals along the back of the border support potted 'Color Guard' yuccas and add drama to the scene.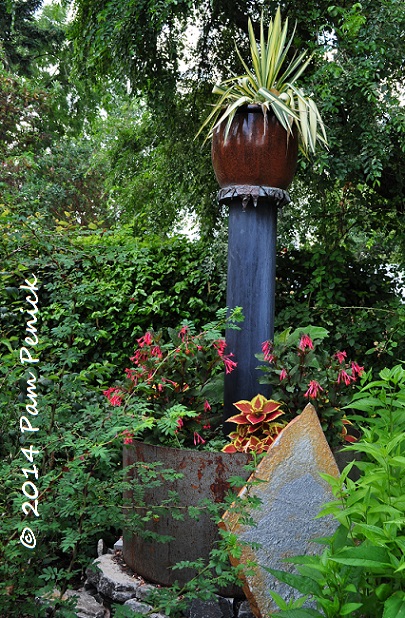 The columns themselves are set in planters made of steel rings.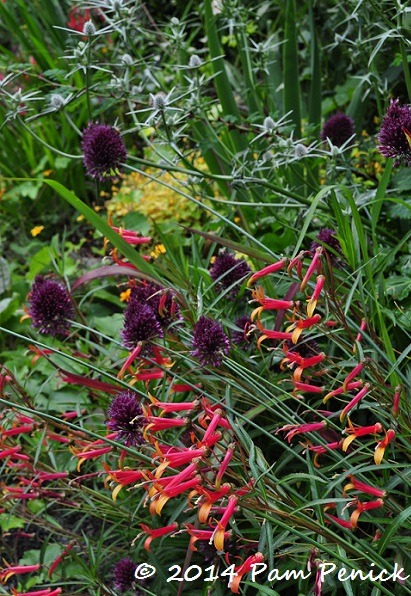 More flower-border goodness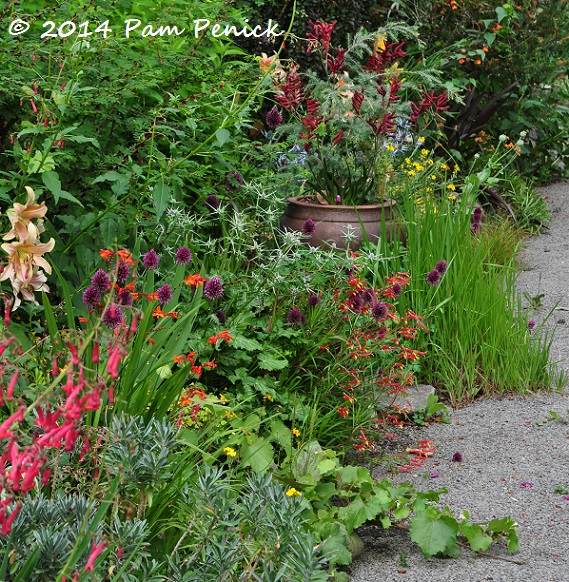 And more. I love the rich colors.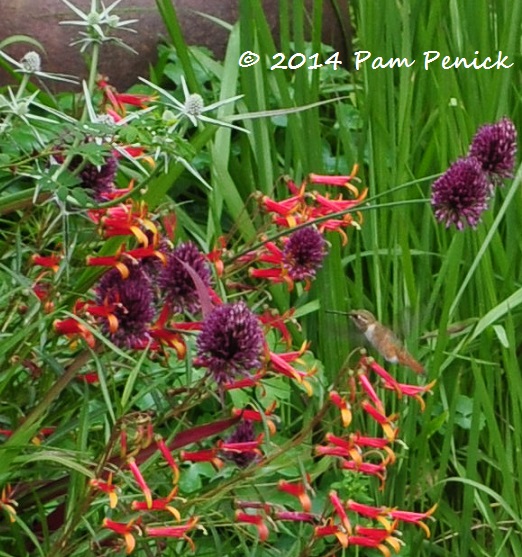 I watched a hummingbird working the border for some time and caught one blurred image.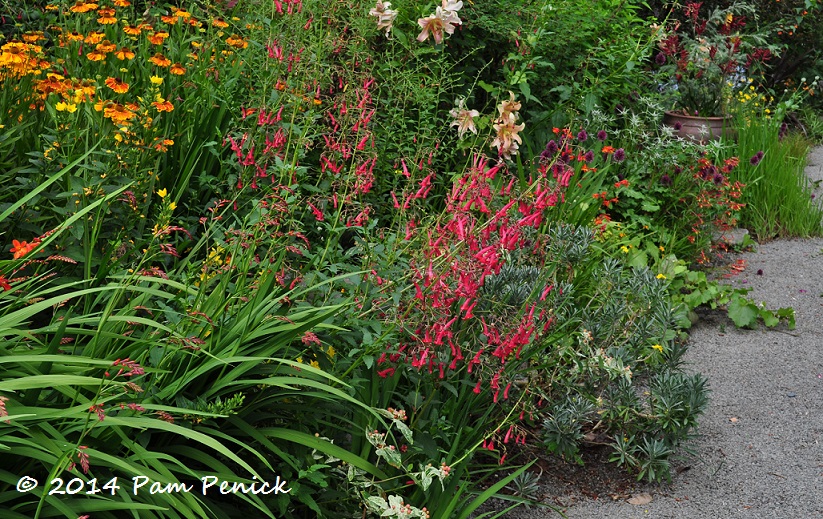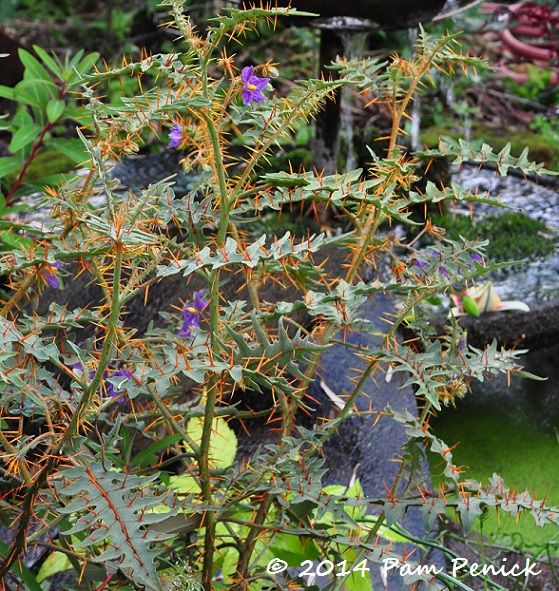 The other side of the border was intriguing also, with a spiky, orange-tinged Solanum pyracanthum in front of a tiered metal fountain. I once tried to talk Loree of Danger Garden into this plant at Cistus Nursery. "But you need it. It's dangerous!"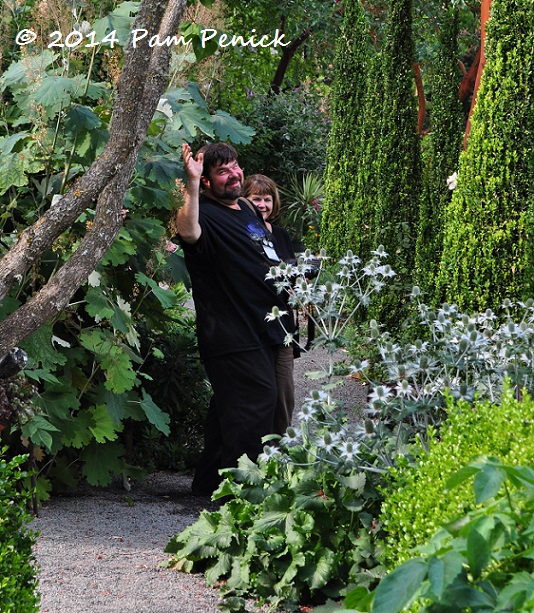 Speaking of whom, there's Loree with Peter, The Outlaw Gardener, who's giving me a this-is-the-life wave.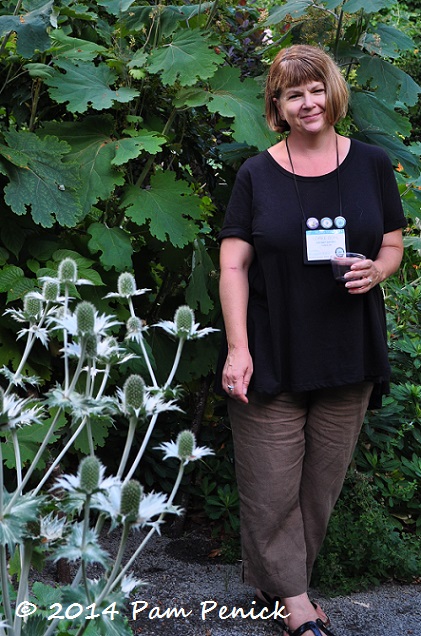 And here's Loree again, one of our incredibly organized, generous, and welcoming Fling hosts.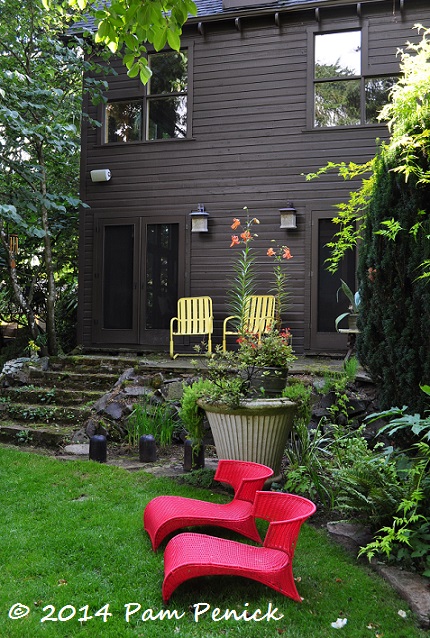 Bella Madrona is the 34-year-old creation of two retired physicians, Geof Beasley and Jim Sampson. Their magical garden is regularly the site of fundraising benefits, and the band Pink Martini, which has performed here, wrote "The Gardens of Sampson and Beasley" about it. Stacks of Pink Martini's CD Hang On Little Tomato, which contain the song, were generously donated to our group by the band when they heard we would be visiting the garden.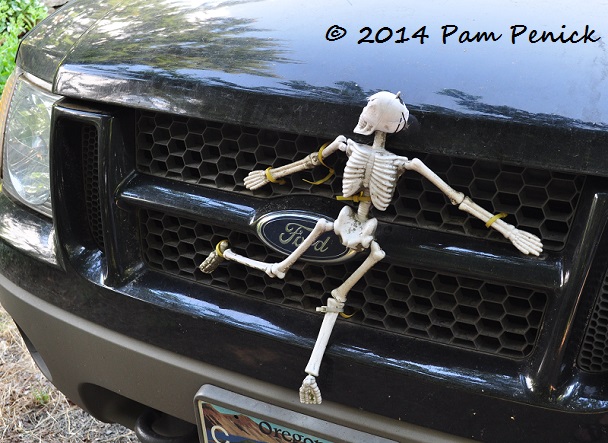 This skeleton affixed to the front of a truck in the driveway is perhaps a nod to the owners' former profession? It reminded me of a similar hood ornament at Wamboldtopia at the Asheville Fling in 2012. Actually, the whole garden bears a certain resemblance to Wamboldtopia, especially in its mysteriously magical mood and cast-off-object artistry.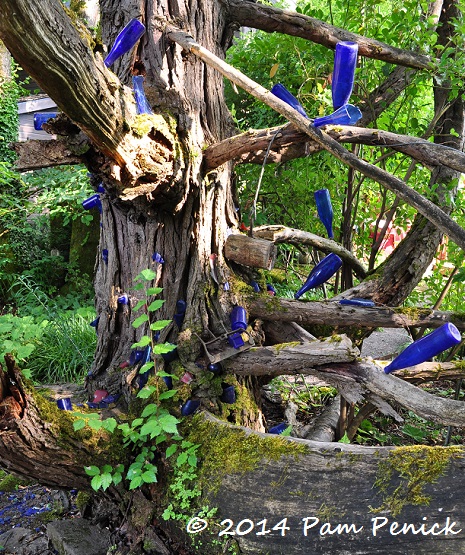 Wandering past the front of the house, I came across a living bottle tree.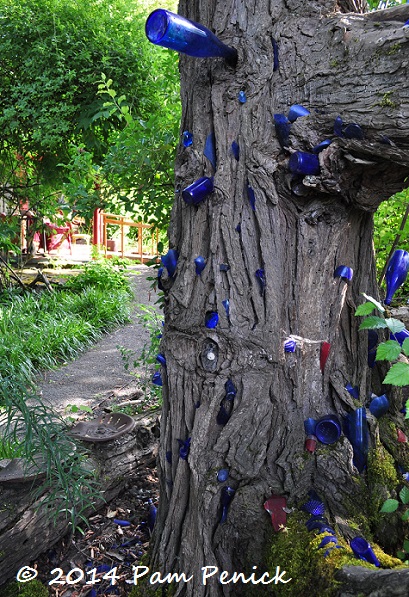 Chunks of glass were stuck in the folds of its massive trunk, reminding me of the pig's teeth in the wych elm of Howards End.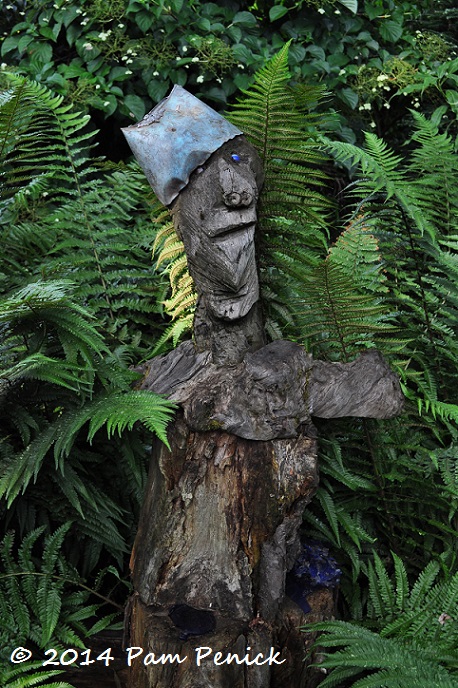 A carved, wooden figure wearing a tin hat, with a piercing, blue-eyed gaze, emerged from a swath of ferns.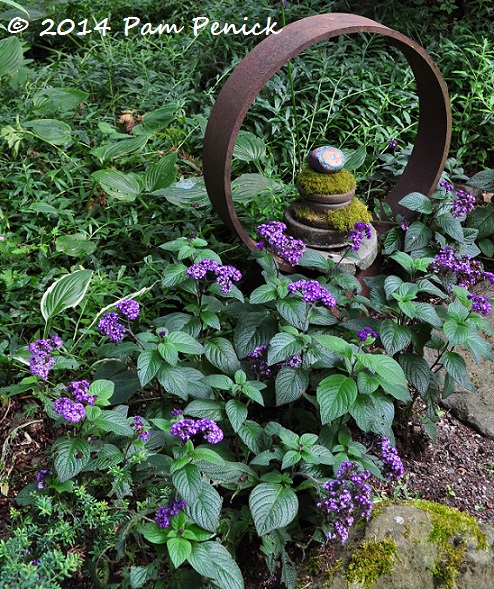 Here's a striking use for a steel pipe remnant.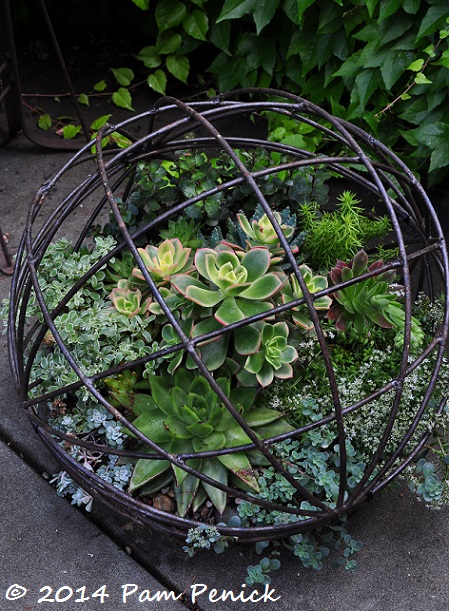 And a wire sphere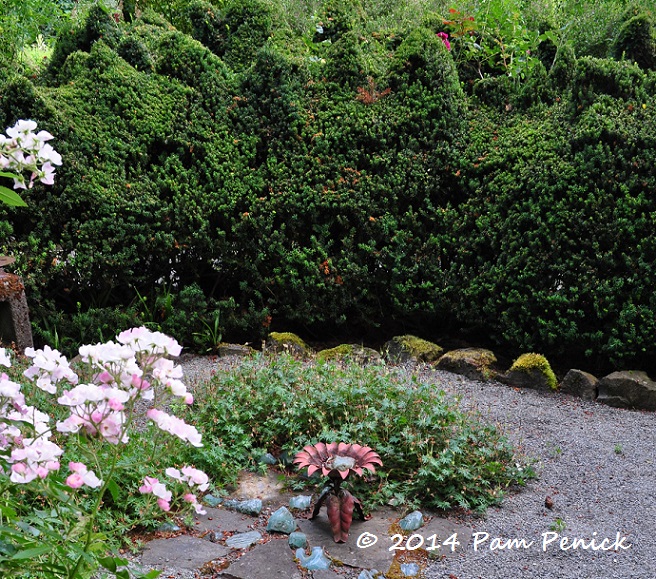 Heading back down into the main gardens I entered a room bordered by a randomly crennelated hedge — Piet Oudolf meets Sleeping Beauty's castle.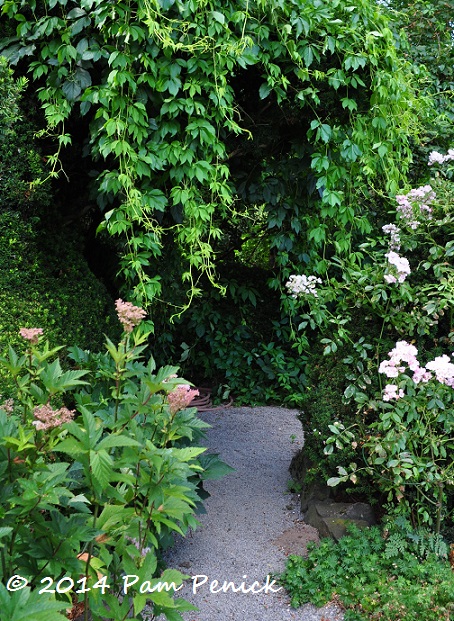 Secret gardens at every turn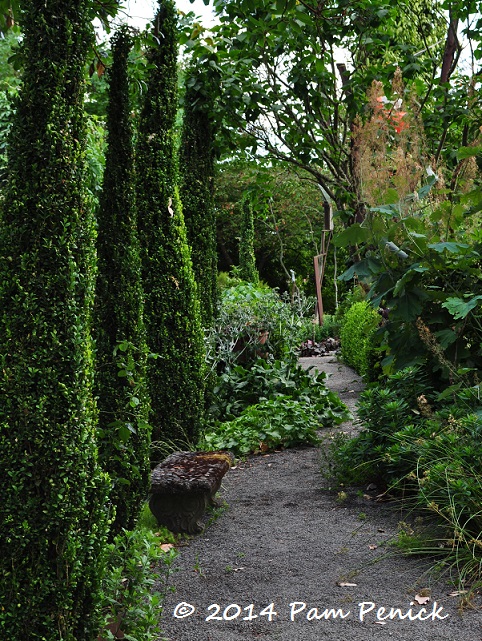 And inviting, wandering paths…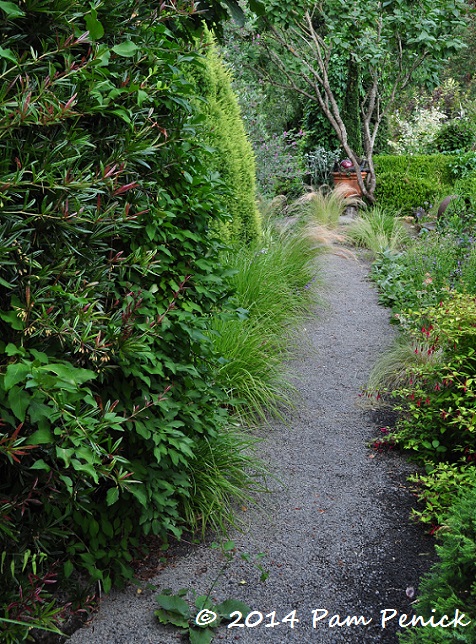 …full of mystery…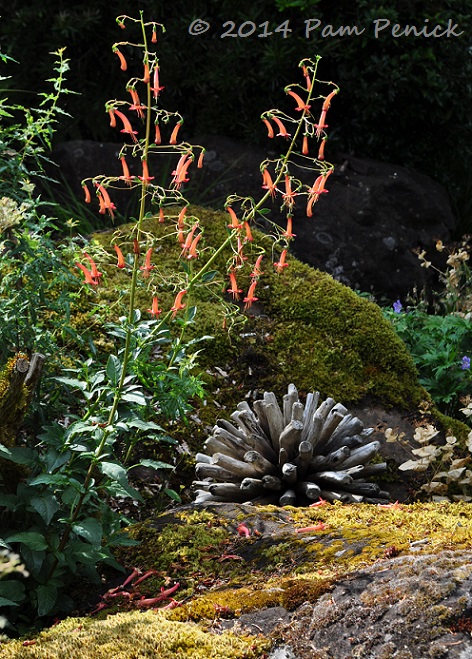 …and beauty…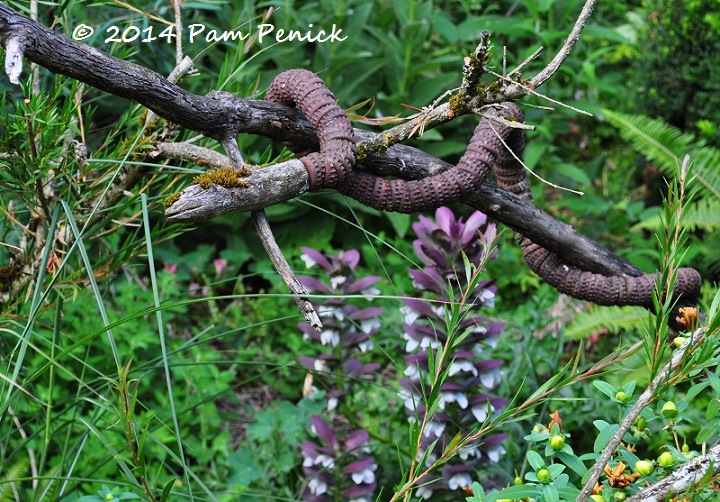 …and "danger"…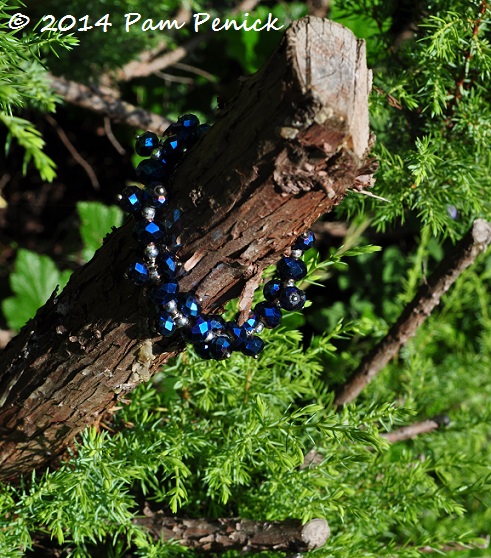 …and romance.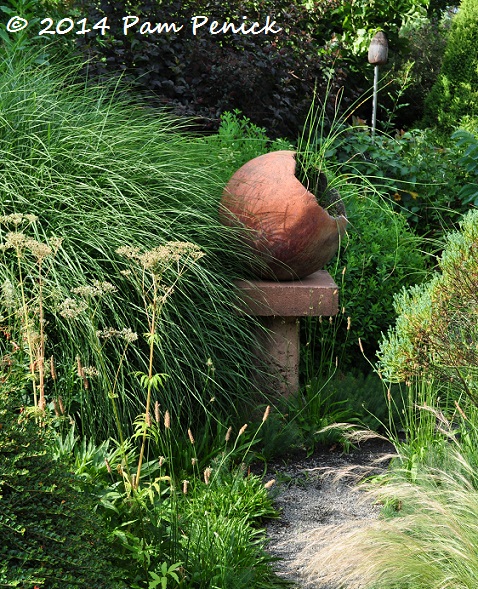 A cracked, hollow sphere appears, egg-like, to hatch an ornamental grass. I'm fairly certain this is a Little and Lewis piece.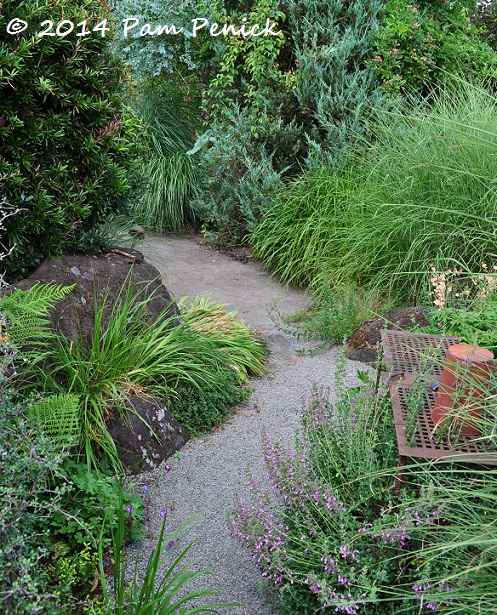 How could anyone resist paths that beckon you on with curves and hidden rooms ahead?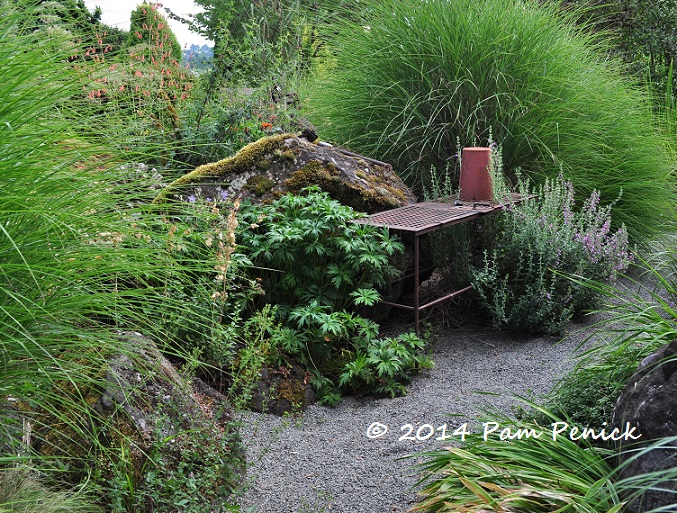 What lies around the bend?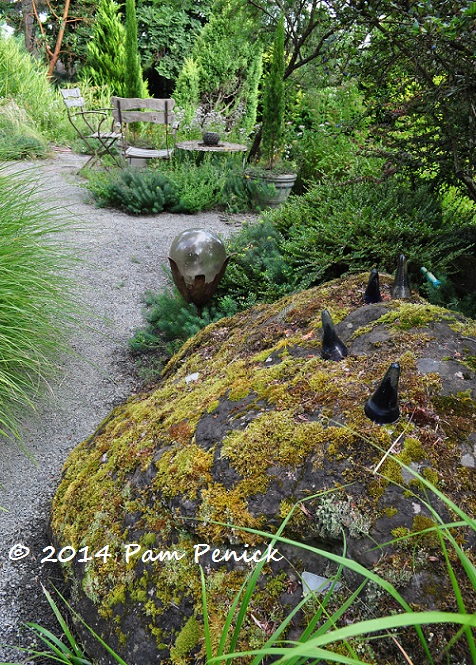 A boulder with glass horns and a spot to sit with a friend and enjoy the view…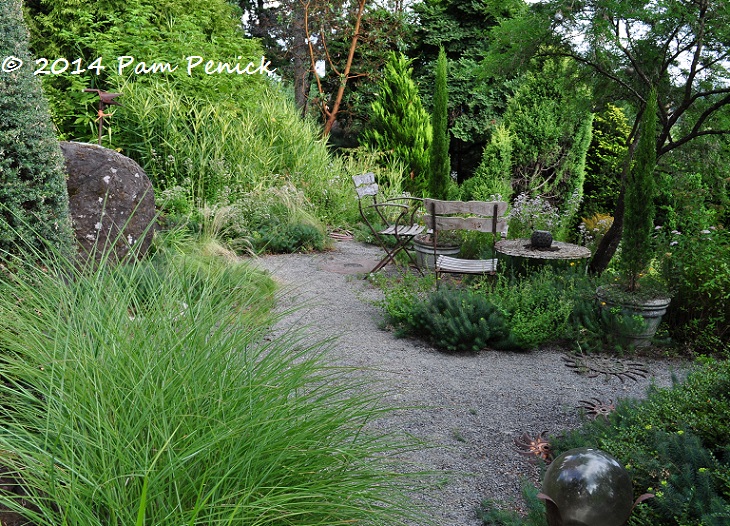 …surrounded only by grasses and conifers.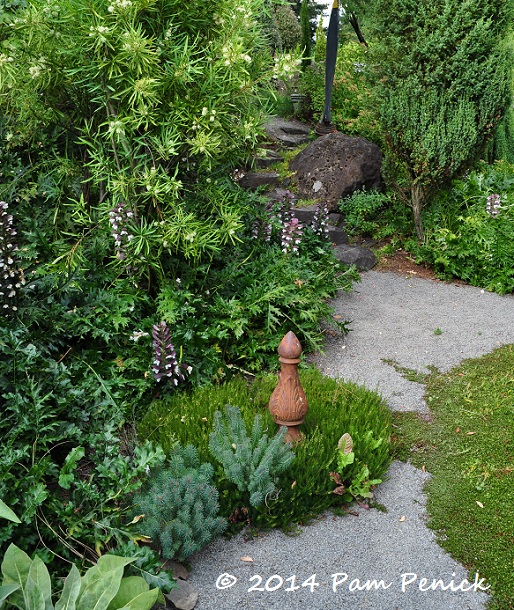 A few steps down from the chairs and table…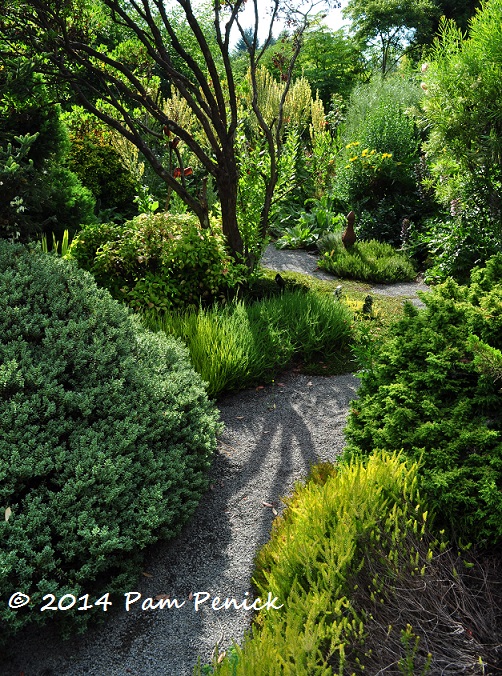 …I came upon a golden garden around sunset.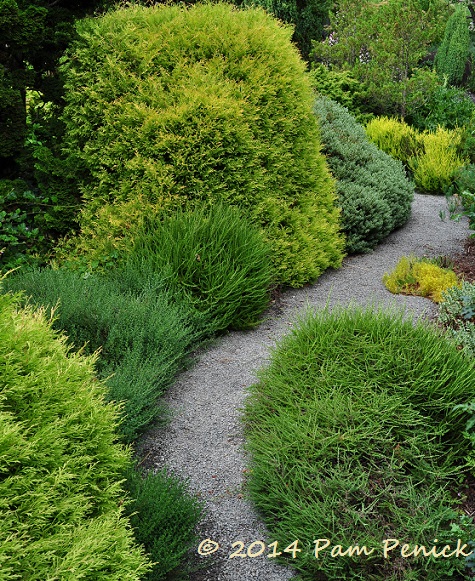 It glowed with gold and chartreuse foliage. I felt I'd stepped into King Midas's garden.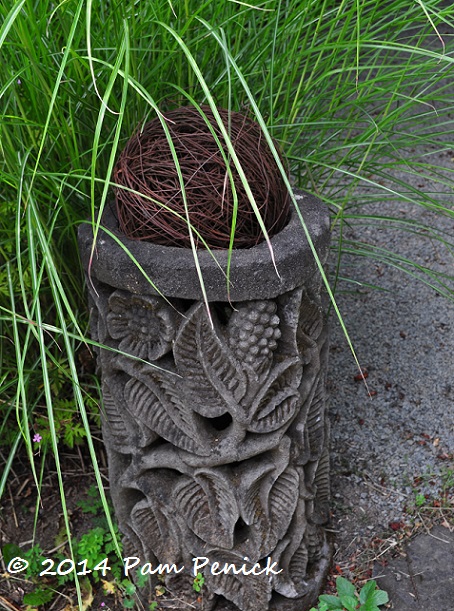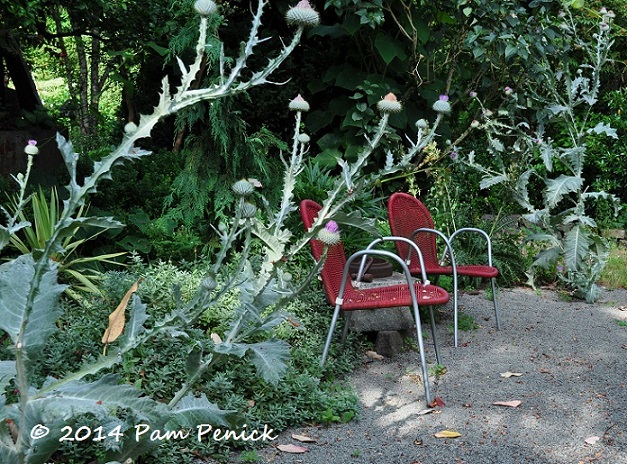 Continuing on, I encountered a pair of red chairs enclosed by tall…thistles?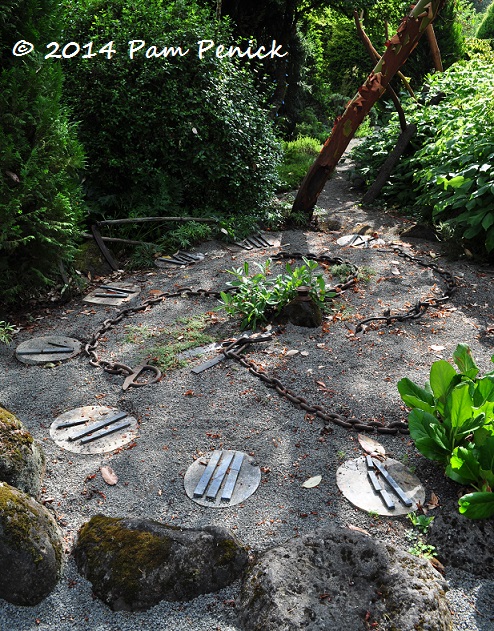 In yet another small clearing, a sundial or clock made of chains, round pavers, and straight sections of slate reminded me that it was getting late.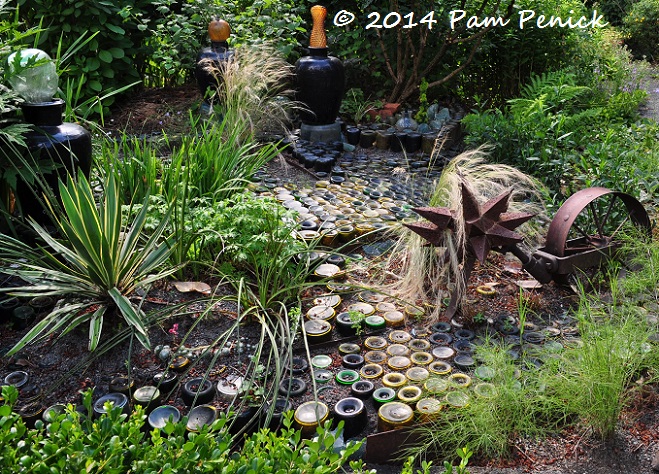 Heading back, I was enchanted to find a small patio paved with bottoms-up wine bottles. I wonder where they get all these bottles?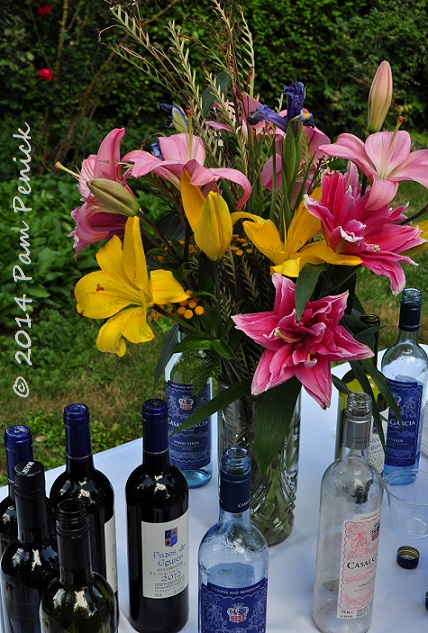 Oh, never mind. Here's a beautiful bouquet on a table of drinks and food set up for our group on the main lawn.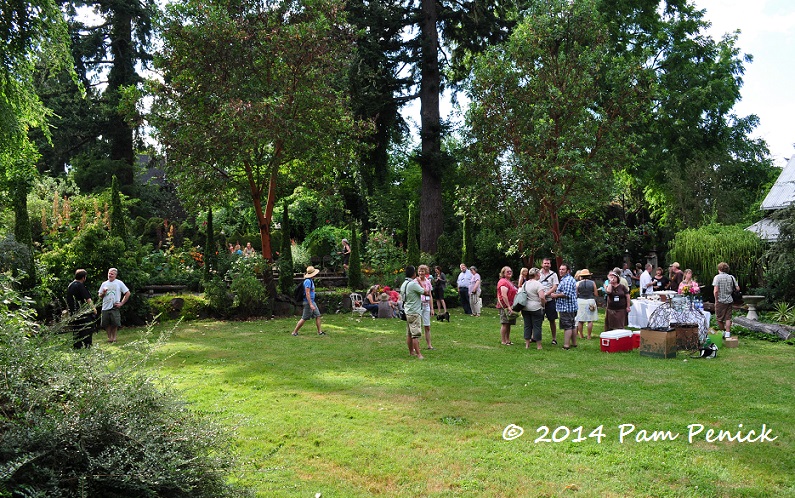 Our group of 80 bloggers, plus one very enthusiastic bus driver, gathered here for refreshments and conversation…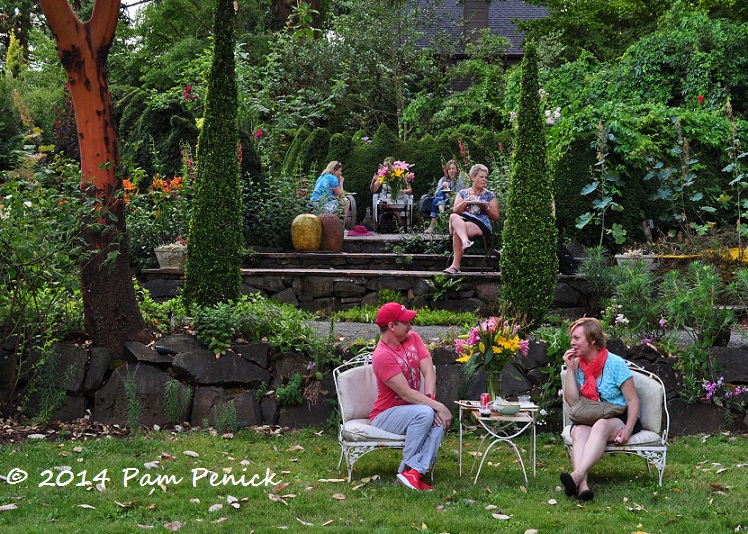 …sitting with friends for a while before drifting away to explore the winding paths of Bella Madrona.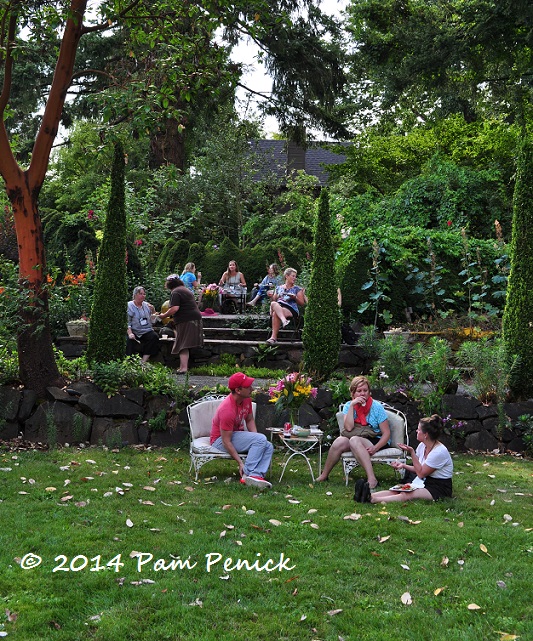 What a magically wonderful way to end the Fling.
My thanks to the owners of Bella Madrona and all the other gardens for welcoming us so warmly into your delightful creations. And huge applause and congratulations to the Portland Fling planning committee — Scott Weber at Rhone Street Gardens, Loree Bohl at Danger Garden, Heather Tucker at Just a Girl with a Hammer, Jane Howell-Finch at MulchMaid, and Ann Amato-Zorich at Amateur Bot-ann-ist — for putting together such an incredible event. Thank you, thank you!
Up next: A pre-Fling drive out to the scenic, wild Columbia River Gorge and then to Cannon Beach. For a look back at the foliage-rich, xeric garden of John Kuzma, click here.
All material © 2006-2014 by Pam Penick for Digging. Unauthorized reproduction prohibited.
posted in
Arbors
,
Bottle tree
,
Bouquets
,
Containers
,
Decor
,
Fling Portland
,
Garden art
,
Garden structures
,
Garden tours 2014
,
Grasses
,
Lawns
,
Paths
,
Patios & decks
,
Rock
,
Sculpture
,
Seating
,
Succulents
,
Travel
,
Trees
,
Tropicals
,
Walls
,
Water features
,
Windows
,
Yuccas