April 1st, 2016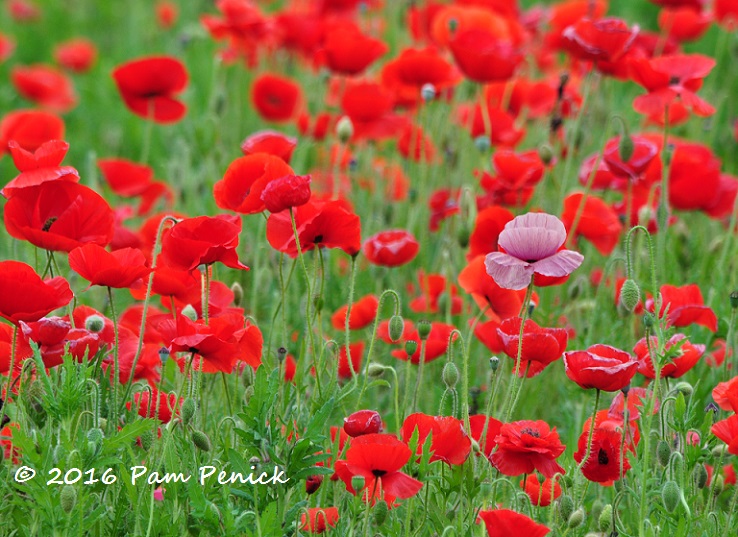 Mom and I stopped at Wildseed Farms, just east of Fredericksburg, Texas, on the way home from our Hill Country wildflower drive on Tuesday. Wildseed Farms grows wildflowers for their seed, which it sells to landscapers, retail customers, and highway departments that seed wildflowers along roadsides. With fields of flowers viewable from a nature trail, plus a pick-your-own field, it's become a destination nursery that attracts 350,000 visitors each year.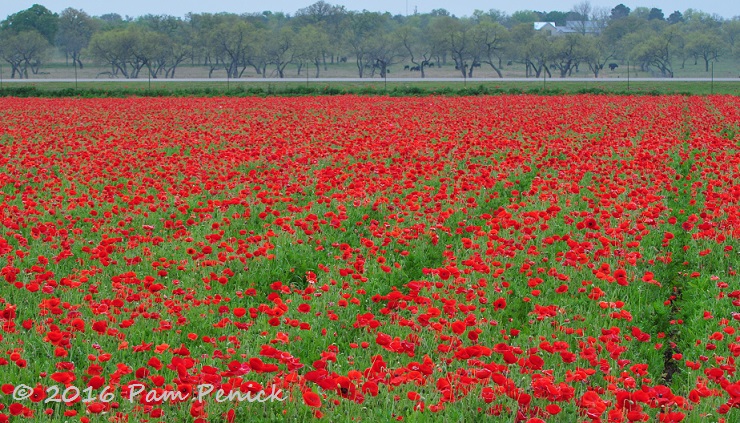 At this time of year, the fields closest to the farm's gift shop are ablaze with red corn poppies (Papaver rhoeas). Because they're native to Europe, not Texas, you won't see these blooming along Texas highways (we're all about native wildflowers here). But they're still awfully pretty massed in rows, and we spent a half-hour or so admiring them.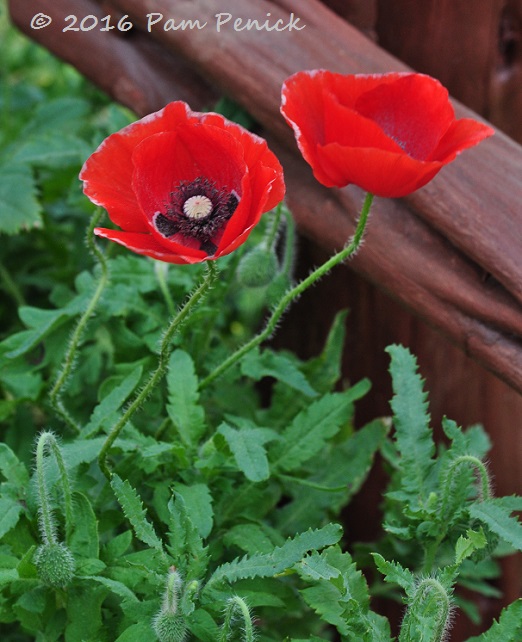 Up close, the wiry, hairy stems are visible.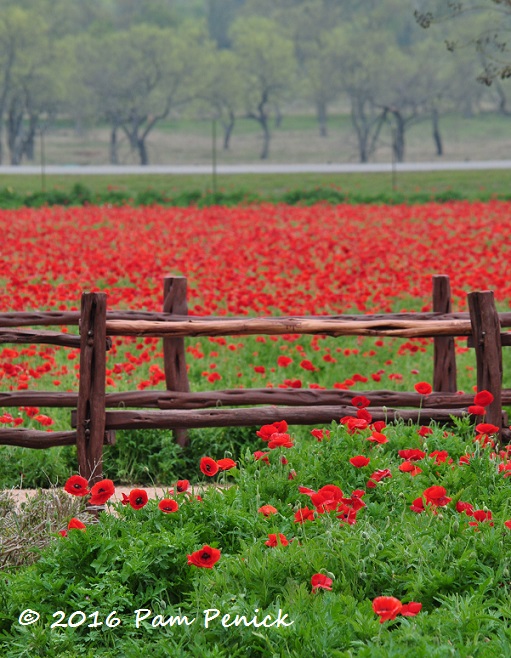 From a distance, it's a carpet of red.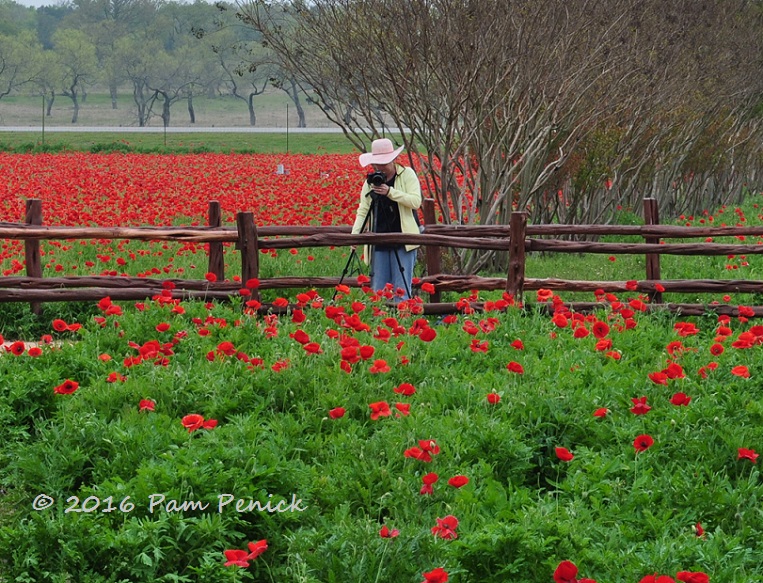 Other visitors were getting pictures too.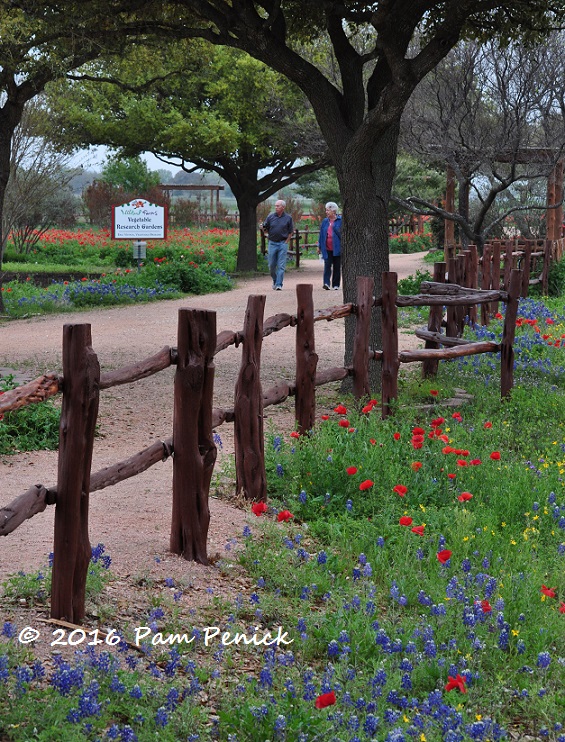 Still others were content just to wander amid the colorful display.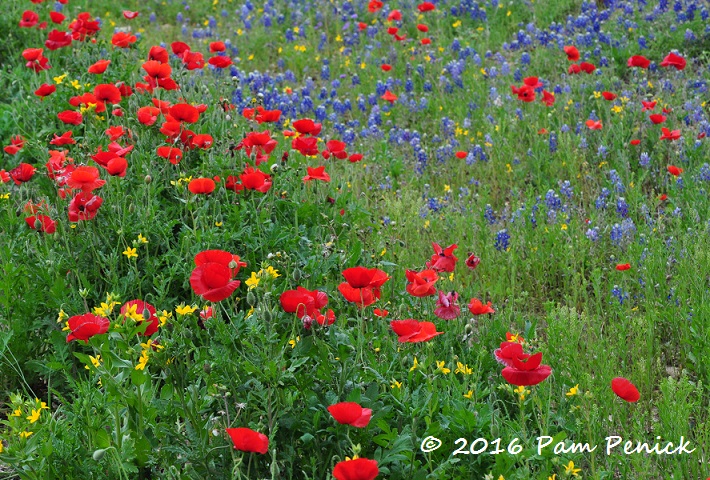 Alongside the paths, native bluebonnets mingled with the poppies.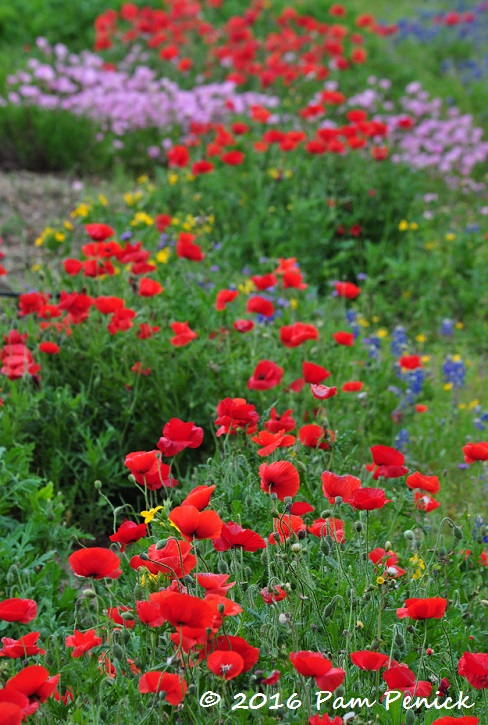 Red poppy ribbon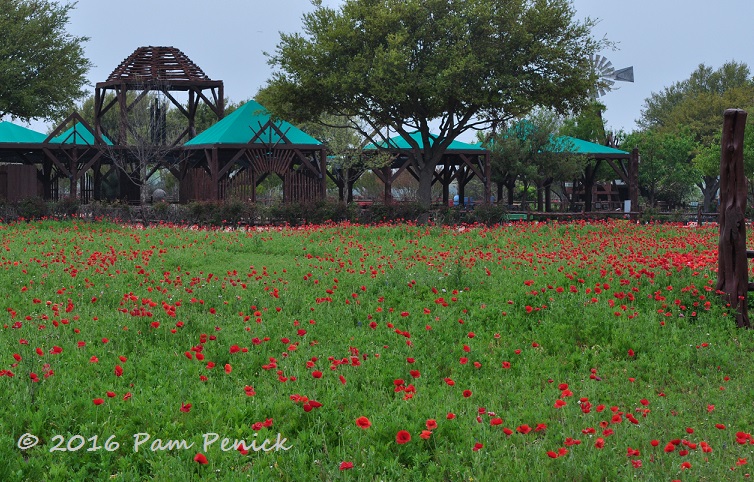 This field was just beginning to bloom. In the background, shade structures shelter outdoor seating. The place is huge, and sometimes they have a band playing live music.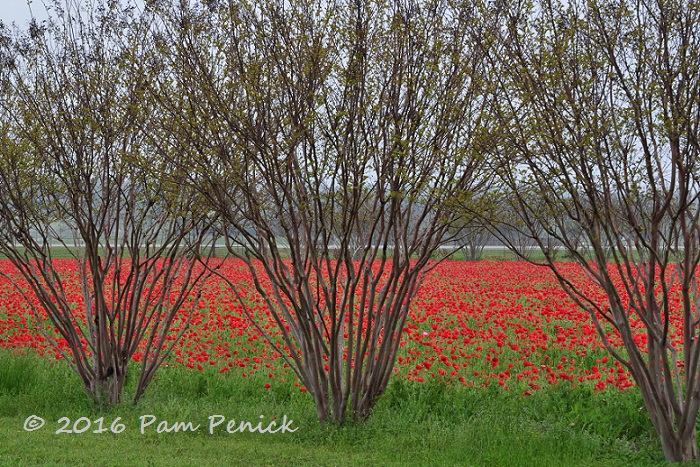 A row of crepe myrtles divides one poppy field from another. Notice the beautiful form of these crepes. No one has butchered them (i.e., committed crepe murder) over the winter, thank heavens.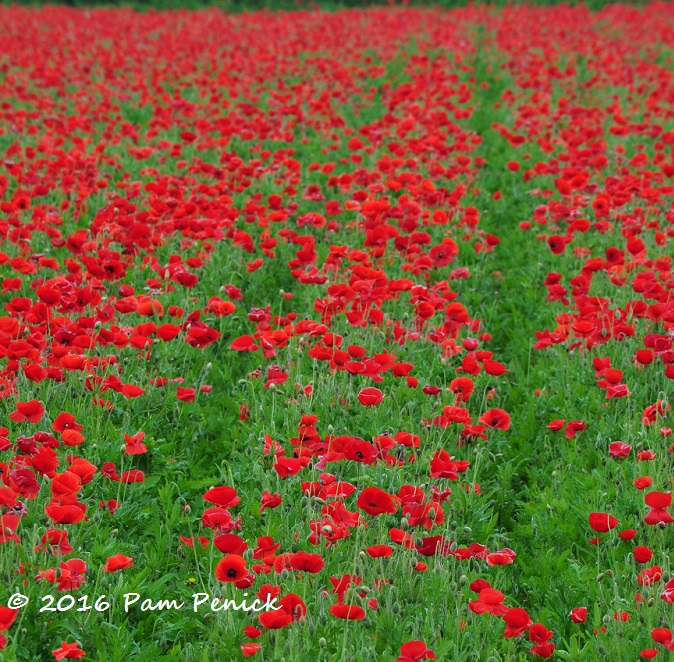 Vivid color!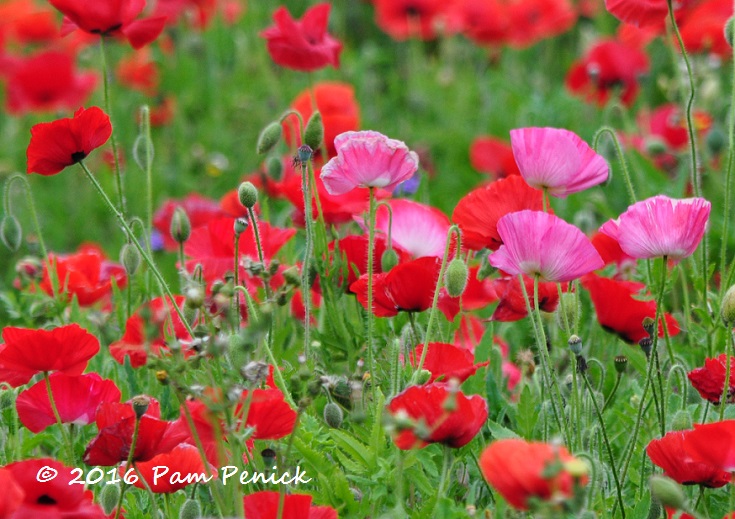 I always enjoy spotting a few mutants among the reds, like these pink poppies. They make the reds look even better.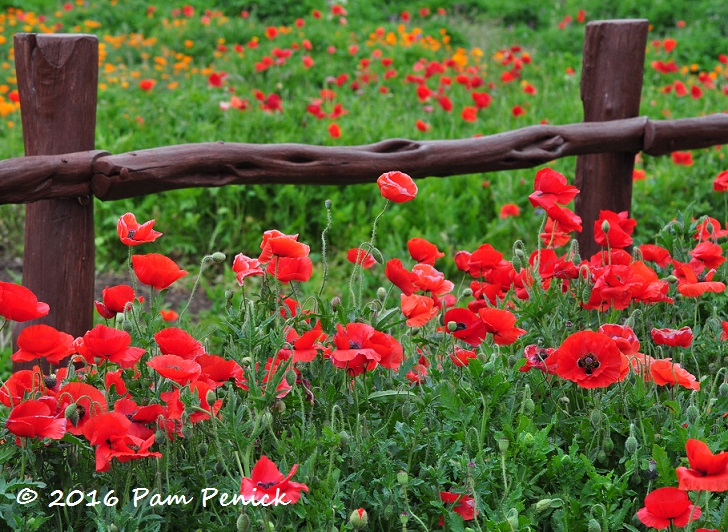 Behind these corn poppies I noticed some orange ones.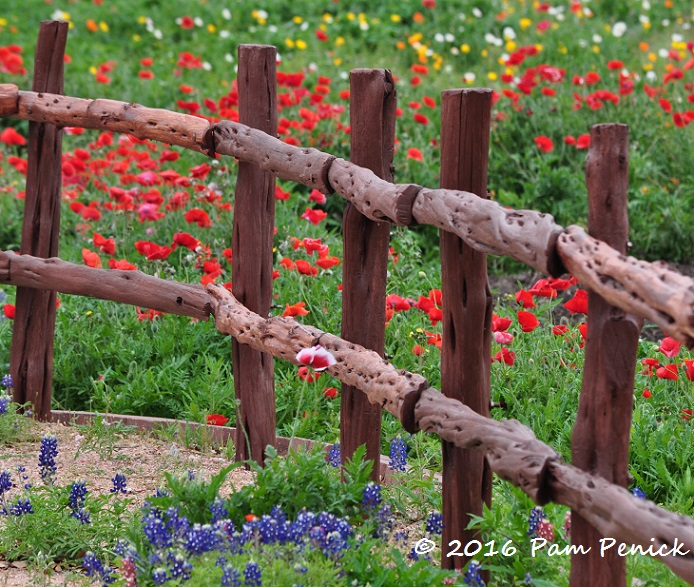 And other colors as well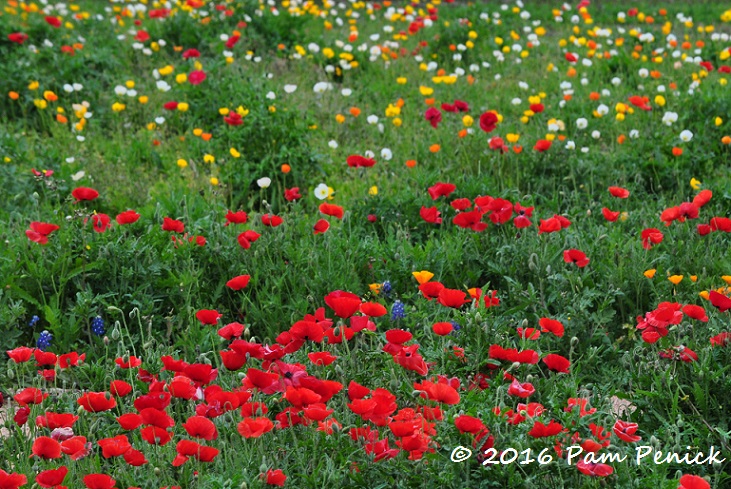 It's like confetti at a parade.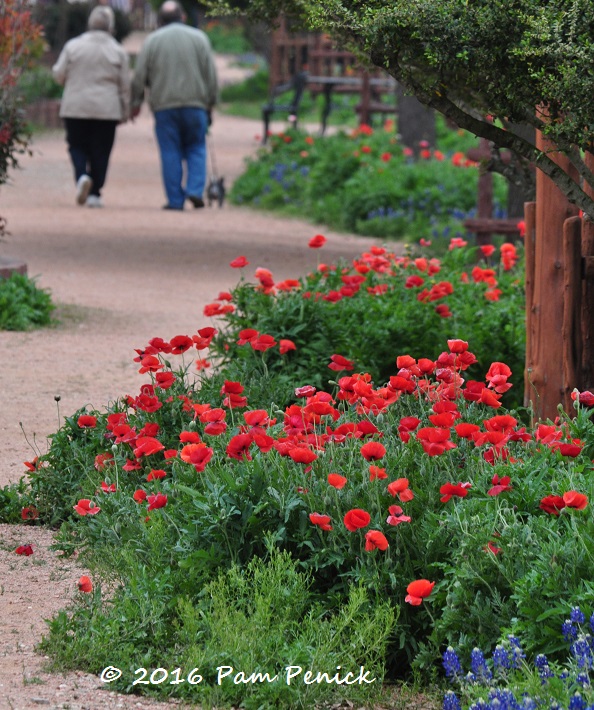 If you've never stopped at Wildseed Farms on the way to Fredericksburg, you should. Especially now.
I welcome your comments. If you're reading this in an email, click here to visit Digging and find the comment link at the end of each post.
_______________________
Digging Deeper: News and Upcoming Events
THIS WEEKEND: Come meet me at Zilker Garden Festival, Austin, TX, April 2 & 3
Get your gardening mojo on at Zilker Garden Festival! I'll be at the brand-new Author Booth both days this weekend between 10 am and 2 pm (near the main building entrance), and I'll be selling signed copies of The Water-Saving Garden and Lawn Gone! ($20 each). Zilker Garden Festival is the garden's only fundraiser (and it needs our support) and offers all-day entertainment, vendor shopping, plant sales, demonstrations, live music, a beer garden and food vendors, children's activities, a garden train, a flower show, and a docent-led tour of lovely Zilker Botanical Garden. Don't miss it!
Join me for lunch downtown at Holy Grounds coffee shop and cafe on Wednesday, April 6, at noon. As part of their Coffee with the Author series, KUT's Jennifer Stayton will interview me and host a Q&A with the audience — i.e., y'all — and afterward I'll sign copies of The Water-Saving Garden and Lawn Gone!. I hope to see you there for this intimate, lunchtime event. Holy Grounds is located in the main building of St. David's Episcopal Church at 301 East 8th Street in downtown Austin. You can park in the surface lot in front of St. David's main doors.
Do you review? Have you read my new book, The Water-Saving Garden? If you found it helpful or inspirational, please consider leaving a review — even just a sentence or two — on Amazon, Goodreads, or other sites. Online reviews are crucial in getting a book noticed. I really appreciate your help!
I'm on Instagram as pamdigging. See you there!
All material © 2006-2016 by Pam Penick for Digging. Unauthorized reproduction prohibited.
posted in
Annuals
,
Arbors
,
Color
,
Farms
,
Fences
,
Flowers
,
Garden tours 2016
,
Nurseries & Shops
,
Paths
,
Spring color
,
Travel
,
Trees
,
Views
,
Wildflowers