April 27th, 2015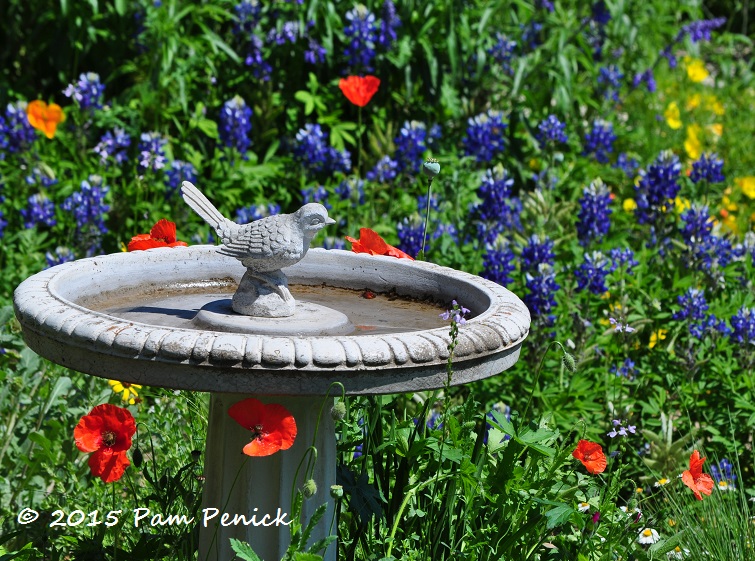 Two weeks ago my friend Jenny Stocker, blogger at Rock Rose and gardener extraordinaire, offered me a division of a water iris for my pond. When I arrived, mid-morning on a sunny, warm day, Jenny gave me a tour and then kindly set me loose to wander around on my own and take photos.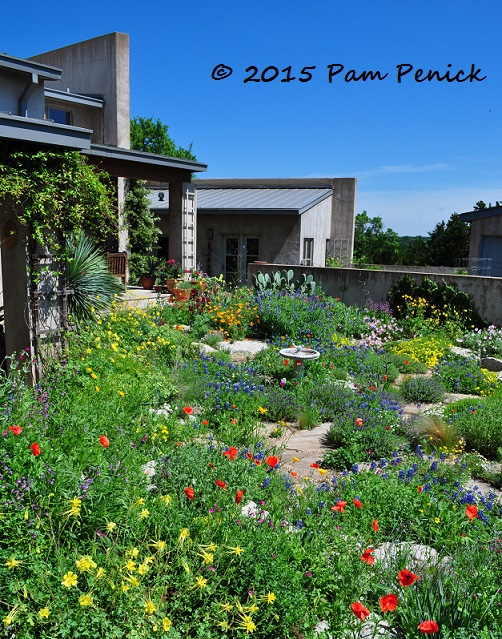 I've photographed Jenny's England-meets-Texas garden on several occasions (links at the end), and I never tire of it. Her talent with design — although she'll swear that everything just self-seeds, and she's had little to do with it — means there are focal points and framed views galore, making her garden not only beautiful to explore in person but very photogenic.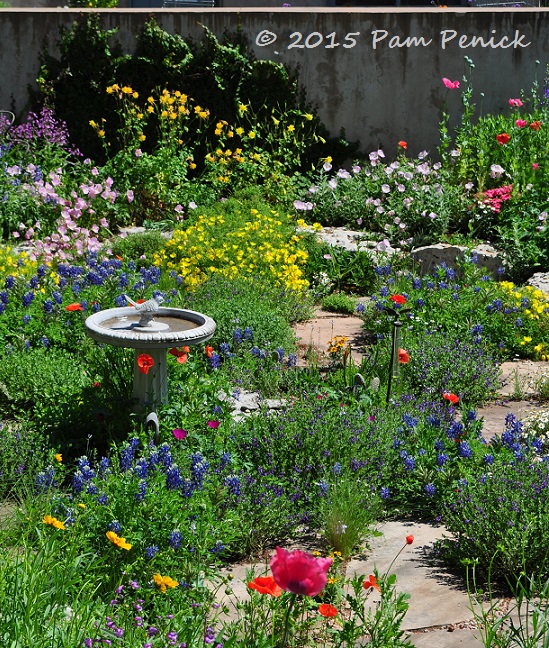 When Jenny leads visitors around her garden, she always starts in the front courtyard and works her way around the side of the house, through the rose garden, and into the sunken garden pictured here. Stepping into the riotously blooming garden of native and cottage wildflowers induces oohs and ahhs, especially in springtime.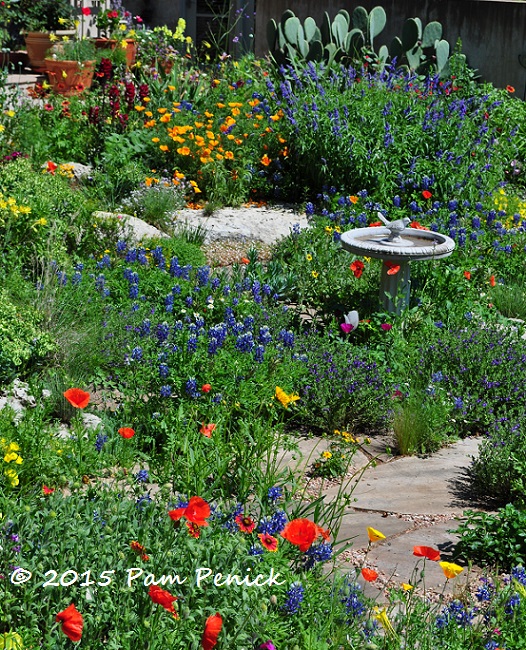 I'm going to give you the tour in reverse order, partly for a change of pace but also as a tribute. You see, Jenny's garden was slammed by a hailstorm 5 days after I visited. The hail, which merely pockmarked my agaves in northwest Austin, unleashed its fury on southwest Austin and pounded flat her tender annuals, vegetables, and succulents. It broke glass ornaments and shredded the new, green leaves from the live oaks, strewing them across the ground like confetti. The sunken garden was especially hard hit.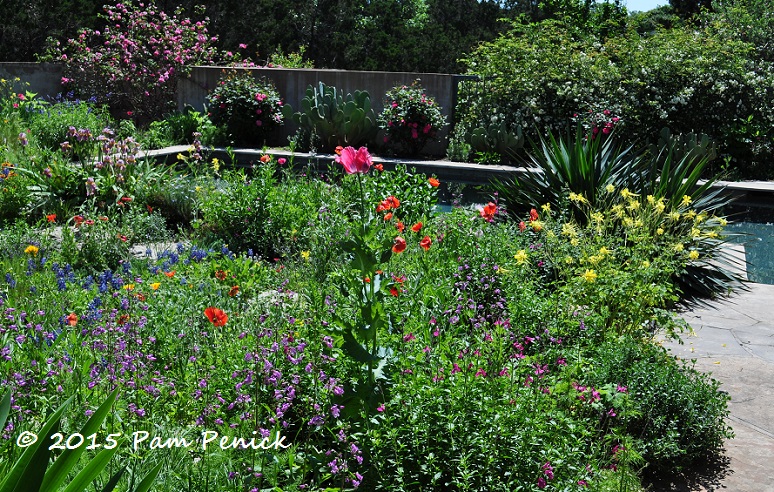 A week later, she's philosophical about the damage, knowing the shrubs, roses, and trees will rebound quickly, already seeing new growth on perennials, and hopeful that plenty of dormant wildflower seeds remain in the soil to emerge next spring. After all, her plants are Texas tough, and the natives especially are adapted to these destructive weather events.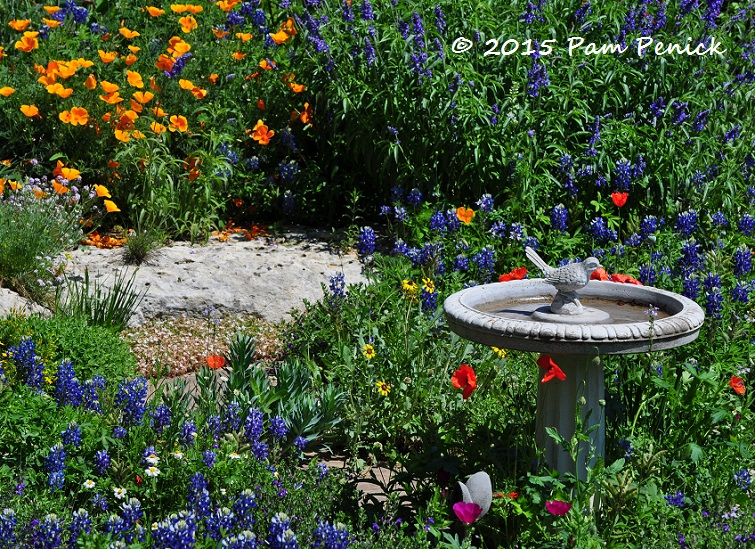 It was painful to hear of her losses, and I've held off on posting these pre-hail pictures, worried they wouldn't bring her any pleasure. But at a blogger get-together last Saturday, she assured me that she was fine and encouraged me to post. So here they are, with a reminder to enjoy moments of beauty whenever you see them.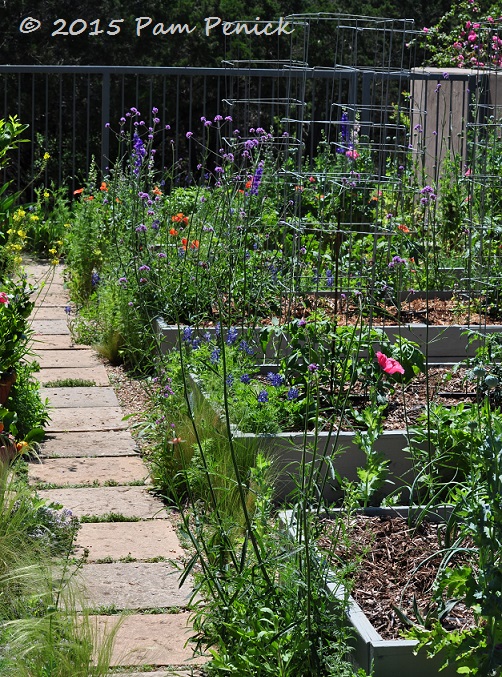 The potager, abloom with Verbena bonariensis, poppies, and bluebonnets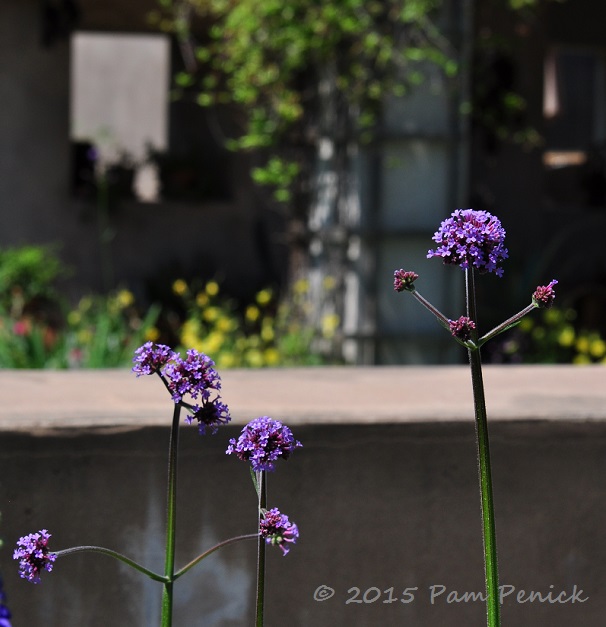 The verbena seemed to be poking its flowery head above the wall separating the potager from the sunken garden for a better view.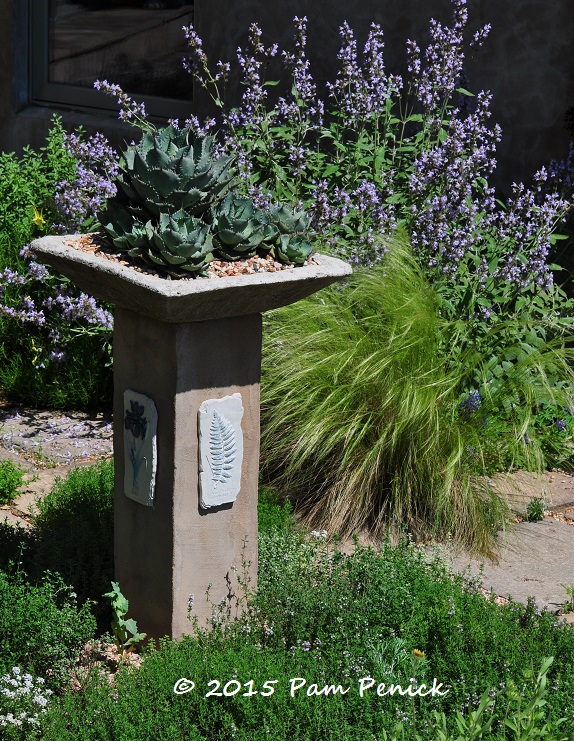 I love this vignette of agaves clustered in a shallow, square planter atop a sturdy pedestal, with Mexican feathergrass and salvia billowing around.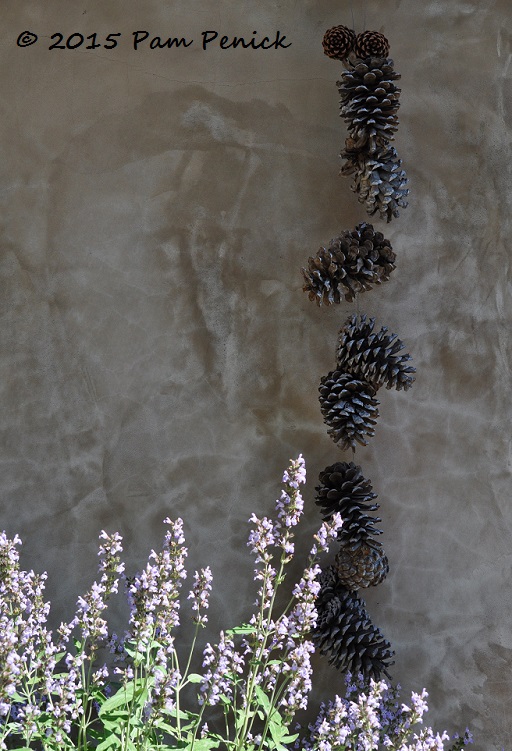 Along one tan stucco wall, pine cones are strung on a wire for a casual, charming decoration.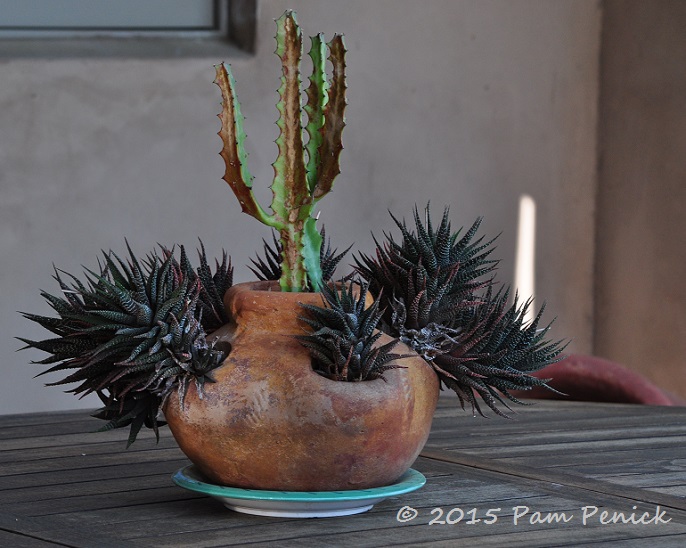 Jenny has a flair for potted arrangements. Doesn't the succulent in the center look like a miniature saguaro?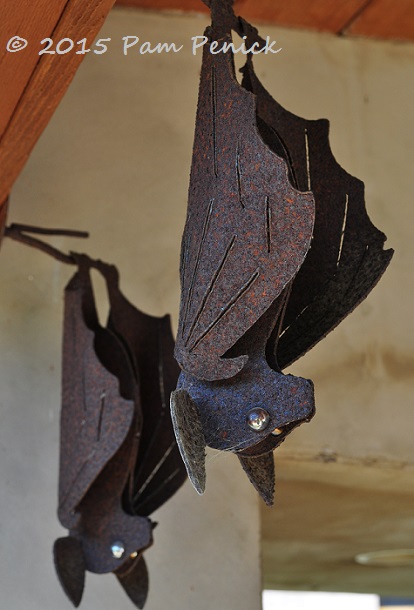 Austin is famous for its bat colony, and every Austin garden should have a few as well.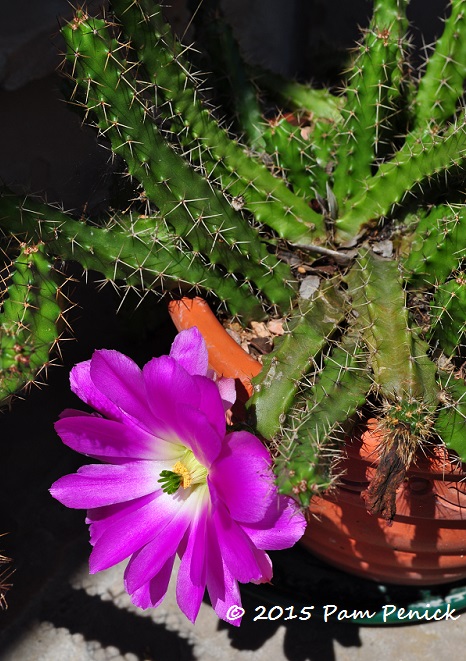 The spiniest plants have the most glorious flowers.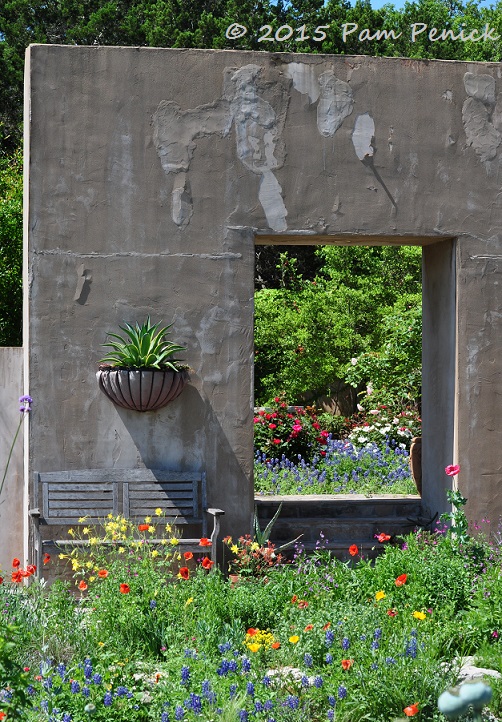 The view across the sunken garden. A doorway in a monumental wall frames the view…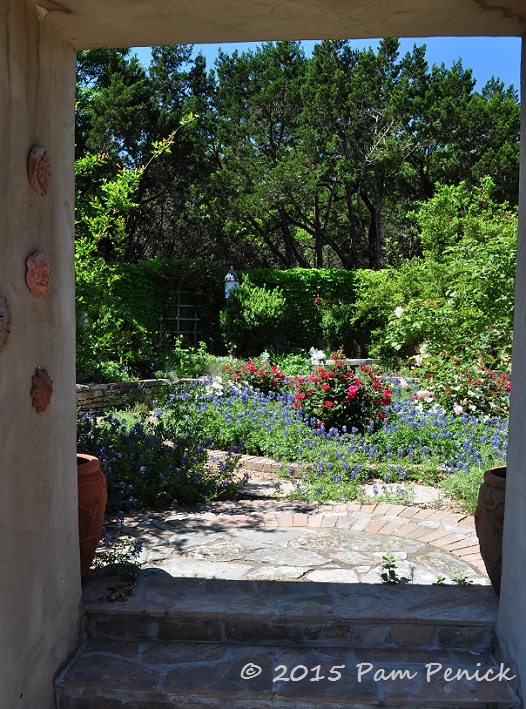 …of a rose garden laid out in a circular design.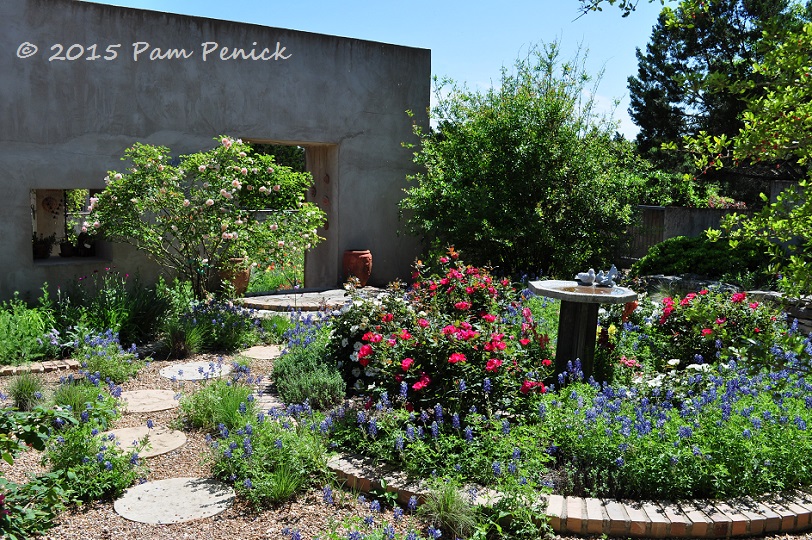 Round pavers lead around the central, circular bed of roses and bluebonnets.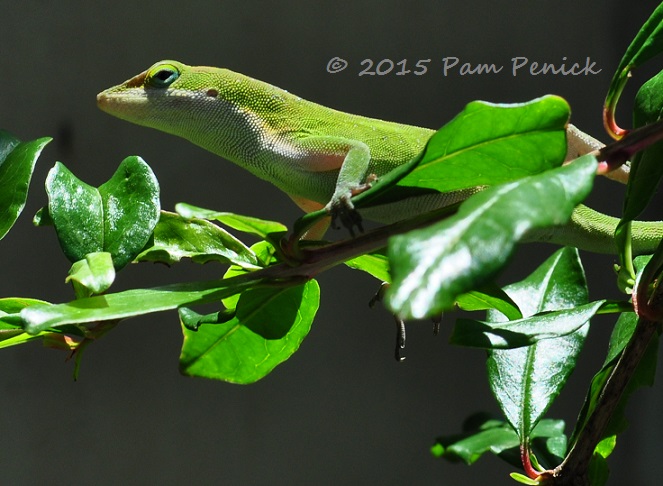 I spotted an anole hunting amid the foliage, and he boldly posed for a photo.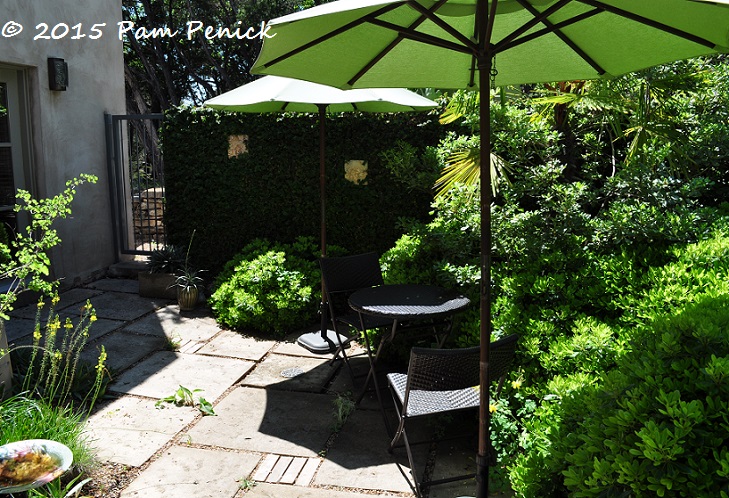 Moving around the side of the house, you enter a small, walled garden of evergreen shrubs and vines. A pair of green umbrellas provides shade.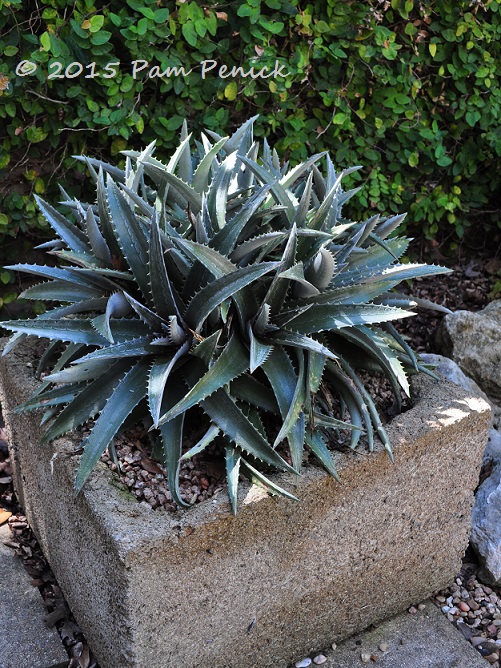 A handsome, silver dyckia shines against a backdrop of fig ivy.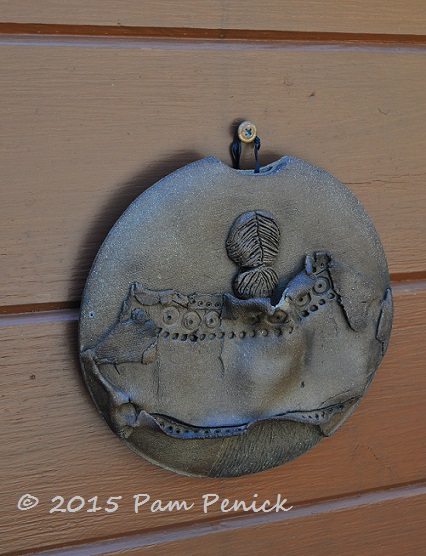 Jenny has many unique pieces of garden art, including this circular ceramic hanging on a wooden gate.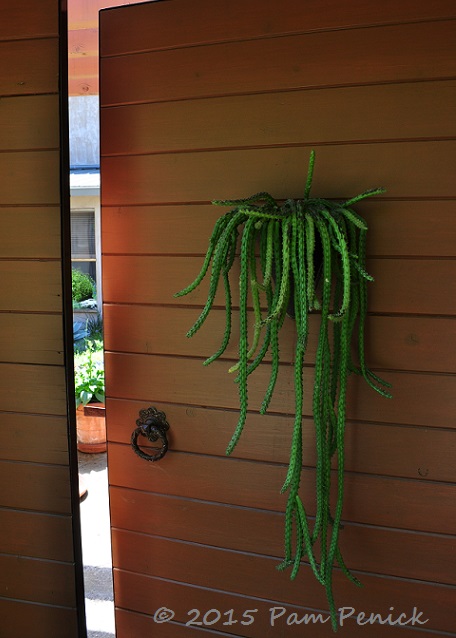 On the door into her walled front courtyard, a rat-tail cactus (I think) cascades from a wall planter.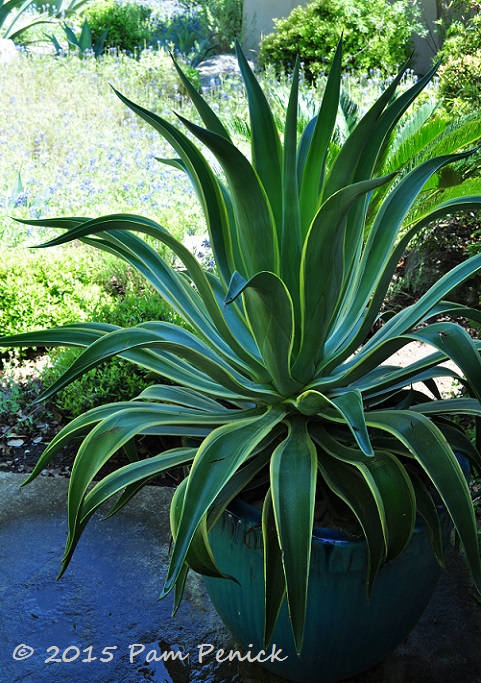 A variegated Agave desmettiana adds a sculptural accent by the door. Jenny moves these beautiful but tender agaves into the garage in winter.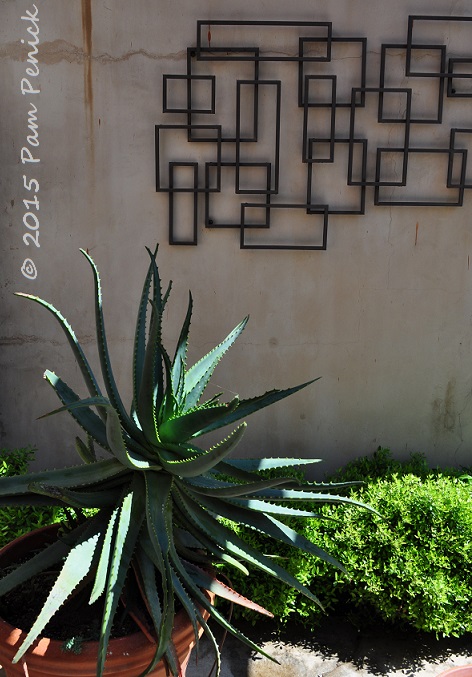 Stepping through the doorway you see a large potted aloe and contemporary wall art.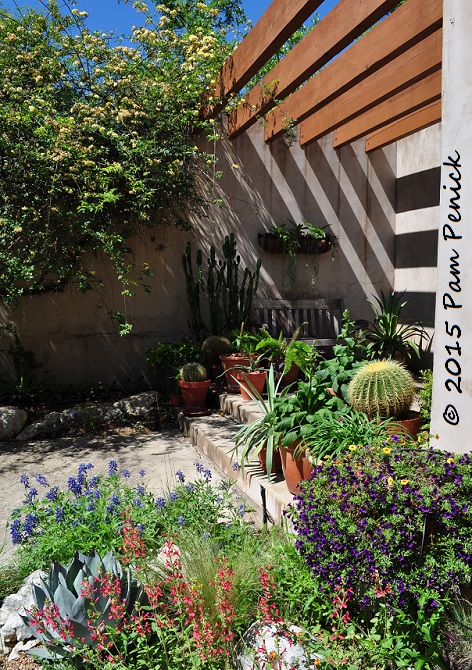 A substantial arbor shades the garden entrance…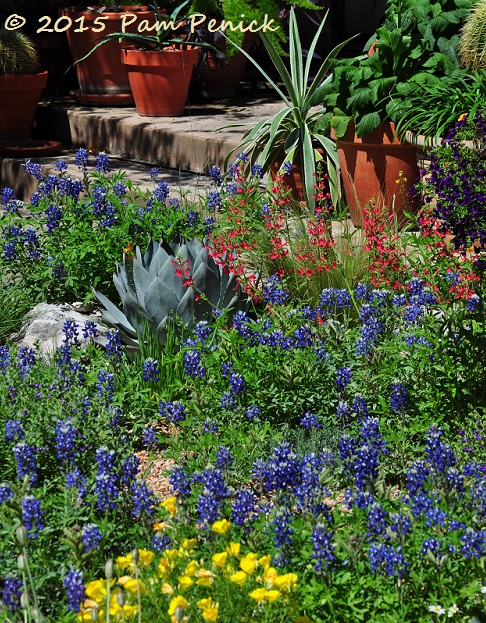 …but the garden itself basks in sunshine. Gravel mulch offers the perfect habitat for a carpet of bluebonnets in springtime.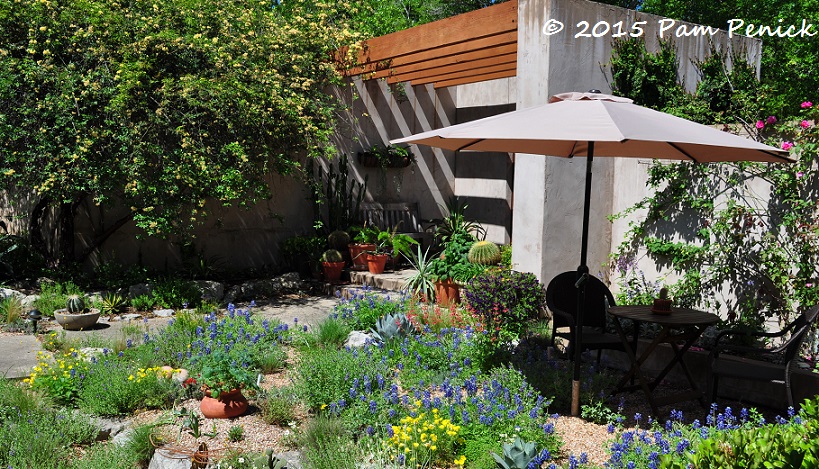 A Lady Banks rose smothers the wall at left, while on the right, like an island amid a sea of flowers, an umbrella shelters a table for two.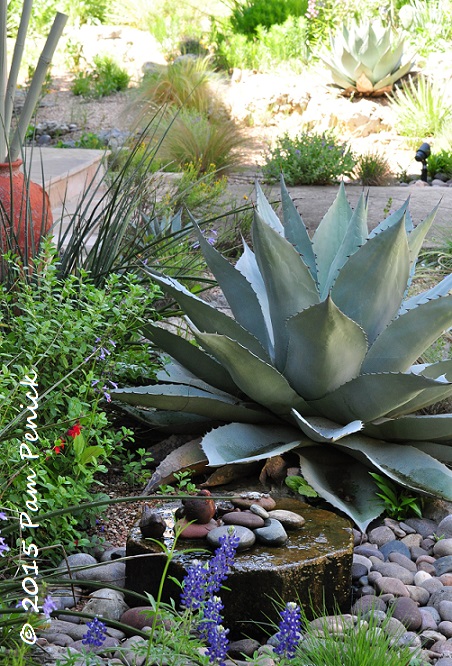 A millstone-style fountain bubbles quietly nearby, offering an invitation to birds and other garden creatures. Lapped by pastel river rock, a lovely 'Whale's Tongue' agave lifts its arms toward the sun.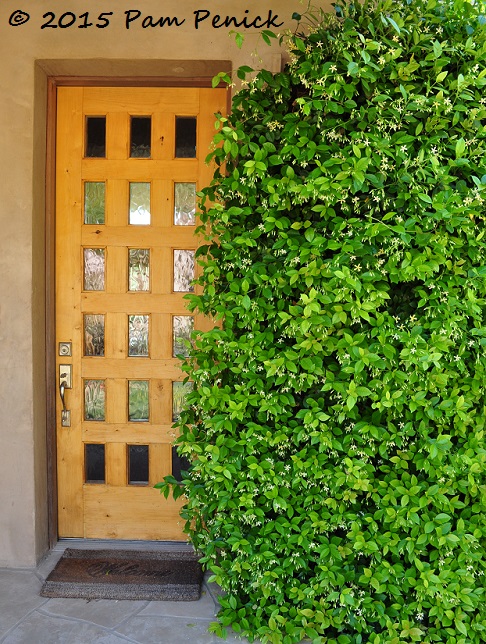 Welcoming visitors at the front door, a yellow star jasmine (Trachelospermum asiaticum) wafts its sweet fragrance into the house.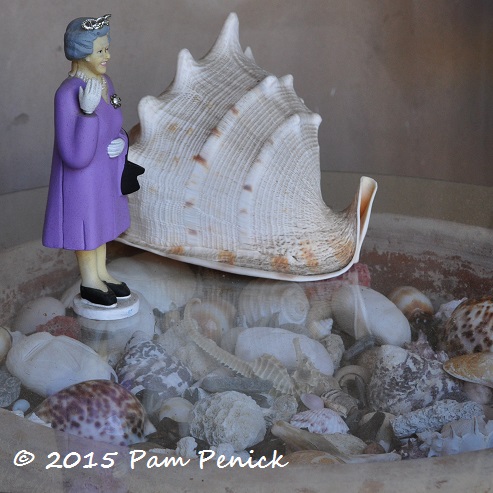 I smiled to see this bobble-handed Queen Elizabeth waving benignly in the breeze — a nod to Jenny's English heritage?
My thanks to Jenny for sharing her garden with me again, and for the water iris, which bloomed for me the very next day. As for the hail, I hope she's already seeing nature's quick recovery underway in her garden.
For more posts about Jenny's garden:
Jenny Stocker's English Texas gravel garden
Feeding the soul in Jenny's garden
Jenny's flower-licious walled garden
Meeting Carol & a tour of Jenny Stocker's garden
All material © 2006-2015 by Pam Penick for Digging. Unauthorized reproduction prohibited.
posted in
Agaves
,
Aloes
,
Annuals
,
Arbors
,
Birds
,
Cactus
,
Containers
,
Decor
,
Doors
,
Dry Streams
,
Dyckias
,
Edibles
,
Fountains
,
Garden art
,
Garden tours 2015
,
Gates
,
Grasses
,
Lawn Gone!
,
Lizards
,
Paths
,
Patios & decks
,
Porch
,
Rock
,
Roses
,
Seating
,
Spring color
,
Stock tanks
,
Succulents
,
Swimming pools
,
Texas natives
,
Vines
,
Walls
,
Water features
,
Wildflowers
,
Windows
,
Xeric plants
,
Yuccas