March 18th, 2015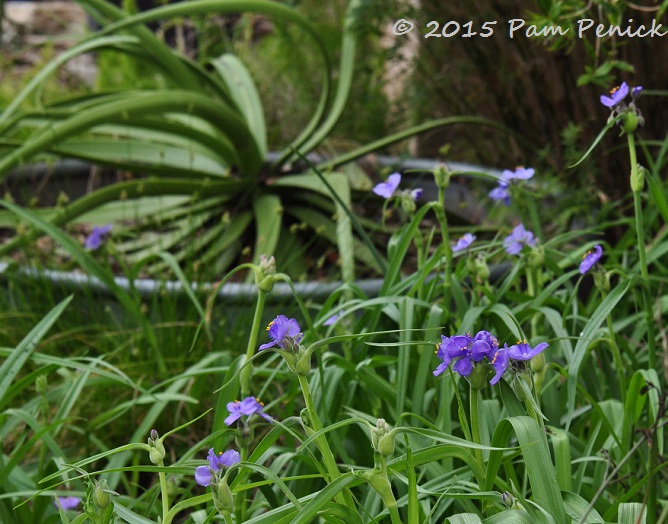 Spring is in earnest now. Every time I stroll through the garden I see something new blooming, and around town the redbuds and Texas mountain laurels are at peak bloom. Mexican plums and Bradford pears are past peak, and the Texas bluebonnets are just starting. The joyous ride of spring is underway!
In my own garden, in the shade of a still-dormant crepe myrtle, native spiderwort (Tradescantia occidentalis) is sending up tall stems of lavender flowers, which the bees adore. The wavy arms of squid agave (A. bracteosa) give an illusion of movement in the background.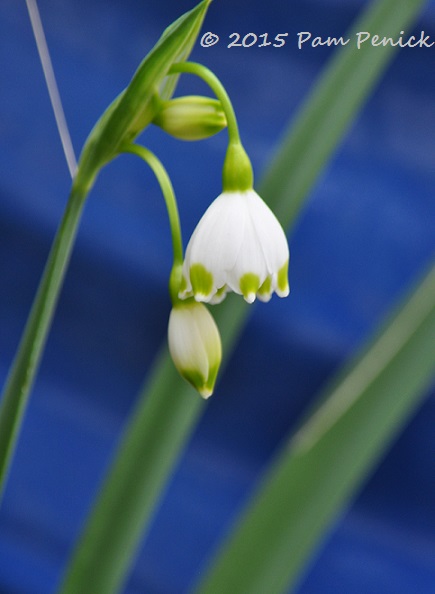 This surprised me yesterday: a single summer snowflake (Leucojum aestivum). I'd forgotten I'd ever planted it and have no idea if it was a bring-along from my old garden, which has lain dormant since then, or whether I bought a few recently. No idea! I'm enjoying its nodding flower and wondering what other spring surprises await discovery.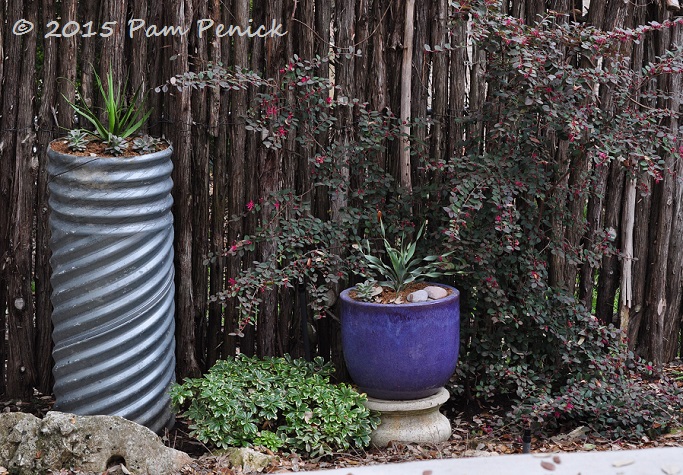 Here's a different view of the replanted culvert-pipe planter and new purple pot, which I showed in a recent post. They stand out nicely against the coyote fence (rough cedar posts wired together). The dusky purple Chinese fringeflower (Loropetalum chinense 'Sizzling Pink') bloomed earlier, and its fuchsia flowers are faded and nearly done.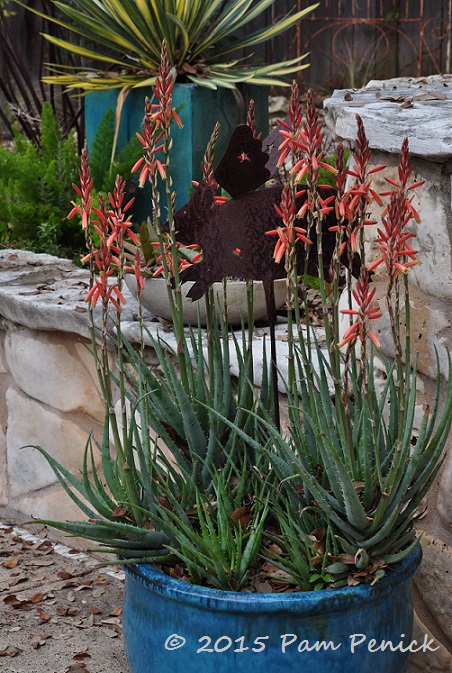 'Blue Elf' aloe was in bud during the last freeze (as usual), but the flowers survived to bloom another day — this day, in fact. I adore this flowering aloe, and so do the early hummingbirds when they arrive. Last summer it was looking very crowded and had an ugly bare spot right in the middle, and I knew it was time for thinning. I dug it out, pulled it into smaller pieces, each with a bit of root, and replanted in a freshened mix of gravelly soil. It's filled in nicely since then and looks a lot healthier.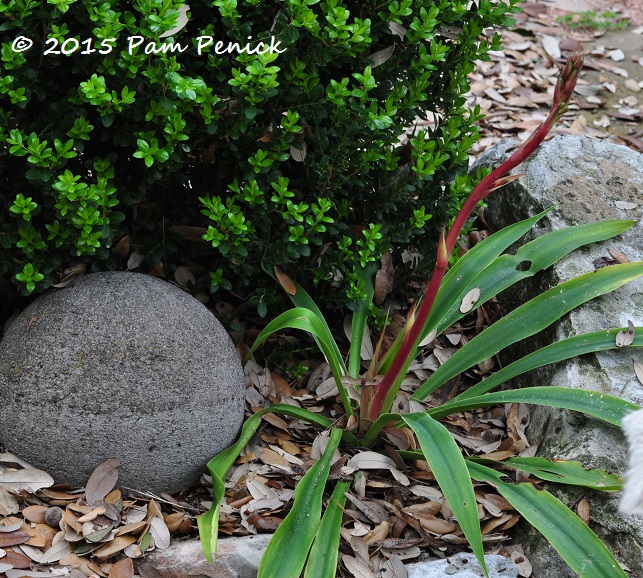 Here's another spring surprise: my false red yucca (Beschorneria septentrionalis), which I bought from Peckerwood Garden three years ago, is about to bloom for the first time! I will be sure to post more pics when the big event occurs.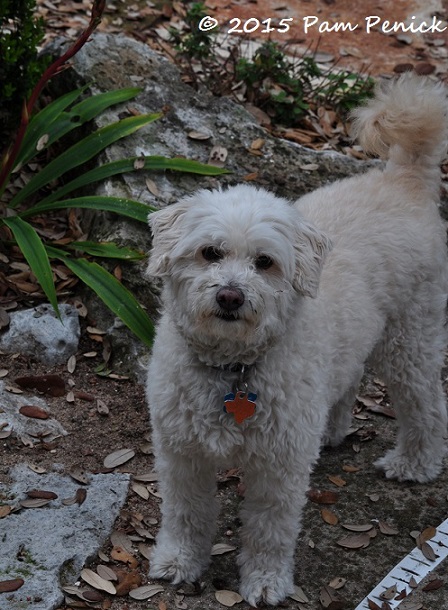 Cosmo wishes you a happy spring — or nearly spring, depending on where you live!
__________________
I'd love to have your vote in the Better Homes and Gardens 2015 Blogger Awards. Skip through to the Gardening category, select Digging, and then skip to the last page for your vote to be counted. You can vote as much as you like. Thanks for your support!

All material © 2006-2015 by Pam Penick for Digging. Unauthorized reproduction prohibited.
posted in
2nd garden--2015
,
Agaves
,
Aloes
,
Bulbs/Rhizomes
,
Containers
,
Dogs
,
Shrubs
,
Spring color
,
Succulents
,
Texas natives
,
Xeric plants
,
Yuccas