April 10th, 2017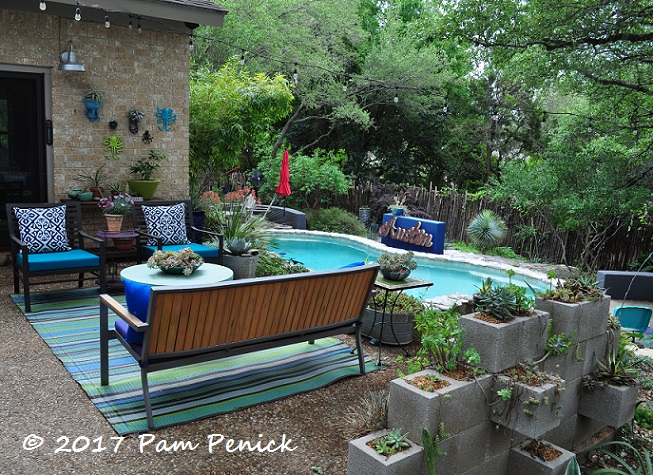 Live oak leaf and pollen season is finally over, and the patios are clean again, hallelujah! This calls for a spring garden stroll, so let's go.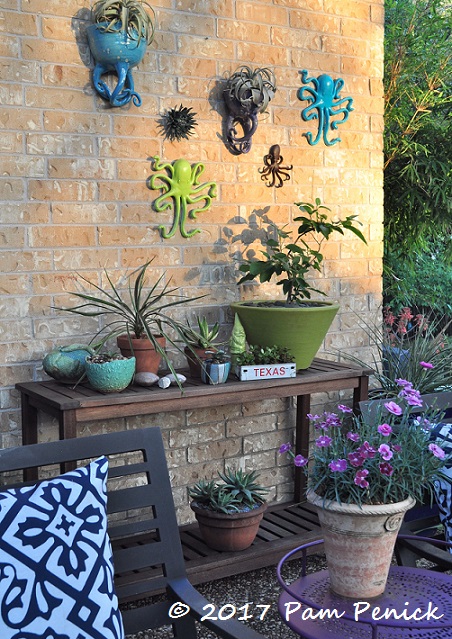 I've been playing with a squid theme on one wall of the upper patio. A couple of tentacle pots from Tentacle Arts contain squid-like Tillandsia xerographica, accompanied by a few metal squids and a ceramic succulent that looks like an anemone. I recently moved a table over here to display some potted plants.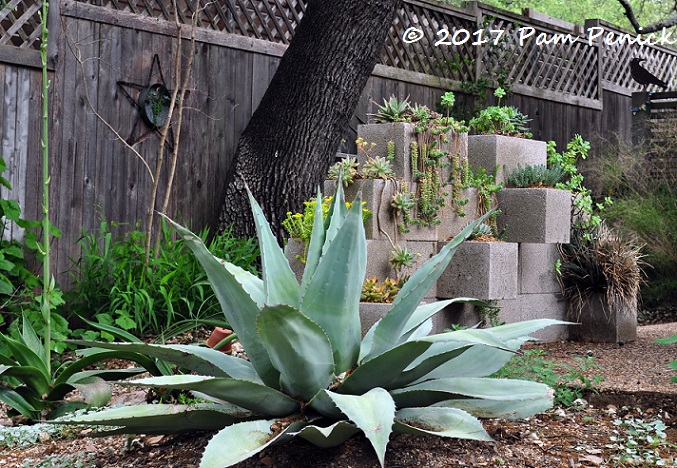 In Moby's old spot, a new whale's tongue agave (A. ovatifolia) is getting established. Grow, agave, grow! Behind it, the succulent wall has had a spring refresh and is looking good again.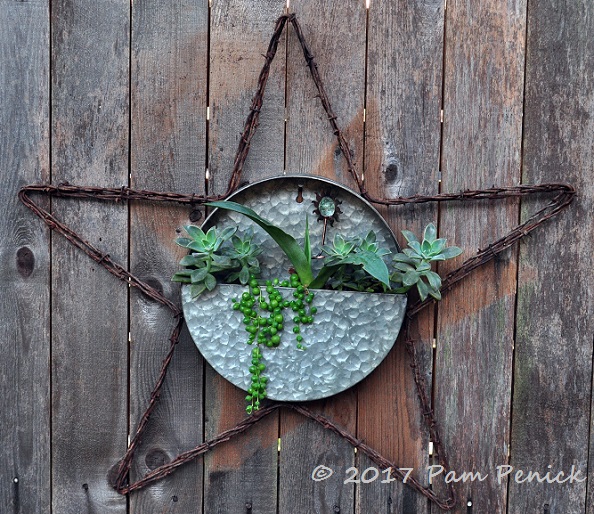 A barbed-wire star gives a Texas twist to one of my new pie-pan succulent planters. A faded star outline on the fence shows where I used to have a different piece of garden art. Apparently I have a fondness for stars as well as squids.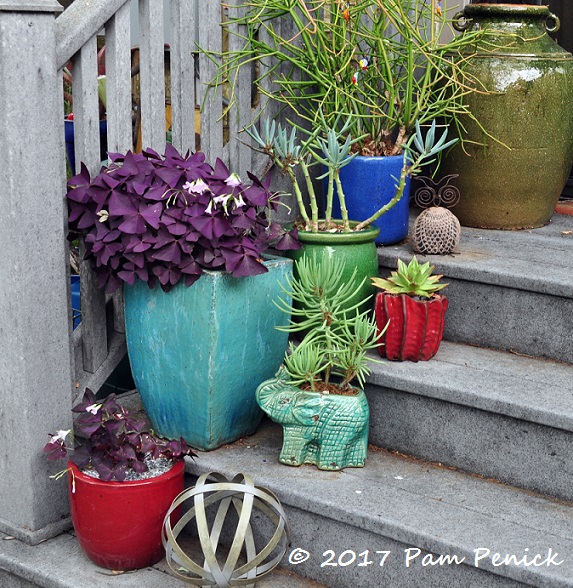 I've also refreshed or tidied up the winter-weary pots on the porch steps.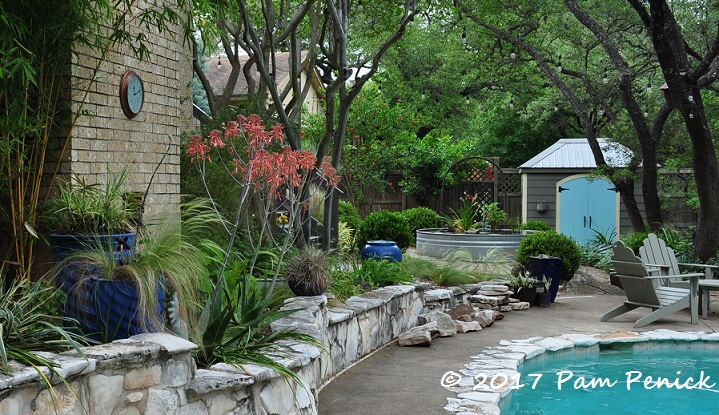 Walking around back by the pool, you can see the soap aloes (A. maculata) in bloom.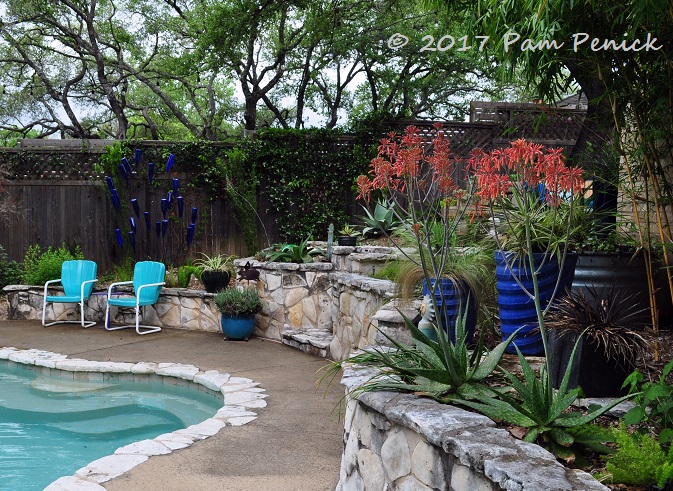 I adore these showy, candelabra-like flowers, and so do the bees and hummingbirds.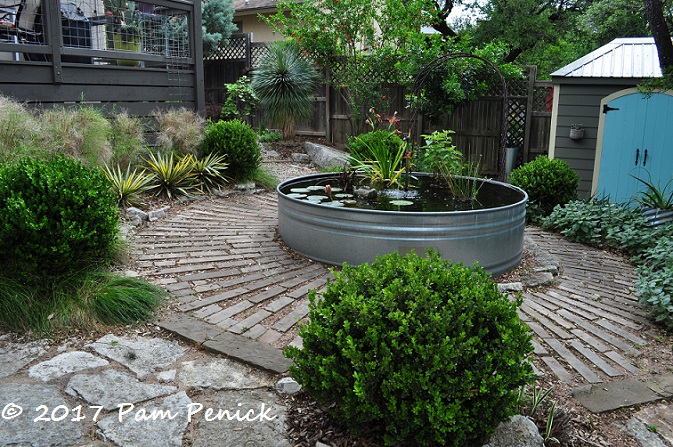 The pond garden, with winter-bleached bamboo muhly (Muhlenberia dumosa) starting to green up again behind a curved line of 'Color Guard' yuccas. 'Winter Gem' boxwood balls anchor the "doorways."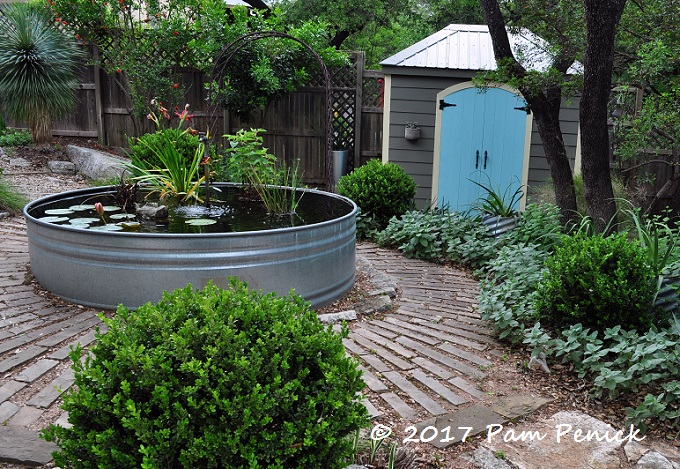 Opposite the yuccas, a curved line of blue-green heartleaf skullcap (Scutellaria ovata) plays off the shed colors.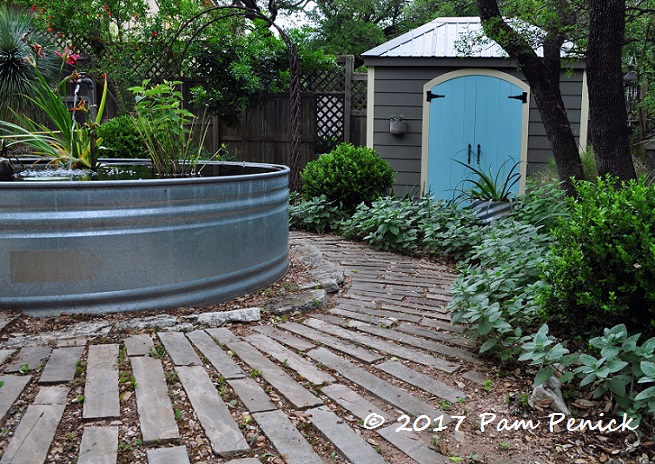 In a few more weeks, it'll start blooming.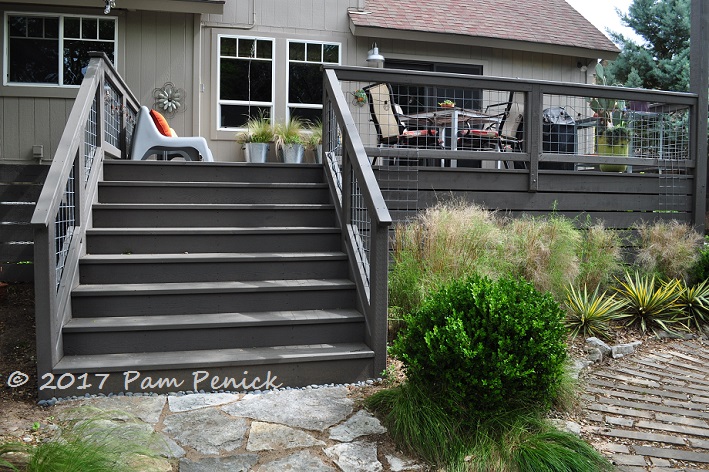 We gave the deck a refresh this spring, which included redoing the stairs. Once narrow, rickety, and squeezed onto the left side of the deck, we had them extended from the outer edge and widened to a generous 8 feet for better access to the garden. To make room for the new stairs, I had to dig up and move a few plants, but I like the simpler look. We also replaced the deck rail's old, jail-like, vertical balusters with galvanized welded wire and the old lattice skirting with horizontal boards. Let's walk up…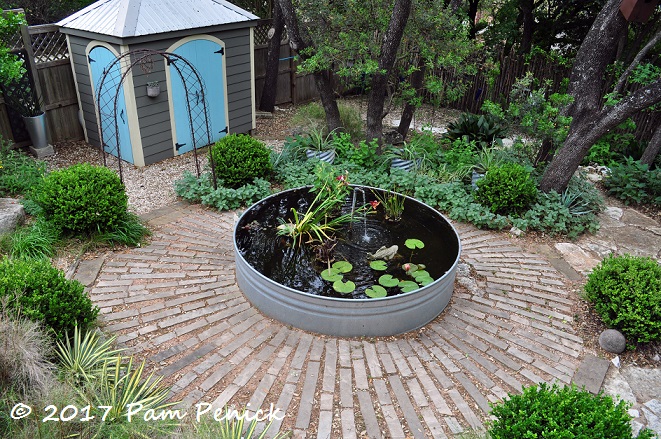 …and view the pond from the deck. The Louisiana iris is still blooming in the pond, adding a spot of rich color amid all the greens.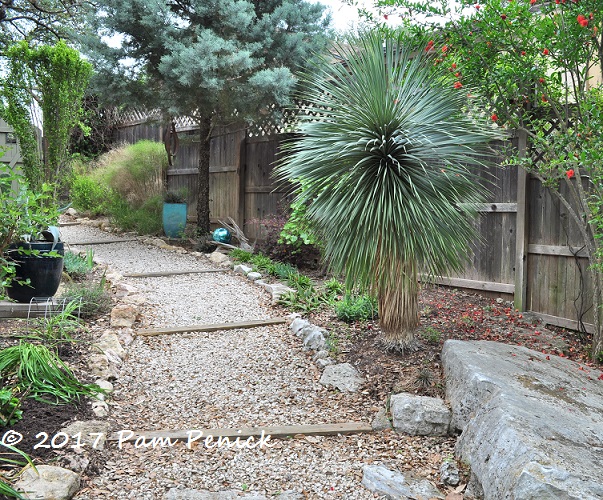 Walking up the side-yard path, you pass the Yucca rostrata, one of my favorite plants that's really grown over the past couple of years. The pomegranate is blooming beside it. Beyond is 'Blue Ice' Arizona cypress, which I've had to limb up for walking under it.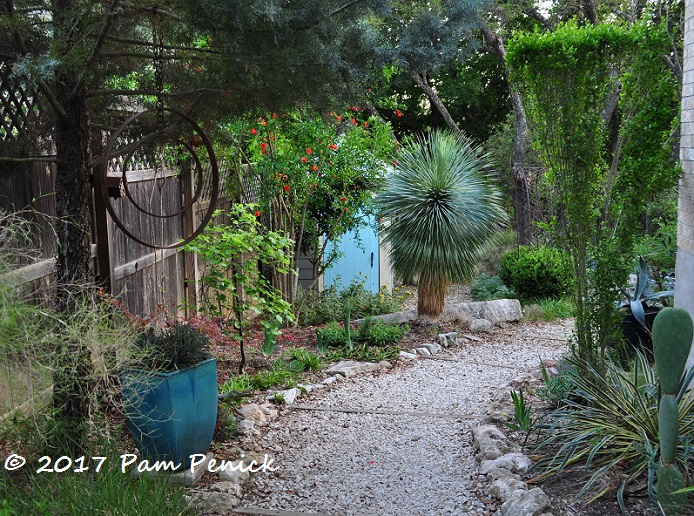 Up the path and looking back, here's the opposite view. The upright vertical shrub on the right is 'Will Fleming' yaupon holly, and the little tree on the left, just past the blue pot, is weeping redbud 'Traveller'.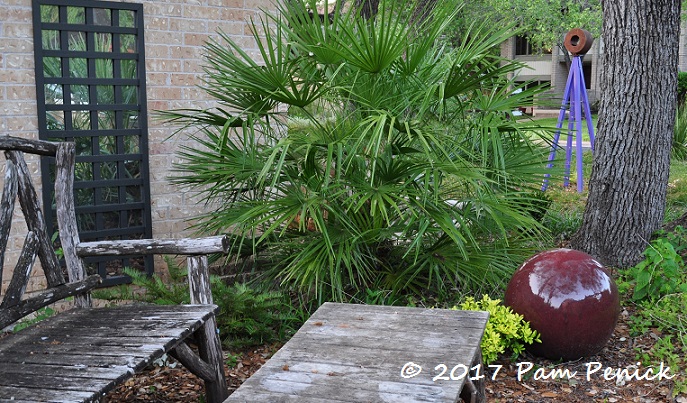 Outside the gate, in the front yard, a Mediterranean fan palm (Chamaerops humilis) holds court by a bench. The golden shrub just visible in front is 'Eureka Gold' dwarf yaupon.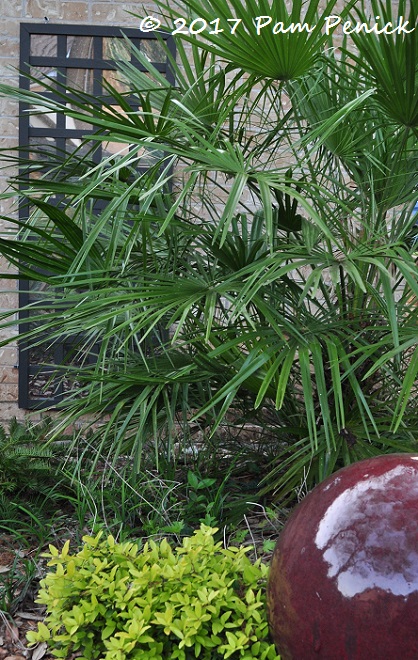 It colors up beautifully in spring but then goes green summer through winter.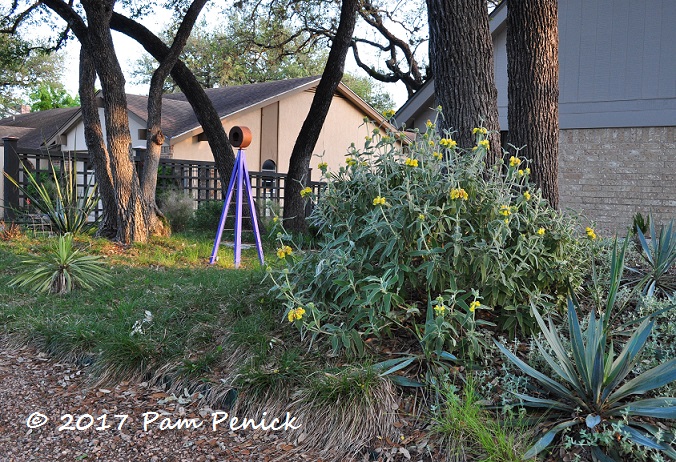 Moving around to the front garden, the Berkeley sedge (Carex divulsa) lawn is greening up with warmer weather. It doesn't exactly turn brown in winter, but it definitely takes on a tawnier hue during the cooler months. On the edge, Jerusalem sage (Phlomis fruticosa) is blooming. Wouldn't that 'Eureka Gold' yaupon look pretty beside it? I'll have to give that some thought. Paleleaf yucca (Y. pallida) looks good with it too.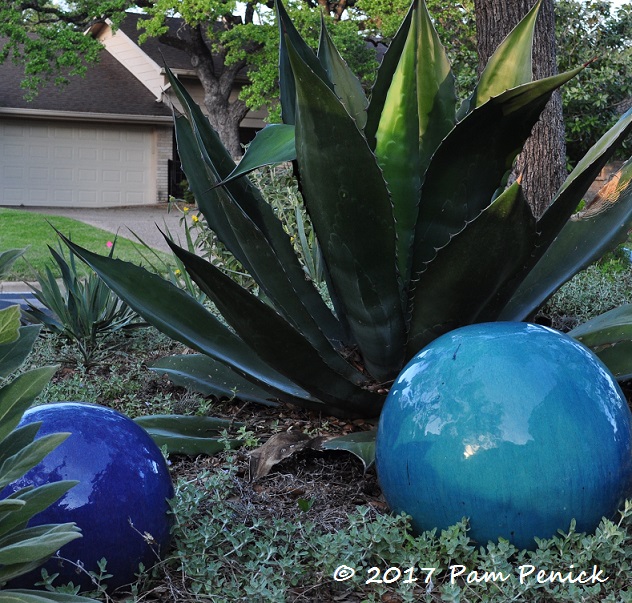 The 'Green Goblet' agave near the driveway is recovering from antlering damage from the deer last fall, and putting on new growth.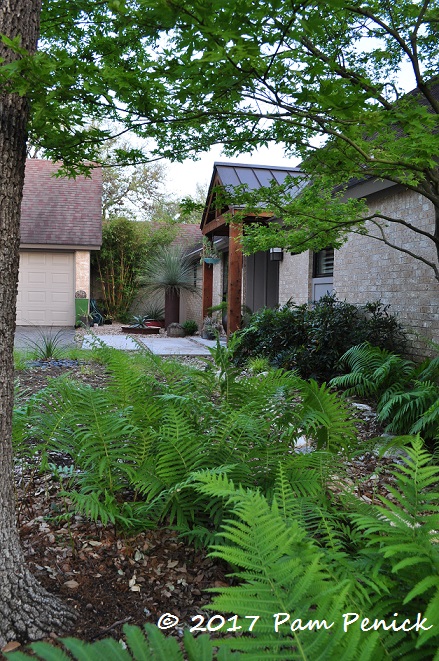 And along the front of the house, in the shade of live oaks and a Japanese maple, native river ferns (Thelypteris kunthii) create a cool, lush look along a dry stream.
Thanks for coming along with me on this garden stroll! Are you changing up anything for spring in your garden?
I welcome your comments; please scroll to the end of this post to leave one. If you're reading this in a subscription email, click here to visit Digging and find the comment box at the end of each post.
_______________________
Digging Deeper: News and Upcoming Events
Mark your calendar for the Inside Austin Gardens Tour on May 6, sponsored by Travis County Master Gardeners. This fun garden tour occurs every 18 months and features a mix of homegrown gardens "for gardeners, by gardeners," as their tagline says.
Get on the mailing list for Garden Spark Talks. Inspired by the idea of house concerts — performances in private homes, which support musicians and give a small audience an up-close and personal musical experience — I'm hosting a series of garden talks by design speakers out of my home. Talks are limited-attendance events and generally sell out within just a few days, so join the Garden Spark email list for early notifications. Simply click this link and ask to be added.
All material © 2006-2017 by Pam Penick for Digging. Unauthorized reproduction prohibited.
posted in
2nd garden--2017
,
Agaves
,
Aloes
,
Arbors
,
Bamboo
,
Containers
,
Decor
,
Doors
,
Fences
,
Fountains
,
Garden art
,
Grasses
,
Groundcovers
,
Lawn Gone!
,
Palms/Cycads
,
Paths
,
Patios & decks
,
Ponds
,
Rock
,
Seating
,
Sheds
,
Shrubs
,
Signs
,
Spring color
,
Stock tanks
,
Succulents
,
Swimming pools
,
Trees
,
Walls
,
Water features
,
Xeric plants
,
Yuccas