March 8th, 2015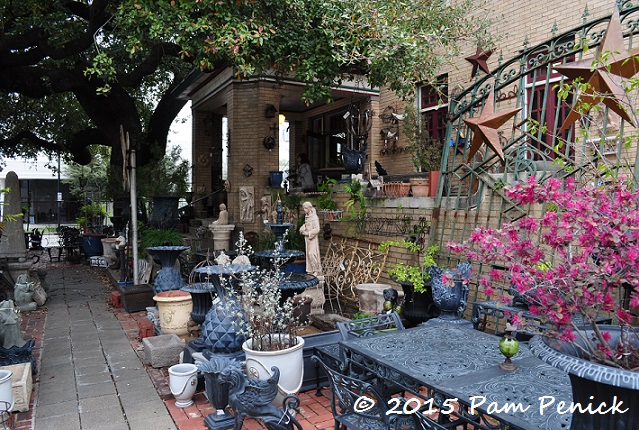 Since last summer's visit to once-upon-a-dream-like Bella Madrona in Portland — a garden in which junk and architectural relics are transformed into mysterious, magical art — I've been on the hunt. For what? For ways to add a spark of discovery to my garden, and in particular for cast-iron earthquake stars. I already had a few and decided to collect a dozen more to set in the gravel path of my front garden — an homage to Bella Madrona, which had a star-studded path that I adored.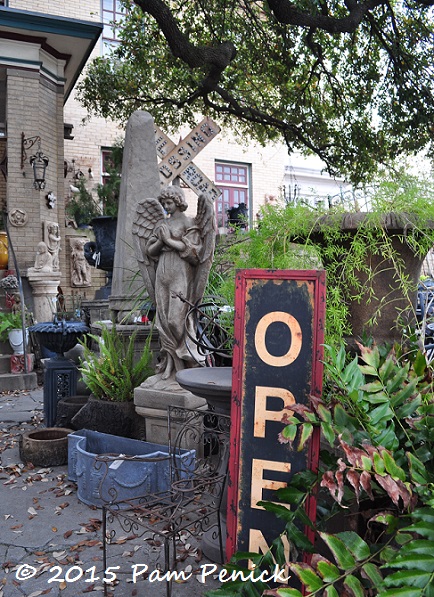 Earthquake stars are star-shaped bolts traditionally used on tie rods that run through buildings to hold them together. They're commonly seen on Civil War-era buildings in South Carolina, where I grew up. Today you can find old stars and, more often, reproductions in antique and junk shops and farm-supply stores — or at least you can in the Lone Star State, where stars are beloved as a decorating motif. Callahan's General Store in Austin carries them, but I found them priced lower at Adkins Architectural Antiques & Treasures in Houston. I was there last weekend, and so we stopped at Adkins to check it out.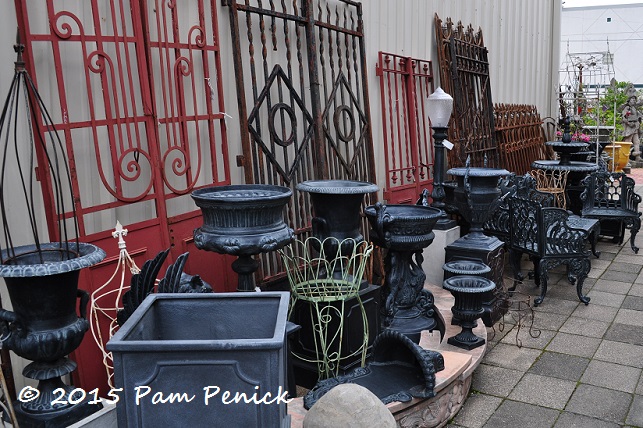 What a treasure-hunter's lair the place turned out to be, with so much more than just earthquake stars. Architectural remnants and reproductions were stacked head-high in the patios around the shop, which is located in a rambling, old house sheltered by a massive live oak.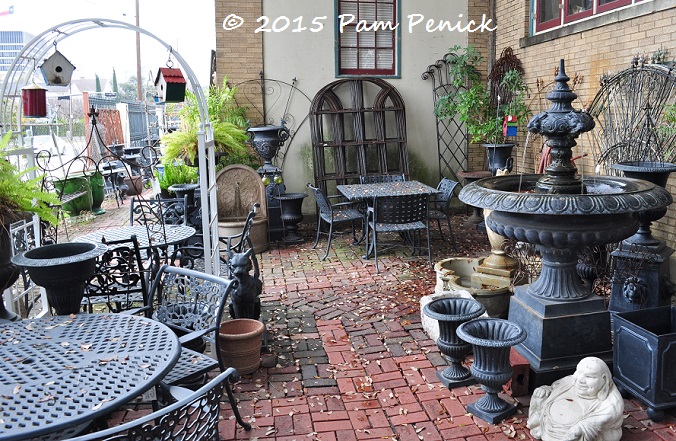 We poked around in the yard, finding everything from Victorian-style furnishings, containers, and fencing pieces…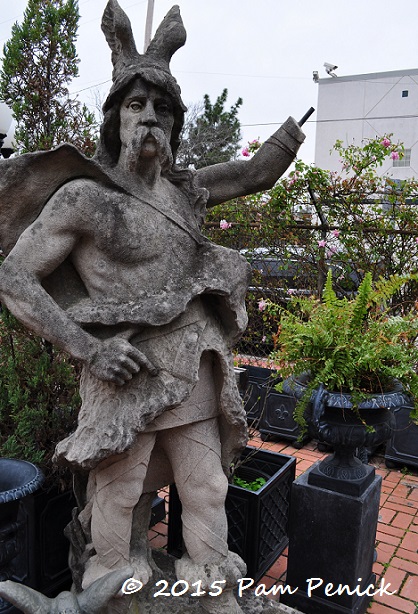 …to whimsically goofy statuary. What is this guy — a fur trader wearing a rabbit-eared hat?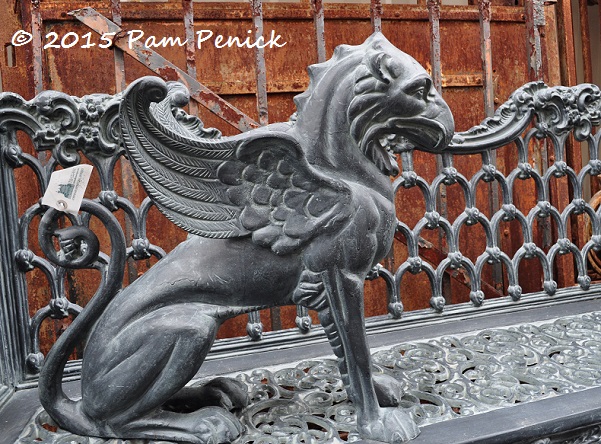 And doesn't everyone need a griffin to grace their garden? No, me neither, but it was fun to imagine.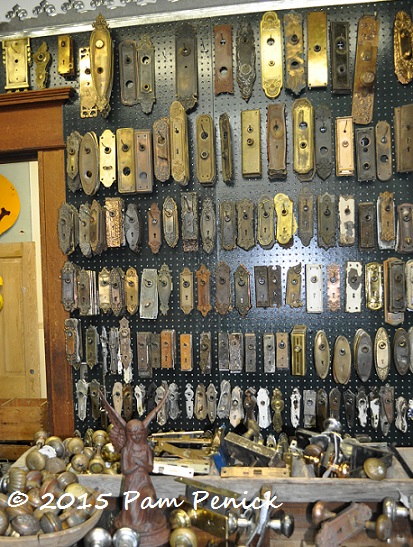 Inside we discovered a warren of rooms packed with a hoarder's assortment of architectural doodads, perfect for giving your home a bit of vintage charm or for repurposing into something totally new. Everything was neatly organized, and the salespeople were friendly and helpful.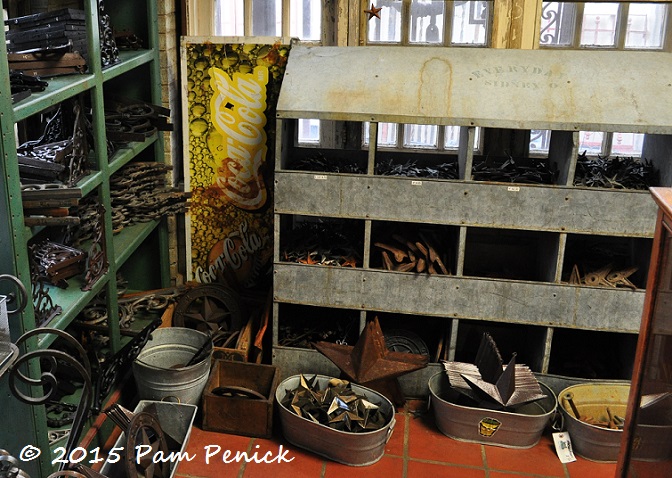 I found bins of earthquake stars, including some 6- to 7-inch stars marked down to $3 each.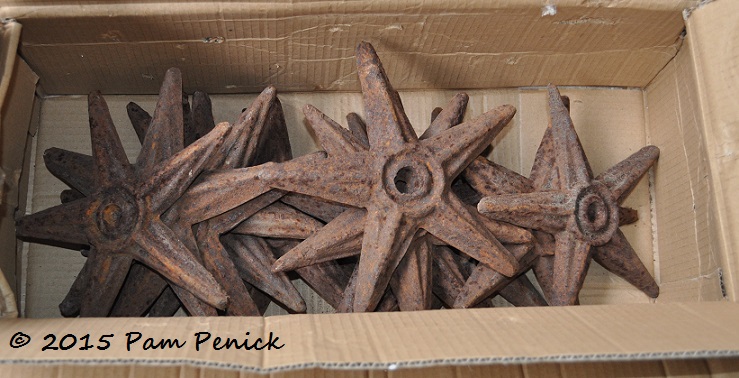 These aren't antiques, but they will do the job.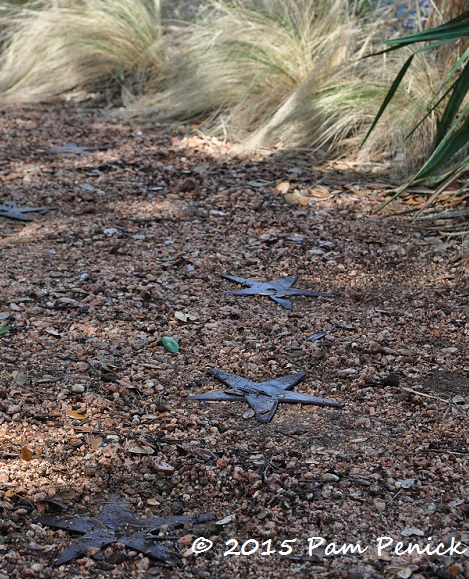 "The streets of town were paved with stars," sang Frank Sinatra, and now so is my garden path. It'll remind me of Bella Madrona every time I walk it.
__________________
I'd love to have your vote in the Better Homes and Gardens 2015 Blogger Awards. Skip through to the Gardening category, select Digging, and then skip to the last page for your vote to be counted. You can vote as much as you like. Thanks for your support!

All material © 2006-2015 by Pam Penick for Digging. Unauthorized reproduction prohibited.
posted in
Arbors
,
Containers
,
Decor
,
Fountains
,
Garden art
,
Gates
,
Nurseries & Shops
,
Paths
,
Sculpture
,
Seating
,
Travel
,
Trellis