April 26th, 2016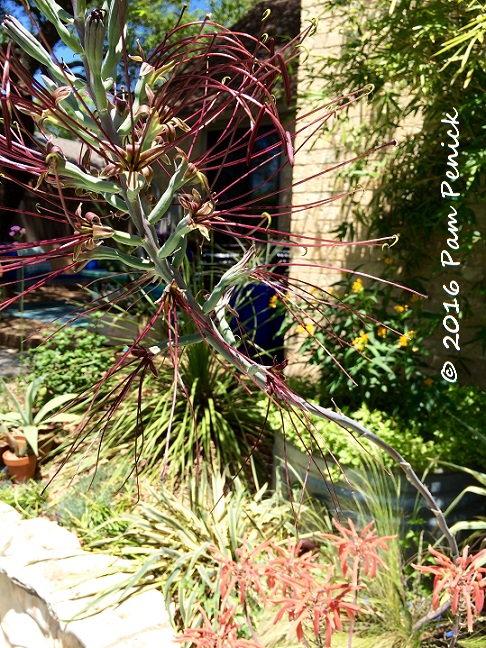 This fun flower, held aloft on a 6-foot stalk, is blooming right now in multiple spots in my garden: 'Chocolate Chips' manfreda (Manfreda undulata 'Chocolate Chips'), my absolute favorite manfreda, with ruffled, succulent leaves covered in chocolatey freckles. It's a beautiful, dry-loving plant that's perfect for a sunny container, especially when paired with Mexican feathergrass.
And that's my segue into my upcoming speaking event about water-saving gardening, this coming Saturday…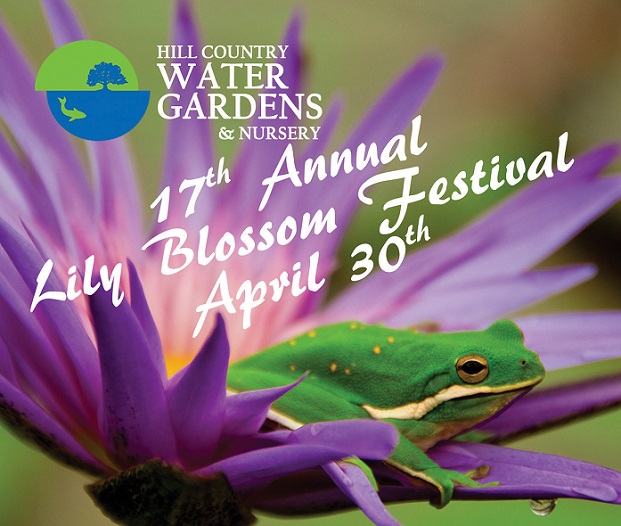 I'll be speaking at noon this Saturday, April 30, at Hill Country Water Gardens & Nursery's Lily Blossom Festival in Cedar Park, just barely north of Austin. My free talk is called "How to Garden Water-Wise, Not Water-Wasteful."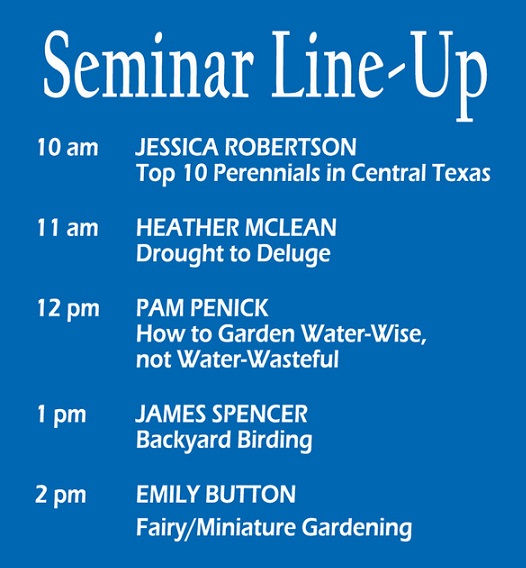 As an old proverb reminds us, "The frog does not drink up the pond in which he lives." Don't be a water-guzzling frog! I'll be sharing my tips for making a garden that is water-wise, not water-wasteful. Stick around after my talk for a book signing, with autographed copies of Lawn Gone! and The Water-Saving Garden available for purchase ($20 each).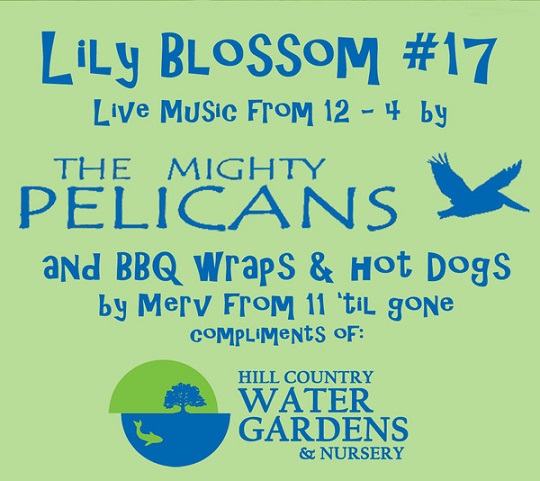 Before you ask what a water-garden nursery is doing, hosting a talk about water-saving gardening, especially during a waterlily festival, let me point out that HCWG carries a LOT of drought-tolerant native and adapted plants, and they have a particularly good succulent section. Also, as I point out in The Water-Saving Garden, a non-wasteful water feature — like a disappearing fountain; a reflective bowl; or a fish-friendly stock-tank pond — can be a powerful focal point and symbol of abundance in an otherwise water-thrifty garden. Moreover, a (non-spraying) water feature typically uses less water than a similar sized patch of lawn grass.
The festival includes a plant sale, free food (while it lasts), live music, and — best of all, right? — all-day garden talks. I hope you'll join me at noon for my 30-minute talk, followed by a book signing. It should be lots of fun!
I welcome your comments. If you're reading this in an email, click here to visit Digging and find the comment link at the end of each post.
_______________________
Digging Deeper: News and Upcoming Events
Come see me at Festival of Flowers in San Antonio, May 28, time TBA. Learn more about water-saving gardening during my presentation at San Antonio's 19th annual Festival of Flowers. I'll be at the book-signing table after the talk, with copies of both The Water-Saving Garden and Lawn Gone! available for purchase. Tickets to the all-day festival, which includes a plant sale and exchange, speakers, and a flower show, are available at the door: $6 adults; children under 10 free. Free parking.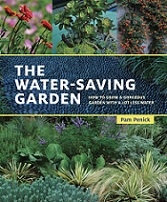 Do you review? Have you read my new book, The Water-Saving Garden? If you found it helpful or inspirational, please consider leaving a review — even just a sentence or two — on Amazon, Goodreads, or other sites. Online reviews are crucial in getting a book noticed. I really appreciate your help!
I'm on Instagram as pamdigging. See you there!
All material © 2006-2016 by Pam Penick for Digging. Unauthorized reproduction prohibited.