August 17th, 2011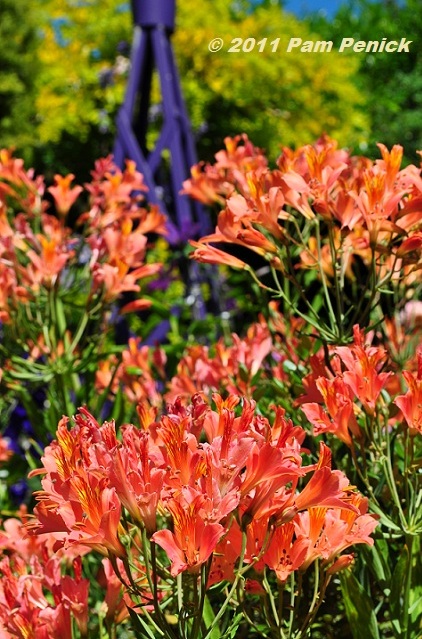 Kate Farley's west Seattle garden, which I visited on Day 3 of the Seattle Garden Bloggers Fling, is a garden of exploration from front to back. I'm going to start in back, because the Peruvian lilies (Alstroemeria) were blooming spectacularly, a huge swath glowing salmon-orange in the strong sunlight.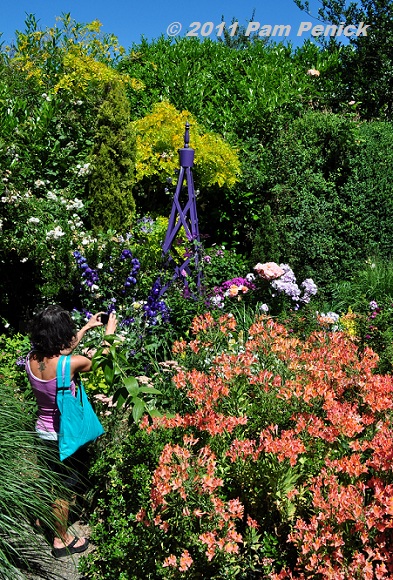 Behind the Alstroemeria, purple iris, lilac phlox, and an unknown golden-leafed shrub jazz up the scene even further. Semi, daughter of Frances of Fairegarden, joins me in photographing the spectacle.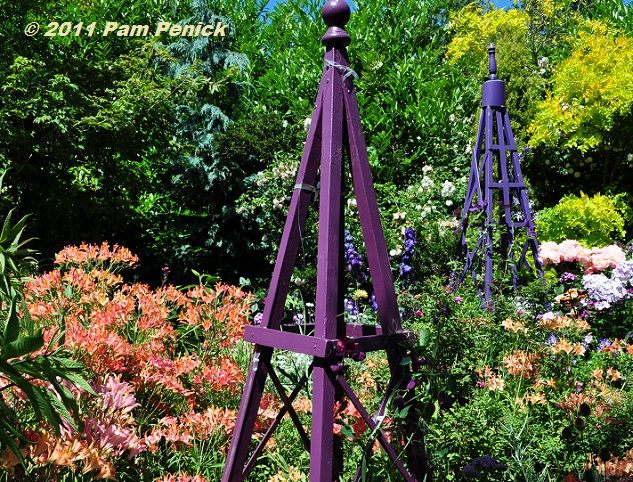 And then there are the twin tuteurs painted two vibrant shades of purple (or maybe one is older and has faded over time?). They add height, year-round structure, and of course color to the planting bed.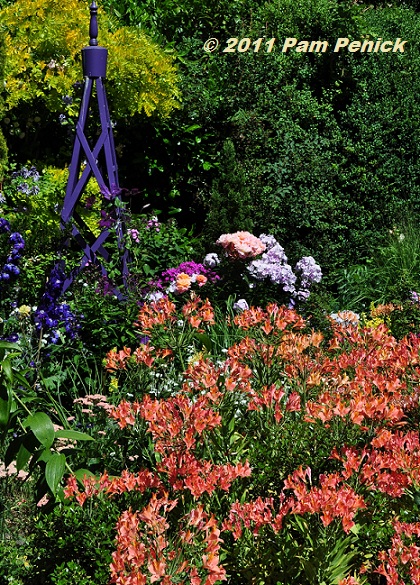 They also happen to look stunning with the Alstroemeria.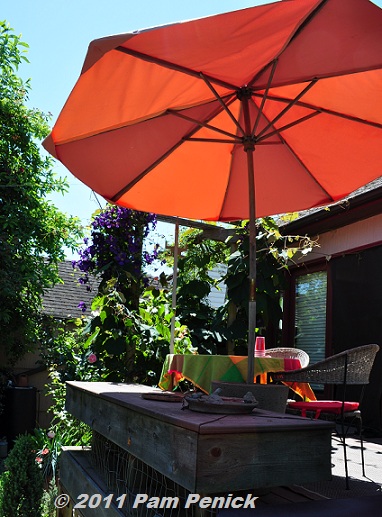 A tiny, elevated deck behind the house is shaded by an umbrella of the exact color of the Alstroemeria—a nice touch.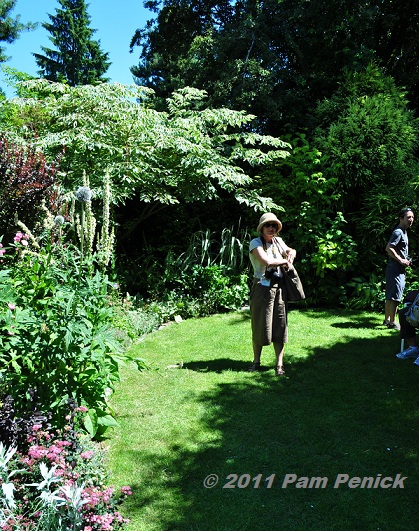 From here a small curving lawn sets off the cottage-style border.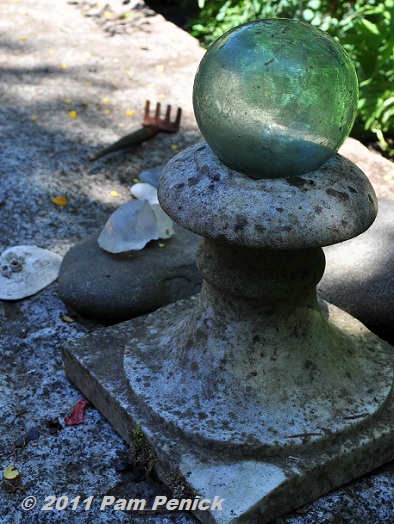 Paths lead to secluded vignettes, like this glass ball on an old pedestal…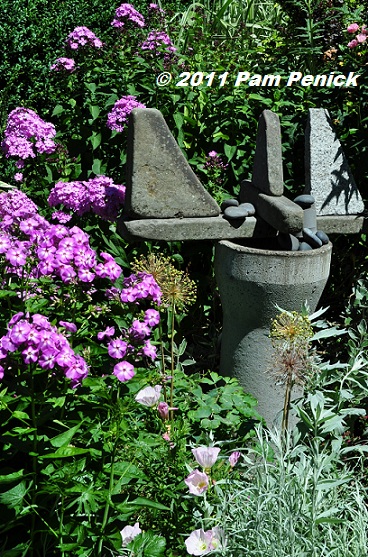 …and this stone-and-pipe sculpture—or is it a fountain?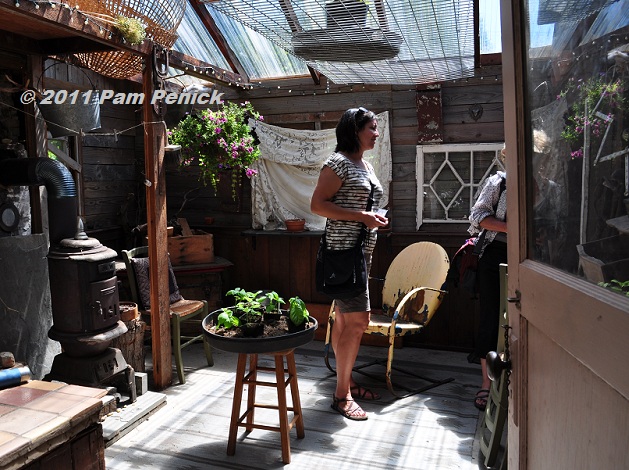 Tucked into the back garden, a welcoming shed attracted our eager exploration. Here's Melissa of Houston Garden Girl talking with someone in the spacious interior.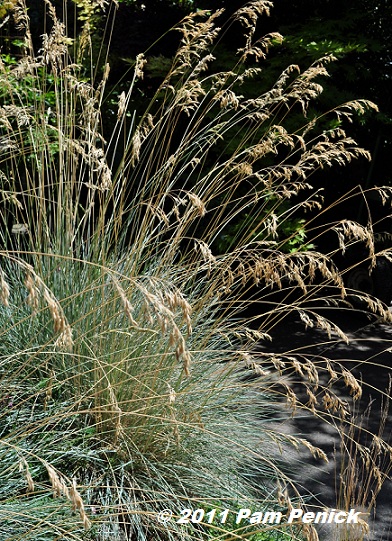 As in many Seattle gardens we visited, grasses add movement and texture and look especially pretty in the summer sunlight.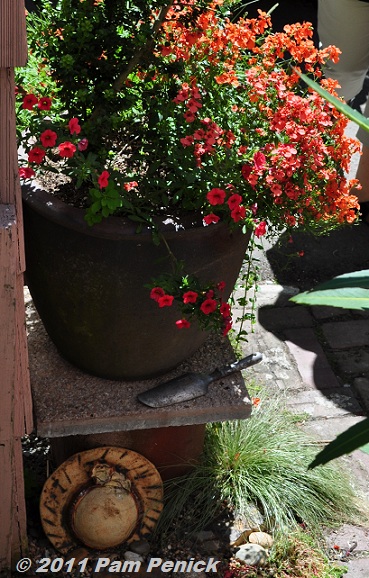 Colorful potted plants here and especially along the driveway give a lushness to paved areas.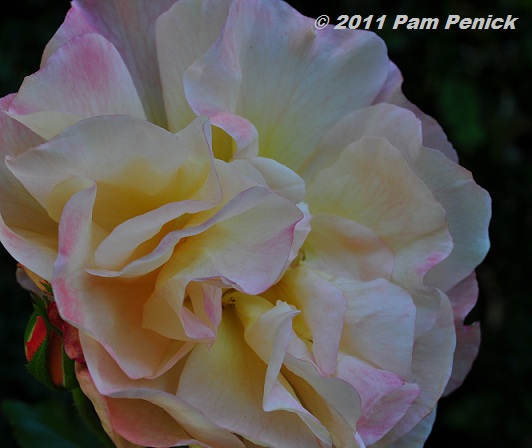 One of several lovely roses blooming in Kate's garden.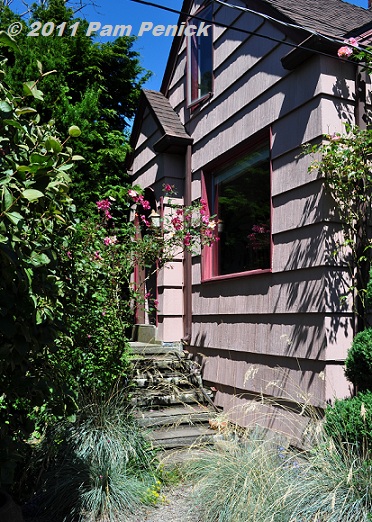 The front garden—and your first impression of the house—is very different from the more open, sunny rear garden. It is densely planted…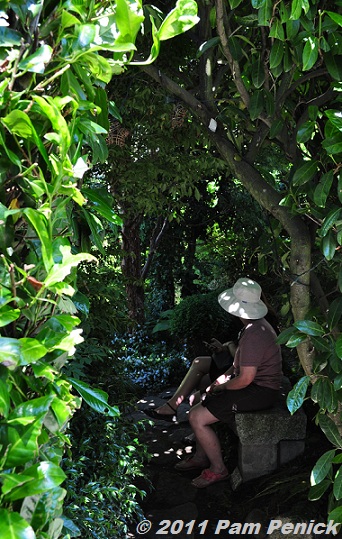 …and shady, with a narrow green tunnel that invites you in. A bench offers a quiet place for contemplation or conversation with a friend.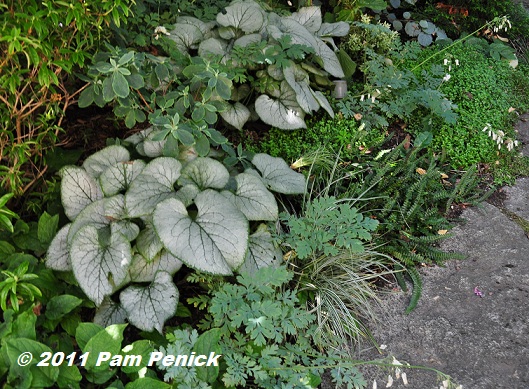 A lovely mix of shade plants cloak the ground, brightening the scene with white leaves and flowers.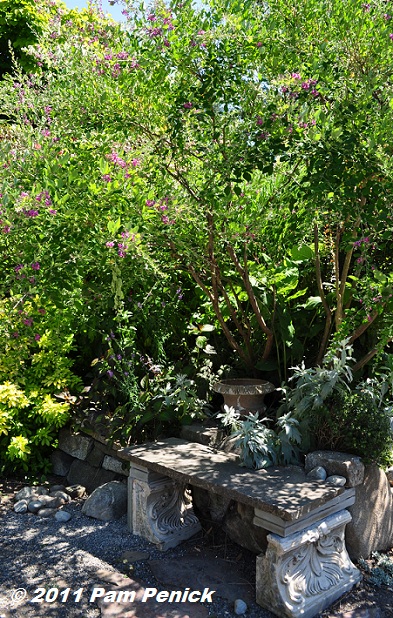 And working my way back to the street, here's an example of what you see curbside: a densely packed screen of plants hiding the house and main garden from view, but offering up to passersby a beautiful vignette of flowering tree, bench, and stone accents.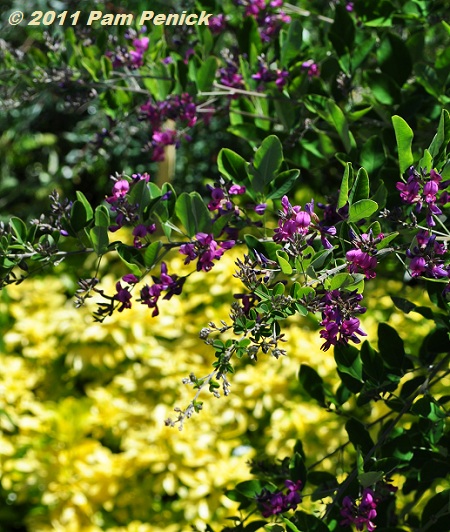 What a lovely gift for the neighbors.
Up next: the highlight of the Fling, our visit to the Bloedel Reserve on Bainbridge Island. For a look back at Lorene Edwards Forkner's "urban hillbilly chic" garden click here.
All material © 2006-2011 by Pam Penick for Digging. Unauthorized reproduction prohibited.
posted in
Color
,
Containers
,
Decor
,
Fling Seattle
,
Garden art
,
Garden blogging
,
Garden structures
,
Garden tours 2011
,
Grasses
,
Patios & decks
,
Roses
,
Sculpture
,
Seating
,
Sheds
,
Summer color
,
Travel
,
Trees