December 13th, 2012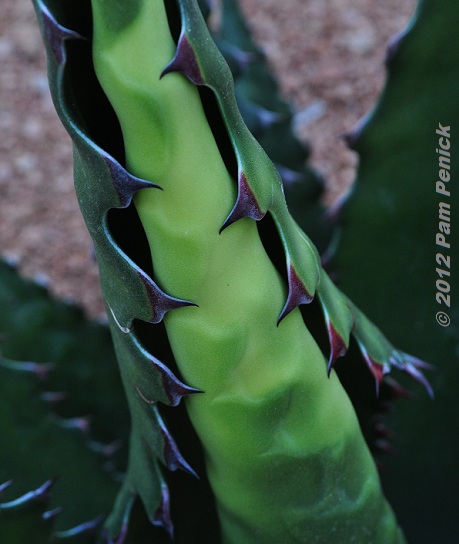 Doesn't everyone want a plant with a sharky grin in their gardens? I know I do, and Agave gentryi 'Jaws' obliges with half-inch-long thorns that leave shadowy "teeth marks" on each emerald-green leaf as it unfurls.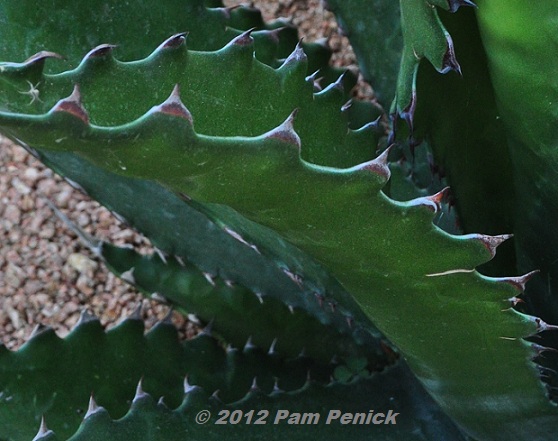 I planted a 5-gallon 'Jaws' agave last summer in a bottomless planter (a rusty metal tractor rim, actually) in my front courtyard garden, and it has already doubled in size. This spot receives no regular irrigation and gets a good dose of the Death Star in the summer, so I do give it a drink of water about once every two weeks in the summer. I refrain from watering my agaves in the winter unless it's exceptionally dry, and then only about once a month. 'Jaws' can handle the cold (it's hardy to zone 7b), but cold and wet can lead to rot. Good drainage is essential, and a gravel mulch helps with that.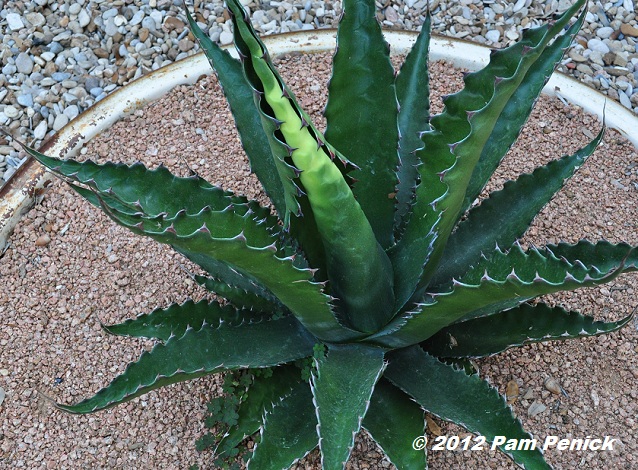 See that little sprig of clover that's sprung up at the base of the agave? Smart survival strategy, like a remora! No way am I going to reach in there to pull it out.
I love this agave for its wicked teeth and deep-green color, truly an eye-catching combination. Greg Starr, in his book Agaves, says 'Jaws' will grow to a height of 3-4 feet and 5-6 feet across, similar to the size of my 'Whale's Tongue' (A. ovatifolia). It's also slow to offset, another feature I prefer since I don't fancy having to dig out colonizing agave pups all the time.
So, warm-climate gardeners, are you ready to invite a shark into your garden?
Note: My Plant This posts are written primarily for gardeners in central Texas. The plants I recommend are ones I've grown myself and have direct experience with. I wish I could provide more information about how these plants might perform in other parts of the country, but gardening knowledge is local. Consider checking your local online gardening forums to see if a particular plant might work in your region.
All material © 2006-2012 by Pam Penick for Digging. Unauthorized reproduction prohibited.