November 10th, 2017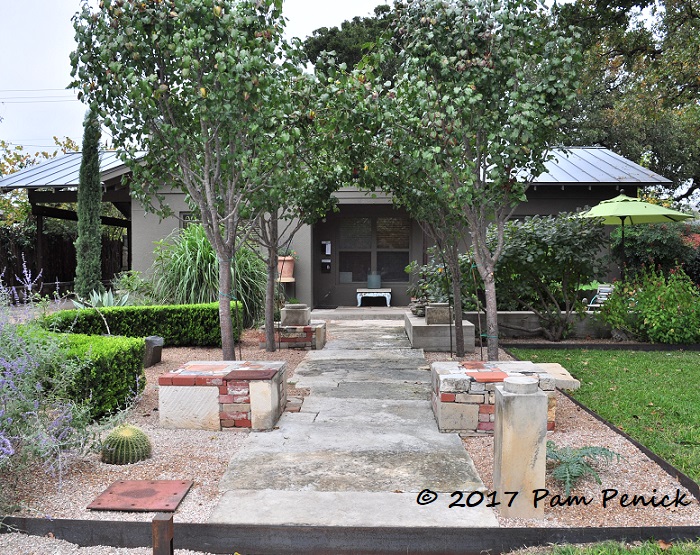 For landscape architect Jackson Broussard of Sprout, you really can go home again. He was raised in this modest ranch house in east-central Austin, and after he took ownership he freshened up the house and leased it out and built himself a detached, two-story addition in the back yard. The front garden is enjoyed by his tenants, with a formal but quirky front walk and a semi-screened patio up by the house.
Jackson has an eye for cast-off materials that make interesting architectural accents or can be used in mosaic stonework in the garden. He uses old bricks and pieces of stone and metal to cloak board-formed concrete towers or pedestals, like the square blocks lining the front walk. An arbor of 4 Bradford pears is being trained on metal rebar into an arched tunnel over the path, à la Deborah Hornickel's garden.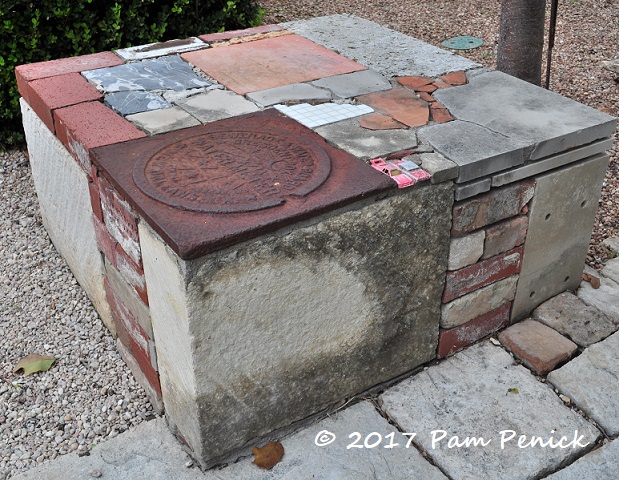 Mosaic stonework (with metal plates and bricks) on one of the pedestal blocks along the path. Notice the two metal toy cars embedded in this one.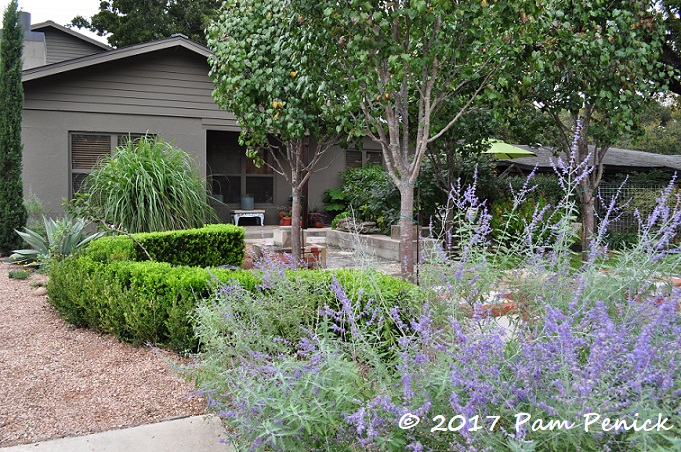 Here's the view from the gravel driveway, with the airy lavender blooms of Russian sage in the foreground. A curved boxwood hedge is one of those quirky details that disrupts the linearity of the front walk.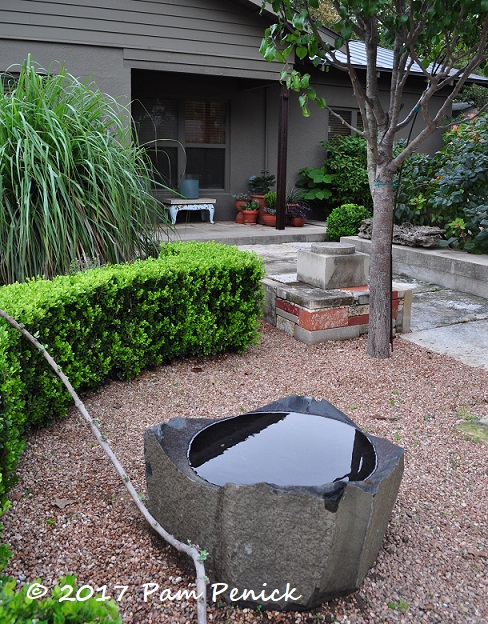 Within the curved hedge, a perfect mirror of water cradled by a chunk of basalt reflects the sky. It's unusual to see basalt here in Texas, although it's common in gardens in the Pacific Northwest. I believe Jackson told me he acquired this and other pieces in California via China.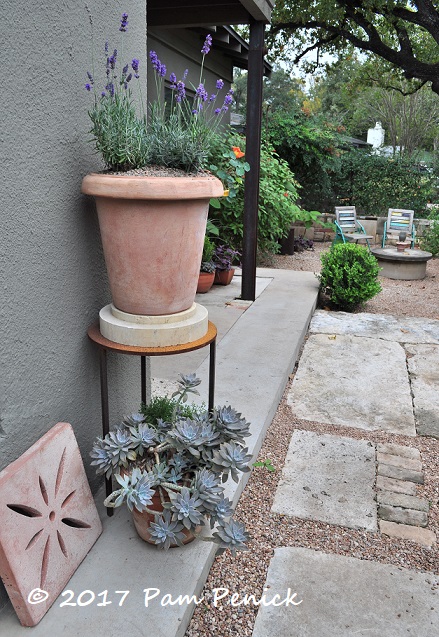 From the driveway looking toward the front porch and patio, with exquisite details like the lavender-filled terracotta pot sitting atop a circular limestone pedestal on a steel table. Dusty mauve ghost plant faintly echoes the lavender's purple, and a terracotta tile with star design echoes the lavender's pot. The pastel paint on the patio's wood-slat chairs picks up the soft colors.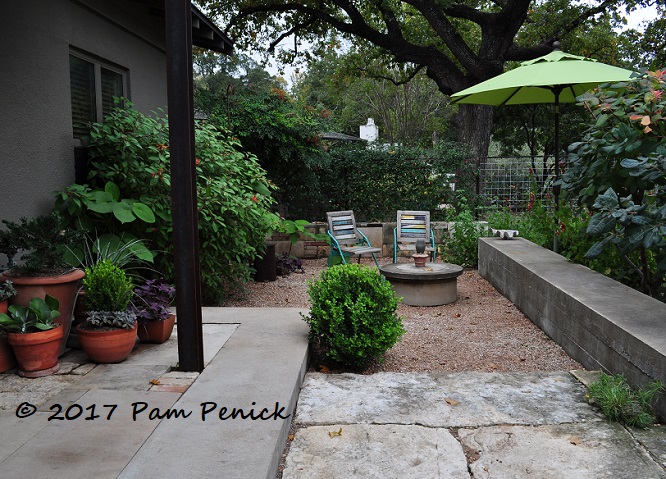 Such a sweet little spot to hang out, with extra seating provided by a low concrete wall.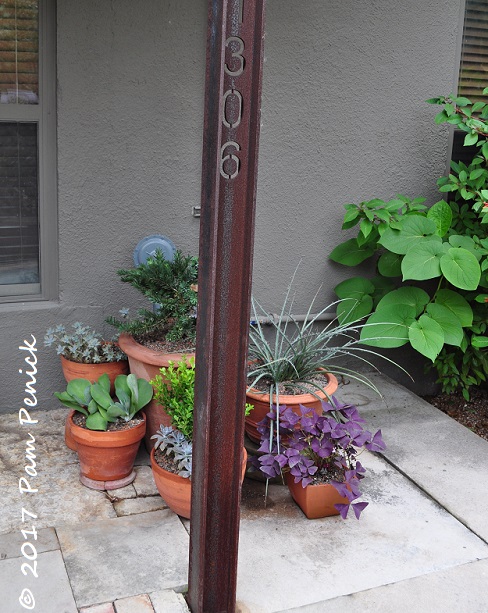 A steel porch post is etched with the house number. A collection of potted plants disguises the gas meter.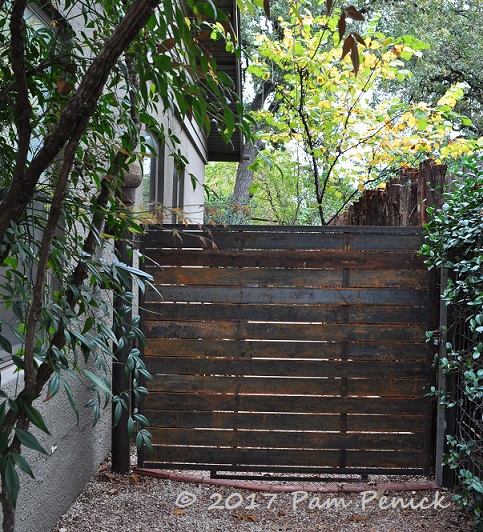 A woven steel gate around the side of the house offers access.

For added privacy, and presumably to reduce the view of neighboring cars, a cattle panel trellis supports an evergreen vine — star jasmine, I think — along the property line.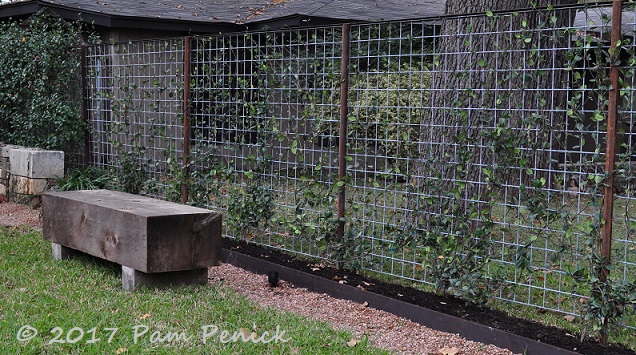 A gigantic block of wood makes a rustic yet modern bench.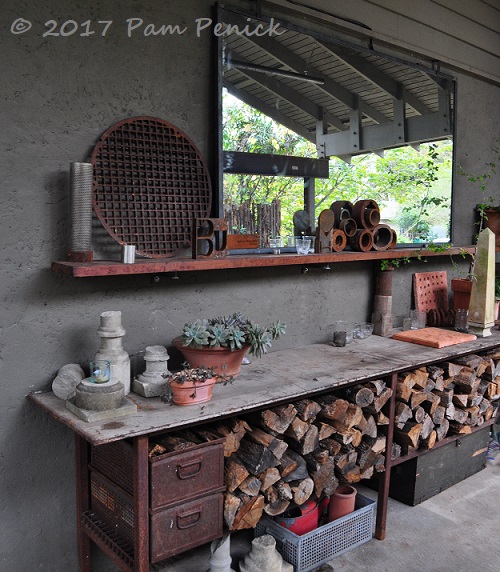 Access to Jackson's house in the backyard is through an open-sided carport, which he's turned into a hangout space with a buffet table, a large mirror to reflect light, and a long seating table (not visible). Interesting scrap metal and architectural remnants adorn the buffet.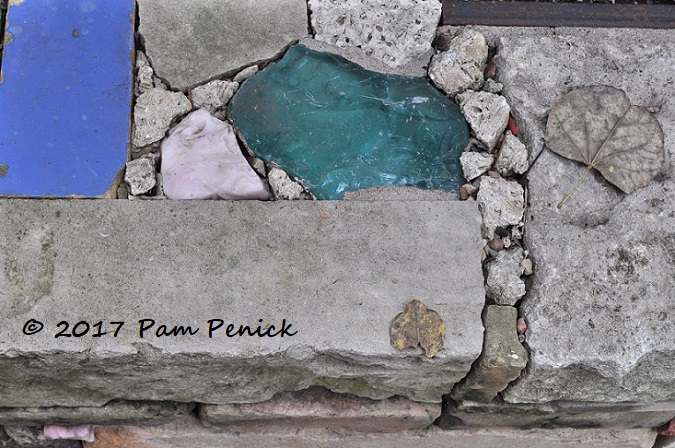 Mosaic wall detail along the driveway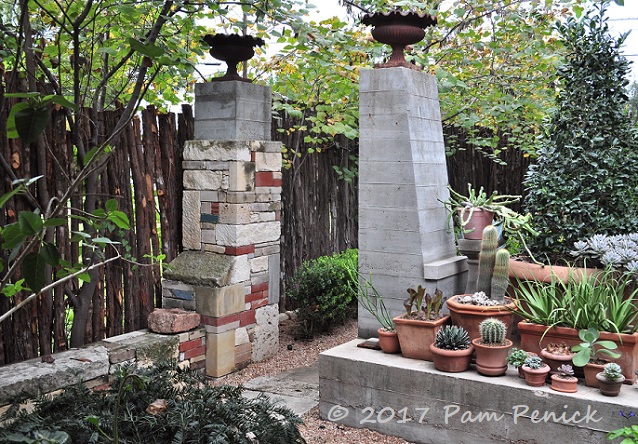 As you enter the back garden, you see two board-formed concrete columns that Jackson is gradually finishing with a mosaic of stone and brick. A low wall in front displays succulents in terracotta pots.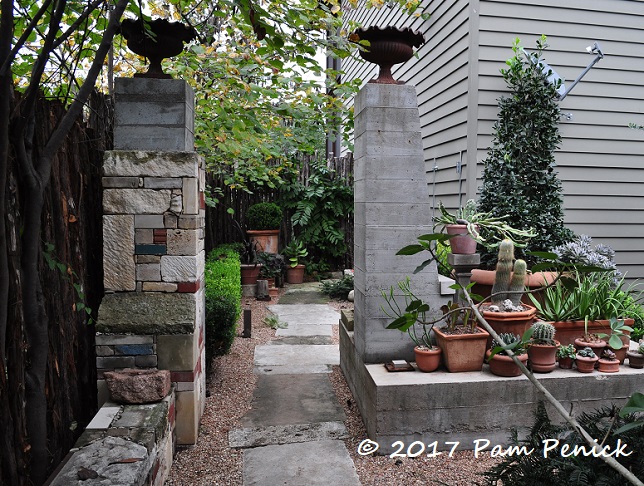 There's a narrow path through here to Jackson's back door. Or maybe it's the front door.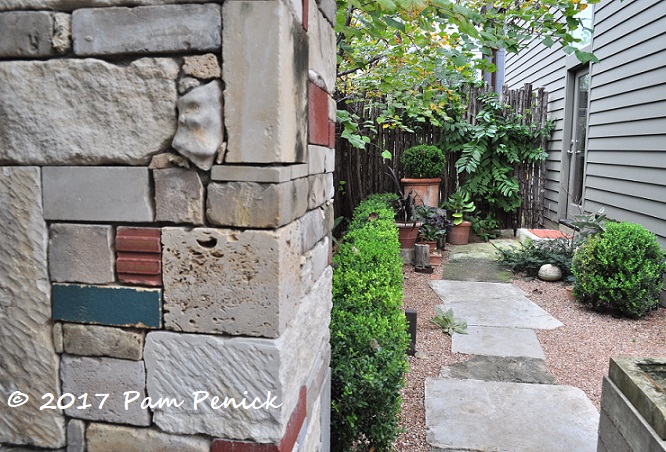 A low boxwood hedge leads the eye along the path…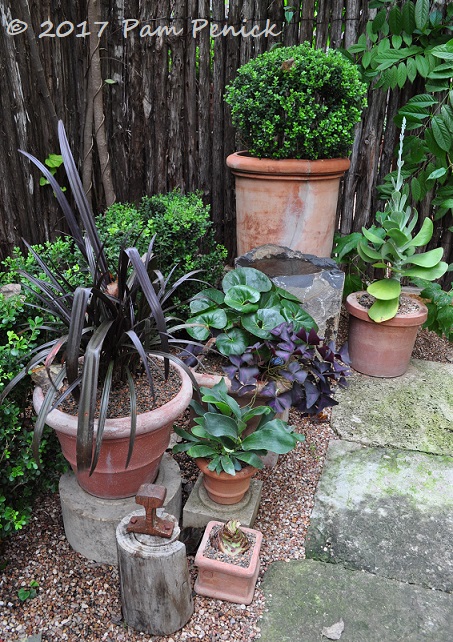 …to a pretty cluster of potted plants. Notice how he elevates some of them on plinths, plus there's a second, smaller basalt water vessel.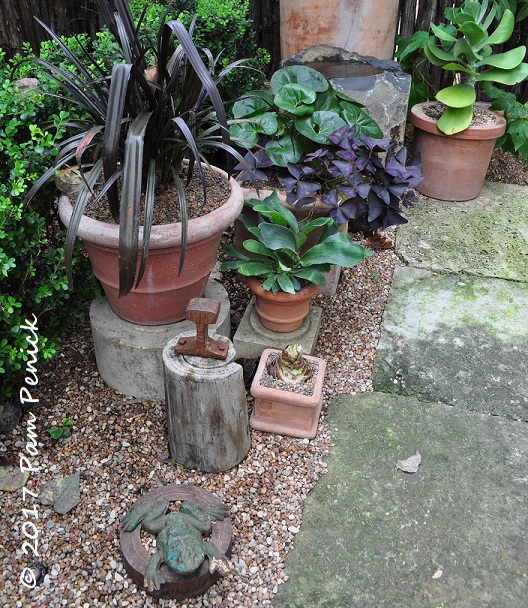 Architectural and frog details and a single bulb in a square pot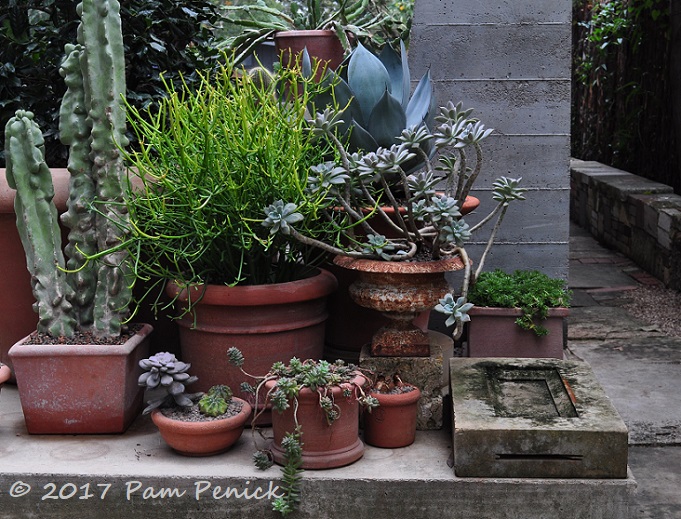 Looking back, there are more potted succulents on this side of the wall.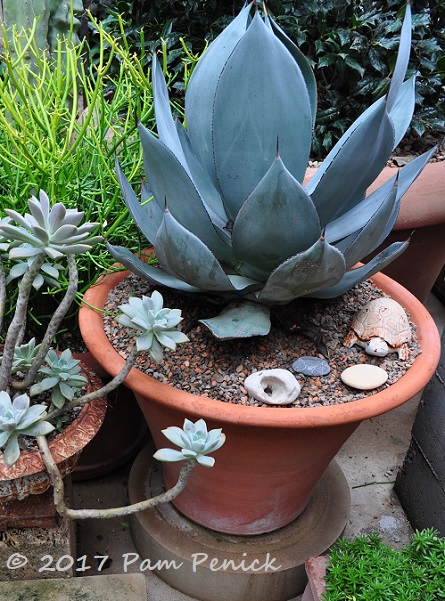 Potted agave with stones and turtle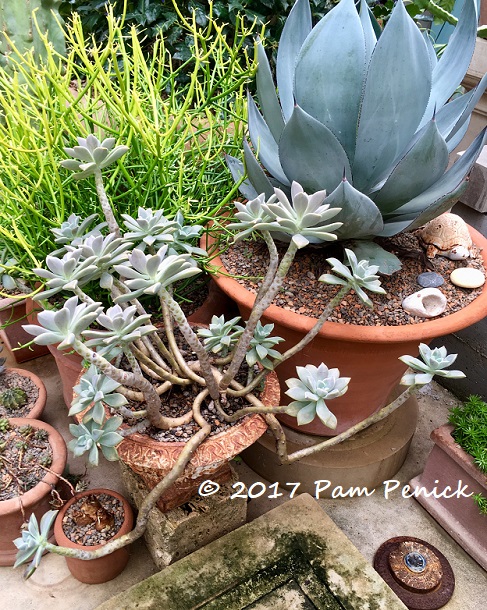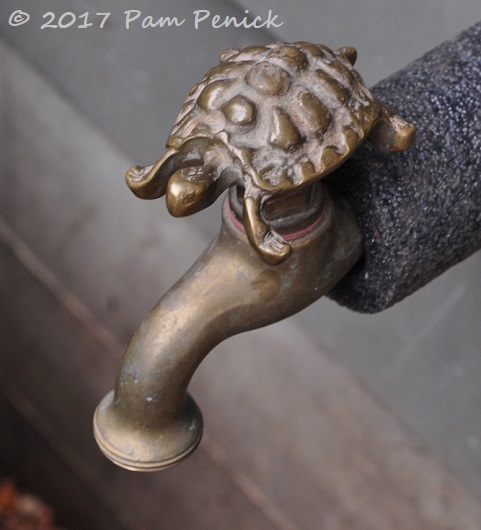 Speaking of turtles, check out this spigot handle!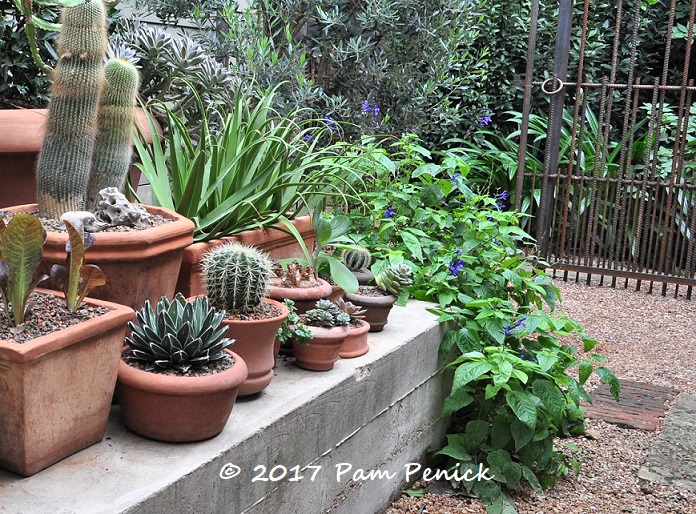 At right of the low wall…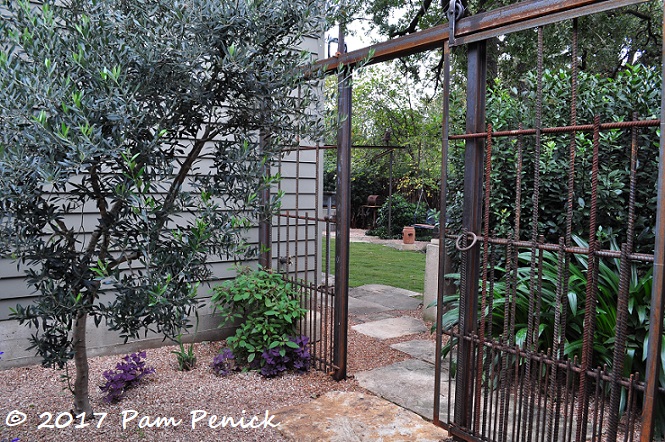 …a sliding steel-and-rebar gate offers entry to the back garden, with an olive tree standing sentry.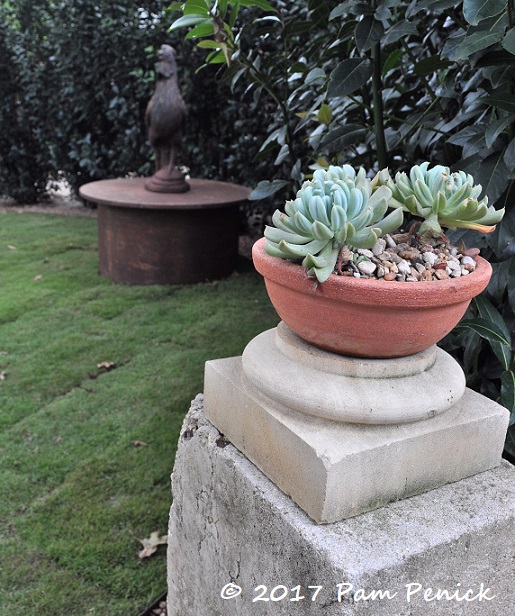 A tall curving hedge separates the main house (and its windows) from Jackson's personal space out back. A tiny pot of succulents is the finial on a pedestal, and an iron rooster struts atop a round steel plinth in front of the hedge.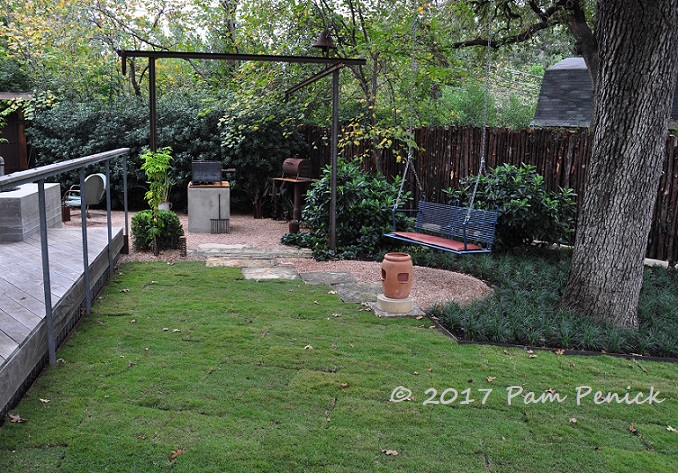 The rear garden is laid out along a diagonal, which makes the small space feel larger as it draws your eye along the longest possible axis. A deck runs along the house to a gravel patio with a fire pit, and a newly sodded lawn offers access to a swinging bench under a shade tree.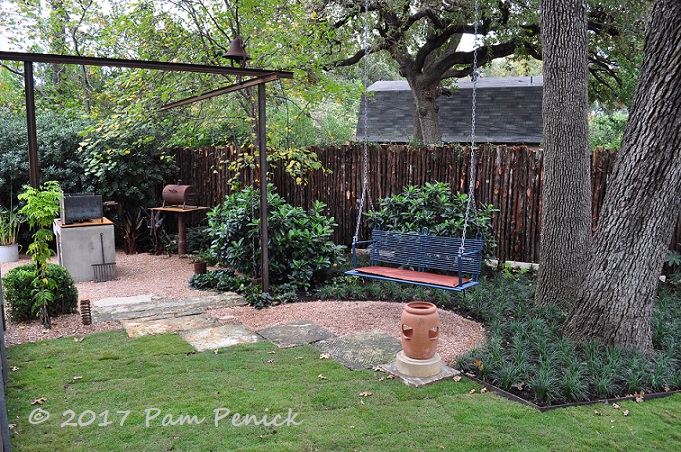 A steel arbor marks the doorway into the back patio, where a custom BBQ grill stands ready for cookouts.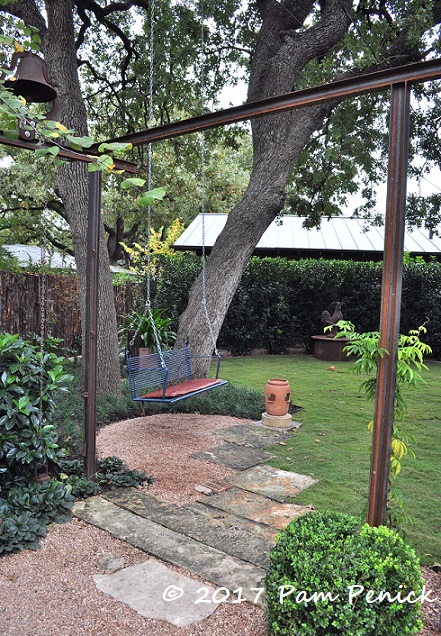 An old bell on top of the arbor can be rung by pulling on a chain. Dinnertime!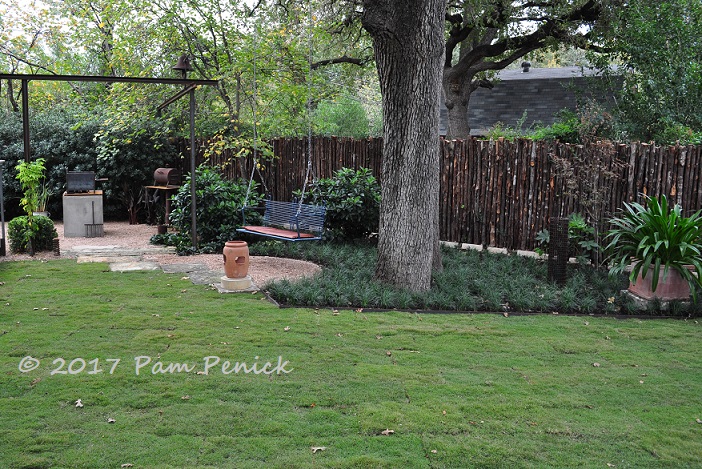 A coyote fence of cut cedar posts (native juniper, actually, but we call it cedar around here) gives privacy from neighboring yards and adds a natural rusticity.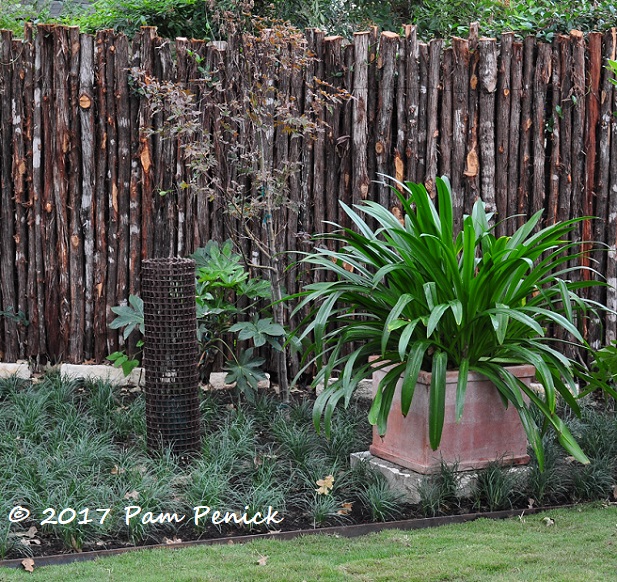 In a swath of mondo grass, a cylinder of steel mesh makes an architectural accent alongside a Japanese maple and strappy-leaved potted plant (crinum? amaryllis?).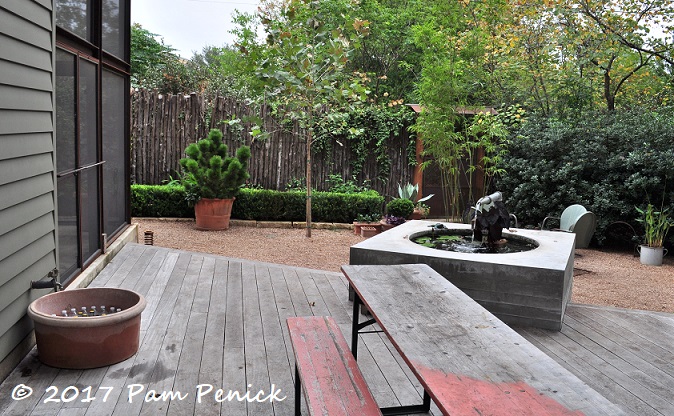 The elevated deck is angled not only along the long edge but at the end too, where it accesses the fire-pit patio. A skinny picnic table echoes these diagonal lines with a triangle of faded red paint on top. A board-formed concrete pond sits half on and half off the deck, cattycorner to the house.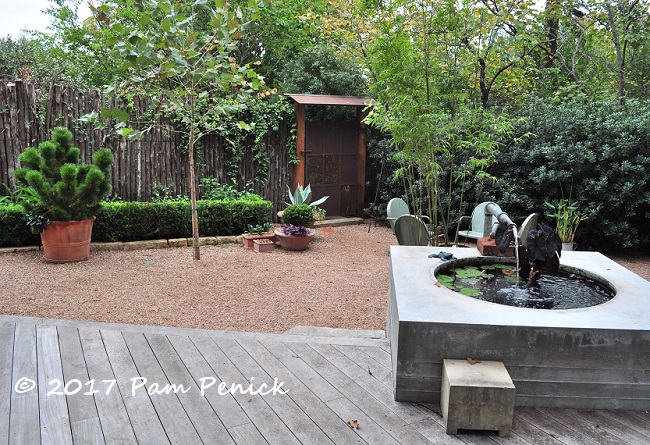 Water pours into the pond from an old fire-hose nozzle. A small block in front gives a boost to Jackson's young niece when she wants to visit the goldfish. Planted directly in the gravel patio is a young sycamore tree (Mexican sycamore?). A teddy-bear-like potted pine sits next to it. If you're wondering about all of Jackson's wonderful terracotta pots, he imports them from Italy and sells them once or twice a year in a flash sale.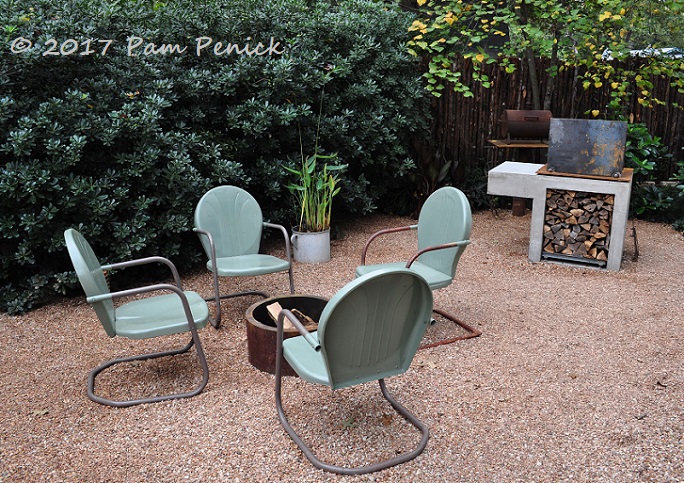 Motel chairs painted a dusty seafoam green surround a fire pit made from a steel pipe remnant. A concrete BBQ grill holds firewood in its base.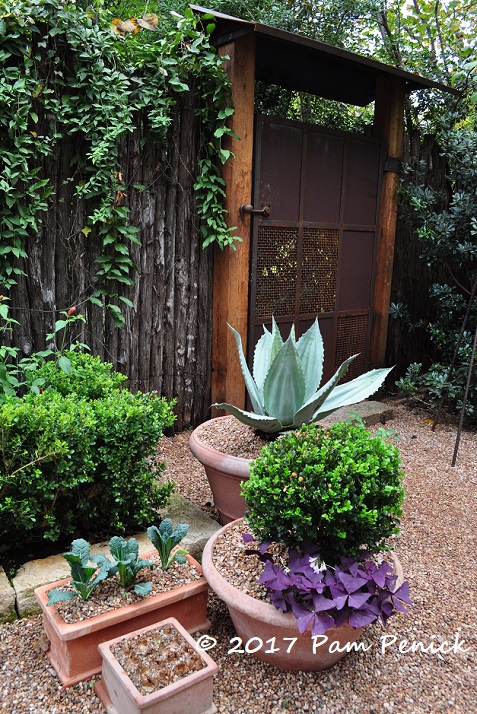 Another beautiful steel gate offers access to a small field or park space behind Jackson's house.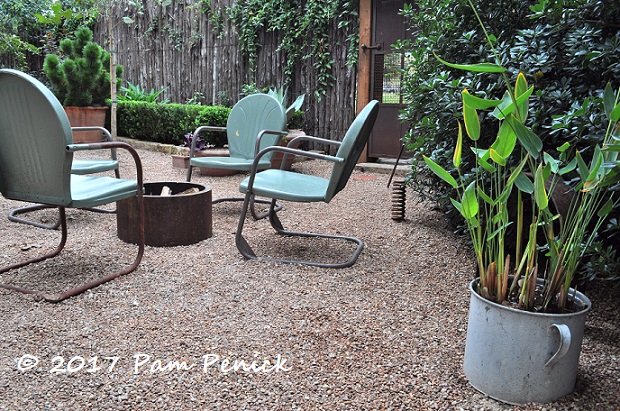 An old container with a handle holds water for a tiny bog pond.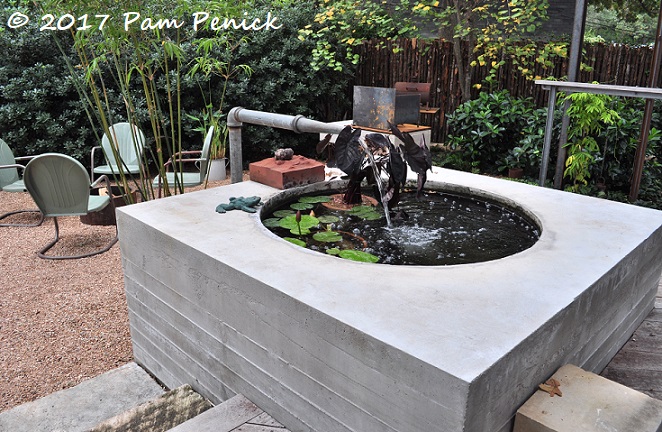 A closer look at the pond, which was a magnet for everyone who visited. It makes a nice spot to sit too.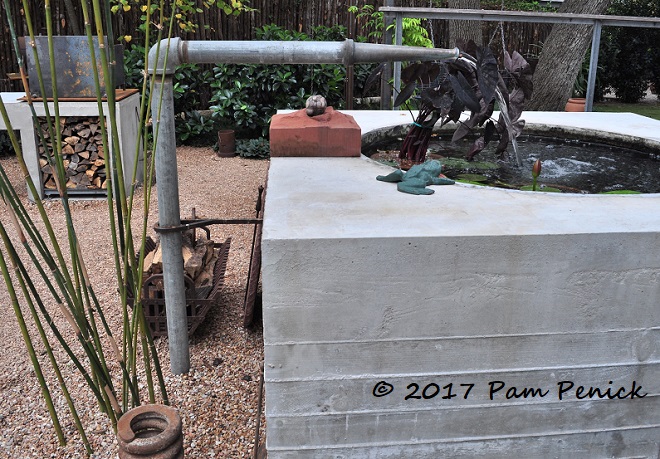 Industrial-style steel pipe fountain with fire-hose nozzle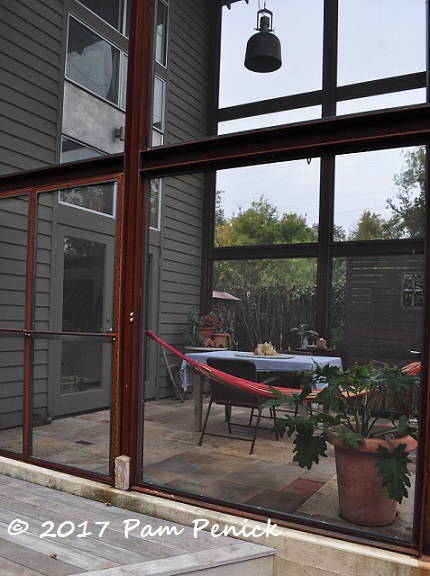 A two-story airy screened porch contains a hammock for lounging sans mosquitoes and a small table and chairs.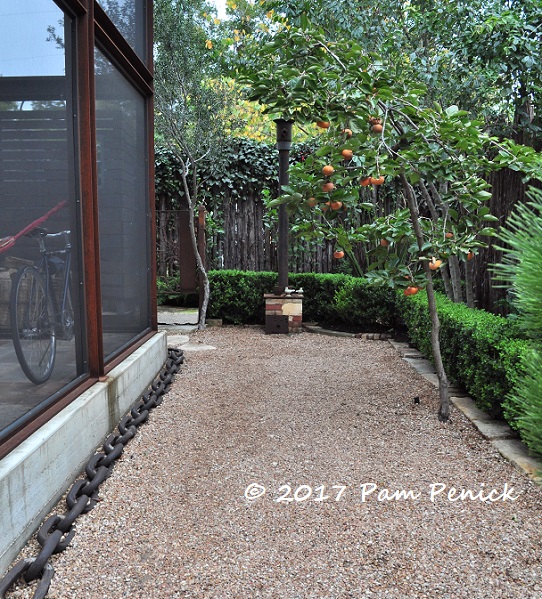 No space goes unused in Jackson's garden, including the narrow strip behind the screened porch. A persimmon laden with orange fruit leads the eye to a steel post with a birdhouse on top. Along the porch foundation, a huge chain adds another industrial touch.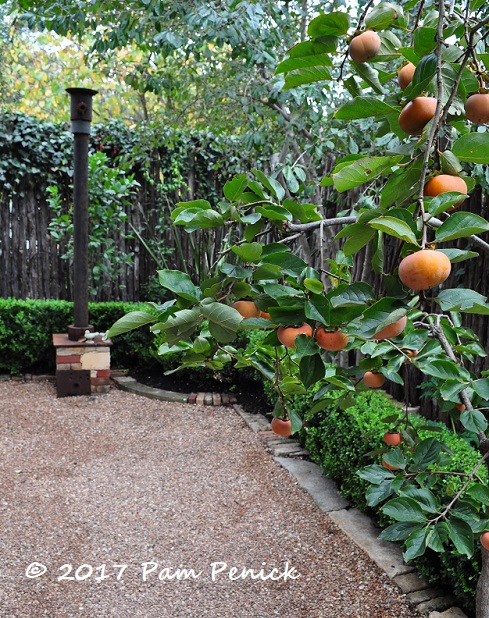 Persimmons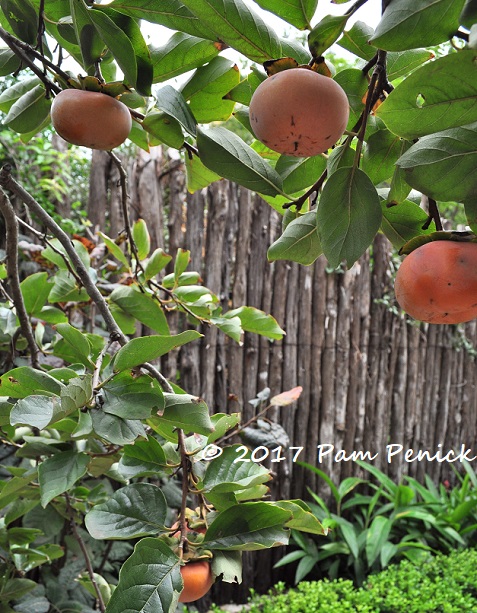 Perfectly timed for the tour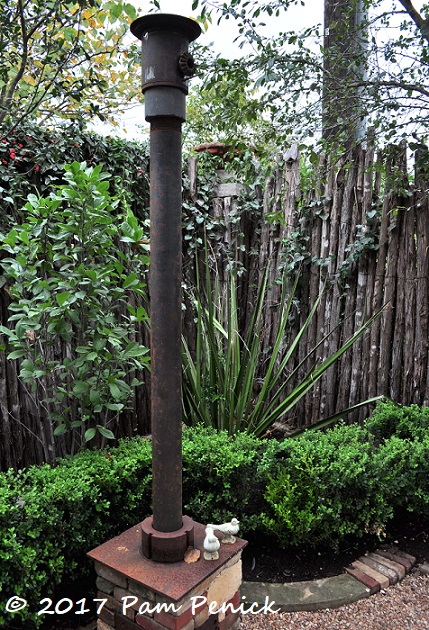 Birdhouse post (notice the two little birds at the base), with a giant hesperaloe tucked in the corner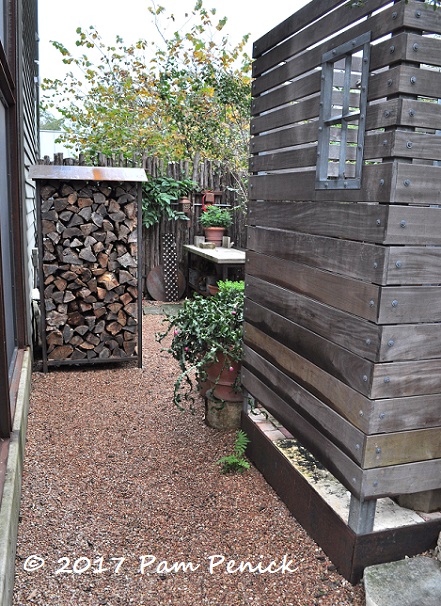 And around the corner, even the working space and firewood storage is beautiful. A clean-lined outdoor shower in the foreground has wood-slat siding spaced for privacy at the bottom, with wider spacing above (you can tell it's built for a man — ha!). A steel window looks out at the garden.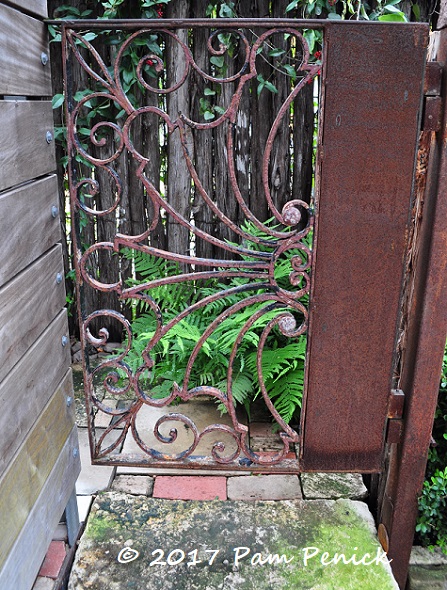 I'm sure the scrolled ironwork of the gate that leads to the shower has a history.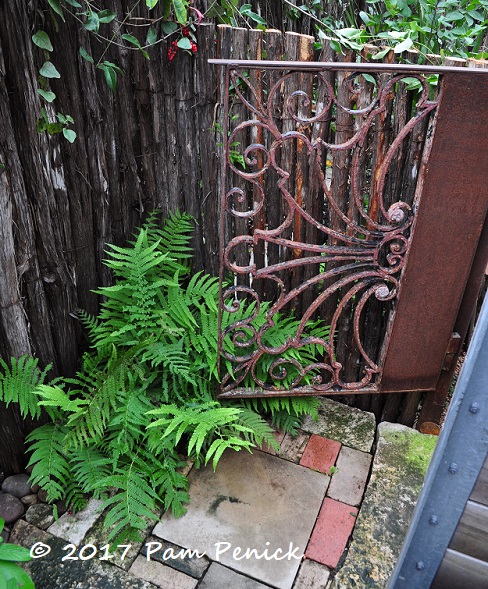 Ferns sprout from the mosaic paving inside the shower.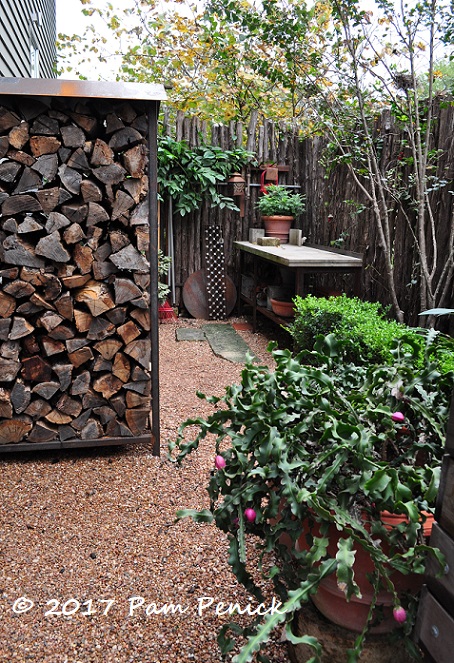 A quick peek at Jackson's potting bench and work area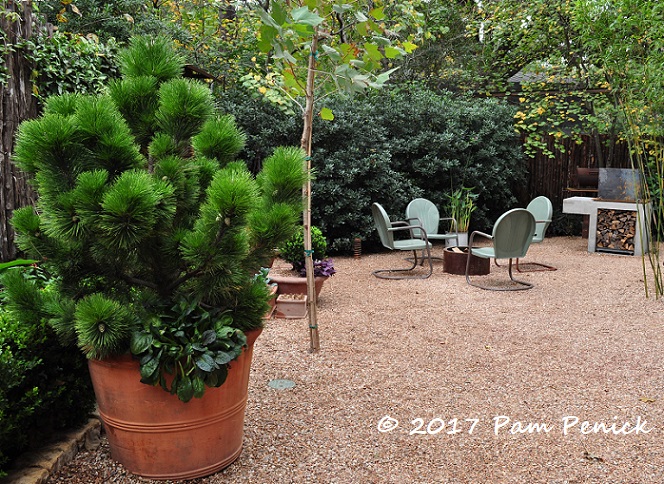 And a last look at that teddy-bear pine (this is my name for it, mind you; I didn't get the ID) and fire-pit patio. One more thought about the gravel patio, deck, and mondo grass groundcover: they allow Jackson to shrink the lawn to just the size he needs it to be, which saves water and effort. (I talk more about this concept in my book Lawn Gone!)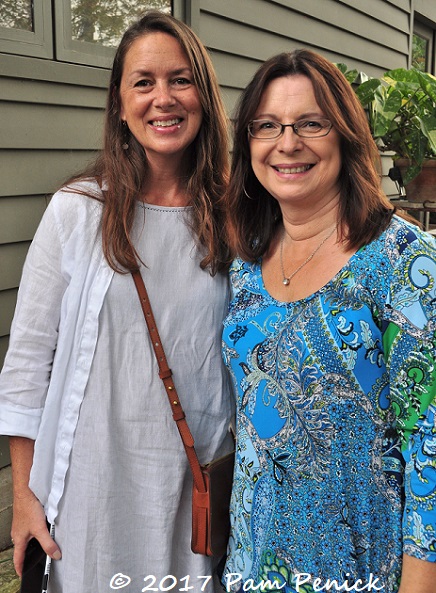 A couple of my touring companions, Cat and Diana, looking pretty blissed out at our first stop of the Open Days tour, sponsored by The Garden Conservancy.

Terracotta flowers holding down Jackson's business cards and brochures — so many thoughtful details in this garden!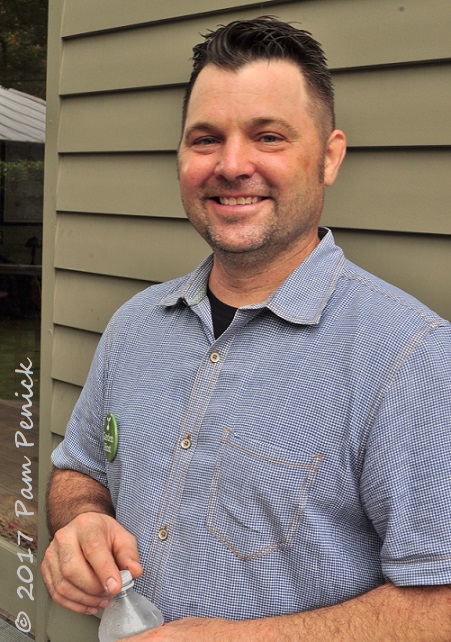 And here's Jackson himself, looking cool as a cucumber and not at all like he sweated his butt off getting his garden perfect for the tour. Surely it doesn't look this perfect all the time…does it?? No, it probably does. :)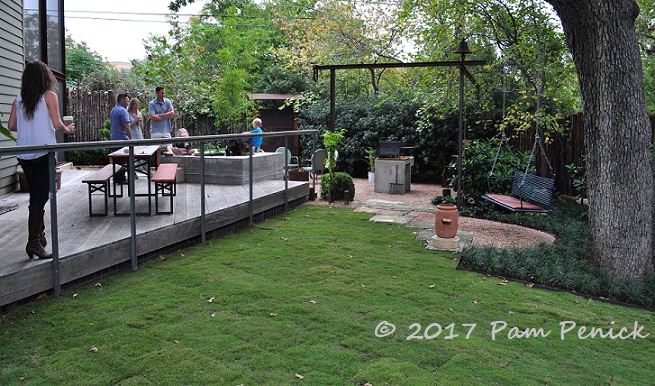 Thanks for sharing it with us, Jackson!
Up next: The Cloverleaf Drive Garden with a green-roof shed designed by Casey Boyter.
I welcome your comments; please scroll to the end of this post to leave one. If you're reading this in a subscription email, click here to visit Digging and find the comment box at the end of each post.
_______________________
Digging Deeper: News and Upcoming Events
Calling all garden bloggers! You're invited to register for the annual Garden Bloggers Fling tour and meetup, which will be held in Austin next May 3-6, 2018! Click this link for information about registering, and you can see our itinerary here. Space is limited, so don't delay. The 2018 Fling will be the event's 10th anniversary, which started in Austin in 2008.
Join the mailing list for Garden Spark Talks! Inspired by the idea of house concerts, I'm hosting a series of garden talks by inspiring designers and authors out of my home. Talks are limited-attendance events and generally sell out within just a few days, so join the Garden Spark email list for early notifications. Simply click this link and ask to be added.
All material © 2006-2017 by Pam Penick for Digging. Unauthorized reproduction prohibited.
posted in
Agaves
,
Arbors
,
Cactus
,
Containers
,
Decor
,
Design
,
Edibles
,
Fences
,
Firepits
,
Fountains
,
Garden art
,
Garden structures
,
Garden tours 2017
,
Gates
,
Lawn Gone!
,
Lawns
,
Outdoor showers
,
Paths
,
Patios & decks
,
People
,
Ponds
,
Porch
,
Rock
,
Sculpture
,
Seating
,
Shrubs
,
Succulents
,
Trees
,
Trellis
,
Vines
,
Walls
,
Water features
,
Water gardening
,
Windows