September 5th, 2014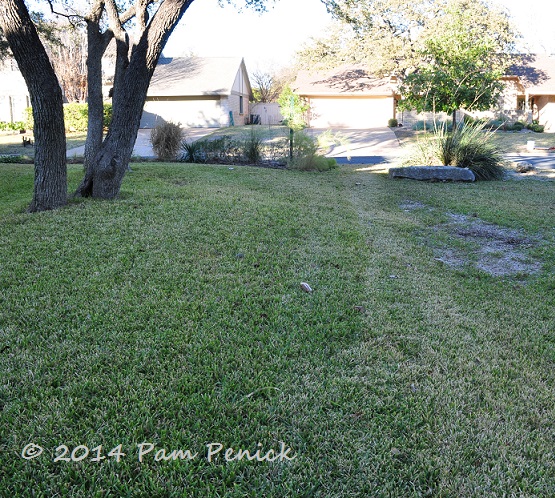 Here's why, years ago, I started taking pictures of my yard, despite the likelihood of looking cuckoo to the neighbors while snapping away at stretches of lawn or barely there, newly planted beds: it's fun to go back later and see how things have changed. Changes need not include high-dollar hardscaping or significant replanting in order to be appreciated either. Just seeing how much your trees have grown can be eye-opening. Through regular photo-taking you can study a moment frozen in time, and then skip ahead to the next year — so different from the day-to-day experience of a garden's infinitesimal growth or even the slow creep of seasonal change.
I dug up old pictures of my front side yard this morning, the last area of my garden that's been converted from lawn. Here's how it started: a big swath of St. Augustine grass from the back yard all the way up to the street. At this point I'd already added the curbside garden along the street; this is a winter view after its first season, I think. Not too much going on.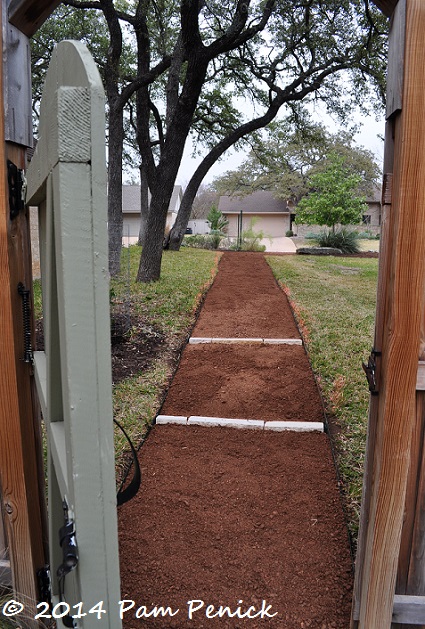 In January 2012 I hired a landscaper to lay a decomposed-granite path that runs from the back gate (our vantage point) uphill toward the street, where it makes a Y. To the right it runs to the street between my yard and my neighbor's; to the left it follows the curve of the curbside garden and leads to the driveway. This stretch is 4 feet wide. I'd have preferred 5 feet of width, but I was trying to minimize any damage to live oak roots in this narrow space between my yard and my neighbor's. (The path widens to a generous 5 feet behind the curbside bed.)
I used economical steel landscape edging to keep the gravel in place and grass out. Stone would been preferable, but my budget ruled that out. Two shallow limestone steps help tame the slope and slow water runoff during our Texas thunderstorms. I've never had any wash-out of gravel on this path.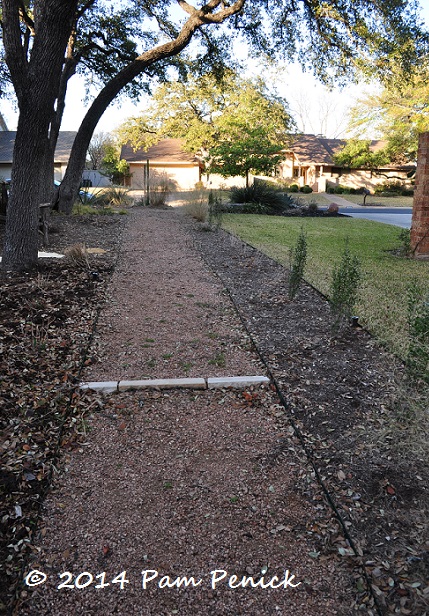 A year later, in March 2013, I was ready to dig out the remaining grass and plant. In the skinny strip along the right side of the path, I initially hoped to establish a spaced out hedge of 'Will Fleming' yaupons to screen the neighbor's driveway and provide a sense of enclosure. To save money, I filled the remaining space with divisions from existing plants, mostly dappled-shade-tolerant grasses for low maintenance and good deer resistance: inland sea oats (Chasmanthium latifolium), variegated miscanthus (that straw-colored lump to the right of the live oak in the foreground), and bamboo muhly (Muhlenbergia dumosa).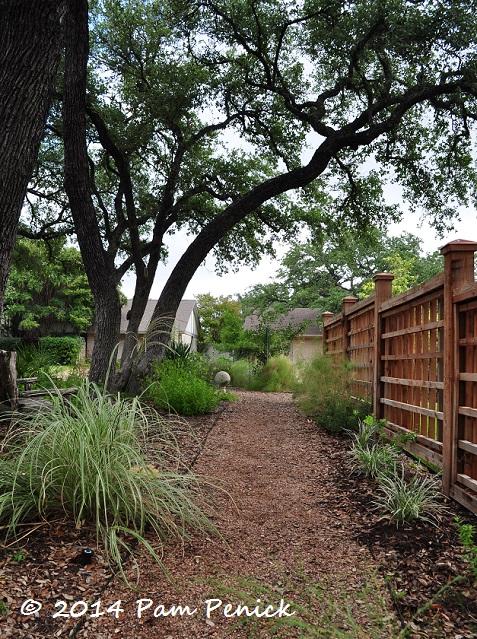 And here it is as of this morning. The grasses are filling in vigorously, and I've recently added Aztec grass to brighten the narrow strip at right. But the biggest change is, obviously, the lattice fence, which I had constructed in May. The 'Will Fleming' yaupons, much as I love them, just weren't going to provide the enclosure and screening I wanted for a few years, and I continually worried that the deer would antler them to pieces in autumn.
So I sprung for the fence and am so glad I did. It instantly created an intimate garden space in an otherwise throwaway part of the yard, and yet it's friendly, not standoffish, with breeze- and light-admitting, 5-inch-square lattice openings. Live oaks arch over this space — as they do all of my garden — and create a leafy ceiling. At the Y in the path ahead, a possumhaw holly (Ilex decidua) is slowly growing and will one day be a graceful, red-berried focal point as you walk up the path.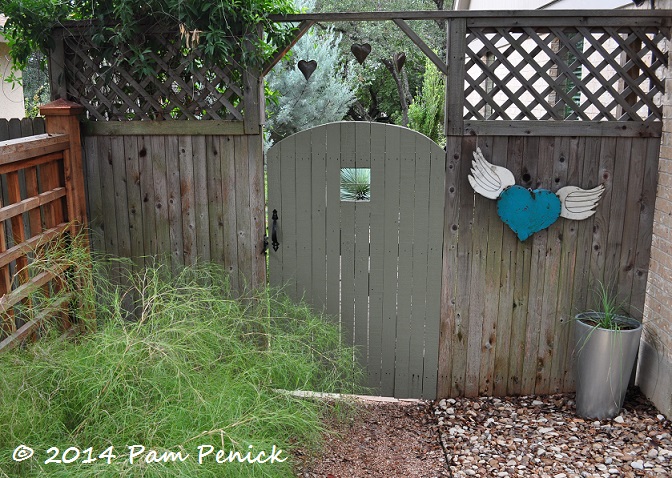 Turning around, here's the Heart Gate to the back garden, offering a peek-a-boo view of a Yucca rostrata, with a higher view of 'Blue Ice' Arizona cypress visible through the arbor. I think I may paint the water-stained fence boards on this side of the gate. What color, do you think? Could I get away with not painting the lattice above, half of which is buried under a butterfly vine? I think I also need to elevate the silver pot of Nolina lindheimeri with a couple of concrete squares, and maybe add another pot.
All in good time. This side garden has been evolving at a Darwinian pace for 5 years. Still, one day I'm sure I'll look back at these pictures and think, Now why didn't I get around to [pick a project] sooner?
All material © 2006-2014 by Pam Penick for Digging. Unauthorized reproduction prohibited.