April 10th, 2015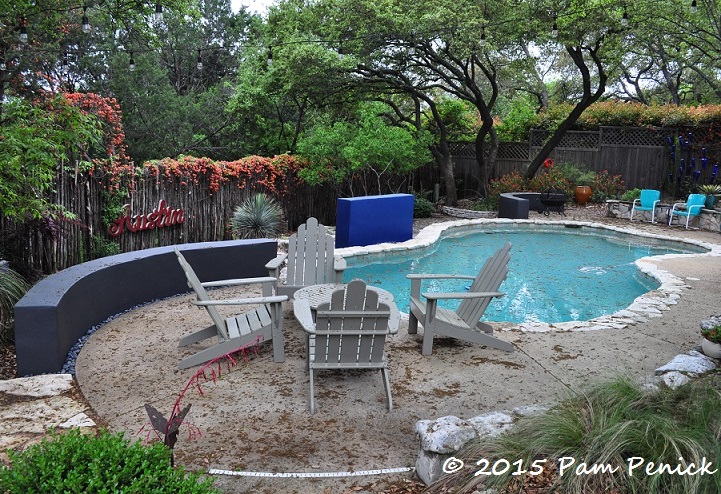 Damn the live oak pollen, full speed ahead…with the reveal of the painted stucco walls. (Really, though, the live oak pollen is out of control. I took this picture about 4 hours after completely blowing clean the patios.) After weeks of construction last fall, sampling a fiery red paint for months, and waiting out the winter wet and cold to finally finish painting, there's progress. The walls are painted, Mexican beach pebbles now fill the drainage gap between the curved walls and adjoining patios, and behind it all lies a cleared planting bed edged with a new stacked-stone retaining wall. Woot!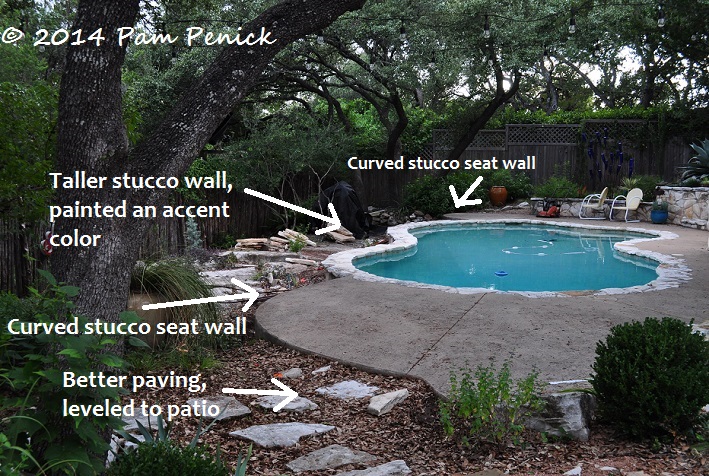 If you'll remember, this is how the space looked last summer. Quite nice — the previous owners installed a lovely pool and retaining walls to tame the steep slope off the back of the house (out of view on the right). But the back edge of the pool always felt unfinished. The circular patios at each end had a drop-off of about 18 inches, with nothing to stop an unwary guest from scooting a chair backward and over the edge. Plus all the terracing on the right begged for something substantial to catch the eye on the left. The new stucco walls are intended to provide visual balance, safety, additional seating, and year-round structure.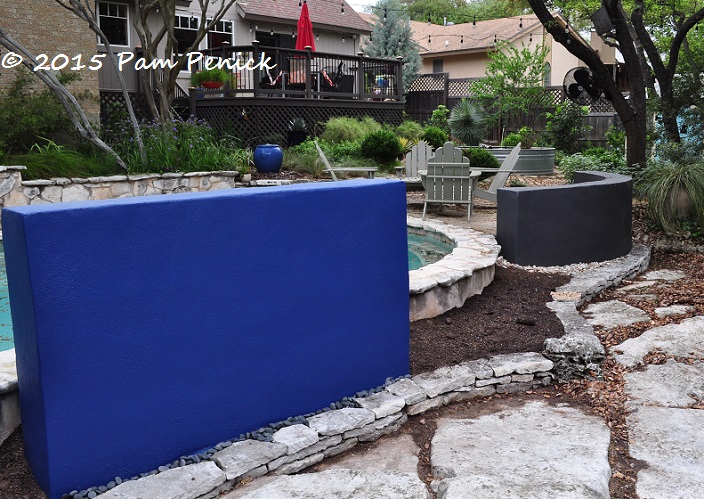 Here's the view from the back, with the new stacked-stone retaining wall neatly enclosing a narrow bed that I'll fill with 'Blonde Ambition' blue grama in sun and Mexican feathergrass in dappled shade. It'll be largely non-irrigated once established.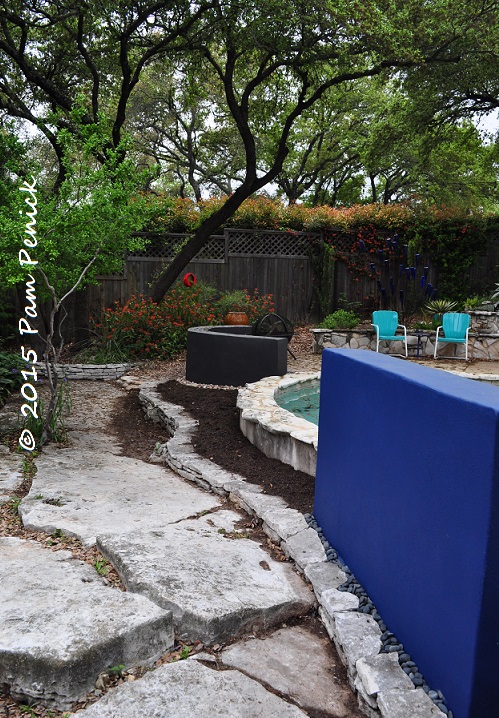 Panning left. The wall colors, if you're interested, are Jazz Age Blues and Celluloid by Dunn Edwards. The massive slabs of limestone that make up the rugged path behind the pool are natural. At the far end…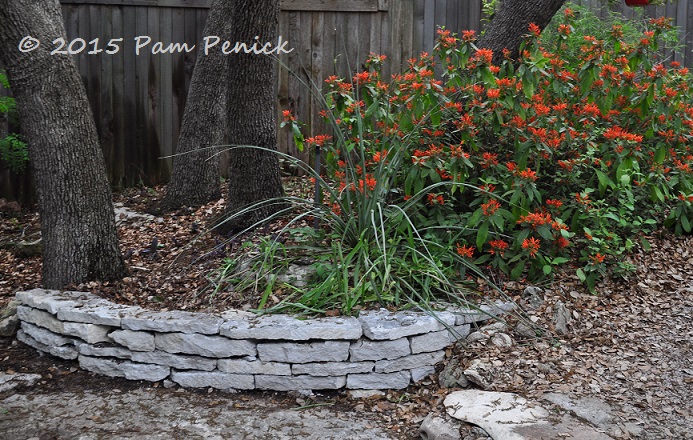 …is another stacked-stone retaining wall, which replaces a hodgepodge of small boulders. Blue nolina (Nolina nelsonii), spiderwort (Tradescantia occidentalis), and Mexican honeysuckle (Justicia spicigera) grow in the dappled shade of live oaks.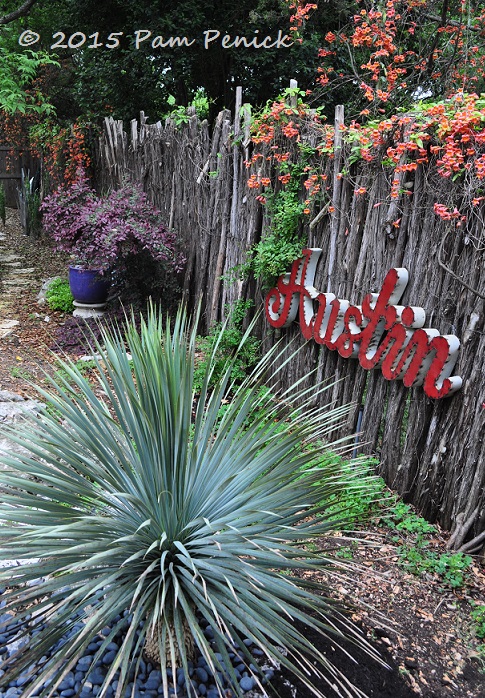 The view along the back fence, including the beautiful Yucca rostrata I just bought and a 'Tangerine Beauty' crossvine (Bignonia capreolata) in full bloom.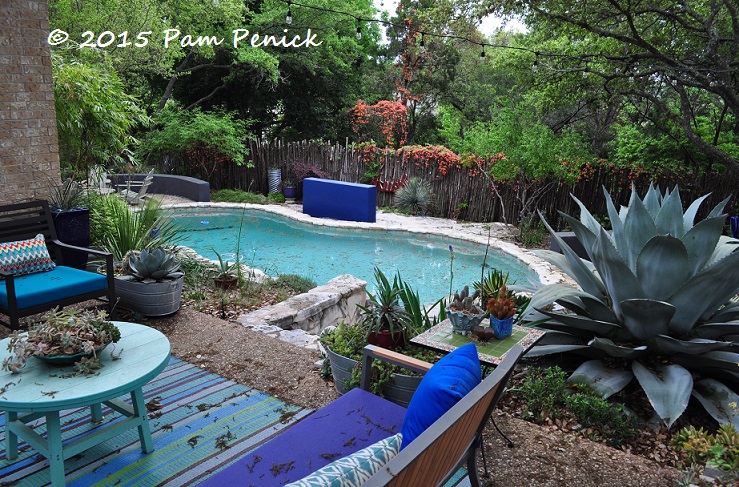 The view from the upper patio shows how the blue and gray walls echo the patio furniture and planters. Moby the 'Whale's Tongue' agave (A. ovatifolia) is looking especially perky this spring. I hope he's not thinking of blooming. Oh, and check out that crossvine along the fence: it's climbing straight up a cedar in the greenbelt. With orange trumpets festooning branches at least 20 feet high, the hummingbirds must be going bonkers and sleeping well at night.
All material © 2006-2015 by Pam Penick for Digging. Unauthorized reproduction prohibited.
posted in
2nd garden--2015
,
Agaves
,
Containers
,
Design
,
Fences
,
Grasses
,
Paths
,
Patios & decks
,
Rock
,
Seating
,
Signs
,
Swimming pools
,
Texas natives
,
Vines
,
Walls
,
Xeric plants
,
Yuccas