September 23rd, 2014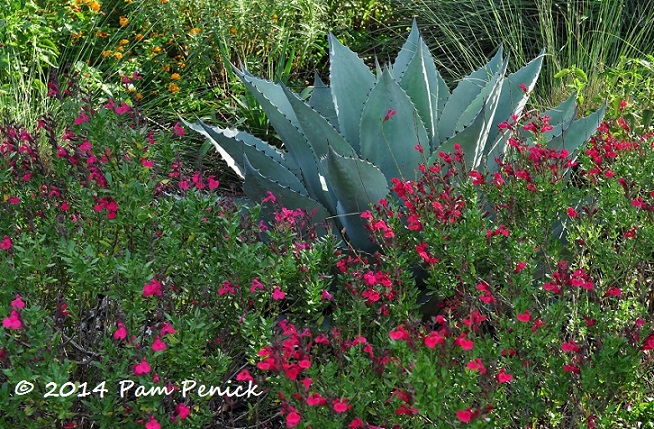 Kicking summer to the curb always feels satisfying in central Texas, especially when fall's arrival is not just a date on the calendar but marked by cooler, drier air and rain. Between Wednesday night and Friday morning of last week, my garden received at least 8 inches of rain, maybe more. My rain gauge overflowed one torrential night, and our closest weather station reported 10 inches. To put it in perspective, that's almost one-third of our annual rainfall in less than 48 hours.
I'd like to report that it was a drought-buster, but unfortunately little of that rain fell over our Highland Lakes, which supply Austin and other cities with water.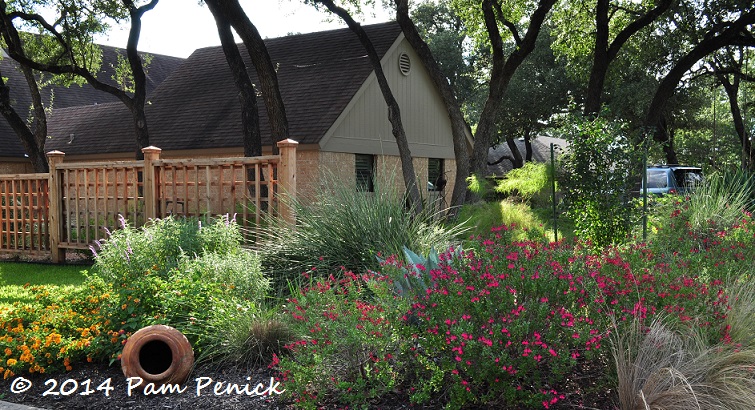 Still, it was a blessing for Austin's green canopy and gardens, despite some washouts and flooding. My own garden saw a little of that, but once the rains stopped, having flowed straight to the construction I'm having done in the back yard, it was mostly a matter of mud and mosquitoes. Despite that, any rain is cause for celebration, and the garden immediately lifted its head to say Ahhhh!
This is actually my next-door neighbor's garden, which I planted for her as a continuation of my own. Hers gets more sun and is therefore more flowery, with a color-explosion of Autumn sage (Salvia greggii), Mexican bush sage (Salvia leucantha), and lantana along the driveway.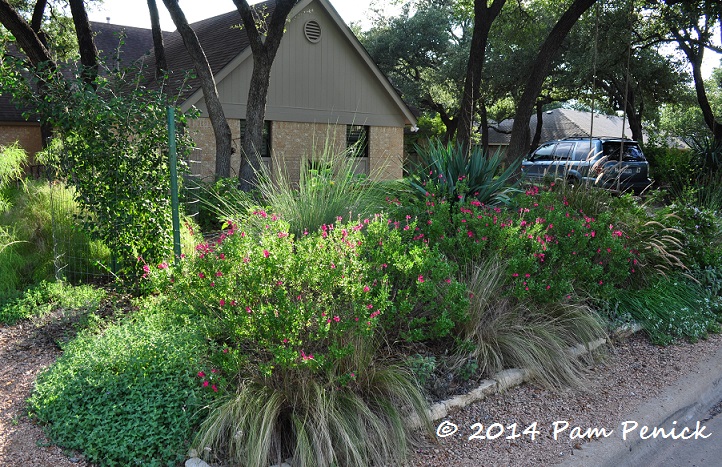 Here's my side, with the same Autumn sage and Mexican feathergrass (Nassella tenuissima), but with the addition of catmint (Nepeta racemosa), possumhaw holly (Ilex decidua), softleaf yucca (Y. recurvifolia), garlic chives (Allium tuberosum), 'Pink Flamingos' muhly, bamboo muhly (Muhlenbergia dumosa), and purple fountain grass (Pennisetum setaceum 'Rubrum'). Everything must be very deer resistant.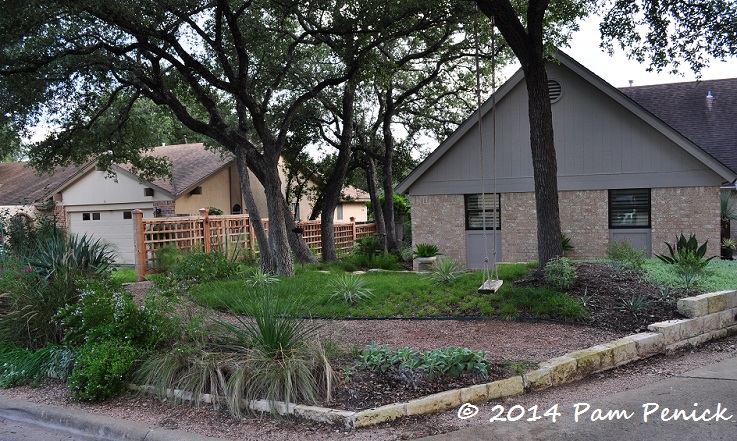 The view from my own driveway, with a decomposed-granite path running between the curbside garden and the Berkeley sedge (Carex divulsa) lawn. My daughter's old tree swing, made by my husband, still hangs over one side of the path and occasionally tempts one of us to sit for a moment or kick into the air.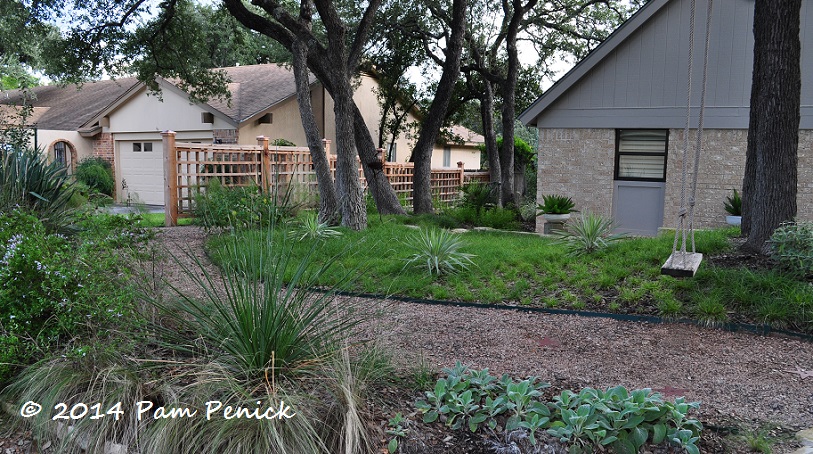 A trio of 'Margaritaville' yuccas grow amid the sedges, an idea I got from Scott and Lauren Springer Ogden's garden. The yuccas offer a tempting target each fall for bucks with itchy antlers. I really should get out there and cage or net them for protection through the winter. I just hate the look of it.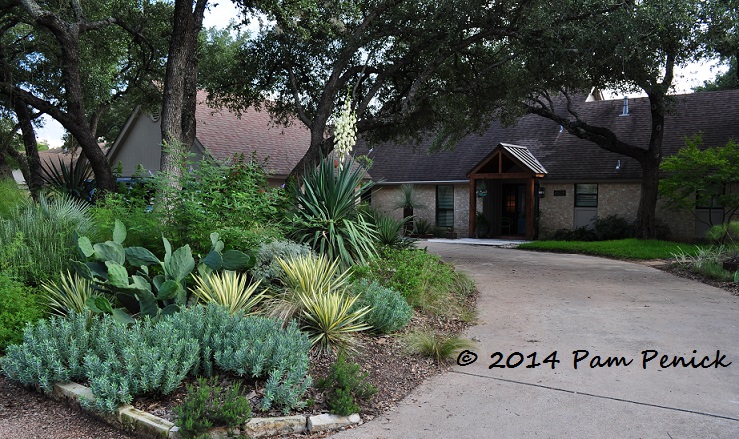 We have a big, honking circular driveway that I confess I quite like, despite the fact that it's a lot of nonpermeable concrete. But the water flows off it into our garden, not into the street, it's a great play surface for kids (especially when you don't have a lawn), and I enjoy the large, bermed island bed it encircles, which gives us some street screening.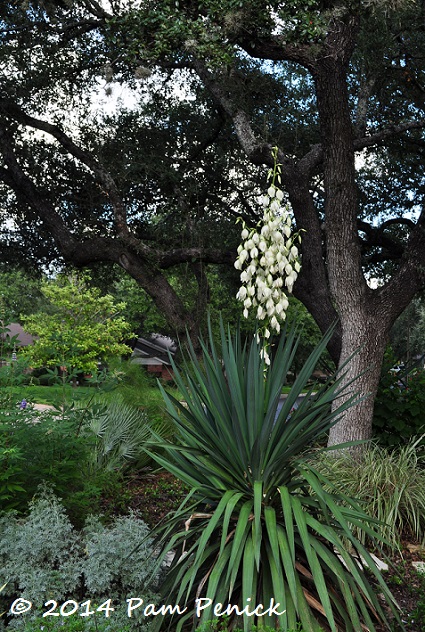 Softleaf yucca (Yucca recurvifolia) is blooming again. This sucker is getting BIG.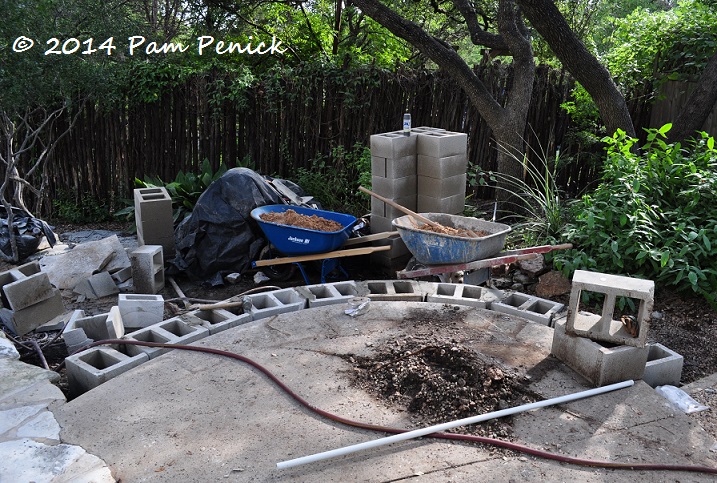 In back, the wall work stalled out for two days last week because of all the rain. But they're back in force today, and the wall is already taller than when I took this picture.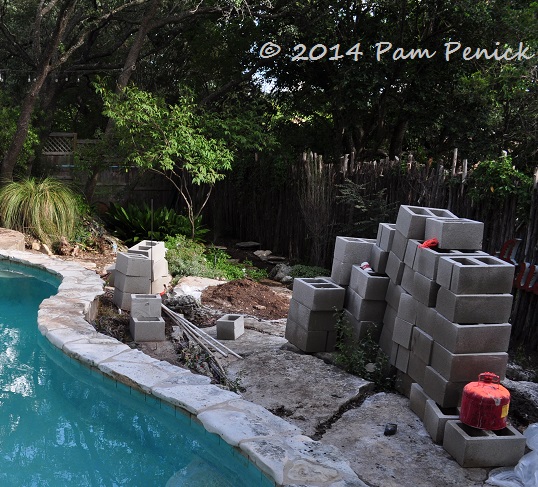 Not much happening over here yet, although the footing is poured and materials are in place.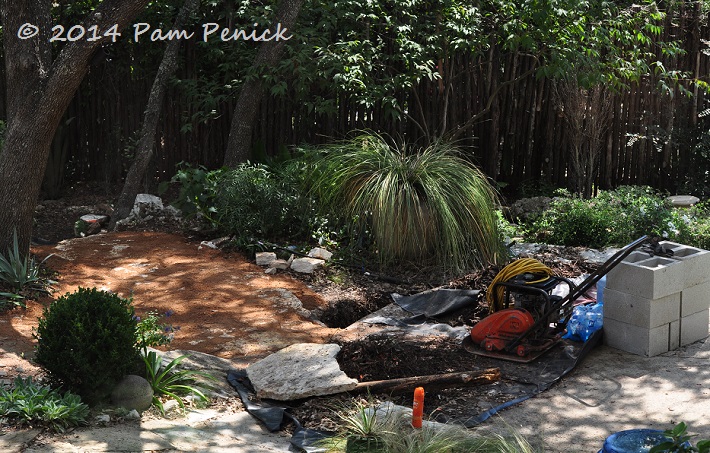 Philip of East Side Patch calls this the Normandy phase — the destruction that precedes construction. You must keep the vision of garden-beauty-to-come in your mind at all times or you could never go through with it. The guys are actually doing a terrific job of not tearing up my plants, but it's still nerve-wracking. I just keep telling myself that it'll all be worth it.
All material © 2006-2014 by Pam Penick for Digging. Unauthorized reproduction prohibited.
posted in
2nd garden--2014
,
Agaves
,
Fall color
,
Fences
,
Grasses
,
Groundcovers
,
Lawn Gone!
,
Paths
,
Texas natives
,
Trees
,
Walls
,
Weather
,
Yuccas