February 23rd, 2017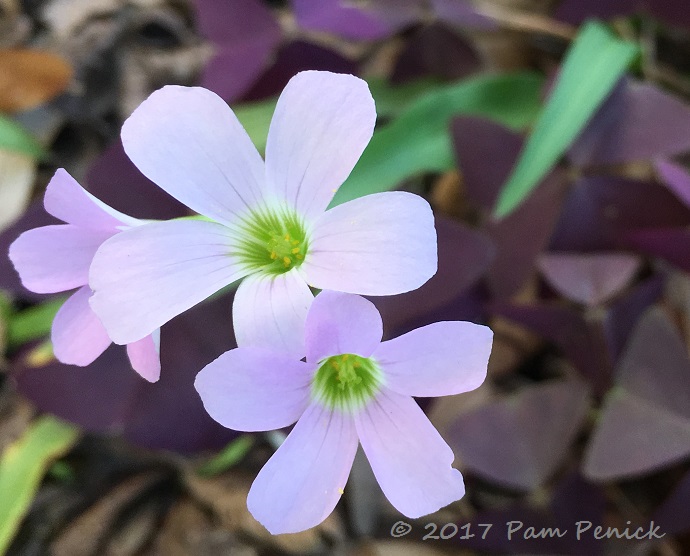 Purple oxalis flowers delicately echo its purple leaves
Texas redbuds, Texas mountain laurel, spiderwort, and even some bluebonnets are surprising Austinites this spring with early blooming. I can usually count on sniffing the grape Kool-Aid-scented blossoms of Texas mountain laurel well into mid-March, but they may be done by then.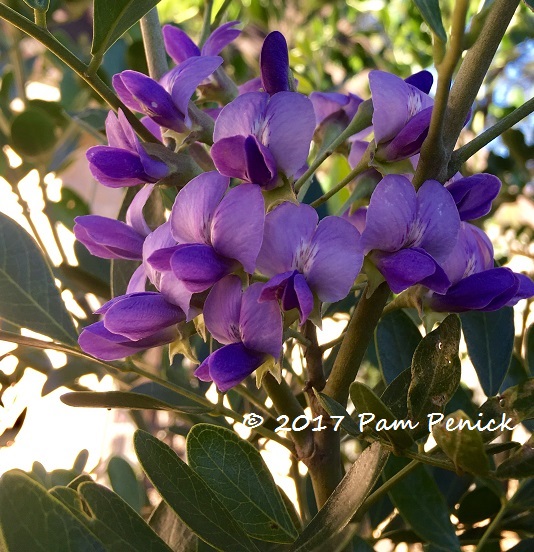 Being shady, my garden lags behind sunnier spots, and my own Texas mountain laurels are just getting started. Ahh, I do love the grapey blossoms of this gorgeous native tree.

Gardeners in cooler climates think of waterlilies as summer bloomers. But the first flower appeared on 'Colorado' in my stock-tank pond this week. I've yet to divide my pond plants, so that'll slow them down a little. But for now I'm enjoying this beauty.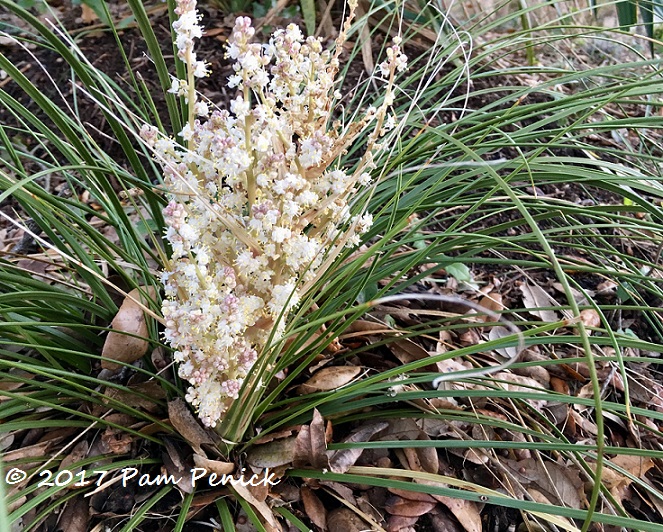 Another native, Texas nolina, is sending up stiff sprays of ivory and pale-pink flowers, held in the center of its grass-like foliage.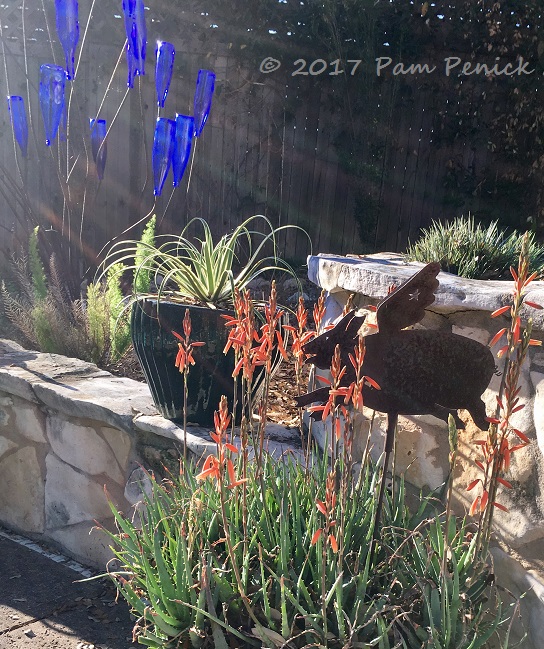 'Blue Elf' aloe has hoisted its coral-red bloom spikes too. Calling all hummingbirds!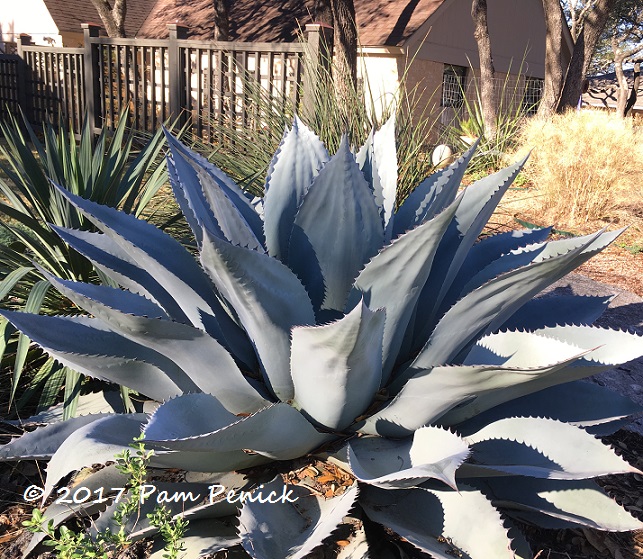 Of course, I can never resist photographing agaves, and my neighbor's whale's tongue agave (A. ovatifolia) is looking especially fine — like a big, blue rose. With teeth.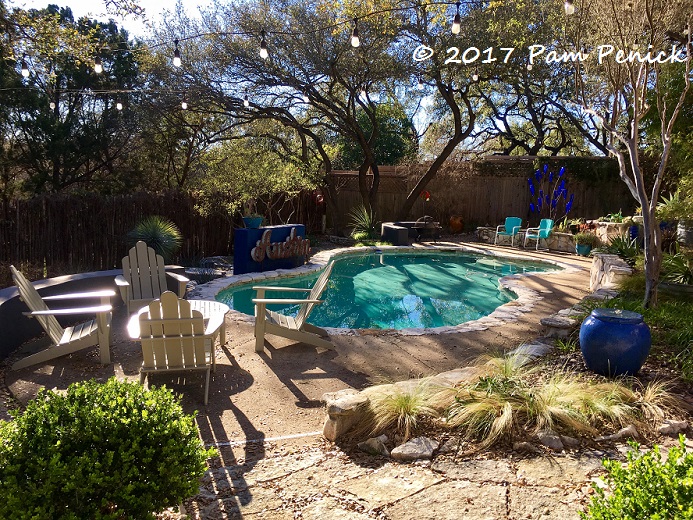 While I'm not relishing our early heat (upper 80s this week), I'm enjoying the garden's spring revival. Soon enough it'll be swimming season.
I welcome your comments; please scroll to the end of this post to leave one. If you're reading this in a subscription email, click here to visit Digging and find the comment box at the end of each post.
_______________________
Digging Deeper: News and Upcoming Events
2/25/17: Come to my talk at the Wildflower Center. I'll be speaking at the day-long Native Plant Society of Texas Spring Symposium at the Lady Bird Johnson Wildflower Center in Austin. My talk is called "Local Heroes: Designing with Native Plants for Water-Saving Gardens," and it's about creating water-wise home gardens that don't sacrifice beauty. The symposium is open to the public. Click here for registration. I'll be offering signed copies of my books, The Water-Saving Garden and Lawn Gone!, after my talk ($20 each; tax is included). I hope to see you there!
Get on the mailing list for Garden Spark Talks. Inspired by the idea of house concerts — performances in private homes, which support musicians and give a small audience an up-close and personal musical experience — I'm hosting a series of garden talks by design speakers out of my home. The upcoming talk with James deGrey David has sold out, but join the Garden Spark email list for speaker announcements delivered to your inbox; simply click this link and ask to be added. Subscribers get advance notification when tickets go on sale for these limited-attendance events.
All material © 2006-2017 by Pam Penick for Digging. Unauthorized reproduction prohibited.