December 23rd, 2015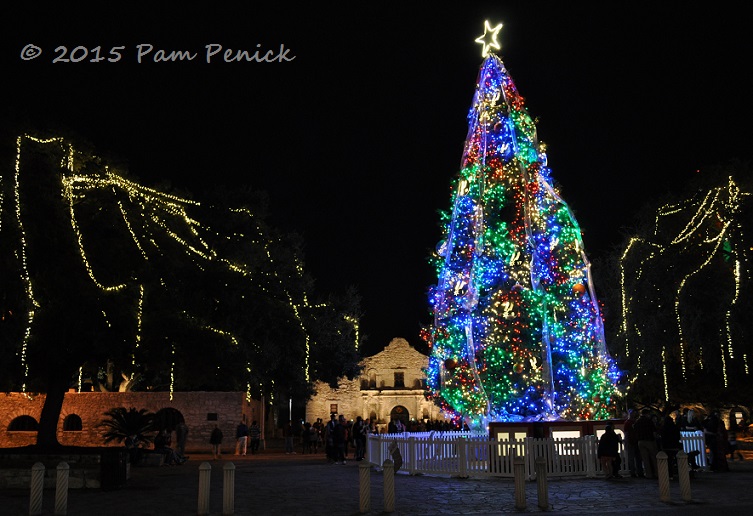 We rolled down I-35 to San Antonio on Monday afternoon to see the famous Christmas lights along the River Walk. Naturally, we remembered the Alamo and made that our first stop.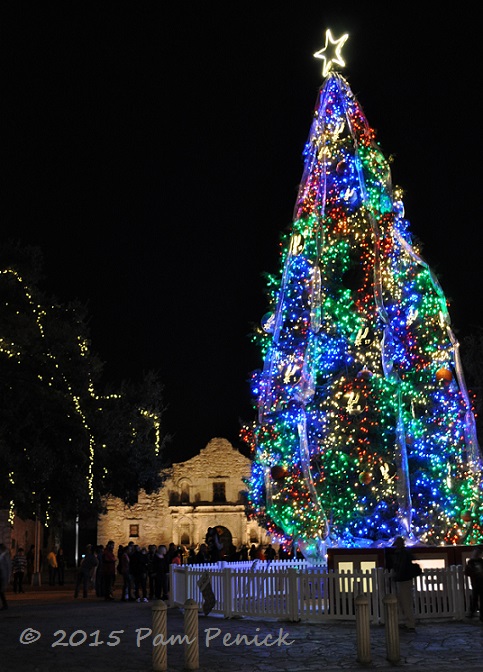 A grand tree alight with clusters of colored bulbs and cascading ribbons, bedecked with oversized San Antonio Spurs ornaments, stood in the plaza in front of the Alamo. Surrounding live oaks, like ladies-in-waiting, glowed with long, draping strings of white lights.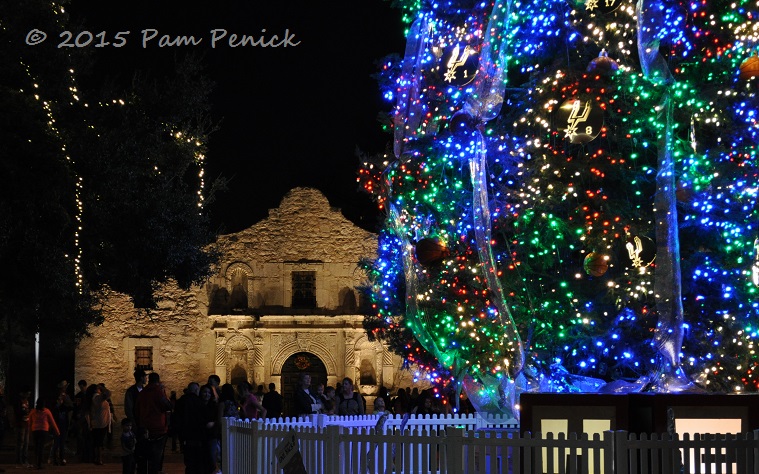 A closer looks shows the basketballs and Spurs ornaments on the tree.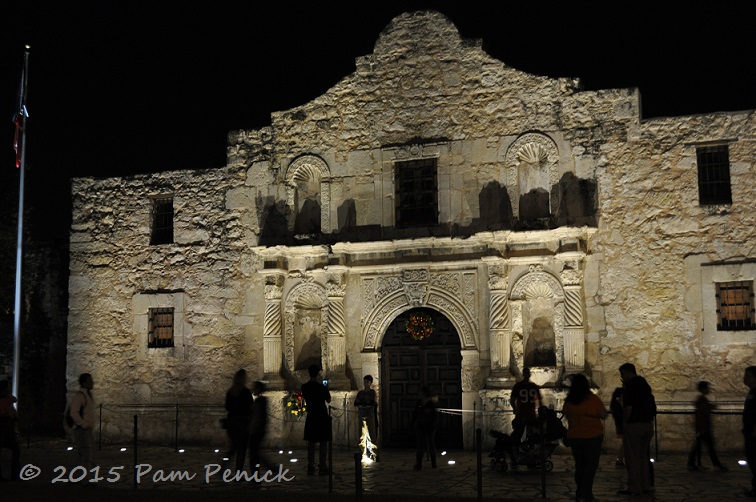 The Alamo itself, as befitting an historical shrine, was washed with light and adorned simply, with only a festive wreath on its door.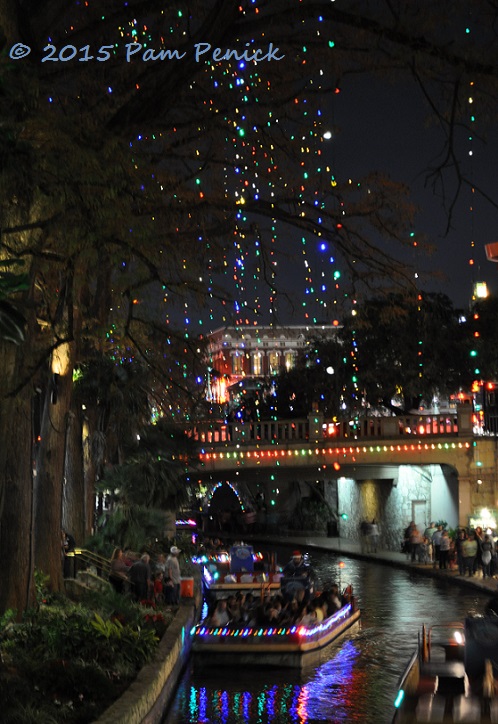 A quick stroll across the street and down a flight of stairs took us to the city's famous River Walk: a magical underworld of bald cypress-lined sidewalks packed with cafe seating for the many restaurants, hotels, and shops built along the San Antonio River, which flows through downtown. For the holidays, colored strands of lights hang like beaded curtains from the majestic trees, and tourist boats motor slowly beneath them.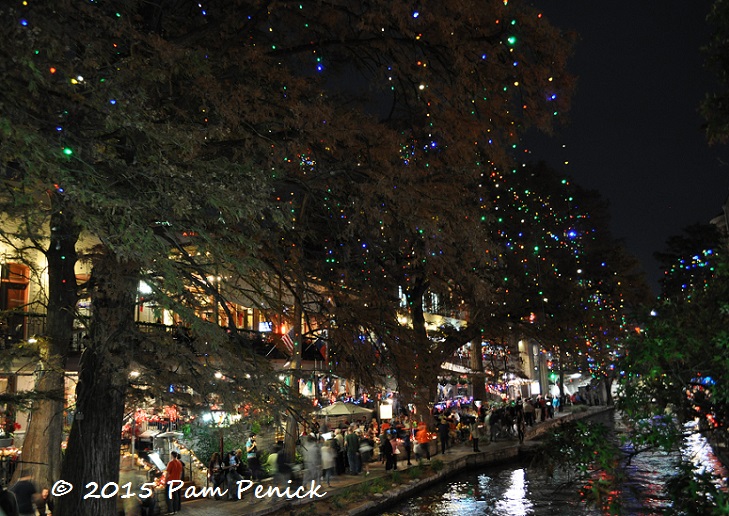 The lights were beautiful, but the sidewalks were very crowded, and I confess I got a bit Grinchy before we'd walked very far — in single-file, unable to talk to each other because it was so packed.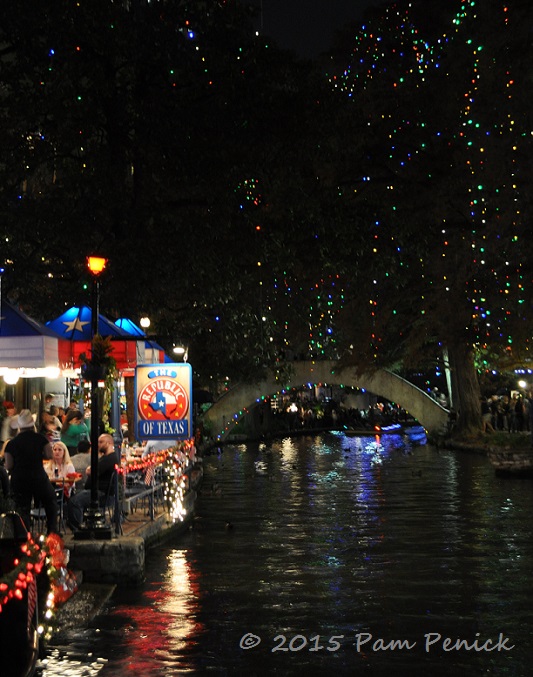 The thing to do, I imagine, would be to come early and grab a cafe table along the river, and just people-watch over a Tex-Mex dinner. Or come late for a romantic stroll with your honey. I'll know next time. It really is quite beautiful.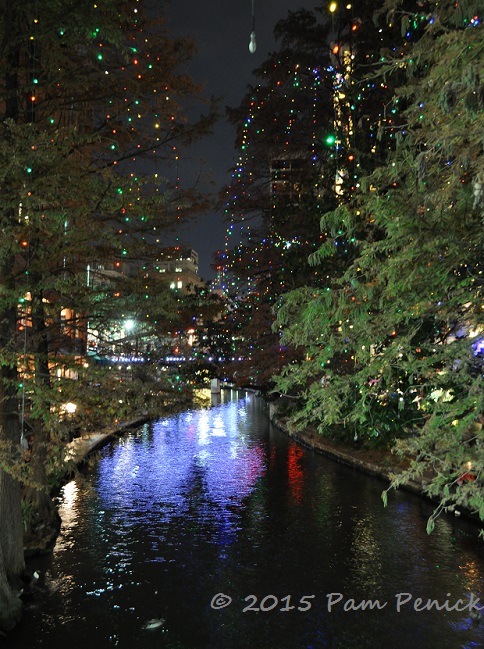 I leave you with this final image of holiday lights, and I wish you all the peace and joy of the season, dear reader. See you again after Christmas!
All material © 2006-2015 by Pam Penick for Digging. Unauthorized reproduction prohibited.