May 4th, 2017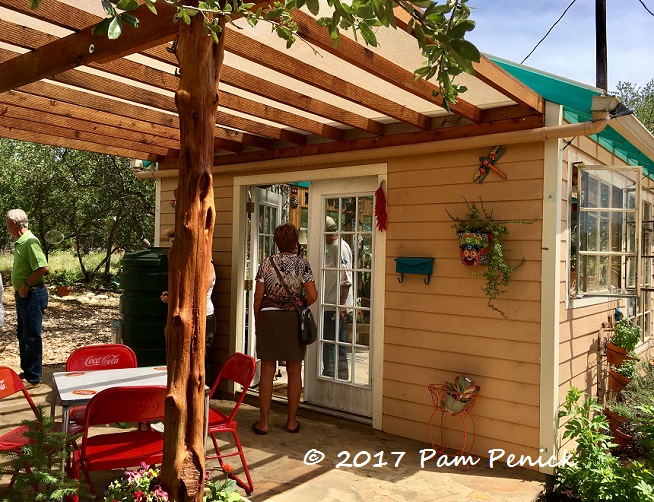 I've already posted about two of the gardens on this Saturday's Inside Austin Gardens Tour, and today I'm showing a sneak peek of three more private gardens on the tour.
Garden of Dorothy Thering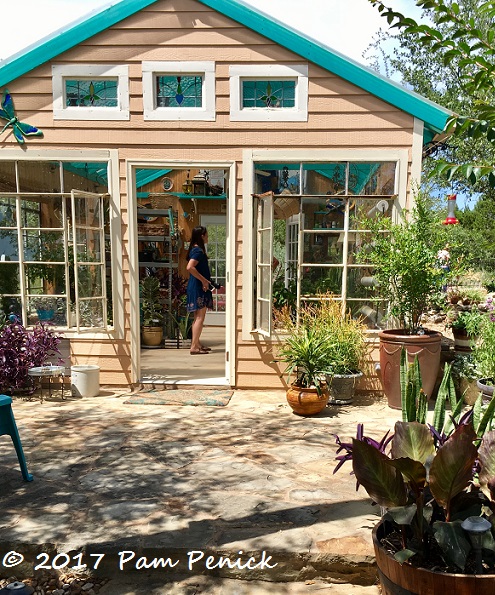 Gardening on 23 acres in Spicewood, Dorothy Thering has room for a spacious and colorful greenhouse with welcoming patios (see top picture too).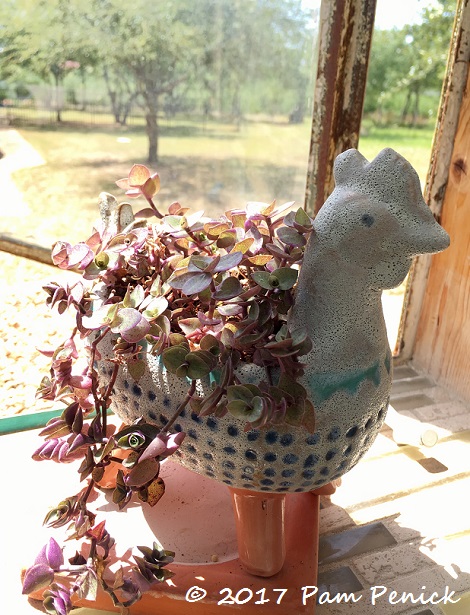 Potted plants live in and around the greenhouse, and garden beds, a small pond, and a fire-pit patio add country-living ambience, not to mention acres of rugged Hill Country views.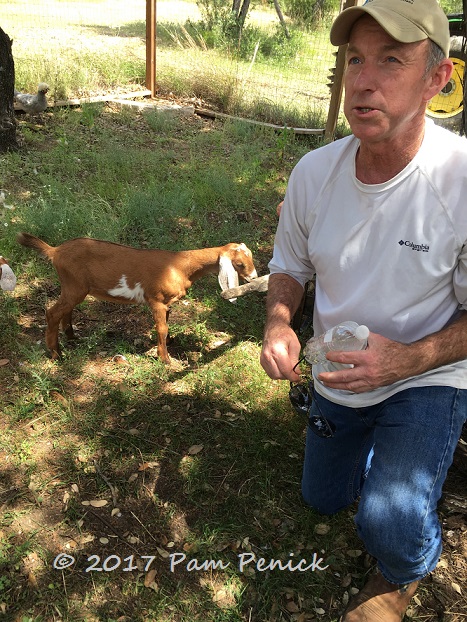 Dorothy and her husband, Mike (pictured here), also have a fenced vegetable garden, chickens, beehives, a pony, and a pair of mini Nubian goats, Ethel and Lucy.
Garden of Peggy Hart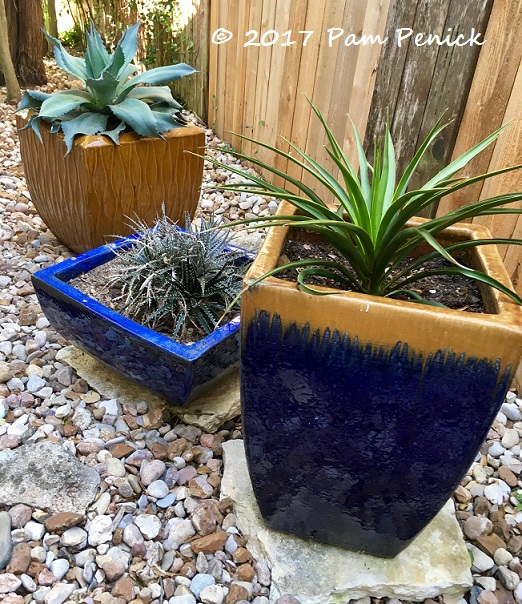 In suburban west Austin, Peggy Hart gardens sustainably with low-water plants, rainwater collection, and a pollinator garden.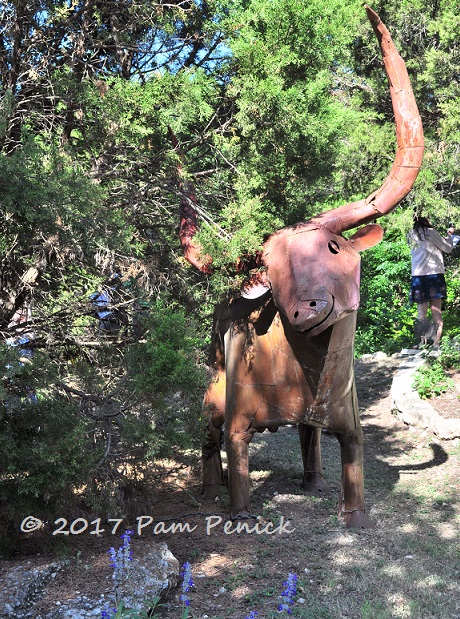 A cheerful metal longhorn guards the back forty amid the cedars.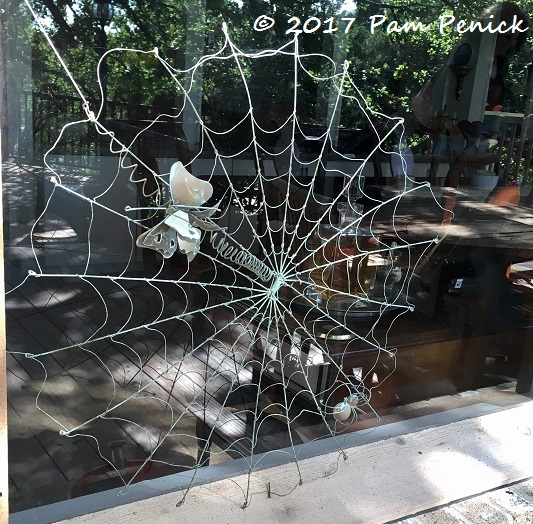 And a huuuuuge deck, only glimpsed here in the window reflection, provides a view of downtown and the UT Tower, plus lots of comfortable places to relax. Peggy accents the deck with fun art, like this metal spiderweb, and potted plants.
Garden of Velia Sanchez-Ruiz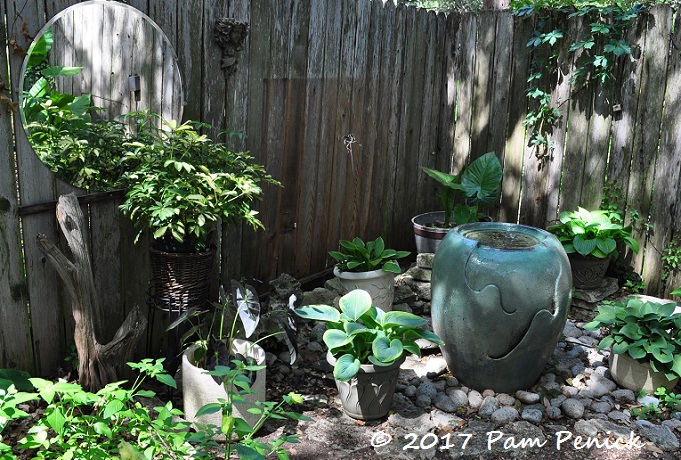 In south Austin, Velia Sanchez-Ruiz contends with deep shade in her back garden, brightening it with mirrors, white pots and garden art, and lush greenery.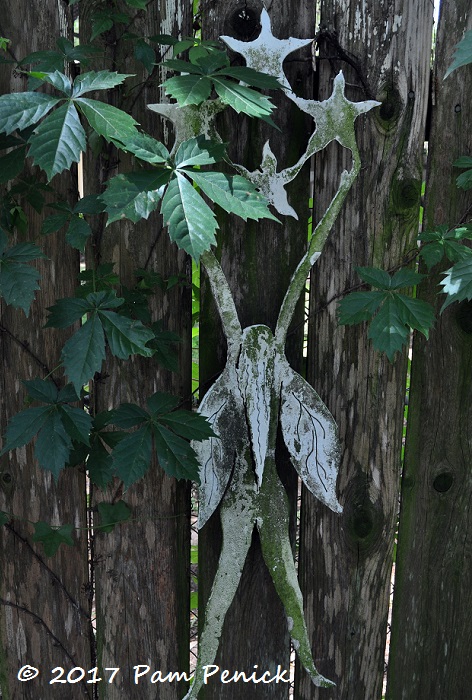 A metal angel reaches for the stars amid star-shaped leaves of Virginia creeper.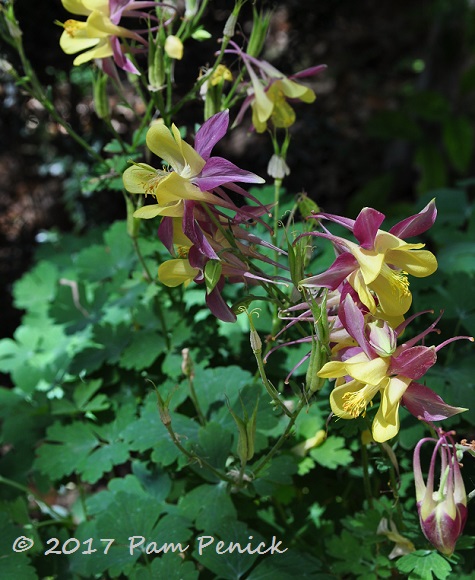 This pretty yellow-and-pink columbine doesn't mind the shade.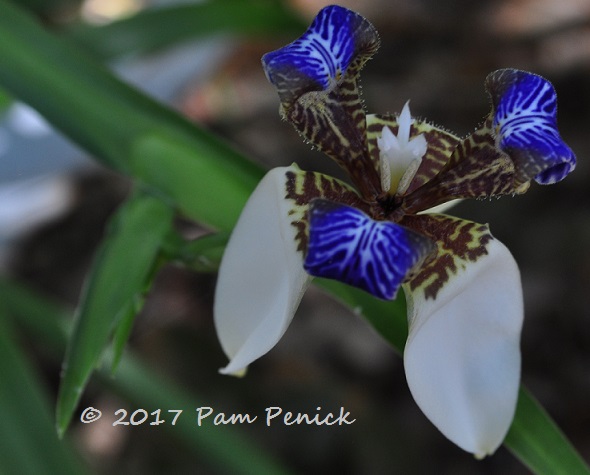 Walking iris hasn't walked out either.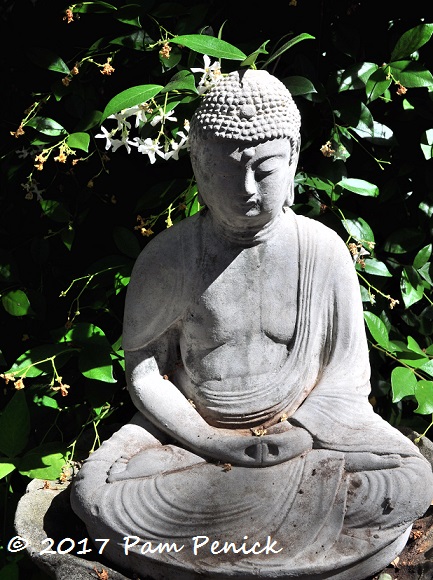 Fragrant star jasmine flowers behind a meditative Buddha.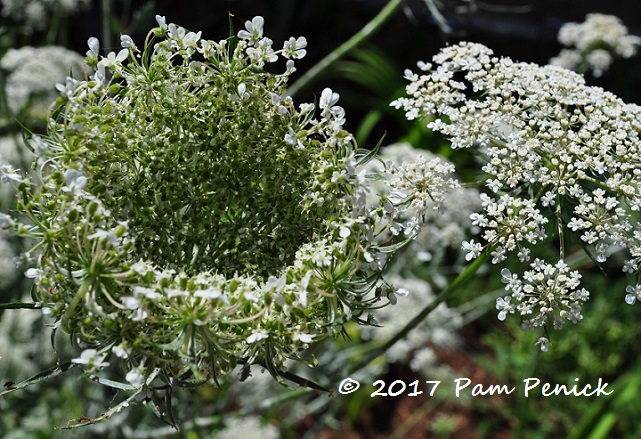 Out front, Velia grows sun-loving flowers, including an extensive collection of daylilies and even Queen Anne's lace.
That's it for my sneak peek of the tour, coming up Saturday, May 6th! For a look back at the cottage-meets-Zen garden of Daphne Jeffers and Shari Bauer's whimsical found-art garden, both of which will also be on Saturday's tour, click here.
I welcome your comments; please scroll to the end of this post to leave one. If you're reading this in a subscription email, click here to visit Digging and find the comment box at the end of each post.
_______________________
Digging Deeper: News and Upcoming Events
Mark your calendar for the Inside Austin Gardens Tour on May 6, sponsored by Travis County Master Gardeners. This fun garden tour occurs every 18 months and features a mix of homegrown gardens "for gardeners, by gardeners," as their tagline says.
Get on the mailing list for Garden Spark Talks. Inspired by the idea of house concerts — performances in private homes, which support musicians and give a small audience an up-close and personal musical experience — I'm hosting a series of garden talks by design speakers out of my home. Talks are limited-attendance events and generally sell out within just a few days, so join the Garden Spark email list for early notifications. Simply click this link and ask to be added.
posted in
Agaves
,
Arbors
,
Chickens
,
Containers
,
Decor
,
Dyckias
,
Farms
,
Flowers
,
Fountains
,
Garden art
,
Garden tours 2017
,
Greenhouses
,
Patios & decks
,
Sculpture
,
Seating
,
Yuccas