January 30th, 2018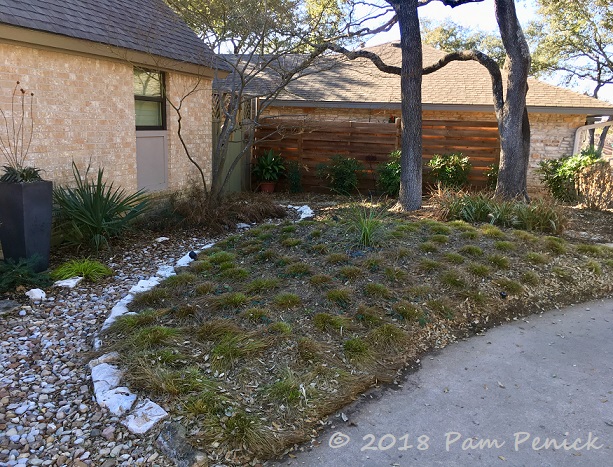 Central Texas gardens got walloped by Old Man Winter this year, and a lot of plants that normally contribute to Austin's evergreen palette — bamboo muhly, sago palm, flax lily, even 'Alphonse Karr' bamboo — are sporting sad shades of tan or brown. With a garden tour coming up in just 3 months, my emotions about this winter have ranged from pique to gloom. (Ironically, from a personal standpoint, I've enjoyed the cold weather and have been wearing boots, jackets, and scarves every time it dips below 65 F.)
Yesterday I made myself do one garden tidying chore — one thing that wouldn't be too early (I'm still saving the big cut-back for closer to mid-February), and that would help prepare the garden for spring: I charged up the electric mower and ran it over the winter-browned sedges. What a difference it made for my mood and for the late-winter aesthetics of my garden.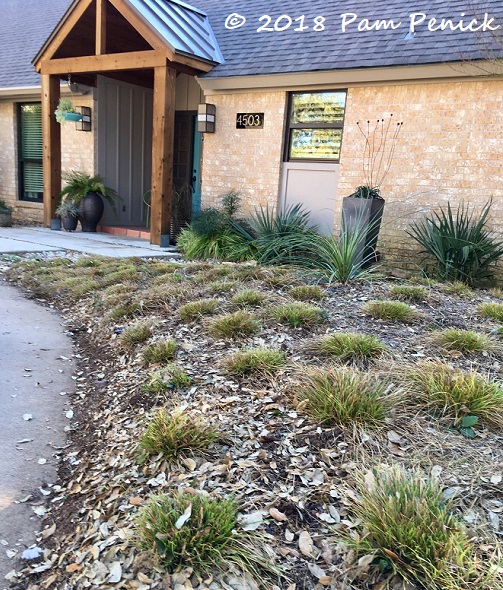 Now instead of yellow-brown, tired-looking lumps, there are tidy tufts of emerging green leaves in the 'Scott's Turf' sedge "lawn" that I planted last February.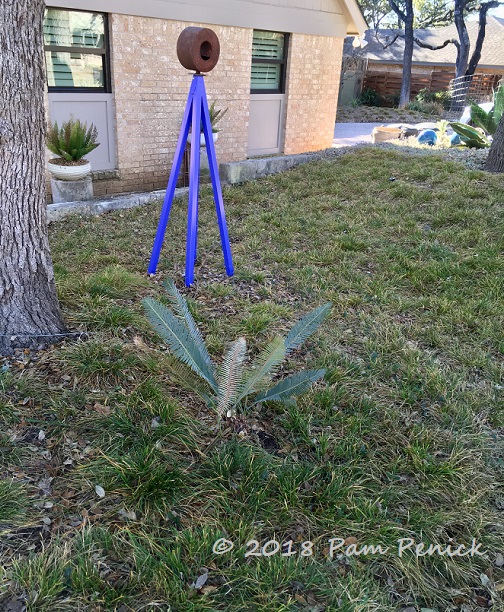 The more-established Berkeley sedge lawn in front of the house got a few passes with the mower too, and now it looks very much like a shorn traditional lawn. It's funny how mowing those sedges turned into an act of faith that spring will return and green things up again.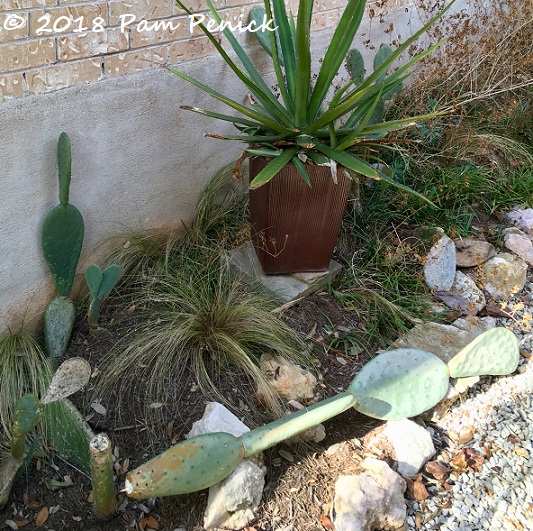 There are other things that need tidying, like my "totem pole" prickly pear that fell over in our first winter blast. Drat!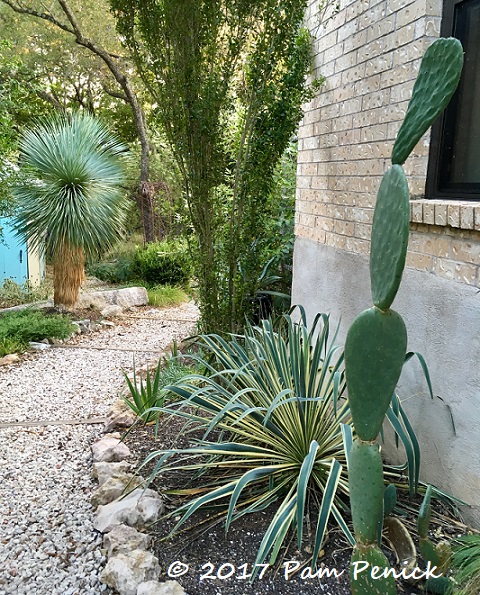 Here's how it looked a few months ago, growing straight and tall like no Opuntia I'd ever seen. It should be easy to replant by sticking the broken end into the soil, although it'll have to be staked.

I'm not sure if two of my 'Platinum Beauty' lomandra trial plants will pull through. I planted them in the front garden last fall, eager to see how they'd hold up in dry semi-shade and with deer. No problem there, but two deep-freezes-for-days later, they're bleached and brittle.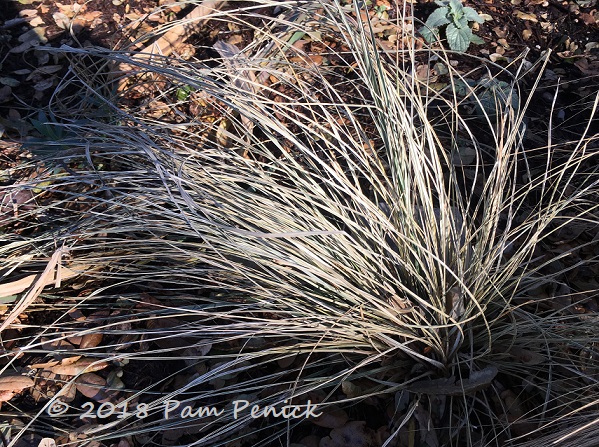 Ah, it kills me! Still, I see a little fresh green at the base of the plants, so I'll leave them alone for now and wait until after our last freeze date to cut them back and see if they recover. The third trial plant is in a container up by the house, and it came through the freezes just fine with a protective cover over it. I covered the two in the ground too, but they are in a more exposed location.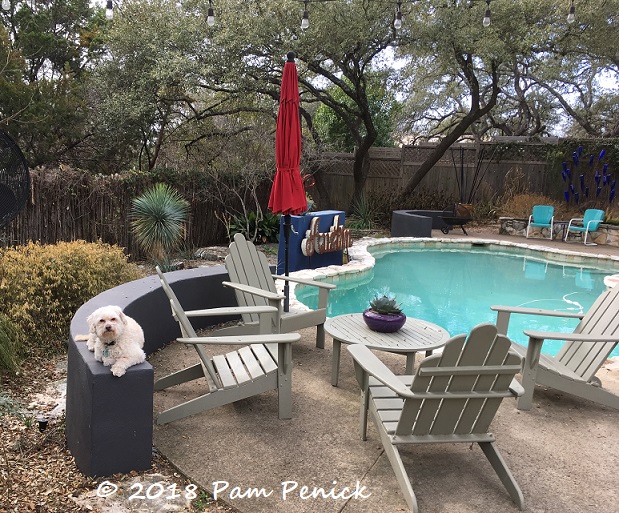 More brown, which should be evergreen, around the pool: a brown hedge of dwarf Barbados cherry continues to provide structure on the left, but brown stems are all that remain of a beautiful stand of Mexican honeysuckle at the far end of the pool. I can only avert my eyes for now and hope for a recovery by early May.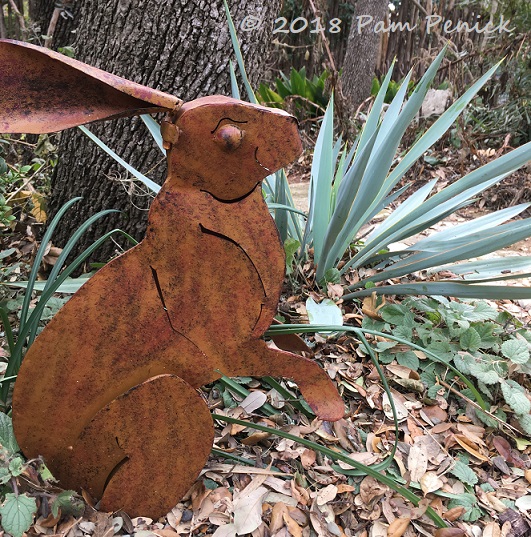 But why dwell on the brown when I can dwell on the green? And there's still plenty of it, like the blue-green of paleleaf yucca underplanted with heartleaf skullcap…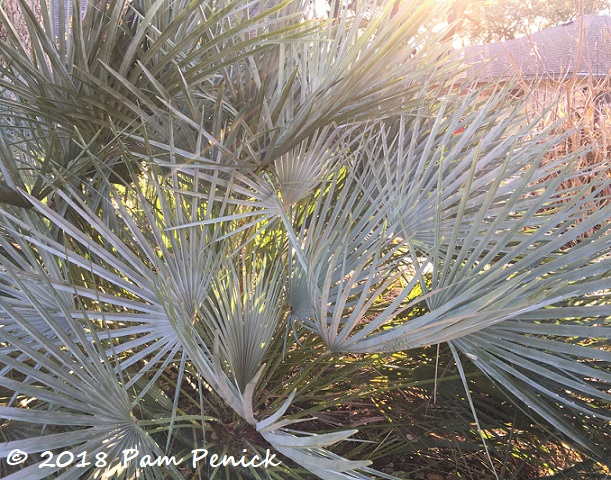 …and silver Mediterranean fan palm doing its year-round fan dance.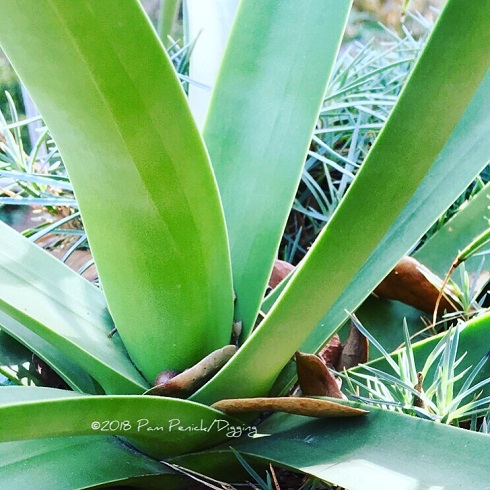 We just need to keep the green in our hearts a little while longer. Spring is coming.
I welcome your comments; please scroll to the end of this post to leave one. If you're reading this in a subscription email, click here to visit Digging and find the comment box at the end of each post.
_______________________
Digging Deeper: News and Upcoming Events
Calling all garden bloggers! You're invited to register for the annual Garden Bloggers Fling tour and meetup, which will be held in Austin this May 3rd-6th! Click this link for information about registering, and you can see our itinerary here. Space is limited, so don't delay. The 2018 Fling will be the event's 10th anniversary, which started in Austin in 2008.
Join the mailing list for Garden Spark Talks! Inspired by the idea of house concerts, I'm hosting a series of garden talks by inspiring designers and authors out of my home. Talks are limited-attendance events and generally sell out within just a few days, so join the Garden Spark email list for early notifications. Simply click this link and ask to be added.
All material © 2006-2018 by Pam Penick for Digging. Unauthorized reproduction prohibited.
posted in
2nd garden--2018
,
Agaves
,
Cactus
,
Dogs
,
Garden art
,
Grasses
,
Groundcovers
,
Lawn Gone!
,
Palms/Cycads
,
Patios & decks
,
Plant trial
,
Pruning
,
Seating
,
Swimming pools
,
Trellis
,
Walls
,
Yuccas