August 26th, 2016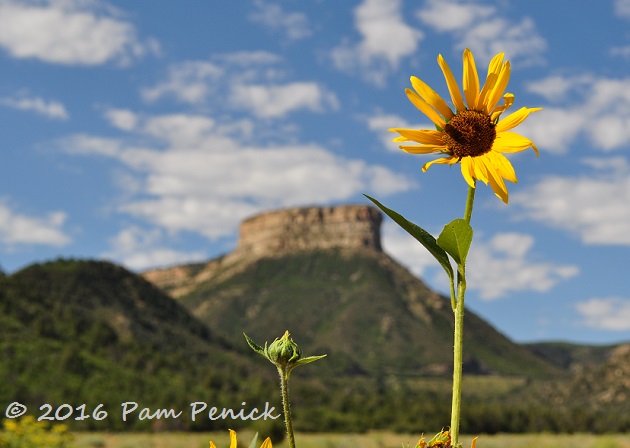 Yesterday the U.S. National Park Service celebrated its centennial. My family and I love visiting national parks, and during our recent road trip through New Mexico and up to Durango, Colorado, we couldn't pass up the chance to see a new one (to us): Mesa Verde National Park.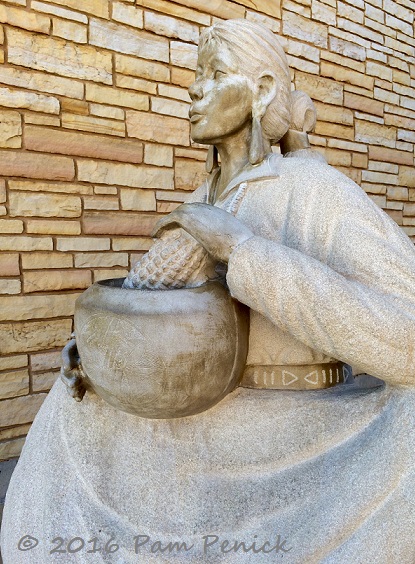 Located in southwestern Colorado, Mesa Verde was established in 1906 not to protect unique natural scenery, as in other parks, but to "preserve the works of man" — specifically cliff dwellings and other archaeological relics constructed by the Ancestral Pueblo people (formerly known as Anasazi) between AD 600 and 1300 — i.e., the Middle Ages in European history.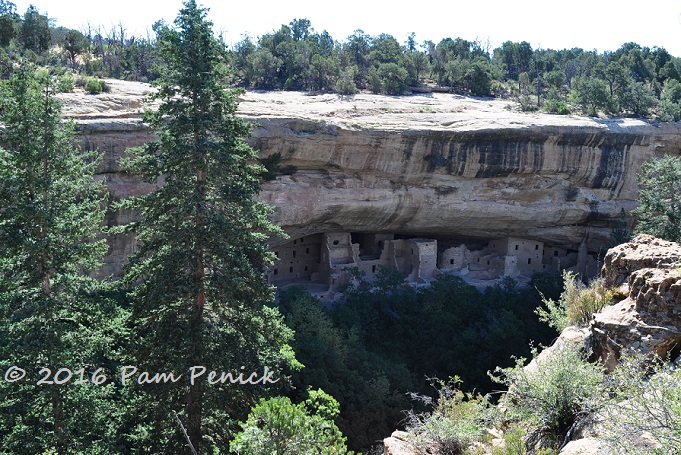 The sandstone-and-adobe multistory homes built under overhanging cliffs, for which Mesa Verde is famous, date to the latter years of this period — before that, simple pit houses dug into mesa tops were common — and were occupied for less than 100 years. By 1300, centuries before the first Spanish explorers arrived, the cliff dwellers had abandoned their homes and moved away. Theories on the abandonment include decades of drought, depletion of natural resources, and warfare.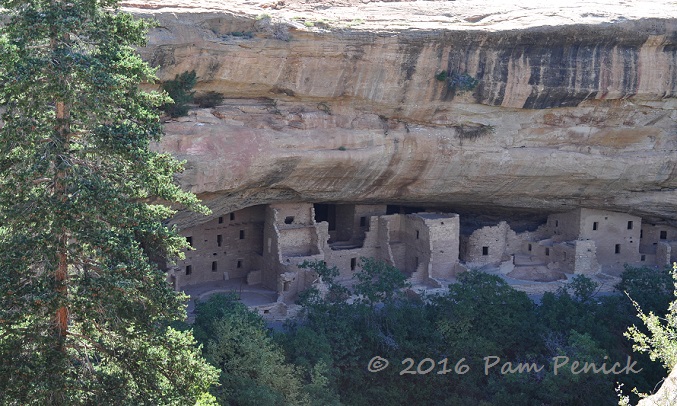 Mesa Verde contains 600 cliff dwellings and more than 4,500 archaeological sites, and you can easily spend a day driving the twisting, hilly roads from site to site, stopping at overlooks, seeing the park's dated yet informative museum, and, if you buy a ticket in advance, exploring one or two of the cliff dwellings on a ranger-led tour.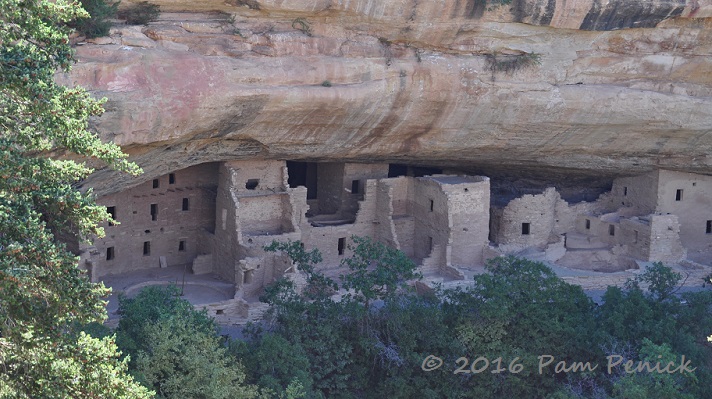 One of the best preserved cliff dwellings is Spruce Tree House (pictured here and above). It's normally open for self-guided touring (which astonishes me, actually), but due to a recent rock fall and the danger of more, it's indefinitely closed to visitors. Still, you can enjoy excellent views from an overlook near the museum.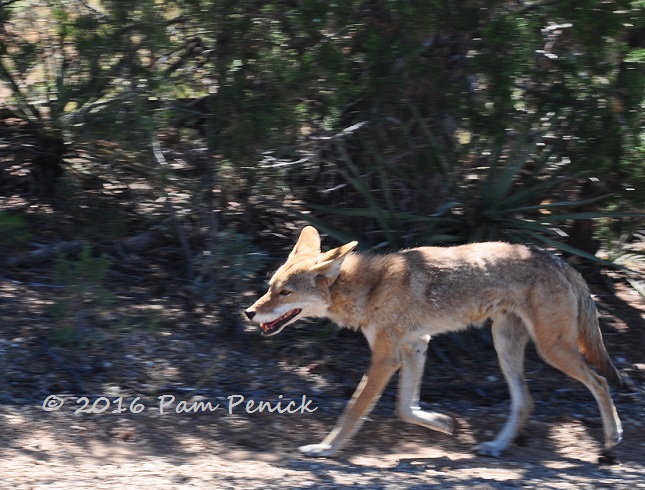 During our drive through the park, we saw a coyote trotting along the road, unfazed when I slowed down to get a photo.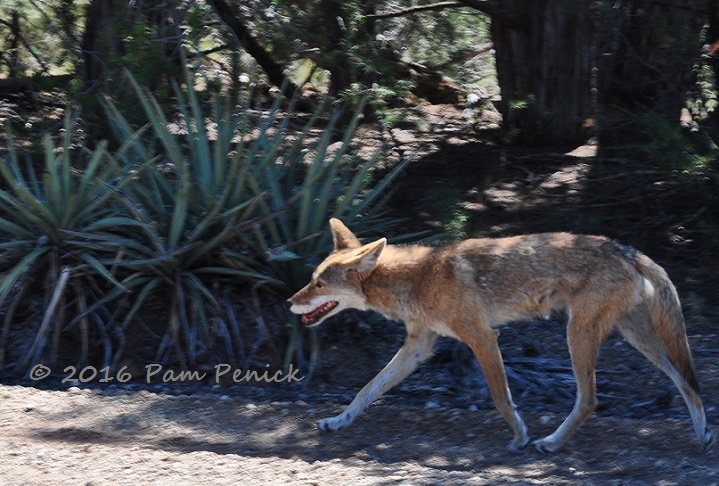 It was pretty hot that day, and I was surprised to see him around noontime. Coyotes are usually so sly.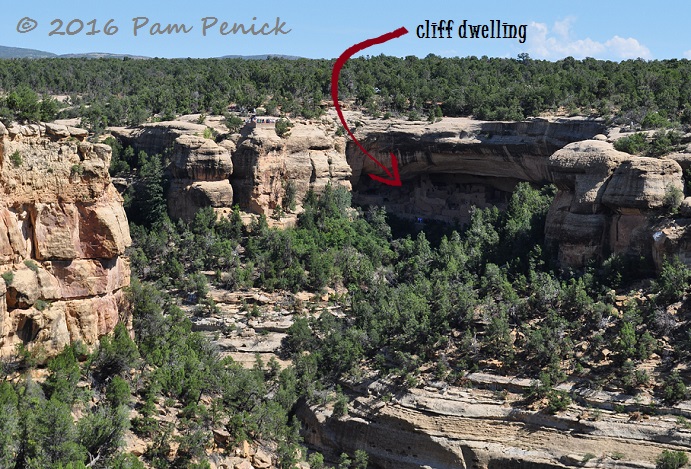 We'd planned to tour one of the cliff dwellings, Cliff Palace (pictured here). But we goofed by not getting tickets the day before, and when we arrived early one morning, ready to hike, tours were already sold out until the afternoon. Not wanting to climb the cliff stairs in the soaring heat of mid-afternoon, we bought tickets for the following morning and spent the day driving through the park, which we enjoyed.

But the next morning, after two days of getting up before dawn, we were feeling lazy about dragging ourselves out of bed to make the one-hour drive from our rental house in Hesperus to the park and then another one-hour drive to Cliff Palace (the park is big). We didn't return, to my semi-regret. The tickets were only $4 each, so it wasn't a big expense, but I don't know if I'll ever be back.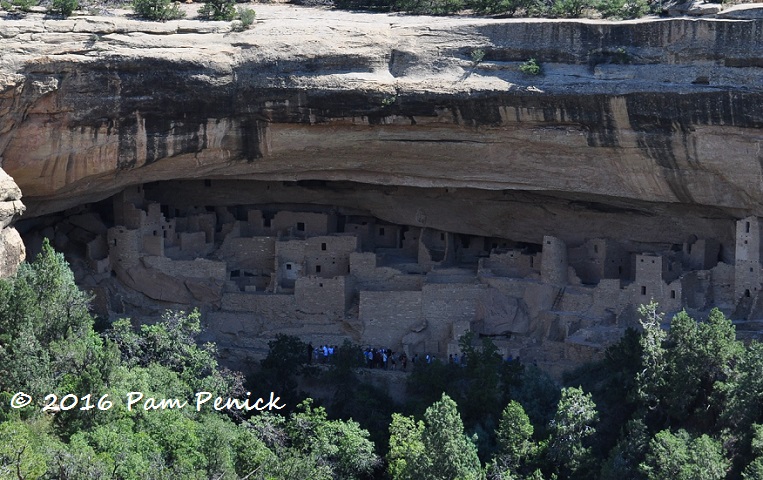 And just look at it — isn't it amazing to think of how old these ruins are, how they're tucked precariously under cliffs in such an unforgiving landscape, and muse on what life must have been like for these early Americans?
If you go to Mesa Verde and want to do one of the ranger tours, be sure to buy tickets early; tickets must be purchased in person, up to two days in advance, at the Mesa Verde Visitor Center, the Colorado Welcome Center in Cortez, or a couple of other official places.
But even if you're not up for a cliff climb at 7,000 feet, if you like history, archaeology, Native American cultures, or simply high-desert vistas, Mesa Verde is a fascinating park to visit.
Up next: Driving the scenic San Juan Skyway. For a look back at Georgia O'Keefe's beloved landscape around Ghost Ranch and Abiquiu, click here.
I welcome your comments; please scroll to the end of this post to leave one. If you're reading this in a subscription email, click here to visit Digging and find the comment box at the end of each post.
_______________________
Digging Deeper: News and Upcoming Events
South Texans, come see me at the 2nd annual Planta Nativa festival in McAllen, Texas, on Saturday, October 22. I'll be delivering the keynote talk, "Local Heroes: Designing with Native Plants for Water-Saving Gardens," that evening. Tickets go on sale soon at Quinta Mazatlan. I hope to see you there!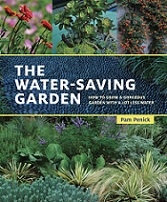 Do you review? Have you read my new book, The Water-Saving Garden? If you found it helpful or inspirational, please consider leaving a review — even just a sentence or two — on Amazon, Goodreads, or other sites. Online reviews are crucial in getting a book noticed. I really appreciate your help!
All material © 2006-2016 by Pam Penick for Digging. Unauthorized reproduction prohibited.