April 29th, 2016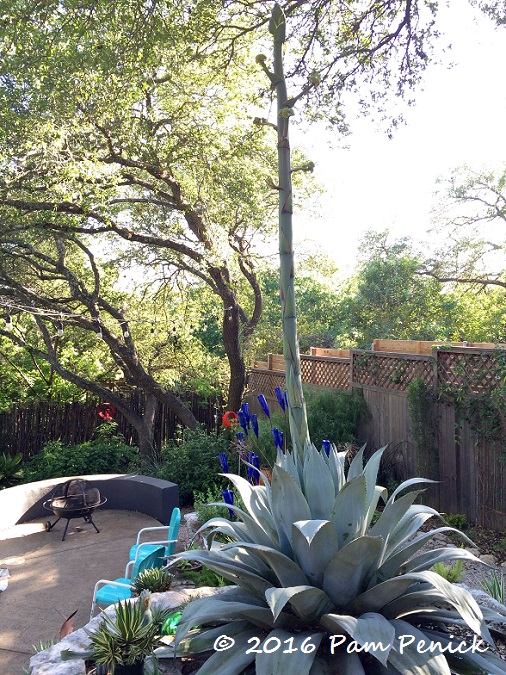 Moby, my 10-year-old whale's tongue agave (A. ovatifolia), which for 22 days has been sending a bloom stalk skyward, seems to be in transition. The stalk is now about 10 or 11 feet tall and holding.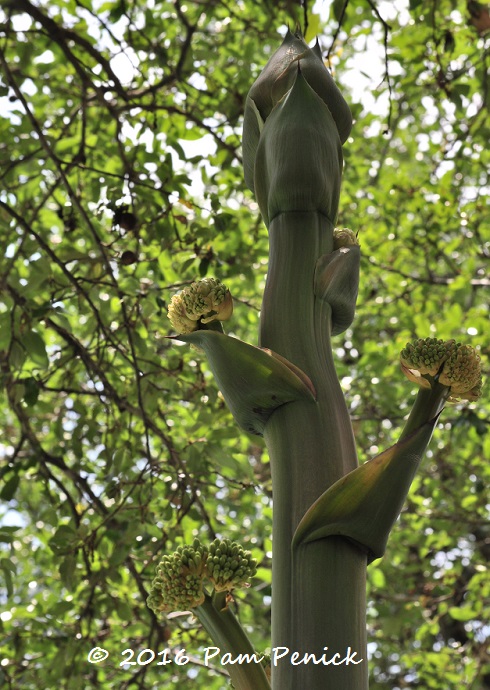 Meanwhile, clusters of yellow flowers are emerging along the asparagus-shaped stalk.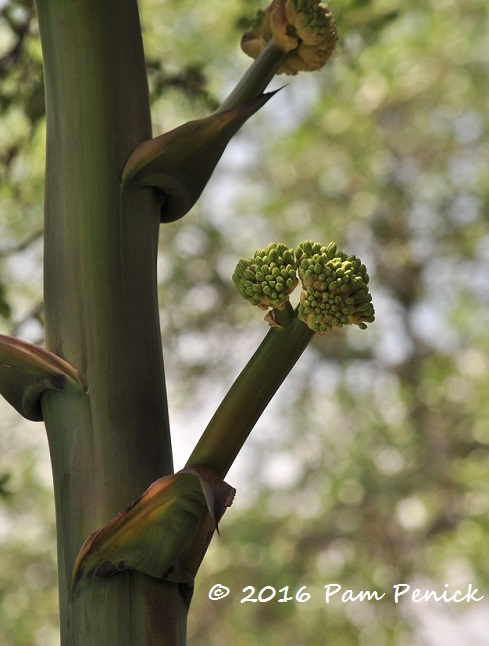 The clustered flower buds on sturdy stems remind me of broccoli. Why is everything about Moby's flowering so evocative of vegetables?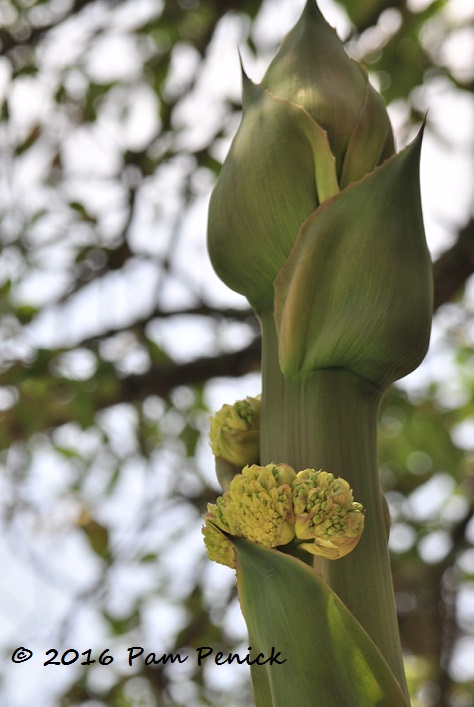 I can't wait to see what it looks like when the spear-like tip unfolds. Will the flowers add another dozen feet in height, as shown in Shirley's images of a flowering Agave ovatifolia a few years ago?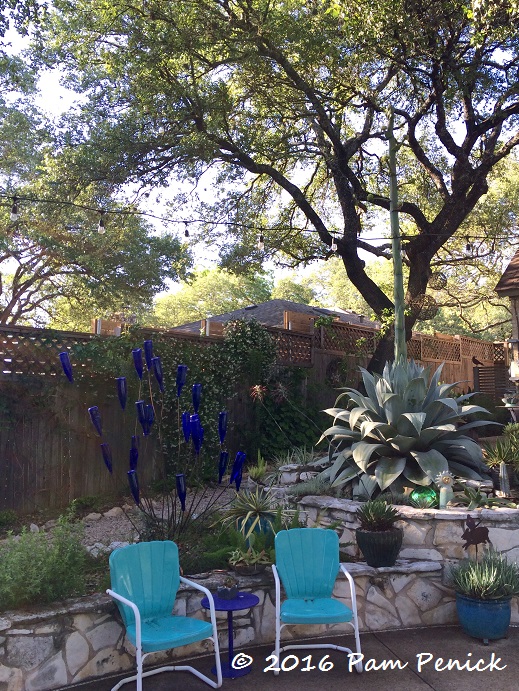 Moby's bloom stalk doesn't have much clearance left, not with live oak limbs only 12 feet up. Still, where there's a whale, there's a way. Perhaps Moby knows what he's doing.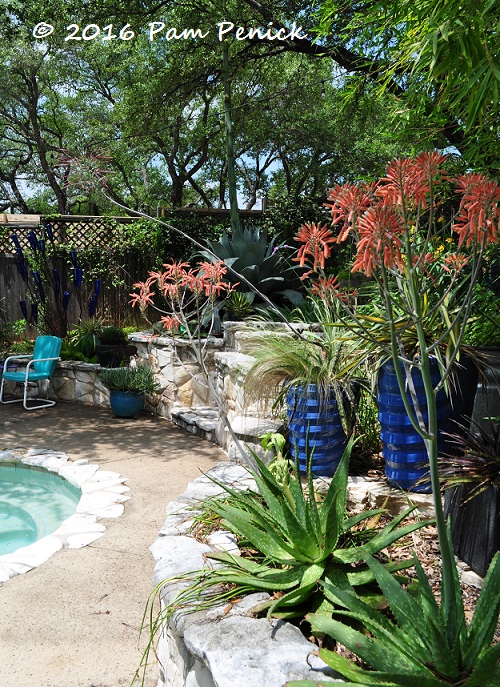 Many other succulents in my garden, like this trio of soap aloes (A. maculata), are sending up their own bloom stalks in solidarity. There's also a tall, leaning 'Chocolate Chips' manfreda flower spike above the aloes'. Can you see it? And there's Moby in the distance.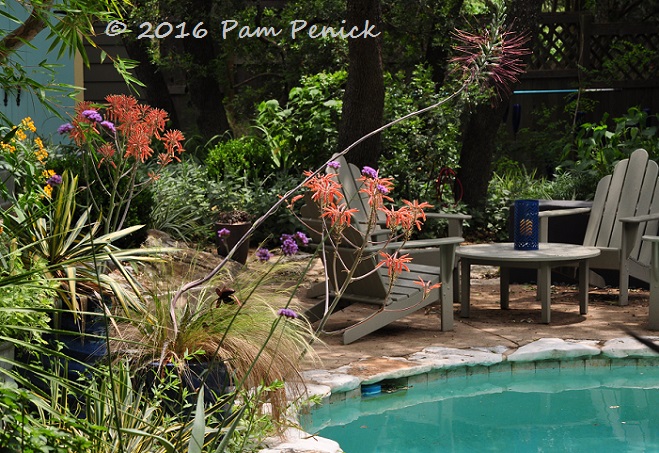 Here's a better view from the other direction. The manfreda is growing in a container placed in the raised bed along the back of the house, so you walk under all those Dr. Seussian flowers as you pass by.

Honeybees love the aloe flowers and scooch right up those dangling coral tubes to collect pollen. Every time I walk by, I enjoy a close-up view of their work, which never worries me. They're far too busy to bother with me.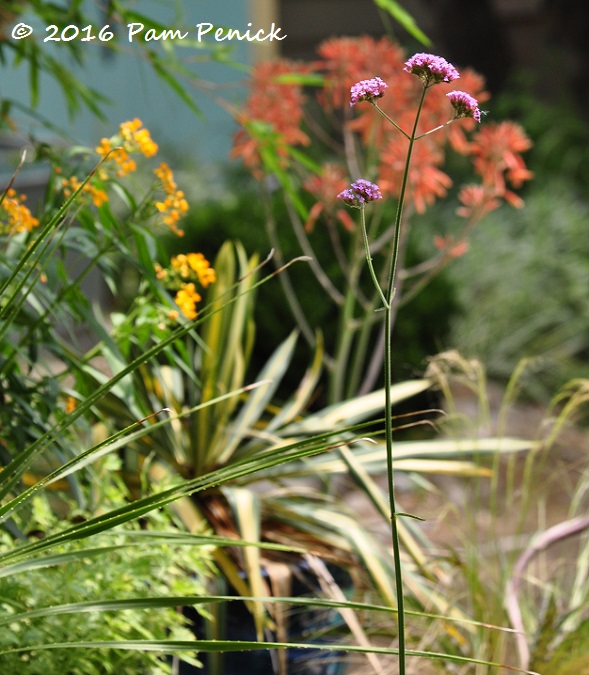 Tall verbena (Verbena bonariensis) is flowering atop its own long stems, attracting butterflies.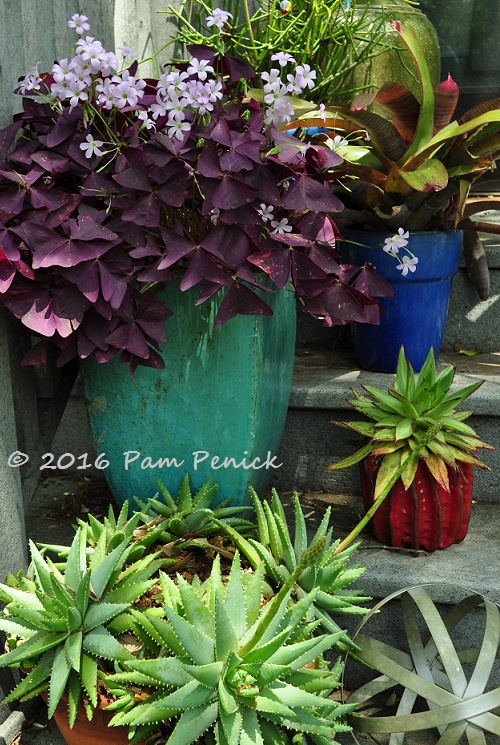 I can't overlook these shorter bloom spikes coming up on a potted aloe (at bottom) on the back steps. Purple oxalis (Oxalis triangularis), spikeless, is flowering with abandon too.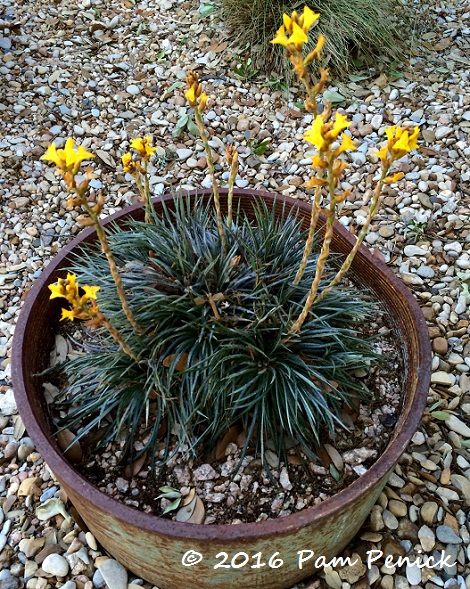 In the gravel garden out front, 'Frazzle Dazzle' dyckia (Dyckia choristaminea 'Frazzle Dazzle'), a native of Brazil, has sent up multiple spikes of golden flowers. The deer usually find these and chomp them down, so I'm enjoying them while I can.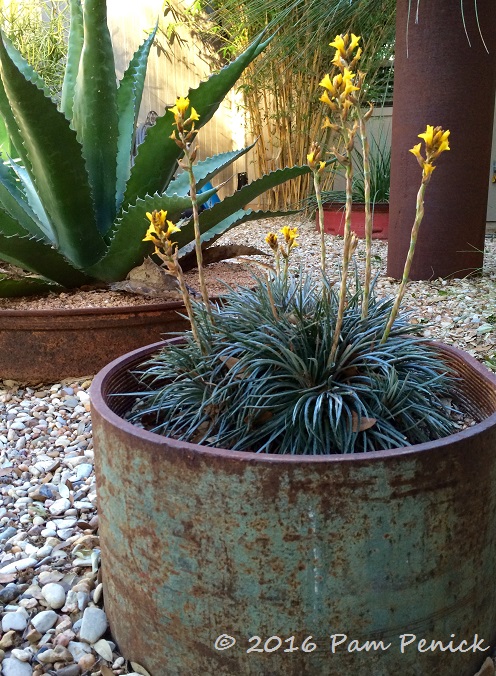 This is one of my favorite dyckias, totally hardy here in Austin's zone 8b, drought tolerant, not lethally sharp like many dyckias, and with a cute, tribble-like appearance.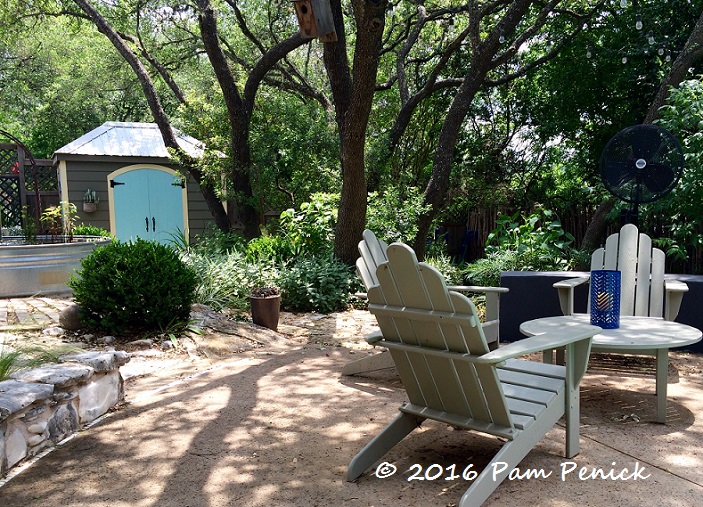 That's my garden happenings! By the way, if you live in or near Austin, I hope you'll make time to come see me at Hill Country Water Gardens tomorrow at noon for a short garden talk and booksigning afterward — part of the many happenings during the nursery's Lily Blossom Festival. See News and Upcoming Events below for more details.
I welcome your comments. If you're reading this in an email, click here to visit Digging and find the comment link at the end of each post.
_______________________
Digging Deeper: News and Upcoming Events
I'll be speaking on April 30, noon-12:30 pm, in Cedar Park, Texas, at Hill Country Water Gardens & Nursery's Lily Blossom Festival. My free talk is called "How to Garden Water-Wise, Not Water-Wasteful." An old proverb reminds us that The frog does not drink up the pond in which he lives. Don't be a water-guzzling frog! I'll be sharing my tips for making a garden that is water-wise, not water-wasteful. Stick around after my talk for a book signing, with autographed copies of Lawn Gone! and The Water-Saving Garden available for purchase.
Come see me at Festival of Flowers in San Antonio, May 28, time TBA. Learn more about water-saving gardening during my presentation at San Antonio's 19th annual Festival of Flowers. I'll be at the book-signing table after the talk, with copies of both The Water-Saving Garden and Lawn Gone! available for purchase. Tickets to the all-day festival, which includes a plant sale and exchange, speakers, and a flower show, are available at the door: $6 adults; children under 10 free. Free parking.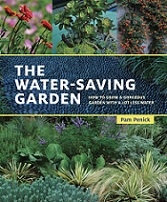 Do you review? Have you read my new book, The Water-Saving Garden? If you found it helpful or inspirational, please consider leaving a review — even just a sentence or two — on Amazon, Goodreads, or other sites. Online reviews are crucial in getting a book noticed. I really appreciate your help!
All material © 2006-2016 by Pam Penick for Digging. Unauthorized reproduction prohibited.
posted in
2nd garden--2016
,
Agaves
,
Aloes
,
Bottle tree
,
Containers
,
Dyckias
,
Flowers
,
Fountains
,
Grasses
,
Patios & decks
,
Seating
,
Sheds
,
Stock tanks
,
Succulents
,
Trees
,
Walls
,
Water features
,
Xeric plants
,
Yuccas