October 27th, 2014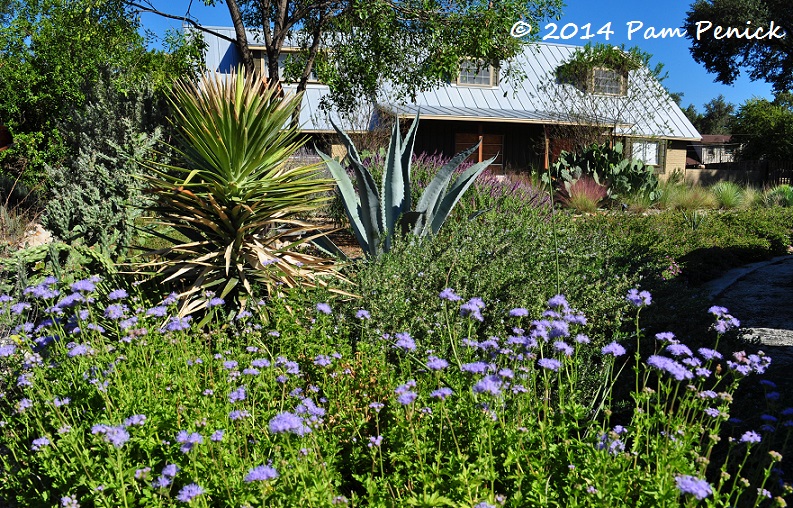 Last week I roadtripped south with a few friends to see the gardens of our San Antonio blogger friends, Heather Ginsburg of Xericstyle and Shirley Fox of Rock-Oak-Deer, plus Shirley's neighbor and gardening friend Melody. I posted about Shirley's garden here. Today I'll show you Heather's garden.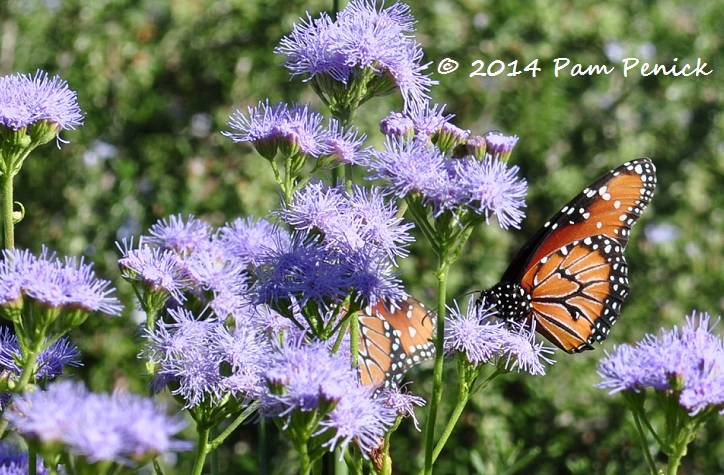 Heather boldly ripped out her entire front lawn when she moved into her suburban ranch house a few years ago. A Canadian transplant, she had a lot to learn about gardening in hot, dry, south-central Texas, but she's a quick study and soon filled her garden with native grasses; agaves, yuccas, and prickly pear for structure; and flowering perennials for color and to attract wildlife.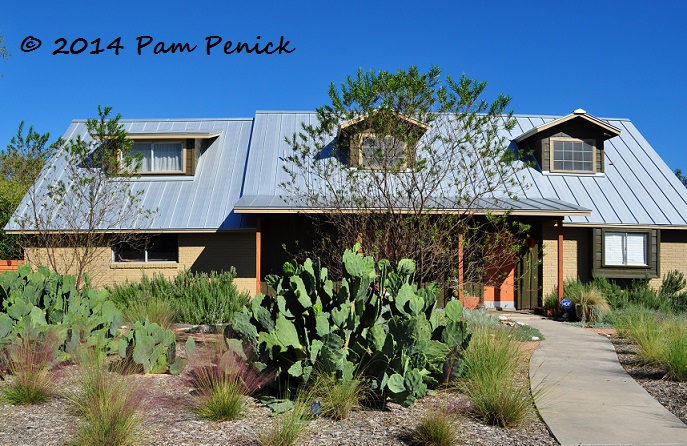 As she experimented with lawn alternatives that can survive with only enough supplemental water to get them established, she started a blog called Xericstyle and won over lots of followers with her enthusiasm and her fresh, modern take on the xeriscape garden.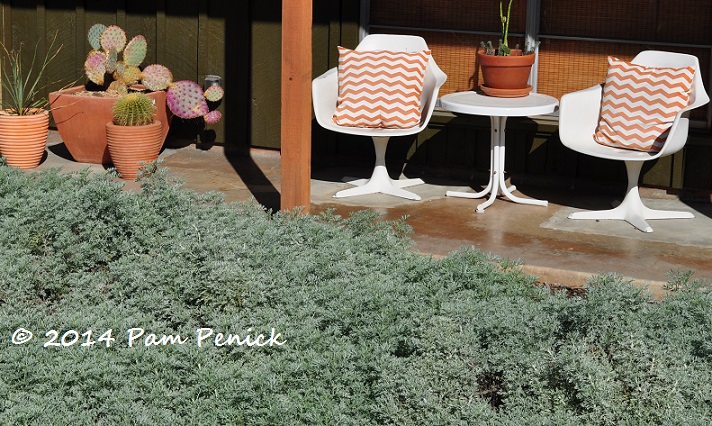 Along with the garden overhaul, Heather and her husband did a lot of work on their house to modernize it, including giving their front porch a facelift with fresh colors and accessories like these mod chairs and zigzag-patterned, orange-and-white pillows. That frothy, silver-green groundcover is 'Powis Castle' artemisia.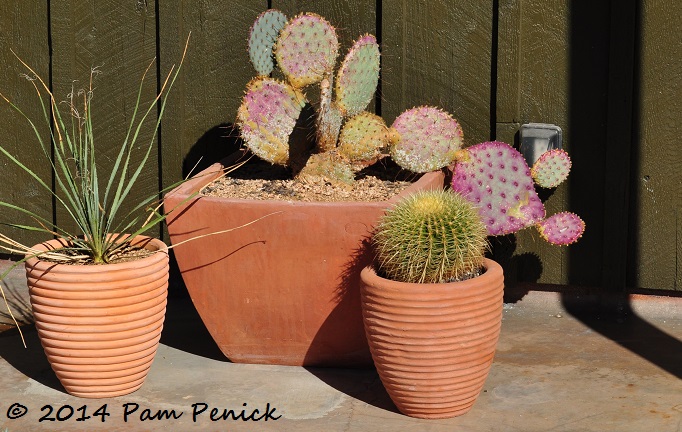 Terracotta pots filled with sotol, prickly pear, and golden barrel cactus add to the orange color scheme.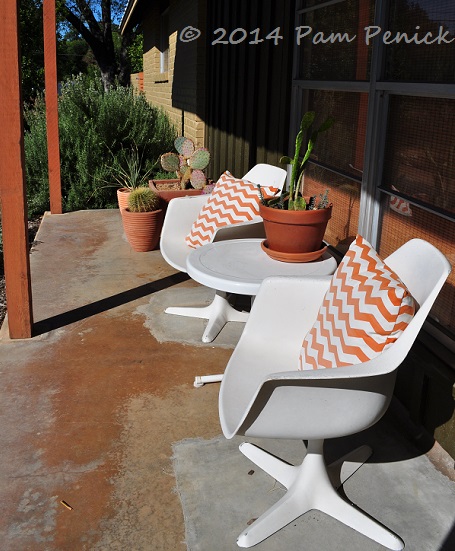 The side view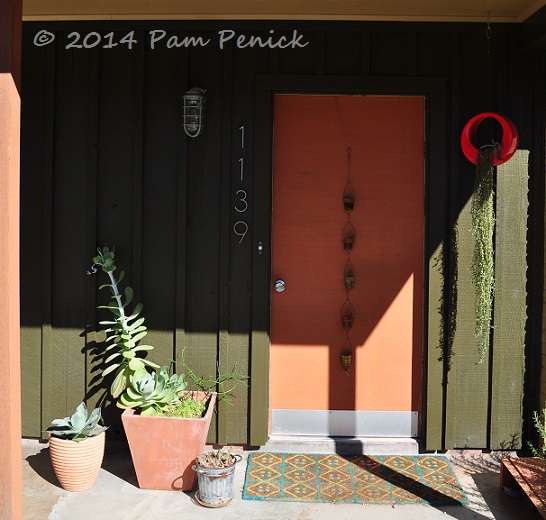 Heather orange-creamsicled her front door, and an orange Circle Pot trailing a Rapunzel-like succulent adds more bold color. And how about this for a fun surprise: Heather hung a string of glass votive holders on the front door…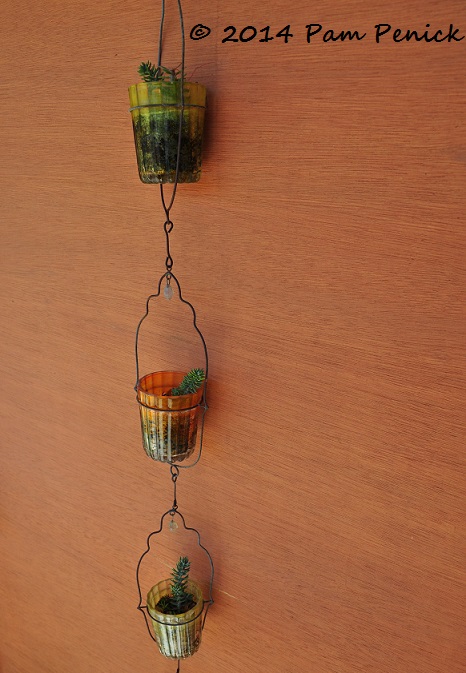 …and planted them with succulents too!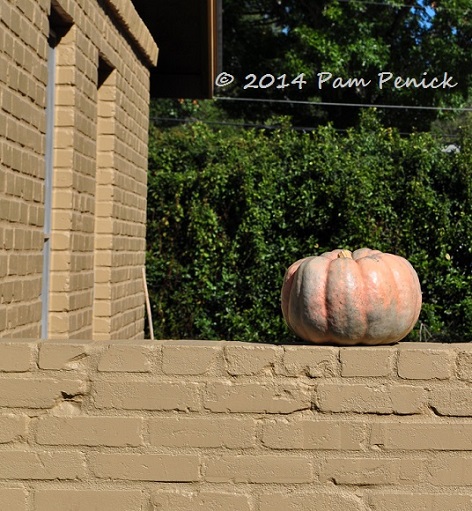 Butternut squash-colored paint on the brick siding combines well with a grayish orange pumpkin.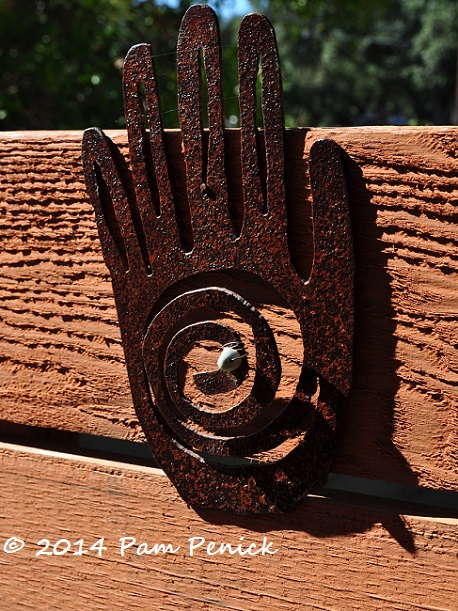 A detail on the fence to her back garden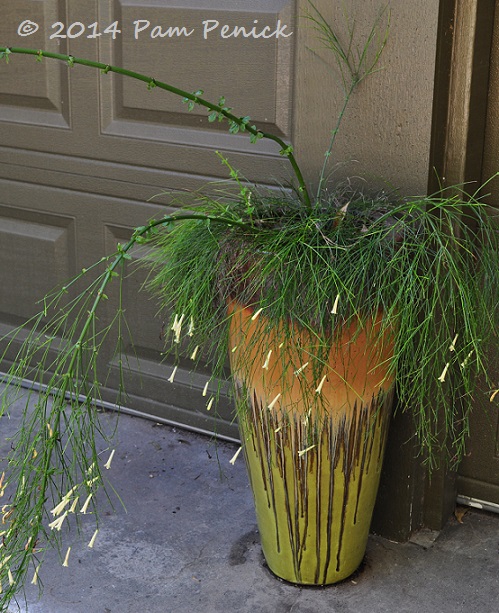 While many of Heather's potted plants are one-plant-per-pot, like this yellow firecracker fern…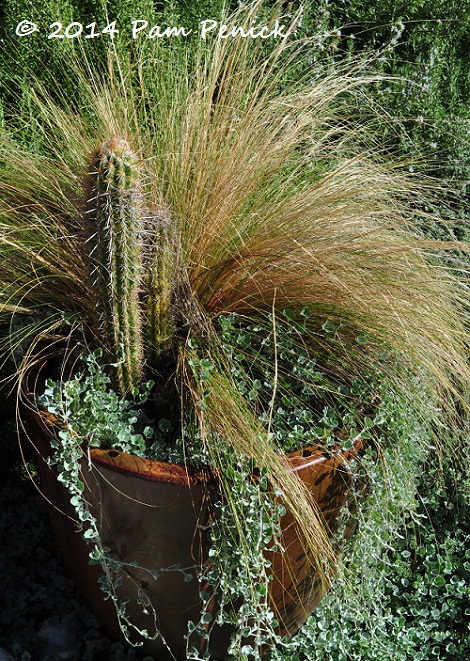 …she's not afraid of creating combos like this cactus, feathergrass, and silver ponyfoot mash-up.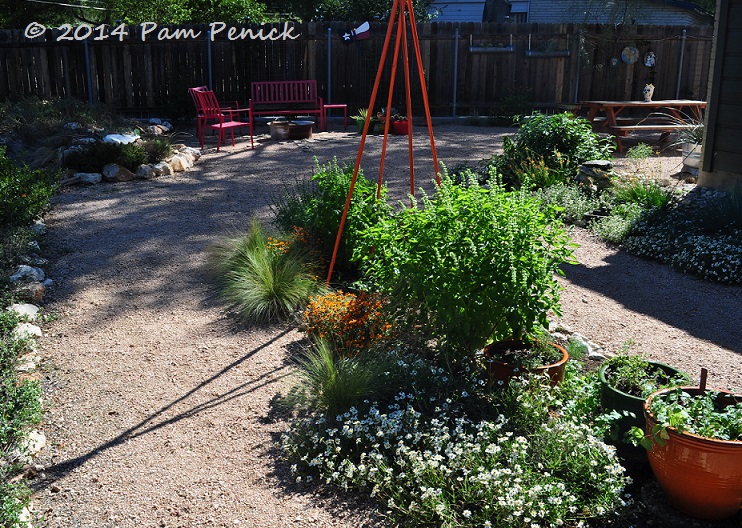 Heather ripped out all the lawn in back as well, replacing it with a large decomposed-granite patio by the back door that flows into the side yard, creating a sense of openness and room for several seating areas. She broke up the expanse with an island of perennials and potted herbs, accented with a orange-painted bamboo tuteur.
To the left, just out of frame, is an area Heather has been experimenting with, trying to find a lawn alternative that will stand up to kids' play plus not require regular watering. Frogfruit was a partial success, but a large section suffered this summer in full sun without supplemental water. Heather continues to experiment, and one of the things I love about her blog is how she candidly details these plant trials.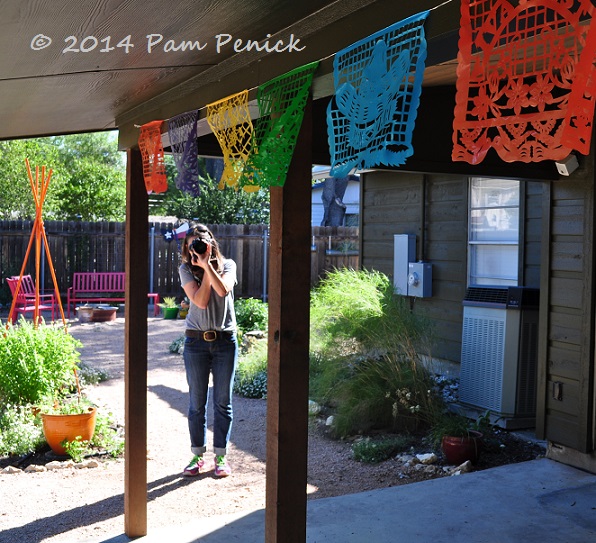 A Mexican Fiesta flag string adds fun color across the back porch. That's Cat of The Whimsical Gardener snapping me snapping her. I think we have a series of pictures like this. Just beyond Cat you can see a red bench and chairs around a fire pit.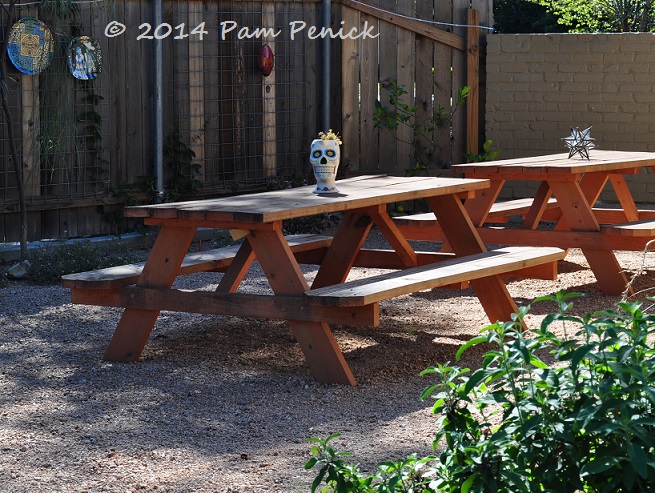 Around the corner of the house are two picnic tables for gatherings of family and friends. A Day of the Dead skull is the centerpiece on one table.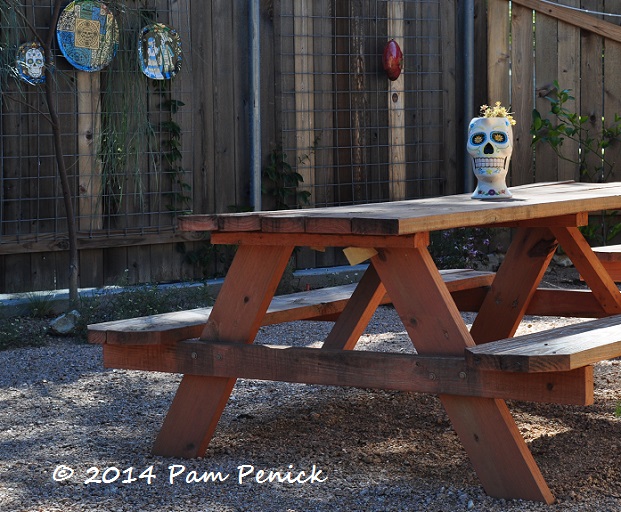 A closer look shows that it's also a succulent planter.

Hanging on the fence are repurposed exhaust pipes that Heather and her husband turned into succulent and cactus planters.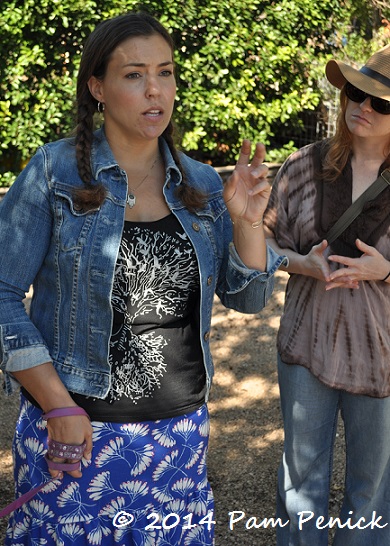 Heather always has a big, beautiful smile on her face, and she only looks serious here because I caught her explaining something (probably something about worms!). I adore her sense of style, especially that skirt. Thank you, Heather, for taking time off work to give us a tour of your lovely, xeric-style garden! For more, you really don't want to miss Heather's star turn on Central Texas Gardener. Her enthusiasm for tough native and adapted plants (and worms!) is contagious; you'll love it.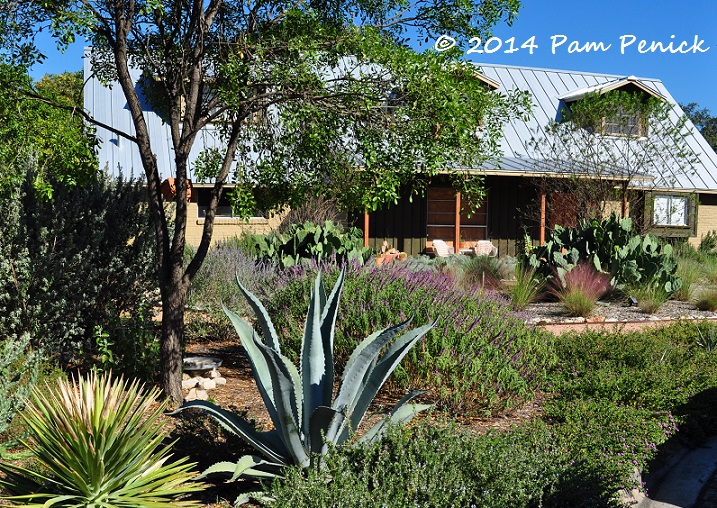 Heather and Shirley, plus Rambling Wren, are the only San Antonio garden bloggers I know of, despite the fact that San Antonio is considerably larger than Austin. I wonder why that is? San Antonio is a beautiful city, with more colonial history and old-Mexico influence than you see in Austin. It's also a particularly adept city at conserving water. In fact, the City of Austin has modeled some of its conservation efforts after San Antonio's successes. I think Alamo City gardeners have a lot to teach about gardening in drought and heat, and I'd love to see more gardeners there start blogging to share their successes and experiments, and to give interested readers an intimate picture of gardening in central-south Texas.
Up next: Melody's lushly planted San Antonio oasis of passalong plants framed by rustic cedar arbors and stucco-and-stone structures. For a look back at Shirley Fox's Hill Country-style garden, also in San Antonio, click here.
All material © 2006-2014 by Pam Penick for Digging. Unauthorized reproduction prohibited.
posted in
Agaves
,
Butterflies/Moths
,
Cactus
,
Containers
,
Decor
,
Doors
,
Garden art
,
Garden blogging
,
Garden tours 2014
,
Grasses
,
Groundcovers
,
Lawn Gone!
,
Paths
,
Patios & decks
,
Porch
,
Seating
,
Succulents
,
Sustainable Gardening
,
Texas natives
,
Travel
,
Trellis
,
Walls
,
Water conservation
,
Xeric plants
,
Yuccas