April 22nd, 2016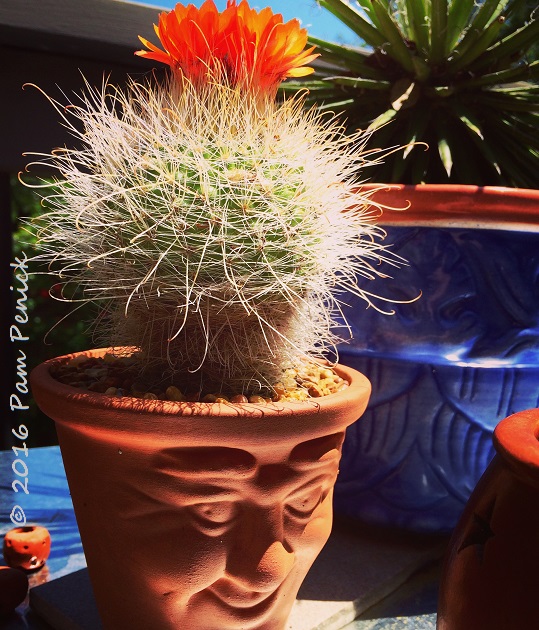 It's been raining cats and dogs here in Austin — and raining lions and wolves, if that's an appropriate comparison, over in Houston. Our lakes are full again (which seems a miracle, considering how low they got during the multi-year drought), and spring seems full of promise. My own garden is abloom, like this little cactus — some sort of Echinocereus, I think.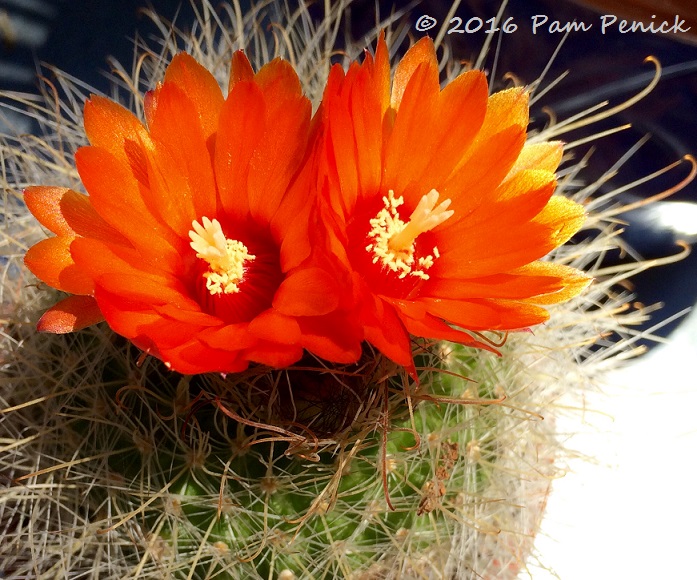 With flowers showy enough to grace Carmen Miranda's headdress, cacti amaze me when they bloom. They can seem curmudgeonly in their spiny, slow-growing way, and then suddenly — bam! — they do this. Party time!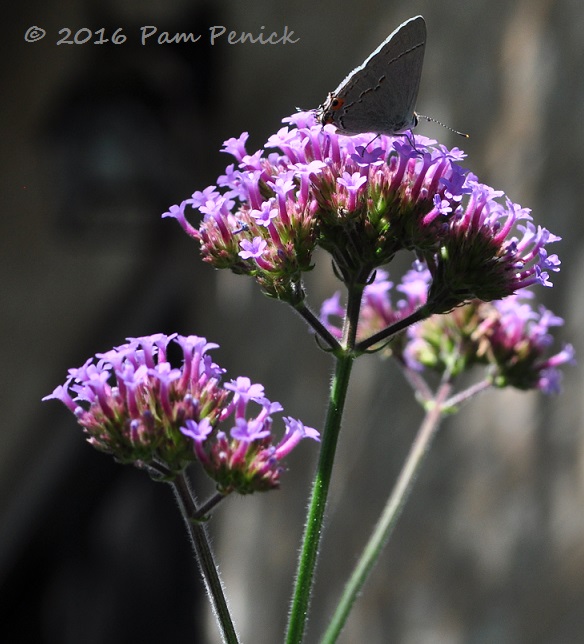 Butterfly-attracting flower clusters of Verbena bonariensis sit atop long stems, and yesterday I noticed this visitor enjoying a snack — a gray hairstreak butterfly.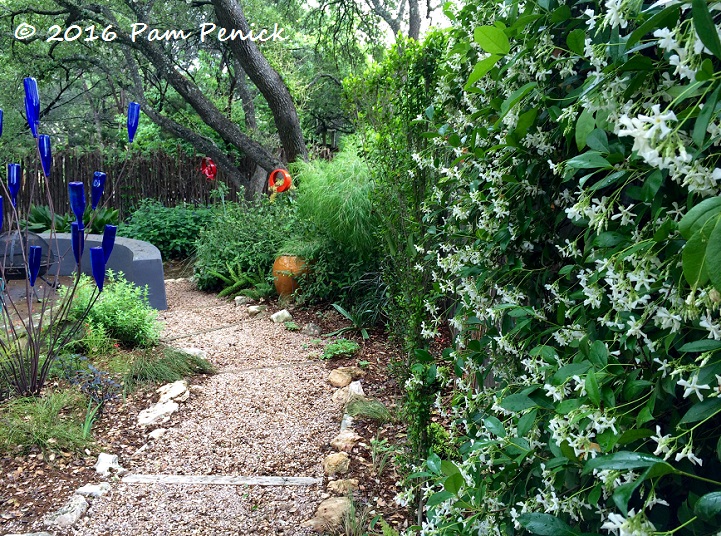 Along one fence, the creamy white flowers of star jasmine (Trachelospermum jasminoides) in full bloom attract…ME. I love the sweet fragrance and can't resist taking a long whiff every time I pass by.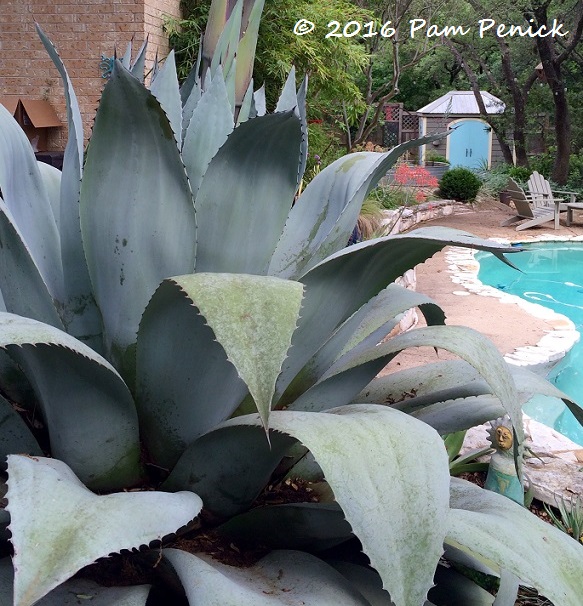 But bittersweet is the flowering of one particular plant in my garden: Moby, my big, white whale of an agave that I've had for 10 years. Agave ovatifolia (aka whale's tongue agave), like all agaves, blooms once in its lifetime and then immediately dies.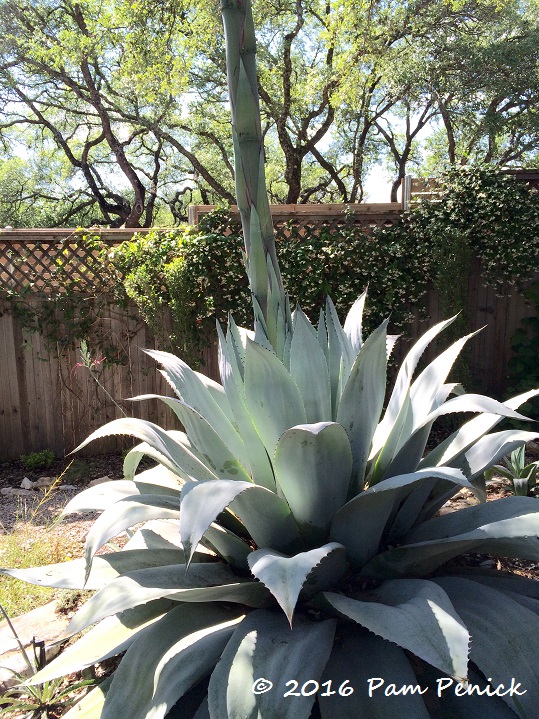 I'm taking daily pictures of the bloom spike, which is shooting up at Jack-and-the-beanstalk speed.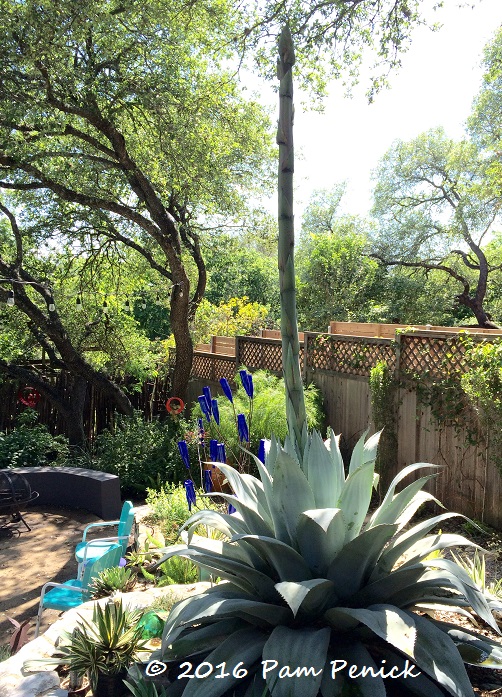 In just two weeks, the asparagus-like flower stalk has grown 10 feet above the 5-foot tall agave.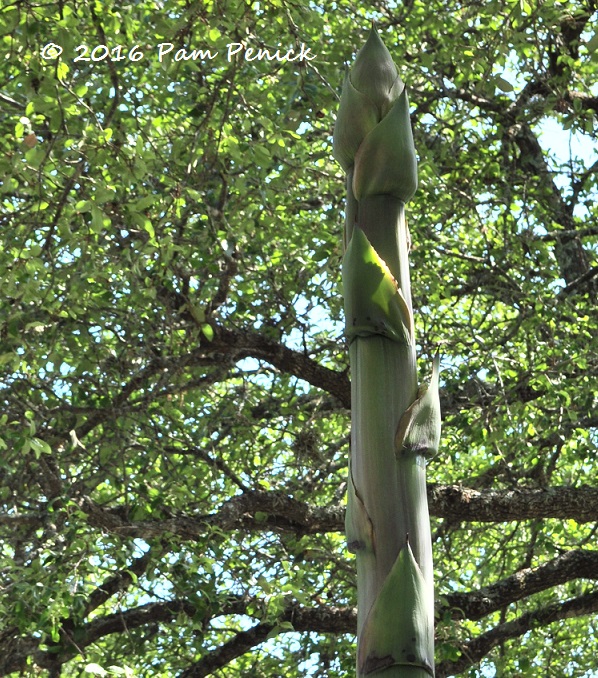 Yesterday I noticed that the tip is enlarging, and what looks like yellow flowers are emerging from the uppermost triangular leaves.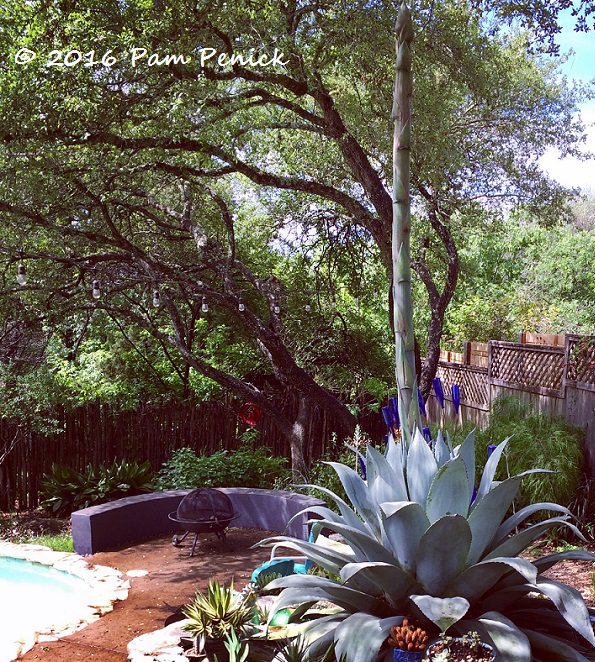 Does this mean it will flower before it hits the tree canopy above? I sure hope so. Stay tuned for more pictures, and follow me on Instagram and Facebook for daily updates on Moby's last, grand gesture before he goes to the big ocean in the sky.
I welcome your comments. If you're reading this in an email, click here to visit Digging and find the comment link at the end of each post.
_______________________
Digging Deeper: News and Upcoming Events
I'll be speaking on April 30, noon-12:30 pm, in Cedar Park, Texas, at Hill Country Water Gardens & Nursery's Lily Blossom Festival. My free talk is called "How to Garden Water-Wise, Not Water-Wasteful." An old proverb reminds us that The frog does not drink up the pond in which he lives. Don't be a water-guzzling frog! I'll be sharing my tips for making a garden that is water-wise, not water-wasteful. Stick around after my talk for a book signing, with autographed copies of Lawn Gone! and The Water-Saving Garden available for purchase.
Come see me at Festival of Flowers in San Antonio, May 28, time TBA. Learn more about water-saving gardening during my talk at San Antonio's 19th annual Festival of Flowers. Get a signed copy of my book after the talk. Tickets to the all-day festival, which includes a plant sale and exchange, speakers, and a flower show, are available at the door: $6 adults; children under 10 free. Free parking.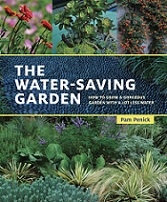 Do you review? Have you read my new book, The Water-Saving Garden? If you found it helpful or inspirational, please consider leaving a review — even just a sentence or two — on Amazon, Goodreads, or other sites. Online reviews are crucial in getting a book noticed. I really appreciate your help!
I'm on Instagram as pamdigging. See you there!
All material © 2006-2016 by Pam Penick for Digging. Unauthorized reproduction prohibited.
posted in
2nd garden--2016
,
Agaves
,
Bottle tree
,
Butterflies/Moths
,
Cactus
,
Containers
,
Flowers
,
Paths
,
Sheds
,
Trees
,
Vines
,
Walls
,
Xeric plants