October 25th, 2014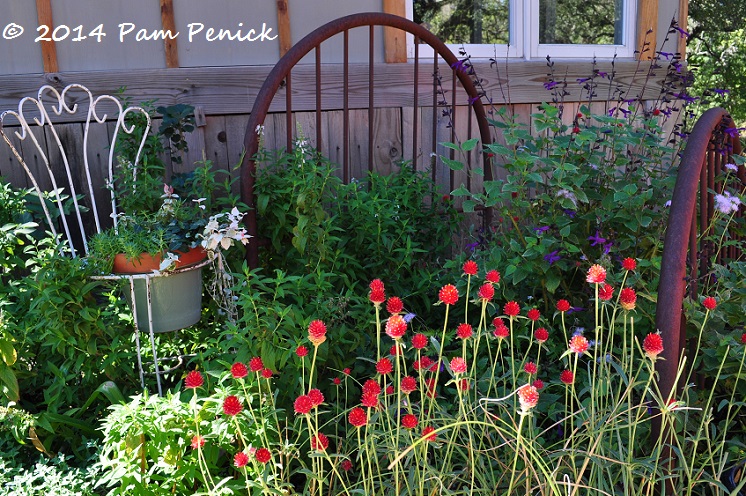 Ahh, I'm back and enjoying our mellow Texas fall after a garden-visiting weekend in New York City, and guess what I've been doing since I got back? Yep! Visiting more gardens.
Last Friday a few friends and I headed south to San Antonio to visit the gardens of two Alamo City bloggers and a gardening friend. I'll give you our visits in reverse order, starting with Shirley Fox's garden, known on her blog by its challenging features: Rock-Oak-Deer.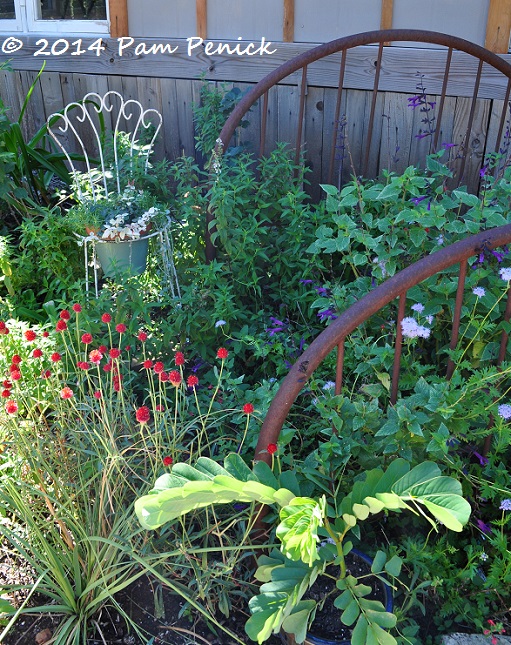 Shirley organized our visit and still made time to show us her garden as well. This was my second visit; I first saw Shirley's garden in summer 2013 (click for my post). This iron bedstead, planted as a garden bed (wink), is new since then, and I think it fits perfectly with the rustic Hill Country style Shirley has cultivated. Plus it's just fun.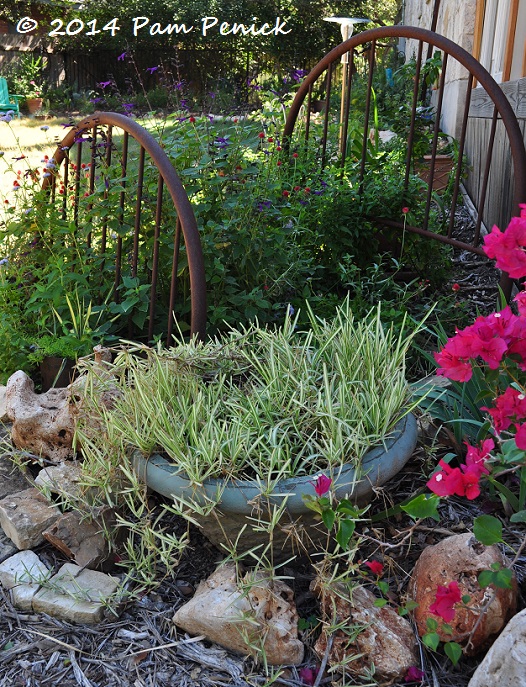 In a pot, Shirley has corralled a clump of variegated St. Augustine. Yes, just like the popular lawn grass, only with stripes!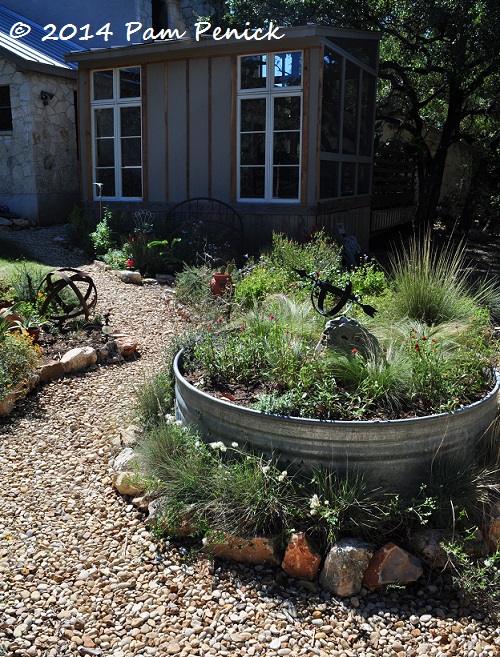 Her Circle Garden was in full, meadowy bloom thanks to a collection of grasses mixed with flowering annuals and perennials.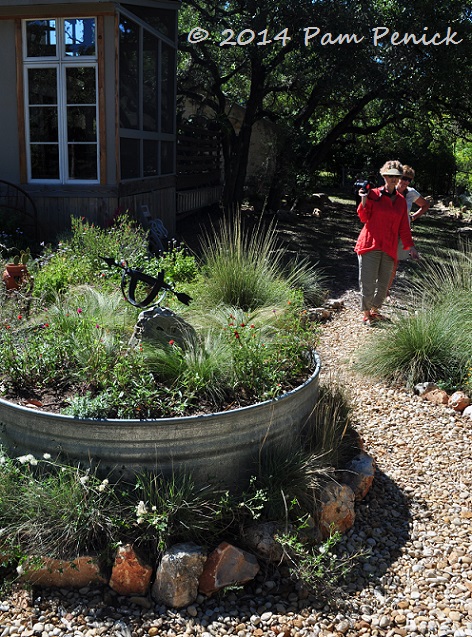 And there's Shirley in the orange blouse, her own camera at the ready.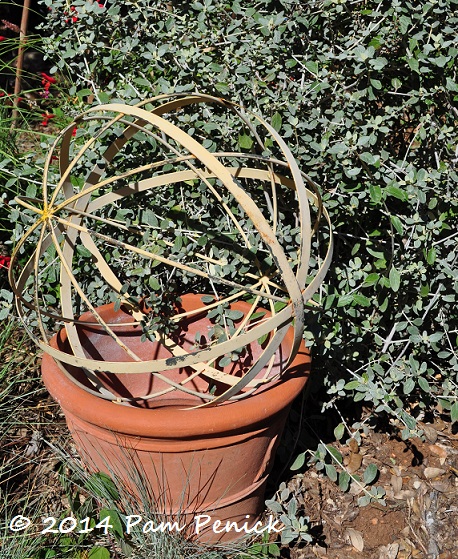 I collect metal spheres in my own garden, so it was fun to spot a few in Shirley's as well. I like how she's given this one some prominence by displaying it atop a pot.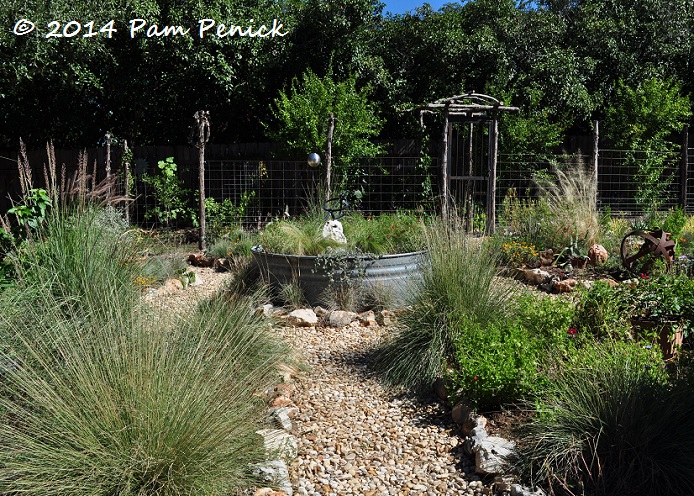 Looking at the Circle Garden from the other direction, you get a better sense of all the grasses. That's pine muhly (Muhlenbergia dubia) in the left corner, one of my new favorites since Michael at Plano Prairie Garden introduced me to it.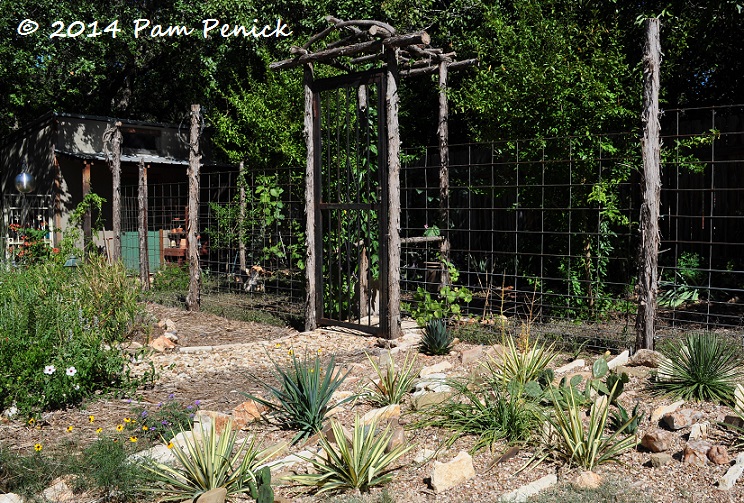 The tall wire fence along the side of her garden keeps deer out, giving Shirley space to grow particularly deer-tasty plants. She and her husband built the cedar-arbor gate.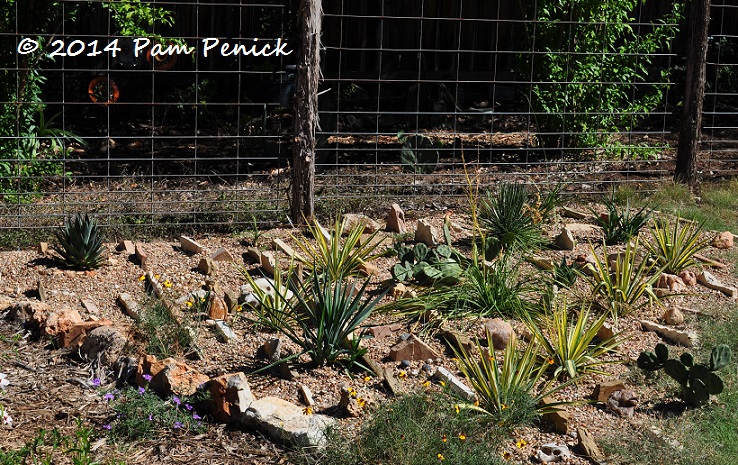 Here's another new, dynamic feature since I was last here: a crevice garden planted with yuccas, agaves, and cactus.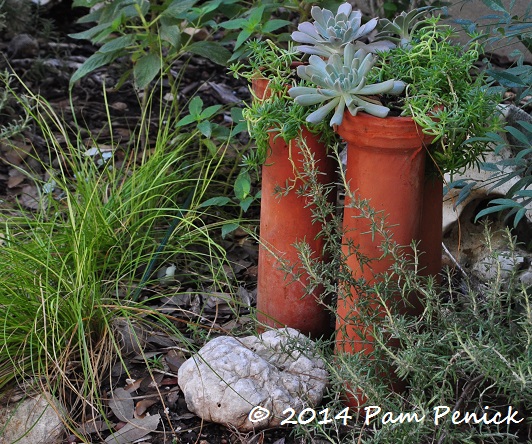 In the dappled light under live oaks, Shirley grows shade-tolerant plants and succulents in pots.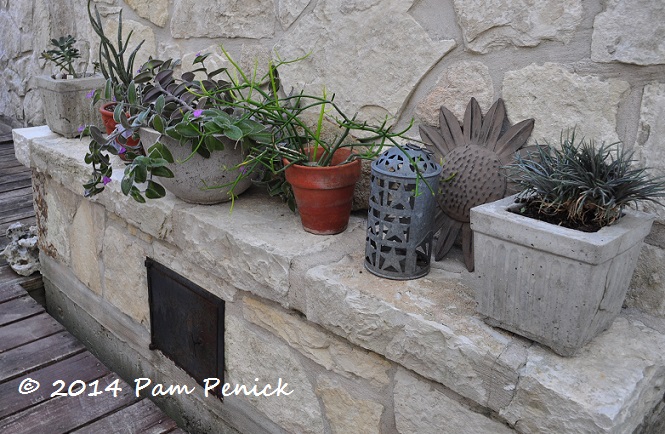 The fireplace wall along her back deck is a nice spot to display potted plants and garden decor.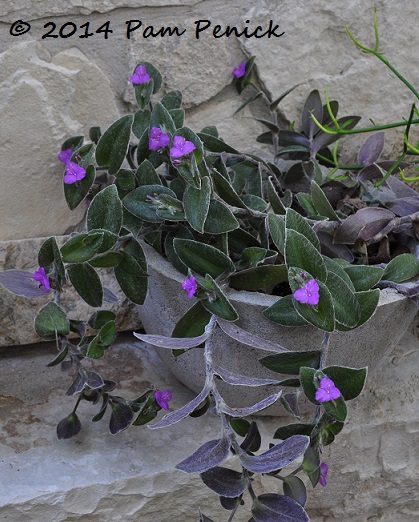 I was intrigued by this fuzzy-leaved tradescantia.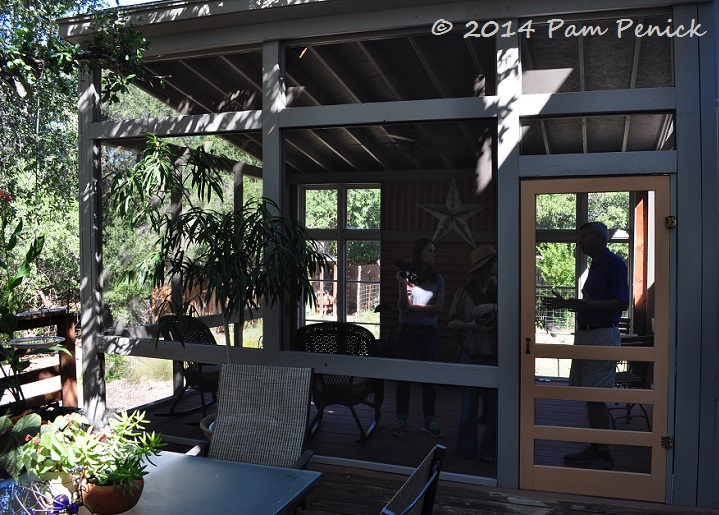 A new screened porch is the biggest addition since I was last here. Shirley and her husband constructed it themselves at one end of their shady deck so they can enjoy being outdoors even during our buggy summer spring, summer, and fall.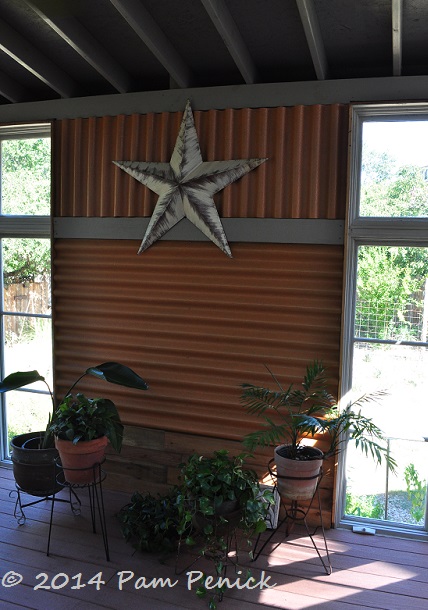 It's spacious inside, with an accent wall made of painted corrugated-metal roofing asphalt roofing panels. (Thanks for the correction, Shirley!)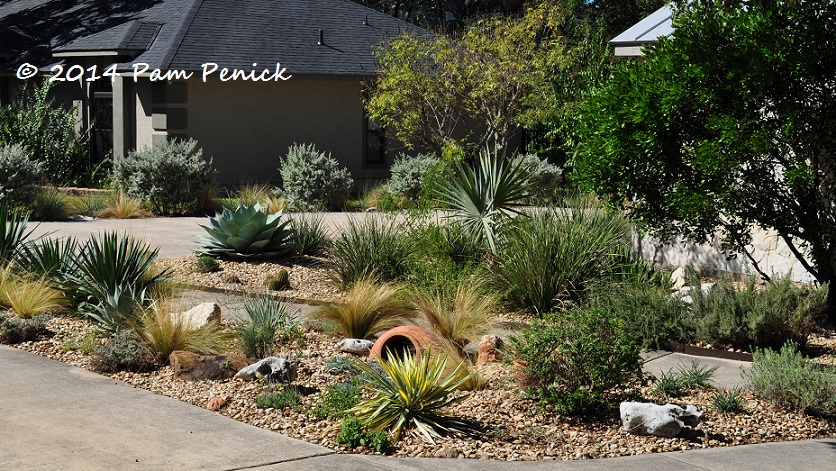 The front-yard gravel garden — notice not one shred of thirsty lawn — was looking good with a mix of cool blues, golden yellows, and emerald greens, all foliage-based color.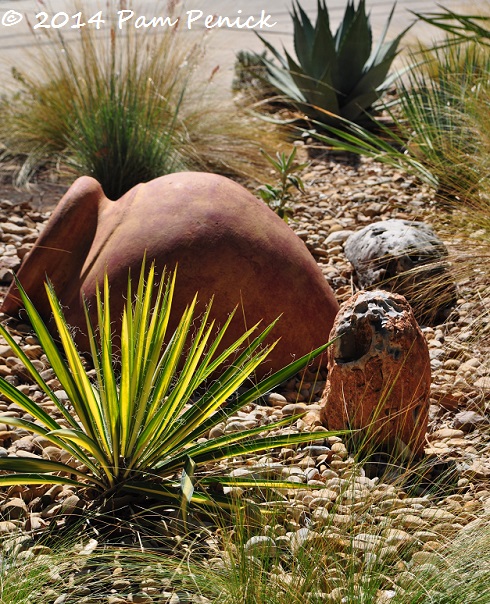 Small boulders and Mexican-style terracotta pots add to the south-central Texas look.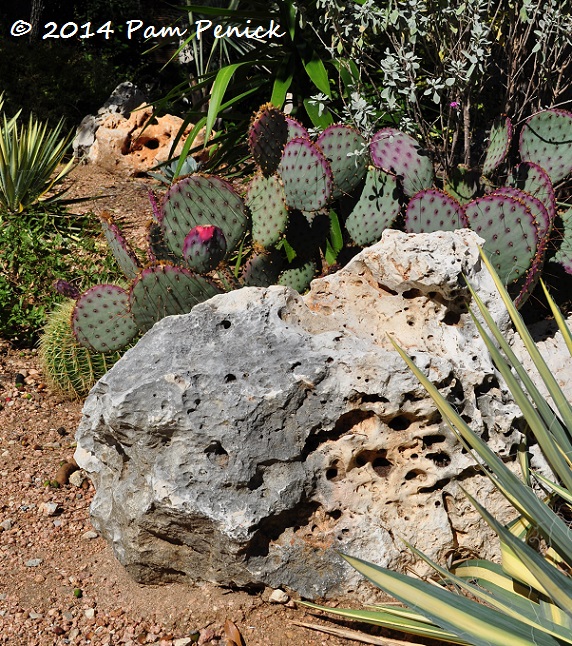 A purple prickly pear looks especially lovely next to a pockmarked limestone boulder.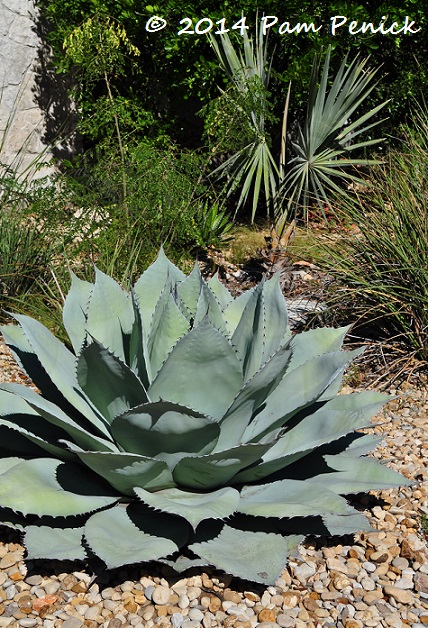 And I had to stop and admire Shirley's large 'Whale's Tongue' agave (A. ovatifolia), a little sunburned by the Death Star but still looking very content with room to spread its flukes.
Thanks, Shirley, for opening your garden to us and for organizing a fun day of garden-visiting in San Antonio!
Up next: Xericstyle Heather's lawn-gone, family-friendly garden.
All material © 2006-2014 by Pam Penick for Digging. Unauthorized reproduction prohibited.
posted in
Agaves
,
Annuals
,
Arbors
,
Cactus
,
Containers
,
Crevice garden
,
Deer
,
Fences
,
Garden art
,
Garden tours 2014
,
Grasses
,
Lawn Gone!
,
Palms/Cycads
,
Paths
,
Patios & decks
,
Rock
,
Stock tanks
,
Succulents
,
Travel
,
Trees
,
Xeric plants
,
Yuccas