October 3rd, 2014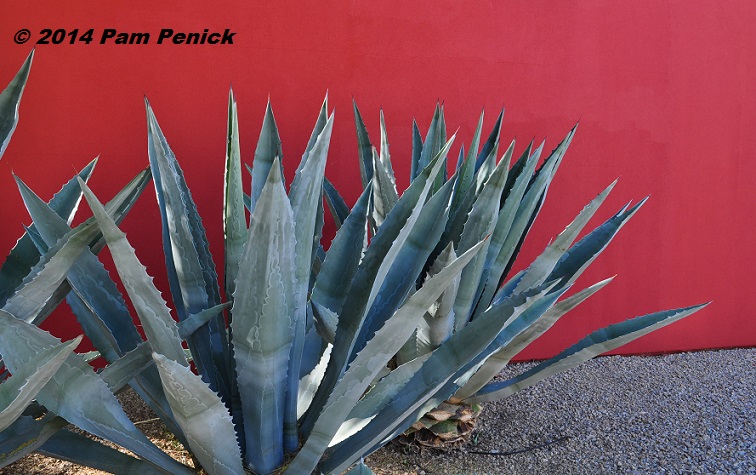 In 2008 I read an article in Wildflower Magazine by Tucson designer Scott Calhoun in which he makes the case for colored walls in the garden. (Here's my original post about it, in which I fantasize about adding colored walls to my own garden.) It was a light-bulb moment for me, but it took six more years of seeing the impact of colored walls in gardens in the Southwest and the Pacific Northwest to push me over the edge. A month ago I hired a mason here in Austin to build three low stucco walls for my own garden.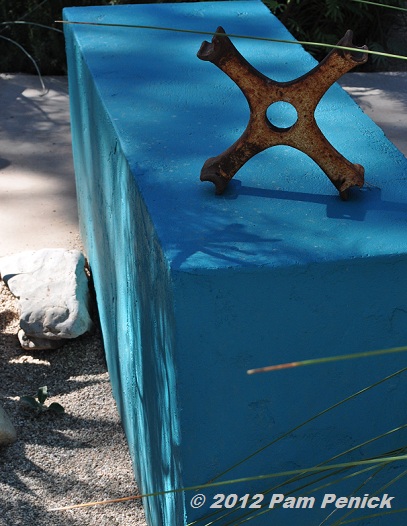 But I have to wonder: why don't we see more colored walls here in Austin? We Austinites indulge a love affair with southwestern desert plants like agave, yucca, and prickly pear. We also have a yen for modern design. Colored stucco walls, as Calhoun reminds us, are perfect backdrops for showing off architectural plants and bringing all-year color into gray-green xeric gardens, and they fit beautifully into contemporary designs.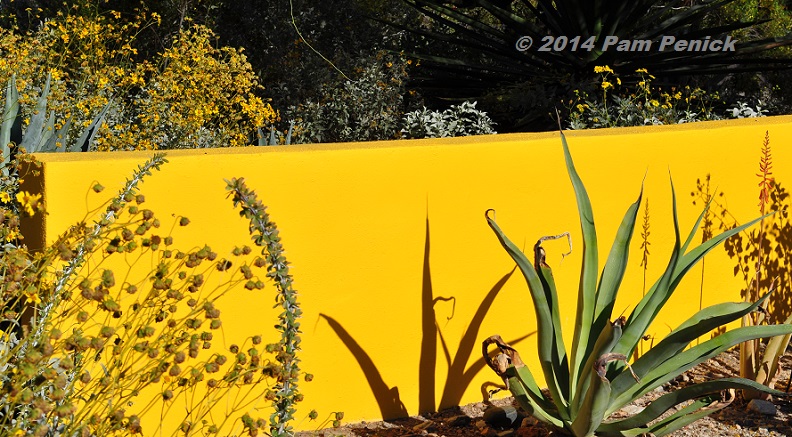 As this picture shows, they also make colorful, structural foils for naturalistic native-plant gardens. This chrome-yellow wall adds pow in the Steve Martino-designed Palo Christi Garden near Phoenix. The red wall with agaves pictured at top is part of the same garden.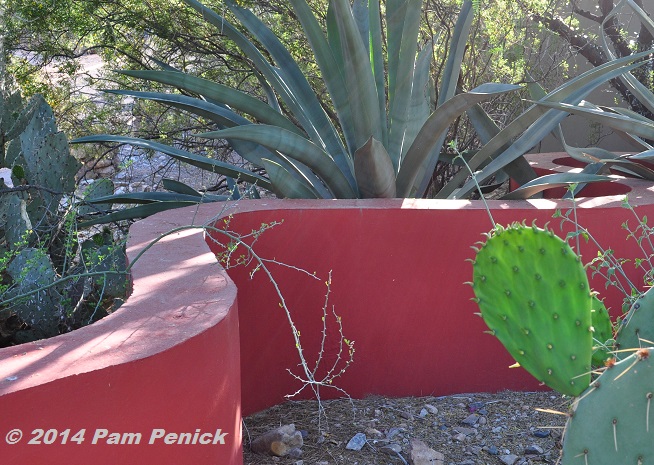 You can get really creative with stucco walls too, adding curves or even sinuous waves, like this one in the Steve Martino-designed Quartz Mountain Garden.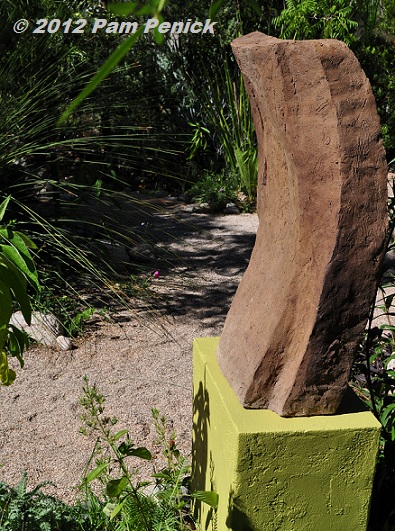 Low walls make good bench seating or even pedestals for sculpture. This and the blue bench (2nd photo from top) are in the Tucson, Arizona, garden of Alan Richards.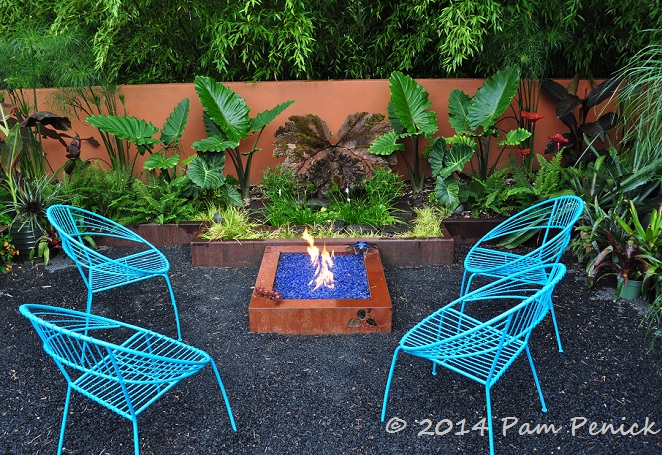 They're not just for desert gardeners either, as I saw in Portland during the Garden Bloggers Fling. At the Floramagoria Garden we saw walls used as colorful backdrops throughout the equally colorful garden.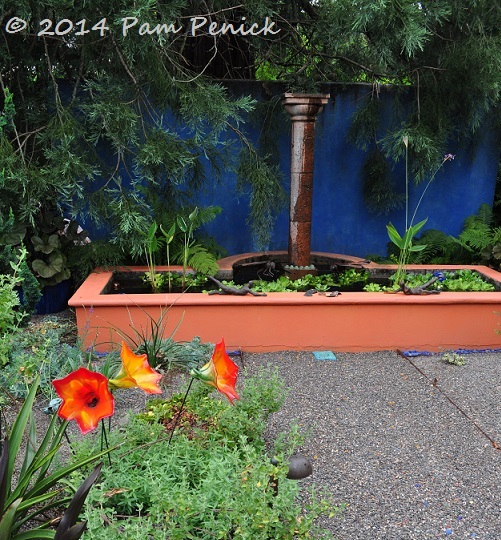 Floramagoria's blue wall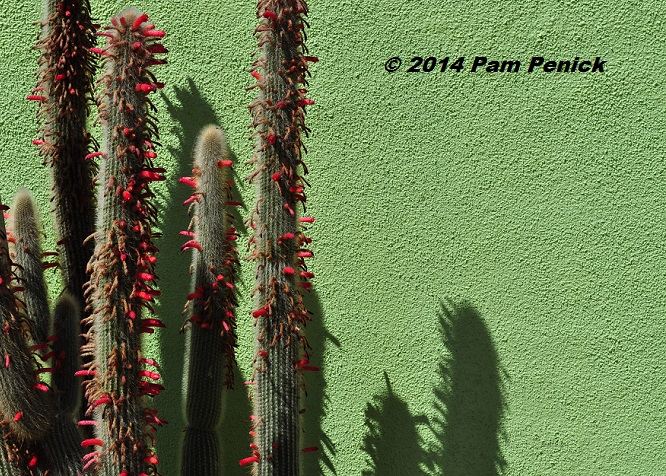 If you plan it right, you also get interesting shadow play against your garden walls. This is a scene at Civano Nursery in Tucson.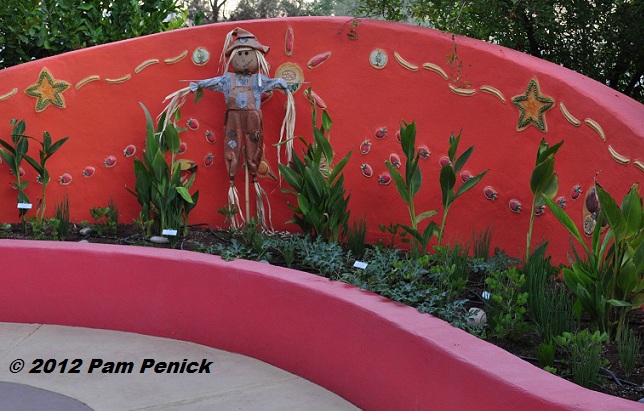 Bright colors jazz up childrens' gardens, like this one at Tucson Botanical Gardens…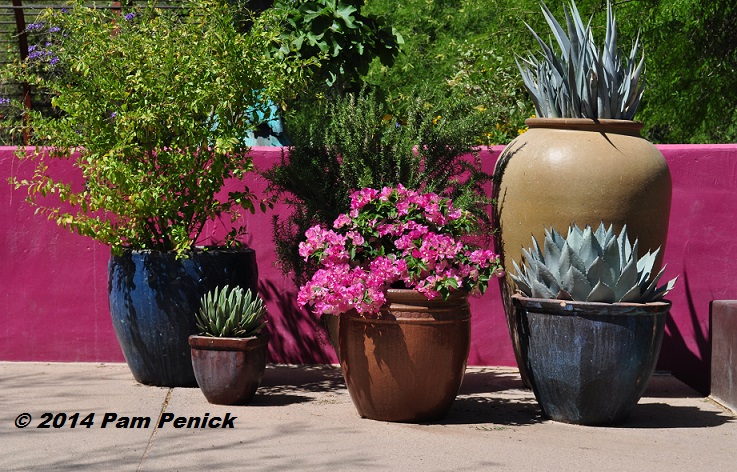 …and add a hot punch of tropical color. This fuchsia wall matches a potted bougainvillea at Desert Botanical Garden in Phoenix.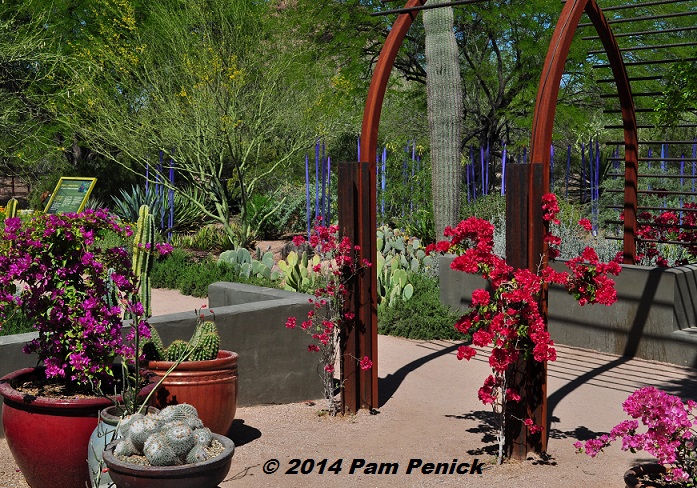 If hot colors don't appeal, muted greens, I think, look just as good. I'm inspired to paint two of my own walls an earthy olive green, like this wall at Desert Botanical Garden.

Or this one at Floramagoria.
So what do you think? Why don't more Austin gardens have stuccoed walls? Could you ever see a colored wall in your garden? What about painting a wooden fence instead?
All material © 2006-2014 by Pam Penick for Digging. Unauthorized reproduction prohibited.