December 19th, 2015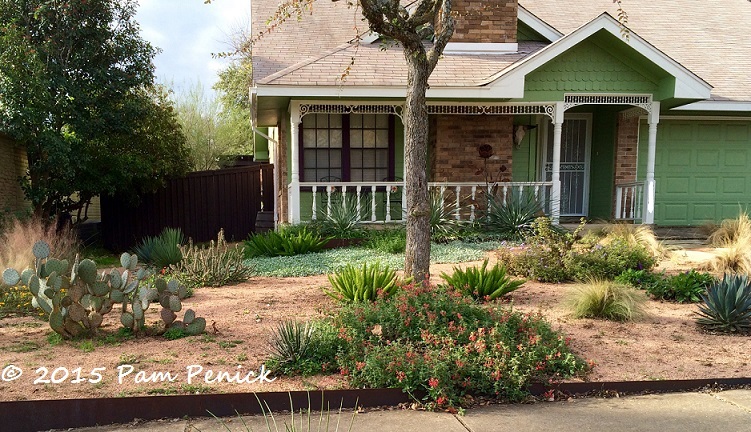 In the Wells Branch neighborhood just north of Austin, on the way to my mom's house, I regularly drive past this desert-style, no-lawn front garden. I've watched it evolve from a few tiny plants dotted across an expanse of decomposed granite to its current lusher look, softened here and there by pools of spreading groundcovers like silver ponyfoot and the red-flowering perennial along the sidewalk (some sort of salvia?).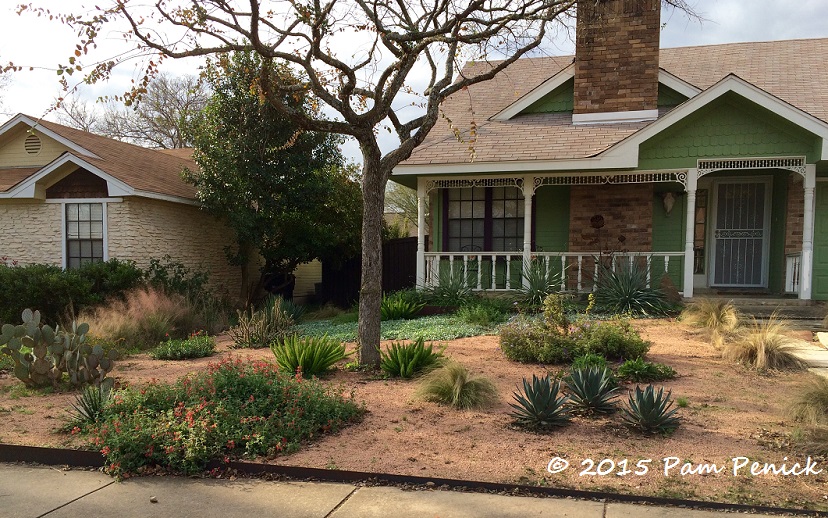 While it's still sparsely planted for central Texas, leaving lots of DG open to potential weed invasion (increasing maintenance), I like how the owners have clustered plants in loose triangles for a more natural effect, like the agaves and foxtail ferns. Clumps of winter-tawny Mexican feathergrass and pink-flowering Gulf muhly help soften all the rock.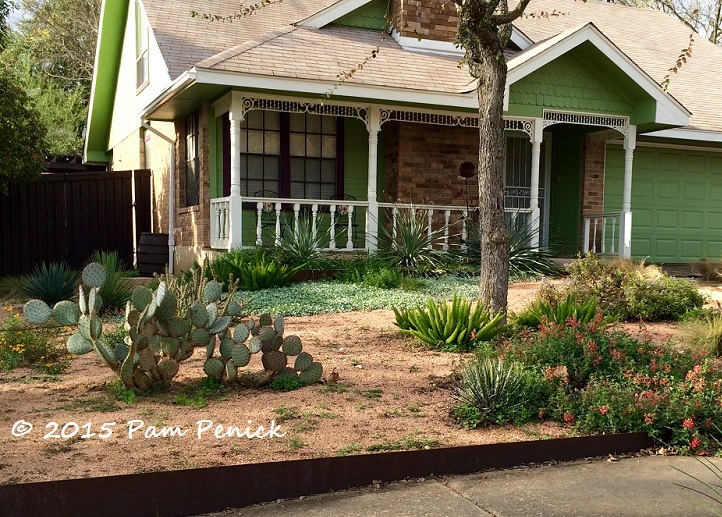 Extremely drought-tolerant Wheeler sotol (Dasylirion wheeleri) is an unusual choice for the foundation, but planted in a raised, steel-edged bed it's obviously getting good drainage. How do I know? Because otherwise it would have rotted. Wheeler sotol won't play the fainting-couch game. A handsome prickly pear anchors the left side of the garden.
The house sits on a corner lot, and along the other street (not pictured) the owners are growing an ocotillo — with apparent success! Octotillo (Fouquieria splendens) is rare in subtropical Austin; we just get too much rain and humidity for this southwestern desert plant. These folks have had theirs for about three years, and I saw it in leaf a couple of months ago (ocotillo branches are bare much of the year, a desert survival adaptation), showing that even this year's ultra-rainy spring and fall didn't phase it.
This water-conserving garden likely needs no irrigation for most of the year, with perhaps a once- or twice-a-month soak in summer if it hasn't rained. An open desert style is unusual for Austin, but I think it's working for them.
All material © 2006-2015 by Pam Penick for Digging. Unauthorized reproduction prohibited.