December 10th, 2017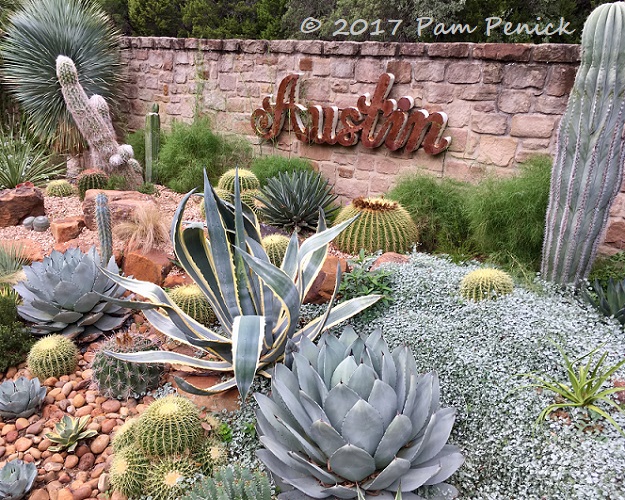 Six months ago I visited the spikylicious garden of Matt Shreves, an Austin gardener I met on Instagram (see his Instagram page at OG_Agave). Last month, he kindly invited the Austin blogger group over (or maybe we invited ourselves over, and he graciously agreed), so I got to enjoy the spike-fest all over again.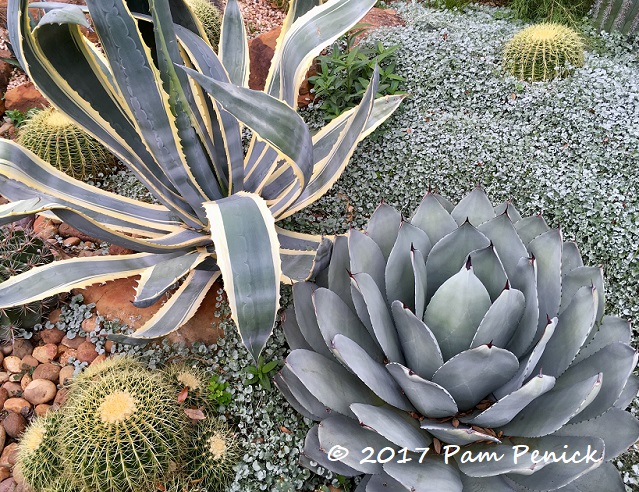 His garden on a hilltop near Emma Long Park has many beautiful agave and cactus specimens.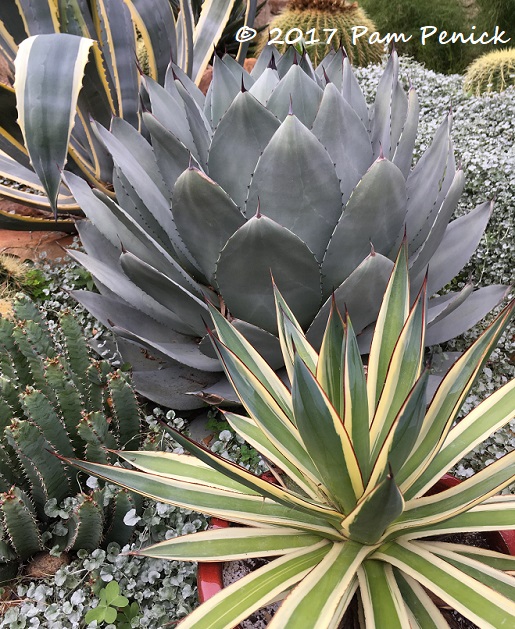 Every plant looks marvelous.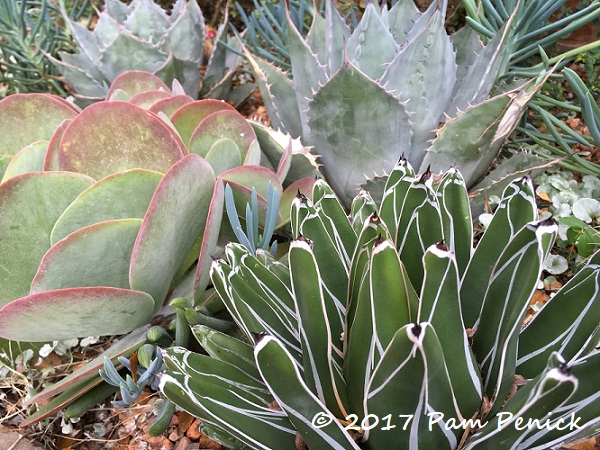 And there are lots of sharp teeth.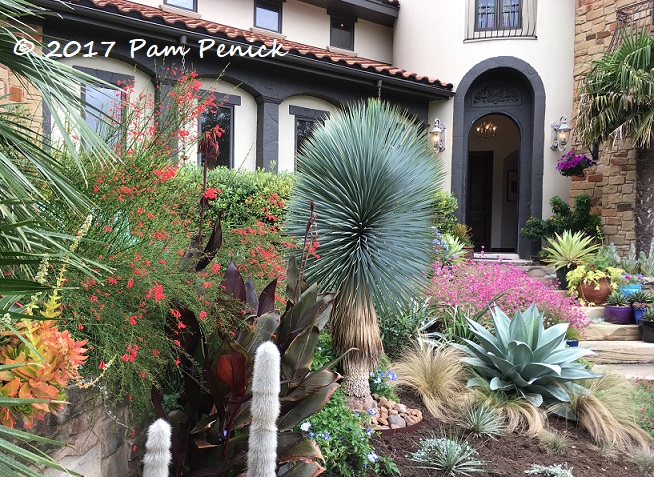 Out front, Matt's yuccas and agaves are set off by the late-season glory of flowering 'Fireworks' gomphrena and firecracker fern.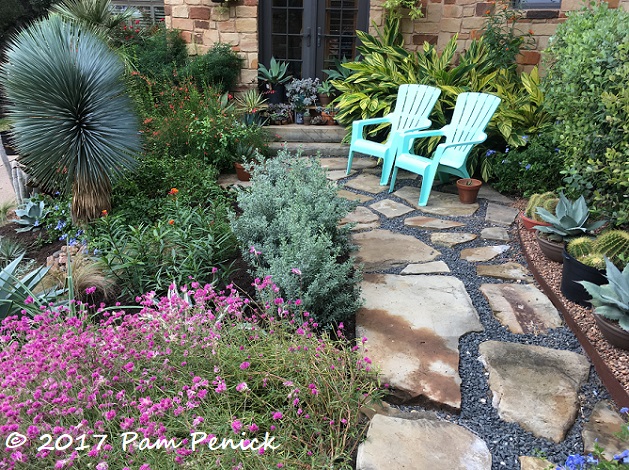 From this half-hidden patio at the top of the tiny but steep entry garden, Matt and his family can perch in relative seclusion and watch the neighbors go by.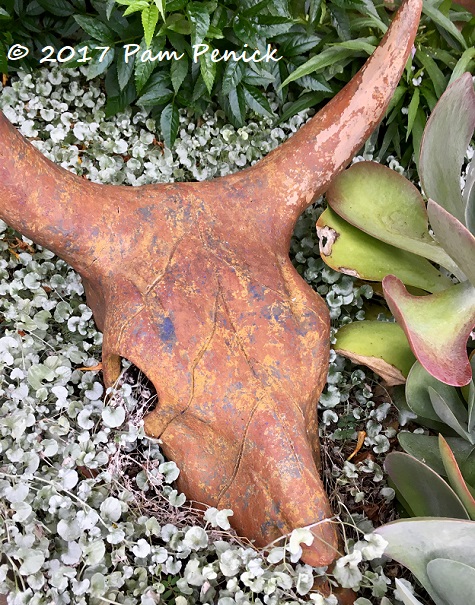 Western-style garden art suits the desert-meets-Central Texas garden.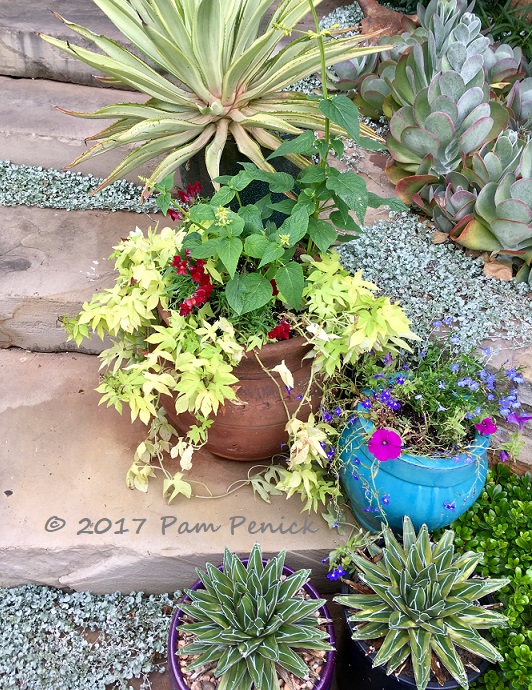 Potted plants carry the display right up the porch steps.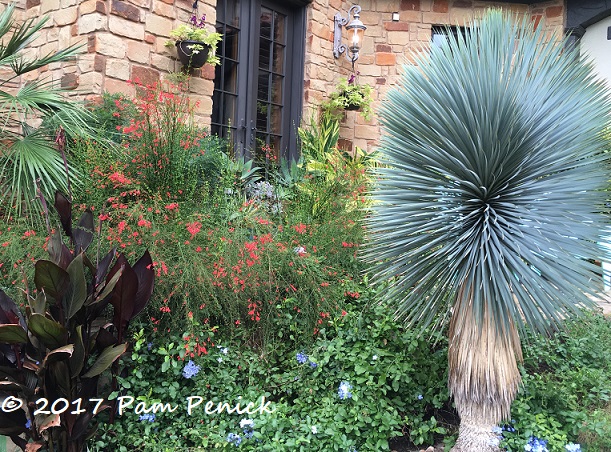 It was a treat to see his garden again. Thanks for sharing your beautiful creation with us, Matt!
I welcome your comments; please scroll to the end of this post to leave one. If you're reading this in a subscription email, click here to visit Digging and find the comment box at the end of each post.
_______________________
Digging Deeper: News and Upcoming Events
Calling all garden bloggers! You're invited to register for the annual Garden Bloggers Fling tour and meetup, which will be held in Austin next May 3-6, 2018! Click this link for information about registering, and you can see our itinerary here. Space is limited, so don't delay. The 2018 Fling will be the event's 10th anniversary, which started in Austin in 2008.
Join the mailing list for Garden Spark Talks! Inspired by the idea of house concerts, I'm hosting a series of garden talks by inspiring designers and authors out of my home. Talks are limited-attendance events and generally sell out within just a few days, so join the Garden Spark email list for early notifications. Simply click this link and ask to be added.
All material © 2006-2017 by Pam Penick for Digging. Unauthorized reproduction prohibited.
posted in
Agaves
,
Cactus
,
Containers
,
Garden art
,
Garden tours 2017
,
Paths
,
Patios & decks
,
Rock
,
Seating
,
Signs
,
Succulents
,
Walls
,
Water-Saving Garden
,
Xeric plants
,
Yuccas