December 3rd, 2016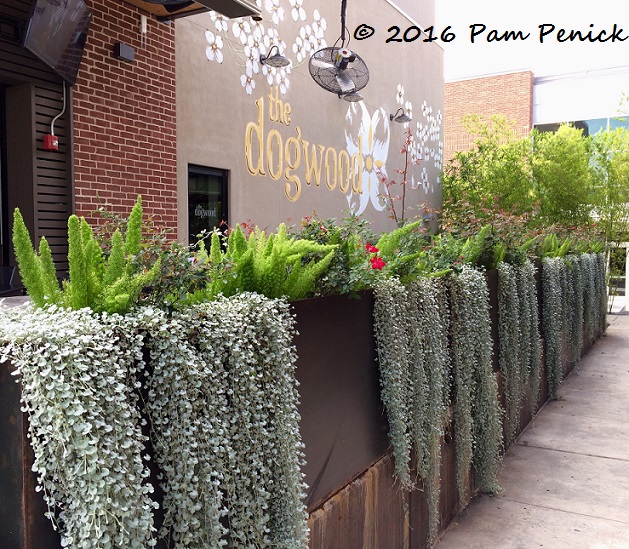 My mother and I had lunch in the new Rock Rose section of The Domain (a New Urbanist-style live/work/shop development in North Austin) last week and poked around in the shops afterward. Naturally, I yanked my phone out along the way to take pictures of cool landscaping features, like this steel planter that doubles as a patio retaining wall at The Dogwood bar. Foxtail fern, silver ponyfoot, and red roses make a pretty, sun-loving combo. I like their painted sign-mural too.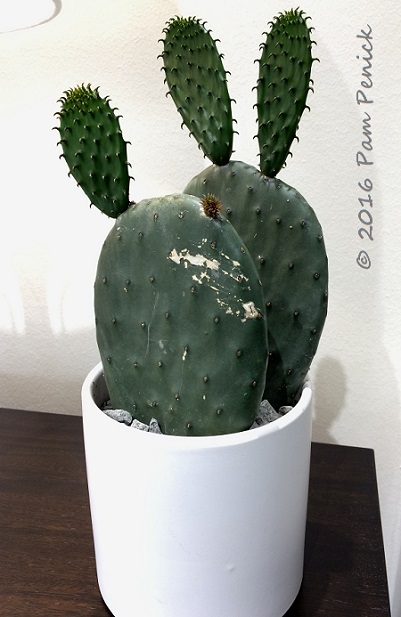 Here's a simple idea, taken from Mitchell Gold + Bob Williams furniture store: a prickly pear pad (or two) stuck in contemporary pot topped with gravel. Why haven't I ever done this with prunings from my opuntias?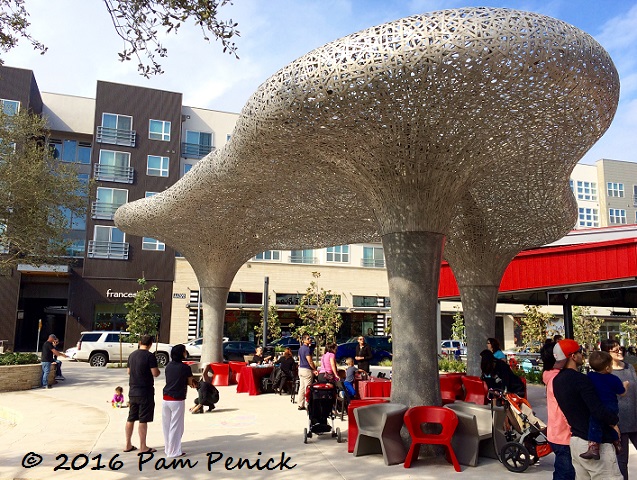 A cloud-like arbor of aluminum or stainless steel floats over a public plaza near the Northside Lawn. It's eye-catching as a sculptural element, and I suppose it offers filtered shade on hotter days.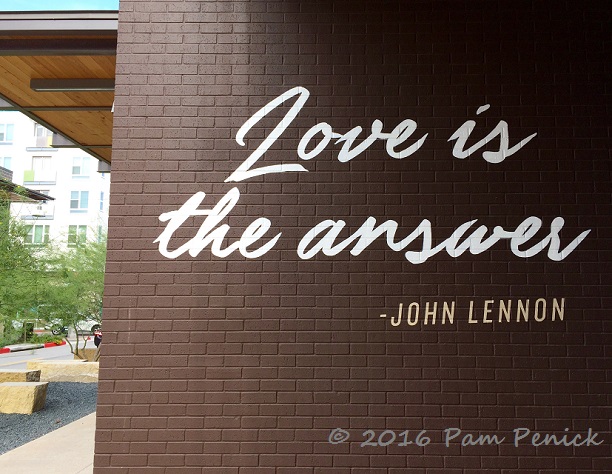 A John Lennon song lyric mural is just begging to be used as a backdrop for engagement photos. It struck me as a hopeful message for these turbulent times too.
Rock Rose at The Domain, with a slew of local restaurants that we north Austinites formerly had to drive downtown or to South Austin to enjoy, feels a little like Disneyland, with its clean, walkable streets and idealized-Austin vibe. It has its haters, but it's OK with me. A walkable shopping/dining area that's not inside a mall (yuck) and that's beautifully landscaped made for a nice day out with my mom. I'll be back next time to try out East Side King's Thai Kun.
Click for a look at the landscaping and public art in the original section of The Domain.
I welcome your comments; please scroll to the end of this post to leave one. If you're reading this in a subscription email, click here to visit Digging and find the comment box at the end of each post.
_______________________
Digging Deeper: News and Upcoming Events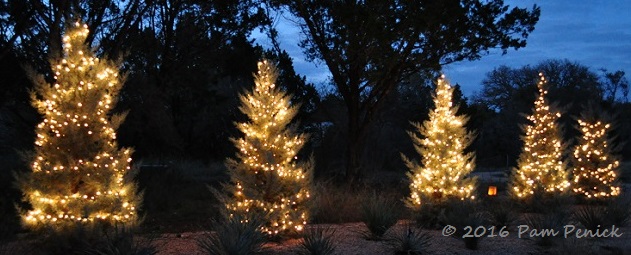 Need a holiday gift for the gardener, new homeowner, or environmentalist on your list?
Please consider giving one (or both!) of my books. They're packed with plenty of how-to info for newbies as well as lots of inspirational photos and design ideas for more experienced gardeners! Order today from Amazon (Water-Saving Garden / Lawn Gone!) or other online booksellers (Water-Saving Garden / Lawn Gone!), or find them anywhere books are sold.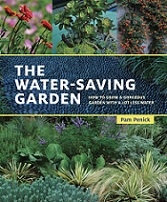 "In an era of drought and unpredictable weather patterns, The Water-Saving Garden could not come at a better time. With striking photographs and a designer's eye, Penick shows us just how gorgeous a water-wise garden can be. This is the must-have garden book of the year!"
— Amy Stewart, author of The Drunken Botanist and Wicked Plants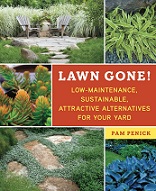 "This thoughtful, inviting, and thoroughly useful book should be required for every new homeowner at closing. It has the power to transform residential landscapes from coast to coast and change the world we all share."
— Lauren Springer Ogden, author of The Undaunted Garden and coauthor of Waterwise Plants for Sustainable Gardens
For a sneak peek before you buy, check out my book trailers!
All material © 2006-2016 by Pam Penick for Digging. Unauthorized reproduction prohibited.