June 23rd, 2015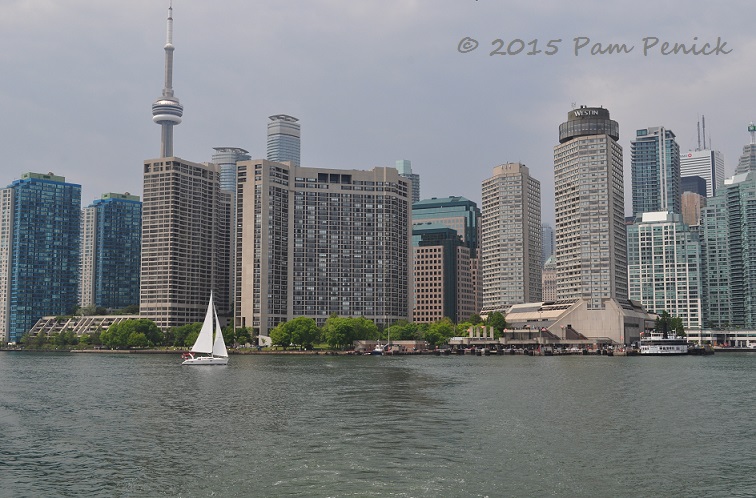 Seventy garden bloggers boarded a ferry earlier this month and were transported from bustling downtown Toronto (pictured above) to the idyllic lanes of the Toronto Islands (below), a mere 15 minutes across Lake Ontario but seemingly a world away.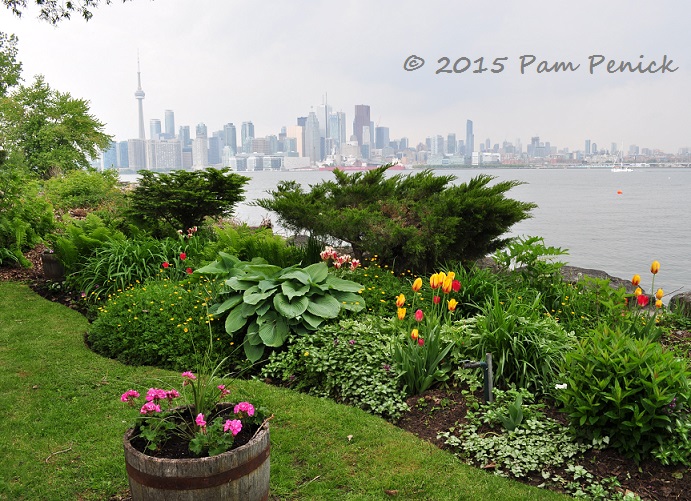 This was the last tour on our first day of the Toronto Garden Bloggers Fling, and we were treated to a preview visit of the islanders' private gardens, which would be open for a public tour the following weekend (June 6-7).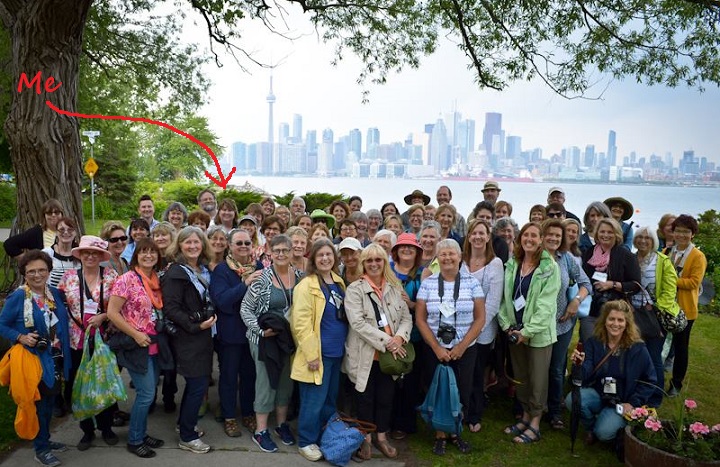 First we were herded together for our official Fling portrait, with the spectacular Toronto skyline in the distance. Then, with maps in hand, we were set loose, free to wander at will between Ward's and Algonquin Islands, which are connected by a footbridge.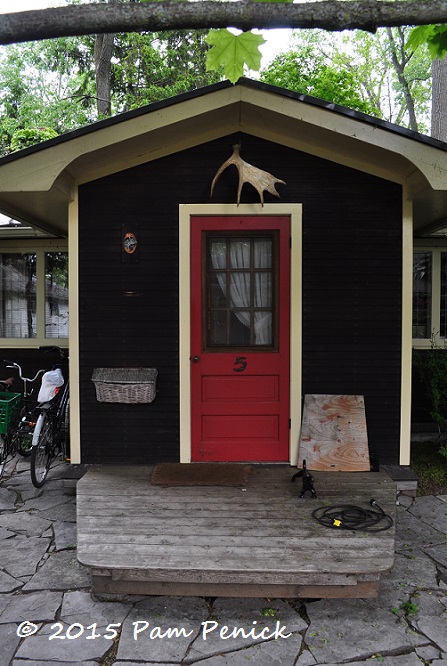 The islands are said to be the largest urban car-free community in North America. Traffic-free lanes lead to densely built cottages, where bikes are parked beside every door.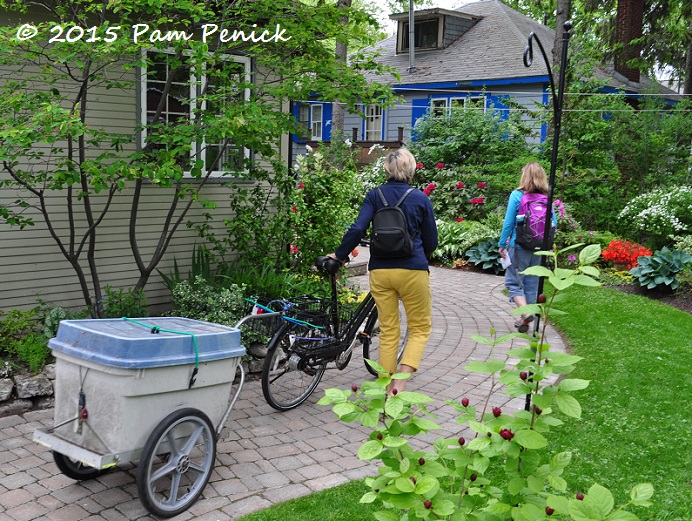 Bicycles with trailers are the transport of choice for residents and visitors alike. I saw these on the ferry as well.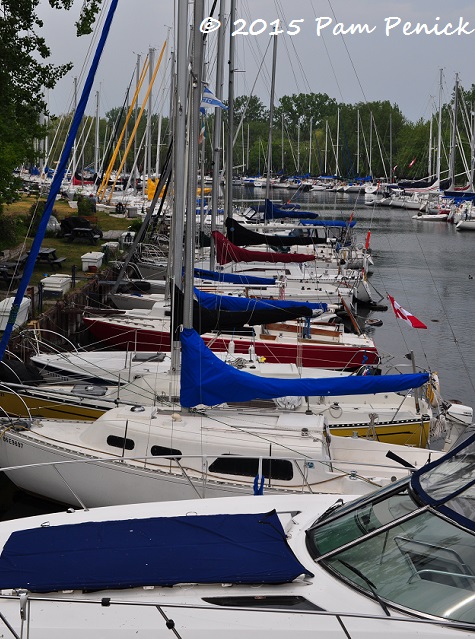 Of course one could always sail over from Toronto.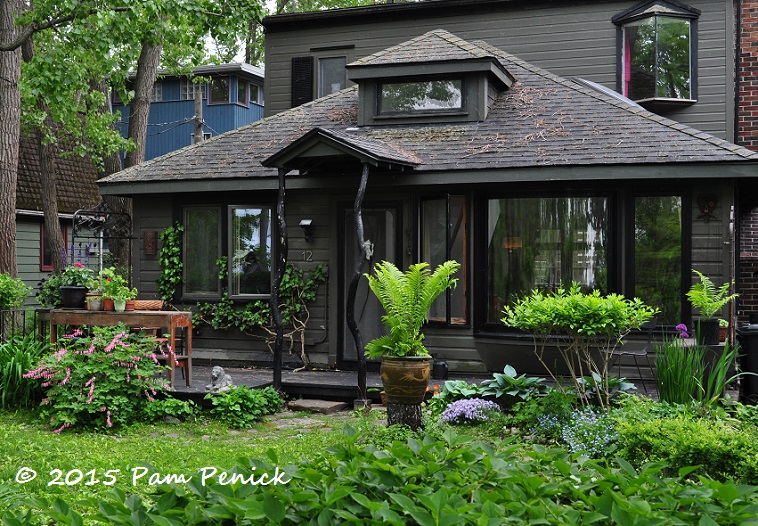 Ownership of one of the 262 homes on the islands is coveted and strictly limited. Due to a government settlement over a land dispute, homeownership on the islands really amounts to a 99-year lease on the property and ownership of the structure only, not the land. Those wanting to buy in must sign up on a waiting list of 500 names and be prepared to wait approximately 35 years for a spot to open.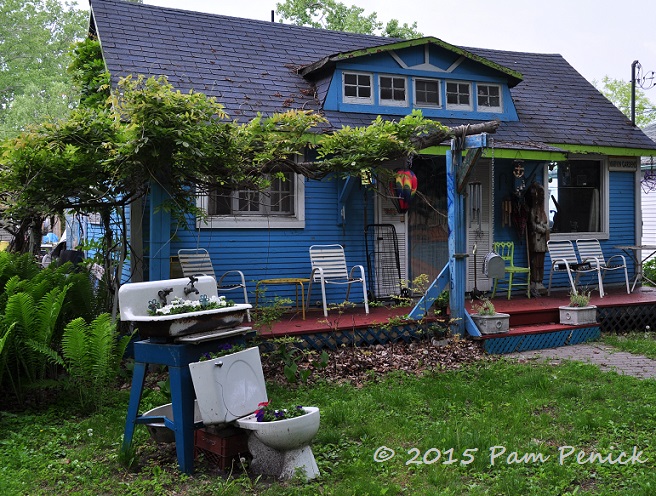 Happily, anyone can visit the islands and stroll or bike around to see the charming cottages. Everything, even construction and landscaping materials, must be brought in on bike or non-motorized cart, we were told, and trash goes out the same way, so islanders tend to be creative recyclers in their garden decor.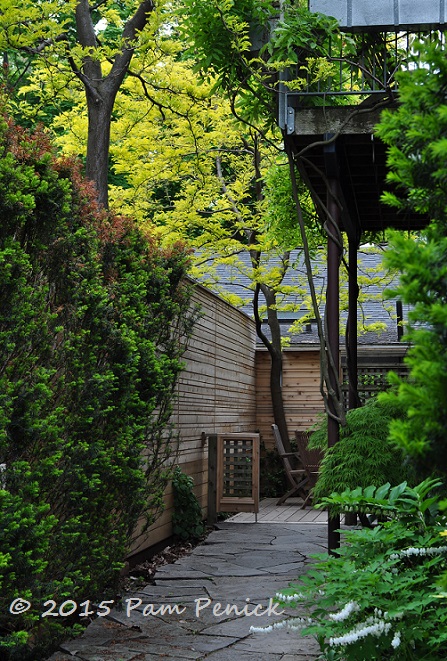 Gardens that were open to us were marked on our map, but many others could be enjoyed from the lanes.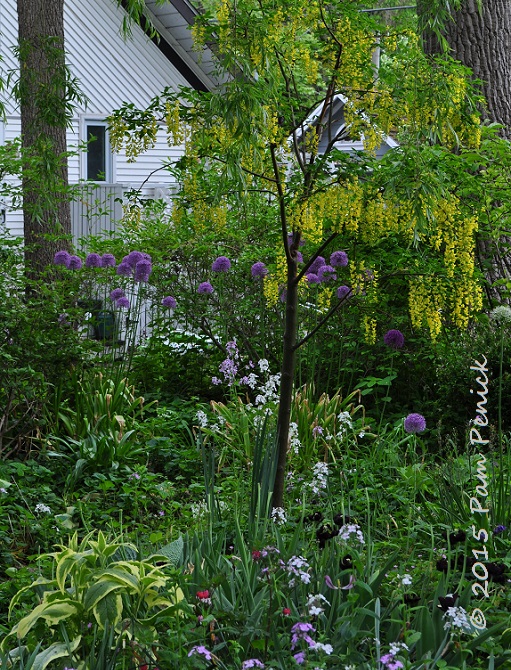 As we strolled around, friendly islanders working in their gardens sometimes invited us in, even if they weren't officially on the preview tour. This rear garden was in full spring glory (even though it was June!) with golden chain tree and alliums.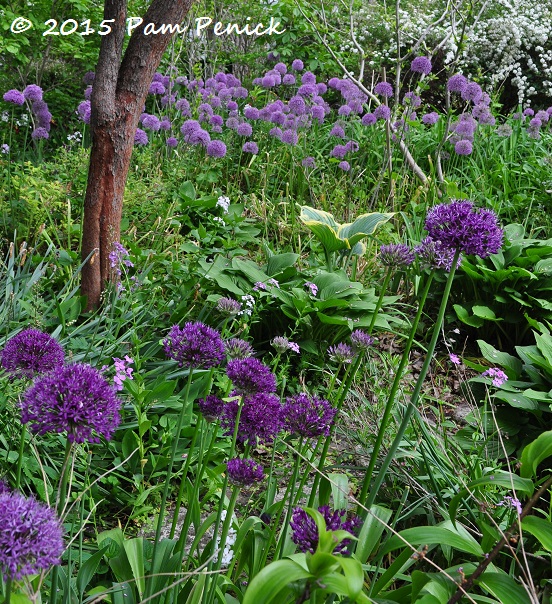 More alliums — the official flower of the Toronto Fling, by the reckoning of head planner Helen Battersby. I'd have to agree. They were everywhere.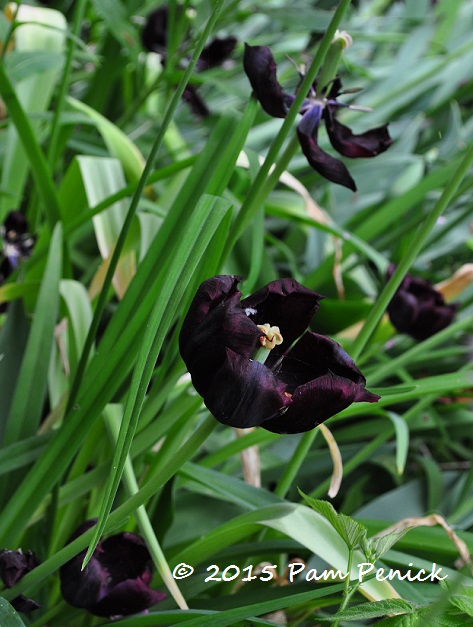 Dark purple tulips, nearly black, harmonized nicely.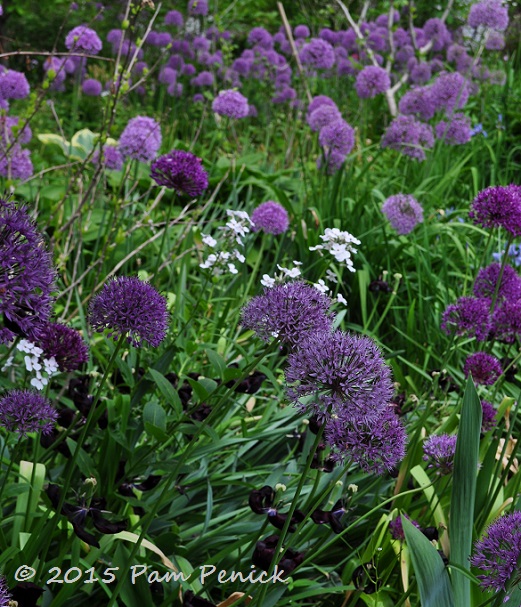 Tulip and allium combo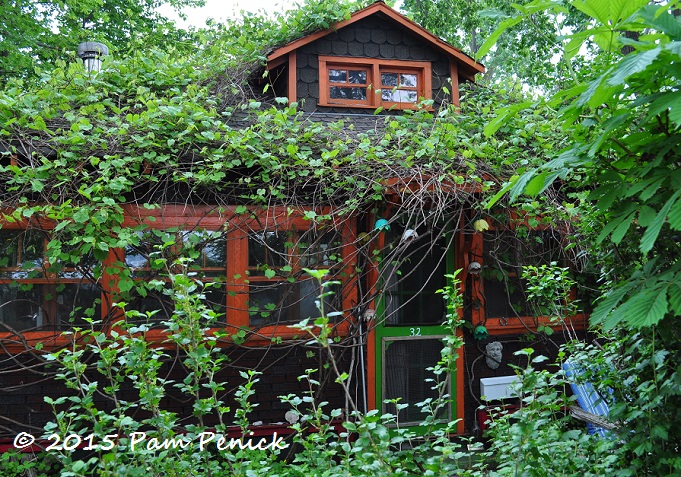 This house was nearly swallowed up by vines.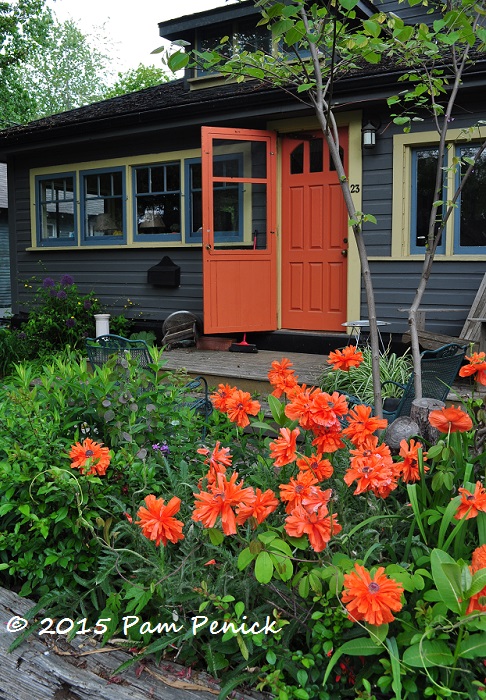 But its twin, nearby, was stunning, with double orange poppies echoing the color of the front door.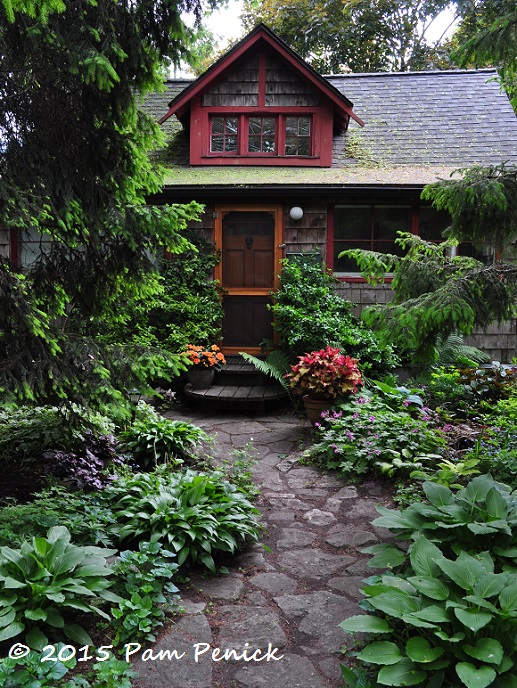 This one looked like a fairy tale cottage in the woods.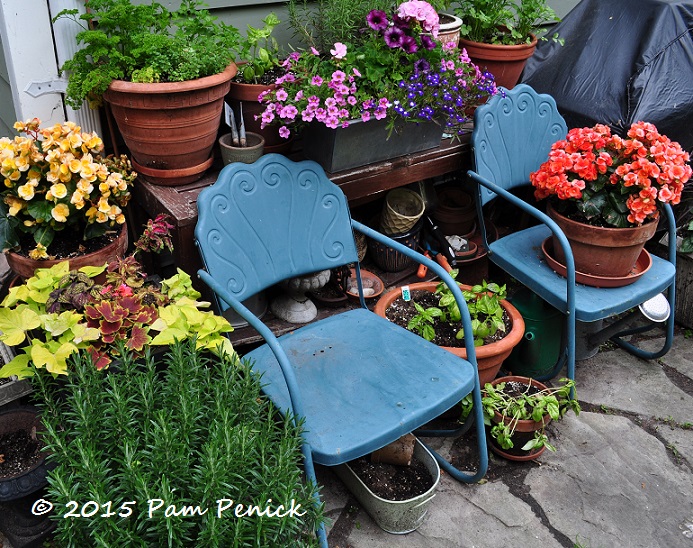 Small lots mean creative gardening — and a lot of container gardening.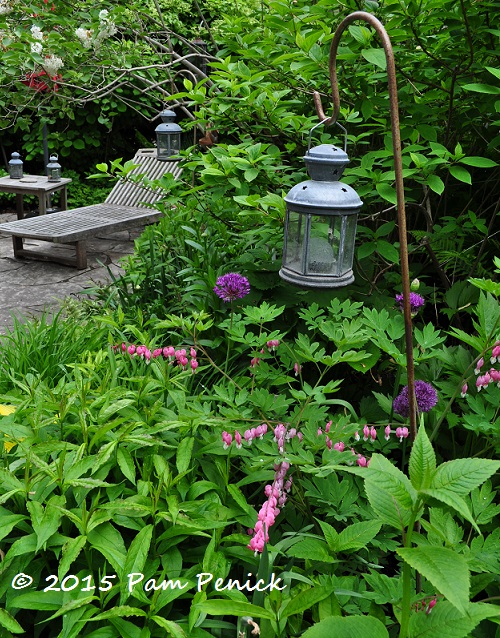 This one pulled off a secret garden vibe.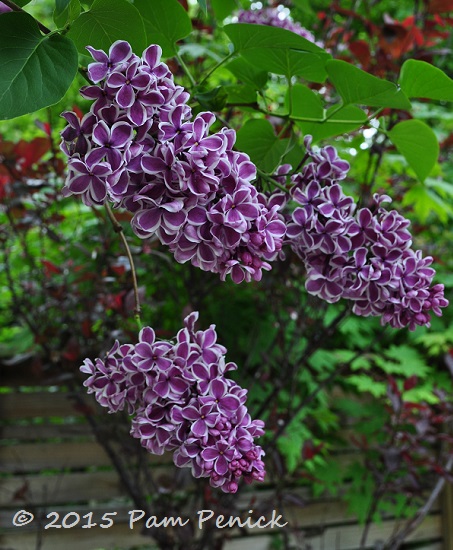 Variegated lilac blossom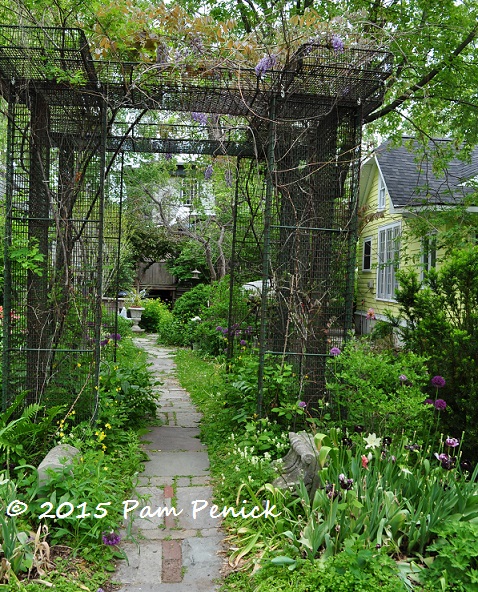 I tried to guess what this arbor was made of. It looked like metal mesh baskets wired together.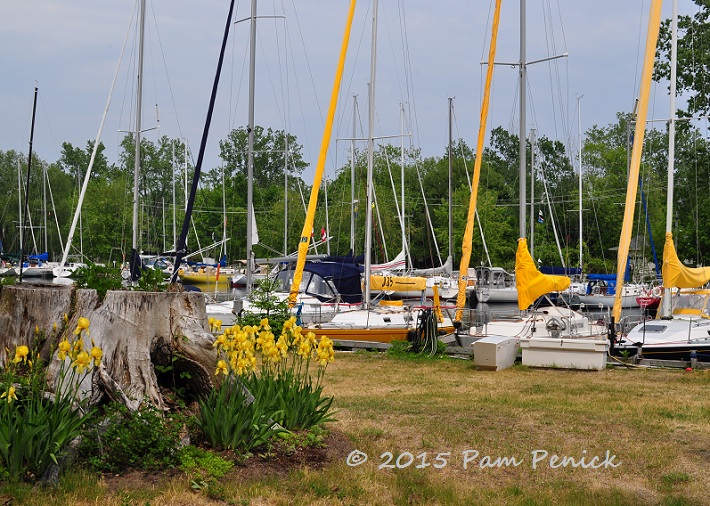 Next to the harbor, yellow sail covers on the sailboats serendipitously matched yellow iris blooming around a massive old tree stump.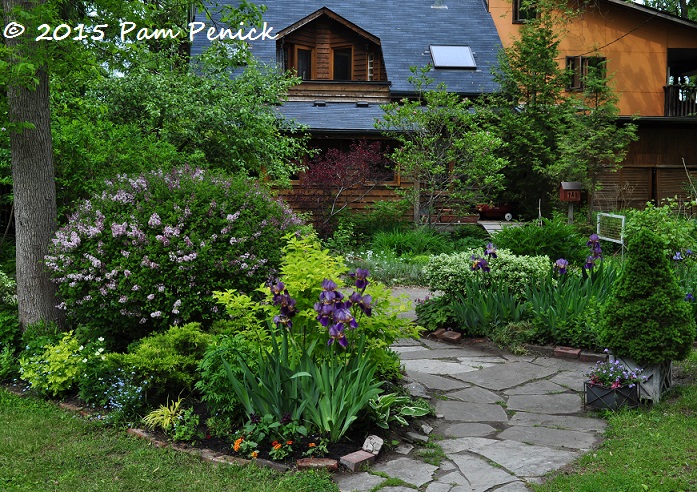 Lilacs and iris beckoned me into this garden.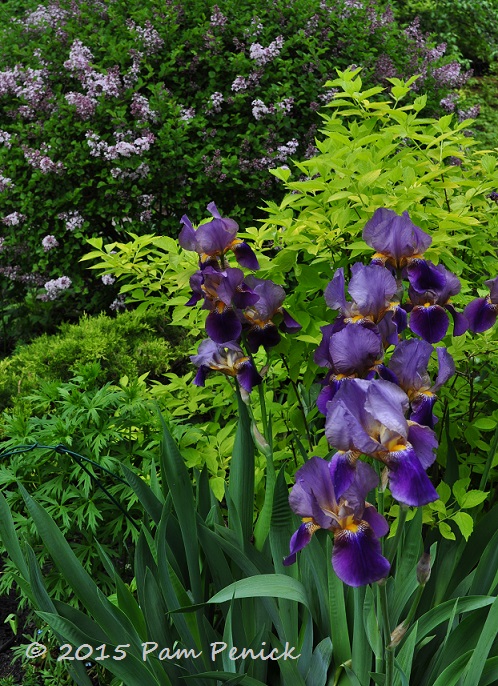 It was lovely.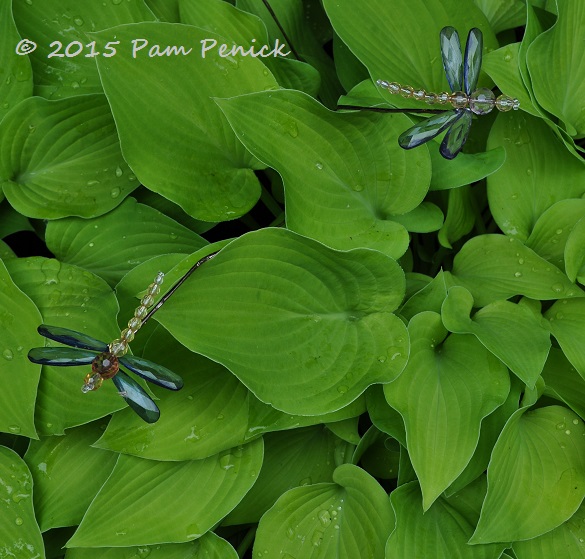 I admired these glass dragonflies buzzing around a chartreuse-leaved hosta.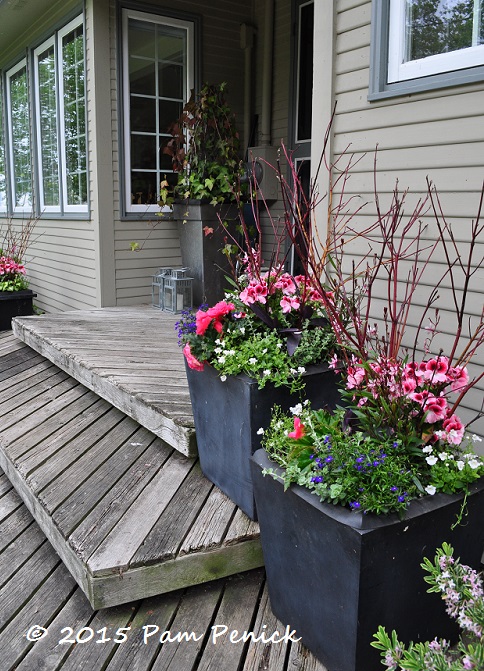 Porch pots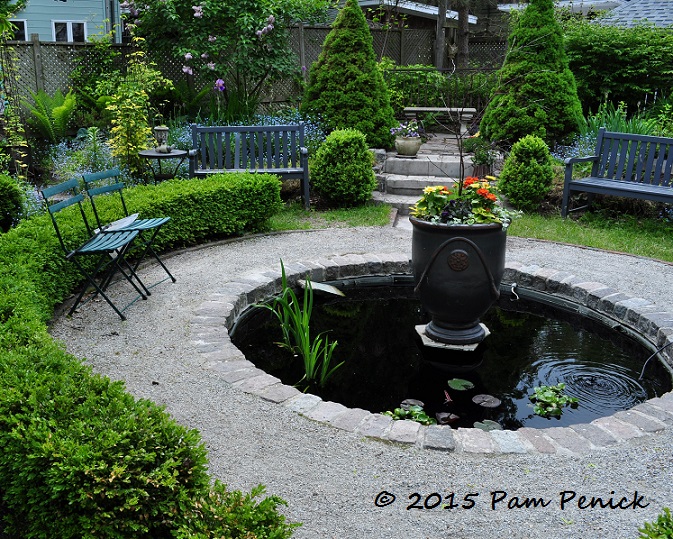 Bucking the island's cottage-garden trend, this back garden was formally designed and centered around a circular pool.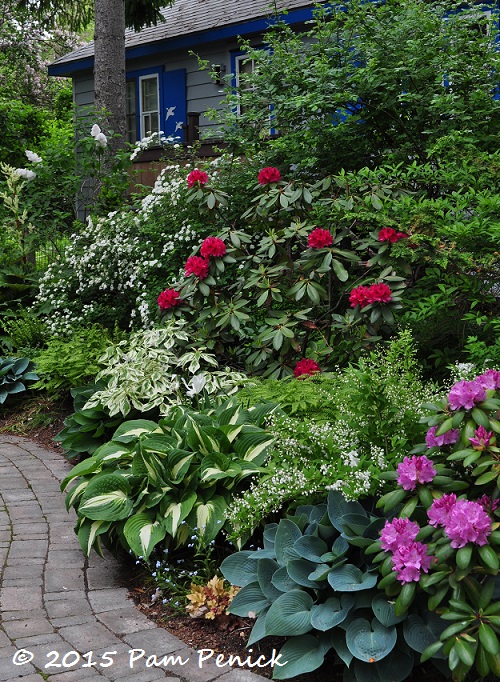 Rhododendrons and spirea were showy that week, appearing in many Toronto gardens we visited.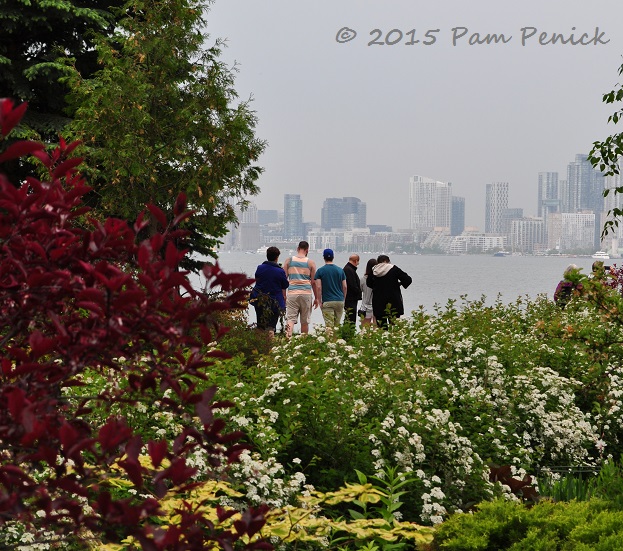 But only the islanders get to enjoy this view — and we lucky visitors.
Coming up next: A tour of But-a-Dream, the garden of Jeannie Parker on Algonquin Island. For a look back at Sarah Nixon's urban farm and floral demonstration, click here.
All material © 2006-2015 by Pam Penick for Digging. Unauthorized reproduction prohibited.
posted in
Annuals
,
Arbors
,
Bulbs/Rhizomes
,
Containers
,
Decor
,
Doors
,
Dragonflies
,
Fences
,
Fling Toronto
,
Fountains
,
Garden art
,
Garden tours 2015
,
Lakes
,
Lighting
,
Paths
,
Patios & decks
,
Ponds
,
Seating
,
Shrubs
,
Travel
,
Trees
,
Trellis
,
Views
,
Vines
,
Water features