October 30th, 2014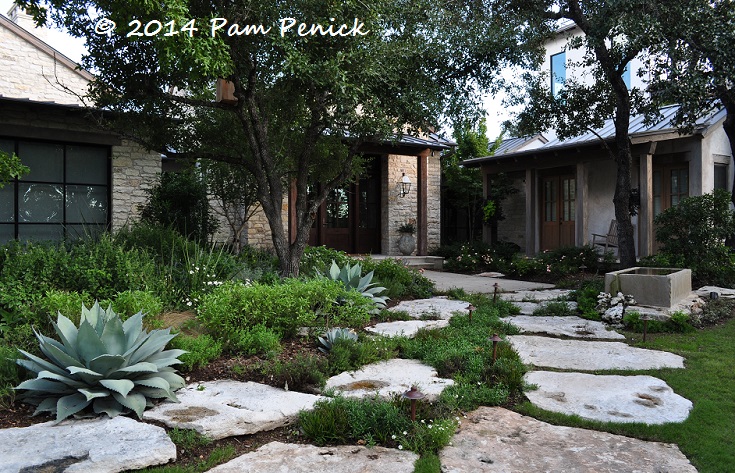 I see a lot of gardens on public tours, which I enjoy tremendously. But being invited for a private tour of a new-to-me garden is a special treat, especially if the garden happens to belong to an avid gardener making the most of a beautiful, hilltop site overlooking downtown Austin. Such is the garden of Ruthie Burrus, a reader of Digging who recently dangled a fall garden visit in front of my nose, which I snapped up like a trout.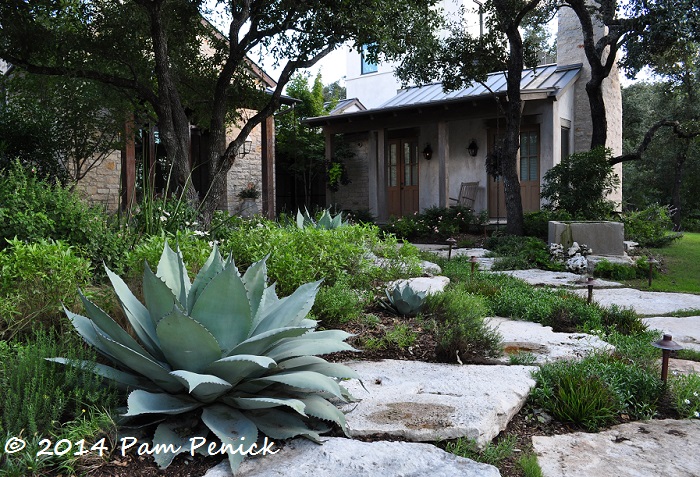 Ruthie's home sits at the top of a long, sloping driveway, and you approach through a rustic, Hill Country-style garden. Large limestone stepping stones lead past a deep foundation bed filled with salvia and roses and accented by powder-blue 'Whale's Tongue' agaves (A. ovatifolia).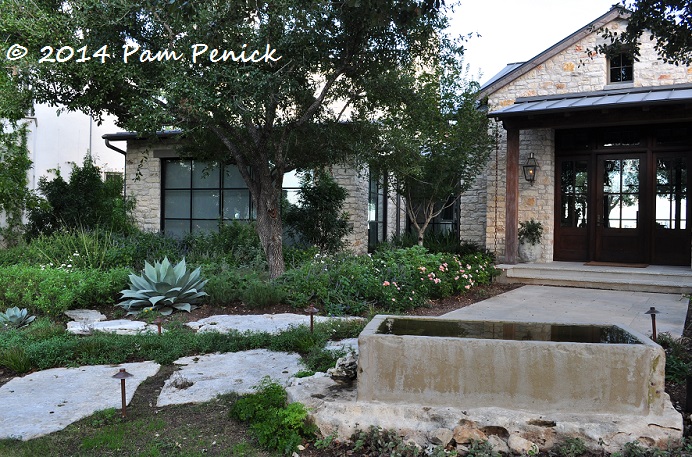 A large trough filled with water sits at the curve of the path, aligned with the front door.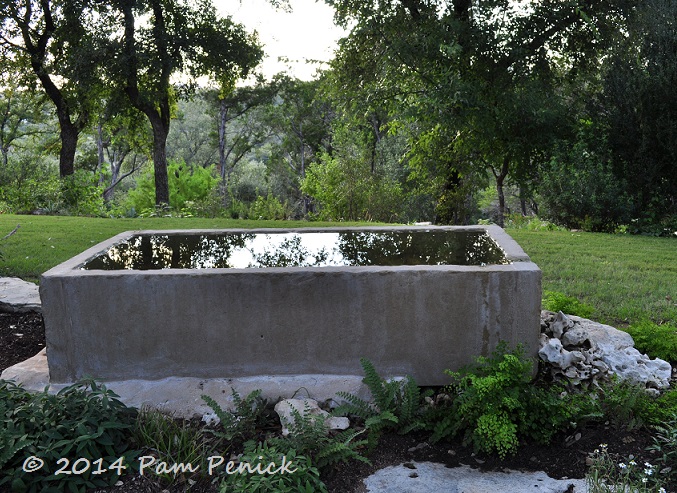 Water dribbles down one corner of the trough onto a holey piece of limestone, making a hollow trickling sound, and then disappears into an underground basin to be recirculated. Maidenhair and other ferns grow at the base of the trough, enjoying the moist environment.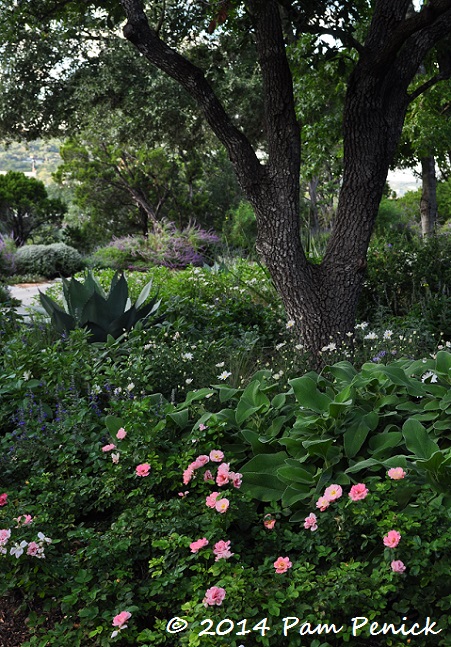 The view across the entry garden. Pink roses add romance to the front walk.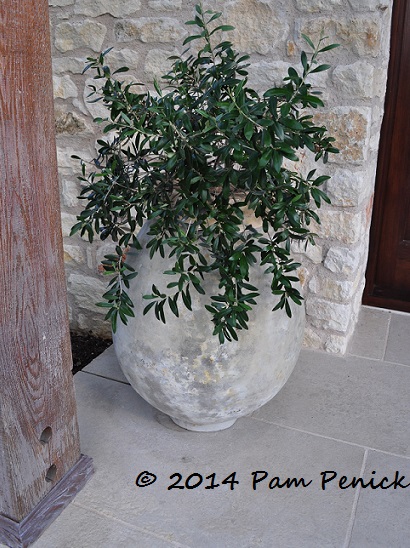 A pair of 'Little Ollie' dwarf olives planted in — what else? — olive jars dresses up the front porch.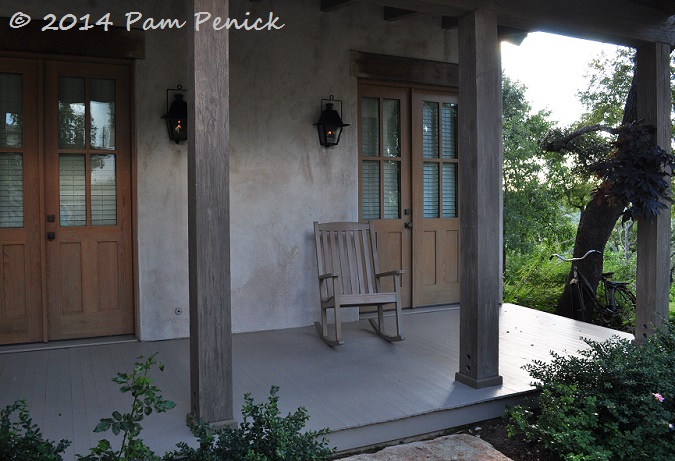 The entry garden is partially enclosed by a wing made to look like a Fredericksburg-style Sunday house. I didn't know what a Sunday house was, so Ruthie explained that the German farmers who settled the Hill Country built small houses in town, which they stayed in when they came to town to attend church.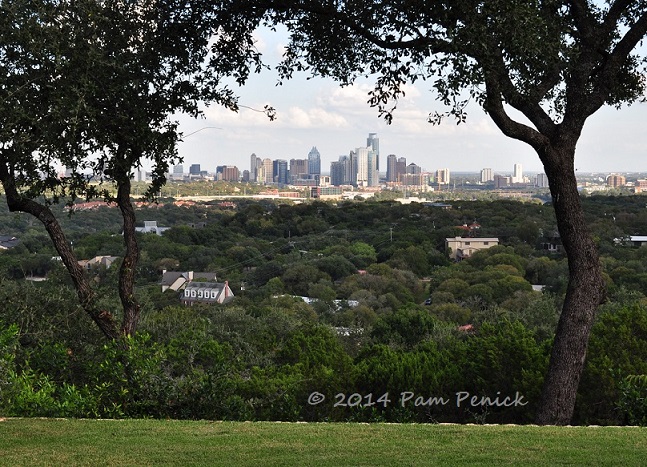 Stepping through the house and out onto the back porch, the skyline of Austin seems almost close enough to touch. Framed by live oaks and a lawn that leads to the edge of steep drop-off, the view is stunning — and what most people notice instead of the garden, Ruthie told me. It would be hard for any garden to compete with that view…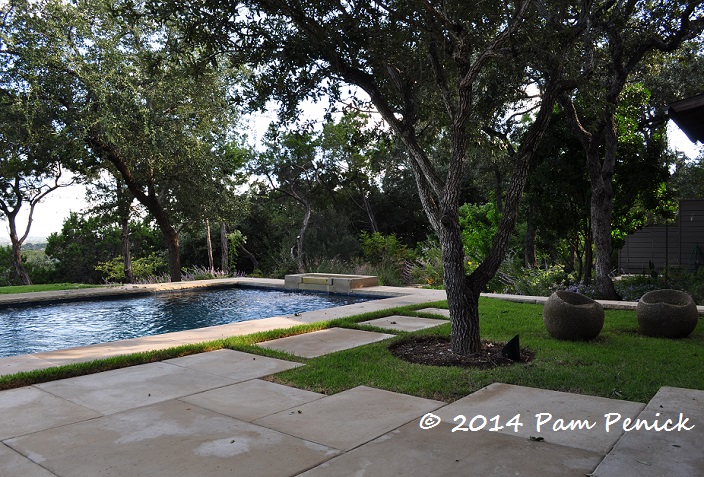 …and wisely Ruthie keeps the garden clean and simple here. A sleek swimming pool accessed by geometric pavers of Lueders limestone lets the view take center stage.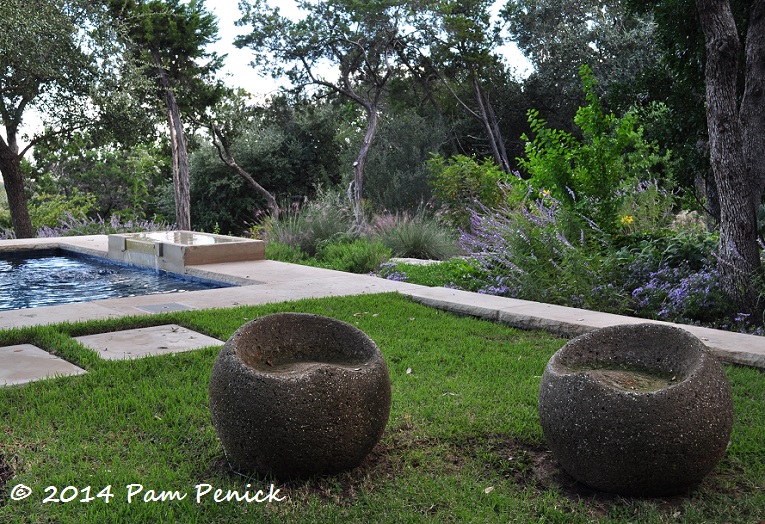 But off to the side, Ruthie cuts loose with a naturalistic, fall-blooming garden of Mexican bush sage (Salvia leucantha), fall aster (Symphyotrichum oblongifolium), and Gulf muhly (Muhlenbergia capillaris). Concrete orbs with scooped-out seats make a charming contrast to the squares and rectangles of the paving and pool.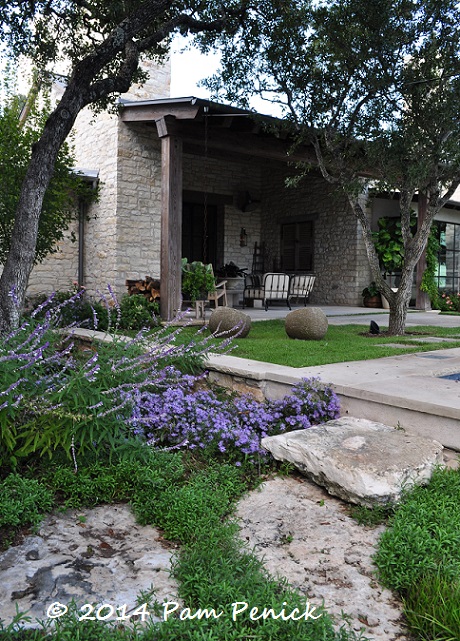 Ruthie likes snake herb (Dyschoriste linearis), which blooms purple in spring, as a groundcover amid the salvias and asters.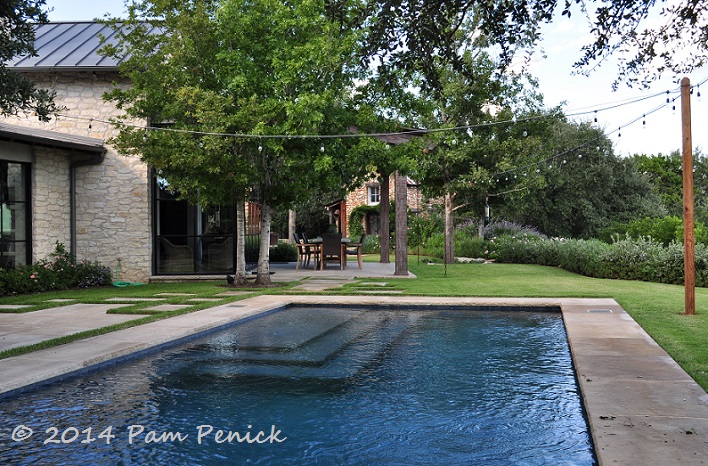 The long view across the pool reveals string lights, which I believe Ruthie told me were temporary for a party they were preparing for.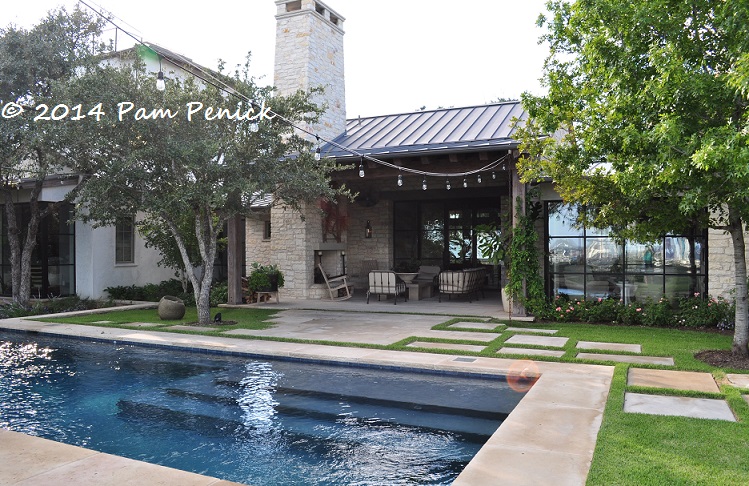 The view back toward the house — such an inviting space.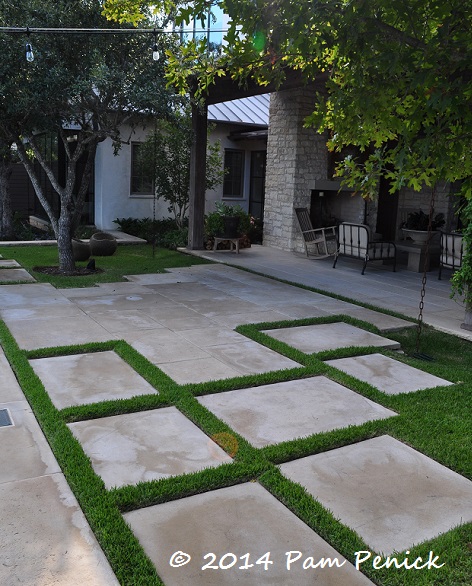 The modern arrangement of the limestone paving is interesting. The pavers at right seem to float off from the main patio.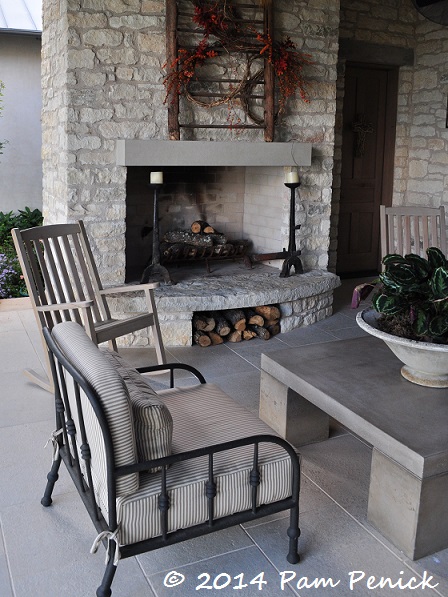 The covered porch with a fireplace offers a cozy spot for a chilly day, although it was the opposite of chilly on the day I visited.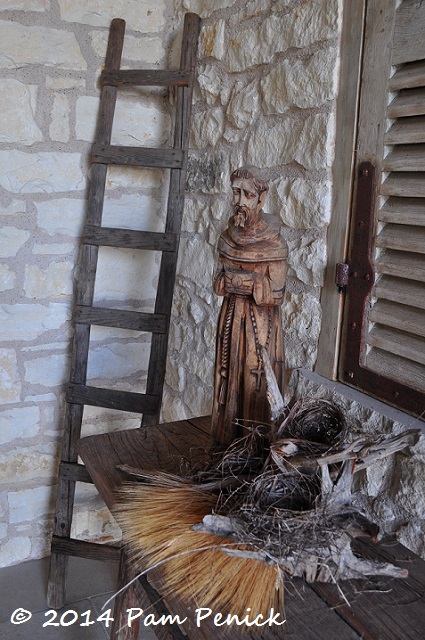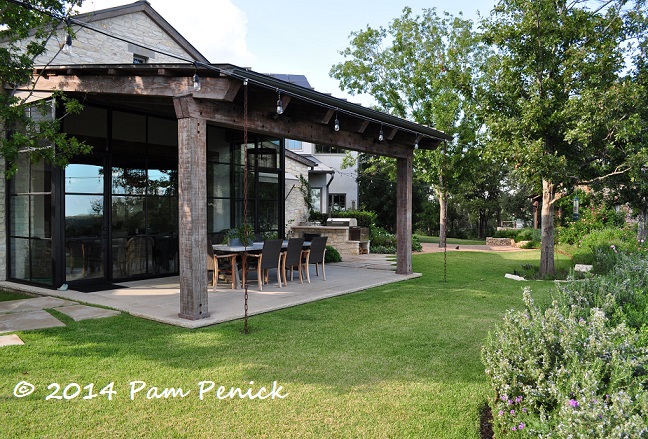 A second, open-sided porch offers an outdoor dining spot. Notice the rain chains coming off the corners of the roof?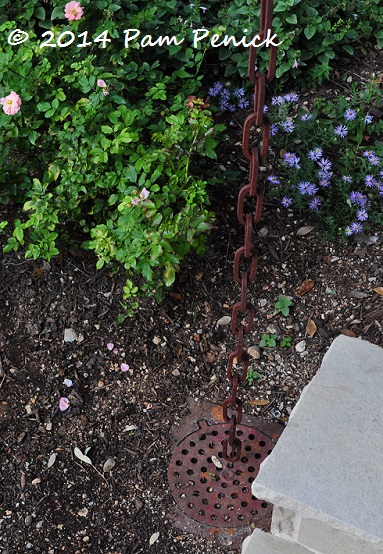 They channel rainwater into underground pipes that feed two large cisterns on the property. Runoff is collected from various points along the roof of the house, allowing for a lot of rainwater storage.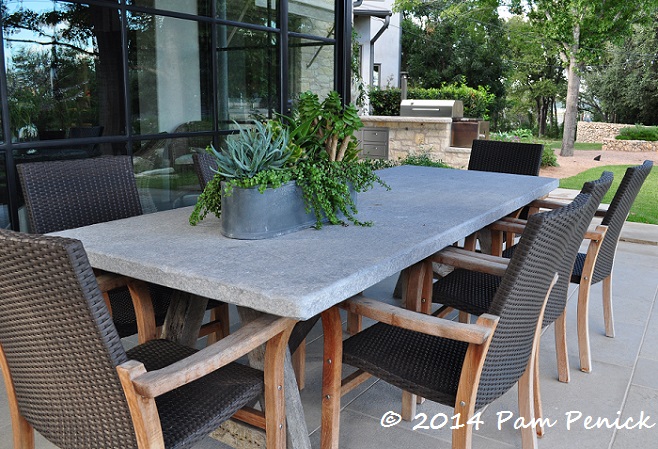 Beautiful dining table and succulent planter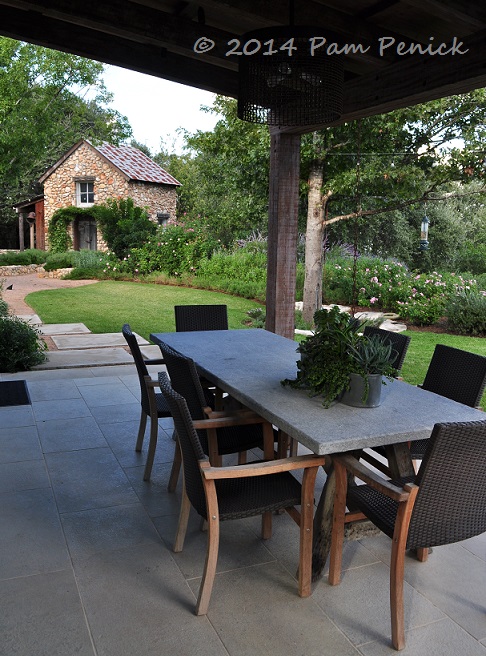 From the dining porch my favorite feature of the garden comes into view: Ruthie's gardening haus.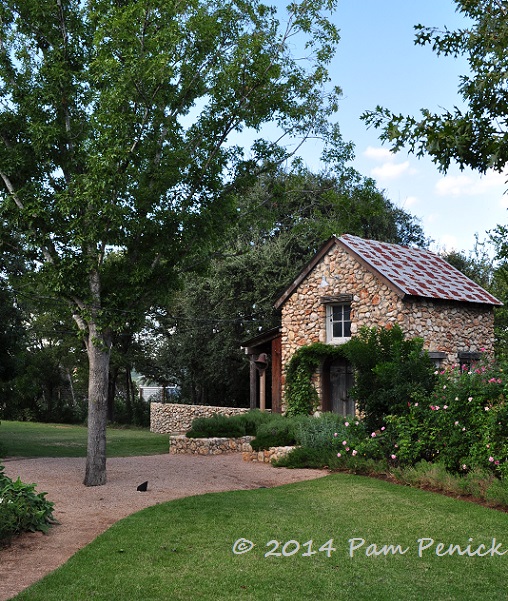 Ruthie told me that it's constructed from stones collected on the property during the house's construction. She searched high and low to find the weathered metal roofing.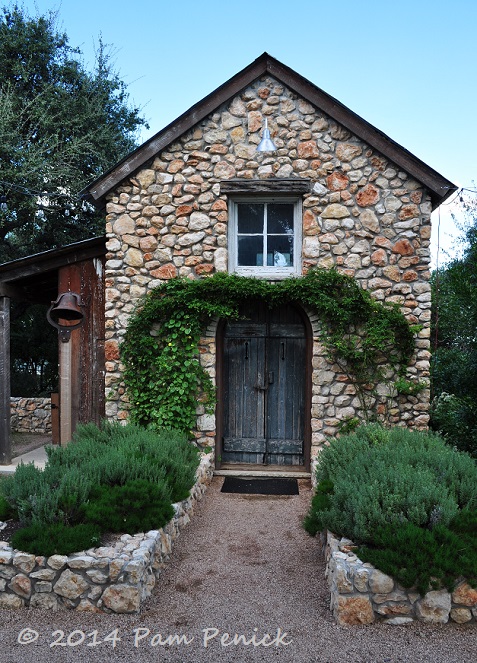 A 'Peggy Martin' rose, also known as the Katrina rose (please click to read its moving story if you don't know it), arches over the doors. Lavender and santolina fill raised stone beds that line the walk.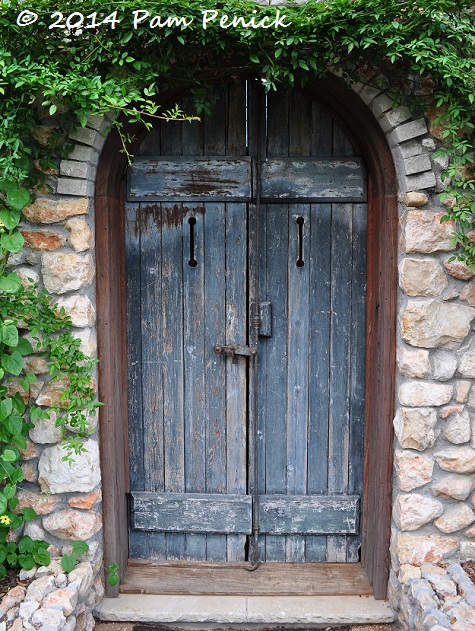 The arched doors inspired the whole thing, Ruthie told me. She found the weathered blue doors in a local French antique shop and had the shed constructed around them.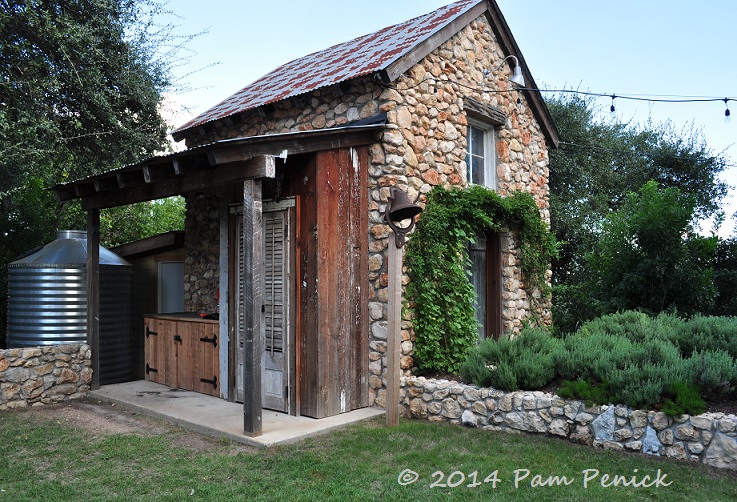 It's an utterly charming garden shed from every angle. Behind it sits the smaller of the two cisterns.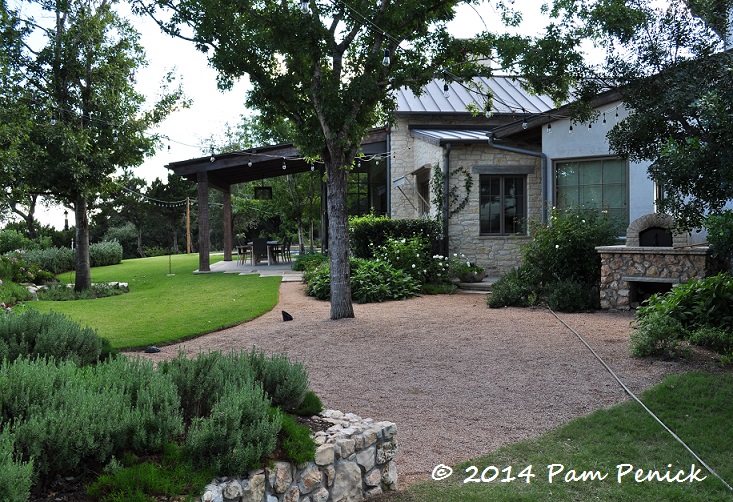 Looking back you see the dining porch and, at right, a pizza oven.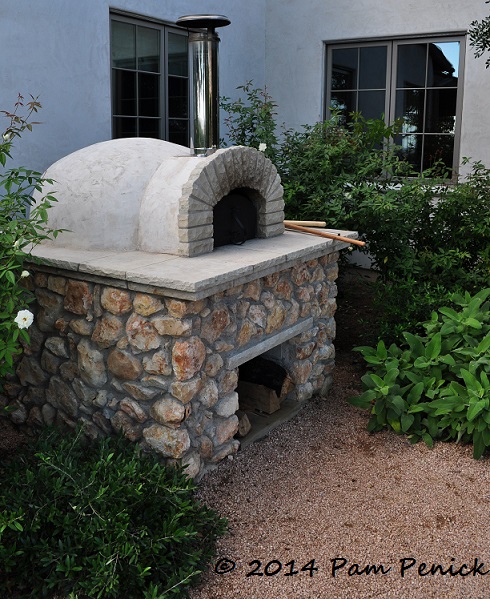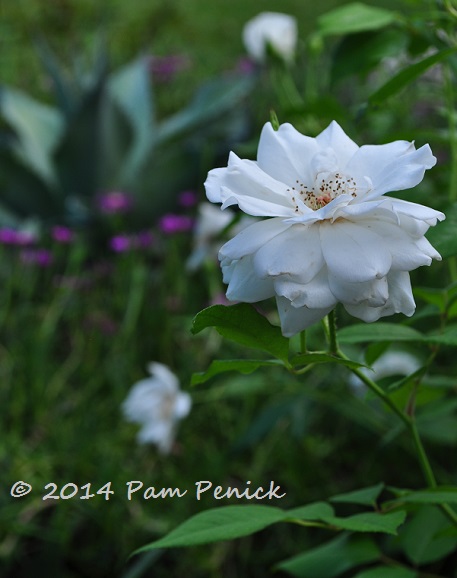 White 'Ducher' roses must glow during evening cookouts.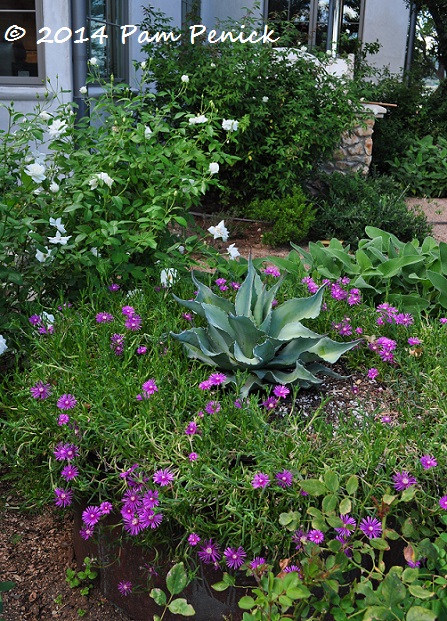 In front, planted in a large iron cauldron, is a Mr. Ripple agave surrounded by purple-blooming ice plant, a lovely combo.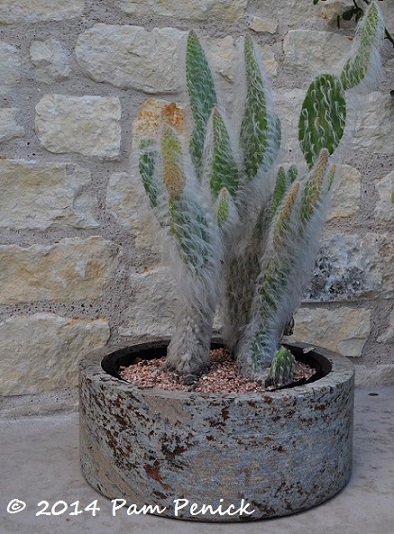 A wooly opuntia in a textural container on a low wall just begs to be stroked. Did I? Yes, I did.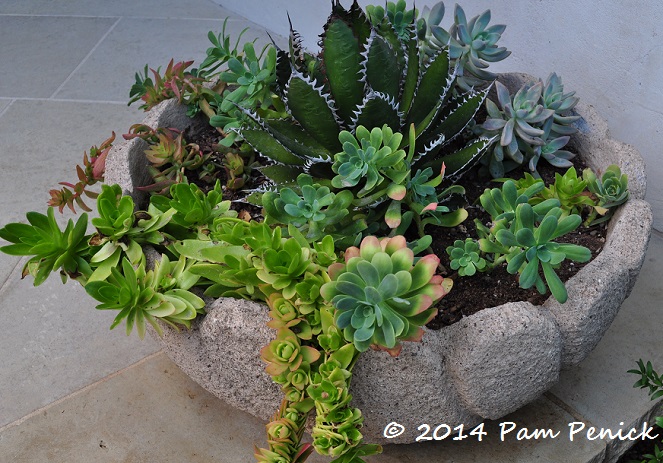 Ruthie has a flair for creating interesting containers.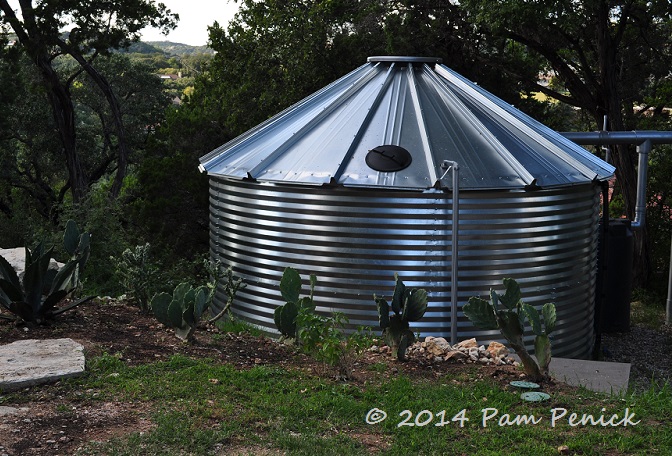 Walking back around to the driveway you see the bigger cistern, which holds 10,000 gallons. A pump allows Ruthie to irrigate with it for as long as the water lasts.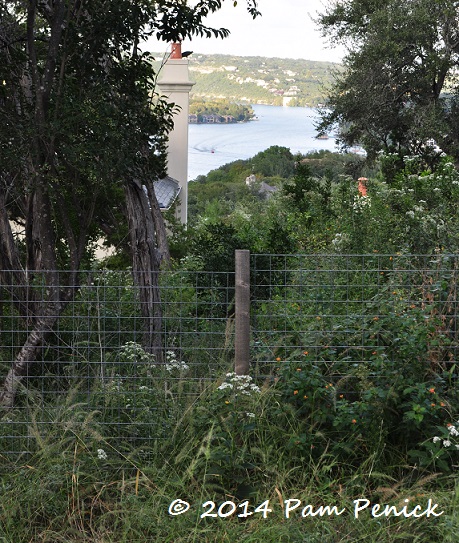 Just over its shoulder is a sliver of a view of Lake Austin.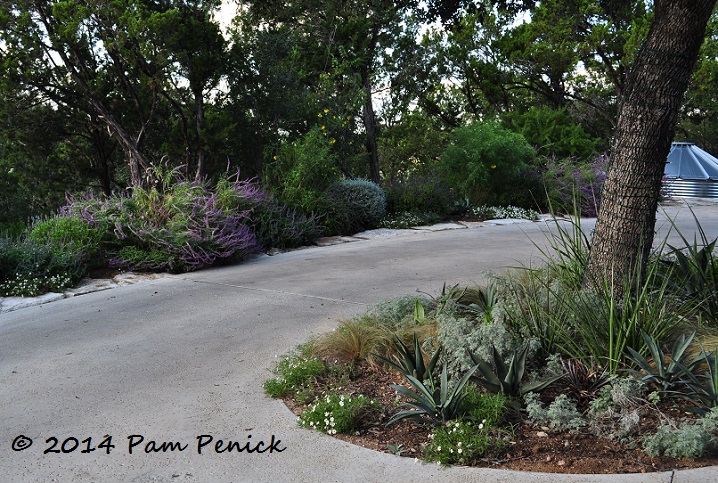 More salvias line the driveway, and an island bed's dry soil is filled with agaves, giant hesperaloe, blackfoot daisy, Mexican feathergrass, and artemisia on one side…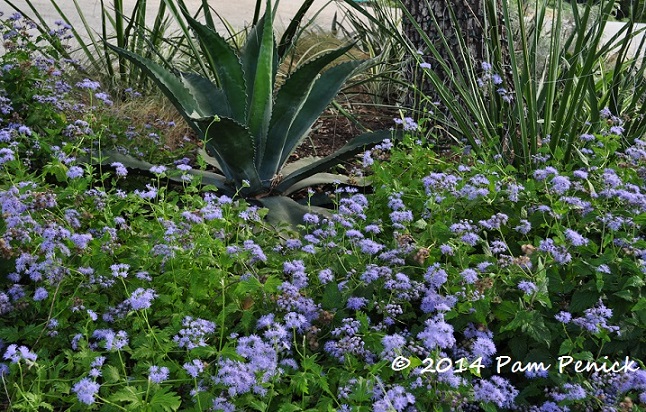 …and with blue mistflower and what looks like 'Green Goblet' agave on the other.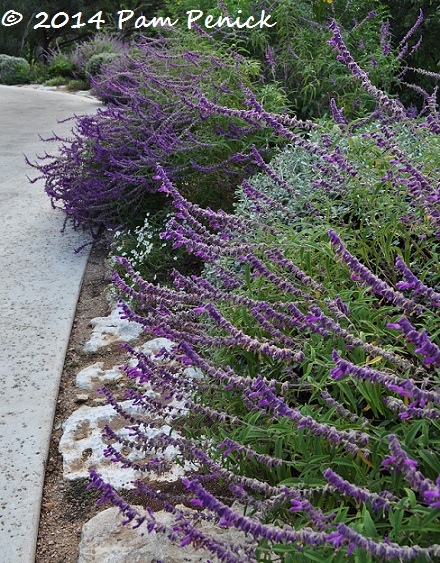 Mexican bush sage was in full flower.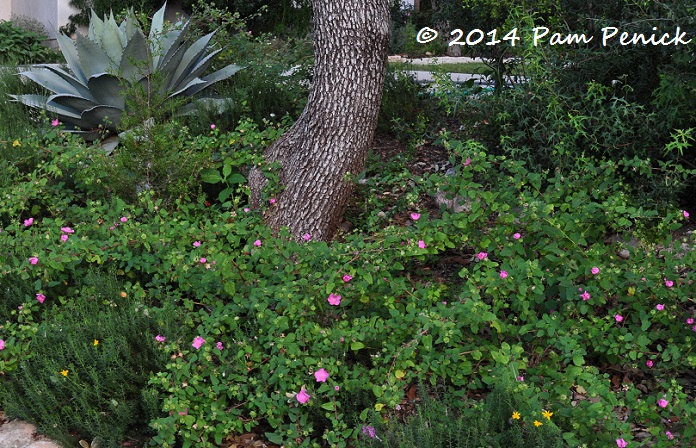 Native rock rose (Pavonia lasiopetala) was blooming too.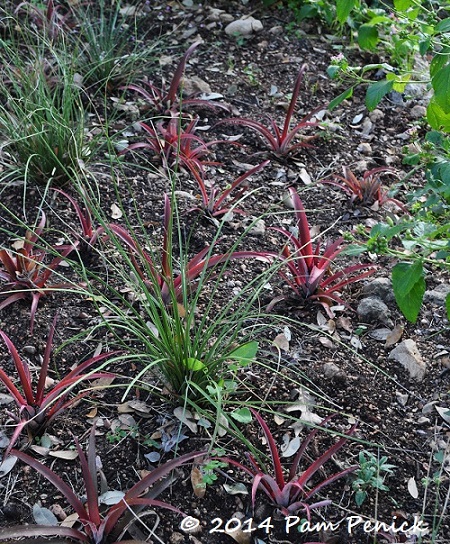 In a shady area I noticed this unusual combo: a red billbergia and grassy Texas nolina (Nolina texana).

As I made my way down the driveway and through the gate I had to take a parting photo of Ruthie's colorful streetside garden, filled with lantana, native daisies, agave, and even cholla. It's a wonderful welcome that tells any visitor that a Texas gardener lives here.
Thank you, Ruthie, for sharing your beautiful garden with me!
All material © 2006-2014 by Pam Penick for Digging. Unauthorized reproduction prohibited.
posted in
Agaves
,
Cactus
,
Containers
,
Decor
,
Doors
,
Fountains
,
Garden tours 2014
,
Lakes
,
Lighting
,
Paths
,
Patios & decks
,
Porch
,
Rock
,
Roses
,
Seating
,
Sheds
,
Succulents
,
Swimming pools
,
Texas natives
,
Trees
,
Views
,
Water conservation
,
Water features
,
Xeric plants