July 12th, 2012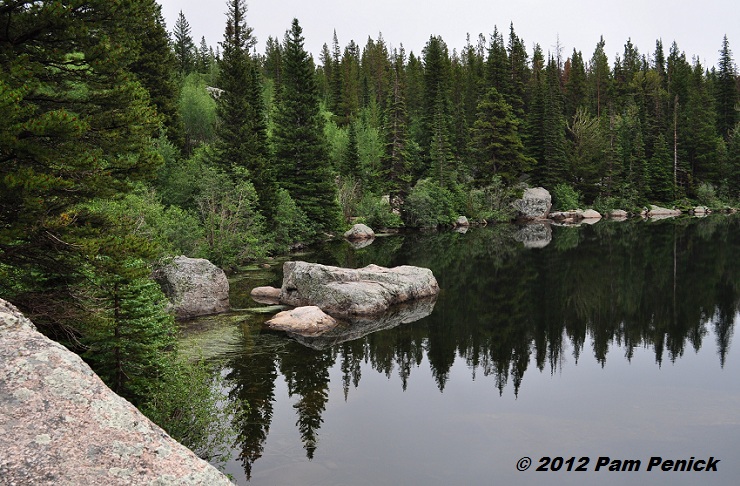 My family and I recently enjoyed a nearly two-week vacation in Colorado, and I'd love to share some photos from Rocky Mountain National Park, a favorite destination for this Texan looking to escape the heat for a little while. Bear Lake Trail is an easy hike around a small, nearly circular mountain lake on the east side of the park. Although the trail is heavily used by visitors, I still find a slow meander around the lake to be a restorative experience.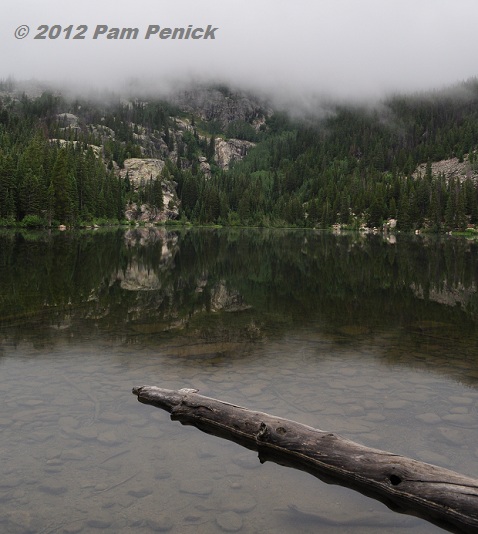 We've walked around Bear Lake many times before, on sunnier days. But this time rain clouds had socked in the lake, making for a dreamy, contemplative hike.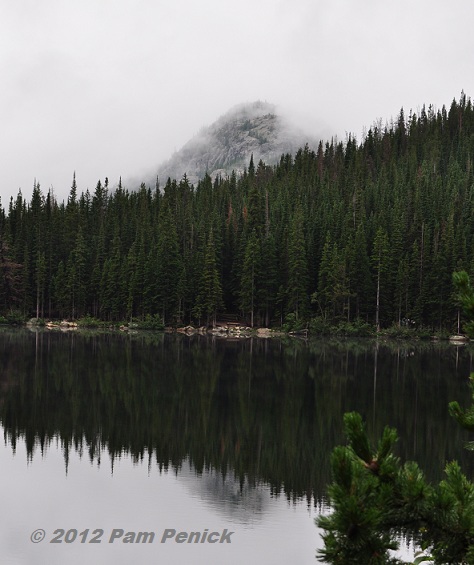 On this still day, the glassy surface reflected a mirror image of the surrounding firs, pines, and mountain ridges.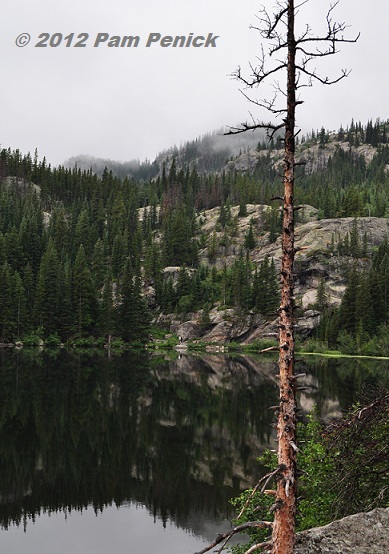 Although the pine bark beetle has killed off many thousands of evergreens in the park, Bear Lake is still relatively untouched, although we did see stands of dead trees here and there. All part of the natural process, we were told, though it's still sad to see entire mountainsides of bare trunks and fallen trees.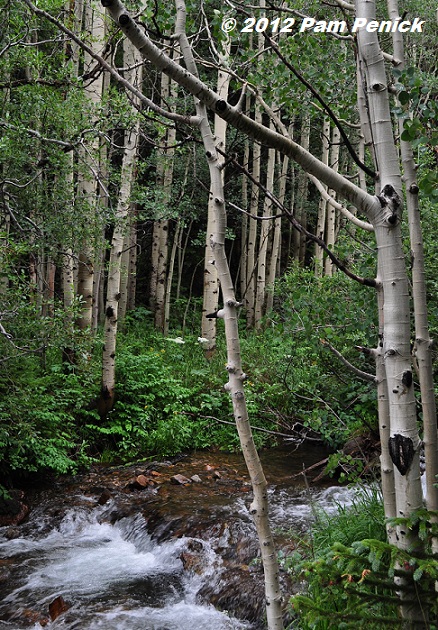 Shapely, white-trunked aspens are a favorite of mine. Walking through a grove of them, with their fluttering leaves overhead, is almost a transcendent experience.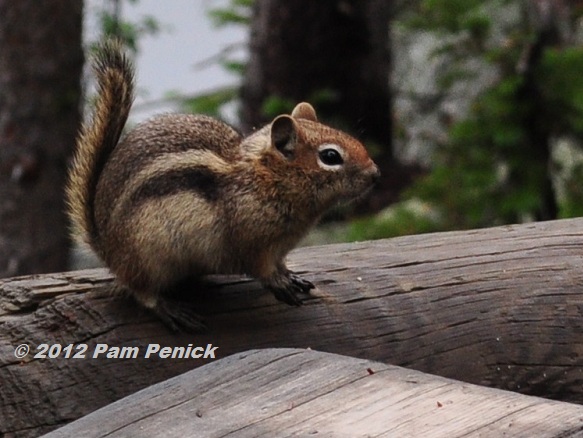 We saw some cute critters, including this bold golden-mantled ground squirrel…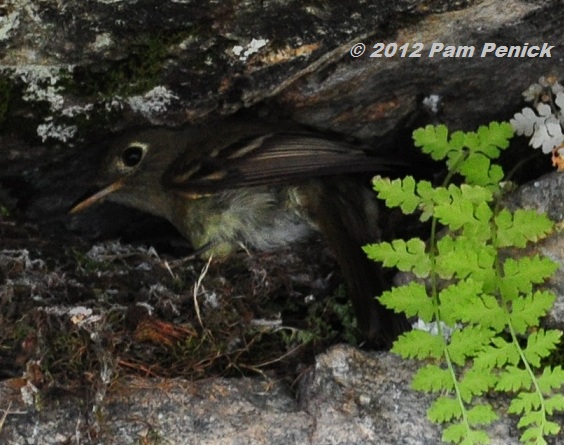 …and lots of birds, including this small nesting female, who flitted into a crevice under a rock shelf, right in front of our eyes, where she settled on her nest of peeping chicks, which we could only hear, not see.

She was quite safe from predators there, as the rock face was steep, and her nest situated under a overhanging ledge.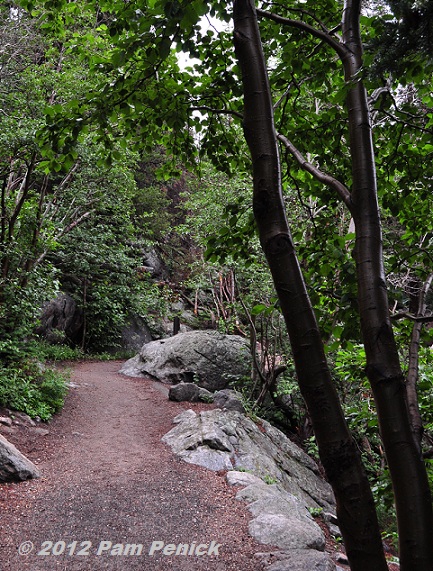 I don't know what this satiny gray-trunked tree is, but its bark was very beautiful.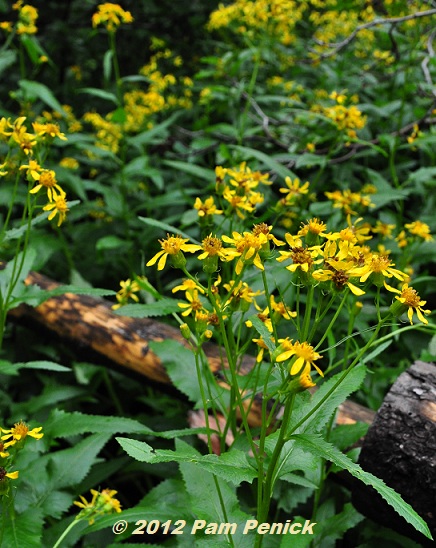 I spotted a number of wildflowers along the trail as well. though I don't have IDs for any of them. This is a groundsel…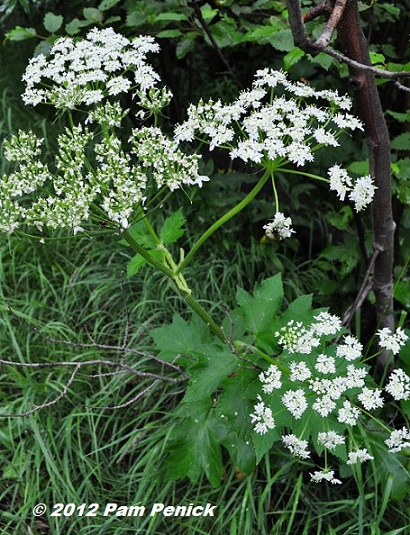 …and this is cow parsnip (thanks for the IDs, Tina).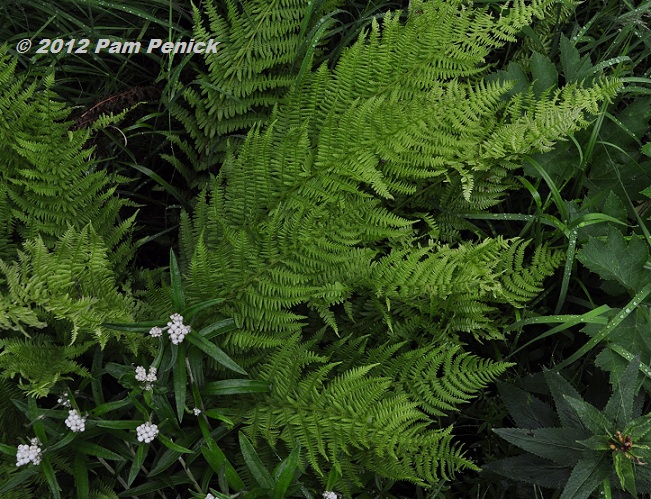 Beautiful texture amid the ferny undergrowth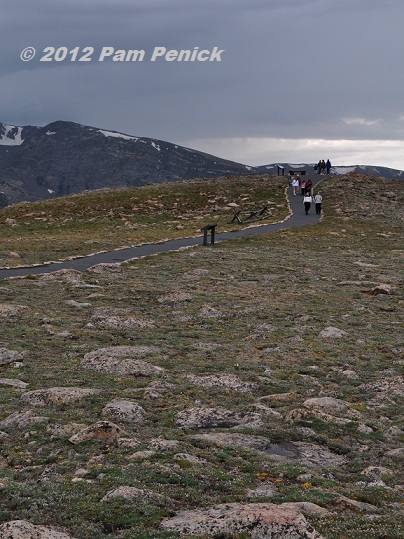 We also drove Trail Ridge Road, which takes you seemingly to the top of the world at 12,183 feet elevation. We took a short walking path through the tundra, admiring alpine plants that eke out a living up here, with a growing season of only about 40 days.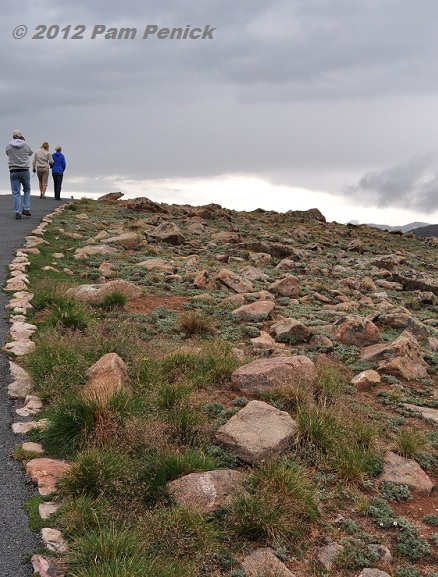 It's easy to get altitude sickness at this elevation, if you're not careful. That happened to me one year, when we walked the trail on an intensely sunny day. As I got back in the car, a stabbing headache, sensitivity to light, and severe nausea set in, and all I could do was close my eyes and slump against the window until we got back down to our cabin in Estes Park at 7,500 feet. Luckily, that didn't happen this year.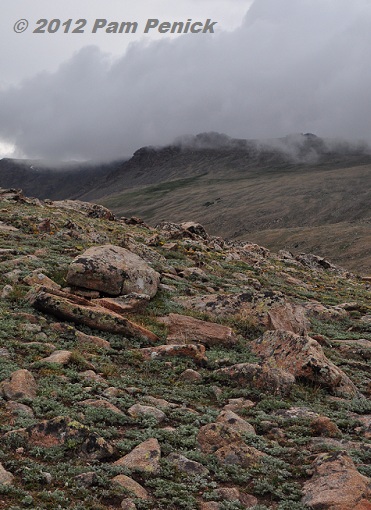 We were higher than some clouds.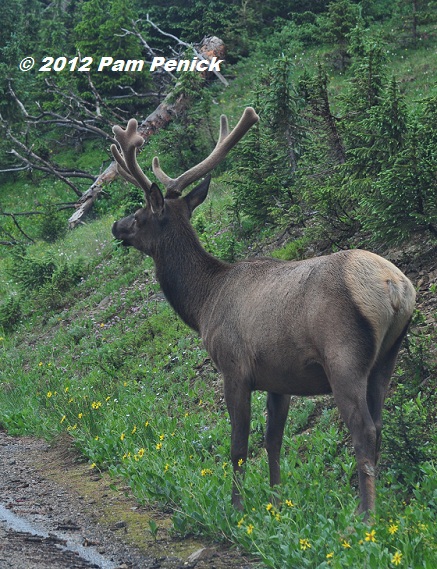 Later we spotted this elk on the side of the road, and I snapped a few photos through the windshield.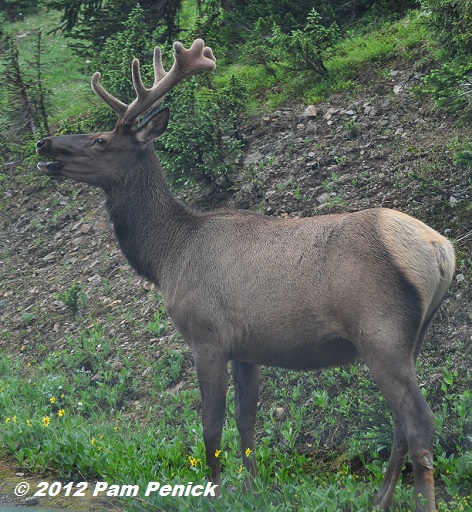 Majestic, no?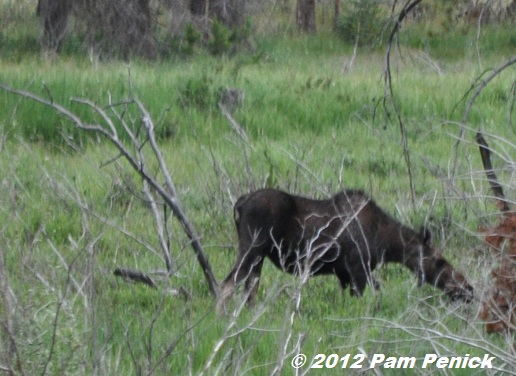 In one of the valleys, a sighting of a female moose having lunch in a marshy area stopped traffic on the park road, as several of us pulled over to have a look through binoculars and telephoto lenses. Wildlife sightings are one of the highlights of a visit to Rocky Mountain National Park, along with beautiful scenery and mountaintop vistas.
All material © 2006-2012 by Pam Penick for Digging. Unauthorized reproduction prohibited.