November 18th, 2011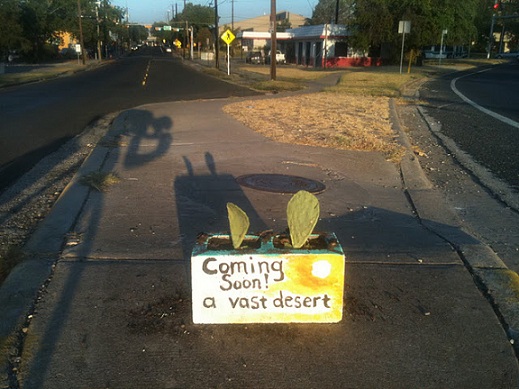 Photo courtesy of Lee Clippard at The Grackle
Are we brave enough to look the worst-case scenario in the eye? Let's lay it out: the rains don't return this winter, at least not sufficiently to ease our exceptional drought, and next summer Austin enters Stage 3 watering restrictions, in which all landscape watering must cease.
Gulp.
Thursday evening I attended a brainstorming session with approximately 40 Austin landscaping professionals—garden designers, landscape architects, horticulturists, educators, growers, retail and wholesale nursery workers, arborists, green roof experts, aquifer management folks, garden-book authors, conservationists, Wildflower Center staff, and others—at which moderator Rich Zarria asked us to imagine this scenario and, war-room style, start thinking and talking about how the industry and we as individuals can evolve to meet the challenge. He and the other organizers convened the meeting because they feel it's high time everyone started discussing the implications of an extended drought rather than passively hoping and praying for rain and keeping on with business as usual. Neither he nor anyone else there had answers, only the hope that by talking together we can come to grips with the situation and plan for the future—preferably a hopeful one.

Lace cactus
Here are some questions to muse on, some posed by Rich, some by people I conversed with, some by me:
If we can't water next summer, what will that mean for our city's natural landscape, our personal gardens, our clients' landscaping, and Austin's already stressed tree canopy?
How can industry professionals keep their businesses (landscaping services, nurseries, etc.) alive?
Should we lobby for more water, at the expense of industrial usage or the water-guzzling rice farmers downstream? Is food production more important than ornamental landscaping? Is rice farming appropriate where there's not adequate rainfall to support it? What is the worth (economic or otherwise) of ornamental landscaping and gardens that depend on at least some water?
What do we, as experts, tell the non-gardener homeowners who will be shocked to see their traditional landscaping die without water? Do we advise them to re-sod with St. Augustine, or perhaps Bermuda, when the rains return? Are native plants the answer? Should the city mandate which plants are OK to plant and which are not?
Can we figure out ways to popularize gray-water irrigation and rainwater collection systems?
Can we convert HOAs that have archaic landscaping rules that include traditional lawn grass (which won't survive without water) to a new, dry-garden aesthetic?
Should we switch to a desert plant palette, even though we're likely to have occasional rainy years interspersed in the drought years?
When the rains return and lakes fill again, as they will eventually (whether it be in the next couple of years or next decade), do we return to business as usual or evolve in a new direction, knowing that drought will inevitably return?
Rich's gloomy scenario was tempered by his optimism that together we can come up with ways to get through this crisis, and that Austin is uniquely positioned to rise to the challenges. We didn't choose this scenario, we all desperately wish we weren't faced with it, but we have no power over what Mother Nature throws at us. The only thing we can control is our response. Austin is known as a green city, Rich pointed out, and we can lead by example.
I'll geek out here and quote Tolkien: "I wish it need not have happened in my time," said Frodo. "So do I," said Gandalf, "and so do all who live to see such times. But that is not for them to decide. All we have to decide is what to do with the time that is given us."
Your thoughts?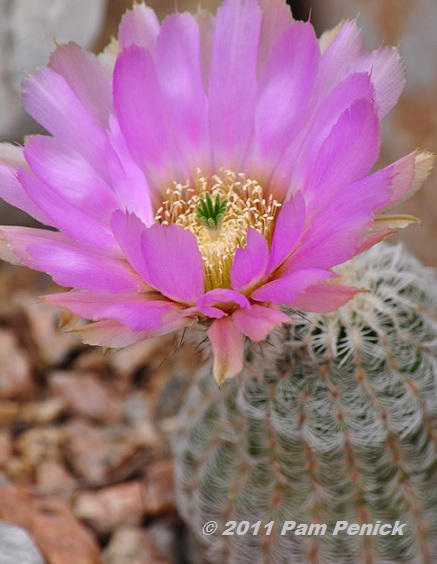 Lace cactus in bloom
All material © 2006-2011 by Pam Penick for Digging. Unauthorized reproduction prohibited.