March 5th, 2017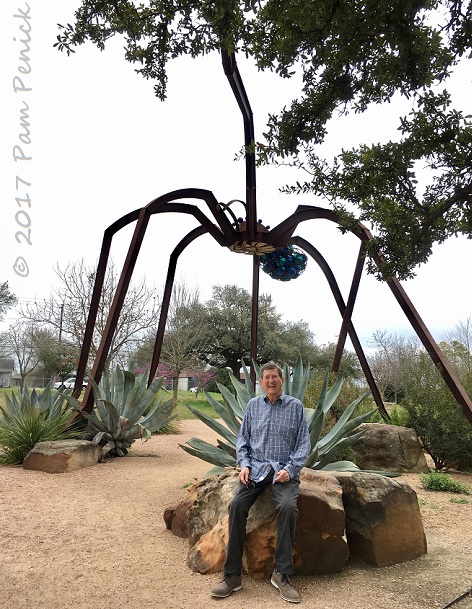 A week ago, my dad and I popped over to east Austin's Mueller neighborhood for a springtime stroll around the Southwest Greenway. They have some pretty big spiders in those parts!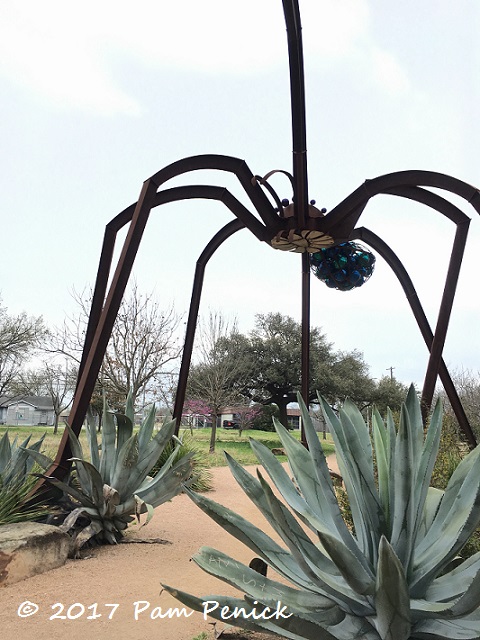 I love this sculpture, Arachnophilia by Houston artist Dixie Friend Gay, which stands 23 feet tall and straddles the walking trail. Her belly is full of green and blue glass gazing balls! Gigantic agaves add a living sculptural element alongside the trail.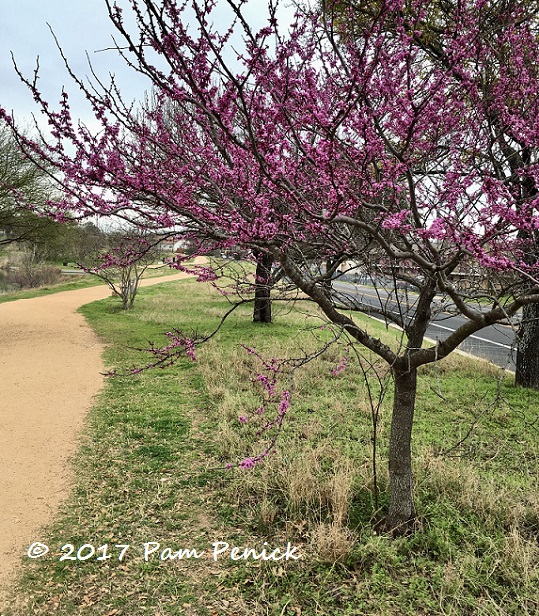 Texas redbuds were in full bloom, and I had to stop and admire each one.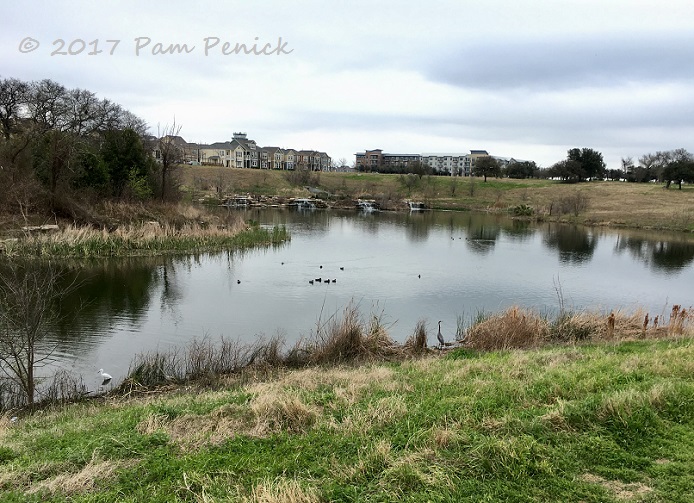 The trail skirts a small lake in the center of the park…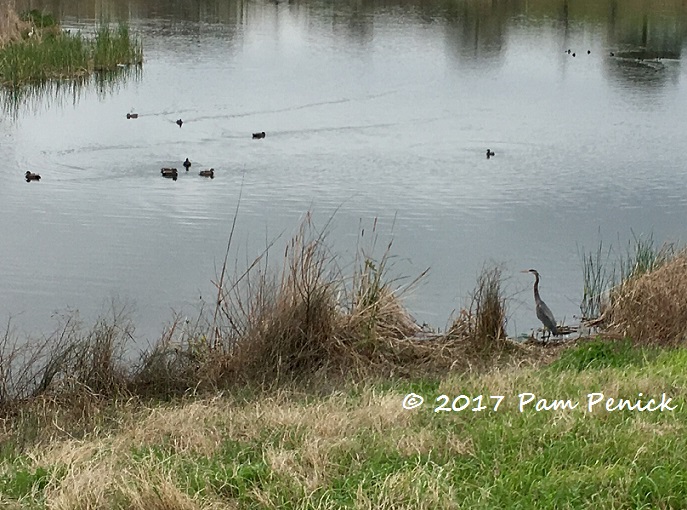 …where we spotted a great blue heron and a few white egrets fishing or frogging, plus lots of ducks.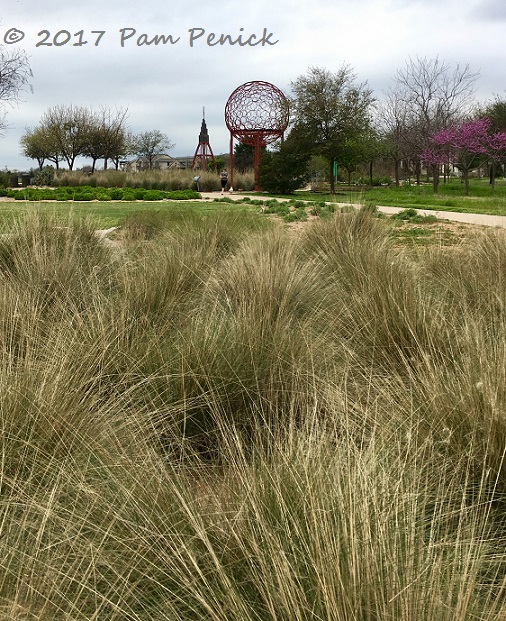 The Southwest Greenway was planted with native grasses and other Texas prairie plants in partnership with the Lady Bird Johnson Wildflower Center. In late winter, tawny grasses predominate. But flowering trees are already coloring the prairie landscape, and soon wildflowers will steal the show. In the distance you can see two sculptures by Austin artist Chris Levack, Wigwam on the left and Pollen Grain on the right.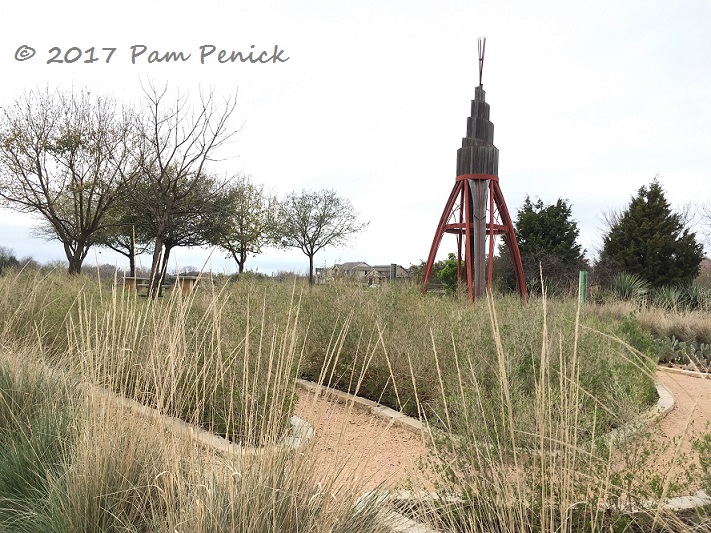 Here's a closer view of Wigwam, with curving beds of prairie grasses and perennials at its feet.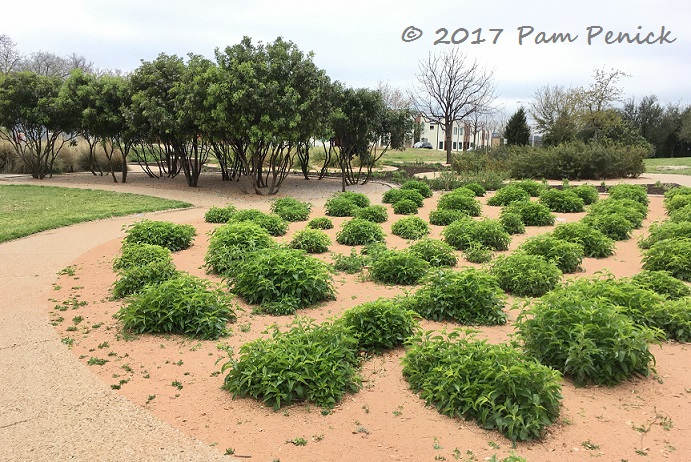 With mass plantings of native trees and perennials, the Greenway shows how to use native plants in a contemporary way.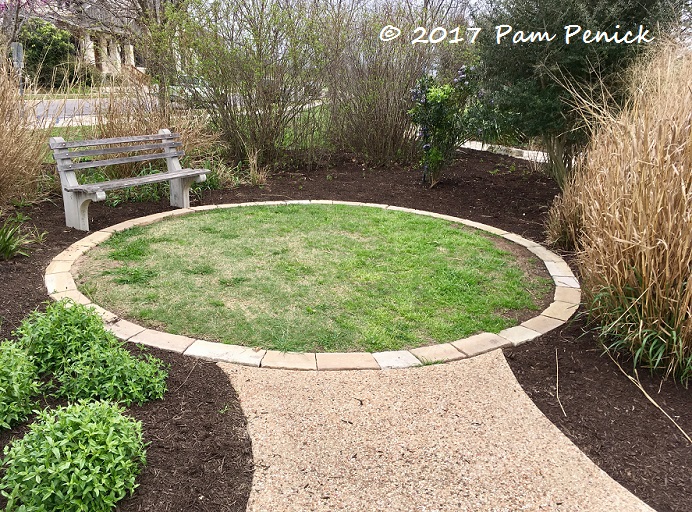 I like this tiny formal lawn too, which leads to a bench secluded by native shrubs, ornamental trees, and grasses.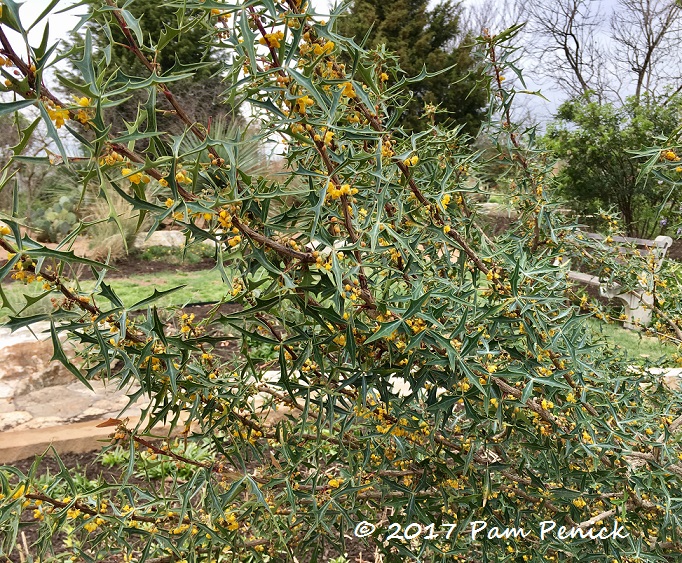 Agarita (Mahonia trifoliolata) shows off golden, sweet-scented flowers at this time of year.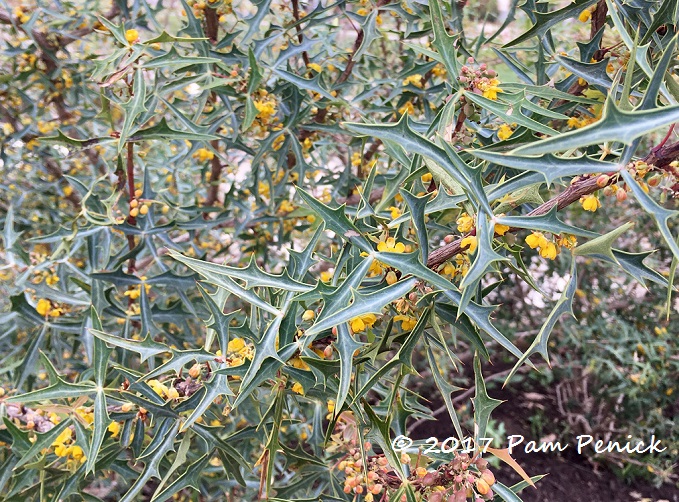 The spiny, gray-green leaves are pretty too.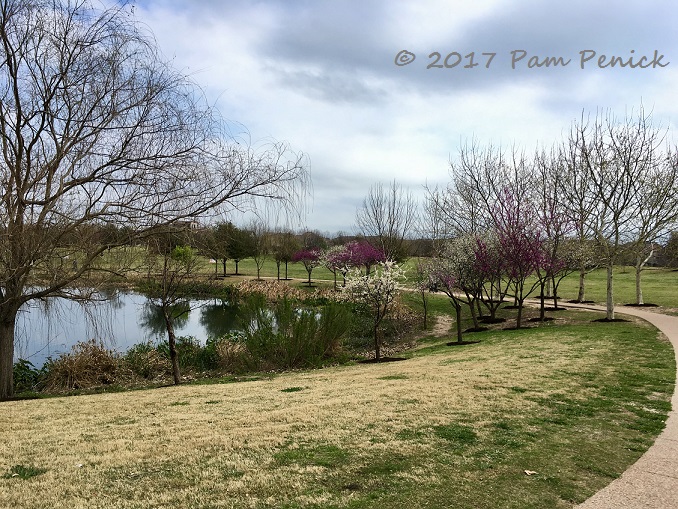 Ah, but the early spring glory of flowering redbuds and Mexican plums!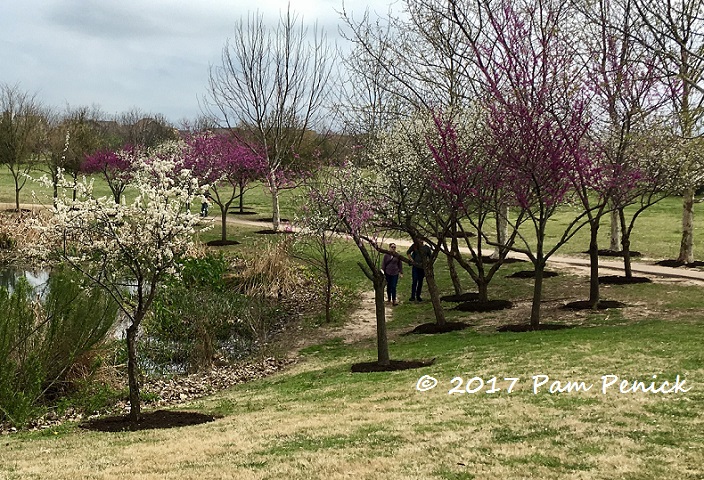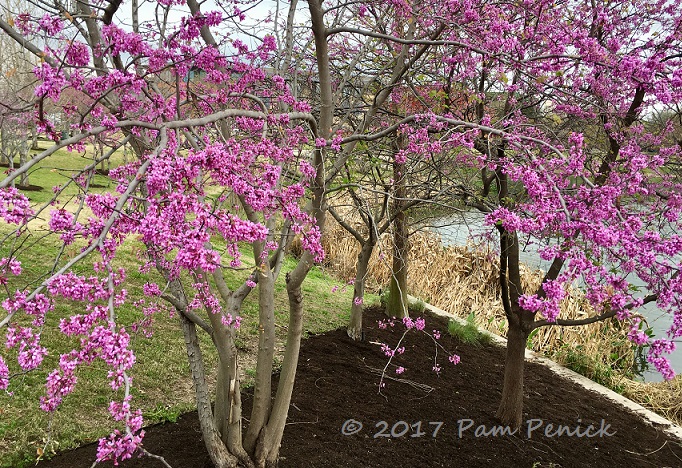 A closeup of Texas redbuds in bloom. Why, I wonder, aren't they called pinkbuds?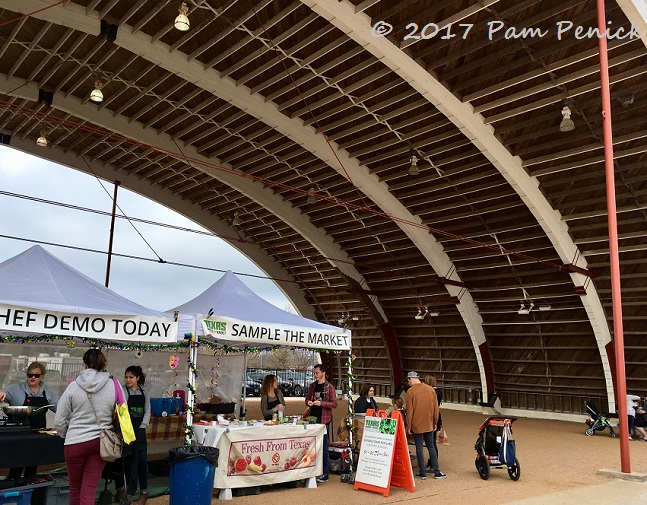 Mueller is a planned community built on the site of Austin's old Mueller Airport, and some of the original airport structures have been preserved, like this old hangar. Dad and I were happy to stumble on the Texas Farmers' Market in full swing here, which operates every Sunday from 10 am to 2 pm.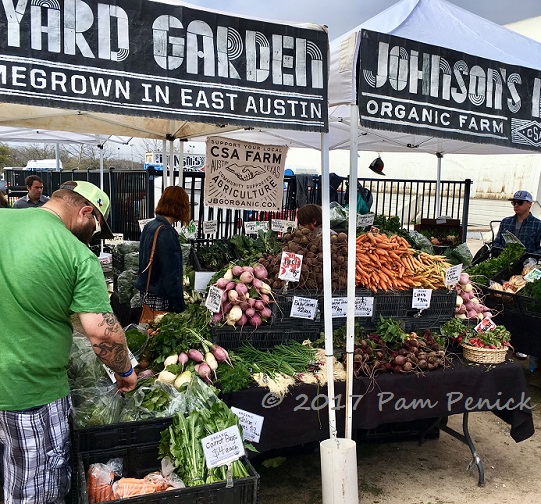 Vendors were selling vegetables, honey, sauces, bread, and more.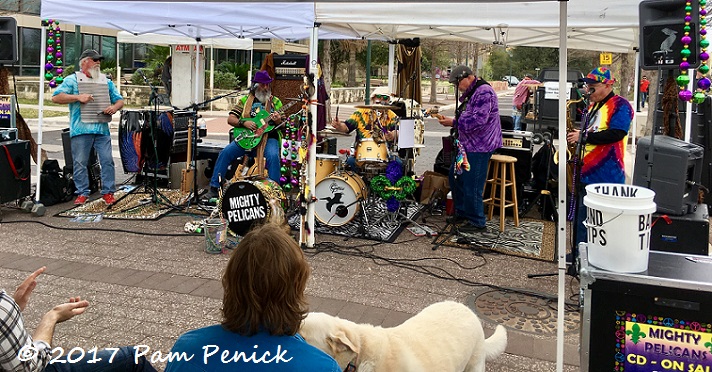 And since it was just a few days before Mardi Gras, a band decked out in tie-dye, purple, and beads, the Mighty Pelicans, were playing zydeco and blues. It was a party!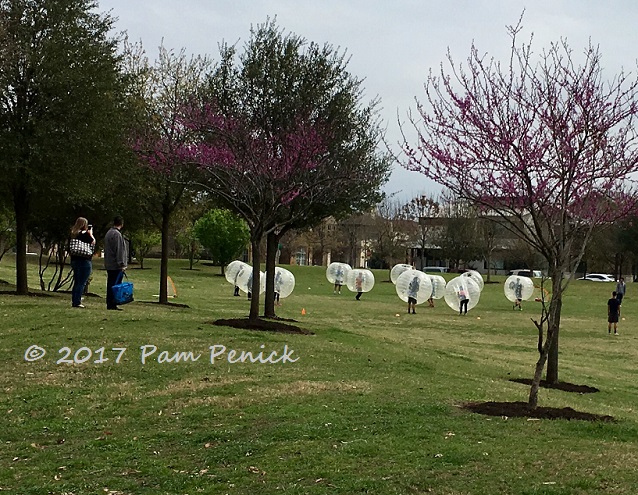 As we headed back to our car, we couldn't help noticing a bunch of kids on a playing field wearing clear plastic bubbles. They'd run at each other and rebound hilariously. One kid got stuck upside-down and had to be righted with help from his coach.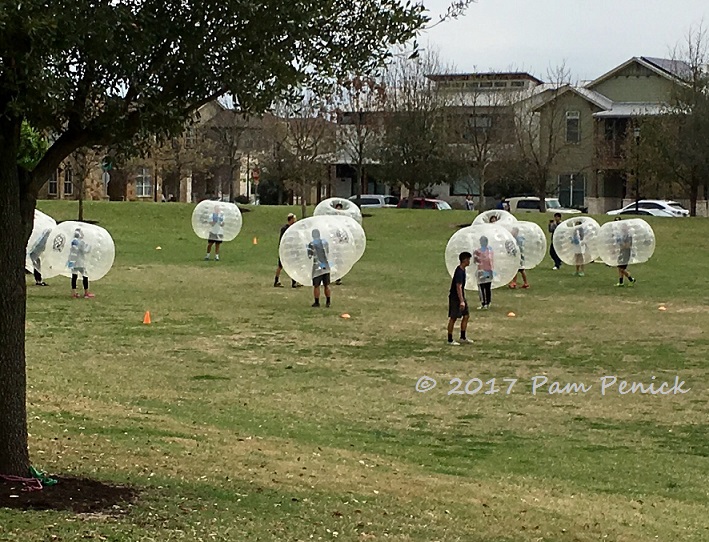 I later learned it's called bubble soccer. Who knew?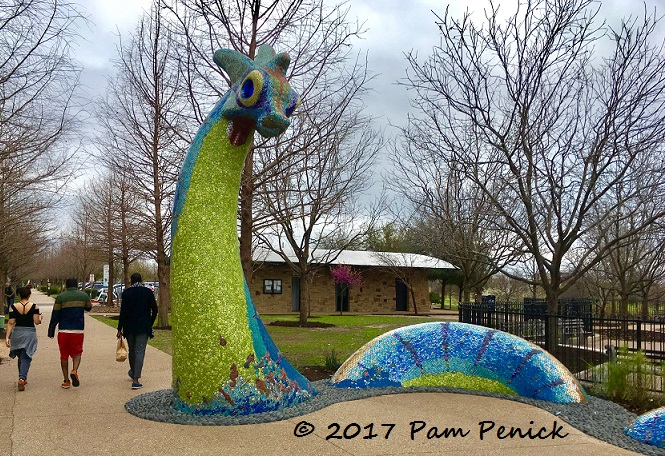 Near the science-based playspace for kids called Thinkery , we encountered another delightful public sculpture, Lake Nessie.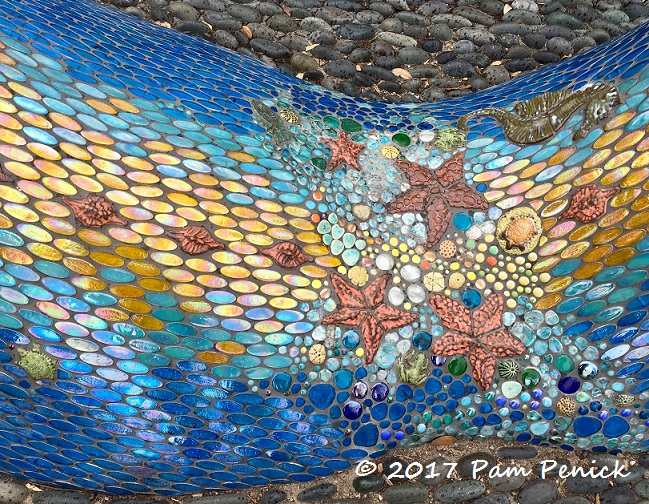 The glass-tiled sea serpent was created by Arachnophilia artist Dixie Friend Gay.
I love all the public art at Mueller, and the generous park spaces. It's a fun place for a Sunday stroll.
I welcome your comments; please scroll to the end of this post to leave one. If you're reading this in a subscription email, click here to visit Digging and find the comment box at the end of each post.
_______________________
Digging Deeper: News and Upcoming Events
Get on the mailing list for Garden Spark Talks. Inspired by the idea of house concerts — performances in private homes, which support musicians and give a small audience an up-close and personal musical experience — I'm hosting a series of garden talks by design speakers out of my home. The upcoming talk with James deGrey David has sold out, but join the Garden Spark email list for speaker announcements delivered to your inbox; simply click this link and ask to be added. Subscribers get advance notification when tickets go on sale for these limited-attendance events.
All material © 2006-2017 by Pam Penick for Digging. Unauthorized reproduction prohibited.
posted in
Agaves
,
Birds
,
Bugs
,
Edibles
,
Garden art
,
Grasses
,
Lakes
,
Lawns
,
Markets
,
Native plants
,
Parks & greenbelts
,
Paths
,
Play spaces
,
Prairie/Meadow
,
Public art
,
Rock
,
Sculpture
,
Seating
,
Shrubs
,
Spring color
,
Texas natives
,
Trees
,
Xeric plants