November 4th, 2012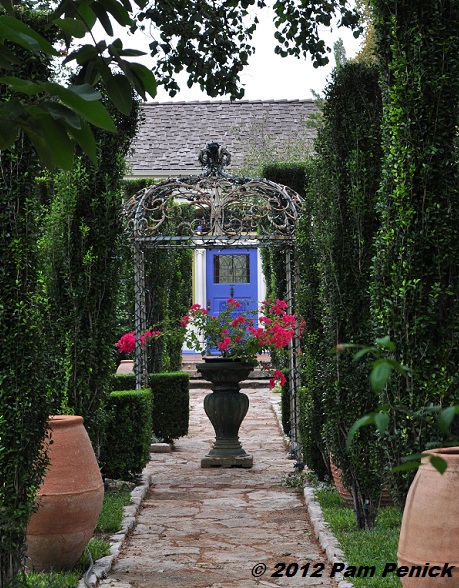 On Saturday I joined several garden-blogging friends for the biennial Open Days tour, sponsored by the Garden Conservancy. I consider Open Days to be the best garden tour in Austin. You often see high-design gardens mingled with a gardener's sensibility and creative, personal touches. This year's Open Days tour was one of the best I've seen thanks to a variety of garden styles, the inclusion of several gardeners' gardens, with the homeowners on hand to answer questions, and six gardens that were new to the tour (so far as my memory serves). I'd seen two on other tours and one in a private visit. The other three were new to me, including the garden of Jennifer and Fred Myers on West 31st Street in central Austin.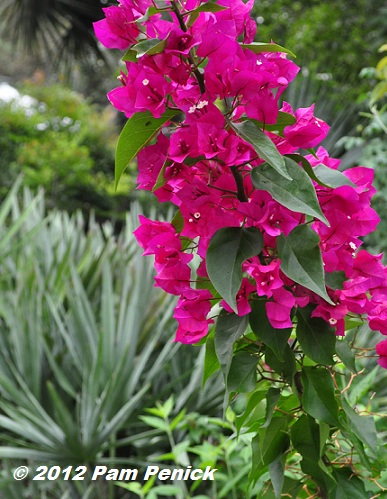 The Myers garden appears on the front cover of a book I've long owned, The Welcoming Garden: Designing Your Own Front Garden. From it I know that homeowner and floral designer Jennifer Myers designed this dramatic and eclectic garden herself. She comes from a line of plant people. According to her website, Jennifer's Gardens, her mother, Alice Staub, was a landscape architect and her father, Jack Staub, was a naturalist. "Working beside her parents," her About page explains, "she learned and shared in their passions of native plants and the cultivation of roses and collecting rare plants including bromeliads and orchids. Jennifer frequently traveled to Mexico in search of these rare species."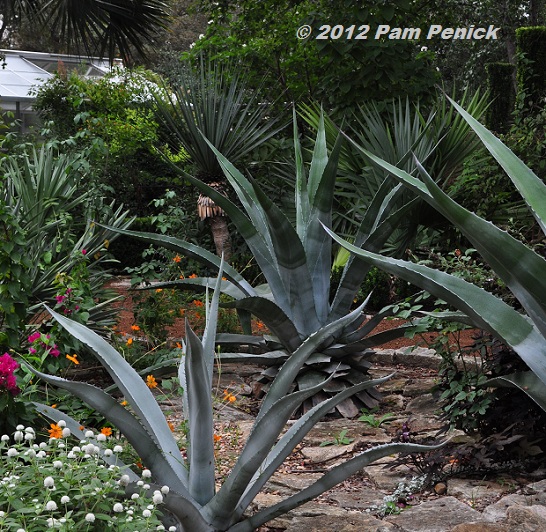 The Mexican influence is evident in her use of big, bold agaves, yuccas, and palms and exuberant displays of colorful bougainvillea.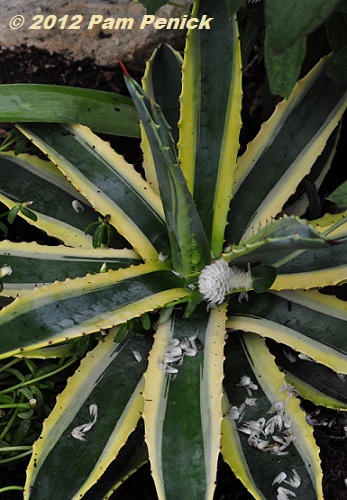 Variegated agave—maybe 'Quadricolor'?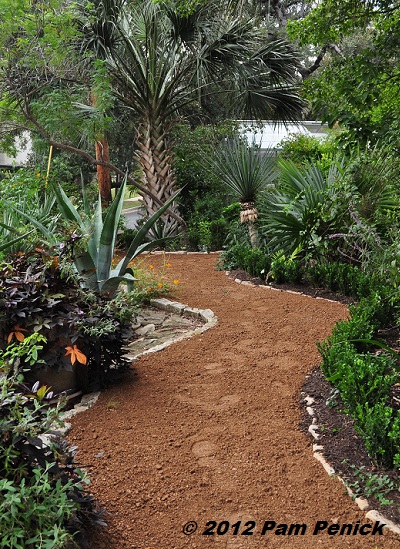 As you approach from the street, you see a casual decomposed-granite path traversing part of the front garden and leading to the main walk to the front door.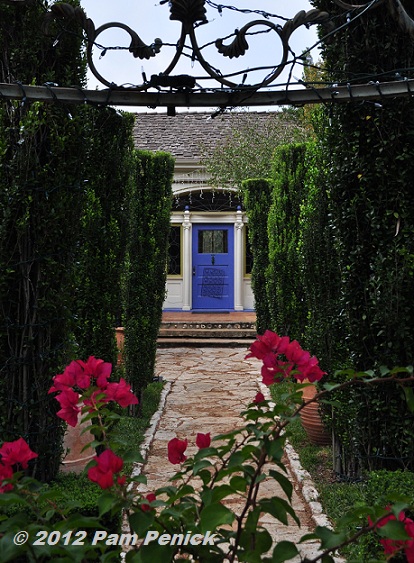 The main walk is a straight shot to the front door, and its length is emphasized by an allee of 'Will Fleming' yaupon hollies. But Jennifer painted the front door a cheerful cobalt blue to draw the eye to the end…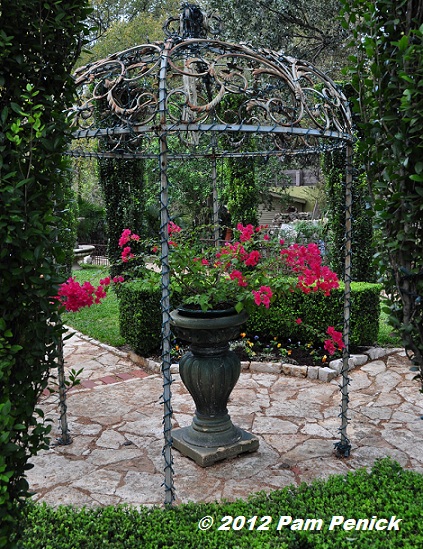 …and she placed an iron gazebo and potted bougainvillea in a wide point midway down the path to create a pause along the walkway.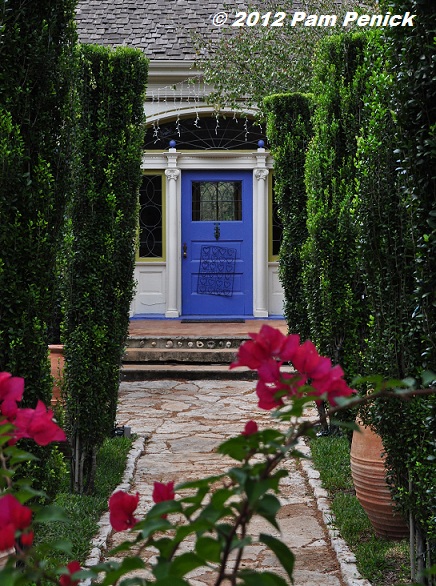 The midpoint view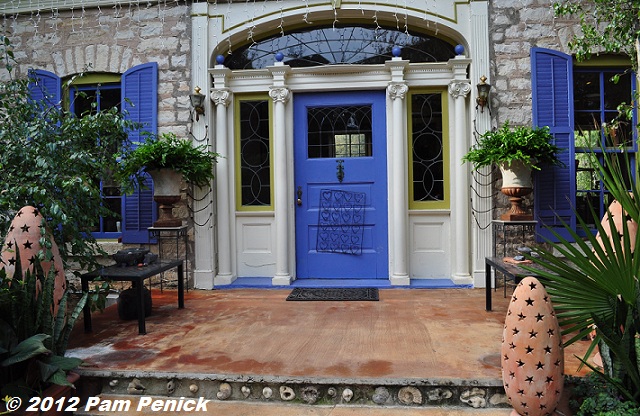 Arriving at the front porch, you see the architectural detail of the 130-year-old stone house. Although the allee adds a formal element, the garden is, by and large, wildly informal and playful, as you can see by the colorful finials, the wire hearts hanging askew on the front door, the dangling string lights along the eave, and the asymmetrical placement of terracotta lanterns. Fossilized ammonites line the stair riser.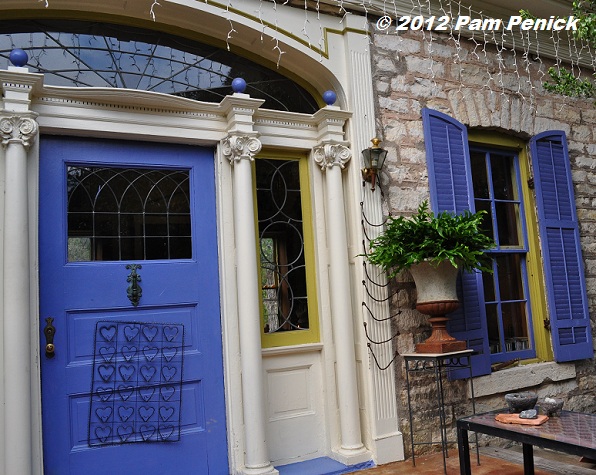 Playful color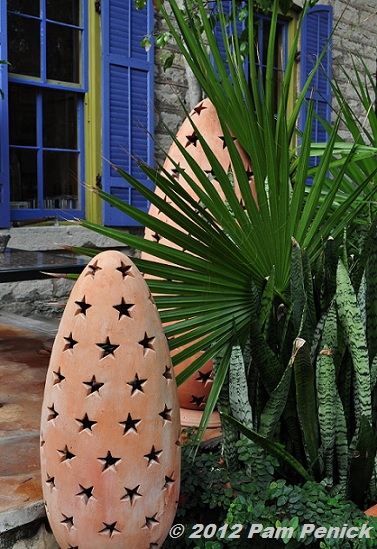 I love these ovoid terracotta lanterns. It would be incredible to see this garden at night, lit for a party. String lights are everywhere—wrapping the 'Will Fleming' yaupon allee, outlining gazebos, dangling across patios, and bundled around architectural relics that dot the garden.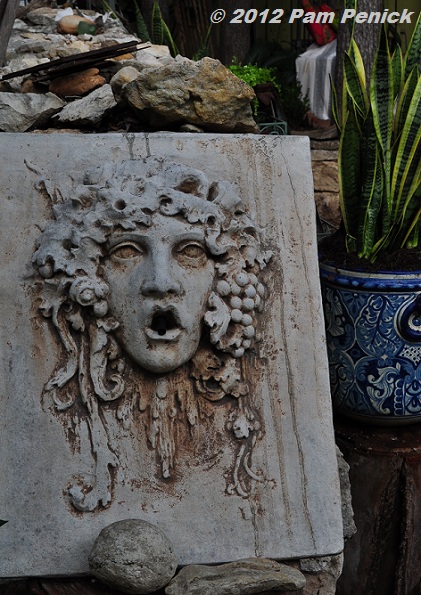 An old wall fountain leans casually against a rock wall. I thought of her as Medusa, but now I see grapes in her hair. Maybe this is Bacchus, not Medusa.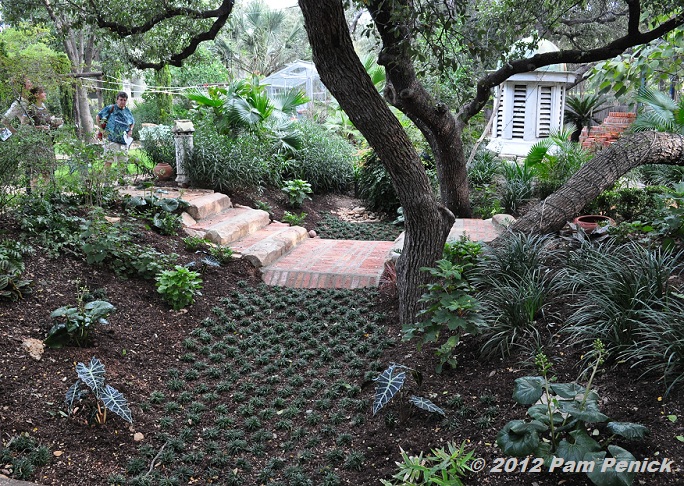 To one side of the house, a drainage swale has been created to let runoff flow through the garden. A path of old brick dips down to a low-water crossing, where water can flow over as needed. Dwarf mondo grass is filling in where water will flow when it rains. Moisture-loving plants fill in the rest of the garden space, shaded by live oaks. You can see a cupola in the background; other architectural remnants are stored there too, waiting to be fitted into the garden.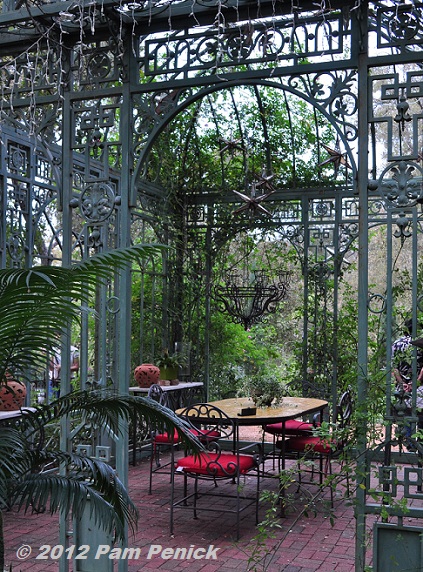 An enormous iron gazebo creates a dining room in the garden. This too is bedecked with string lights, and star lanterns hang above your head.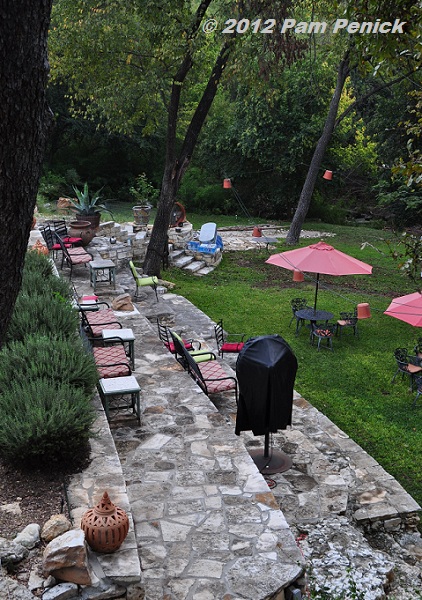 Suddenly the side garden drops steeply into a natural ravine, which has been terraced with limestone to create an amphitheater for live music. How cool is that!? And how very Austin.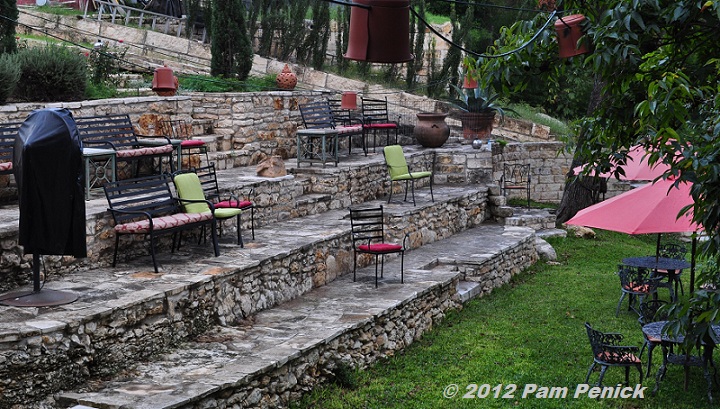 What a treat it must be to be invited to a performance in this beautiful garden. The amphitheater overlooks Shoal Creek (where all that runoff must go when it rains).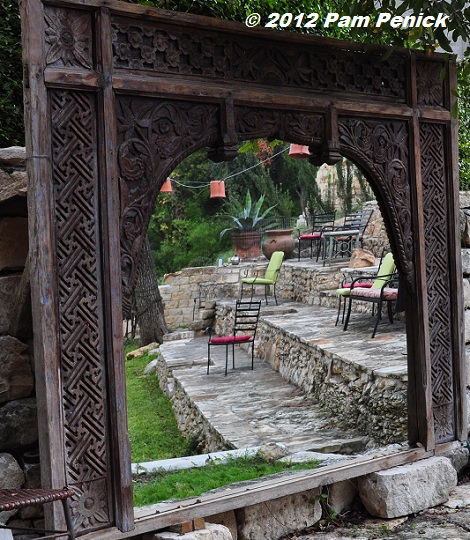 A large carved wooden mirror leans against a stone retaining wall, reflecting the terracing and whimsical string lights shaded by upside-down plastic flowerpots.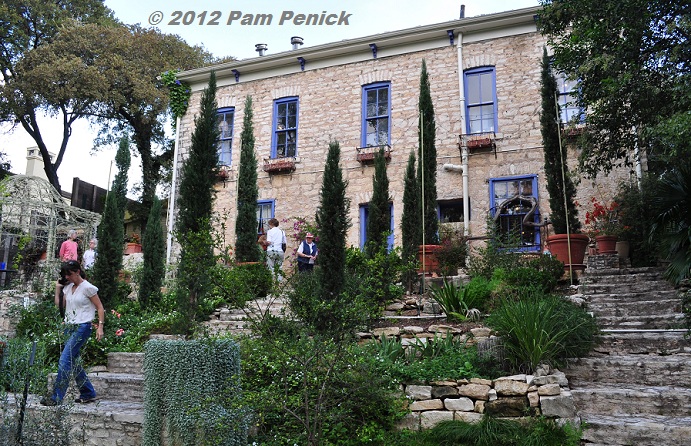 A swath of St. Augustine lawn follows the banks of the creek and leads to the rear of the German-style limestone house, which sits atop more terracing and a stair lined with Italian cypress.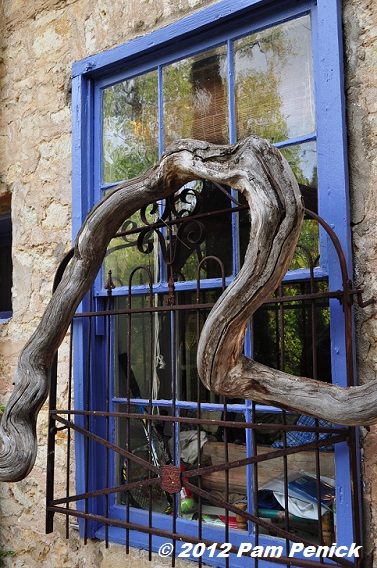 Jennifer's floral decorating talent goes oversized with decorative touches like this twisty piece of wood.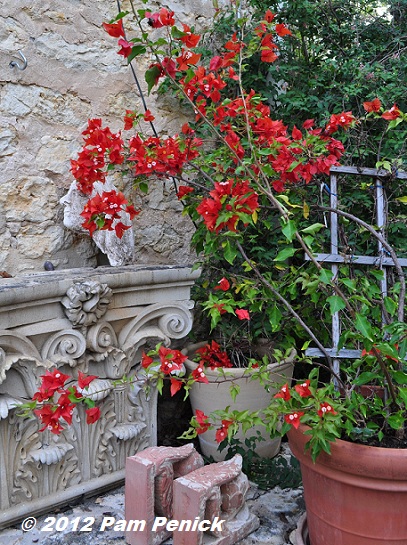 There's a decadent romanticism to the gardens reminiscent of courtyard gardens in New Orleans.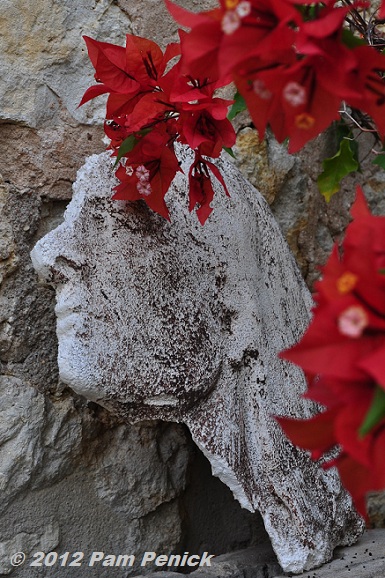 A sense of history is imparted by architectural relics and aged-stone figures that seem casually placed throughout the garden.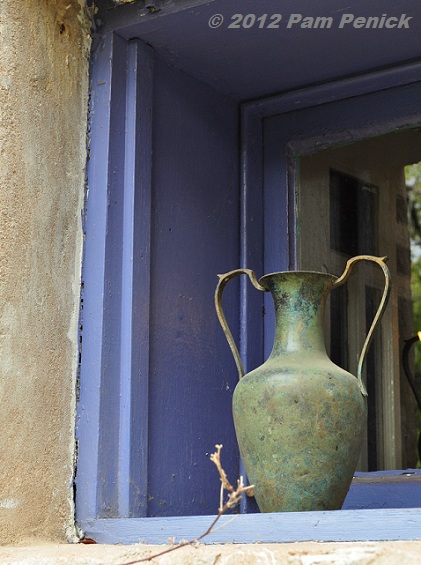 Simple and lovely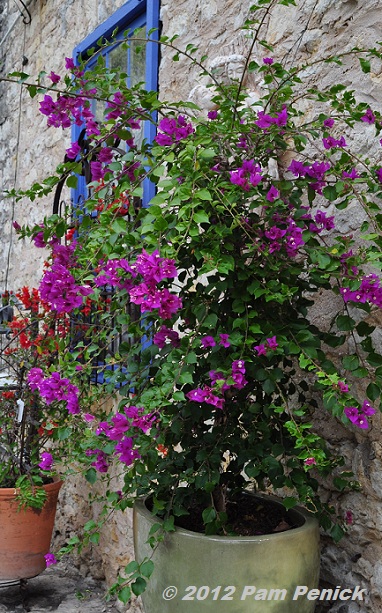 The narrow rear terrace is brightened with pots of bougainvillea in various colors.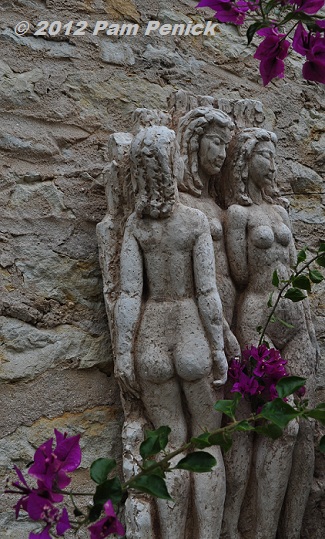 The Three Graces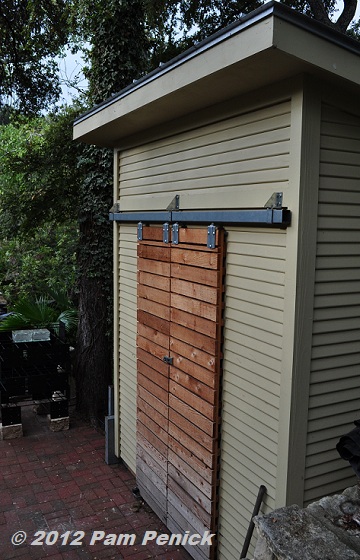 Coming around the other side of the house, this contemporary shed with sliding barn doors caught my eye.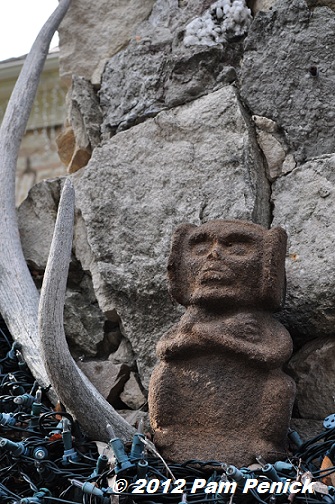 As did this little monkey-man figure next to an antler, nested in a tangle of string lights.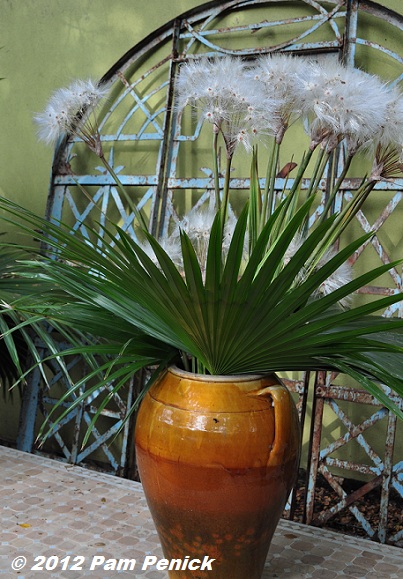 Seating and console tables abound in this garden, providing space to linger and enjoy the floral creations of the owner.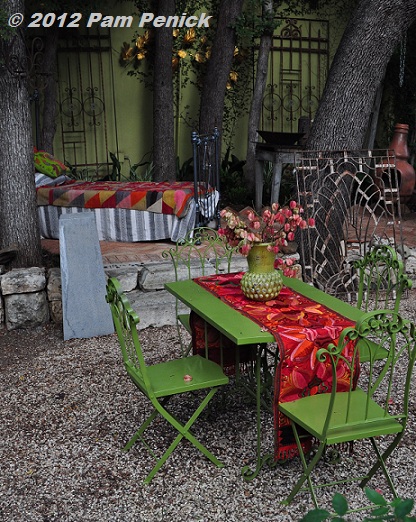 An avocado-green table-and-chair set and old iron bedstead are the stars of this garden room, sheltered by a tall, green-painted wall.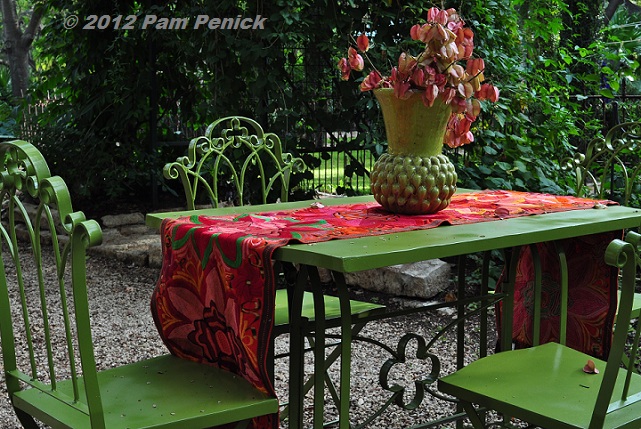 Green table with a festive red runner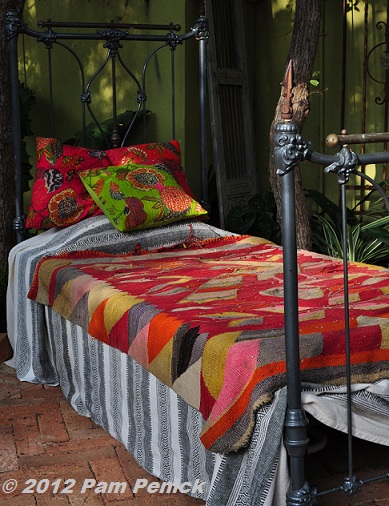 The outdoor bed is comfortably and colorfully dressed as well. Do people really use outdoor beds in our humid, mosquito-infested climate though? I always wonder.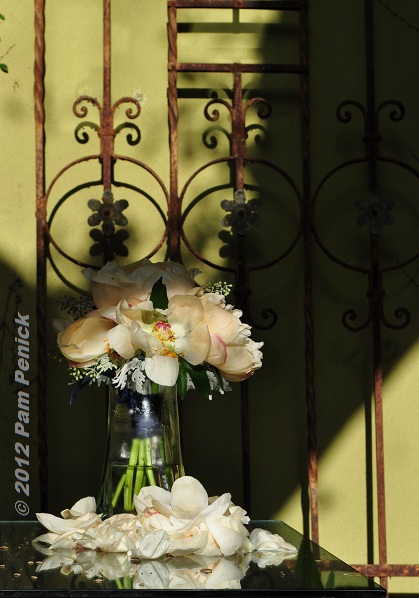 Another romantic floral display, with artfully dropped petals on the table—a lovely touch.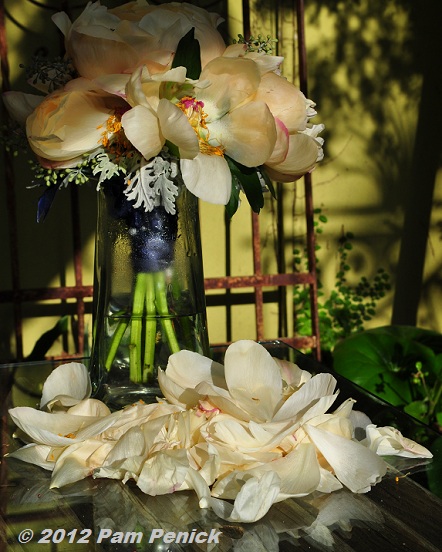 A closer look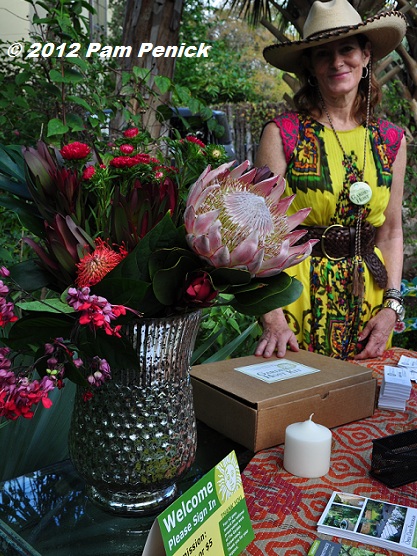 Manning the ticket table was a woman in a brightly patterned yellow dress and broad-brimmed cowboy hat. She wore a button that said "Garden Host," and I asked if she was the owner, but she said no. Perhaps a friend. I loved her outfit, which perfectly matched the garden's tropical-meets-Southwest vibe.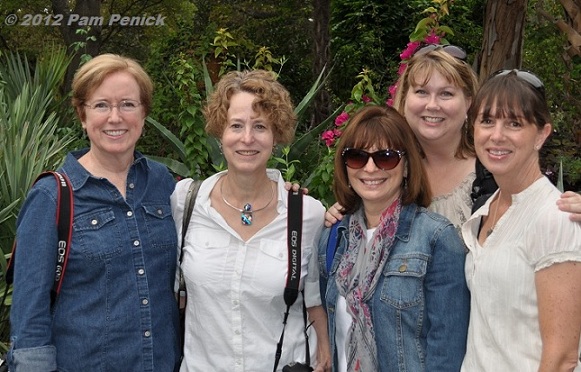 And here I am with my garden-blogging peeps, starting a fine day of garden touring together: Jean of Dig, Grow, Compost, Blog, who came all the way from Ruston, Louisiana; Shirley of Rock-Oak-Deer in San Antonio; Diana of Sharing Nature's Garden; yours truly; and Catherine of The Whimsical Gardener.
Up next: The formal courtyard garden of Yvonne Tocquigny and Tom Fornoff.
All material © 2006-2012 by Pam Penick for Digging. Unauthorized reproduction prohibited.
posted in
Agaves
,
Bouquets
,
Containers
,
Decor
,
Doors
,
Flowers
,
Garden art
,
Garden structures
,
Garden tours 2012
,
Groundcovers
,
Lighting
,
Palms/Cycads
,
Paths
,
Patios & decks
,
Sculpture
,
Seating
,
Sheds
,
Trees
,
Walls
,
Windows
,
Xeric plants