January 25th, 2018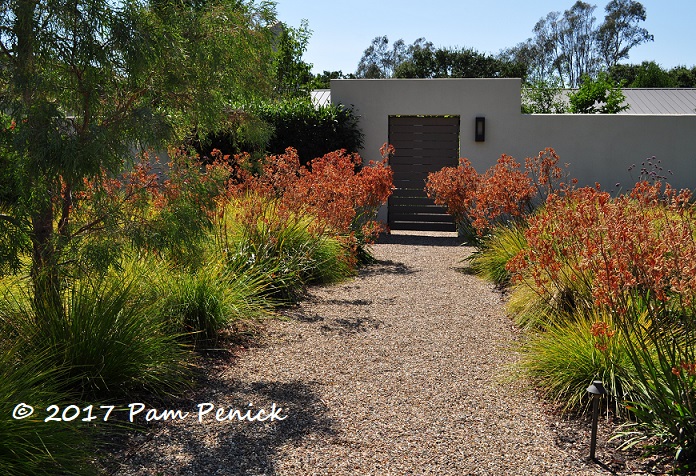 Last August a family road trip took me through Sonoma, California, where I had the pleasure of seeing a garden I was writing about for Garden Design magazine. The owner, Marilyn Coon Stocke, had generously extended an invitation to me and my family, and so we stopped by after a visit to Cornerstone Sonoma and its gardens.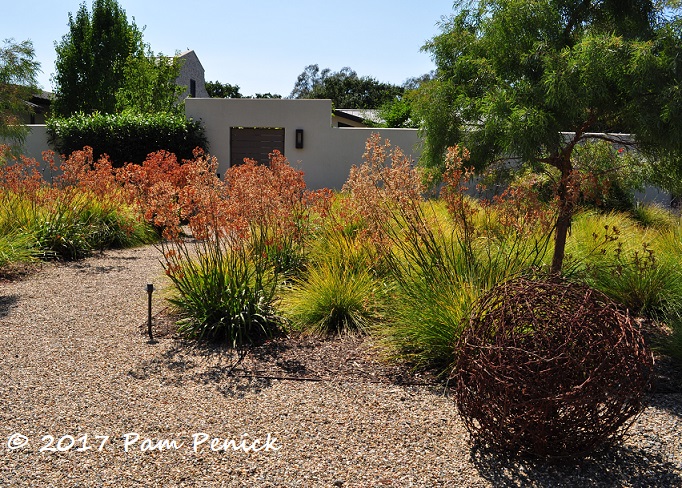 My earlier phone interview with Marilyn had been mainly about the garden inside the courtyard walls, which she'd hired landscape architect Mike Lucas to build to block the wind and provide privacy from the road. But as we approached her garden gate, I was wowed by the waterwise exterior garden. Blazing orange flower spikes of kangaroo paws towered over tuffets of chartreuse lomandra. Both plants hail from Australia and are water thrifty and heat tolerant, allowing Marilyn to focus limited water resources on her interior courtyard garden.
By the parking area, a tumbleweed-like sphere of barbed wire makes a sculptural, Wild West-style accent.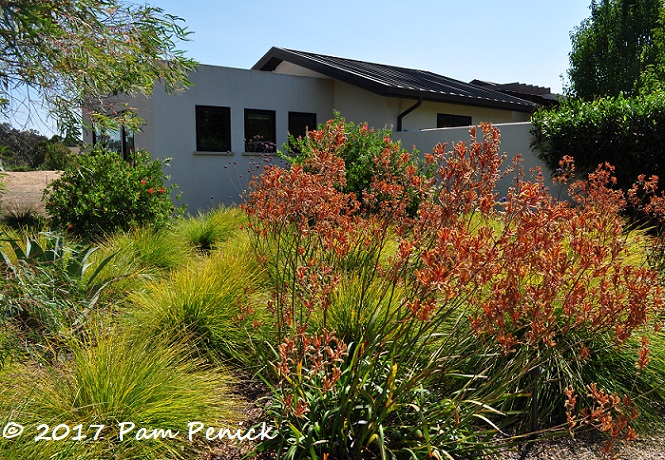 How I wish we could successfully grow kangaroo paws here in Austin! Alas for our sauna-like summers.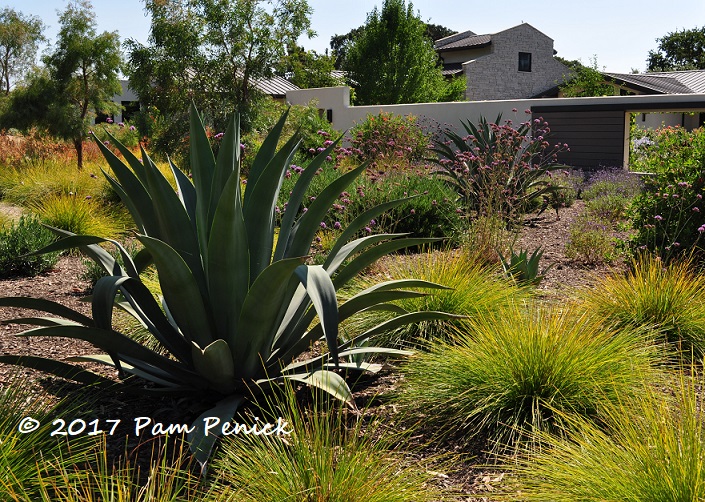 Majestic Weber's agaves punctuate a meadowy front garden of lomandra and tall verbena.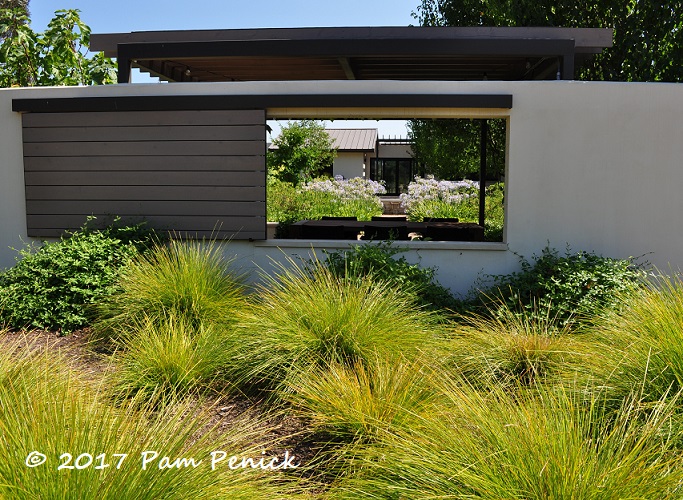 Large cutout windows in the white walls of the courtyard offer peek-a-boo glimpses of the secret garden inside. A barn-door-style shutter can slide closed to keep out the wind.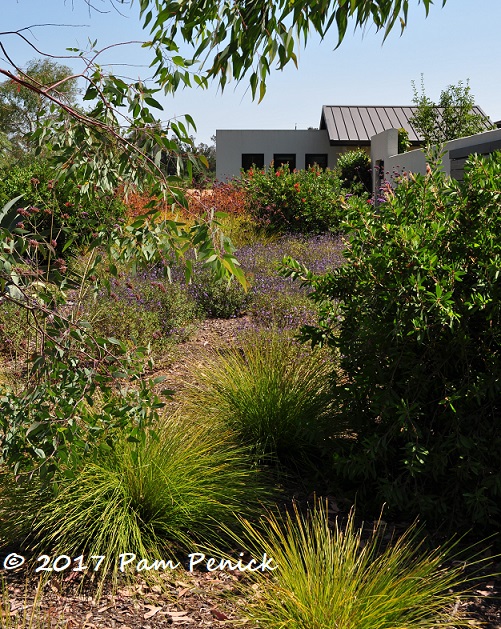 Eucalyptus and bottlebrush (Callistemon) add more Australian foliage.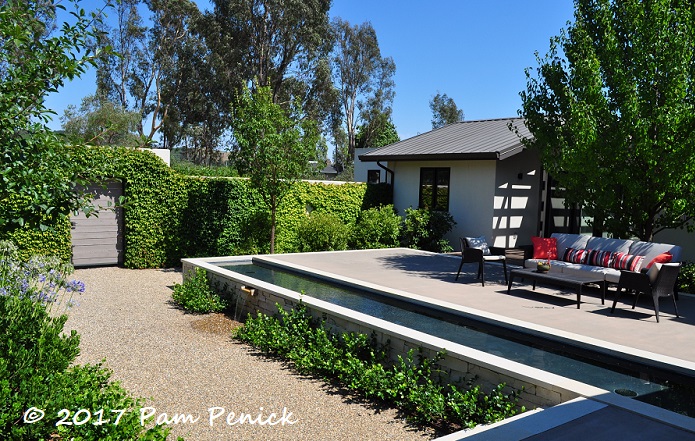 Inside the courtyard, a sheltered, green oasis greets you, and a trough-style water feature flanked by an elevated terrace leads to the front door.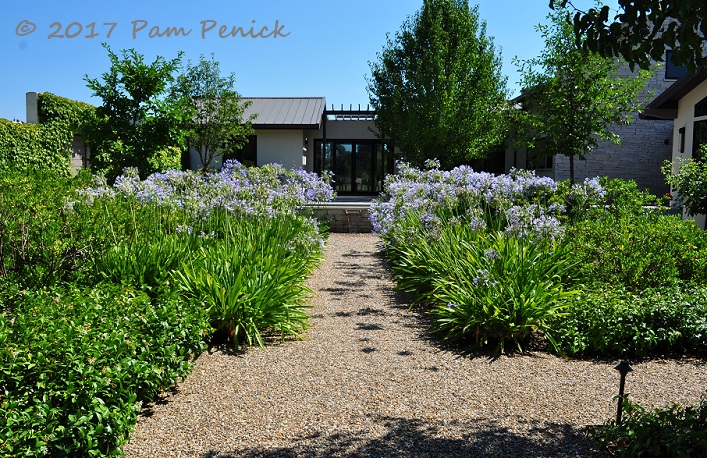 A bisecting path frames a view of the trough's scupper fountain through towering agapanthus blossoms.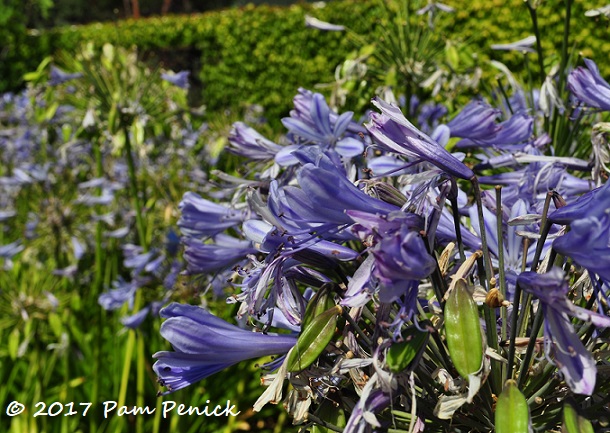 The agapanthus flowers were nearly spent by early August but still lovely.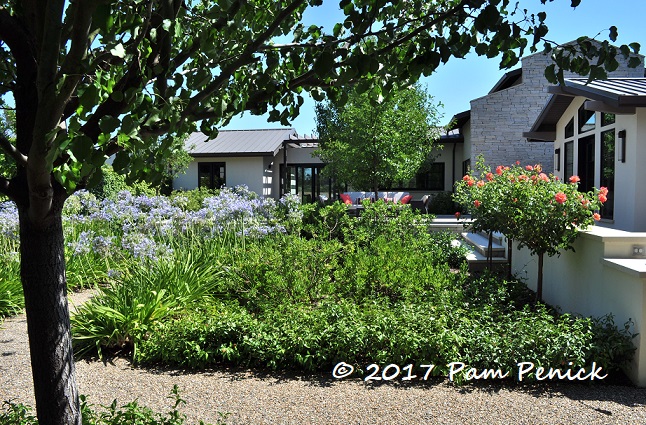 To the right you see steps leading up to the front door, and a row of 'Livin' Easy' rose standards.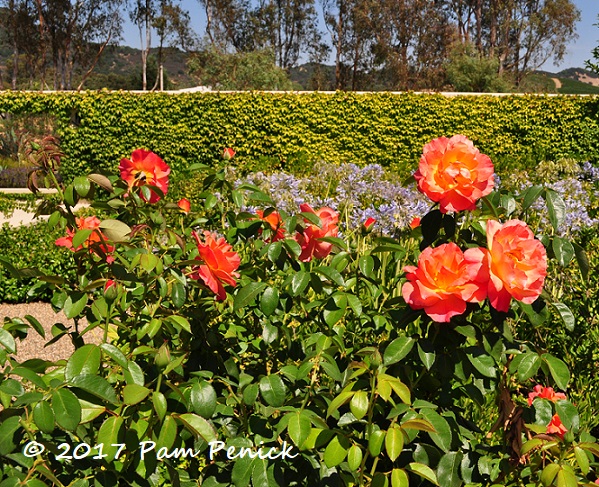 The apricot-orange roses echo the orange of the kangaroo paws outside the wall.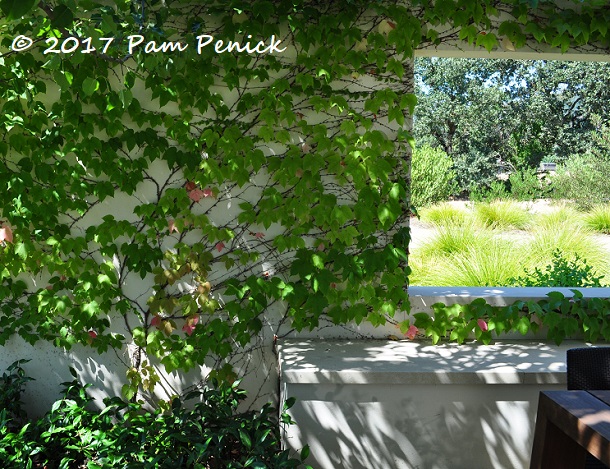 Boston ivy traces green-leaved tendrils across the white walls, making a green frame for the window views.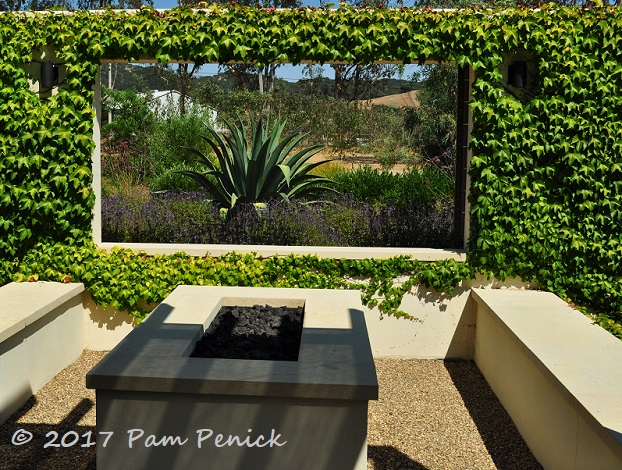 And what a view through this window! I love seeing that big Weber's agave flexing its muscles amid purple salvia, with a row of eucalyptus trees and golden hills beyond. In the foreground, a firepit and built-in seating offer a reason to stay a while.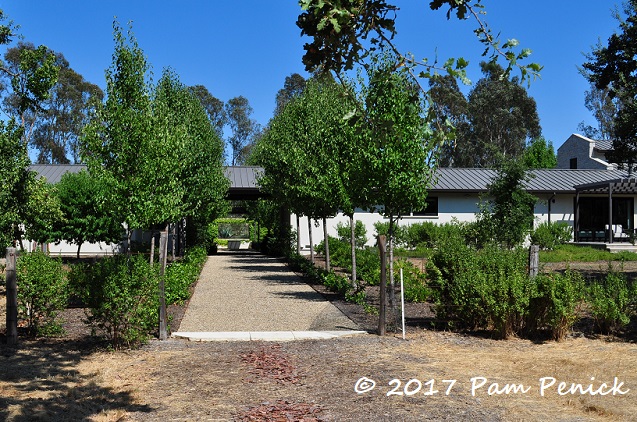 Opposite the window, the firepit axis leads straight out of the courtyard and through an allee of ornamental pear trees, which reference the property's history as a pear orchard.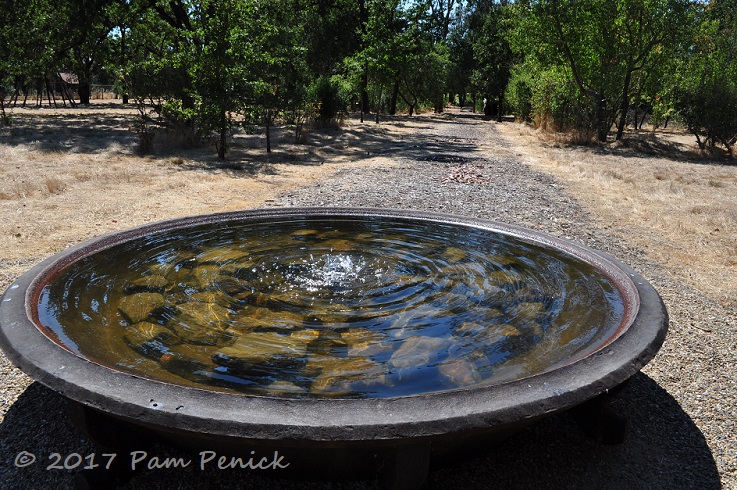 As a focal point at the end of the allee, a water feature made from a manganese rock crusher — essentially a giant dish — bubbles gently. From here, the garden proper ends, and the path leads to the wilder parts of the property and, eventually, to a borrowed view of a neighbor's vineyard. Ah, the beautiful Sonoma wine country.
My thanks to Marilyn for the tour of her lovely home and garden! It was a treat to meet her too. If you'd like to read more about her garden, just get your hands on a copy of the Winter 2018 issue of Garden Design and look for my article on page 54.
P.S. Marilyn's home and garden fortunately escaped damage from the Sonoma wildfires last fall, which I was relieved to hear.
I welcome your comments; please scroll to the end of this post to leave one. If you're reading this in a subscription email, click here to visit Digging and find the comment box at the end of each post.
_______________________
Digging Deeper: News and Upcoming Events
Calling all garden bloggers! You're invited to register for the annual Garden Bloggers Fling tour and meetup, which will be held in Austin this May 3rd-6th! Click this link for information about registering, and you can see our itinerary here. Space is limited, so don't delay. The 2018 Fling will be the event's 10th anniversary, which started in Austin in 2008.
Join the mailing list for Garden Spark Talks! Inspired by the idea of house concerts, I'm hosting a series of garden talks by inspiring designers and authors out of my home. Talks are limited-attendance events and generally sell out within just a few days, so join the Garden Spark email list for early notifications. Simply click this link and ask to be added.
All material © 2006-2018 by Pam Penick for Digging. Unauthorized reproduction prohibited.
posted in
Agaves
,
Arbors
,
Bulbs/Rhizomes
,
Firepits
,
Fountains
,
Garden art
,
Garden tours 2017
,
Gates
,
Grasses
,
Lawn Gone!
,
Paths
,
Patios & decks
,
Roses
,
Sculpture
,
Seating
,
Summer color
,
Travel
,
Trees
,
Views
,
Vines
,
Walls
,
Water conservation
,
Water features
,
Windows
,
Xeric plants