February 11th, 2018
I was in my 30s when I started blogging in February 2006. Now I am 50, a milestone year. Twelve years is kind of a long time to publicly document one's life, even if it's mainly the gardening side of my life that I share. I sometimes wonder if the blogging era is an aberration, a time of public sharing that our children, who prefer private texts and Snapchat videos, won't relate to. Who knows what the future holds for blogs, but I'm grateful to still be here during this blip, if that's what it is, when many of us are documenting publicly what would otherwise be a solitary pursuit behind the garden gate, connecting along the way with thousands of other gardeners and garden lovers.
Blogging is, as I've noted, about sharing and making personal connections. It's a place of creativity and personal improvement. It's about commemorating the ordinary yet extraordinary daily life of a garden — which represents all gardens — and what it means to be the one digging in it.
For my 12th blogiversary, I thought it would be interesting to see what I was thinking about as I marked my first blogging milestone in February 2007. Unsurprisingly, I was feeling introspective and family focused. Here it is again: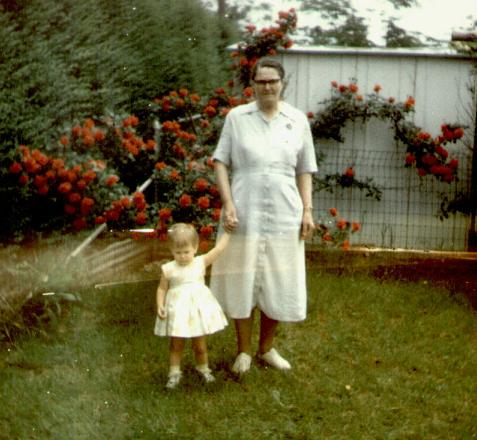 My grandmother and I in her garden, circa 1969
A couple of months ago, Carol at May Dreams posed the questions, "What makes a gardener? Do you consider yourself a gardener? How did you decide you were a gardener? When is the first time you referred to yourself as a gardener? Where and how did you learn to be a gardener?"
I answered in her comment section:
Though I've been gardening for 12 years, I don't believe I ever referred to myself as a gardener until about two years ago. People who came over to my house might say something nice about my garden, and I'd say, "Thanks, it's a hobby of mine." What I didn't admit—and what must have been obvious to the visitor—was that gardening was a compulsion for me, and that I loved it.

I began to realize that my interest was more than a hobby when people would see me reading a book like Stearn's Dictionary of Plant Names for Gardeners or Jill Nokes's How to Grow Native Plants of Texas and the Southwest, and they'd raise their eyebrows. One day I was going on about some plant or another to someone kind enough to listen, and she said, "So, are you a gardener?" Without hesitation I said, "Yes!"
A year ago today I started blogging here at Digging. At first I posted my best photos of my prettiest plants, adding notes about the plants' habits and the weather. To keep a record of my garden's changes and growth, I posted a backlog of photos and notes from earlier years (these comprise the 1st–4th years on my blog). I wrote to my favorite garden bloggers to ask if they would visit my blog. They did, and even commented, and I felt like I'd joined a club that I'd been wanting to get into.
Garden blogging connects me to a like-minded community. It's social. It's informative. It's fun. It makes me think about gardening, the world, myself.
But it isn't much related to being a gardener.
What makes a gardener? It was Carol's first question, and I didn't answer it. But what else could it be? You just want to grow things.
Maybe it's in the genes. My mother has always gardened, from simple sweeps of annuals when she was younger to the exuberant cottage garden she tends today. And her mother—who scraped by in rural southeast Oklahoma—gardened as well, planting roses on her fence, moss rose in troughs, annuals in tire-lined flowerbeds. A quiet, mild-tempered woman, she'd shout at us kids to climb down out of her prized mimosa tree that smelled heavenly, worried that we'd damage the limbs. I understand that now.
My mother was her last child, a late-in-life baby. To me, my grandmother was always old and frail, her back eventually bent nearly horizontal from osteoporosis. Yet I remember her regularly hoeing and weeding her garden, wearing a faded dress and an old-fashioned sunbonnet like a pioneer woman.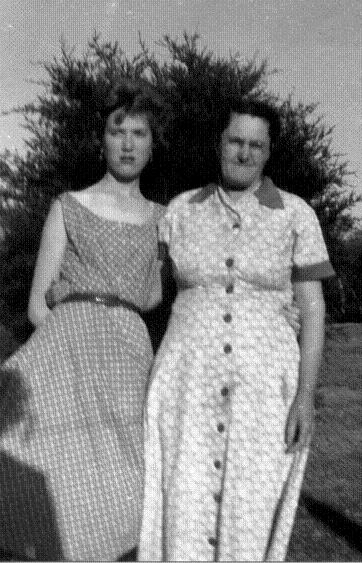 My mother and grandmother, circa 1960
My grandmother died years ago. Her gardening legacy carries on though. My mother's garden is a tumble of old favorites like hollyhocks, irises, lilies, and roses. When I talk to her on the telephone, I often picture her in the garden, checking on her plants or resting in the shade of a jasmine-covered trellis.
As they say, blood will out. Probably I owe my love of plants and digging to them both. And so, on my first blogiversary, I dedicate this post to my mother, June, and my grandmother, Demma, who taught me a love of gardening.
I welcome your comments; please scroll to the end of this post to leave one. If you're reading this in a subscription email, click here to visit Digging and find the comment box at the end of each post.
_______________________
Digging Deeper: News and Upcoming Events
Calling all garden bloggers! You're invited to register for the annual Garden Bloggers Fling tour and meetup, which will be held in Austin this May 3rd-6th! Click this link for information about registering, and you can see our itinerary here. Space is limited, so don't delay. The 2018 Fling will be the event's 10th anniversary, which started in Austin in 2008.
Join the mailing list for Garden Spark Talks! Inspired by the idea of house concerts, I'm hosting a series of garden talks by inspiring designers and authors out of my home. Talks are limited-attendance events and generally sell out within just a few days, so join the Garden Spark email list for early notifications. Simply click this link and ask to be added.
All material © 2006-2018 by Pam Penick for Digging. Unauthorized reproduction prohibited.