November 13th, 2017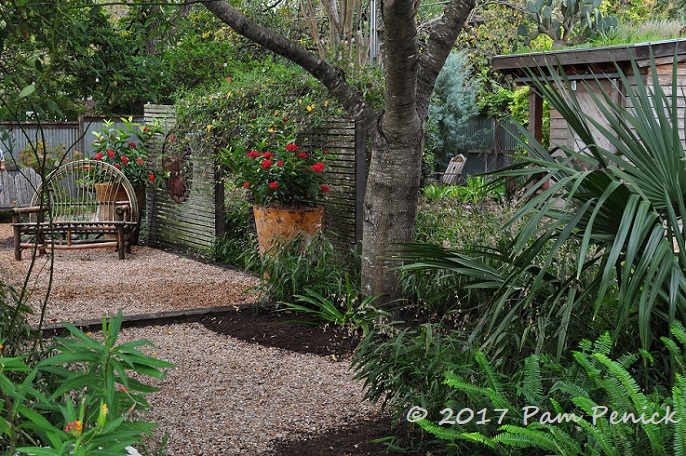 This year's Garden Conservancy-sponsored Open Days tour in Austin featured gardens in a variety of styles and a variety of neighborhoods (not just West Austin). I especially enjoyed exploring the Cloverleaf Drive garden, which, along with Jackson Broussard's, is located east of I-35 in a "regular-folks" neighborhood. It was designed by Casey Boyter, one of 3 female designers represented among the 6 private gardens, which I also think is a great move by the tour organizer.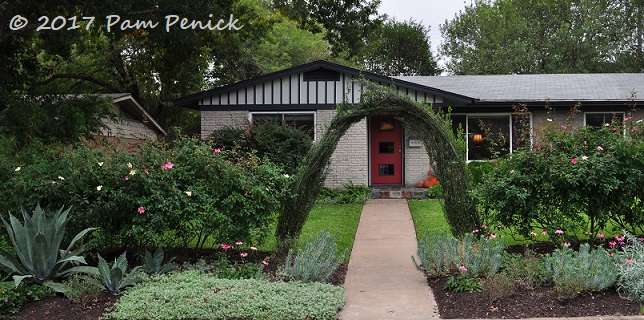 Let's start with the street view, and this unusual sight: an arch of normally upright, columnar 'Will Fleming' yaupons. I was quite surprised to see 'Will Fleming' used this way, and I wondered if it was planned from the start or decided on later.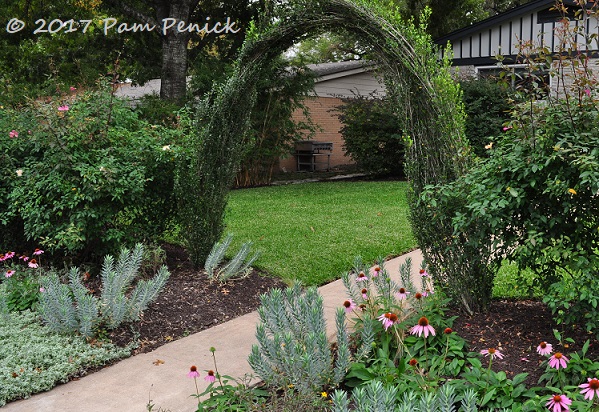 A deep curbside bed of low-water plants like agave, gopher plant, purple coneflower, and woolly stemodia shrinks the lawn to a more manageable size.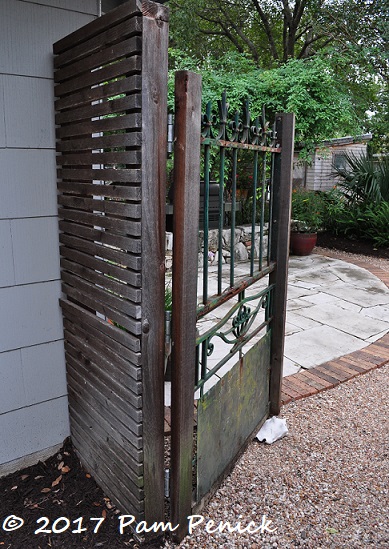 A pretty garden gate on a wood-slat fence admits you into the back garden…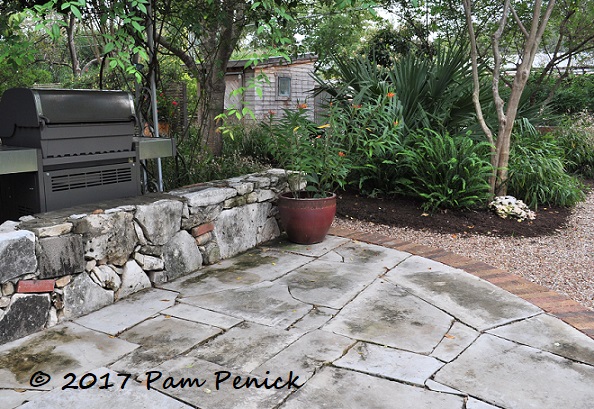 …and a nicely fitted limestone patio and what Casey calls a rubble wall, with bricks and other salvaged materials tucked among the stones. Casey specializes in this sort of wall, as does Jackson and Tait Moring, whose garden was also on tour. I'm starting to think of a rubble wall as a distinctive Austin look.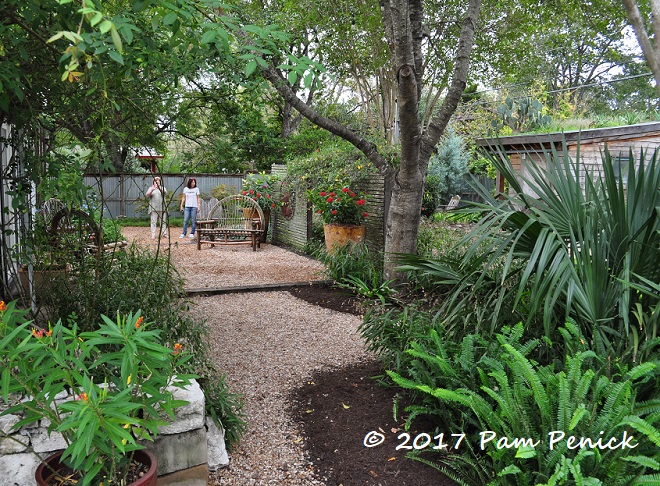 Looking left along the house, you see a gravel patio with a willow bench, red-flowering container plants, and other enticements.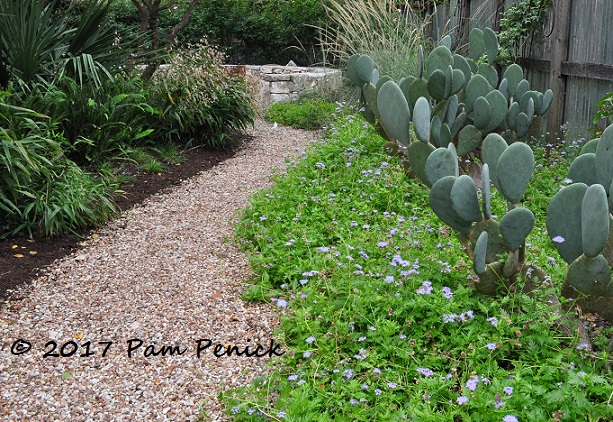 But first let's take the gravel path that curves invitingly from the gate through mistflower, spineless prickly pear, and native palmetto to a low curved wall…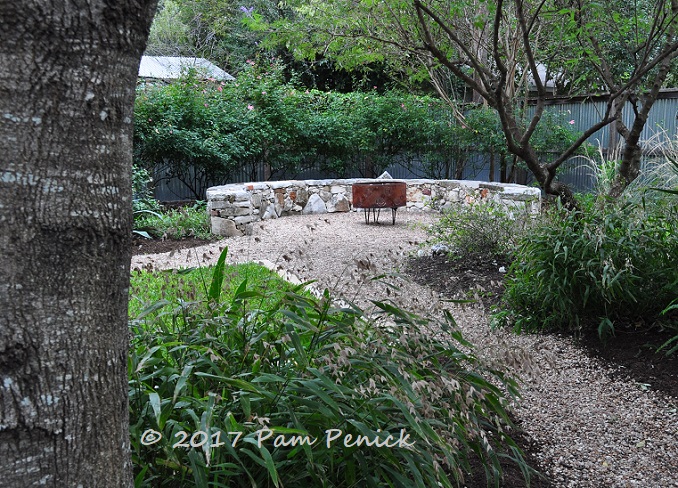 …which offers seating around a portable fire pit. I love this. It reads like a council ring, one of my favorite design features in a garden. Native inland sea oats grasses nod in the foreground.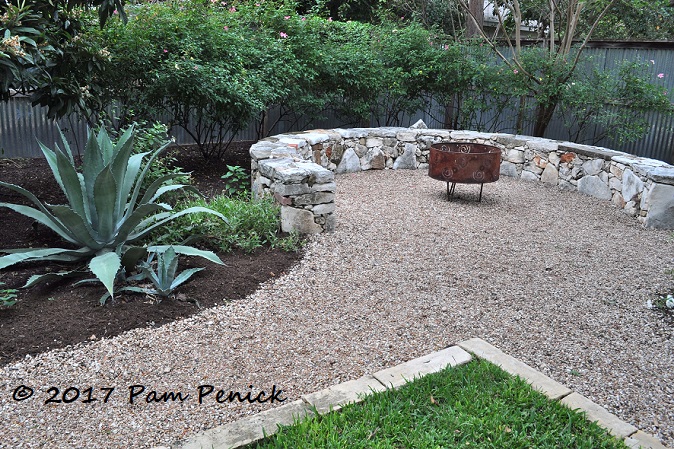 Another view. Check out that wall detailing.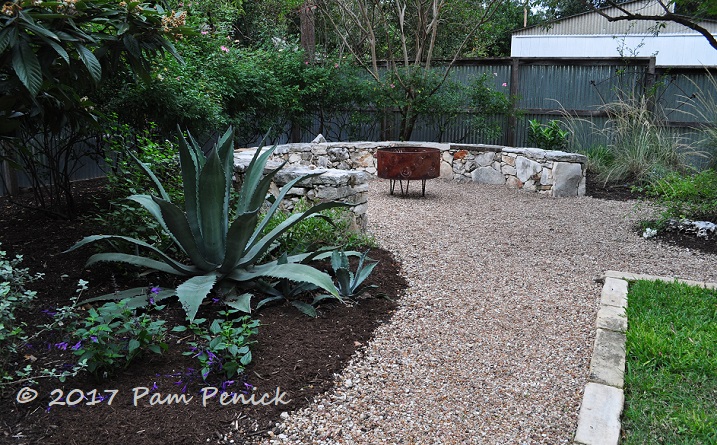 And one more, with agave, salvia, grasses, and roses adding greenery all around.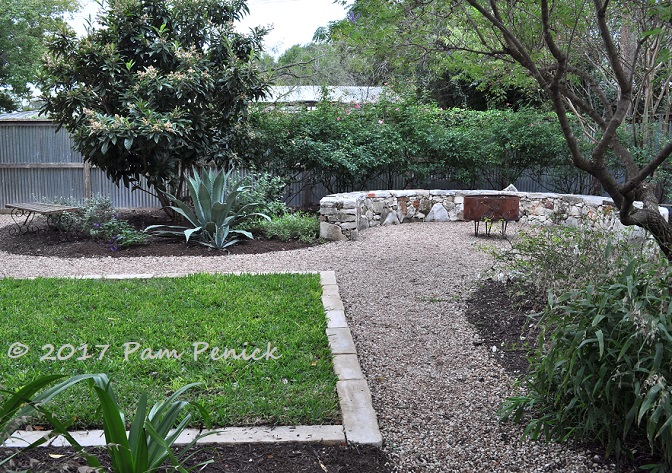 A rectangular lawn adds a swath of soft green — and a play space for kids or dogs — in the center of the back yard. But the majority of the yard is a gravel-path ramble through generous garden beds of native and adapted plants, leading to various patio destinations. This kind of garden really appeals to me. Also, notice the galvanized-panel fence, which adds a contemporary note — or industrial, depending on how you look at it — to the garden.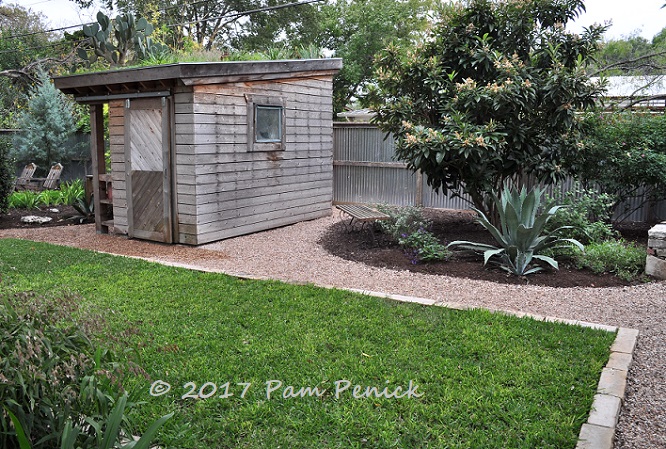 Instead of tucking the garden shed in a back corner, Casey placed it in the middle of the rear property line, which serves to divide the yard into two distinct spaces. Creating multiple garden rooms makes any garden feel larger, and it works here too. Charmingly, the shed is topped with a green roof of prickly pear and native grasses. Casey is a green roof pioneer in Austin.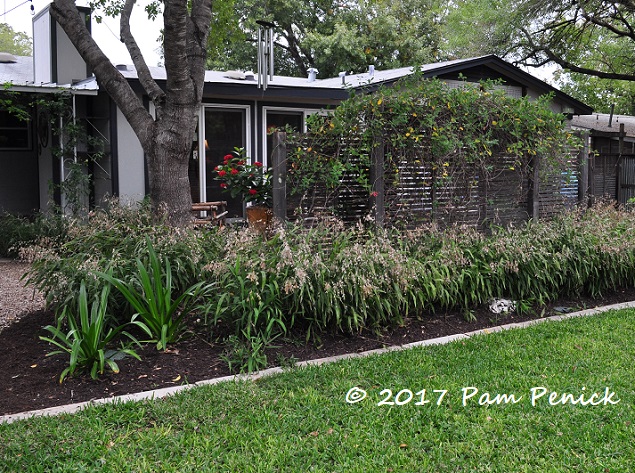 You might ask, do the homeowners want to look out their windows at a shed, even as cute a shed as this one? Well, they don't. A two-level, wood-slat screen draped with an evergreen vine creates another garden-room division between the patio with the willow bench and the rest of the yard. On this side of the screen, inland sea oats line the lawn — a fun juxtaposition of native grass and turf grass.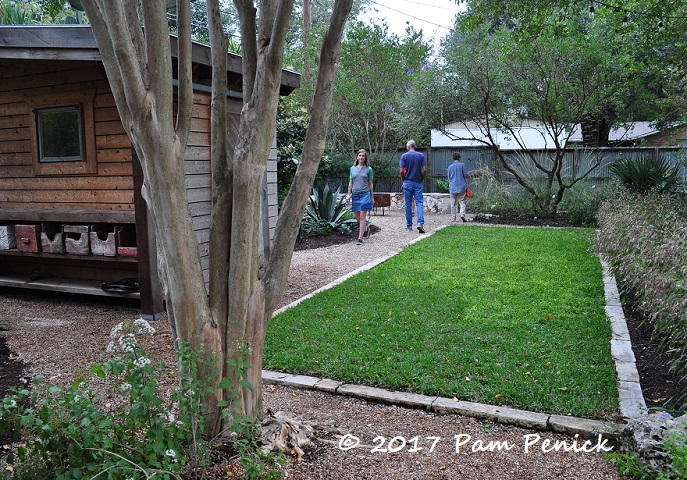 The long view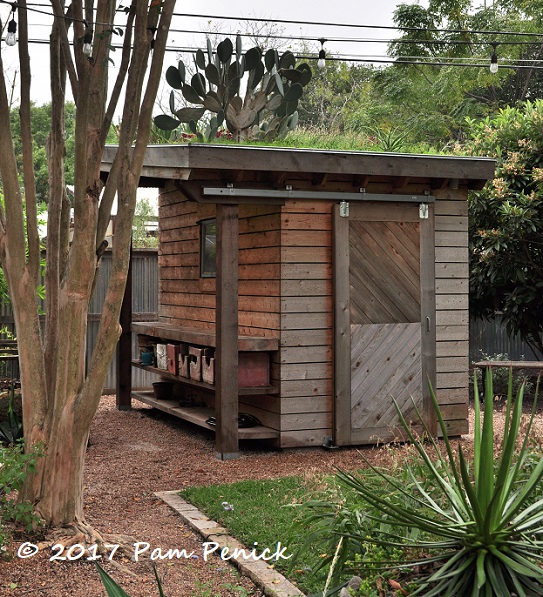 A closer look at the shed and its green roof. I like the sliding barn door and its chevron-pattern construction and the built-in potting bench along the side.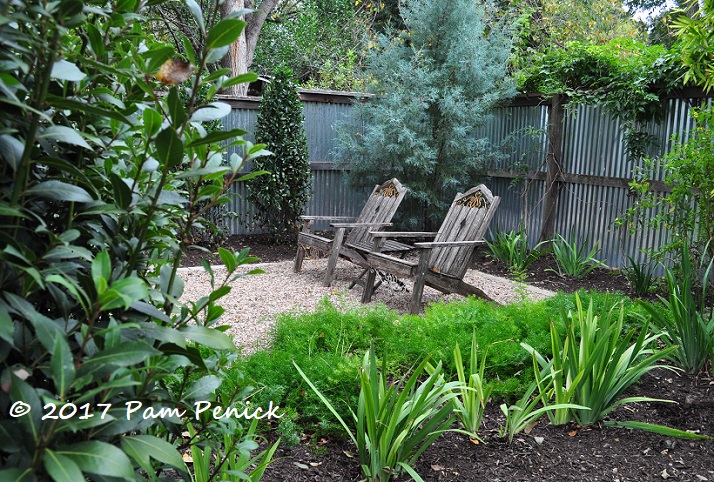 From the shed area, you peek over a narrow planting bed and see another gravel patio with two Adirondack chairs and Carolina cherry laurels.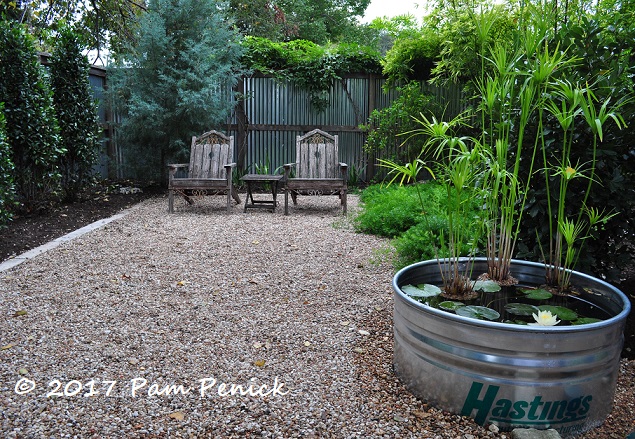 Walking around to see what's there, you find a small stock-tank pond with tall papyrus and a yellow waterlily.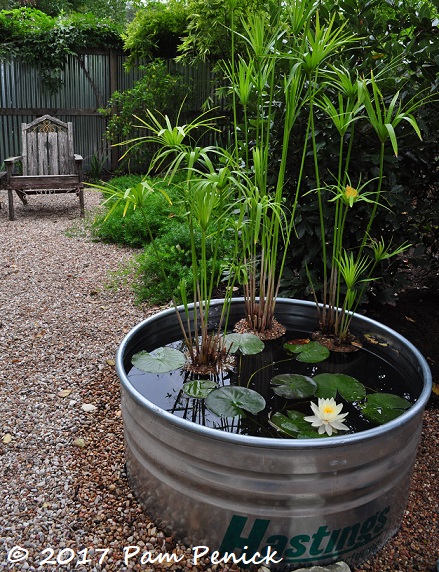 A sweet discovery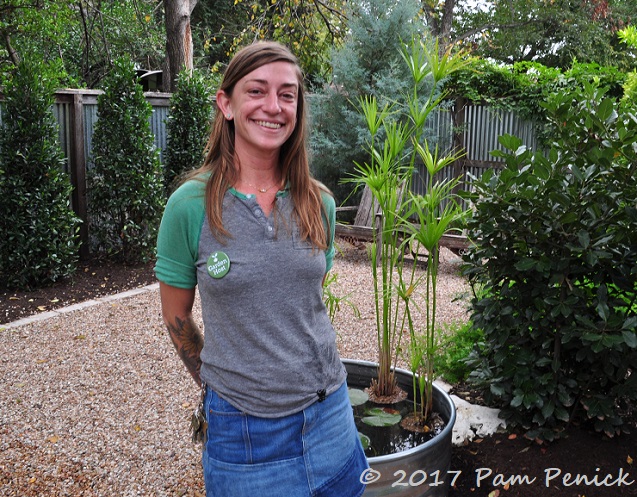 Here's the designer, Casey Boyter, who was on hand to answer questions about the garden.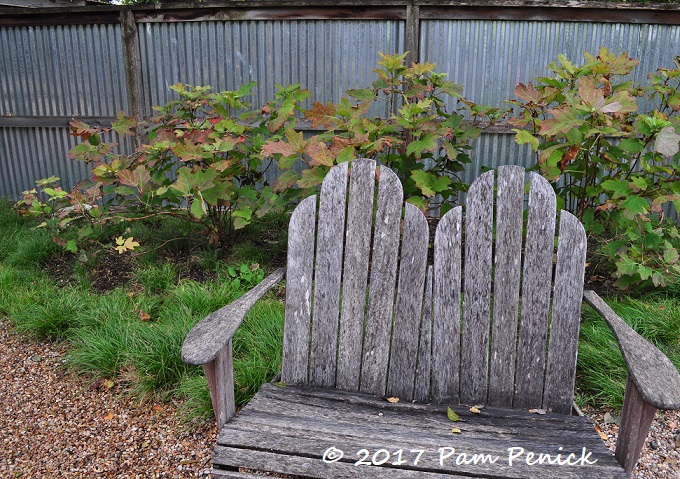 Along the side fence, an Adirondack loveseat offers a resting place amid sedge and oakleaf hydrangeas.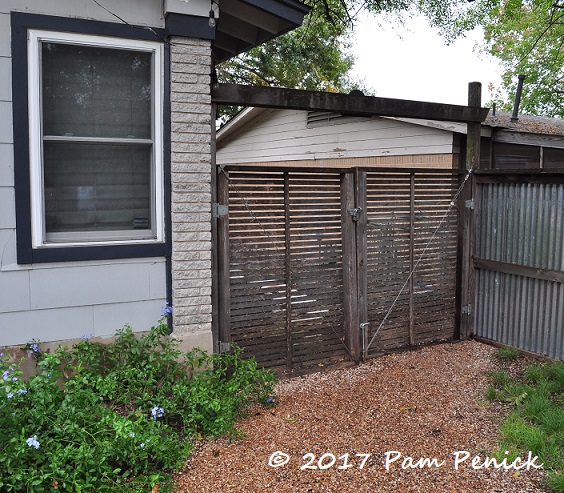 A double gate of wood slats offers access on this side.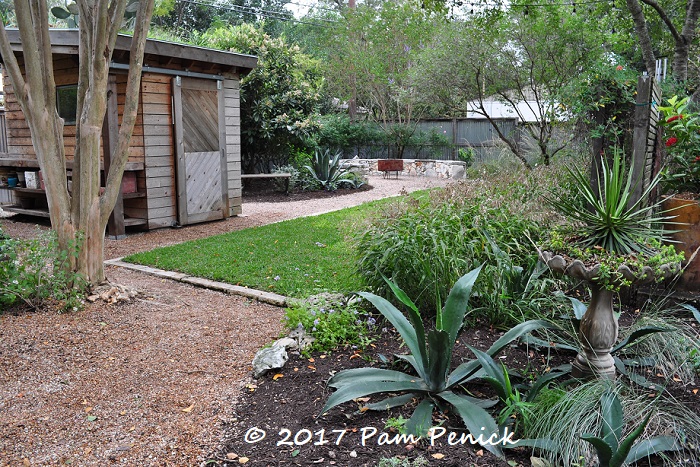 From here you enjoy a long diagonal view across the garden to the fire-pit patio.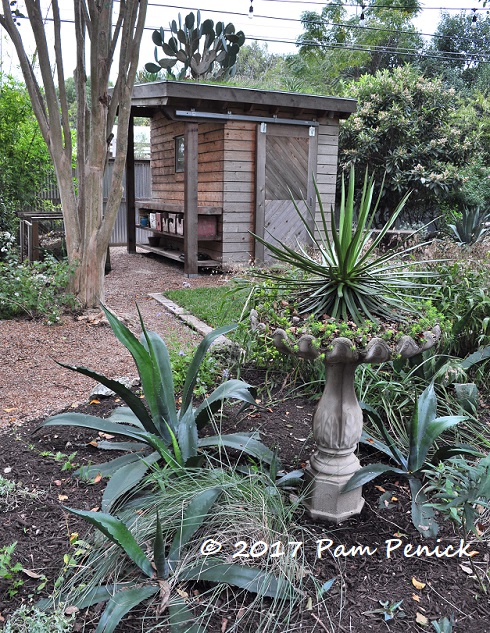 Agaves grow in and around a traditional concrete birdbath — another fun little surprise.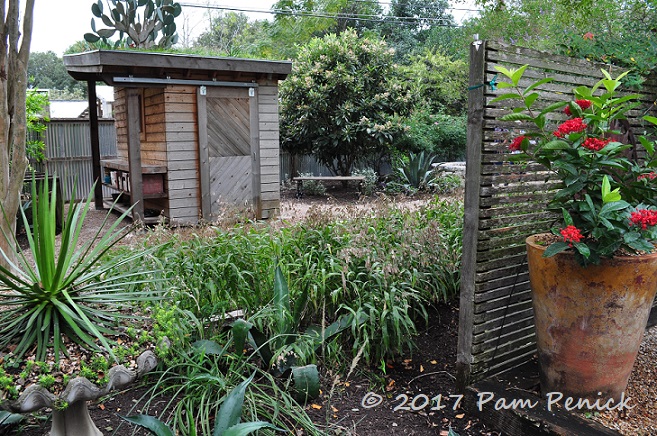 View of the shed and a loquat tree to the right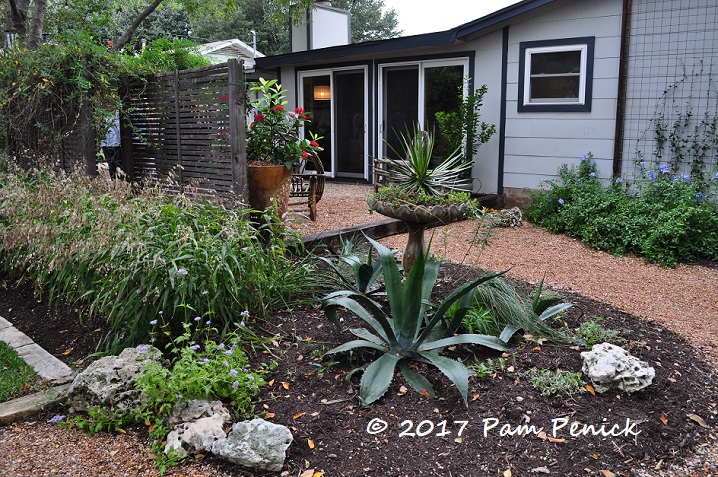 I can't get enough of that agave in the birdbath. It makes a cool focal point.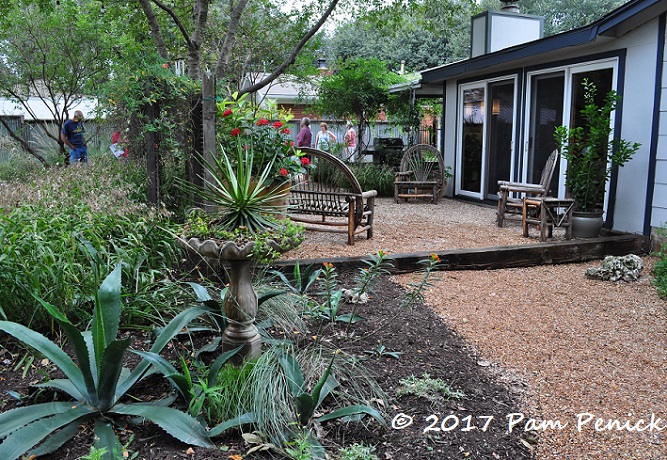 Heading around to the willow-bench patio at the back of the house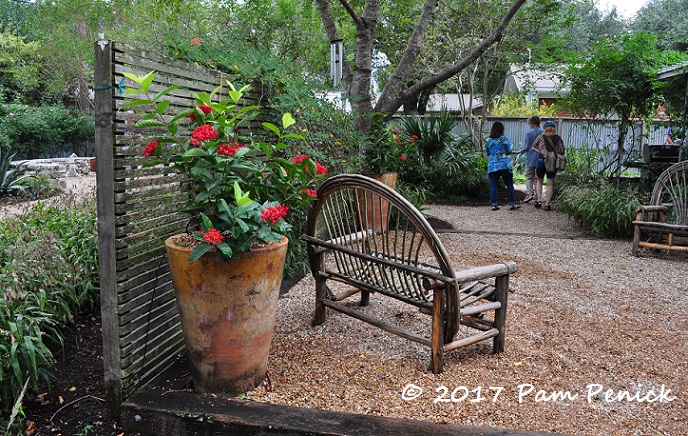 The horizontal wood-slat screen draped with coral honeysuckle vine makes a nice backdrop to this open patio furnished with charming willow loveseats and chairs. I don't know what the red-flowering plant is — something tropical, I think — but it adds a nice jolt of color to this largely evergreen garden.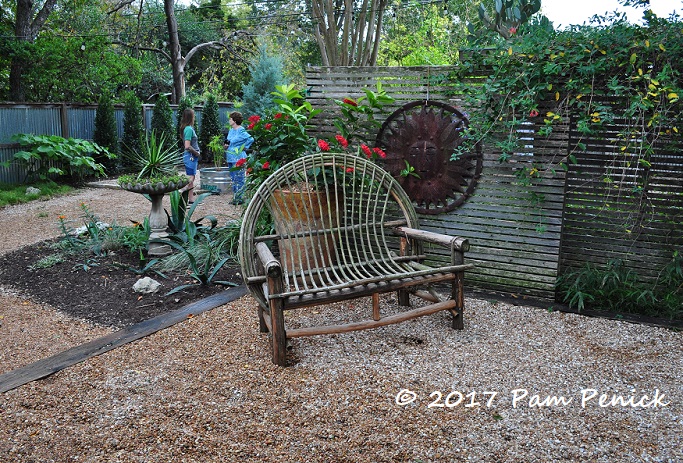 I like how the screen keeps you from seeing the whole garden at one glance. You have a reason to go outside and explore, with tantalizing glimpses of other garden rooms around each side.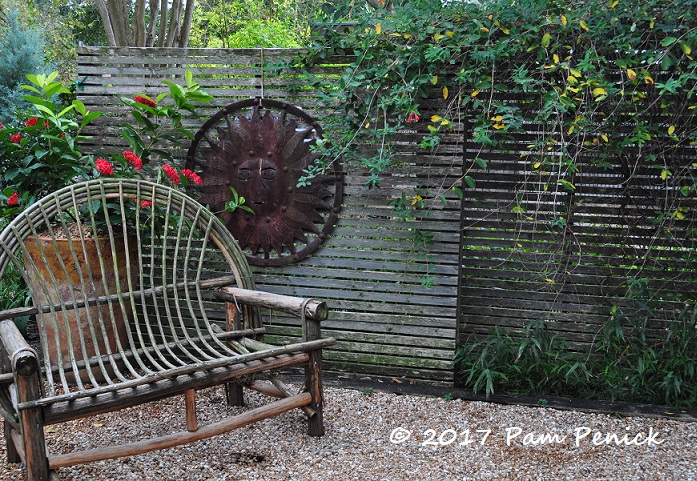 A metal sun hangs from the screen — no need for nails if you use a hook. The screen is constructed in 3 parts, with the center section stepped back about 4 inches and built about 6 inches taller than the panels on either side, giving the screen depth and a nice symmetry.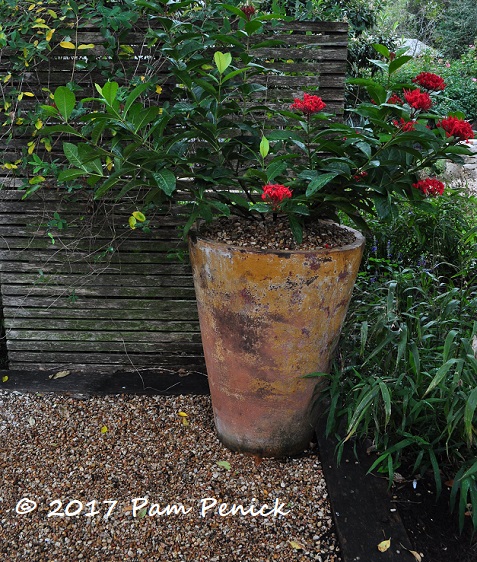 The rustic pots work well with the rustic willow furniture.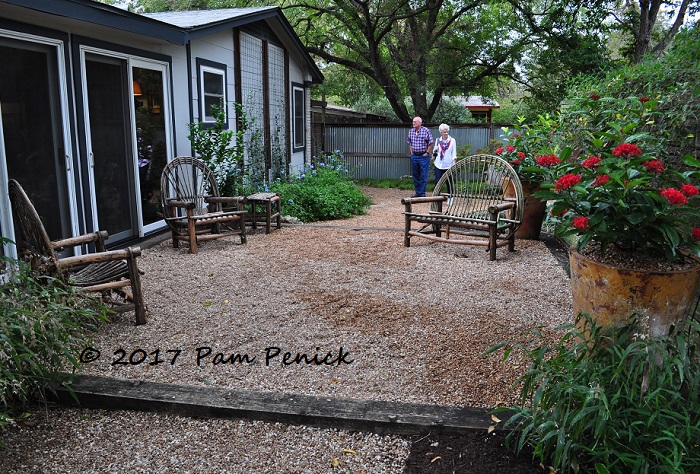 Utterly charming, don't you think? And attainable. These are inexpensive gravel paths and DIY-able screens and readily available native plants. The key is thinking through the space and how you want to divide it, while keeping a certain openness in the garden rooms you make. Or hiring a designer to figure that out for you!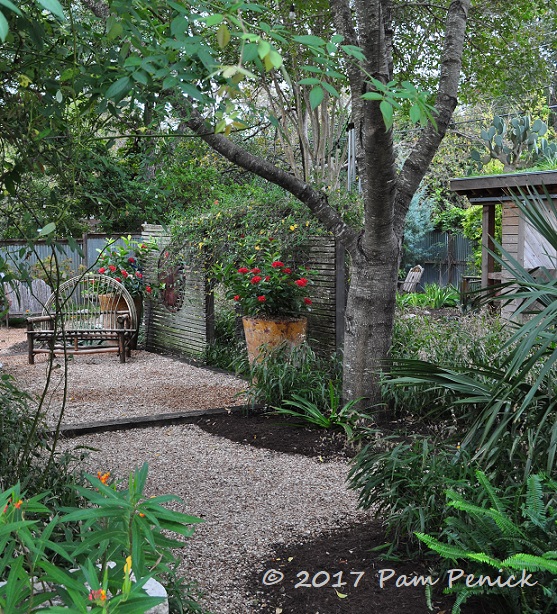 And what a great way to get rid of a lot of lawn too.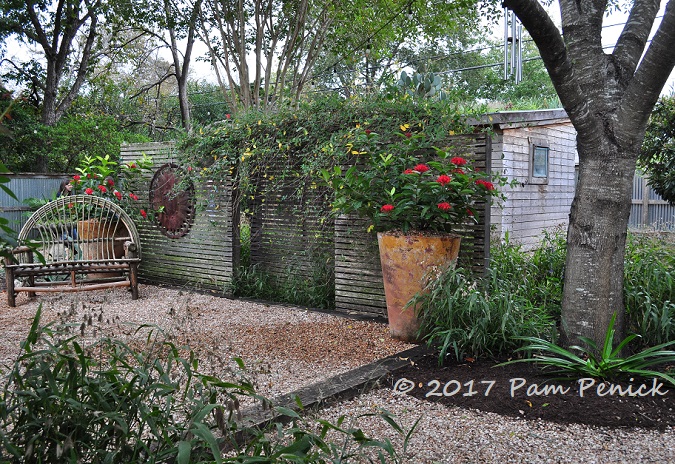 I enjoyed this garden and know it must be very liveable for the lucky owners.
Up next: The contemporary garden and poolside retreat of designer B. Jane. For a look back at landscape architect Jackson Broussard's personal garden, click here.
I welcome your comments; please scroll to the end of this post to leave one. If you're reading this in a subscription email, click here to visit Digging and find the comment box at the end of each post.
_______________________
Digging Deeper: News and Upcoming Events
Calling all garden bloggers! You're invited to register for the annual Garden Bloggers Fling tour and meetup, which will be held in Austin next May 3-6, 2018! Click this link for information about registering, and you can see our itinerary here. Space is limited, so don't delay. The 2018 Fling will be the event's 10th anniversary, which started in Austin in 2008.
Join the mailing list for Garden Spark Talks! Inspired by the idea of house concerts, I'm hosting a series of garden talks by inspiring designers and authors out of my home. Talks are limited-attendance events and generally sell out within just a few days, so join the Garden Spark email list for early notifications. Simply click this link and ask to be added.
All material © 2006-2017 by Pam Penick for Digging. Unauthorized reproduction prohibited.
posted in
Agaves
,
Arbors
,
Containers
,
Council ring
,
Design
,
Fences
,
Firepits
,
Garden art
,
Garden tours 2017
,
Gates
,
Grasses
,
Green roofs
,
Lawns
,
Native plants
,
Palms/Cycads
,
Paths
,
Patios & decks
,
People
,
Ponds
,
Roses
,
Seating
,
Shade garden
,
Sheds
,
Shrubs
,
Stock tanks
,
Texas natives
,
Trees
,
Trellis
,
Vines
,
Walls
,
Water features
,
Water gardening
,
Xeric plants