July 4th, 2017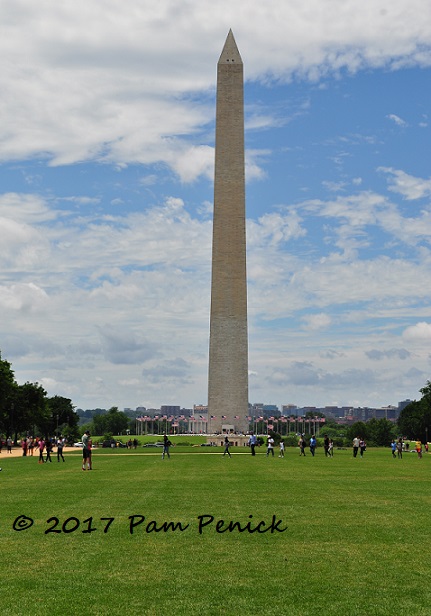 As we celebrate our nation's Independence Day today, it seems appropriate to share my pics of the Smithsonian Gardens on the National Mall and the U.S. Botanic Garden, which I toured on the recent Capital Region Garden Bloggers Fling in Washington, D.C.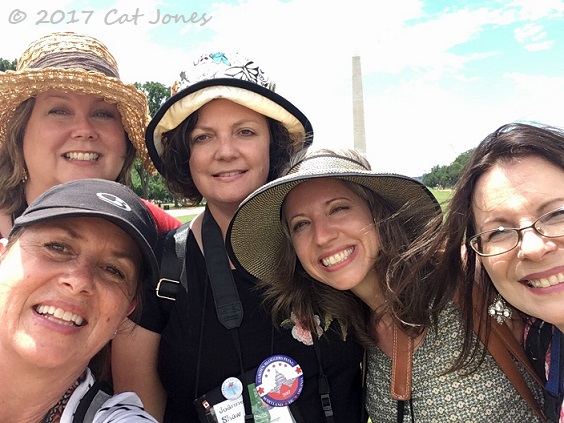 A small posse of garden blogging friends — me, Cat of The Whimsical Gardener, Joanne of Down 2 Earth, Laura of Wills Family Acres, and Diana of Sharing Nature's Garden — worked our way east along the Mall from the Smithsonian Castle, exploring the gardens outside the museums along the way. (Thanks to Cat for the photo.)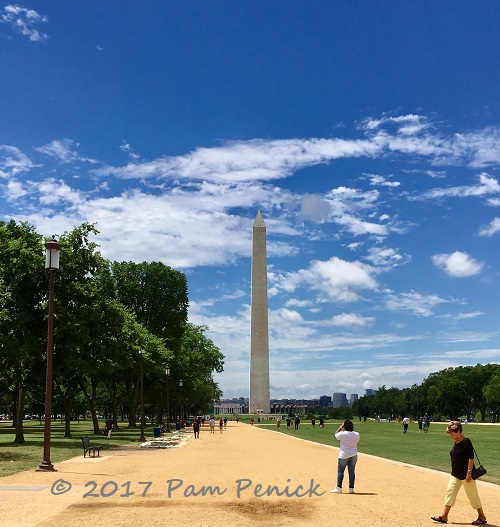 The day was pure Southern summer — hot and steamy — but we powered through a 3-hour stroll, ducking into shady gardens and an occasional museum lobby for A/C relief. Despite the heat, I found the sight of the Washington Monument stirring, as always.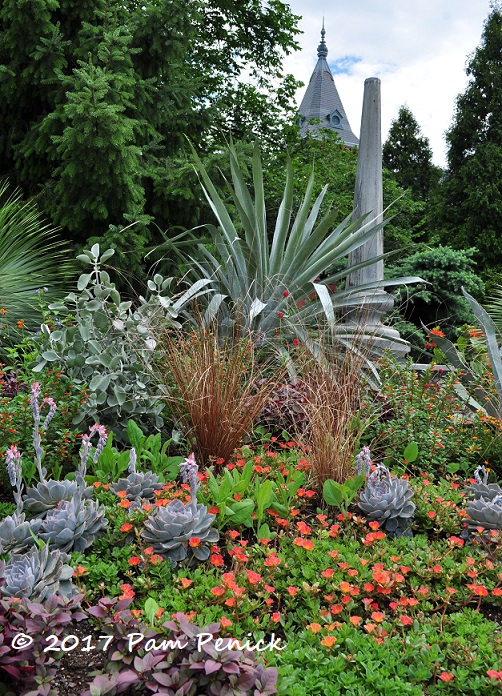 My absolute favorite garden along the Mall was the Mary Livingston Ripley Garden, which wows with this dry-garden planting in the raised beds along the sidewalk. Shazam!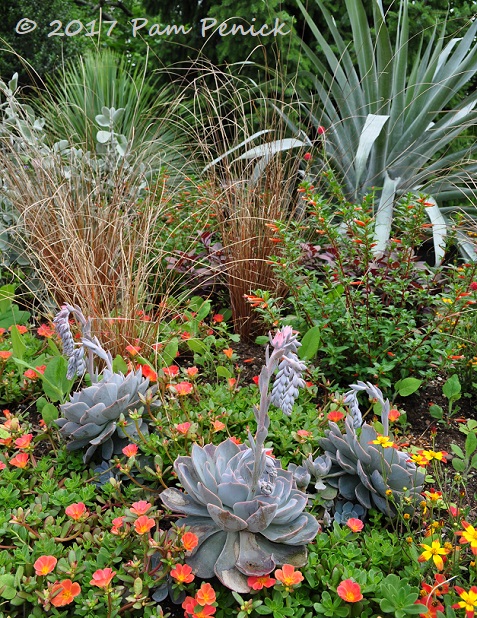 A closer look at the New Zealand sedge, flowering echeverias, and orange-blooming portulaca.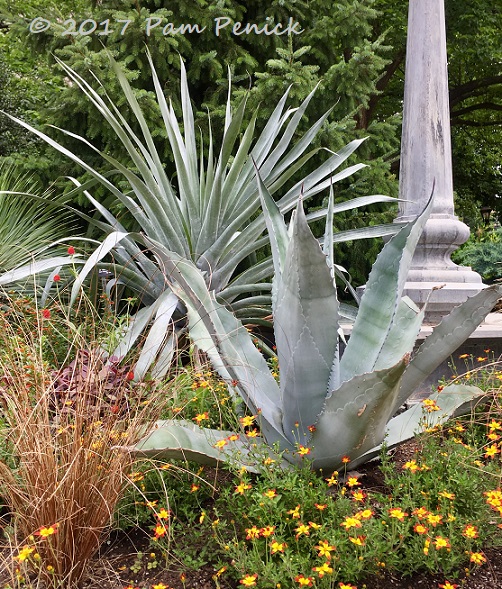 Silver beauties — an agave (foreground) and maybe a puya?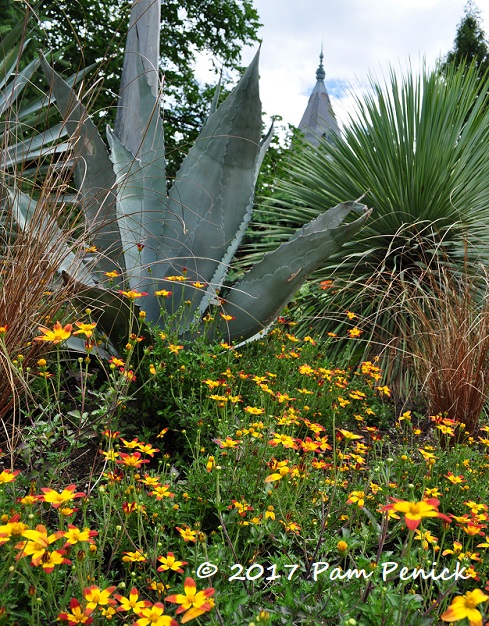 The conical roof in the background echoes the triangular shape of the agave's leaves. An intentional design choice? I wouldn't put any artistry past horticulturist Janet Draper, whom we met while we were admiring the garden. She is a talented designer and plantsman.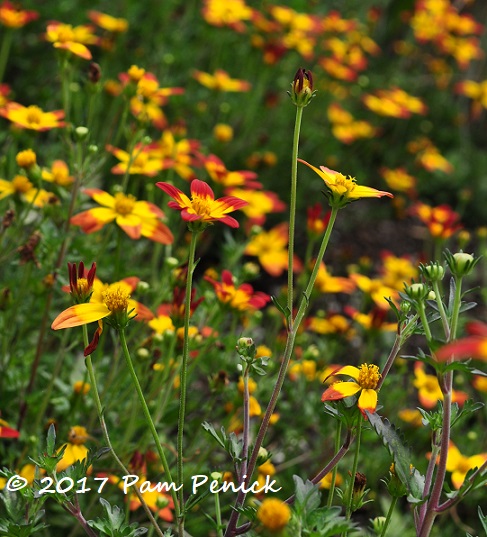 Coreopsis Update: My thanks to Kylee Baumle for ID'ing this as Bidens 'Beedance Painted Red'.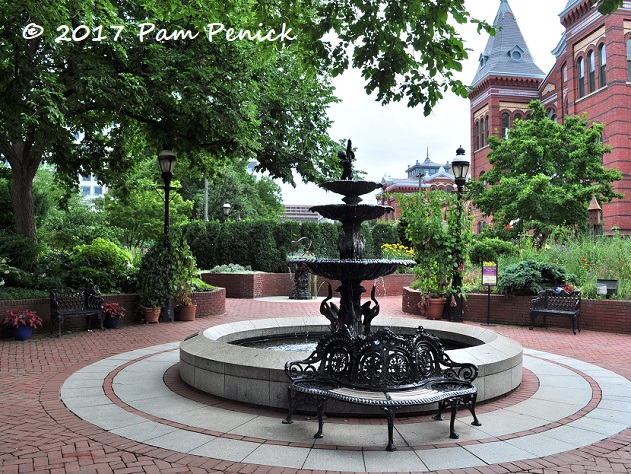 Entering the garden you see a tiered fountain and plaza, with benches along the brick walls that make up the raised planting beds of the garden.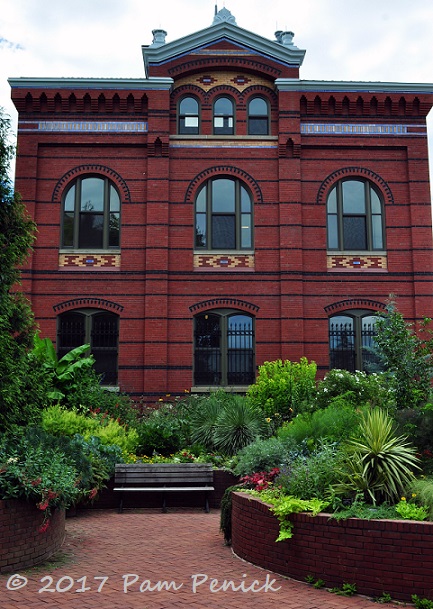 Handsome brick buildings make a nice backdrop to the garden, but the plants are the stars. I was excited to see several spherical, strappy Yucca rostrata in the lush perennials beds.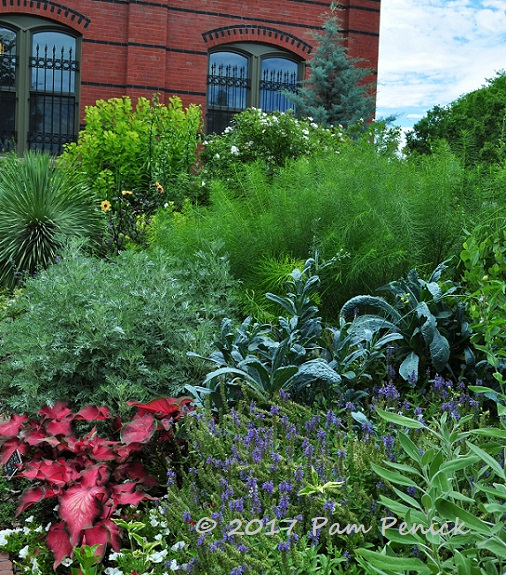 Beautiful combos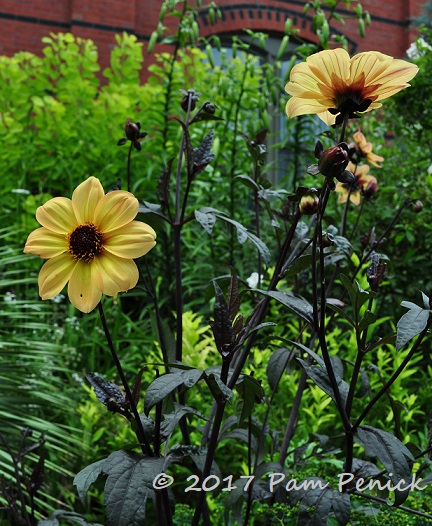 Dahlia's dark-leaved drama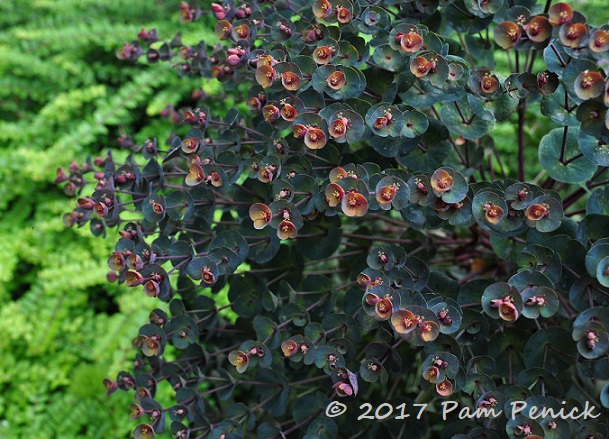 And more, with blackbird spurge

Chives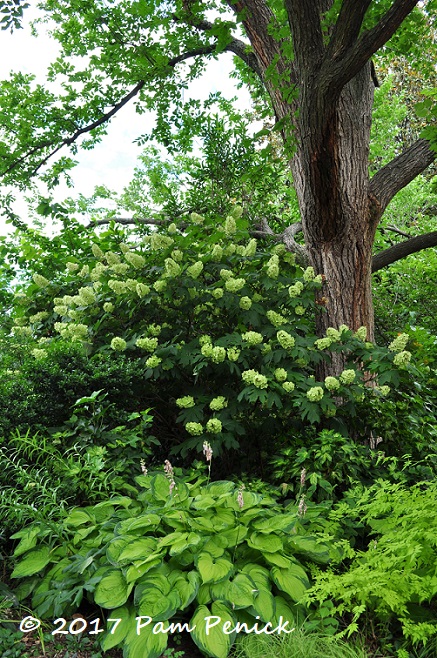 Under the shade of an old elm, chartreuse makes an appearance in hydrangea flowers and full-skirted hostas.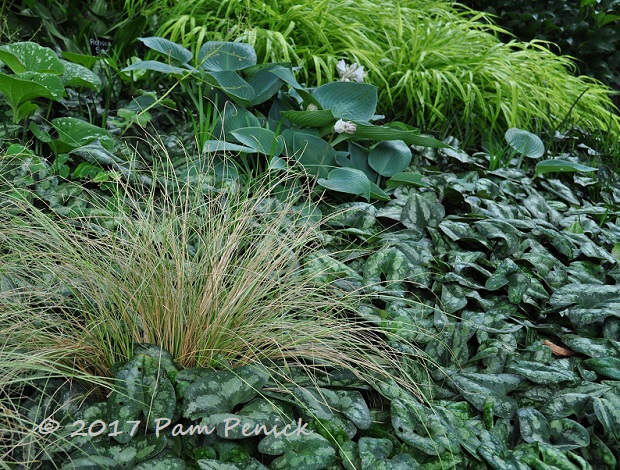 I like this combo of 'Frosted Curls' carex and wild ginger.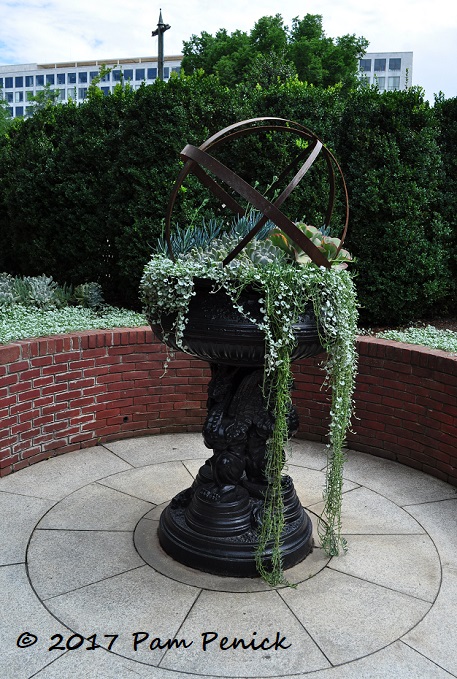 At the rear of the garden, a focal-point urn is planted with succulents and spilling silver ponyfoot and accented with a large steel sphere.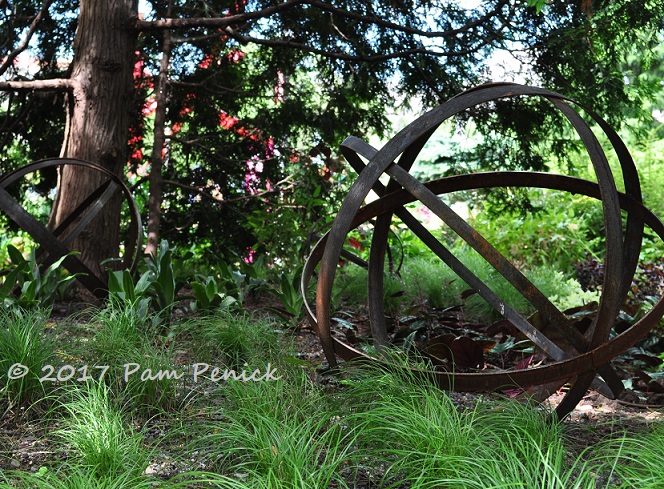 Additional spheres were scattered in a shady sedge "lawn."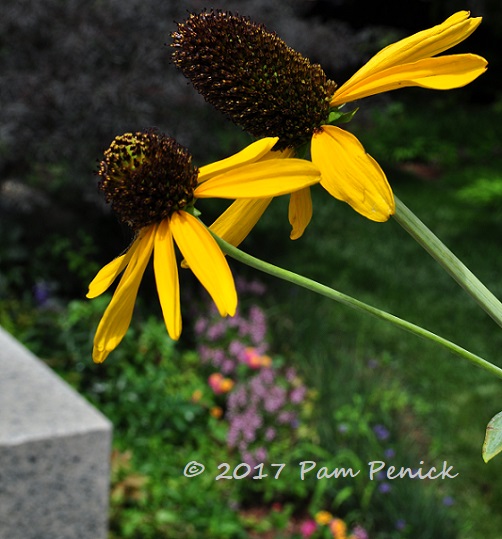 Along another part of the Mall, I spotted tall rudbeckia…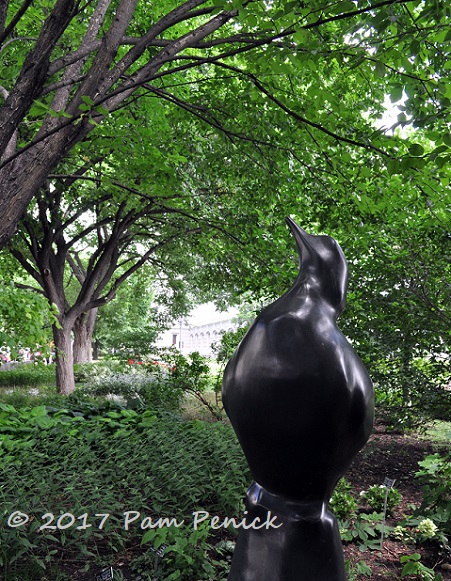 …and this cool bird sculpture in the garden of the American History Museum.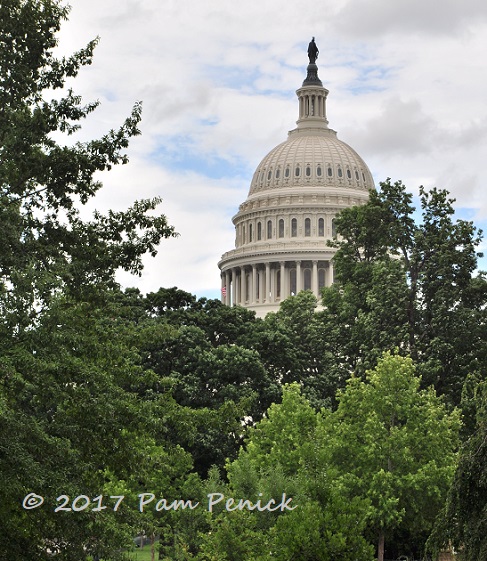 Eventually we made our way toward the U.S. Capitol building…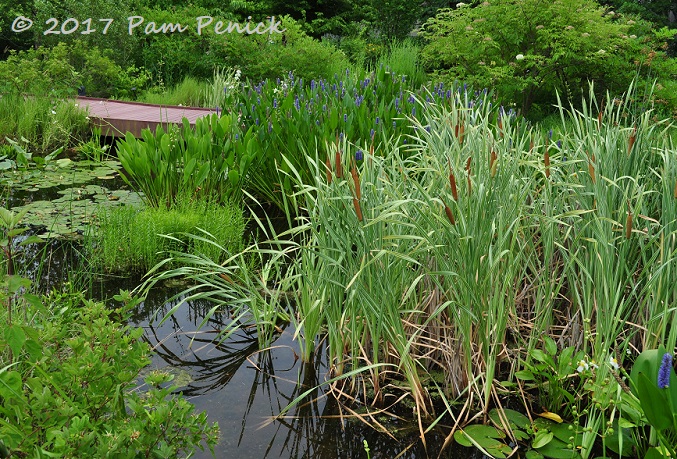 …and entered the National Garden, part of the U.S. Botanic Garden, which is planted with mid-Atlantic native plants.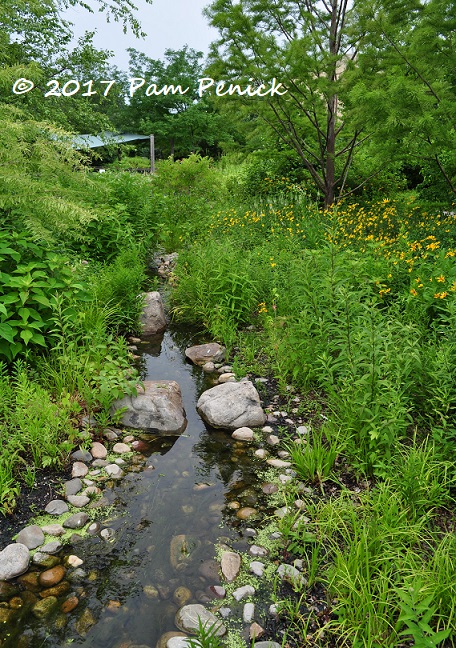 The garden was mostly a wetland with a nicely designed stream and small pond, which were visually refreshing on this hot day.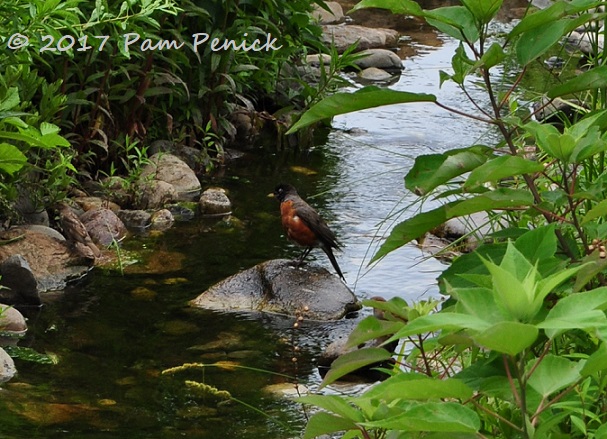 It's a good spot for bird-watching, and I spotted a robin taking a bath here.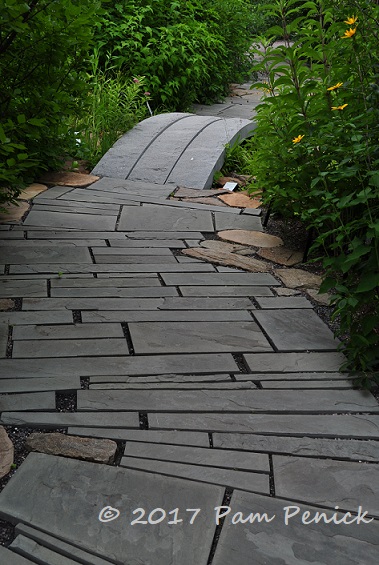 I love this winding, cut-stone path and arching bridge.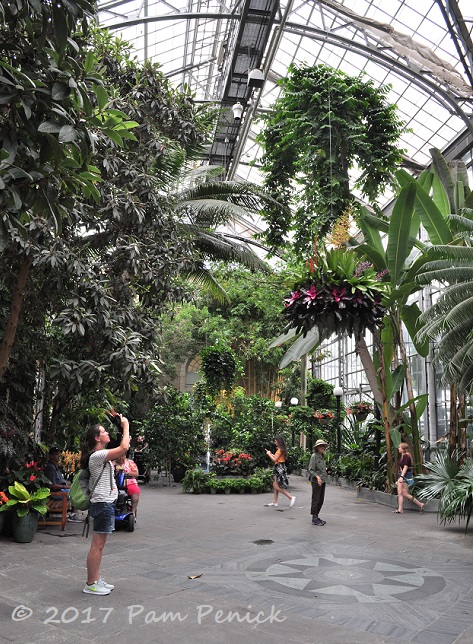 The Botanic Garden's centerpiece is a large conservatory, which we toured rather quickly, as we were nearly out of time.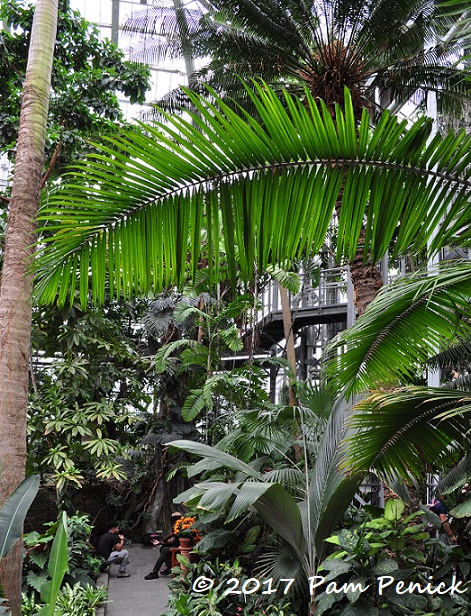 I've never been a big fan of conservatories, preferring outdoor gardens, but I enjoyed our quick pass through the various collections.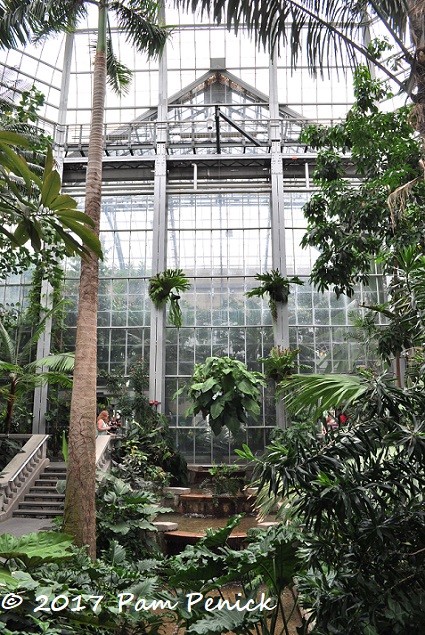 It must be lovely to come here in the winter.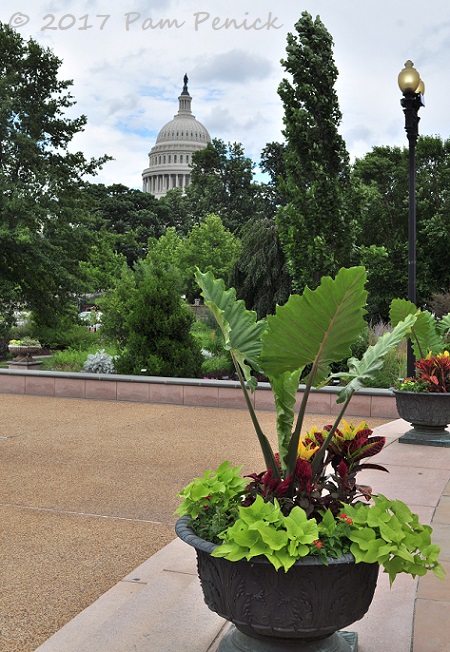 I've visited D.C. at least a half-dozen times over the years, but this was the first time I'd toured the gardens rather than monuments and museums. Unlike some bloggers who stayed extra days, I wasn't able to visit any of the iconic monuments on this trip. That felt strange, but the Mall gardens were interesting and worth a visit. And I'm sure I'll be back one day — if for no other reason than to see those famous cherry trees in bloom.
Up next: A woodland garden of exploration created by Peg Bier. For a look back at the classic garden rooms of designer Scott Brinitzer, click here.
I welcome your comments; please scroll to the end of this post to leave one. If you're reading this in a subscription email, click here to visit Digging and find the comment box at the end of each post.
_______________________
Digging Deeper: News and Upcoming Events
Get on the mailing list for Garden Spark Talks. Inspired by the idea of house concerts, I'm hosting a series of garden talks by talented designers and authors out of my home. Talks are limited-attendance events and generally sell out within just a few days, so join the Garden Spark email list for early notifications. Simply click this link and ask to be added.
All material © 2006-2017 by Pam Penick for Digging. Unauthorized reproduction prohibited.
posted in
Agaves
,
Birds
,
Botanic/Public Gardens
,
Bridges
,
Conservatory
,
Containers
,
Fling DC/VA
,
Fountains
,
Garden art
,
Garden tours 2017
,
Grasses
,
Native plants
,
Palms/Cycads
,
Paths
,
Ponds
,
Public art
,
Rivers & creeks
,
Sculpture
,
Shrubs
,
Succulents
,
Summer color
,
Travel
,
Trees
,
Tropicals
,
Views
,
Walls
,
Water features
,
Water gardening
,
Wildflowers
,
Wildlife
,
Xeric plants