March 27th, 2015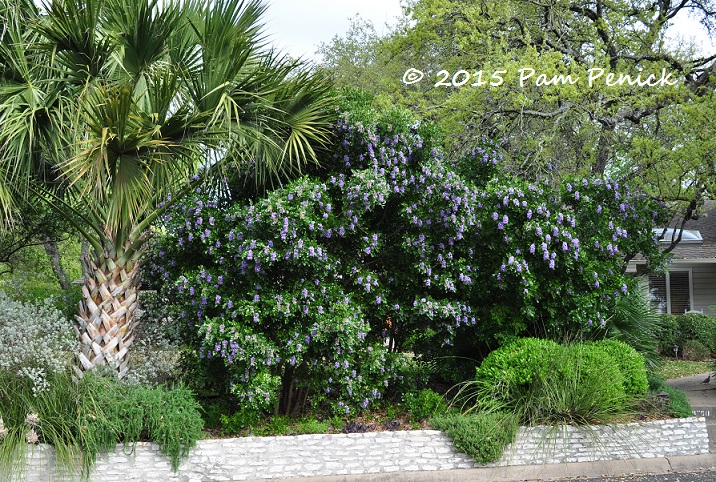 Can you detect a scent of grape Kool-Aid through your screen? I wouldn't be surprised if you could. Austin's enjoying a banner year for the fragrant, wisteria-like blooms of our native Texas mountain laurel (Sophora secundiflora).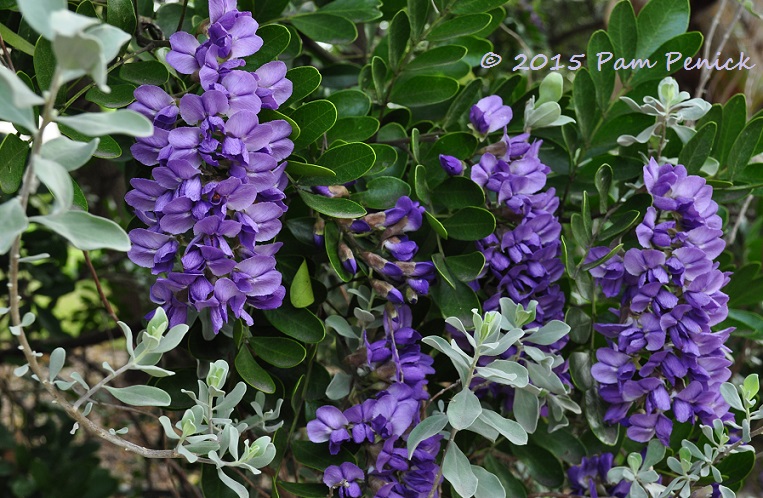 This is the tree that helped sell me on Austin, as it was in full bloom when my husband and I first visited. In my 21 years of living here, I can't recall the mountain laurels blooming better than they are right now. Each cascading purple flower cluster sends you right back to childhood with an intense, grapey fragrance.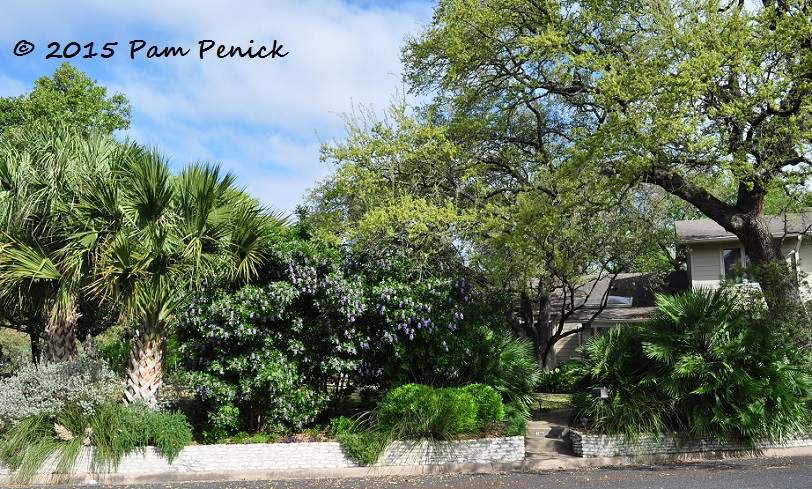 And few gardens could have a more bounteous display than this Westover Hills home that I drive past every school day. This is a wider view of the scene pictured at top: a well-established, xeriscape garden composed of low-maintenance shrubs, trees, and palms, which shelter a small front lawn and provide privacy on a busy corner lot.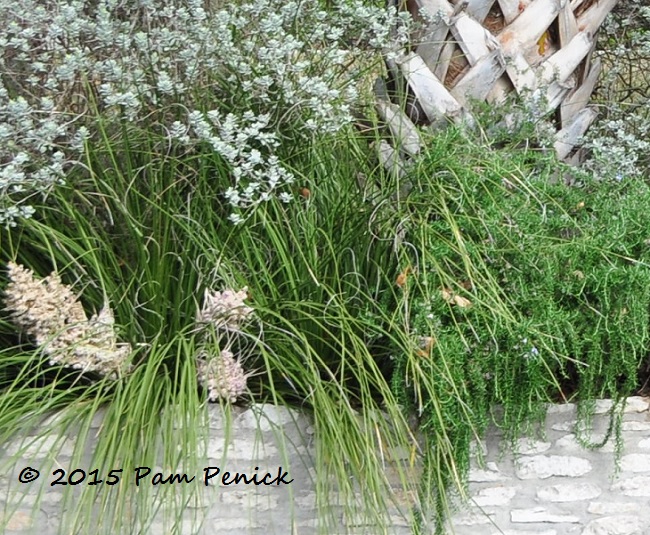 I've long admired the garden's collection of mature natives like grassy Texas nolina (N. texana), currently in bloom; tall palmettos (Sabal texana) with cross-hatched trunks; and airy, silver cenizo (Leucophyllum frutescens).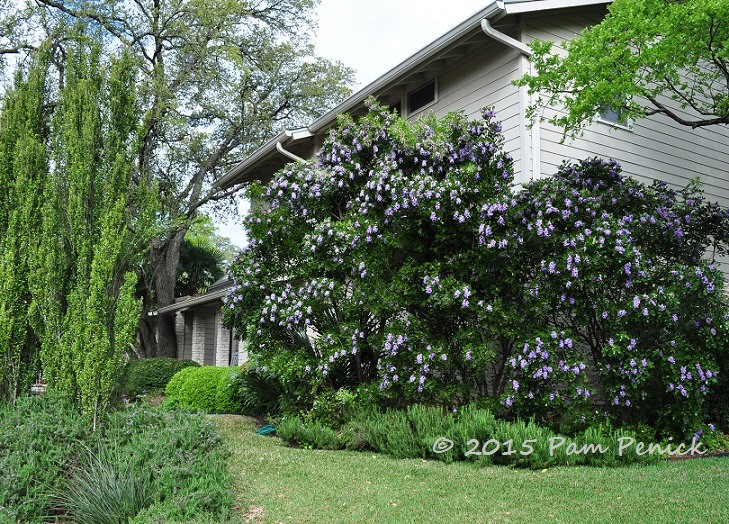 A majestic screen of 'Will Fleming' yaupon hollies (Ilex vomitoria 'Will Fleming') is nice too. But wow, the mountain laurels! These are slow-growing trees, requiring years of patience and careful pruning to achieve this cascading form. So many people overprune Texas mountain laurel, leaving just a fluff of foliage on the top third of the tree. But I prefer a fuller look, and leaving some lower branches lets you get your nose in for a good sniff.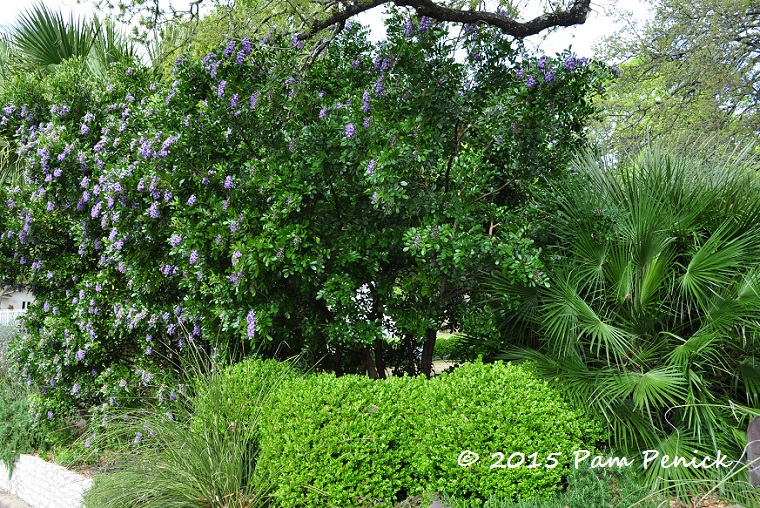 Just walking down the street gave me a pretty good whiff yesterday morning. Here, by the front walk, dwarf yaupon holly and Mediterranean fan palm (Chamaerops humilis) add more evergreen texture and contrasting form. As you might have guessed, deer tend to leave all of these alone.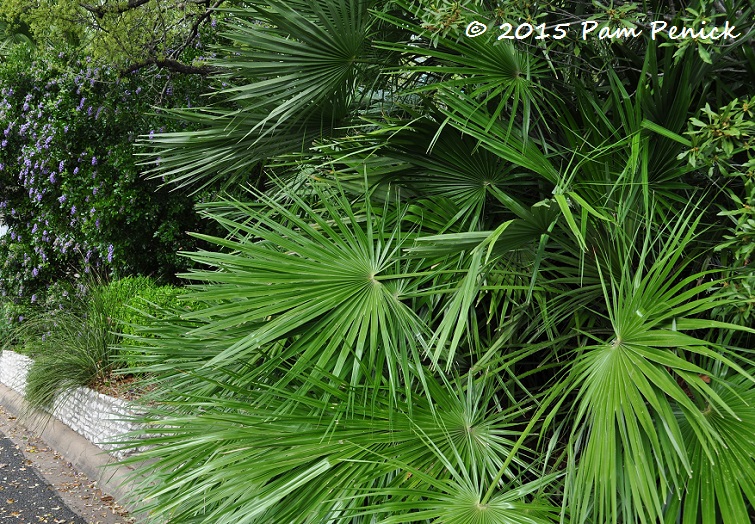 Fan dance!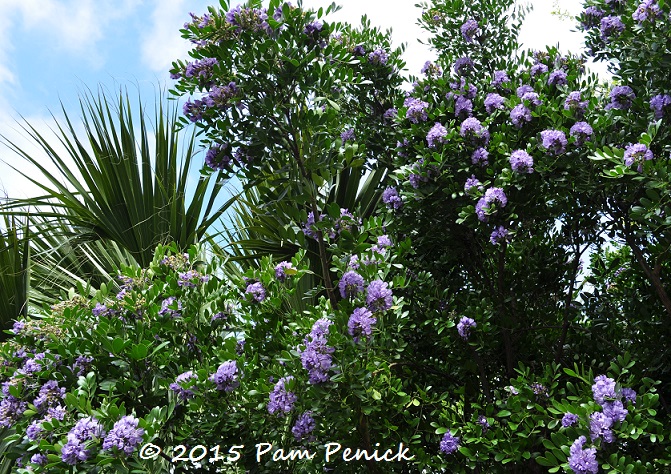 Looking up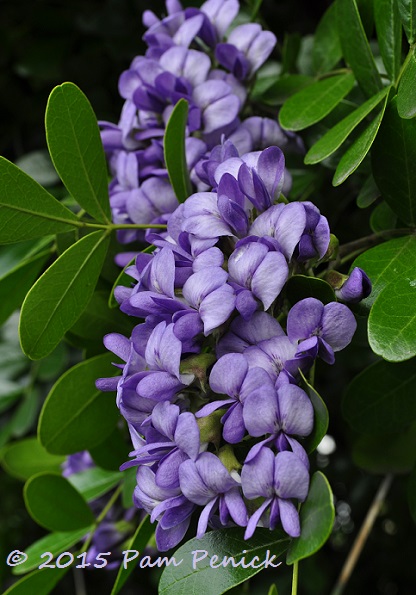 Leaning in. Hey, Kool-Aid!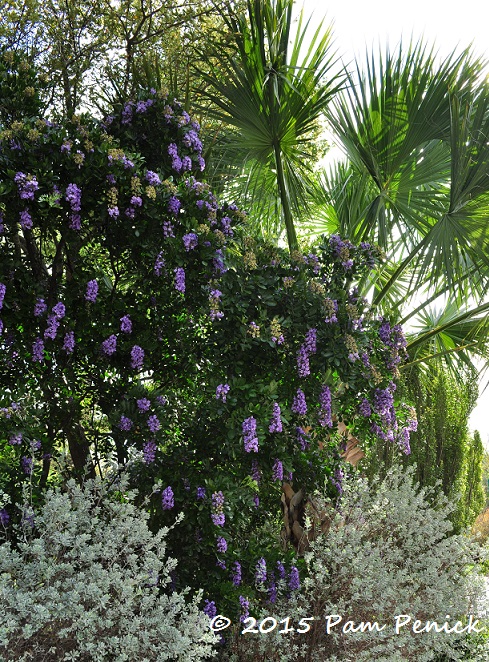 Layering with cenizo, Texas mountain laurel, and palmetto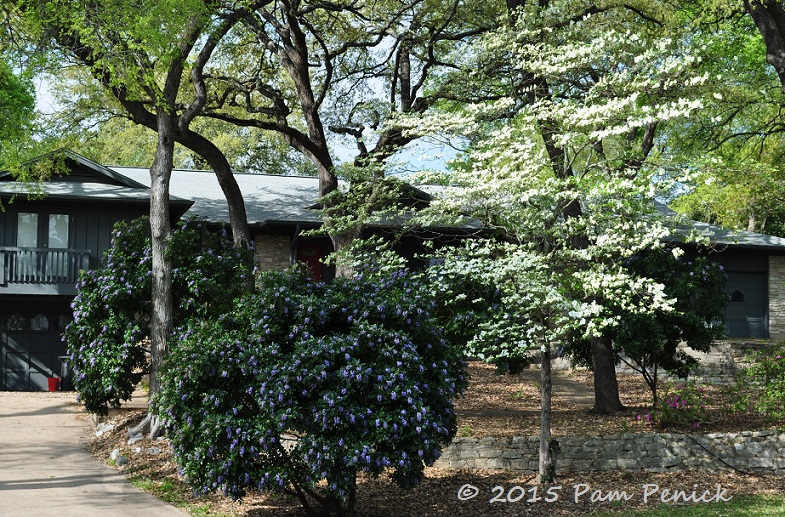 On the other side of the street, unlikely bedfellows happily bloom side-by-side: Texas mountain laurel and flowering dogwood (Cornus florida), a small ornamental tree commonly planted in the Southeast but not this far west. Like azaleas, dogwoods prefer acidic soil, not the rocky, alkaline crumble we call soil. And yet here it grows — several of them, in fact, with a couple more in the neighbors' yards. It just goes to show, never say something won't grow here.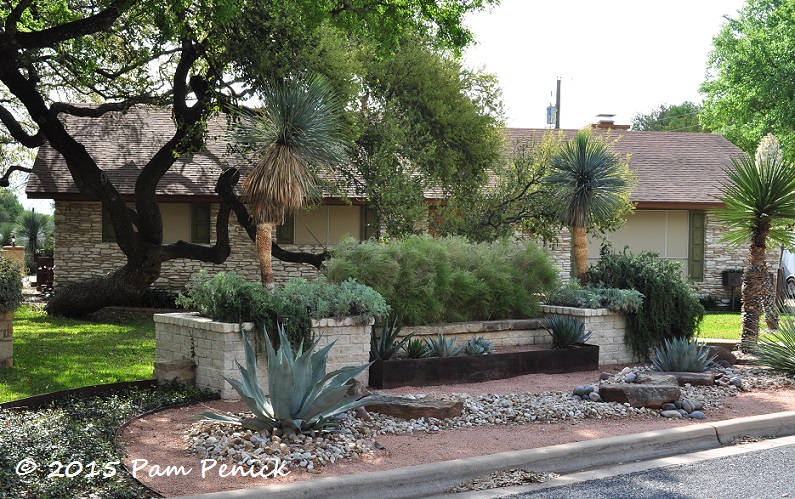 Around the corner I spotted this interesting xeriscape garden. Stone planter boxes add height to a pair of already towering beaked yuccas (Y. rostrata), while feathery bamboo muhly (Muhlenbergia dumosa) softens the midsection. A long steel planter in front holds a collection of agaves, including 'Sharkskin', New Mexico agave (I think), and Agave parryi var. truncata. More agaves and yuccas anchor an undulating, stream-like bed of river rock. There's a lot going on, but kudos to them for going water-wise and going bold. No timid efforts here!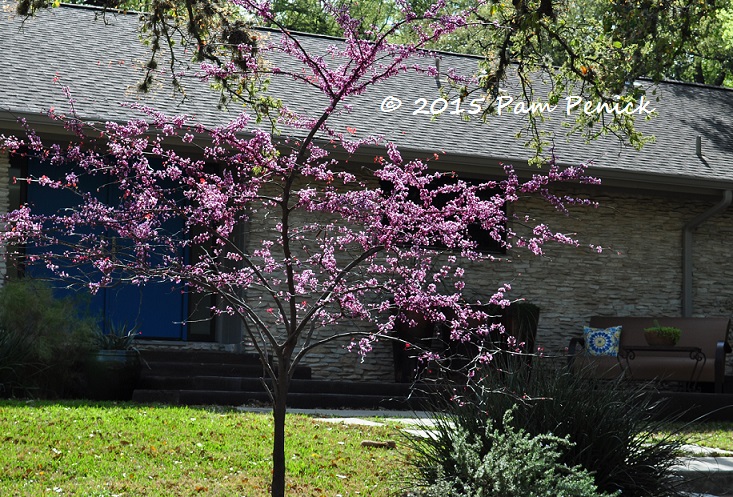 Heading south I spotted a sweet, solitary redbud (Cercis canadensis var. texensis) in full bloom against a cobalt front door.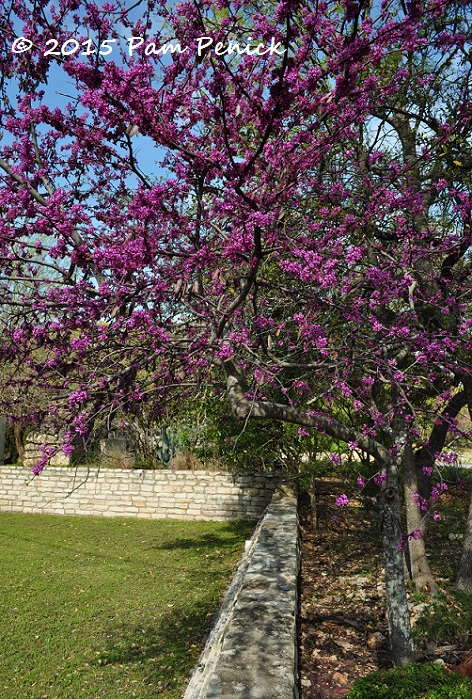 And another one, a deeper pink, at a business park. In another few days the redbuds will be putting on fresh green leaves, and the flowers will fade.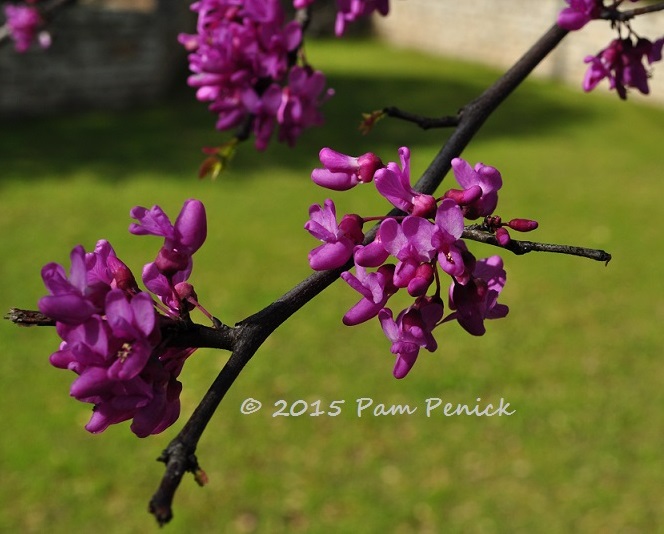 But right now it's spring perfection.
My thanks to everyone who's voted for Digging in the Better Homes and Gardens 2015 Blogger Awards. Voting ends this Sunday, and the Gardening category is now listed first, so it's easier than ever. I was told that you don't have to click all the way through the other categories for your vote to count. Thanks as always for your support!
All material © 2006-2015 by Pam Penick for Digging. Unauthorized reproduction prohibited.
posted in
Agaves
,
Containers
,
Drive-By Gardens
,
Flowers
,
Grasses
,
Palms/Cycads
,
Pruning
,
Rock
,
Shrubs
,
Spring color
,
Texas natives
,
Trees
,
Walls
,
Water-Saving Garden
,
Xeric plants
,
Yuccas