April 28th, 2015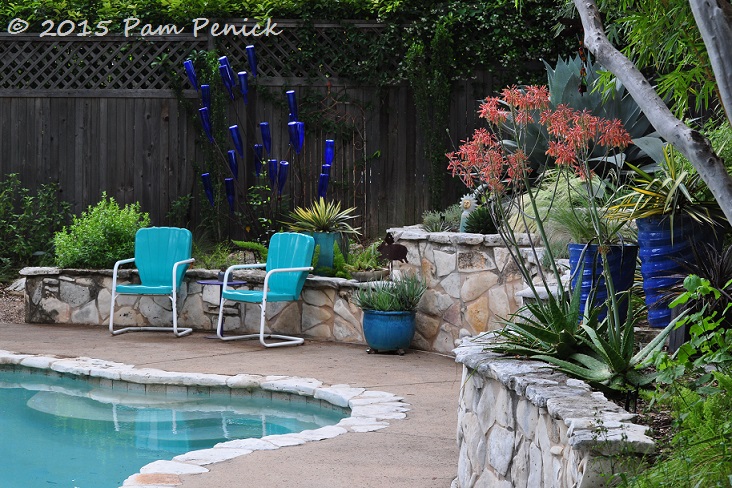 After weeks of live oak litter, first leaves and then pollen catkins, and weeks of me raking, blowing, and bagging, the garden is finally visible again. Sunday evening I went outside with no expectation of doing any spring chore: no clean-up, no pruning, no planting, no mulching, no nothing. It was blissful.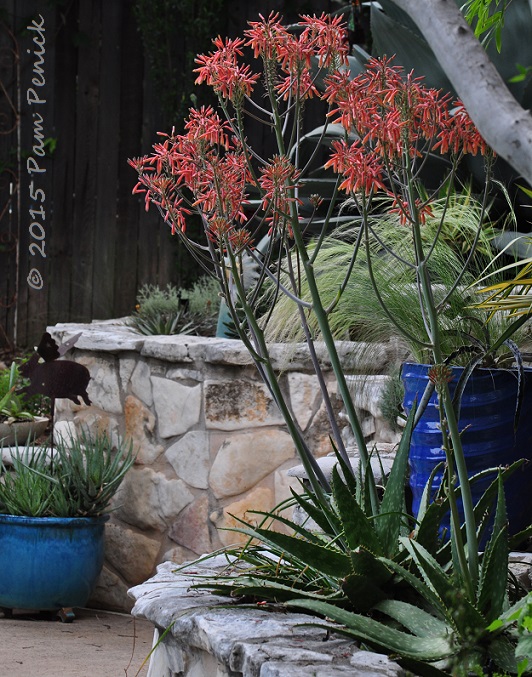 The soap aloes (Aloe maculata) are blooming, which is always special. They'll do this about three times each growing season.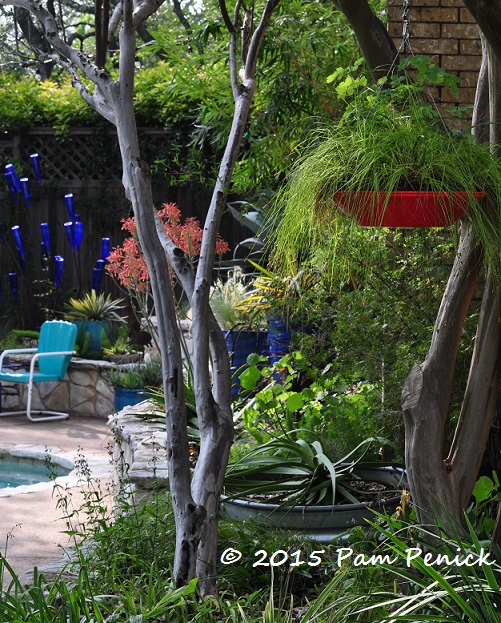 I like how they echo the new orange Hover Dish hanging from the crepe myrtle.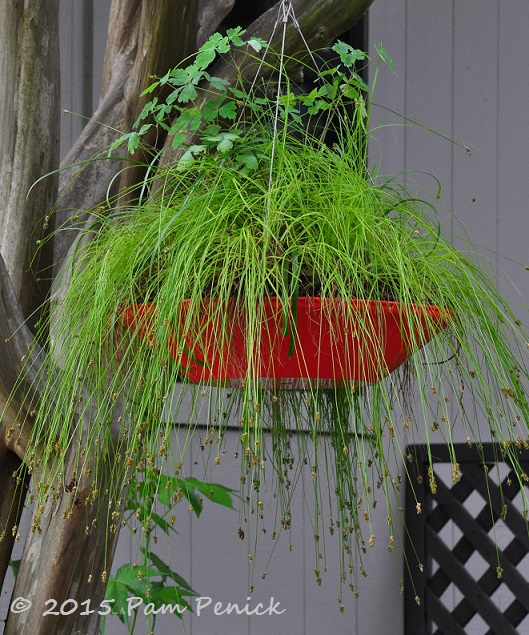 I thought it would be fun to plant it with Texas sedge, and now that it's long and shaggy I'm enjoying the way it dangles its fiber-optic seedheads. Columbine and rain lilies are jammed in there too. I don't know if the columbine is going to do anything this year.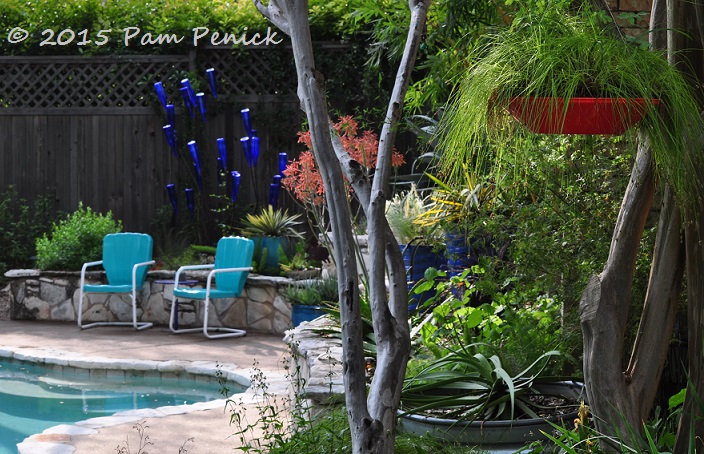 Another wide view, with lots of blue, orange, and yellow-green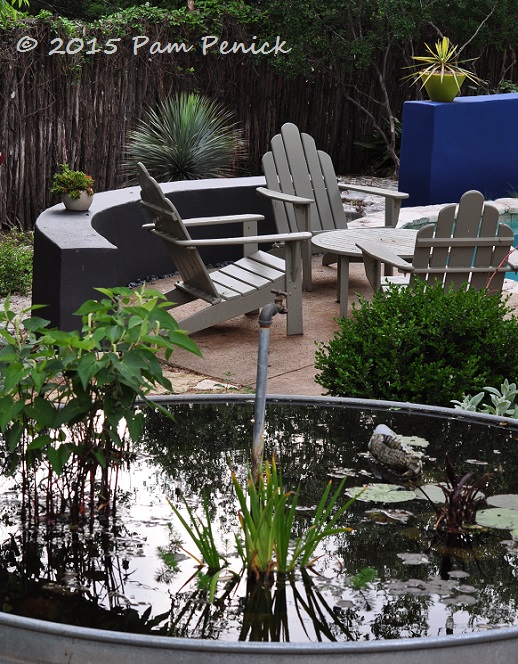 Looking left, the new stucco walls are totally working the space, with the gray wall echoing the curve of the stock-tank pond in the foreground.

Descending to the lower garden along the back fence, I stopped to ogle a bloom spike — the first ever! — on the Acanthus mollis. Those lustrous leaves are pretty fine also. I planted it 4 or 5 years ago, and it's always either been blighted early by drought and heat or else frozen to the ground in winter, returning too late to bloom before summer's heat sets in. But last fall I planted a black beautyberry nearly on top of it, and I guess it got the message that it better start strutting its stuff if it wants to keep a place in the garden.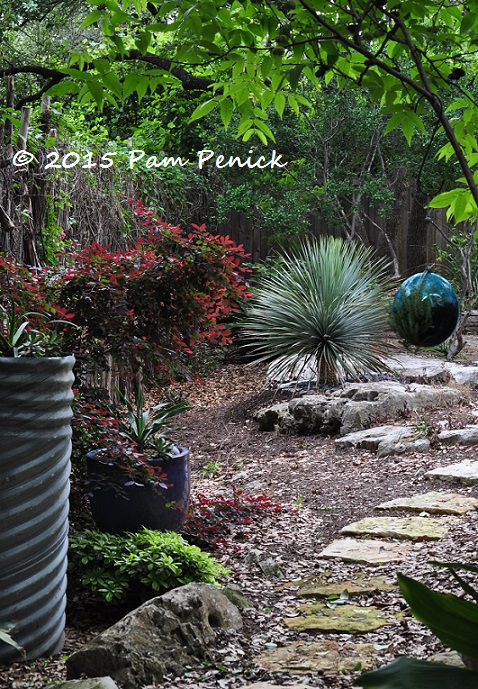 Moving along the stepping-stone path, which leads under the arching branches of a Mexican buckeye, I stopped again to admire the new Yucca rostrata framed by a wine-colored loropetalum and a trio of pots filled with succulents.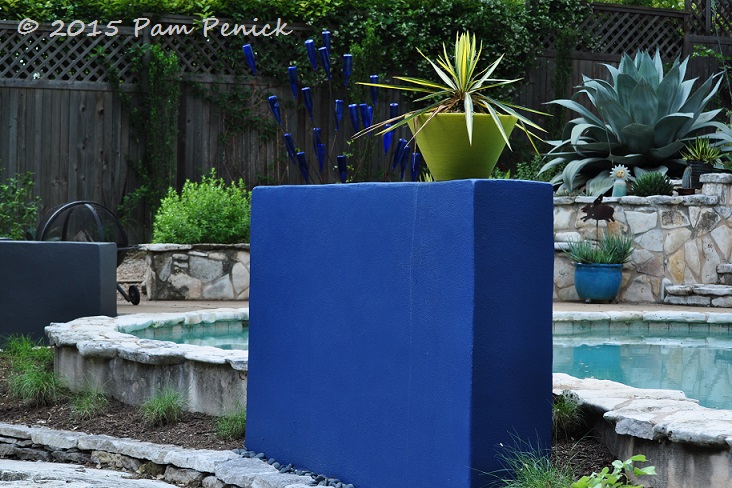 Here's the blue monolith wall from behind. That's Moby atop the stone wall in the background.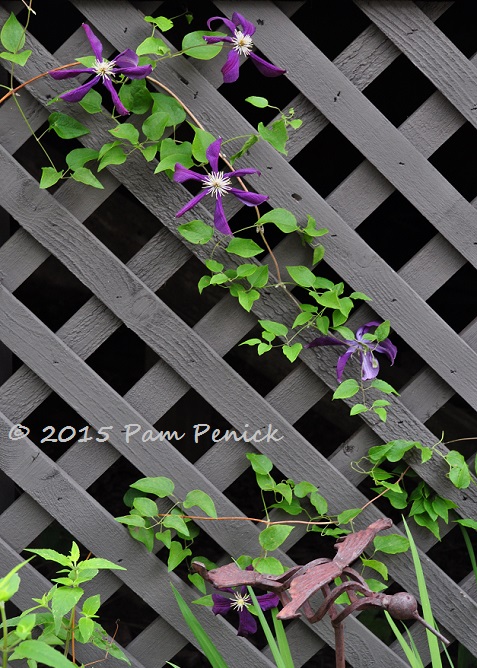 Moving along to the hilly side garden, I realized I haven't taken a picture of this year's 'Etoile Violette' clematis flowering. The blooms are a bit shriveled from the recent heat…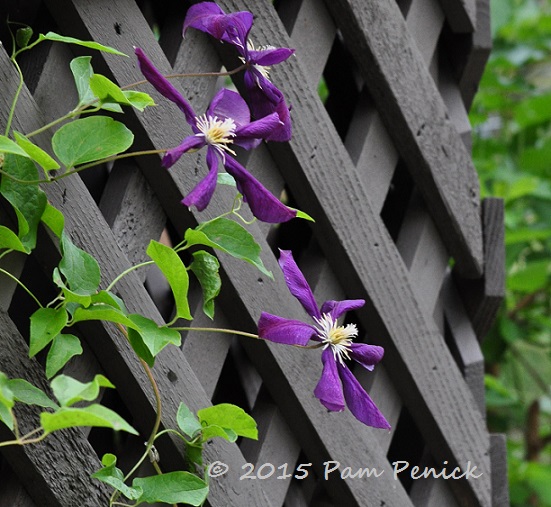 …but still pretty.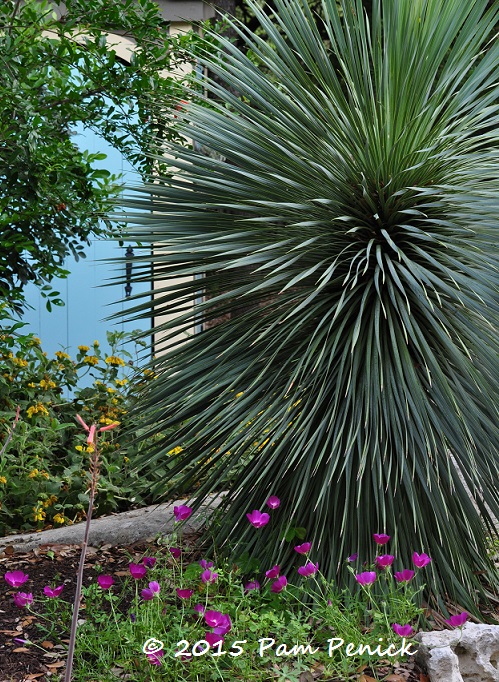 The older Yucca rostrata is growing tall and shaggy. I'm contemplating pruning up the lower leaves to expose the trunk. But probably laziness will win out. Winecup (Callirhoe involucrata) blooms at its feet.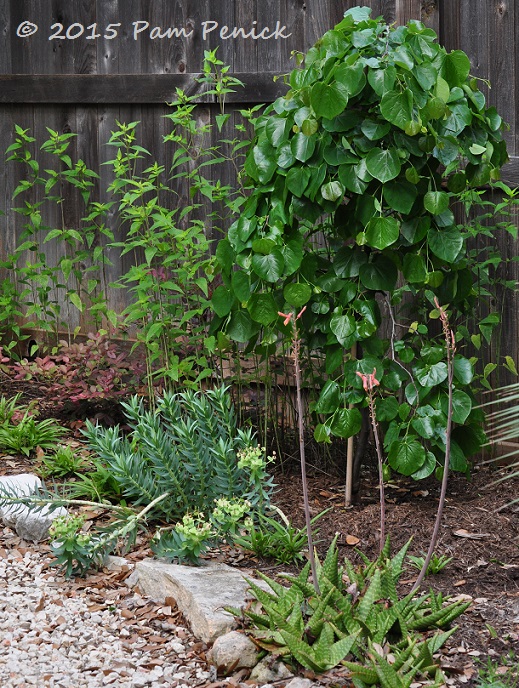 Here's a new acquisition I don't think I've shown: a weeping 'Traveller' redbud, which I ordered from Vivero. It arrived after the spring bloom, so that's something to look forward to next year. According to grower Greenleaf Nursery, 'Traveller' grows to 5 feet tall with a spread of 5 to 12 feet.
Dan Hosage of Madrone Nursery discovered this weeping variety of the native Texas tree. He named it 'Traveller', according to Madrone's website, in honor of Robert E. Lee's horse and in tribute to his alma mater, Washington and Lee University.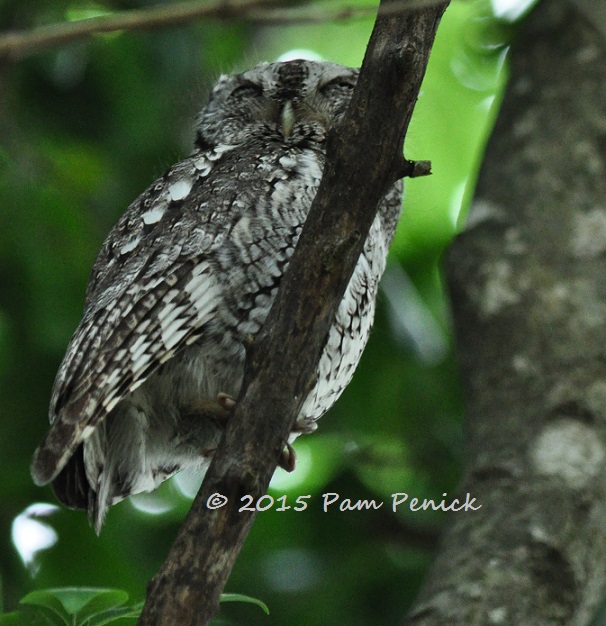 A garden stroll wouldn't be complete at this time of year without checking in with Papa Screech Owl, who hangs out during the day in a ligustrum just behind the back fence.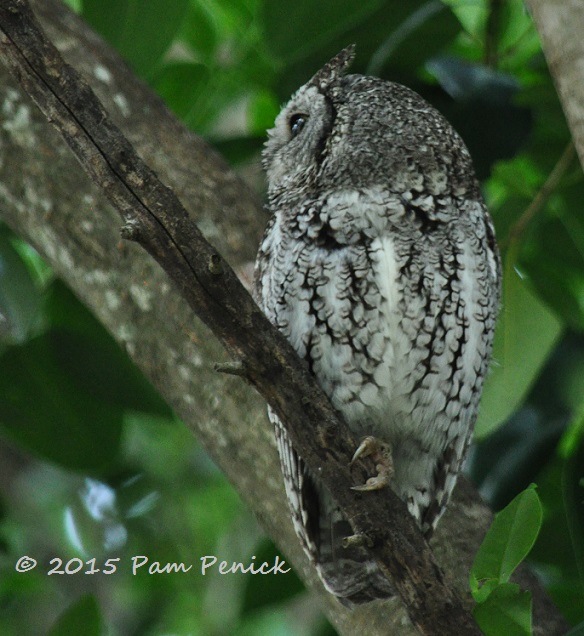 Evening was setting in, and he was waking up and probably thinking about breakfast for himself and the missus.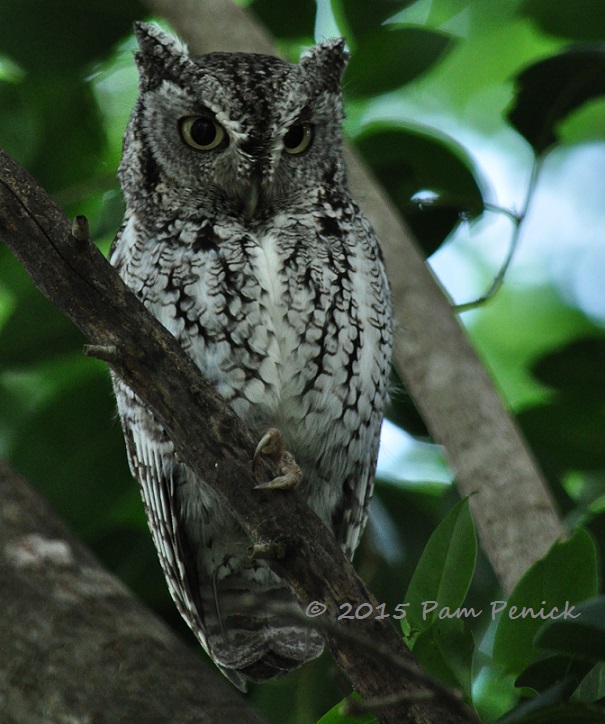 What a handsome fellow!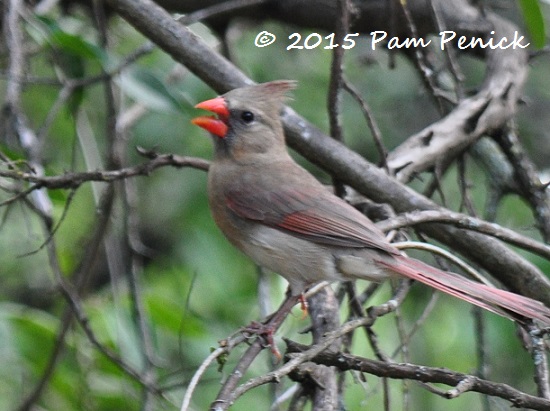 There was plenty of other bird activity as well, including this insistently chirping juvenile cardinal. She looked quite big enough to feed herself…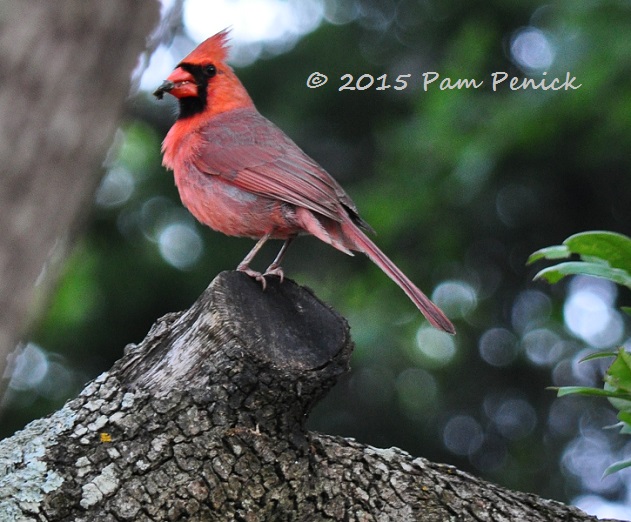 …but Papa was waiting nearby with a tasty snack.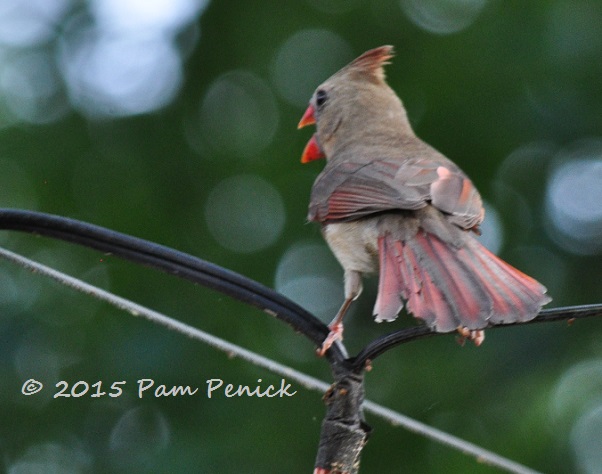 "Feed me!"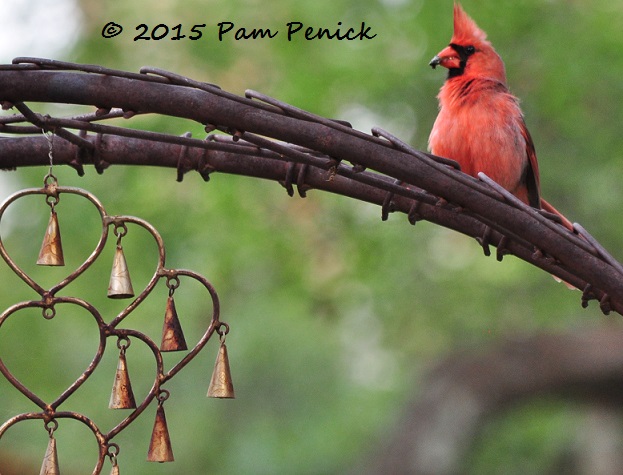 "Come to the dinner table, missy!"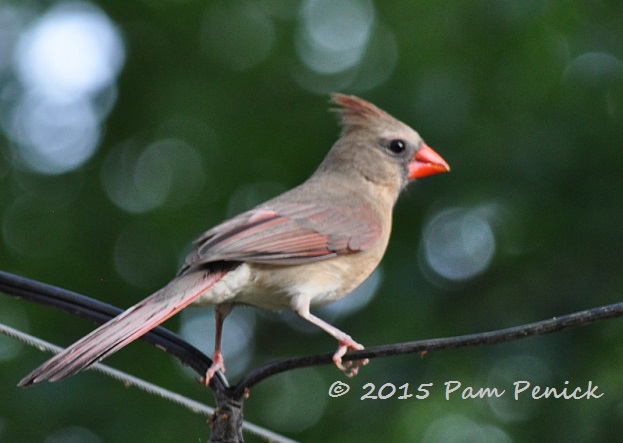 "But I'm playing!"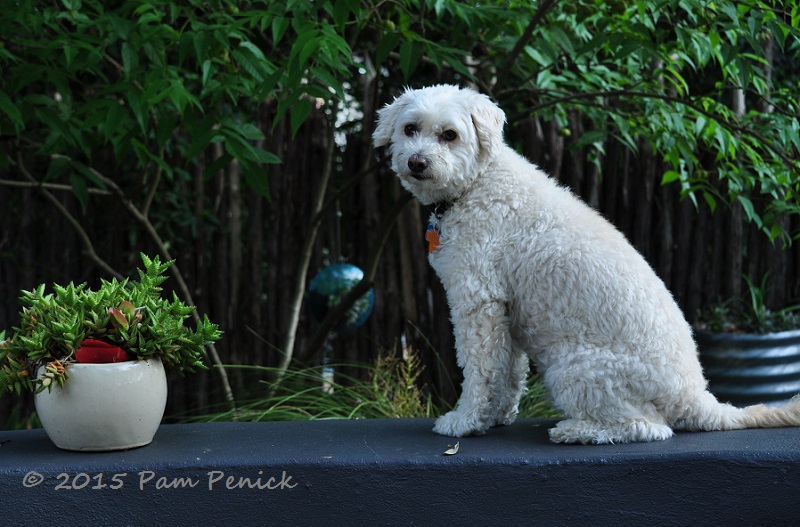 Cosmo and I watched these antics until it was time to get dinner ourselves. And oh yes, Cosmo is certain I had the walls built just for his lounging pleasure.
All material © 2006-2015 by Pam Penick for Digging. Unauthorized reproduction prohibited.
posted in
2nd garden--2015
,
Agaves
,
Aloes
,
Arbors
,
Birds
,
Bottle tree
,
Containers
,
Dogs
,
Garden art
,
Grasses
,
Lawn Gone!
,
Paths
,
Patios & decks
,
Ponds
,
Seating
,
Shrubs
,
Stock tanks
,
Succulents
,
Trees
,
Vines
,
Walls
,
Wildflowers
,
Wildlife
,
Xeric plants
,
Yuccas