July 21st, 2016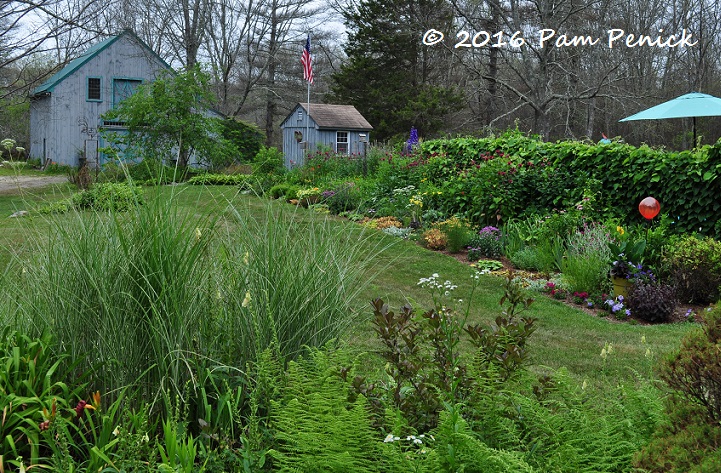 Wherever I travel these days, I seem to know a garden blogger who lives there. That's partly because I've been blogging and reading blogs for a decade and partly because I've gotten to know lots of bloggers in person through years of attending the annual Garden Bloggers Fling. (I just got home from the Minneapolis Fling and will have posts about it soon.)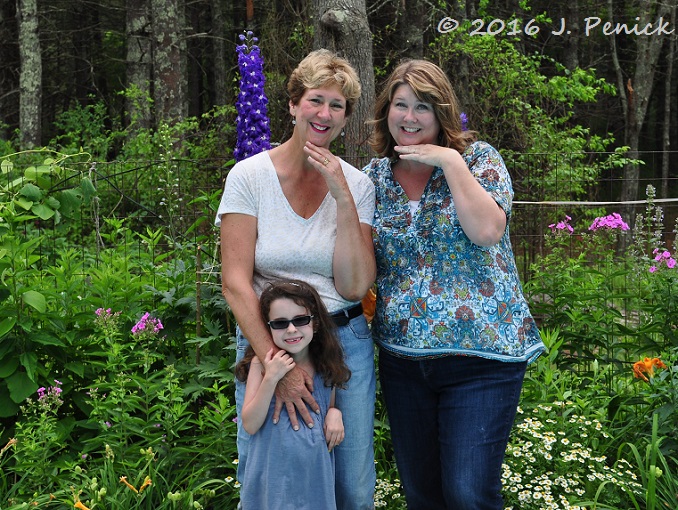 So a couple of weeks ago, when my daughter and I flew up to Providence, Rhode Island, to visit Brown University, I was excited to realize we'd be just a 40-minute drive from blogger Layanee DeMerchant's home. Layanee's been blogging at Ledge & Gardens for about 10 years, and I was thrilled to finally see her garden in person. Getting to meet her adorable granddaughter, Hailey, was a bonus! The occasion called for a silly photo, although Hailey wisely remained dignified.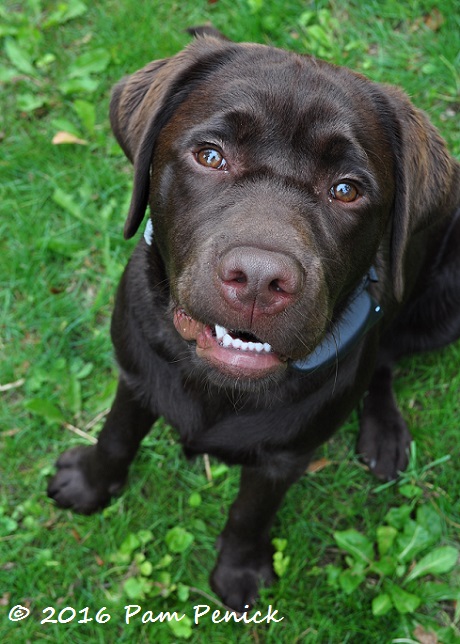 And then there's Gibbs. Gibbs! The biggest loverboy of a chocolate lab you've ever seen. He wanted to be in our laps every time we sat down and give us hugs every time we stood up. Who could resist that face? Not me.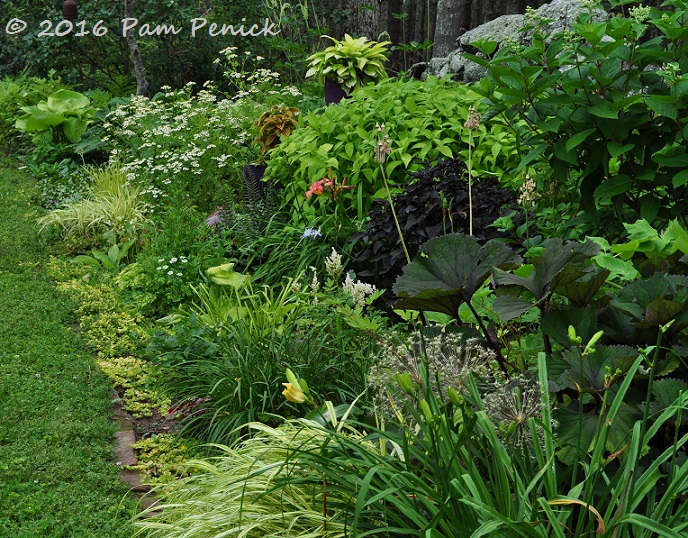 Although I'd read about Layanee's garden many times on her blog, its rural location somehow caught me by surprise. Layanee and her husband — "The Equipment Manager," as she's dubbed him — live out in the country on a gravel lane.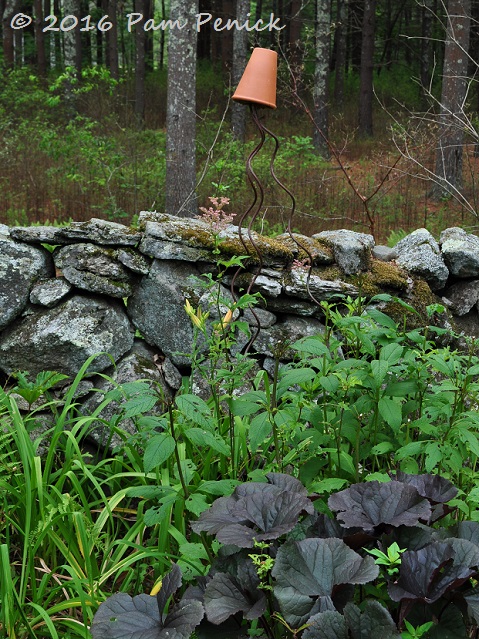 Surrounded by woods, with old fieldstone walls marking the property line…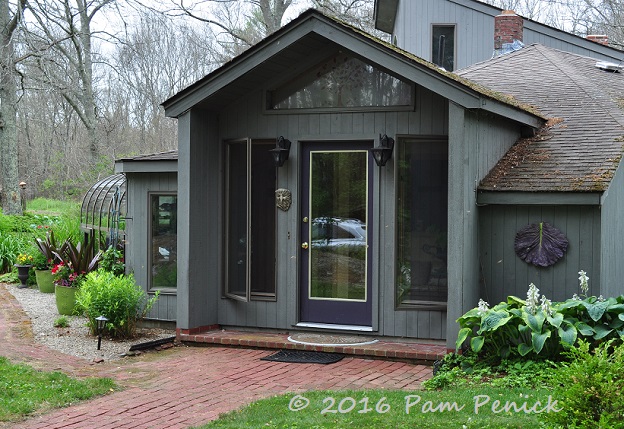 …the garden is a burst of color and texture in a large clearing around their contemporary home. The eggplant-purple of the front door is repeated in a cast-stone leaf on the wall…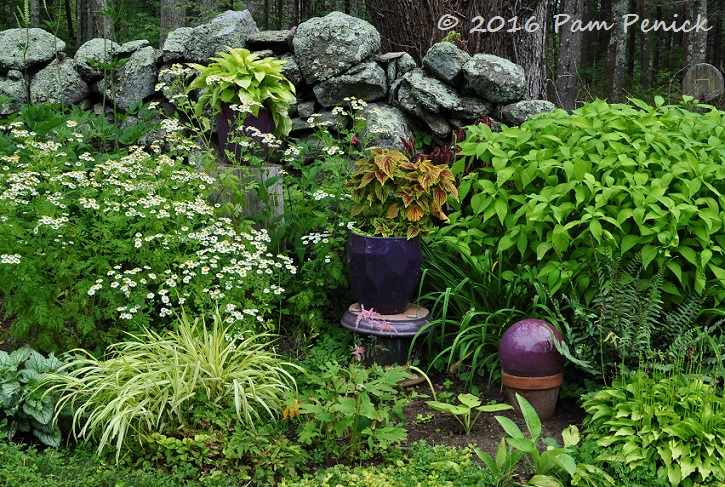 …and in containers and even a bowling ball set amid lush perennials.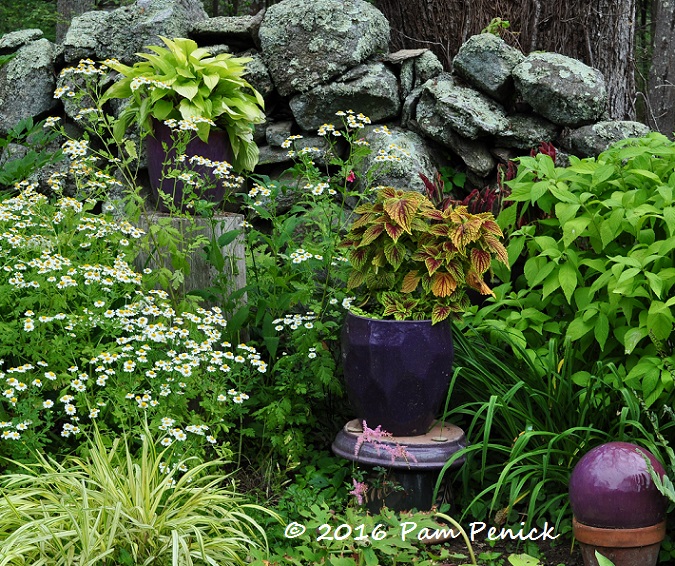 A fun purple trio

Daisies and variegated Japanese forest grass

Daylilies and clematis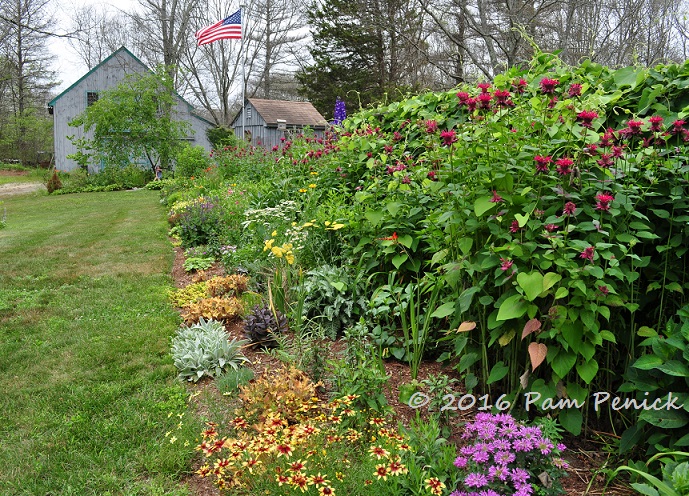 A swimming pool sits in the center of Layanee's lawn, but you'd never know it was there at first glance. A wire fence surrounding the pool is layered with climbing vines and flowering perennials, making a colorful long border that leads your eye to a big barn and shed.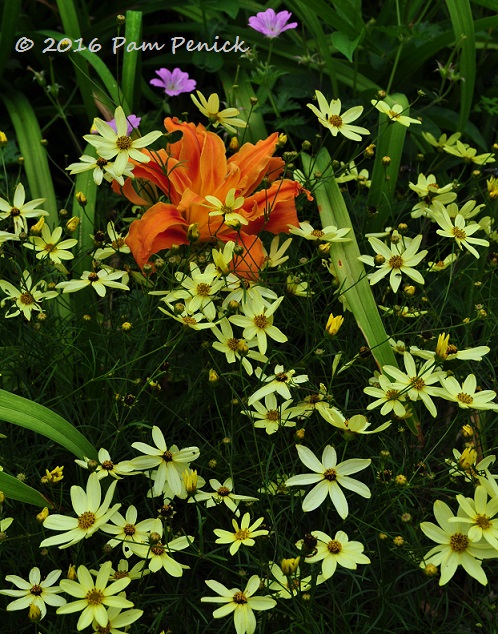 Daylily and coreopsis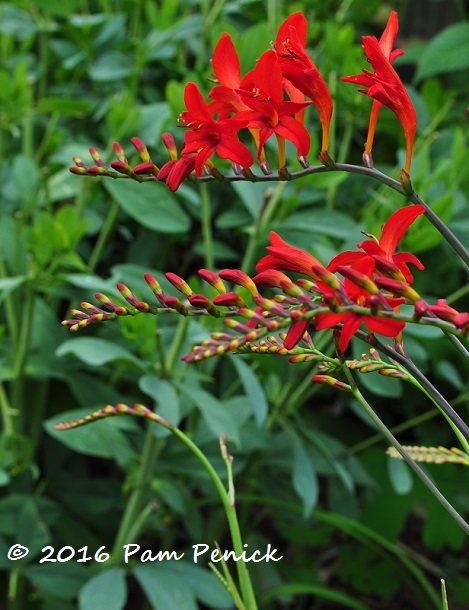 'Lucifer' crocosmia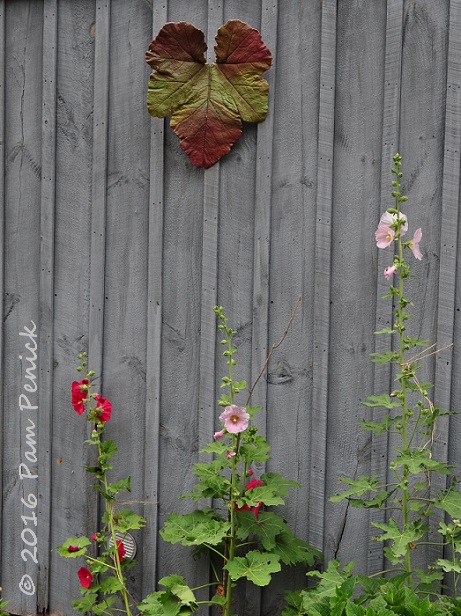 Another cast-stone leaf adorns the shed wall, where pink and red hollyhocks echo the upright lines of the battens.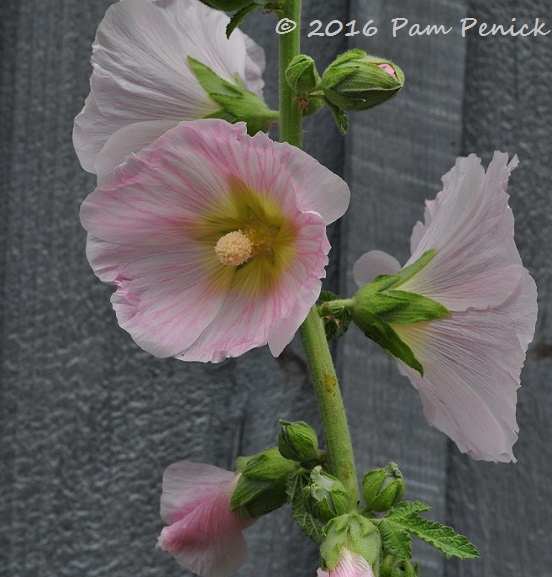 Tissue-soft, pink-veined petals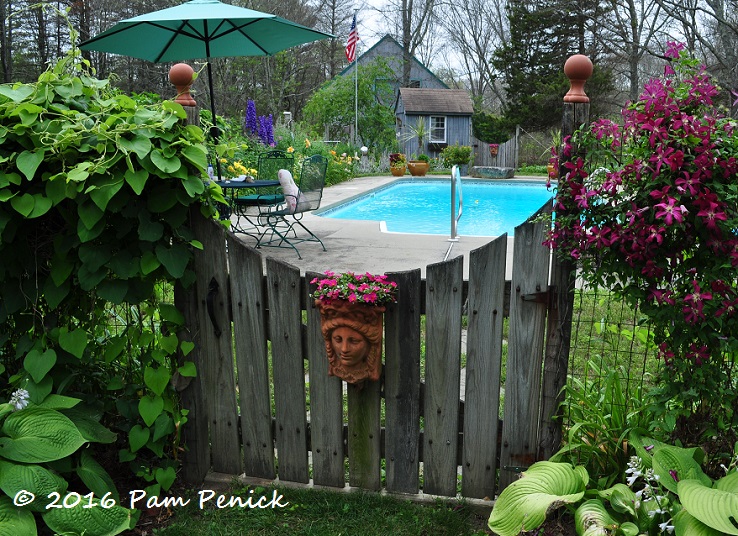 At each end of the pool, a half-moon gate invites you to enter with a terracotta face planter wearing a hot-pink flowery crown.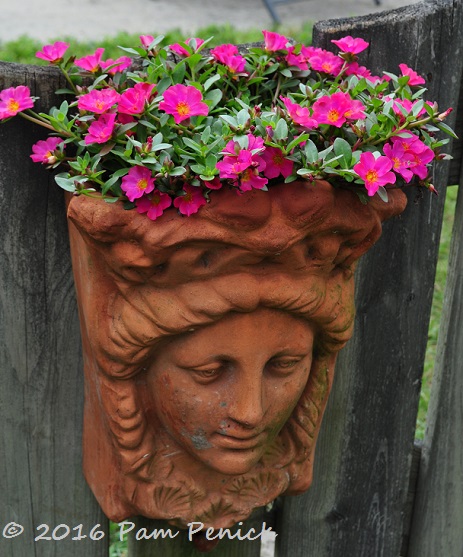 The lady on one gate…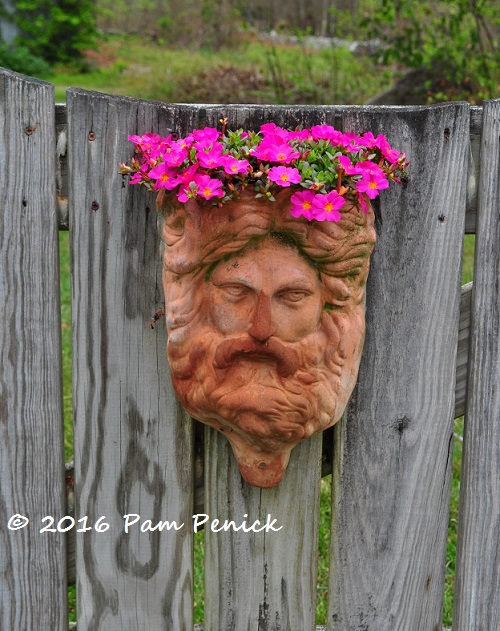 …and the gentleman on the other.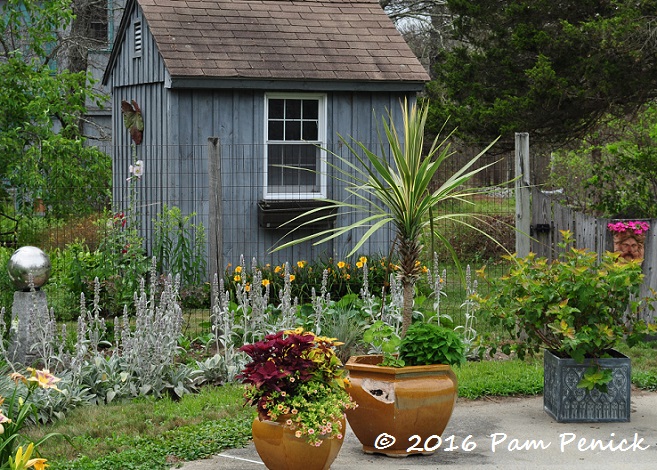 This potted yucca surprised me! Not what I expected to see in a New England garden. It would be at home in Austin.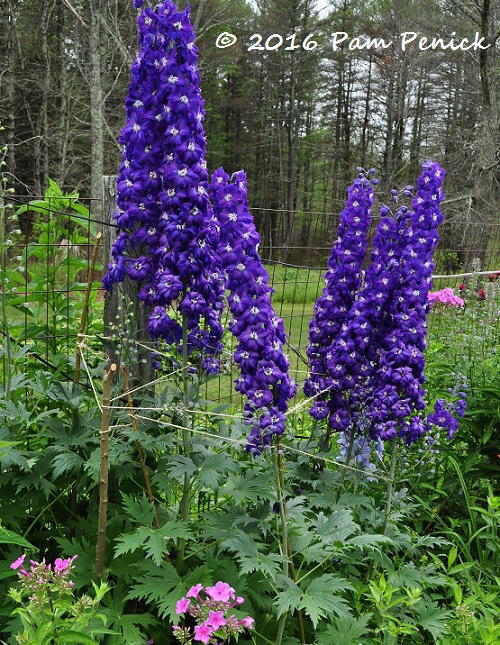 Delphiniums, on the other hand, are exotic to these Southern eyes.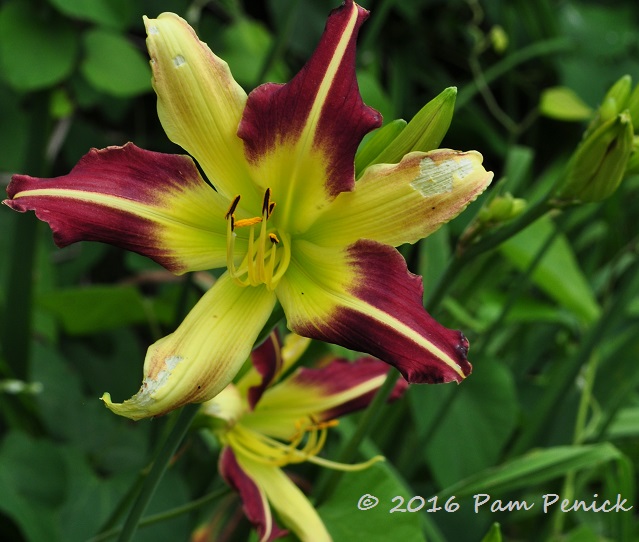 We can both grow daylilies though.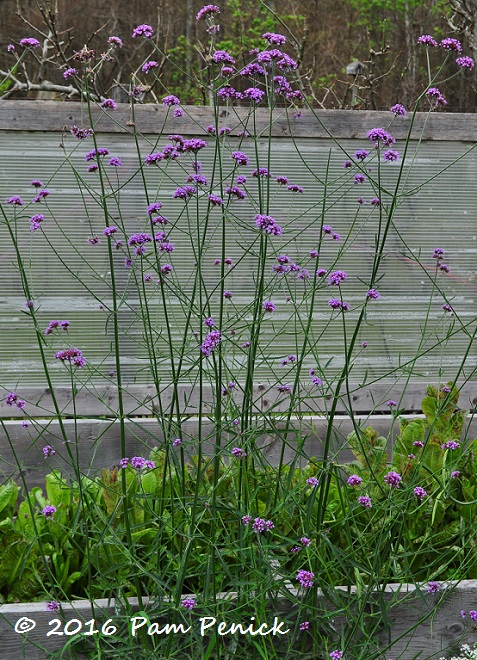 Verbena bonariensis too, although I expect it's an annual for Layanee.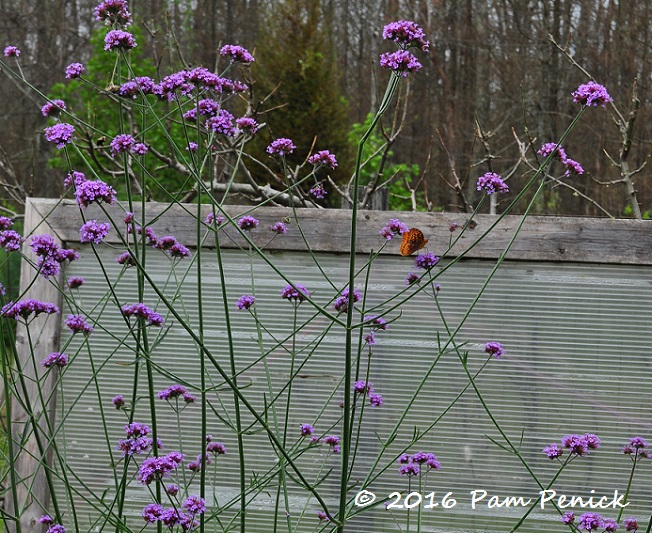 The butterflies had found it, of course.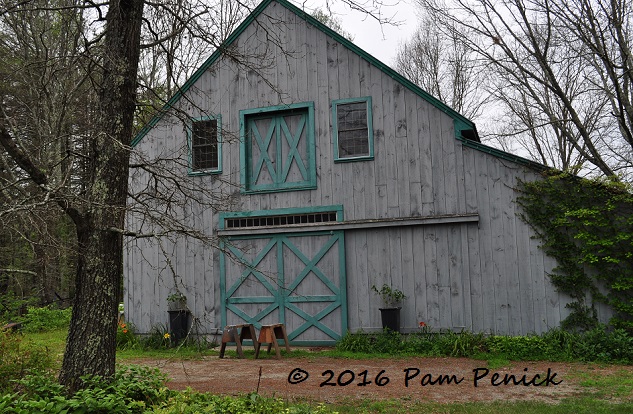 I haven't yet mentioned the moths. Rhode Island had experienced an unfortunate plague of gypsy moth caterpillars in June, and Layanee's garden was hard-hit. The caterpillars stripped the trees bare, turning a summer vista into a strange pantomime of winter when you looked up.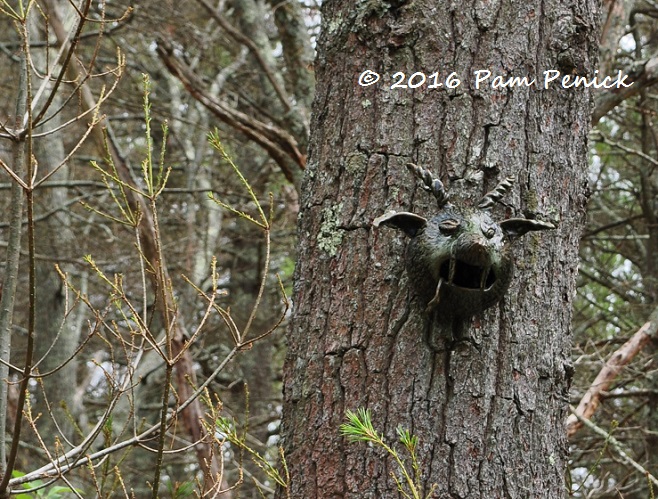 Not even conifers were spared. Layanee had lost a few beautiful trees and shrubs.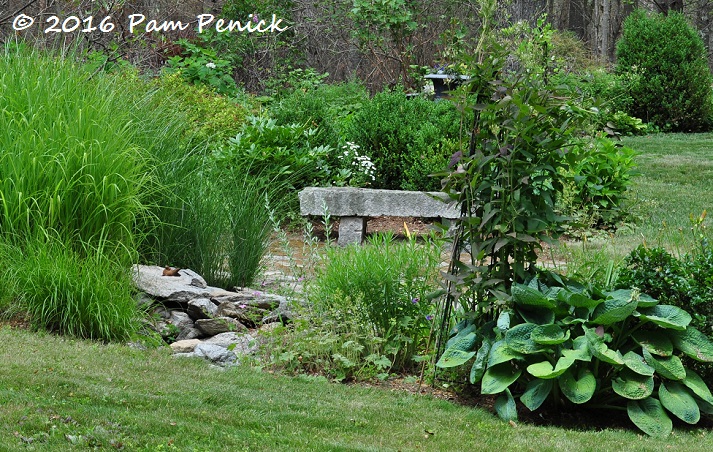 By the time I visited in early July, the caterpillars had become moths, and the air at ground level danced with their fluttering wings. As we walked through the garden, the moths bumped into our heads and bodies.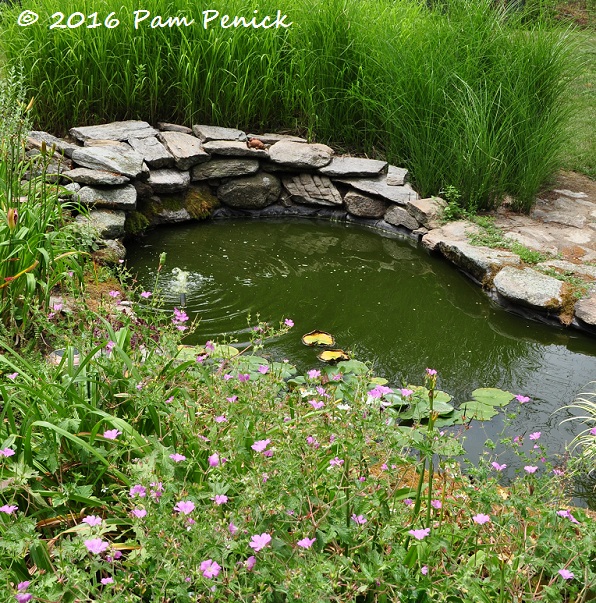 We snatched a few out of the air and tossed them to the goldfish in Layanee's pond, who snapped them up. It was small revenge for all the damage they'd inflicted on her garden. But she was philosophical about the losses, and already the first glimmers of new green leaves were appearing amid the branches.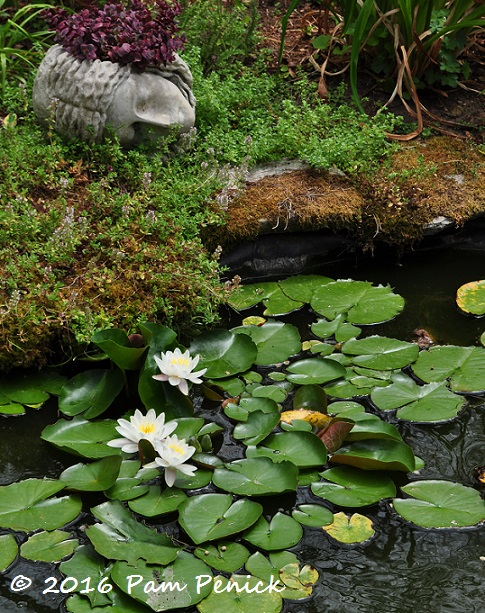 It's a testament to the variety and lushness of her garden that, had it not been for the stripped trees, I wouldn't even have noticed the damage. As the gardener, she could probably see nothing else.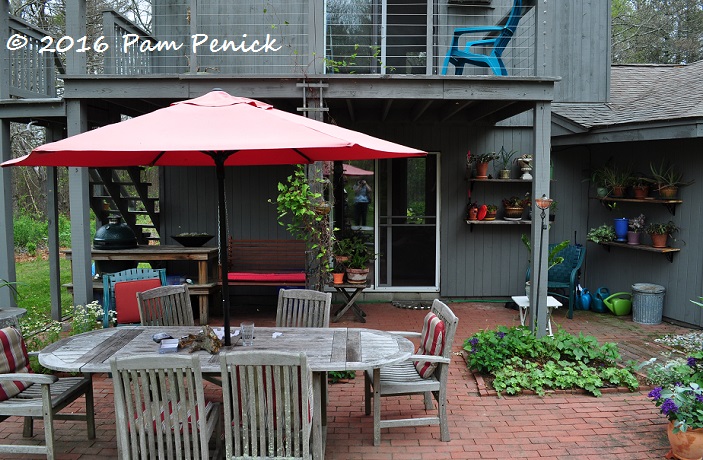 One of the things I love about Layanee is her wry sense of humor, and even a plague of gypsy moths can't keep her down. We enjoyed a lovely long talk under the umbrella on her patio.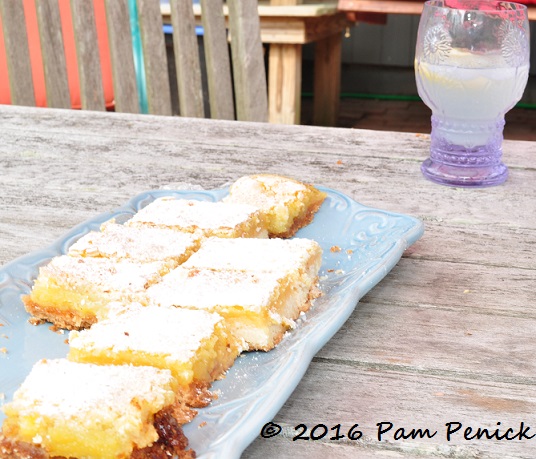 And homemade refreshments too: lemon bars and lemonade. Delicious!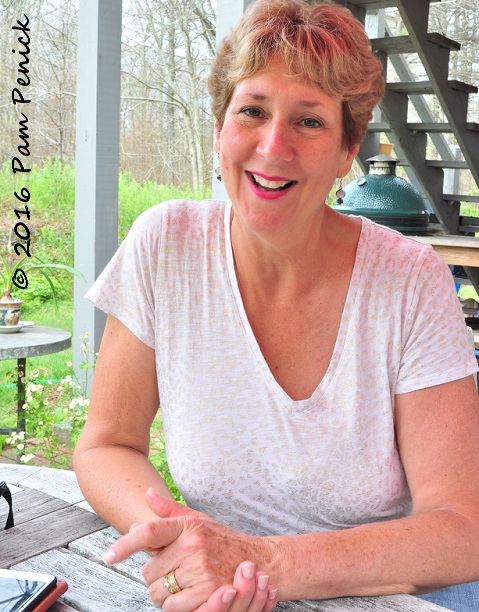 Thank you, Layanee, for the delightful garden visit! I loved meeting your family and Gibbs and seeing the magical place you've created. And it was fun to see you again the following week at the Minneapolis Fling!
Up next: The magical WaterFire festival in downtown Providence.
I welcome your comments; please scroll to the end of this post to leave one. If you're reading this in a subscription email, click here to visit Digging and find the comment box at the end of each post.
_______________________
Digging Deeper: News and Upcoming Events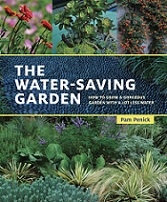 Do you review? Have you read my new book, The Water-Saving Garden? If you found it helpful or inspirational, please consider leaving a review — even just a sentence or two — on Amazon, Goodreads, or other sites. Online reviews are crucial in getting a book noticed. I really appreciate your help!
All material © 2006-2016 by Pam Penick for Digging. Unauthorized reproduction prohibited.
posted in
Annuals
,
Butterflies/Moths
,
Containers
,
Daylily
,
Decor
,
Dogs
,
Garden art
,
Garden blogging
,
Garden structures
,
Garden tours 2016
,
Gates
,
Grasses
,
Patios & decks
,
Ponds
,
Rock
,
Seating
,
Sheds
,
Succulents
,
Swimming pools
,
Travel
,
Trees
,
Vines
,
Walls
,
Water features
,
Water gardening
,
Yuccas