April 25th, 2016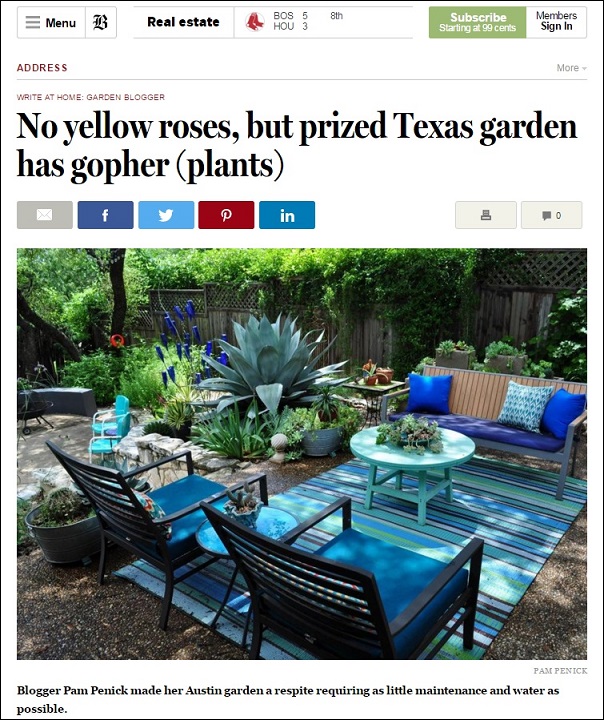 "When Spotlight won Best Picture," I asked the Boston Globe reporter the day after the Oscars, "did you celebrate?" Heather Ciras was interviewing me for a non-investigative story (thank goodness) about gardening and blogging. The night before, I'd been happy to see my favorite movie of 2015 — a true story about the Globe's 2001 investigation of a cover-up in the Catholic Church, and an excellent film — get the top award.
"I worked the Oscars, manning our social media, so it was very cool when Spotlight won," she replied, "especially since we didn't think it would. There were some cheers, then we got right back to work because we were on deadline." I admit it: I couldn't help picturing actors Mark Ruffalo and Rachel McAdams hard at work, following leads and sniffing out cover-ups.
With Spotlight fresh in my mind, I felt a bit awed to be contacted by a Globe reporter. She'd seen my blog in the Better Homes and Gardens Blogger Awards and wanted to interview me for her column in the weekend Address section about homes and real estate. Her column, she explained, usually covers home decorating and includes interviews with home bloggers, but for a change she wanted to talk with a garden blogger. Naturally, I was at her service!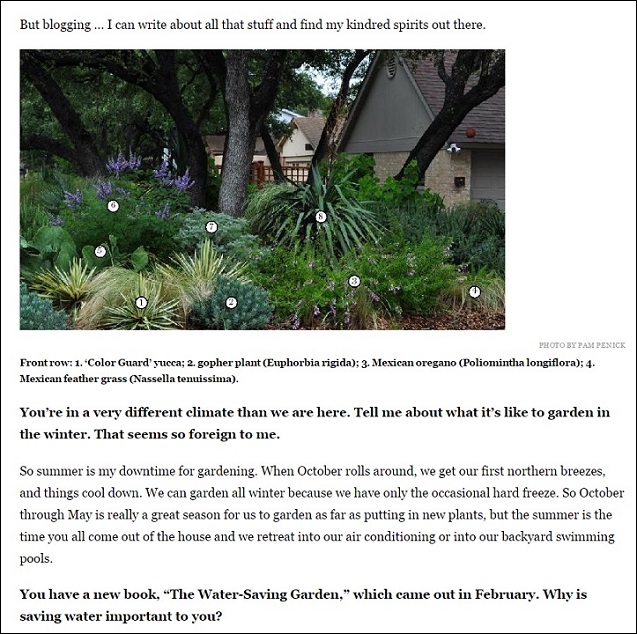 We did the interview in late February, and I sent her a few pictures of my garden. I didn't know if anything would come of it, but last week she emailed to tell me that the interview was online and would be in print on April 24! Yippee! Here are a couple of screenshots of the online version. I called all over town on Saturday to try to find a local bookstore that carries the Globe, so I could pick up a copy, but no dice. Happily, Heather has promised to mail me a copy.
If you'd like to know what a Boston reporter (still waiting for winter to end) asks an Austin gardener (hands grubby from manic spring gardening), click here to read the interview. Our conversation is condensed, so there are some abrupt segues, and I have no idea what the Texas-gopher reference in the title means. But I'm thrilled to be spotlighted, so to speak, in the Boston Globe!
Here's how Heather summed up the interview: "Penick shared with us her thoughts on using less water, how interior design and gardening overlap, and why plantings are best enjoyed with a margarita."
Exactly.
I welcome your comments. If you're reading this in an email, click here to visit Digging and find the comment link at the end of each post.
_______________________
Digging Deeper: News and Upcoming Events
I'll be speaking on April 30, noon-12:30 pm, in Cedar Park, Texas, at Hill Country Water Gardens & Nursery's Lily Blossom Festival. My free talk is called "How to Garden Water-Wise, Not Water-Wasteful." An old proverb reminds us that The frog does not drink up the pond in which he lives. Don't be a water-guzzling frog! I'll be sharing my tips for making a garden that is water-wise, not water-wasteful. Stick around after my talk for a book signing, with autographed copies of Lawn Gone! and The Water-Saving Garden available for purchase.
Come see me at Festival of Flowers in San Antonio, May 28, time TBA. Learn more about water-saving gardening during my presentation at San Antonio's 19th annual Festival of Flowers. I'll be at the book-signing table after the talk, with copies of both The Water-Saving Garden and Lawn Gone! available for purchase. Tickets to the all-day festival, which includes a plant sale and exchange, speakers, and a flower show, are available at the door: $6 adults; children under 10 free. Free parking.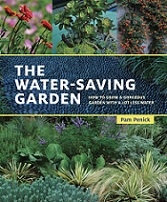 Do you review? Have you read my new book, The Water-Saving Garden? If you found it helpful or inspirational, please consider leaving a review — even just a sentence or two — on Amazon, Goodreads, or other sites. Online reviews are crucial in getting a book noticed. I really appreciate your help!
I'm on Instagram as pamdigging. See you there!
All material © 2006-2016 by Pam Penick for Digging. Unauthorized reproduction prohibited.