May 13th, 2013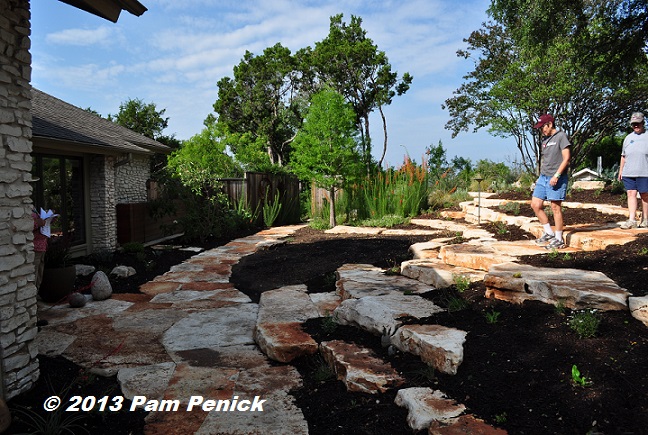 Garden tour season in central Texas kicked off last Saturday with the annual Wildflower Center-sponsored Gardens on Tour, which this year featured five Austin gardens in which native plants play a predominant role. I toured with three other bloggers — Cat from The Whimsical Gardener, Shirley from San Antonio's Rock-Oak-Deer, and David from Albuquerque's The Desert Edge — and if you check out their blogs you may get additional perspectives on the gardens I'll be posting about this week.
We began the tour with the Kathy Cove Garden, a remodeled property in south Austin's Barton Hills neighborhood. Perched on the edge of a canyon overlooking the Barton Creek greenbelt, the home and garden enjoy spectacular views of both the greenbelt and downtown Austin. The front garden, as you see, is still a work-in-progress, with rock work by Environmental Survey Consulting in place and just a few plants situated.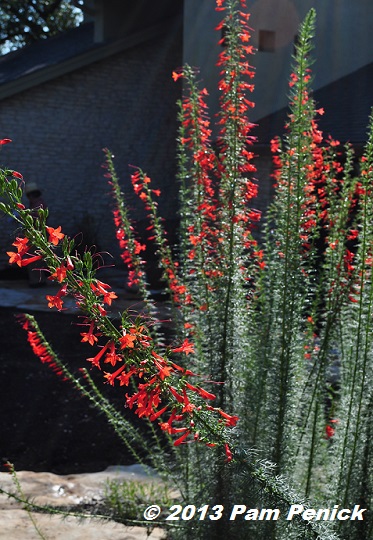 A vibrant clump of standing cypress (Ipomopsis rubra) captured attention out front.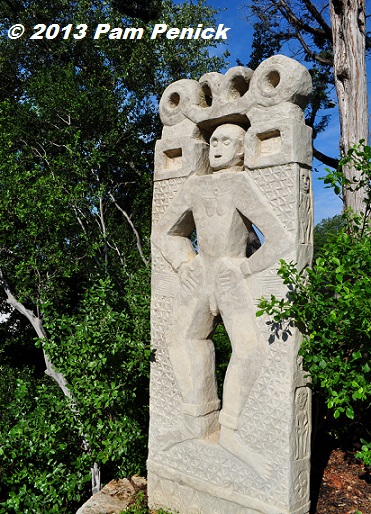 Moving around to the back garden, you pass this monumental sculpture, which looked vaguely Mayan to me.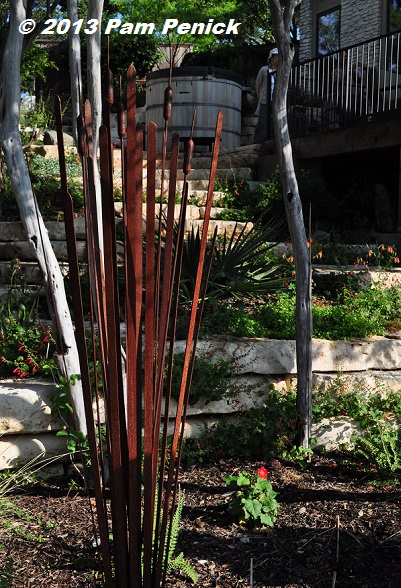 Picking your way down a rugged limestone stair, you pass a teak hot tub nestled alongside limestone boulders and the entrance to a mid-level deck that stretches along the back of the house. Continuing to the bottom of the stone steps leads you to…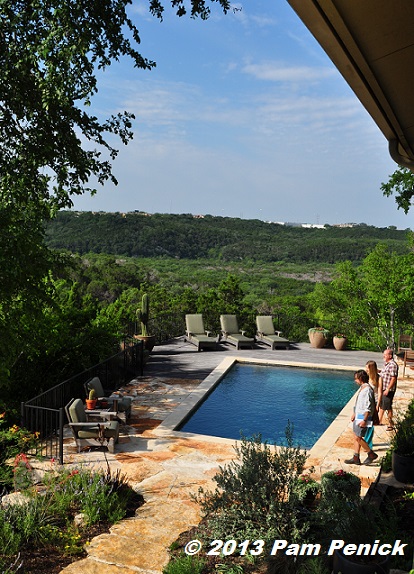 …a beautiful swimming pool surrounded by a pieced-limestone pool deck. Check out that view of the greenbelt.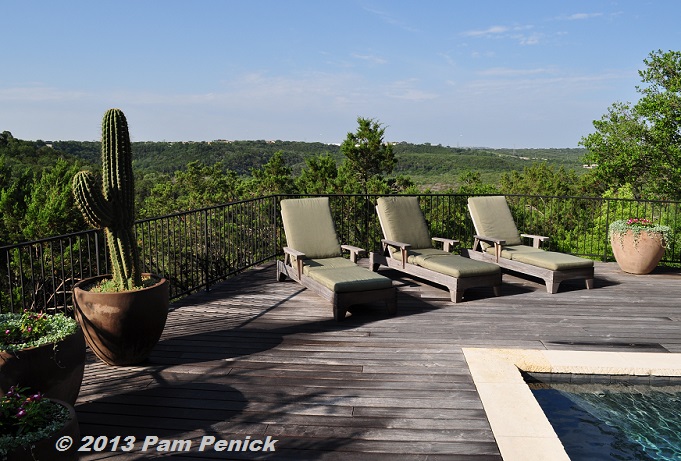 You'd never know this home is 10 minutes from Zilker Park and downtown Austin.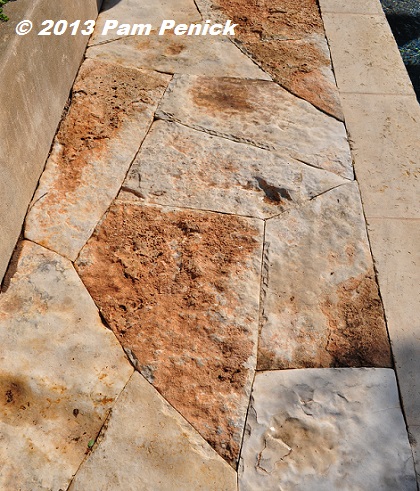 The tightly fitted rock work is a trademark look by Environmental Survey Consulting that we saw echoed in two other gardens on this tour.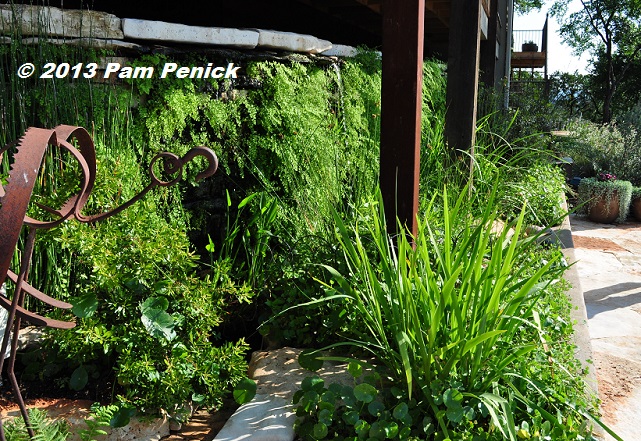 Under the deck, a surprising water feature — a stacked-limestone wall trickling with water (refreshed by A/C condensate) and colonized by maidenhair fern — adds visual cooling and creates a green view in place of the usual shadowy under-deck eyesore.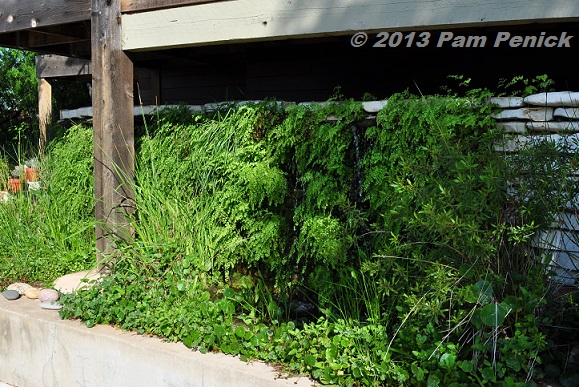 It reminded me of the natural cliffside waterfalls that can be found along Austin's greenbelts.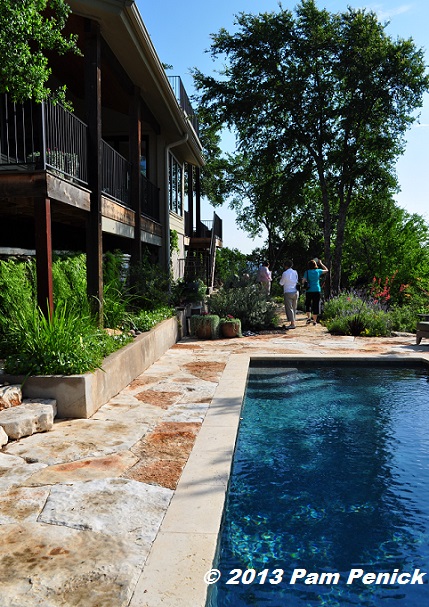 A wider view shows the under-deck water-wall at left, with the cobalt pool extending the length of the terrace.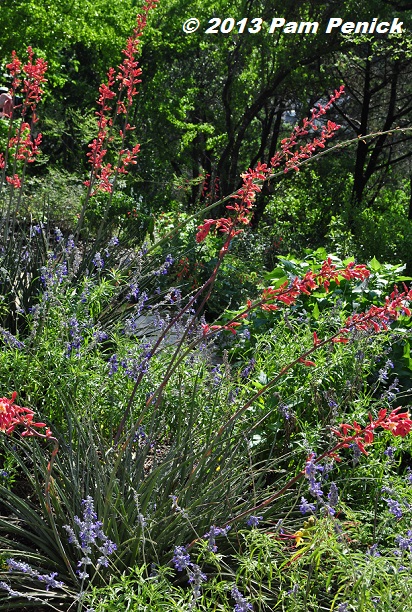 The garden is very naturalistic overall, in keeping with the rugged hillside setting. Red yucca and salvia were in bloom, attracting hummingbirds that zipped around us.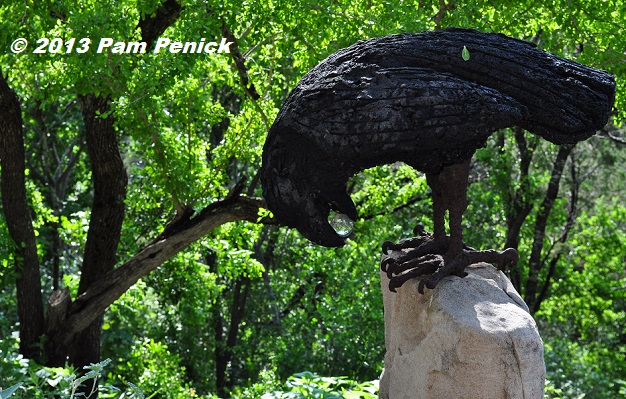 The homeowner has a large sculpture collection, which includes this bird (a raven?) perched atop a boulder, a glass orb in its beak.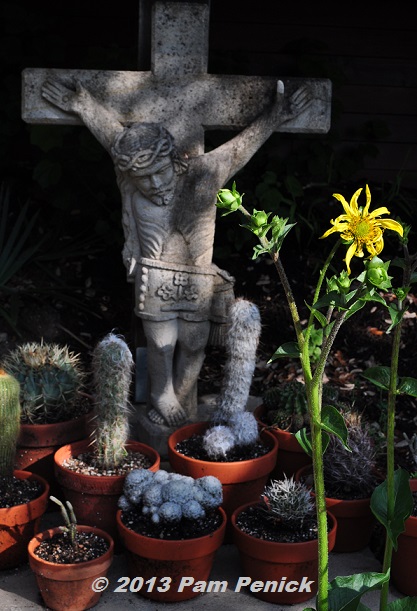 Religious sculpture also finds a home here. I can't help wondering — is the cactus collection at Christ's feet a reference to his crown of thorns?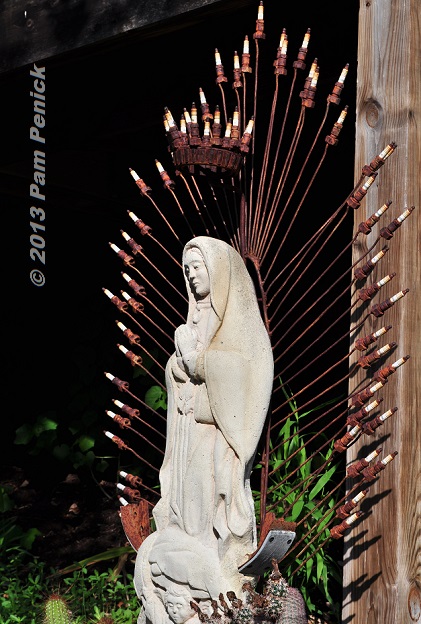 A Lady of Guadalupe with a spark-plug aura illustrates a similarly playful/ironic take on this traditional Catholic icon.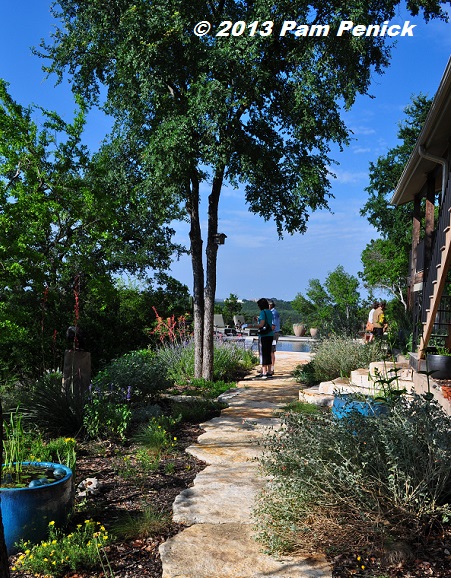 A pieced-stone path leads along the back of the house, hugging the top of the canyon. Amid the naturalistic plantings, a series of turquoise pots — each a miniature container pond — adds necessary rhythm to the scene.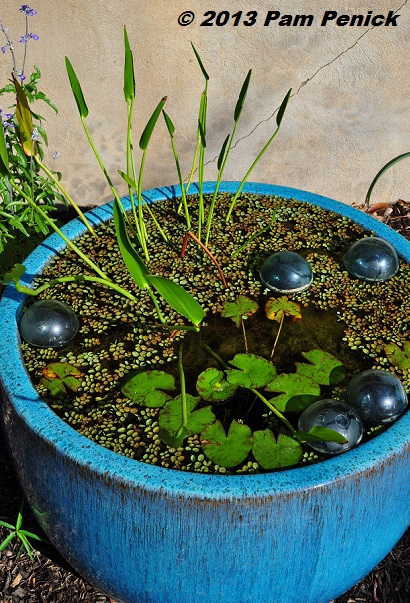 A charming pond in miniature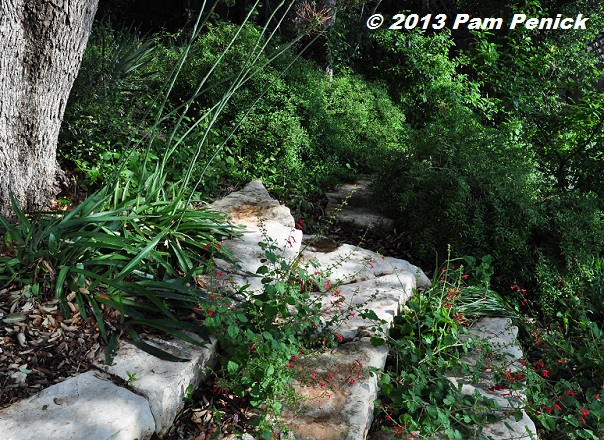 Rugged paths lead down into the canyon, but I didn't follow them. Instead I climbed up to the deck, past naturalistic garden beds. Red-blooming Texas betony spilled over limestone terracing.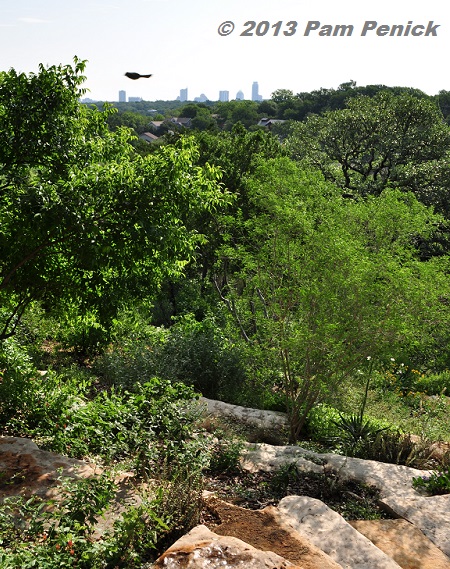 Pausing to look back down the stone steps, I enjoyed a view of downtown Austin and a cardinal that shot across my field of view at just that moment.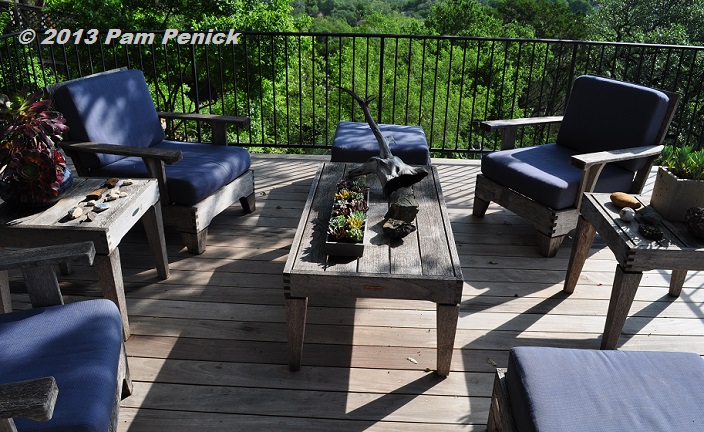 The deck wraps the back of the house and provides several intimate seating areas to enjoy the treetop view.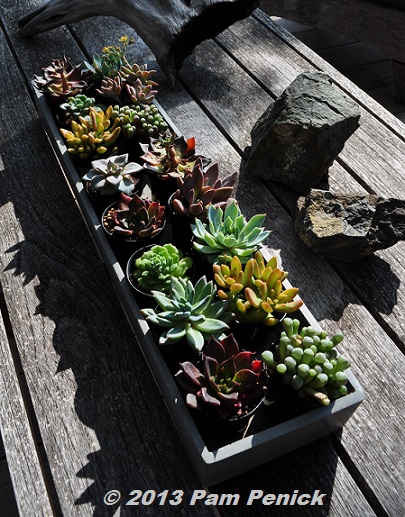 I admired this simple trough with multi-colored succulents. The succulents are still in their nursery pots, rather than planted into the trough, making for a quick and attractive display.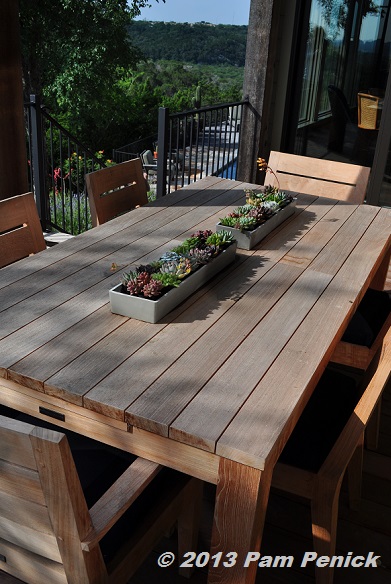 More succulent troughs create a linear centerpiece on a dining table nearby.

They almost look good enough to eat!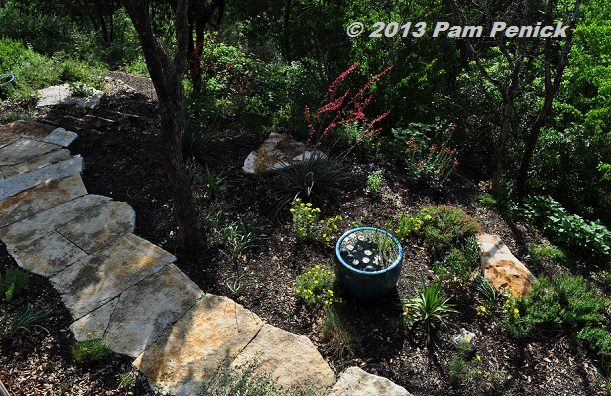 Looking down at the path traversing the back of the house, you can see that the garden is still very new. Many of the plants have not had time to fill in yet.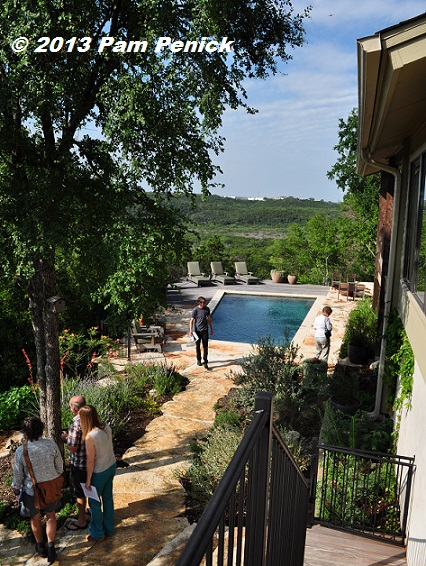 When they do, this will be an even more spectacular space.
Next up: The contemporary Westridge Drive Garden, with a unique rebar awning and yucca and manfreda in full bloom.
All material © 2006-2013 by Pam Penick for Digging. Unauthorized reproduction prohibited.
posted in
Birds
,
Cactus
,
Containers
,
Garden art
,
Garden tours 2013
,
Lawn Gone!
,
Paths
,
Patios & decks
,
Ponds
,
Sculpture
,
Seating
,
Succulents
,
Texas natives
,
Views
,
Water features
,
Water gardening